Great Harvest Pumpkin Coasters
This post may contain referral/affiliate links. Please read my disclosure for more info.
You know what you totally need in life? This Crochet Pumpkin Coaster Pattern, that's what!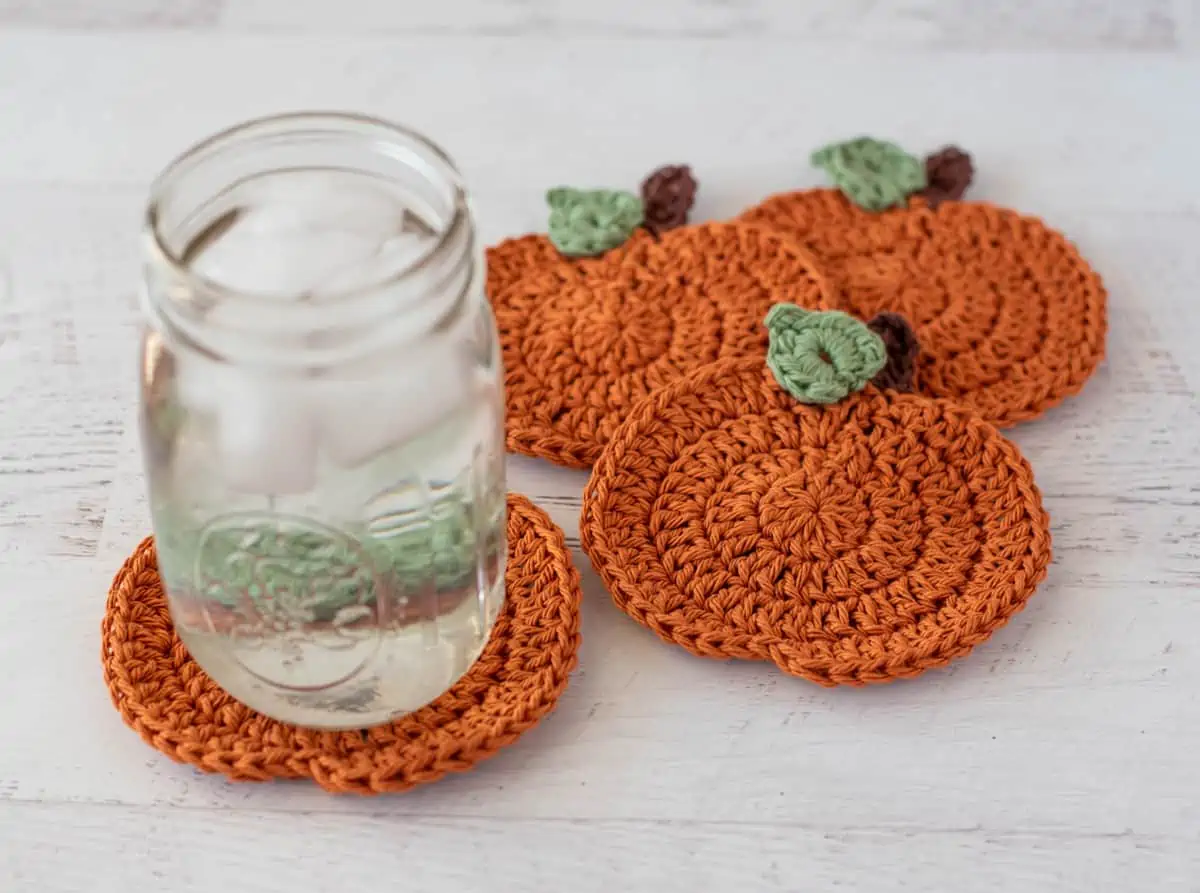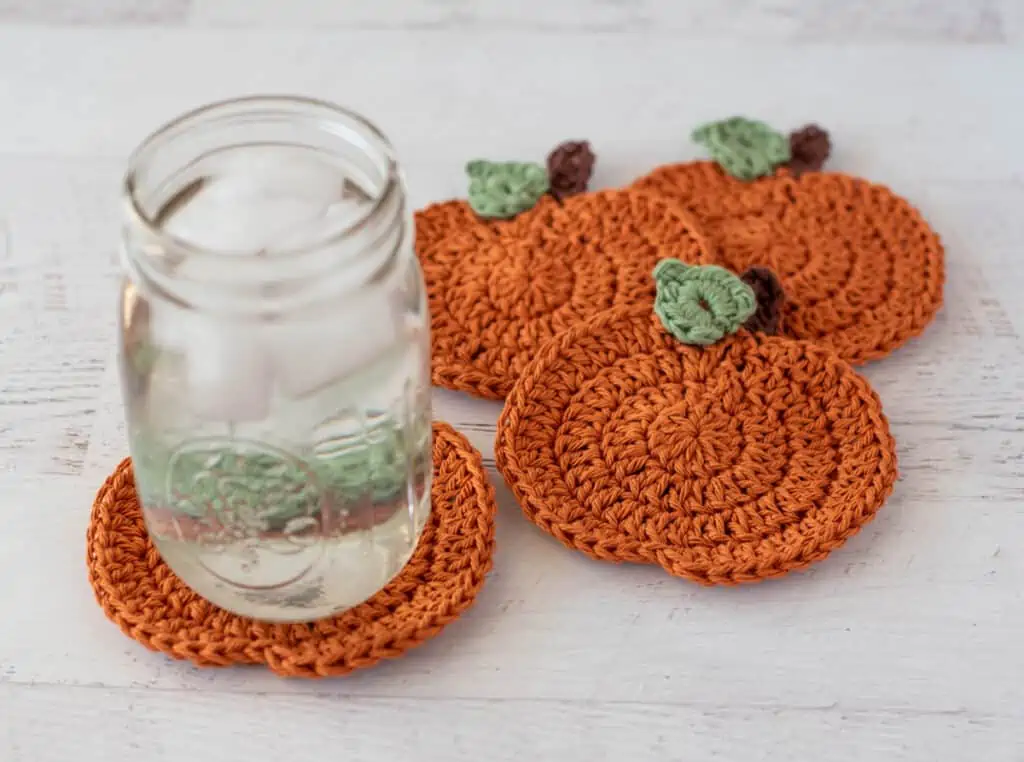 I'm completely in love with the delicious orange goodness of these darling coasters. And would you look at that little leaf? Game over. My fall is complete!
If you've never made a crochet coaster, you are so in for a treat. A quick evening project with worsted weight yarn and suddenly your favorite room in the house is complete with this delightful crocheted pumpkin coaster! These coasters are so easy and fun to make.
The first three rows are a basic double crochet circle worked on a magic ring. In row 4, there are some stitch height variations at the top and bottom to give that realistic pumpkin indent.
Then, without fastening off, the stem is crocheted right on top with a few basic stitches.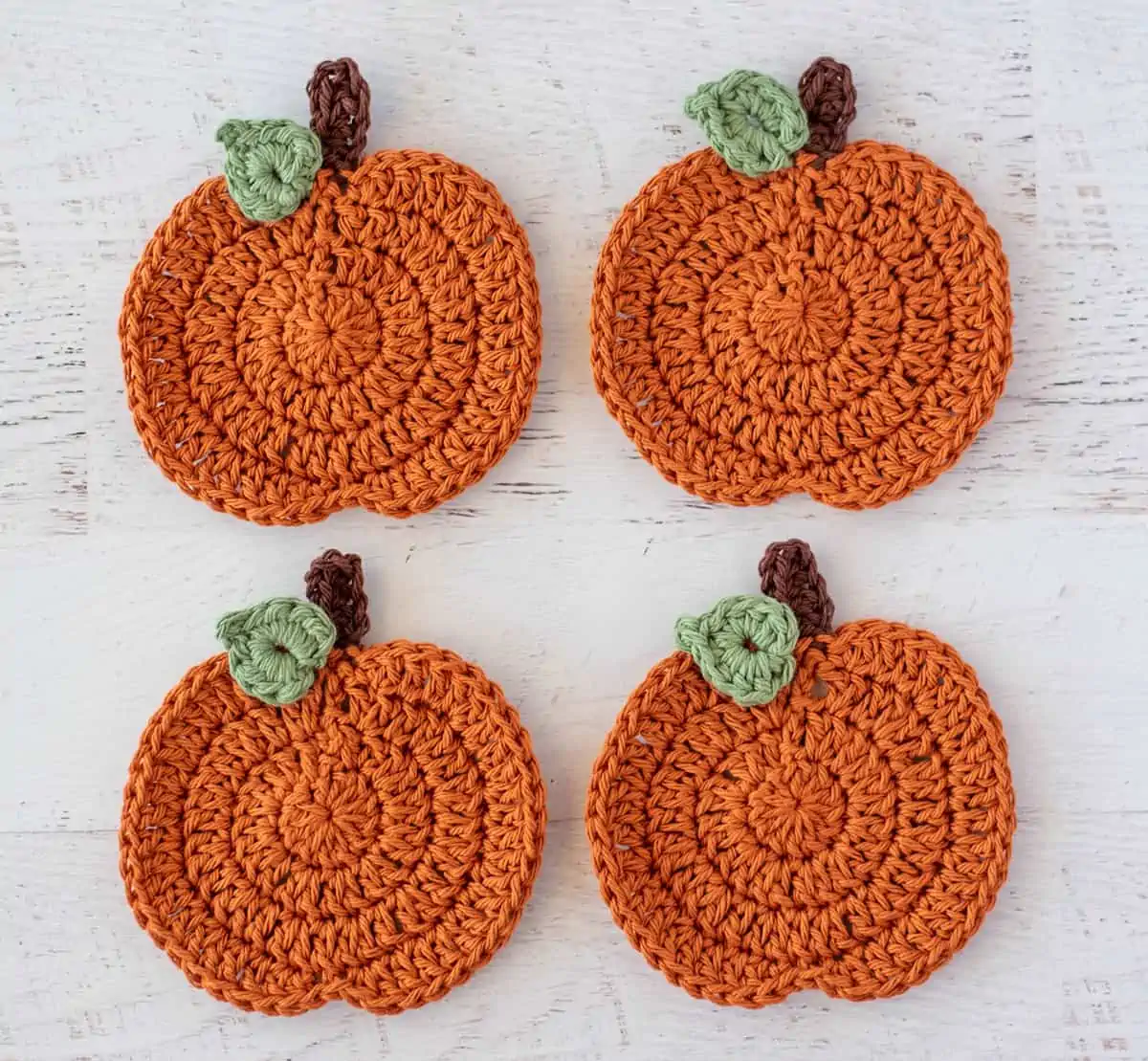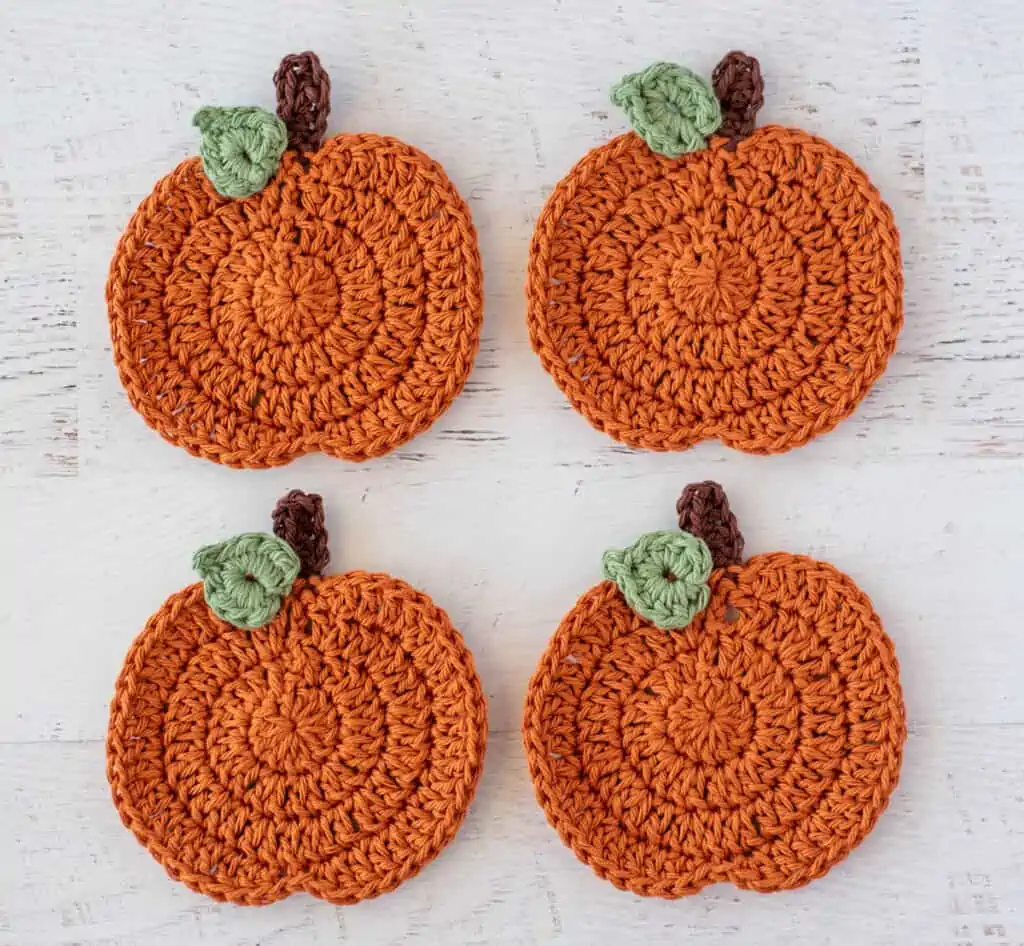 And then.. that glorious leaf! It's a smaller version of the delightful leaf on the Crochet Pumpkin that so many of you love. This smaller leaf is perfect for the top of this cute pumpkin coaster. It also would look amazing if you wanted to add an extra touch to the tiny pumpkins on the Fall Crochet Wreath.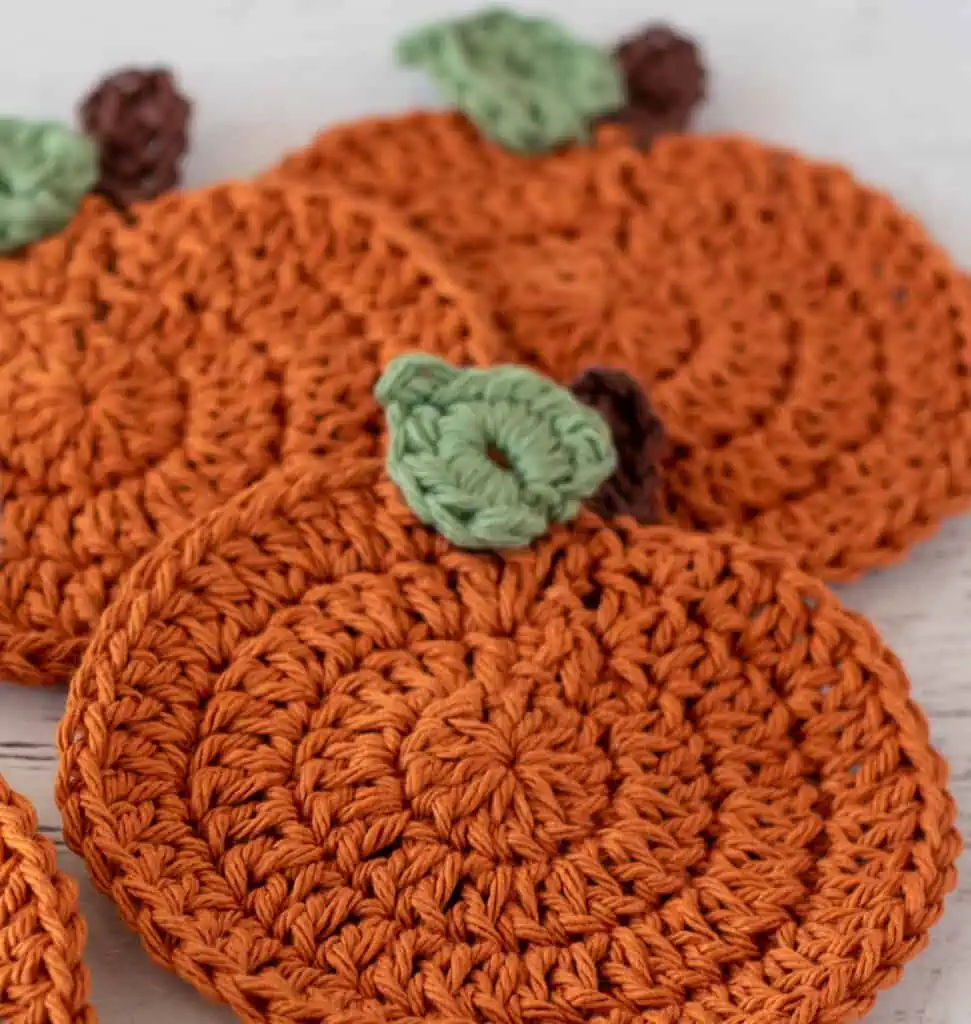 I seriously don't know what it is about that orange-rust pumpkin color that has my heart singing! Fall is my favorite crochet season of all. The cooler temps. The glorious color on the trees. Warm soup on the stove. Snuggled under a blanket with my crochet and something fun to watch on TV. It's heaven.
And if you're looking for Crochet Pumpkin Appliques, this is a great pattern for that too. You can keep it the same size with worsted weight yarn or make it in a DK weight or thread weight yarn for a smaller pumpkin. And if you're looking for a much larger coaster, try a bulky weight yarn. So fun!
Crochet Pumpkin Coaster Pattern
Here is what you will need for this pattern:
Resources and tutorials you may find helpful in following this cotton pumpkin crochet pattern: Crochet Abbreviations, US to UK Crochet Conversion Chart. Find links to stitches on the "Tutorial" menu: Getting Started will show show basic crochet stitches such as chain stitch, single crochet and double crochet stitch used in this pattern. And the Crochet Stitch Dictionary shows our growing collection of crochet stitch tutorials.
Pumpkin Coaster Finished Size:
Approximately 4.5" wide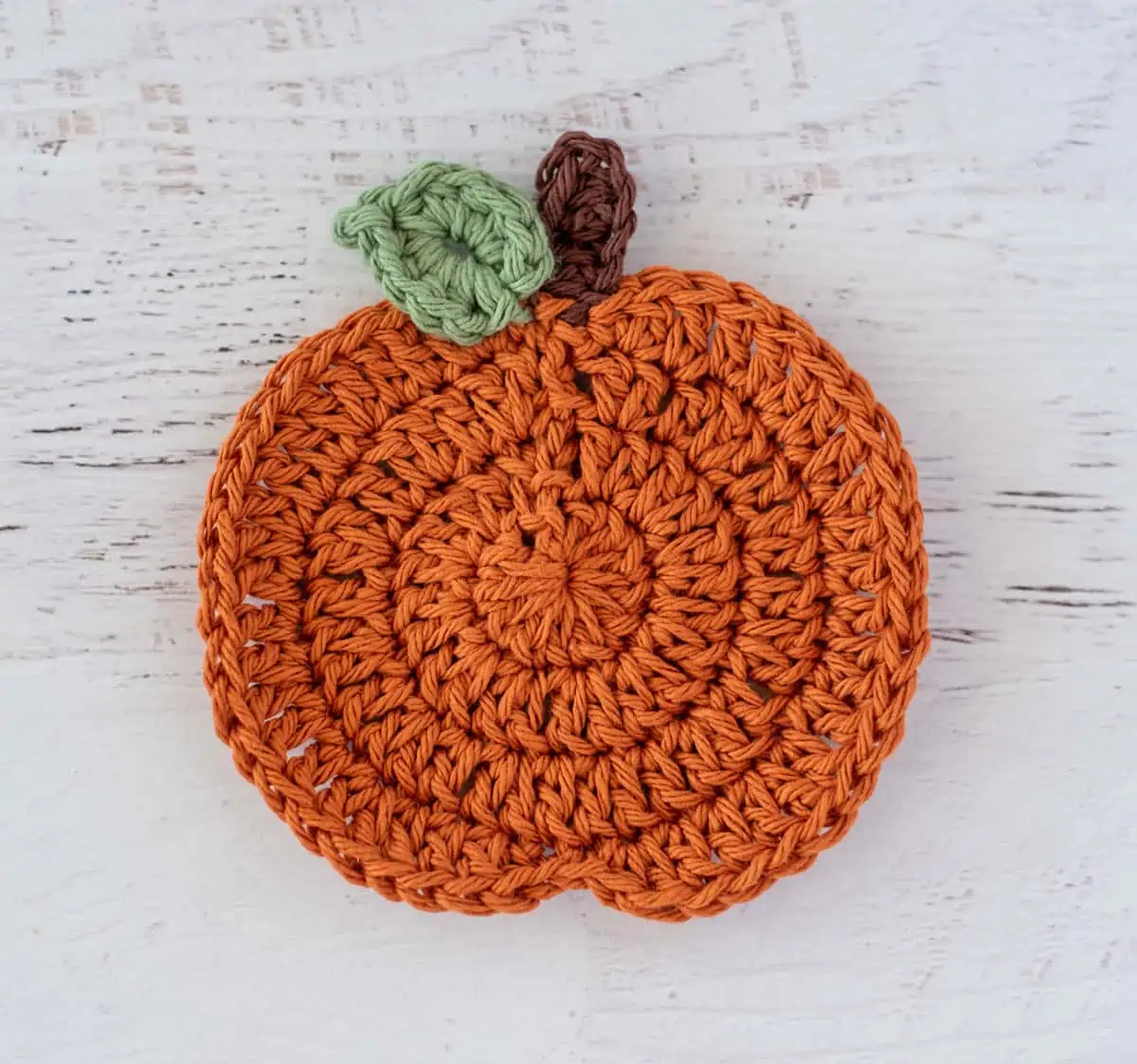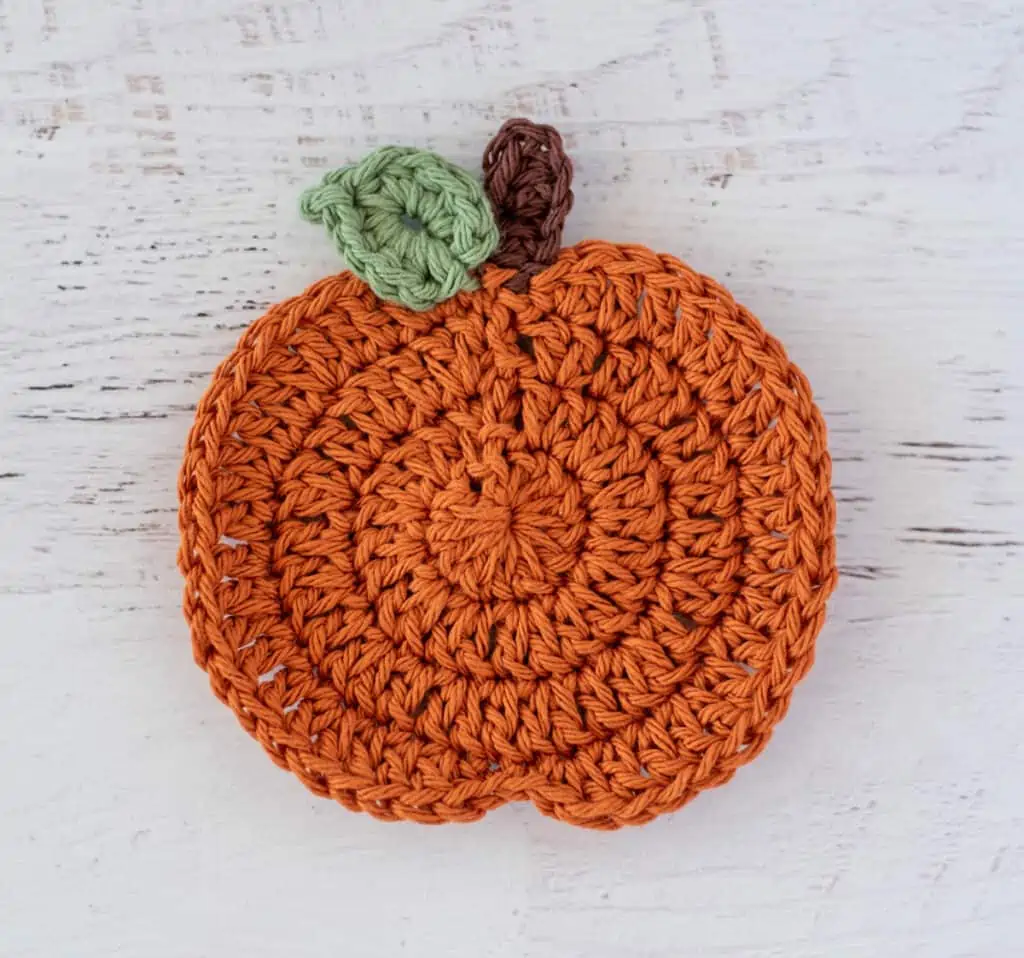 Pumpkin Coaster Crochet Pattern
With Orange Color yarn, make a magic
R1: Ch 3 (counts as first double crochet here and throughout), work 11 dc into ring, join with slip stitch to top of starting chain. (12 sts).
R2: Ch 3, dc in same stitch, 2 dc in each st around, join with slip stitch to top of starting chain. (24 st)
R3: Ch 3, 2dc in next st, *dc in next st, 2 dc in next. Repeat from * around, join with slip stitch to top of starting chain. (36 st)
R4: ch 1, *sl st in each of the next 2 st, (hdc and dc) in the next st, [dc in next 2 st, 2 dc in next] four times, dc in next 2 st, (dc and hdc) in next st, Repeat from * once, sl st to 1st sl st in row, changing to brown. 
Pumpkin Stem:
Continuing with brown yarn, ch 6, hdc in 3rd ch from hook, hdc in next 3 ch, sl st to 2nd sl st from row 4. Fasten off brown and orange yarn and weave in ends.
Pumpkin Leaf:
With green yarn, chain 5 and join to form a ring
R1: work all of the following in the ring: ch 1, 4 hdc, (ch 2, sl st in 2nd chain from hook to form picot), 4hdc, ch 1, sl st.
Fasten off green yarn and sew leaf to coaster.
Explore More Crochet Patterns
Do you love crochet as much as I do? I think you're going to love these other fun crochet patterns:
I love seeing your finished projects! If you enjoyed making this Crochet Fall Decor Pumpkin Coaster Pattern, I'd love to see yours on Instagram, be sure to tag me @crochet365knittoo. If you are on Facebook, stop over to the Crochet 365 Knit Too Facebook page or pop over to the Crochet365KnitToo Club and share a photo! I'd love to see your work!