Crochet Candy Corn
This post may contain referral/affiliate links. Please read my disclosure for more info.
Friends meet this delightfully delicious Crochet Candy Corn: The perfect fall make you didn't even know you needed on your crochet hook!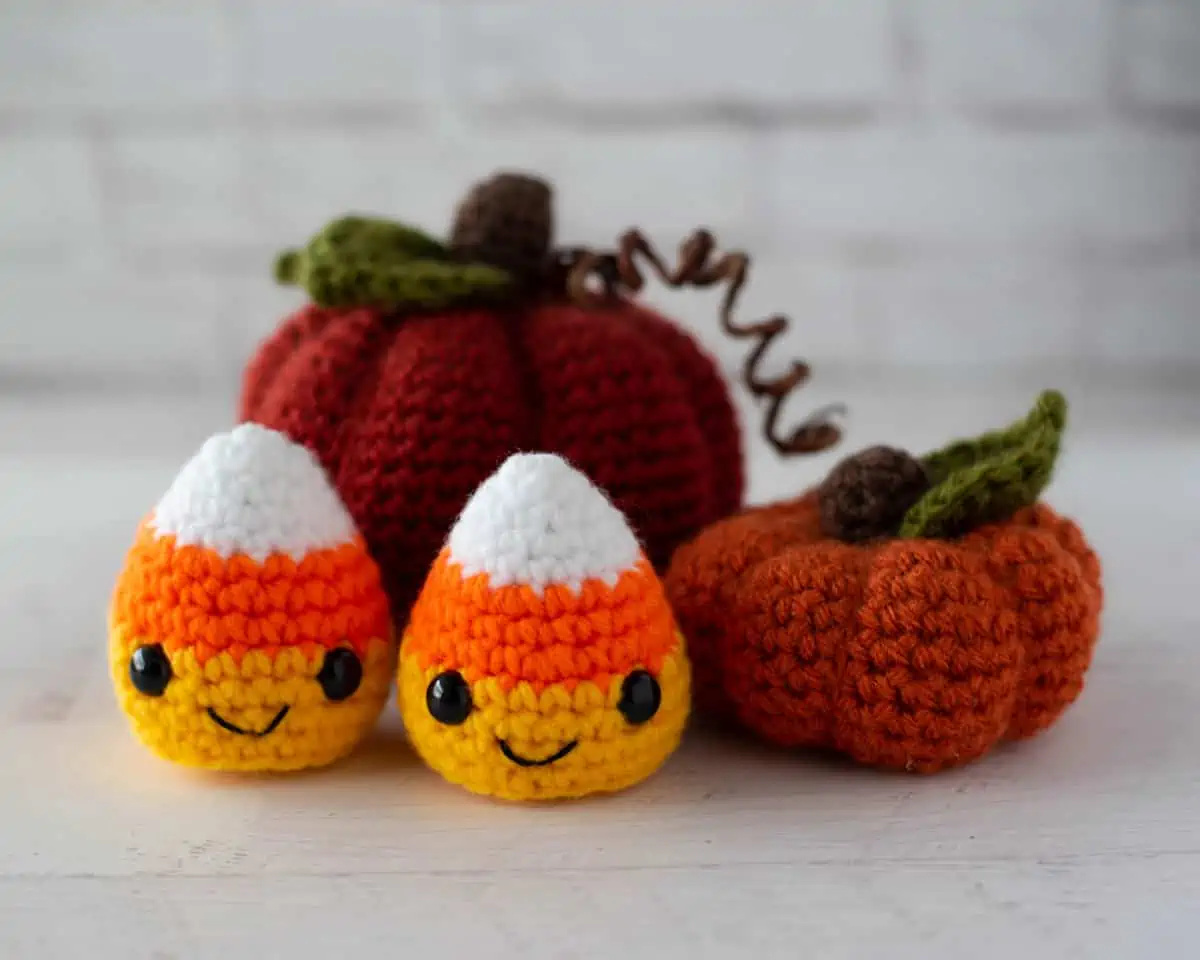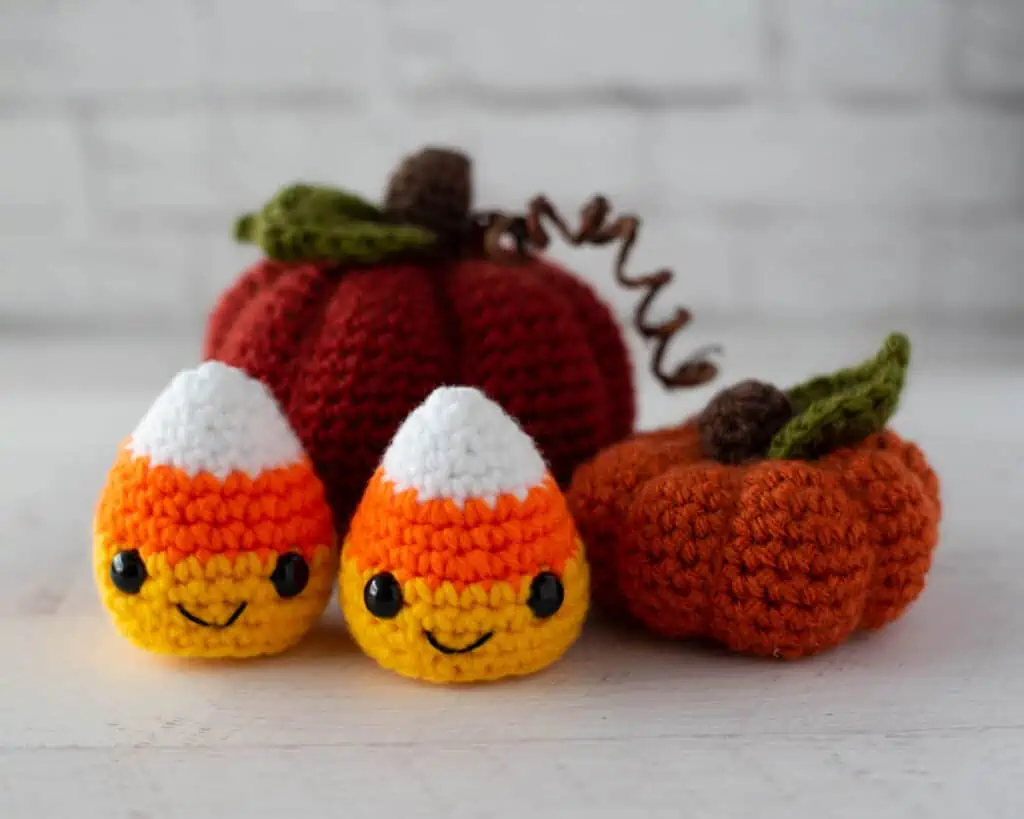 Sigh. I'm completely in love with these darling little candy corn amigurumi. Quick and fun to make out of scrap yarn, it is the perfect fall project
This little gem of a project is also perfect for practicing your amigurumi skills! Start with a magic ring and then increase gradually, while changing colors as you go. Work a few rounds without increasing.
Then a round worked in the back loop only (BLO) and a few round of single crochet decreases. I prefer the invisible decrease method, but you can use a normal crochet decrease if you like.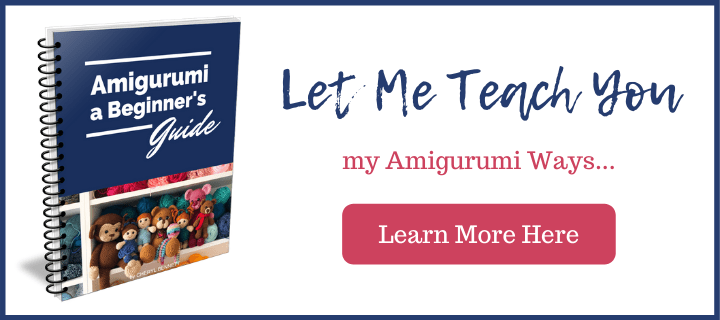 Take a moment to pop in those cutie pie safety eyes, stuff and finish off.
And voila.. your most adorable fall make ever!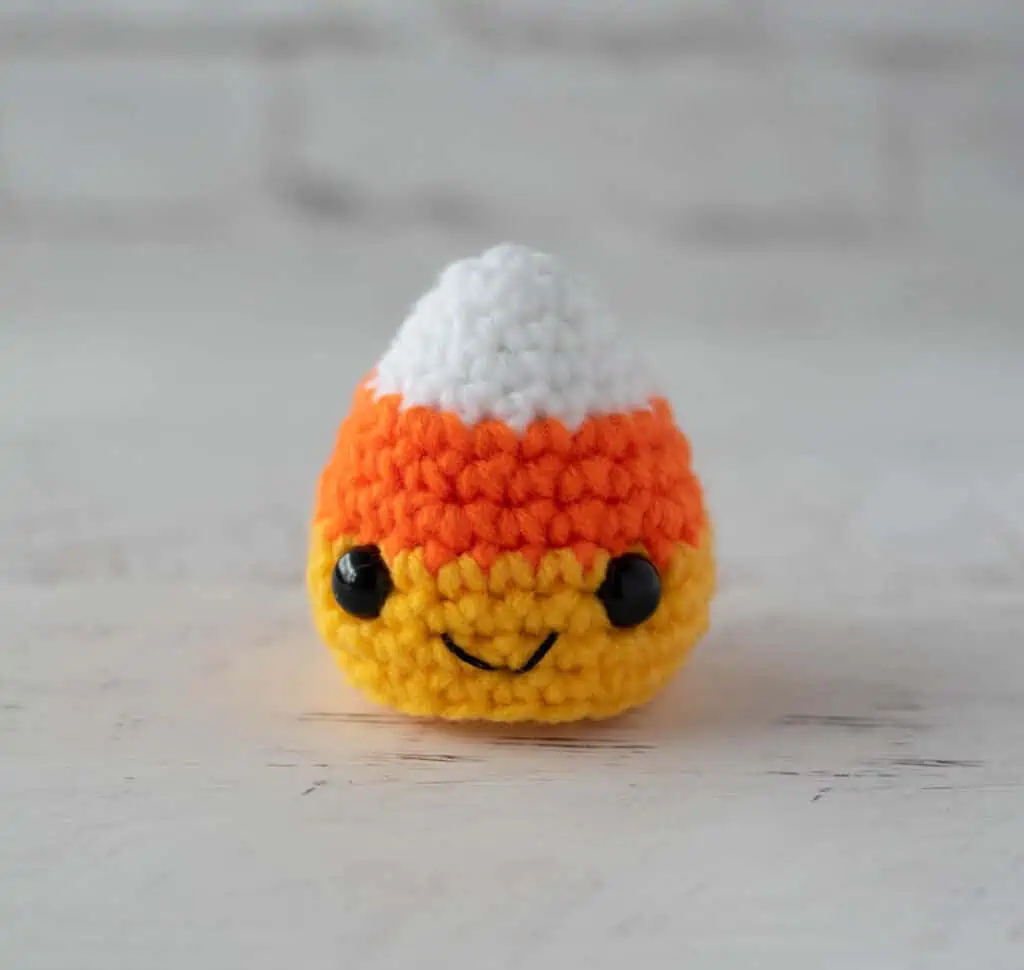 Isn't this cutie just adorable? I also love that this cute candy corn is a great scrap yarn stash buster. You can go bright and cheery with bright scrap orange yarn, yellow yarn and white yarn or more rustic with muted shades like those I used in my medium crochet pumpkin and small pumpkin.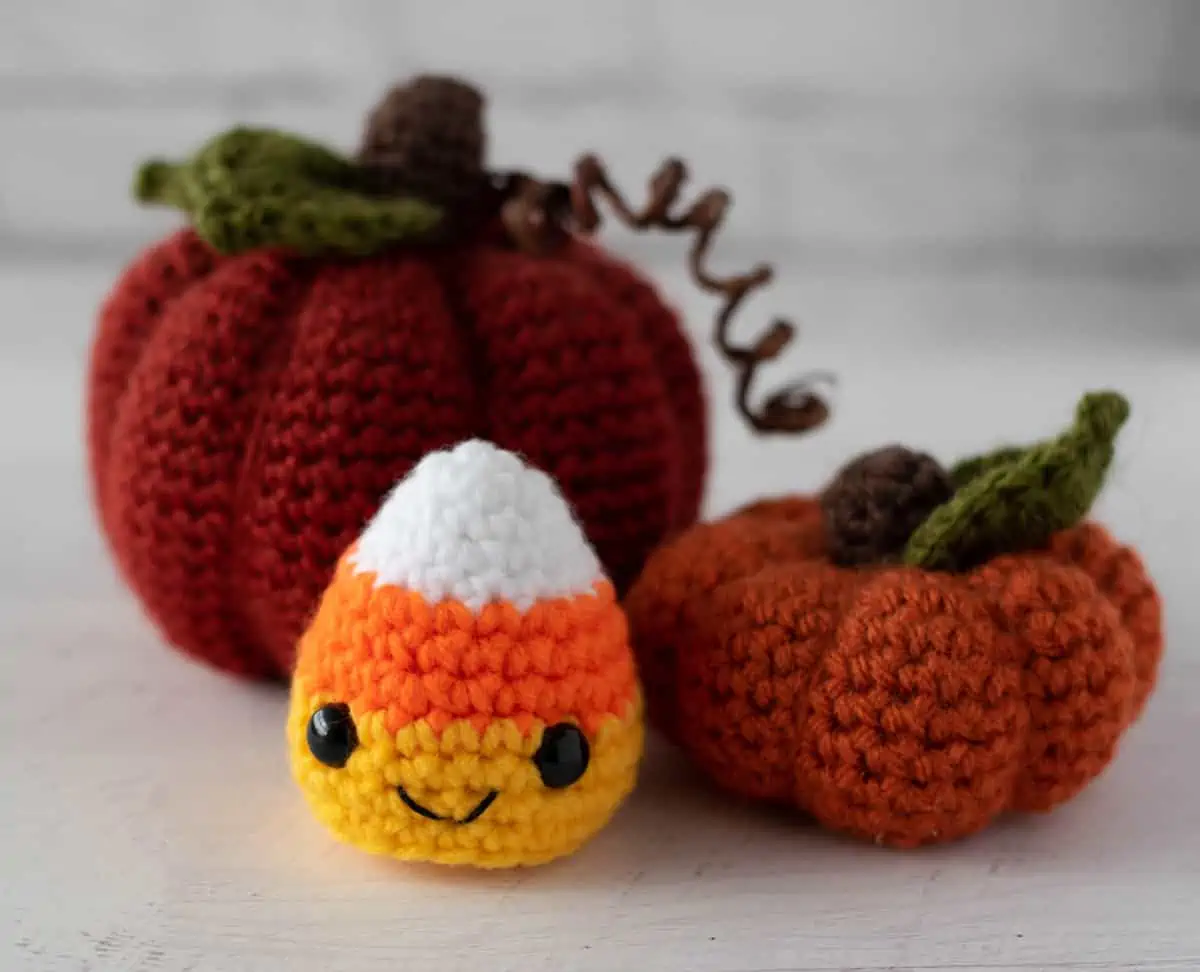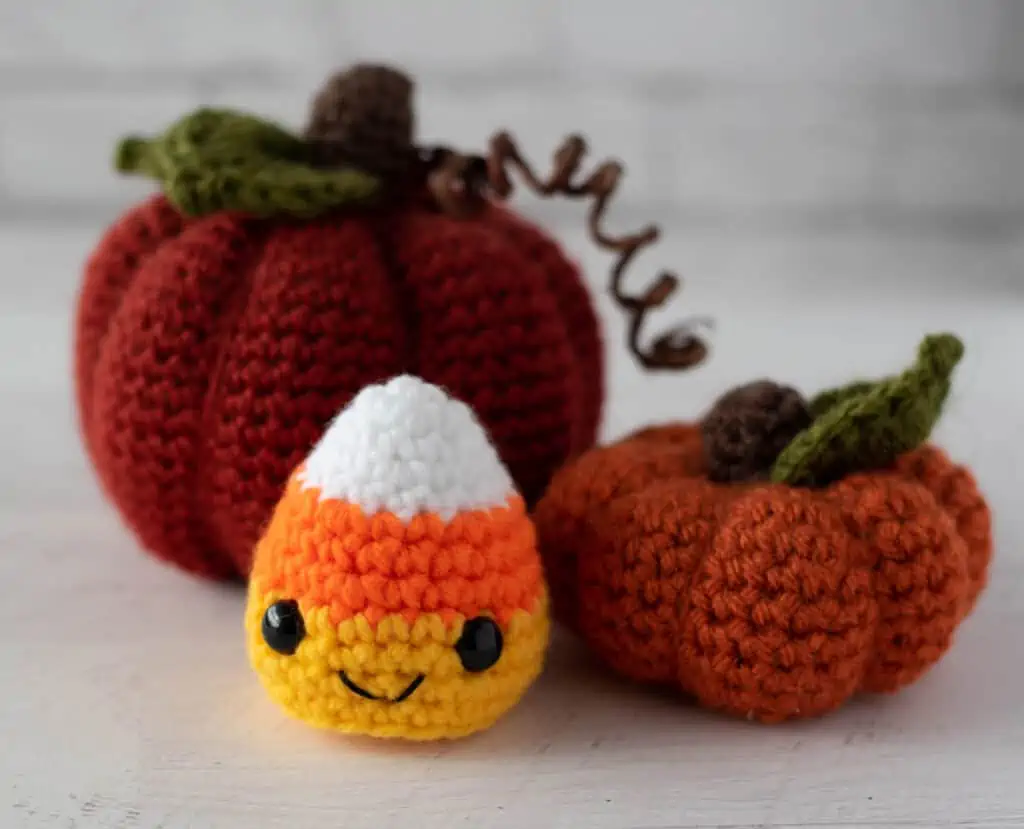 I also kind of love that this adorable candy corn amigurumi can just tuck in about anywhere. It could brighten up your work space or snuggle up next to those crochet pumpkins and fall decor on your shelf or table.
My amigurumi candy corn pattern corn is made out of medium weight yarn for a fast and fun project. It is easily adaptable to other sizes too. Just change the yarn size for a smaller or bigger candy corn. Be sure to choose a hook size that matches your yarn and perhaps adjust the size safety eyes. In no time you can have candy corn friends all over your house!
Candy Corn Finished Size:
Finished Candy Corn is approximately 2" wide by 2.5" tall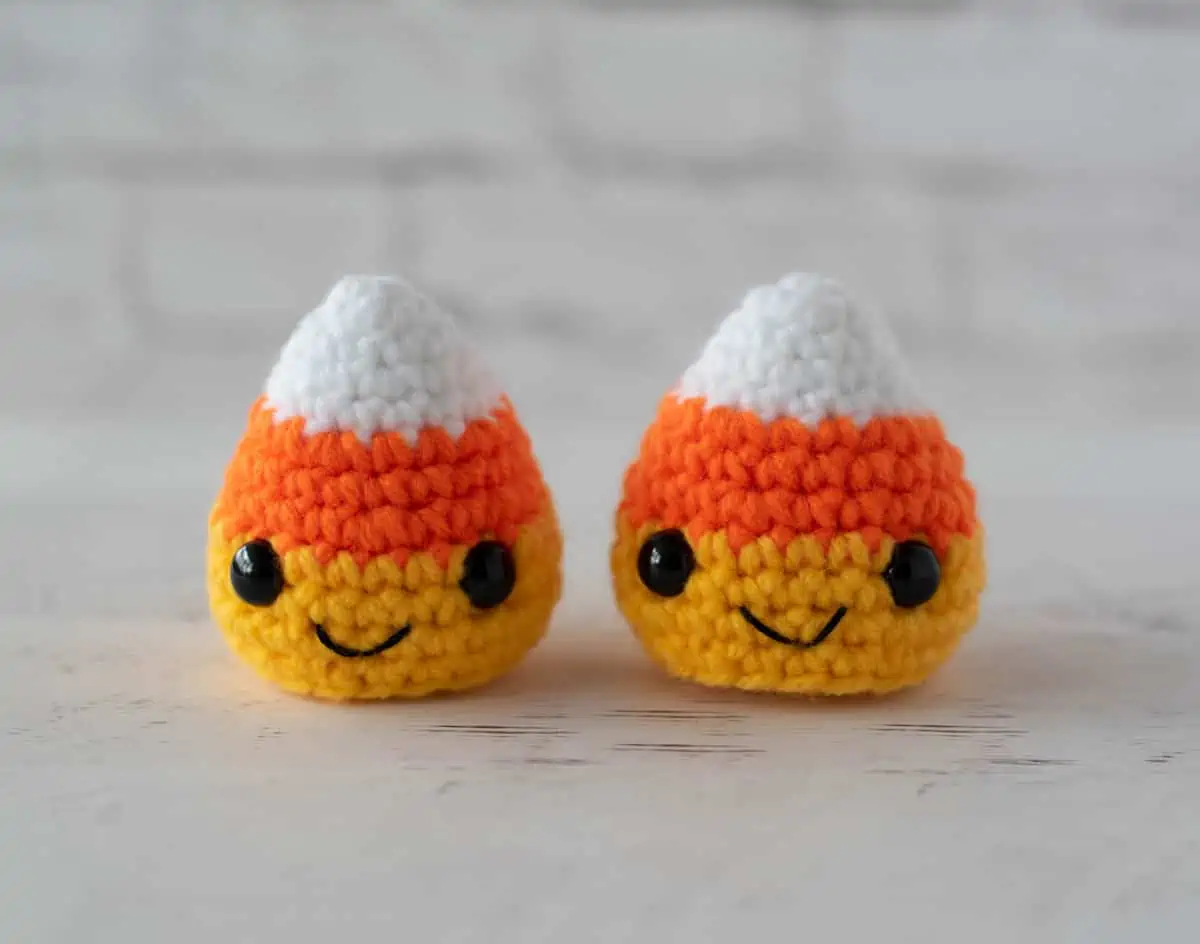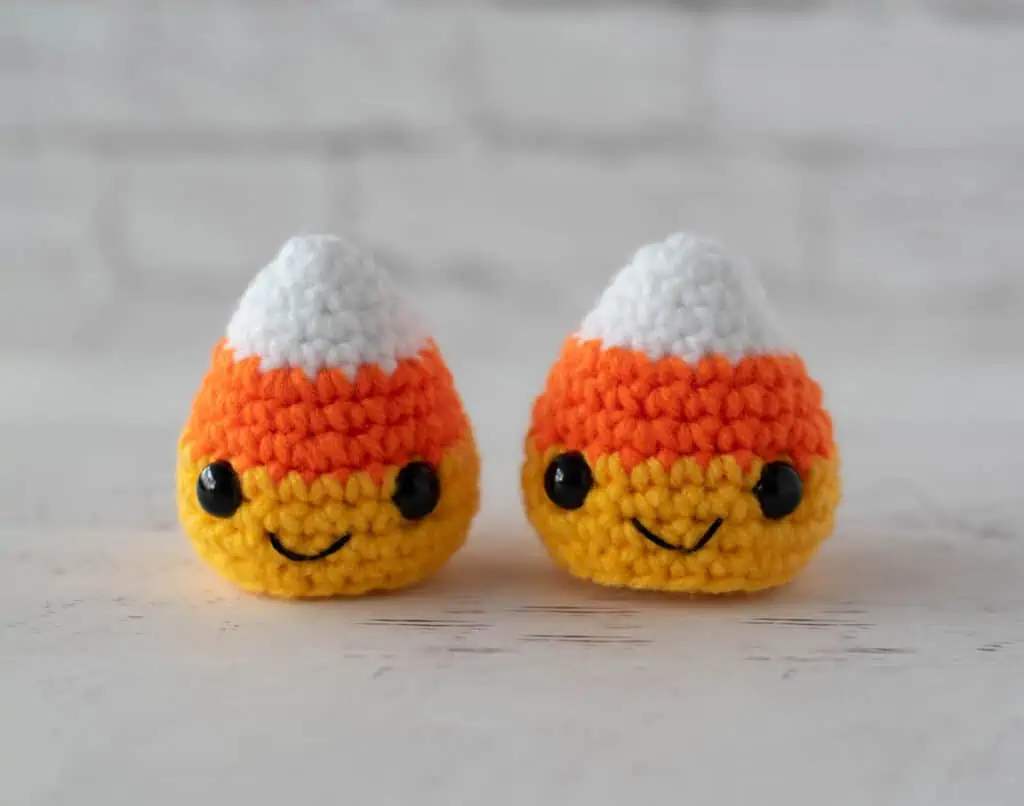 Candy Corn Crochet Pattern
With white yarn, make a magic ring
R1: 5 sc into ring (5 sts). (Do not join, worked in rounds)
R2: 2 sc in ea st around (10 st)
R3: sc around (10 st)
R4: *sc in next st, 2 sc in next st, repeat from * around (15 st)
R5: sc around, changing to orange in last st. (15)
R6: With orange yarn, sc in next st, 2 sc in next, *sc in next 2 st, 2 sc in next st, repeat from * around, sc in last st (20 st),
R7: sc around (20)
R8: *sc in next 3 st, 2 sc in next st, repeat from * around, changing to yellow in last st. (25 st)
R9-11: With yellow yarn, sc around (25 st)
R12: *sc in next 3 st, sc 2 tog, repeat from * around (20 st)
R13: Working in back loop this round only, *sc in next 2 st, sc 2 tog, repeat from * around (15 st)
Insert safety eyes between round 9-10 (6 st between eyes)
Start Stuffing Candy Corn
R14: *sc in next st, sc 2 tog, repeat from * around, continue to stuff candy corn. (10 st)
R15: sc 2 tog around (5 st) Fasten off, leaving tail for finishing. Weave the yarn through last 5 stitches, pull tight, weaving in ends or knotting off to secure.
Ta da! Your Adorable Crochet Candy Corn is complete!
Explore More Crochet Patterns
Do you love crochet as much as I do? I think you're going to love these other fun crochet patterns:
I love seeing your finished projects! If you enjoyed making this Crochet Candy Corn Pattern, I'd love to see yours on Instagram, be sure to tag me @crochet365knittoo. If you are on Facebook, stop over to the Crochet 365 Knit Too Facebook page or pop over to the Crochet365KnitToo Club and share a photo! I'd love to see your work!