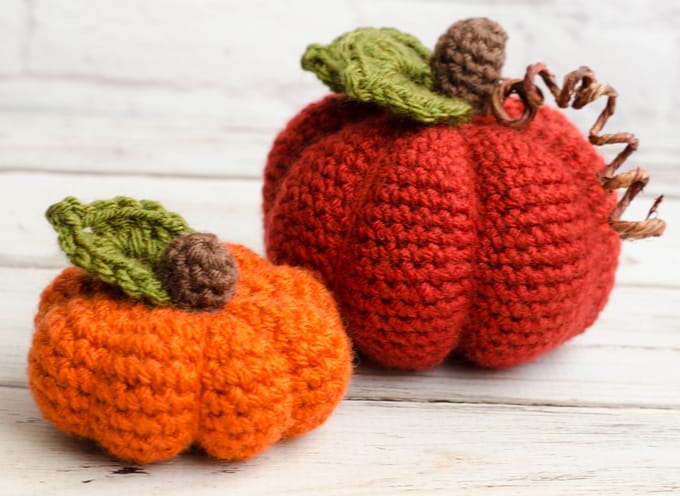 Meet my squishy little friend.  Isn't he just adorable?  I'm talking, of course, about the little short wonder on the left.  The short, but stately little orange pumpkin that you need.. I mean NEED in your house right now.  Fast to work up and, for some reason, it's immensely satisfying to pull on that yarn and get the pumpkin bumps of goodness.
Sometimes I get lost over on Pinterest. Who is with me?  I start out looking at one thing and then POOF I'm off looking at something else entirely.  I was looking for fall crochet ideas and spotted some pumpkins.  But as I always seem to do… I wanted things done differently… and so here is my interpretation.  The little short guy is this week and then next week, his glorious sister with that fantastic tendril (isn't that yummy?)
If you've crocheted in the round before, you've probably noticed that most patterns have you working in multiples of 6.  I sometimes like to work in multiples of 8 instead. (Take a look at the Peas in a Pod pattern if you want to see another pattern in a multiple of 8.)  I think it's a perfect fit for a chubby pumpkin or two (don't you think)?  I also wanted a leaf and I played with some green yarn until I came up with this bit of loveliness. The little pumpkin has 1 leaf and the larger actually has 2 leaves.  And of course the stem is a perfect fit.
So get out your crochet hook and let's get going!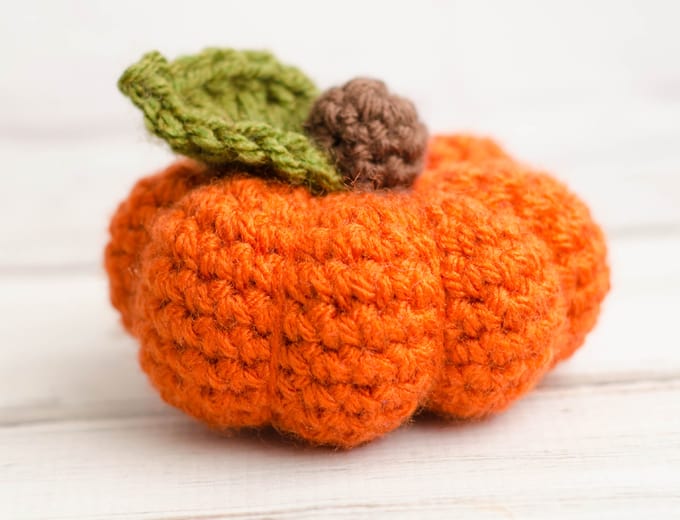 Small Crochet Pumpkin Pattern
Here is what you will need:
worsted weight yarn in Orange, Brown and Green
US G6/4.00 mm crochet hook
Stuffing
tapestry needle, scissors.
Resources and tutorials you may find helpful in following this pattern: Crochet Abbreviations, US to UK Crochet Conversion Chart.  Find links to stitches on the "Tutorial" menu: Getting Started will show basic stitches used in many patterns and Crochet Stitch Dictionary shows our growing collection of crochet stitch tutorials.
Pumpkin:
R1:  Make a magic ring and work 8 sc
R2: 2sc in ea st around (16 st)
R3: *sc in next st, 2sc in next st, repeat from * around (24 st)
R4: *sc in next 2 st, 2sc in next st, repeat from * around (32 st)
R5: *sc in next 3 st, 2 sc in next st, repeat from * around (40 st)
R6-11:  sc around (40 st)
R12: *sc in next 3 st, sc 2 tog, repeat from * around (32 st)
R13: *sc in next 2 st, sc 2 tog, repeat from * around (24 st)
R14: *sc in next st, sc 2 tog, repeat from * around (16 st) Stuff
R15: sc 2 tog around (8 st) Fasten off, leaving a long tail for sewing segments.
Stuff the pumpkin.  Gather up and close the opening.  Then make the sections of the pumpkin as follows:  Go all the way through the center, through the stuffing, to the center of the bottom of the pumpkin.  Wrap yarn around outside of pumpkin and then reinsert yarn back through the center of the pumpkin, following the same path.  Pull yarn tight to create indentation.  Continue to make each section by stitching through the center of the pumpkin.  Pull tight after each pass.  I found it easiest to first divide the pumpkin in half, then in quarters and then again to get 8 equal sections.  Tie off yarn and secure.
At this point you have a choice which side of your pumpkin you want to show as the top and which to show as the bottom.  I flipped my over and made the starting magic ring the top of my pumpkin.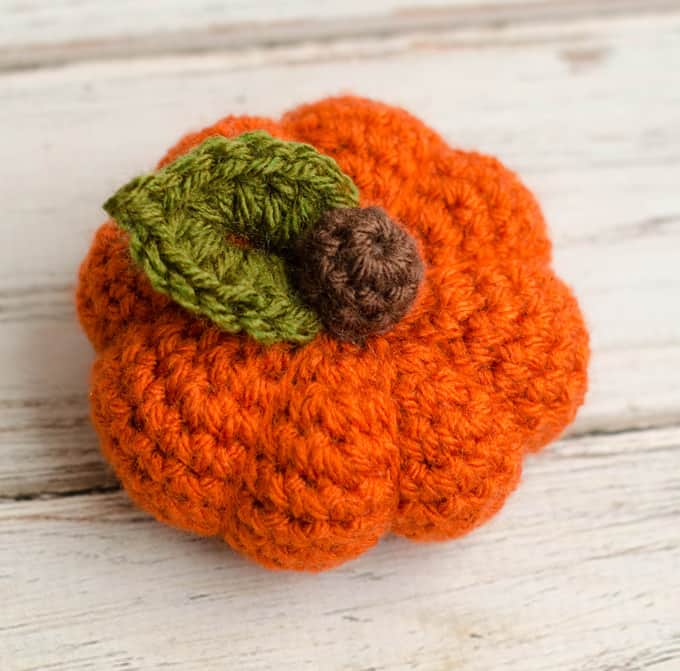 Stem:
R1:  Make a magic ring and work 8 sc.
R2-3:  sc around.  At end of 3rd round, slip stitch to next stitch and finish off, leaving a long strand for sewing.  Stuff.
Leaf:
Chain 8 and join to form ring.
R1 in the ring just made work all of the following:  ch 2, 6 dc, ch 3, sl st to 1st ch, 6 dc, ch 2, sl st.  Fasten off.
Sew the leaf and stem in place on top of the pumpkin.
I hope you enjoyed this small crochet pumpkin pattern and that you give it a try.  I'd love to see your photos.  Tag me on Instagram (and follow me while you are there)!

SaveSaveSaveSaveSaveSave
Subscribe to the Newsletter
Get crochet patterns, news, special offers and other crochet goodness straight to your in box. Look for your first email to get access to The Vault, where you can download a free crochet & knit journal and other crochet goodies!