Fabulous Fall Crochet Wreath
This post may contain referral/affiliate links. Please read my disclosure for more info.
If you're looking for a little bit of crochet fall goodness to brighten up your life, you're going to totally love the Fabulous Fall Crochet Wreath!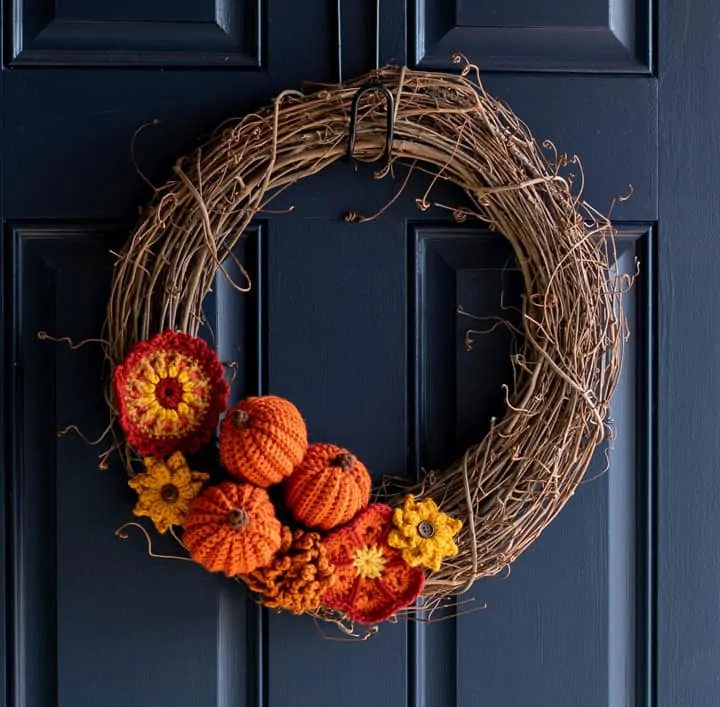 I don't know about you but I'm totally smitten with the gorgeous shades of fall. Those oranges, rusts and golds speak right to my soul! This is a really fun make because it combines elements from past patterns here on the blog with the adorable new mini ribbed pumpkin.
Let's just pause a moment to totally love on the mini ribbed pumpkin shall we?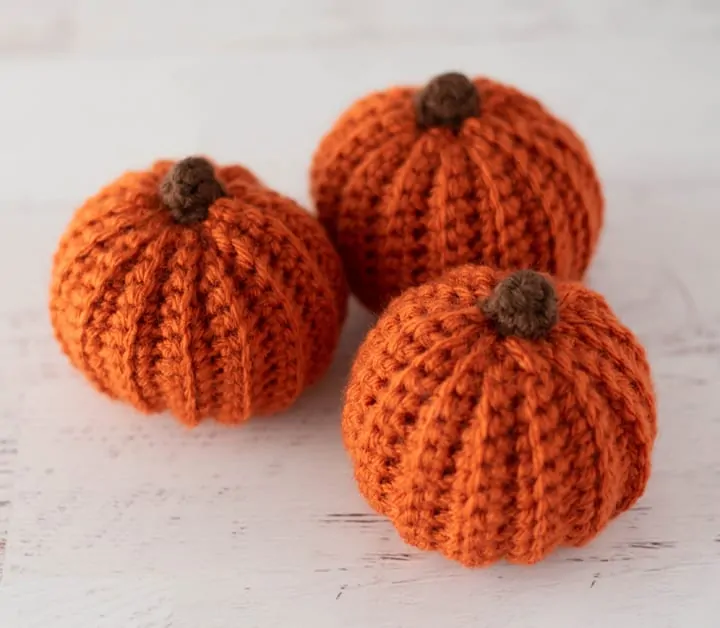 Cute.. right? You might even need to hide this from everyone who comes to visit because they are totally going to want you to make them a few to tuck into their own decorating! And yes.. they really ARE as squishy good as they look!
You could even use them all by themselves for a crochet pumpkin wreath! Just saying.
As Crochet 365 Knit Too newsletter subscribers know, I often talk about how I see us sitting together on my front porch together just crocheting and chatting away the time. I thought you might like to see my view!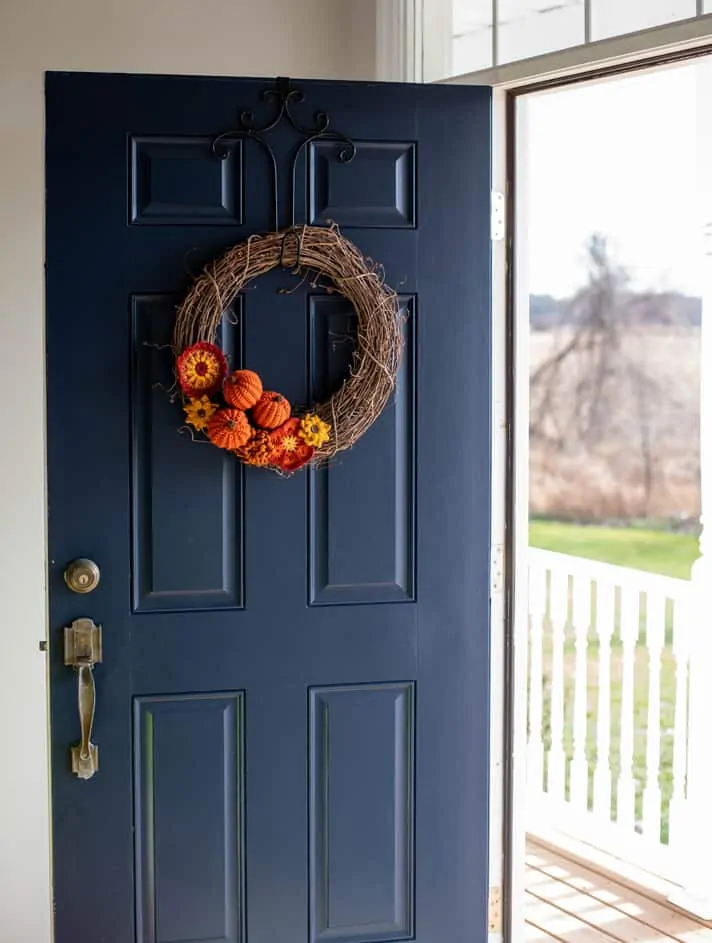 To be honest I had a hard time deciding exactly where my cutie pie fall crochet wreath was going to end up. We do open this door a lot and our last front door wreath caught the eye of a mama bird who started to build a nice little nest! As much as we love our nature here, I didn't want to accidentally end up with a baby bird in the house.. so ultimately my fall wreath ended up on the door to the Bloom (Blog Room).
I love that I can look up from working and see this simple wreath cheerfully hanging there! I also love that the wreath really looks good on just about any color door. The grapevine gives it that homey but minimalistic look and the crochet gives it color that just pops!
You can also adapt this crochet wreath pattern to fit the holiday and season. Change out the embellishments to make a Christmas Wreath or spring wreath, for instance. Or use the embellishments on their own for your fall decorating.. Mini ribbed pumpkin–I'm talking to you! Such a cutie!
You can also play with different weights of yarn and hook to get different pumpkin and flower sizes and make more or less to your taste. It truly is a versatile wreath pattern!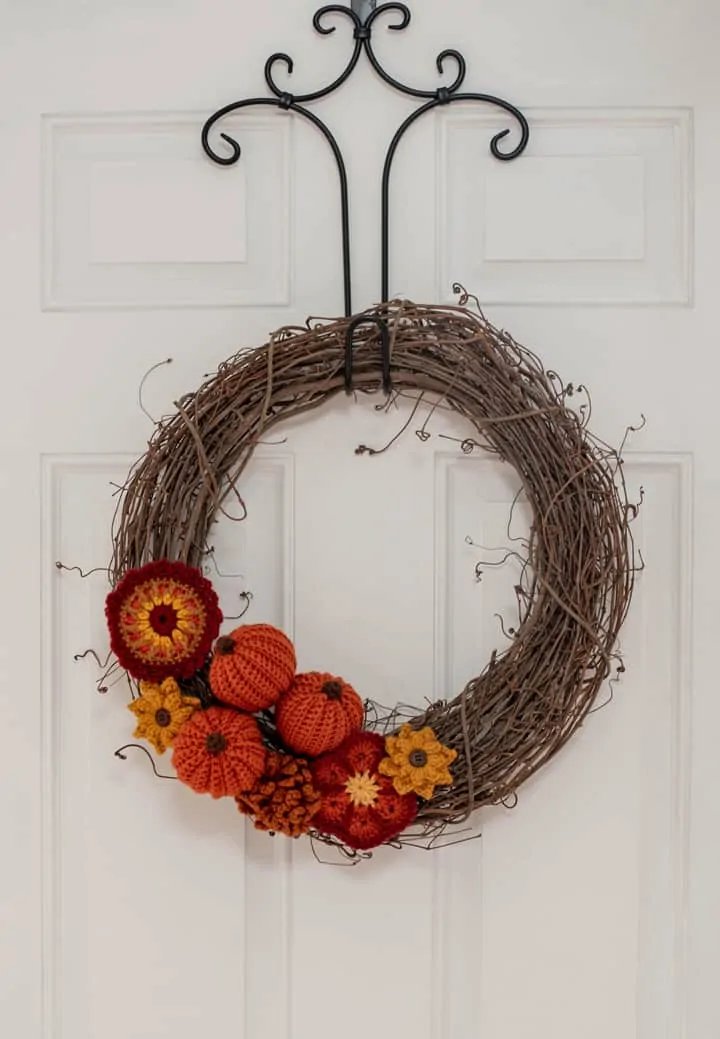 What Do You Need to Crochet A Wreath?
A beautiful fall crochet wreath is such an easy project! You'll need the following supplies:
Wreath Base
This pattern uses a purchased grapevine wreath as a base. Of course you could use a different wreath base, if you prefer. Some people like to start with a foam wreath and wrap it complete in crochet, sort of like a large rectangle sewn together at the end to totally encase the foam in crochet. I went with a purchased grapevine basic wreath. Easy and it gives it a modern vibe I love.
Yarn
If your scrap pile is full of autumn colors for the fall season, you're going to put them to use on this autumn wreath. Just pick out several scraps of worsted weight yarn for a budget friendly fall season project!
Crochet Hook
This project uses two sizes of crochet hooks: a 4.00 mm crochet hook and a 5.00 mm crochet hook.
You'll also need some floral wire for attaching the pieces to the wreath. Some people like to use a hot glue gun instead with an appliqué wreath. And of course you'll use a yarn needle and scissors too.
Wreath Crochet Pattern
This crochet wreath free crochet pattern is going to work a little differently than other patterns here on the blog. The Mini Ribbed Pumpkin is brand new and directions for that follow.
The patterns for the other elements will link right to the post where the pattern is held.
If you'd like an low cost ad-free version, all the patterns are included you can find a low cost ad-free pattern right here.
Somehow I missed the Flower Mandala in this next shot.. but it's still fun to look at:
Crochet Wreath Pattern
Here is what you will need:
US G/6 4.00mm and H8/5.00 mm crochet hooks (here are my absolute favorite hooks)
18″ grapevine wreath
1.5 oz Worsted Weight Orange Yarn for Pumpkins
Approximately 18-25 Yards of Worsted Weight Assorted Scrap Yarn for each of the Flowers
(2) 1/2" buttons for Black Eyed Susan Flowers
Fiberfill stuffing
Floral Wire
Resources and tutorials you may find helpful in following this pattern: Crochet Abbreviations, US to UK Crochet Conversion Chart. Find links to stitches on the "Tutorial" menu: Getting Started will show basic stitches used in many patterns and Crochet Stitch Dictionary shows our growing collection of crochet stitch tutorials.
Crochet Fall Wreath Finished Size:
The finished size of the wreath is essentially the same size of the wreath base. In this case, it is 18″ high x 18″ across.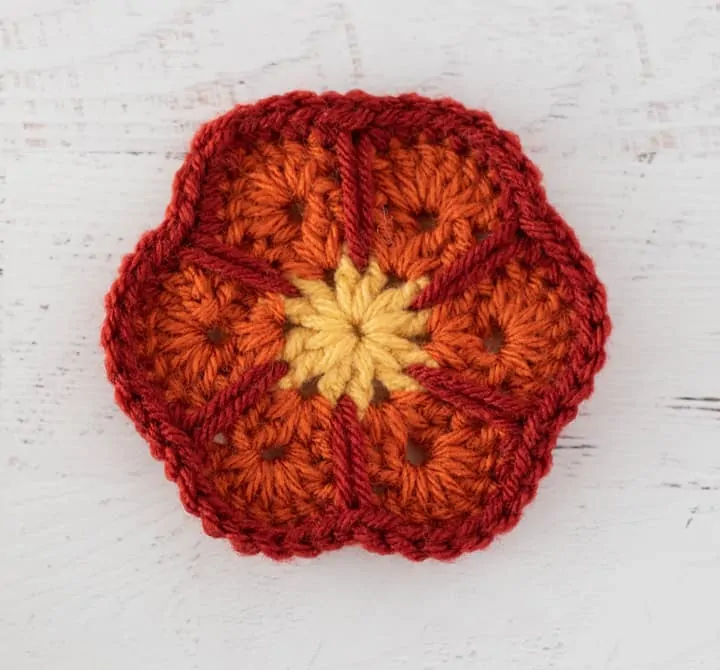 Work this glorious African Flower in fall colors using the African Flower Pattern. Make one, working the African Flower Pattern through row 4. I used yellow for the center, a pumpkin shade of orange for the petals and then a dark rust color for the final row.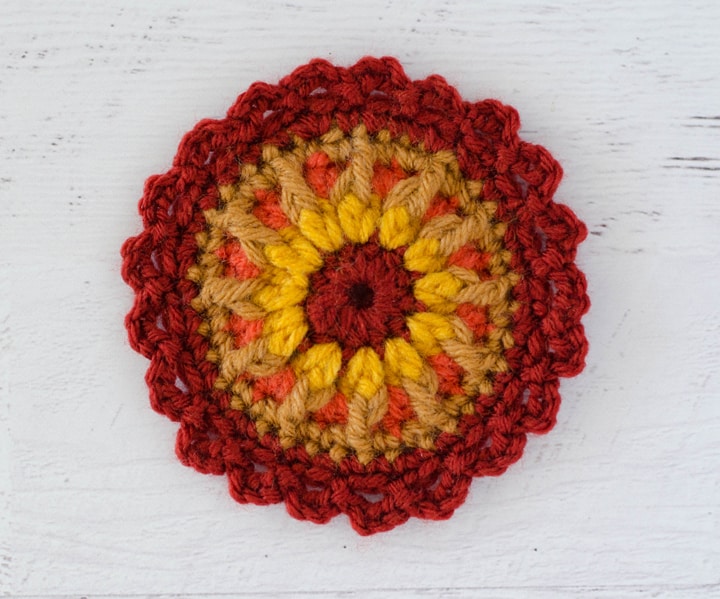 This Flower Mandala is one of my favorites! Another fast make out of scrap yarn! Make one in coordinating colors for your crochet wreath!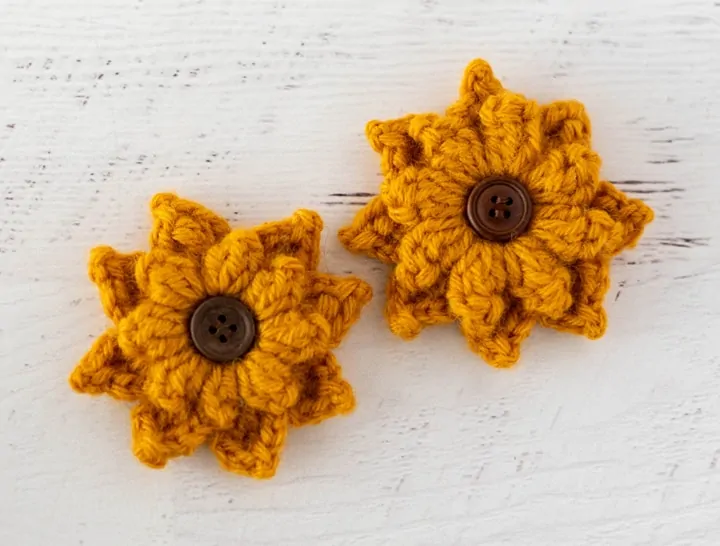 I actually used the exact flower I made in the Black Eyed Susan Flower Pattern here. I still had some of the same yellow yarn so I made a twin. Don't tell but I had to go with a similar, but not exactly the same button. I feel like my mother probably would have taken the old one off and made them match perfectly. Since sewing on buttons ranks right near the bottom of my list of fun tasks, I decided to call this 'character' and went with it! Make two of these sweet flowers for your wreath!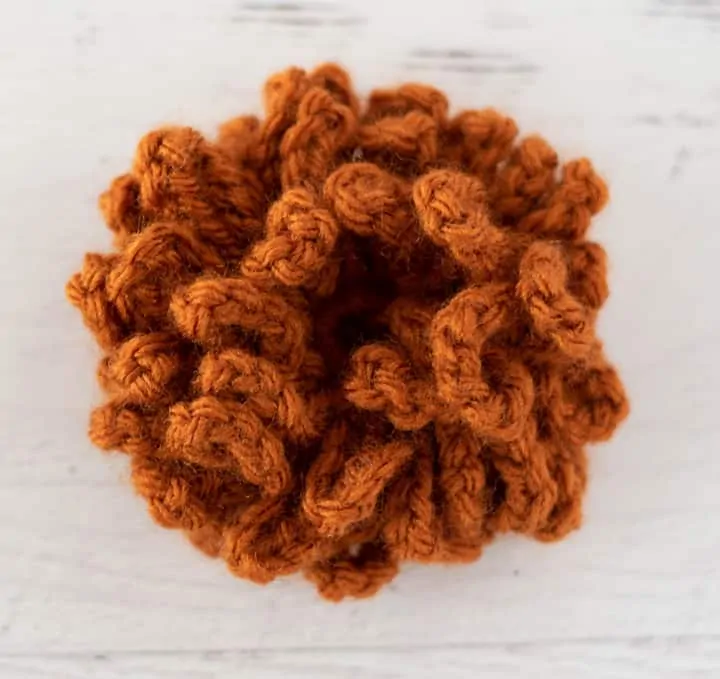 If you were ever eying the Loopy Flower Pattern but not sure where to use it, now is the time. I found a rusty gold shade in my stash and whipped one up quick!
MORE FALL CROCHET PATTERNS
If you love the this crochet wreath, you might also like to check out these other fall patterns. You can find all our Home Decor Patterns here. And be sure to check out this collection of fall crochet patterns too!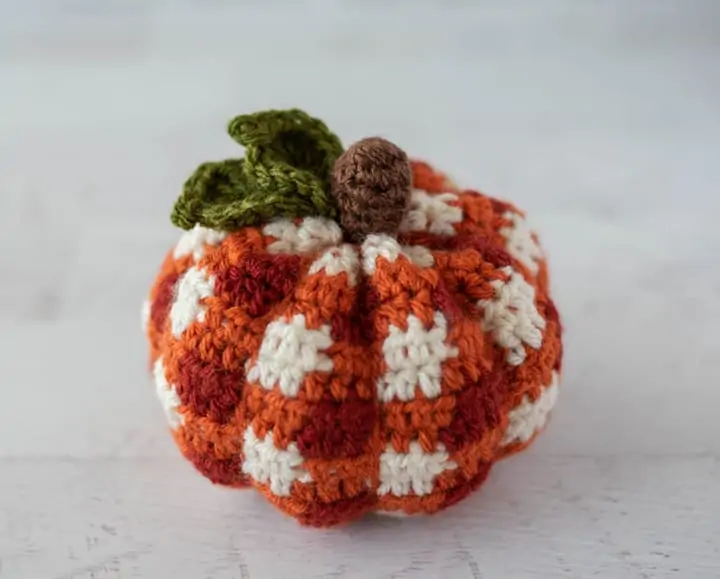 Crochet Plaid Pumpkin // Rooster Wine Bottle Holder // Crochet Pumpkin Hat
Mini Ribbed Pumpkin (Make 3):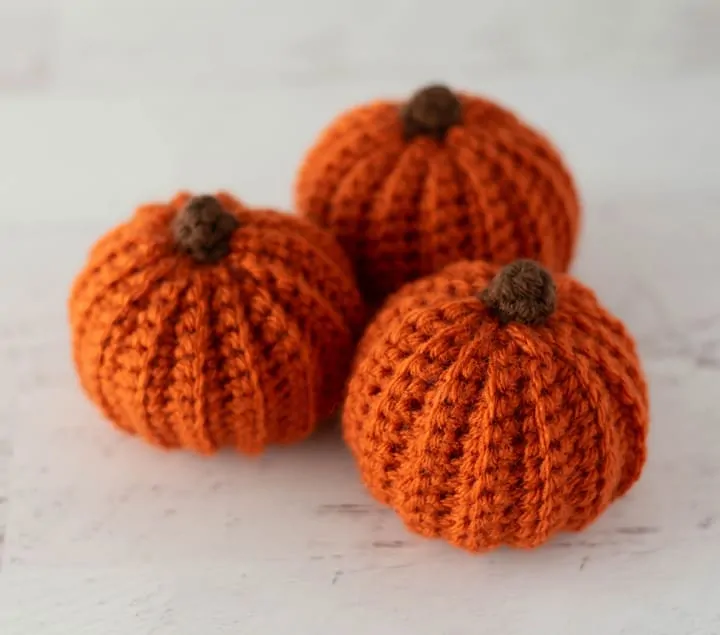 Get ready for a super fun mini ribbed pumpkin pattern! First crochet a piece of ribbed fabric, much like we did with the Ribbed Wonder Hat. Then make the tiniest of stems and we'll put it all together. Let's dive in.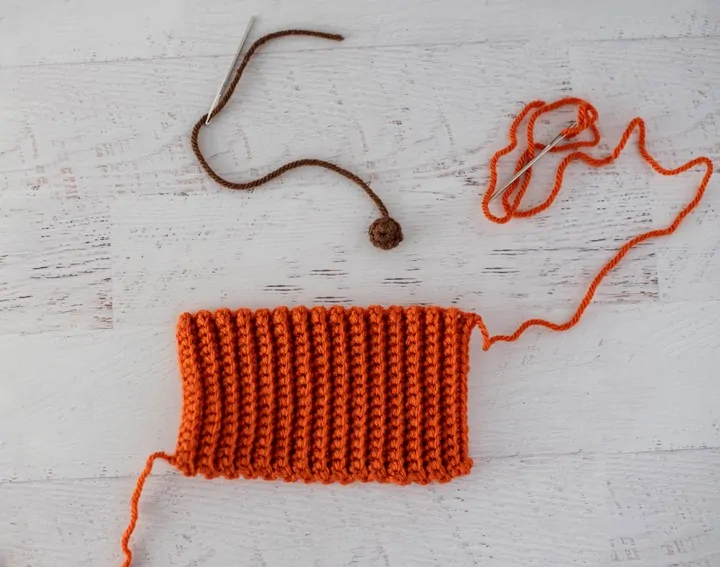 Using a G/6 4.00 mm hook, Chain 17
R1: sc in 2nd chain from hook and in each chain across row (16 st)
R2-30: ch 1, sc in the back loop across row (16 st). Fasten off, leaving a long strand for sewing.
At the end of row 30, the hat is a rectangle of ribbed crochet.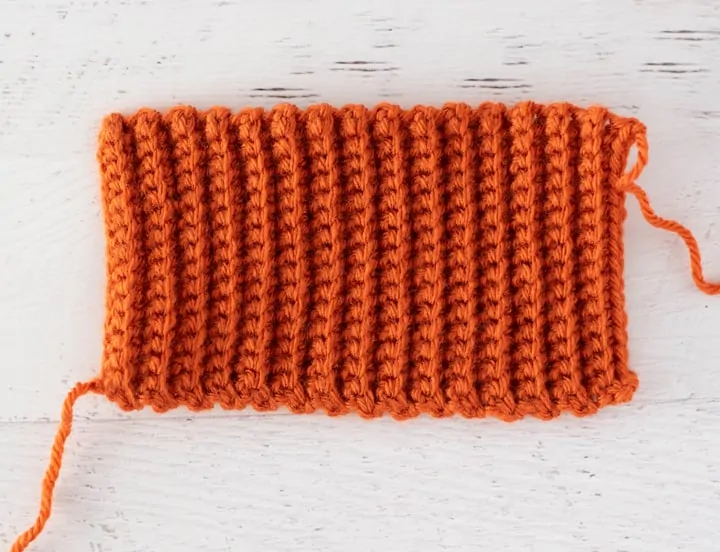 How to Seam the Mini Ribbed Pumpkin:
Take the bottom of work and fold up so that the starting edge is on top of the row to be worked. Whip stitch edges together. Alternative, you could work the seam by slip stitching the two ends together. You now have a tube.
Use a tapestry needle to work a running stitch across the top edge of the stitches and cinch one end closed. Knot and fasten off, hiding the end inside the pumpkin. You now have what looks like a miniature hat.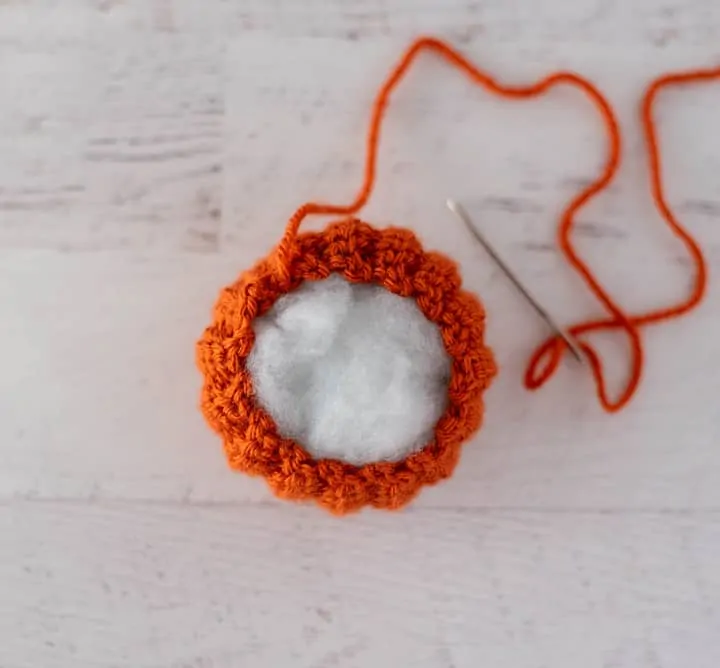 Stuff the pumpkin, then use a tapestry needle and yarn to work a running stitch along the opposite edge of the pumpkin. Pull tight to close, knot and fasten off.
Mini Ribbed Pumpkin Stem:
Using brown yarn and continuing with the G/6 4.00 mm hook, make a magic ring.
R1: 6 sc into ring (6 st)
R2: sc into each stitch (6 st). At end of round fasten off, leaving a long strand for joining. I like to work an invisible join, but you can fasten off another way if you prefer.
Sew the stem to the top of the pumpkin.
Make a total of 3 crochet pumpkins.
Crochet Wreath Assembly:
I used floral wire to attach my elements to the grapevine wreath. To attach a piece, cut a long length of floral wire, poke it in and out of the crochet piece in a spot where it won't be seen and then secure the wire to the grapevine wreath by twisting the ends together and cutting the wire close to the wreath.
I really suggest making sure you like how the wreath is shaped and where the crochet pieces will go. Take this part step by step and see how you like things before moving to attach the next piece. Alternatively, you might be able to hot glue the pieces in place. I just didn't have the heart to put hot glue on my crochet.
Here's one more look at our bit of loveliness: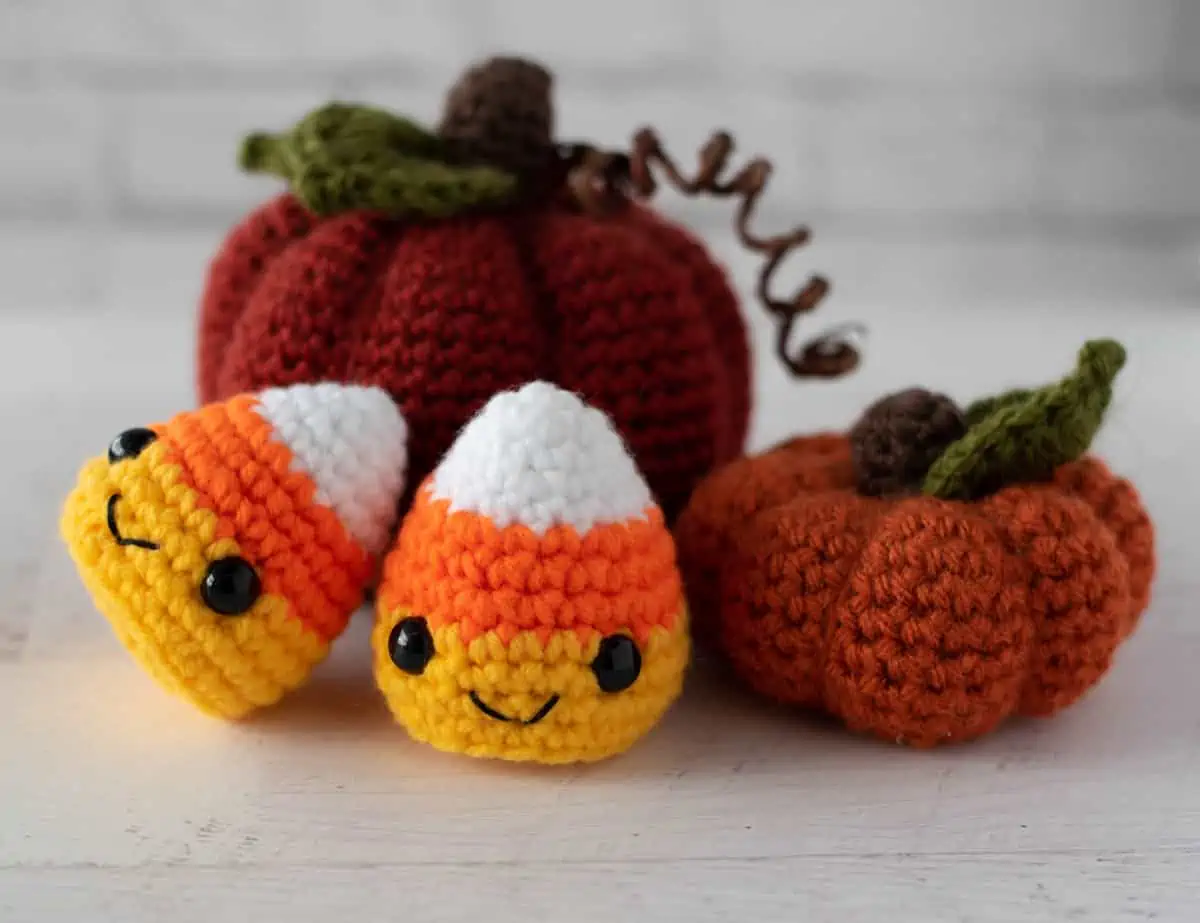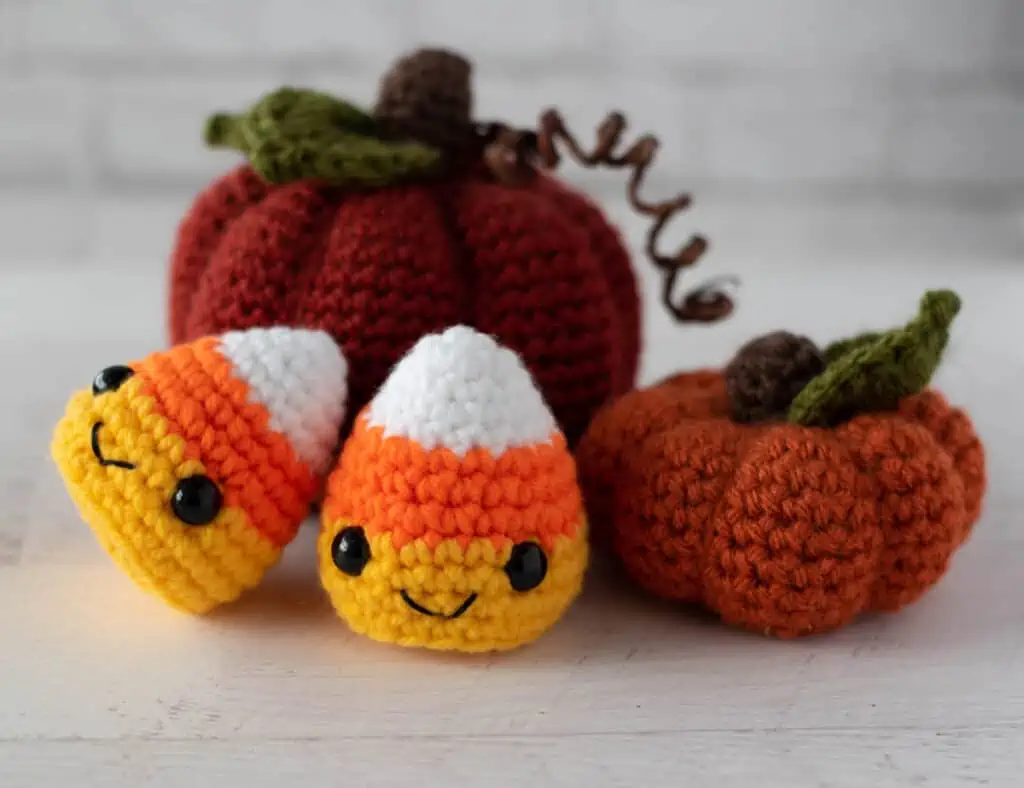 Explore Even More Crochet Patterns
Do you love fall crochet as much as I do? Here are some quick projects perfect for your fall holiday decor:
I love seeing your finished projects! If you enjoyed making this Fall Crochet Wreath I'd love to see yours on Instagram, be sure to tag me @crochet365knittoo. If you are on Facebook, stop over to the Crochet 365 Knit Too Facebook page or pop over to the Crochet365KnitToo Club and share a photo! I'd love to see your work!