Halloween Amigurumi That Are Eerie-sistable
This post may contain referral/affiliate links. Please read my disclosure for more info.
Oh Halloween, the only acceptable time to knock on your neighbor's door and demand candy. I love this holiday and it's one of the best times to bust out your crochet hook and work on some fun new Halloween amigurumi patterns!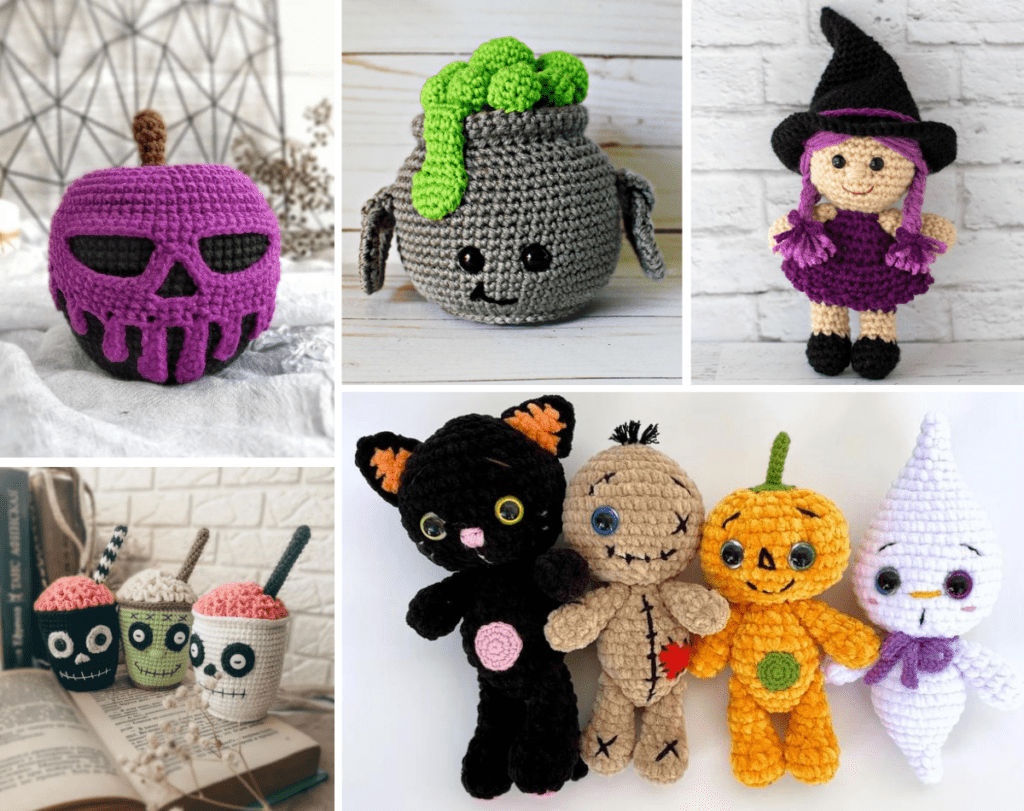 Are you ready to start working on your amigurumi projects for Halloween? This post will contain some advanced projects as well as some beginner-friendly projects, so whatever your comfort level is with crocheting, there is something here for everyone!
Most of these patterns use a variety of basic crochet stitches, so make sure that you know how to work a single crochet stitch, double crochet stitch, and slip stitch (sl st). These amigurumi patterns are absolutely perfect for any spooktacular festivities.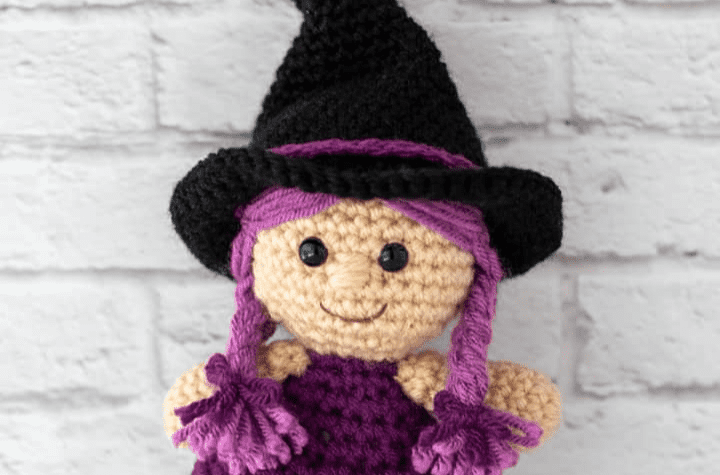 I absolutely had to start this round up with my Sami the Witch amigurumi. This is one of my favorite amigurumi patterns since it was inspired by a TV show I loved growing up, Bewitched. I am also still pretty obsessed with this little witch hat, to be honest.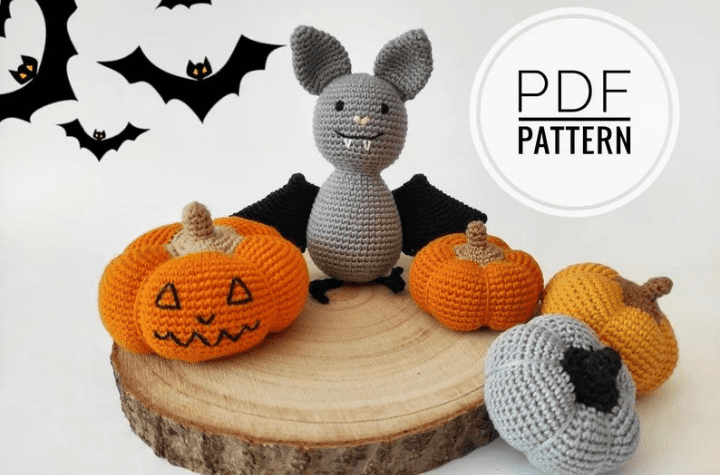 This Halloween amigurumi bundle by Svetik Shop Crochet not only includes an adorable crochet bat but also features a crochet pumpkin! The black embroidery floss that turns this pumpkin pattern into a jack-o-lantern really adds some fun to this pattern.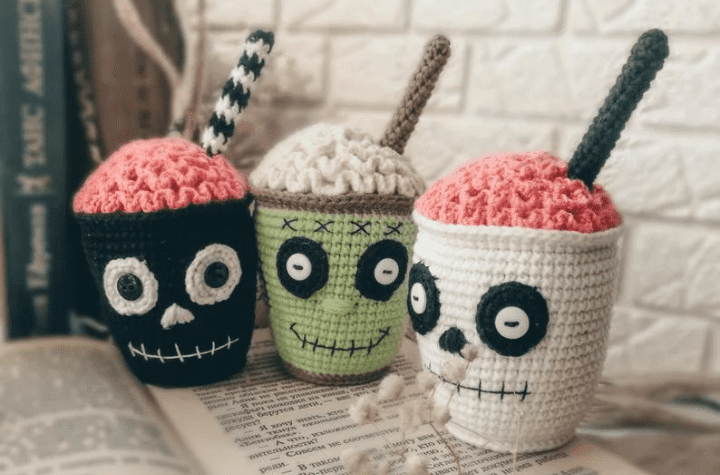 Creative Mamavyaz really brought out all the stops with this cute pattern bundle! I love the cute zombie with crochet brains cup. In this bundle, there are also these super cute little devils and skeleton cupcakes that aren't pictured above. They're just so fun!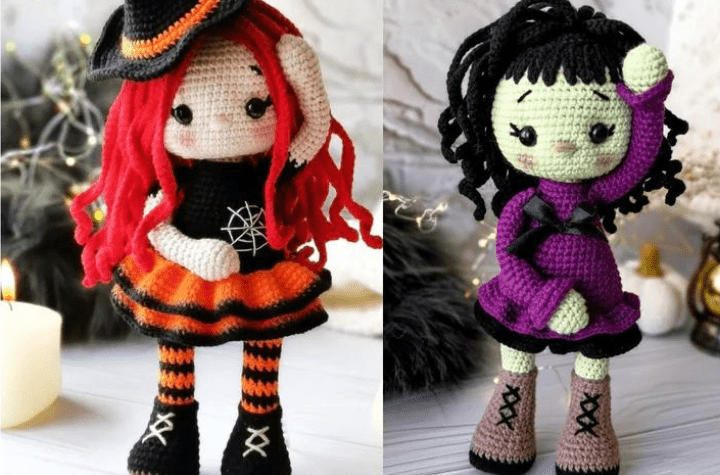 I really love this witch and monster doll combo by Creative Mamavyaz. If you've got anyone in your life that's into Monster High, I think you could totally make this work in time for the new movie coming out. I really love the green body color of the monster doll as well, I think that it gives a fun little twist that's more than just an outfit.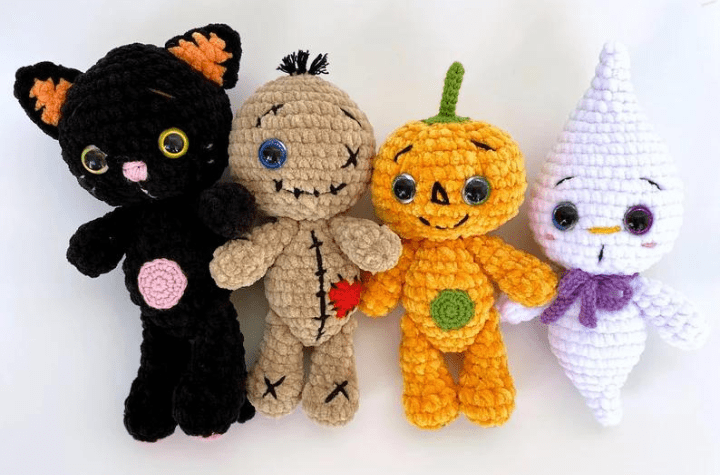 Whether you're looking for a crochet ghost, a black cat, a crochet voodoo doll, or a pumpkin man, this pattern by Fiona Crochet Design has a whole bunch to offer. Personally, I really like that the cat is more teddy-bear style instead of a traditional cat shape as it makes it a little more huggable.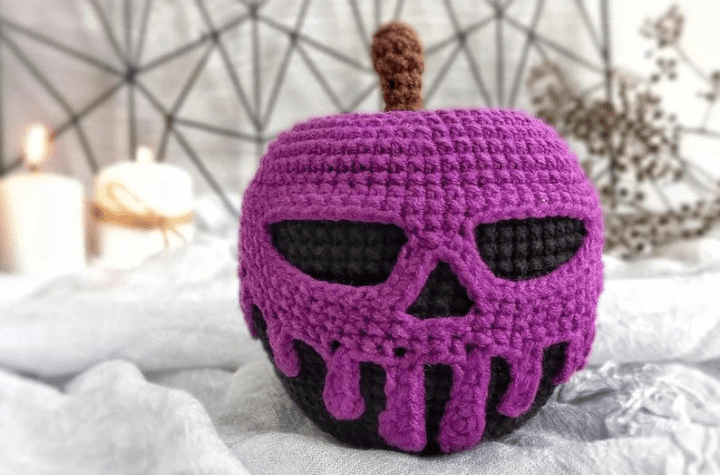 Snow White better steer clear because this Poison Apple pattern by Fayni Toys is just way too cool not to make. I mean, come on! This is such a fun decoration, especially if you have a Disney-themed room in your house.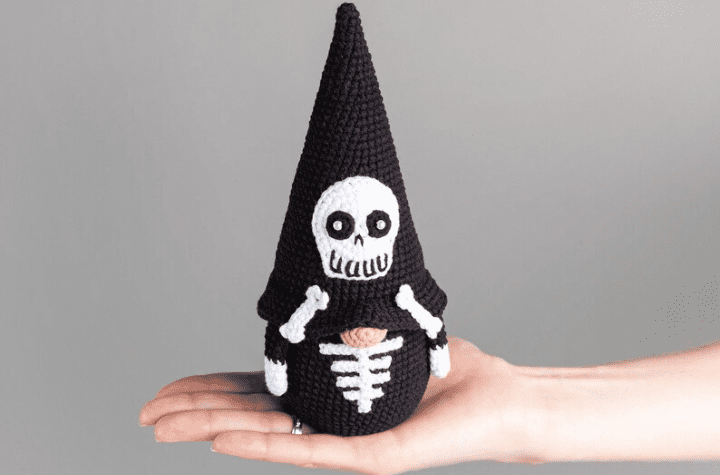 Nothing quite says Halloween like a skeleton gnome, right? This pattern by Mufficorn is super cute and is totally the perfect cute decoration.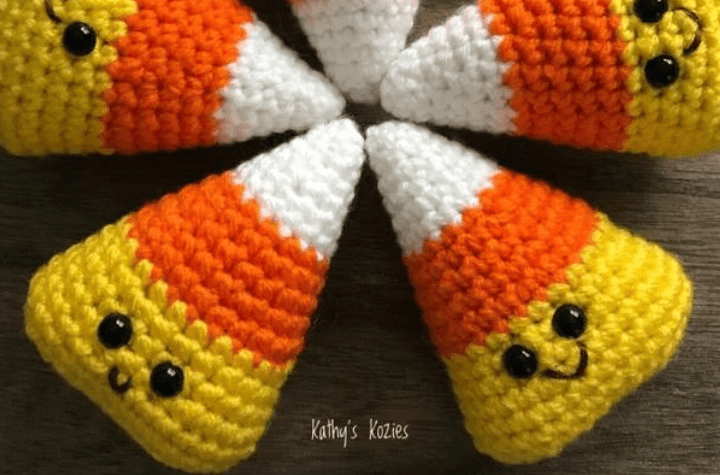 Honestly, how can you say no to these little candy corns by Kathy's Kozies? I just love their little smiles! This is such a cute crochet pattern for the fall as it makes an adorable toy or a super cute decoration.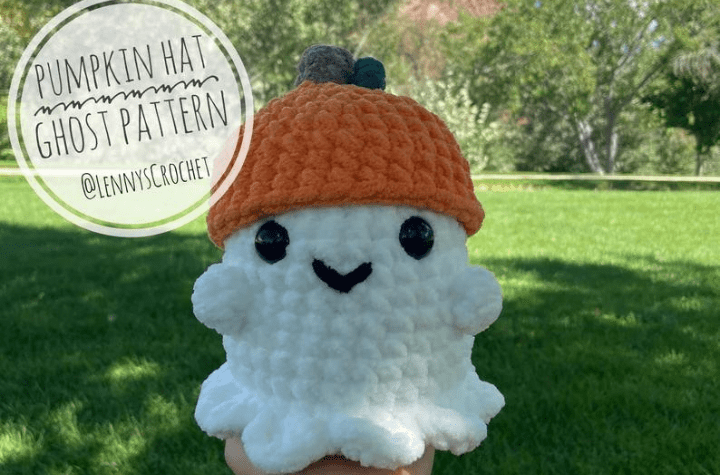 This little guy has a removable hat! How sweet! If you want your very own crochet ghost with a pumpkin hat, look no further than this pattern by Lenny's Crochet Pattern. I really love the color combination of the white with the bright orange of the pumpkin hat, I think it just gives this little ghost so much character.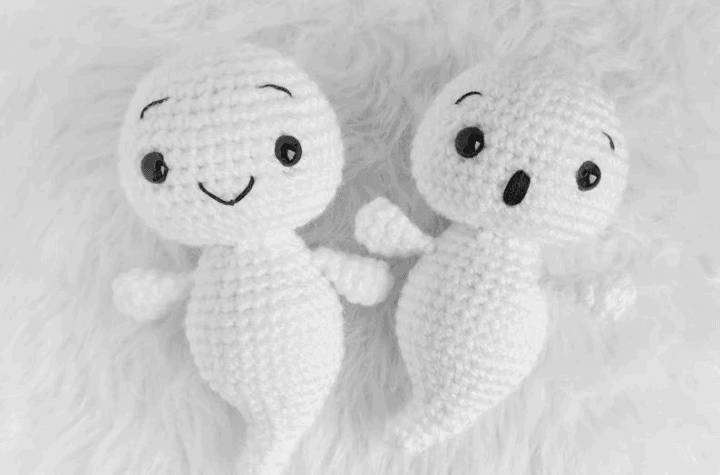 How can you say no to these little amigurumi toy ghosts by Ami Amore? These would make perfect stuffies for your little one or your boo.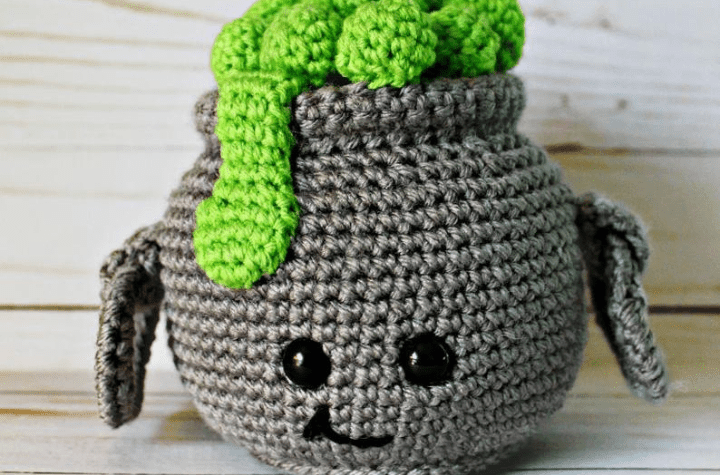 Every amigurumi witch needs a cauldron, right? This cauldron crochet pattern by Storybook Crochet Co is perfect for any little witch or wizard in training. Honestly, this could be the perfect baby shower gift for a Hogwarts-themed party.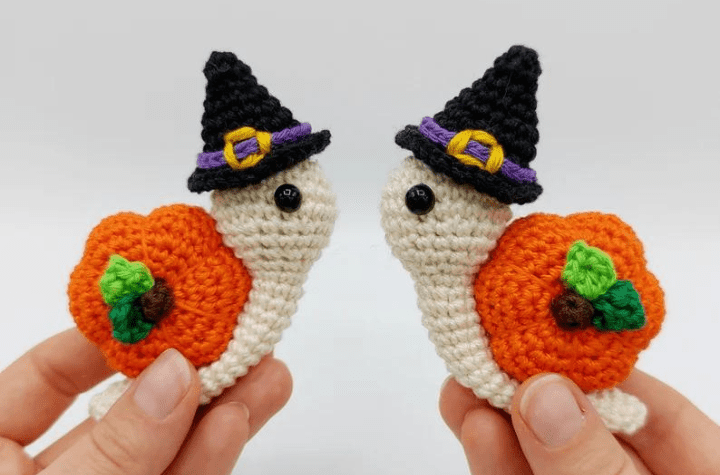 Lenie's snail amigurumi crochet pattern is adorable! I love just how small this pattern is. Keep in mind though, that because the pieces are quite small it could be a bit more fussy to crochet, perhaps a bit more suited to an advanced crocheter.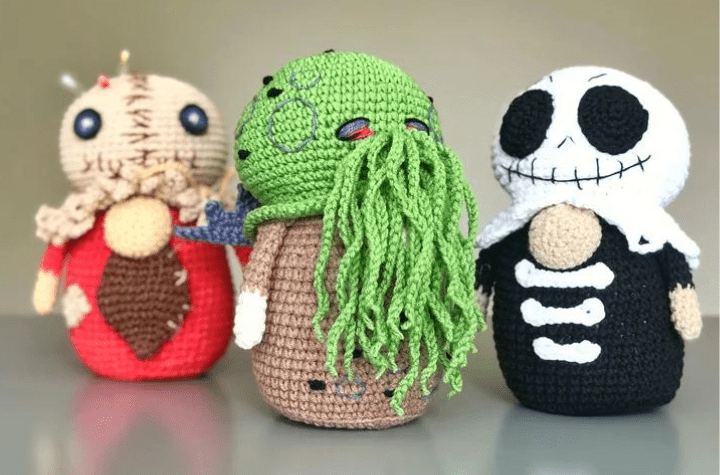 Love some little spooky gnome amigurumi dolls, especially when you can get them in a sweet bundle! These patterns by Natty Toys are perfect for anyone who likes scary movies, or maybe just loves Halloween.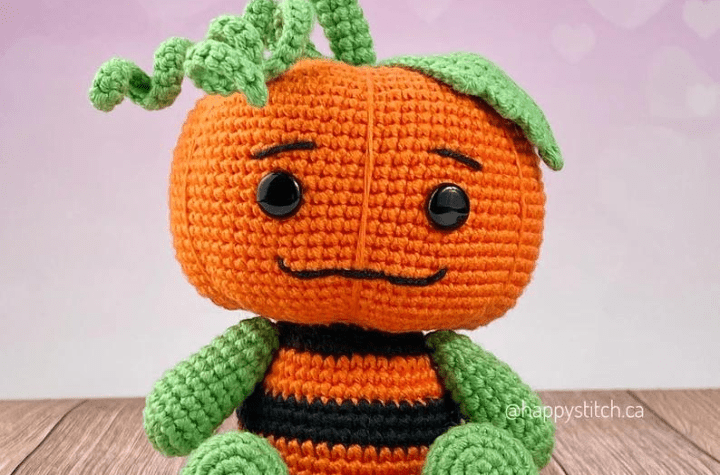 This amigurumi pumpkin crochet pattern by Happy Stitch CA is the perfect addition to your pumpkin patch. I love this little happy face! I also really like the bright colors in this pattern which really give it a sense of warmth.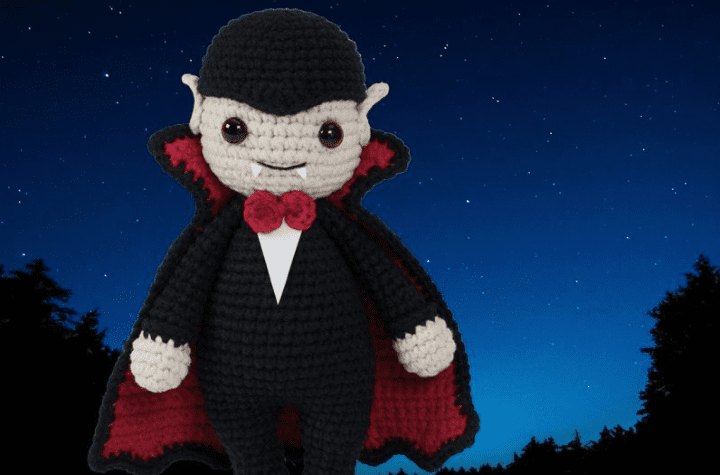 If you want to try a free pattern so that you can try your hand at this little crochet vampire by Amigurumi Today. I really love the little cape and bowtie on this little vamp.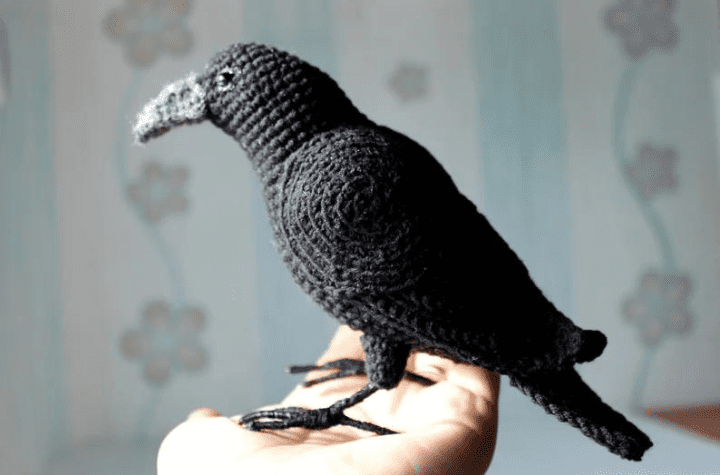 I really love this little crochet crow by TN Gifts UA. It would be adorable decor in a little pumpkin patch or maybe with a little scarecrow friend.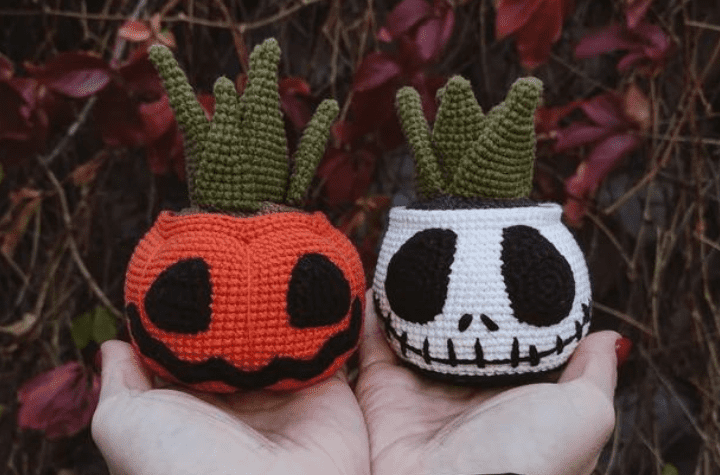 Maybe I am a sucker for crochet succulents, but I really love this pumpkin and skull crochet pattern by Mrs. Crowlet. They're just the perfect little additions to your Halloween decor.
I love seeing your finished projects! If you enjoyed making one of my patterns I'd love to see yours on Instagram, be sure to tag me @crochet365knittoo. If you are on Facebook, stop over to the Crochet 365 Knit Too Facebook page or pop over to the Crochet365KnitToo Club and share a photo! I'd love to see your work.