Crochet Witch Hats That'll Knock You Off Your Broom
This post may contain referral/affiliate links. Please read my disclosure for more info.
Nothing quite says fall like a beautiful crochet witch hat! There really are endless options for spicing up your Halloween outfit this year.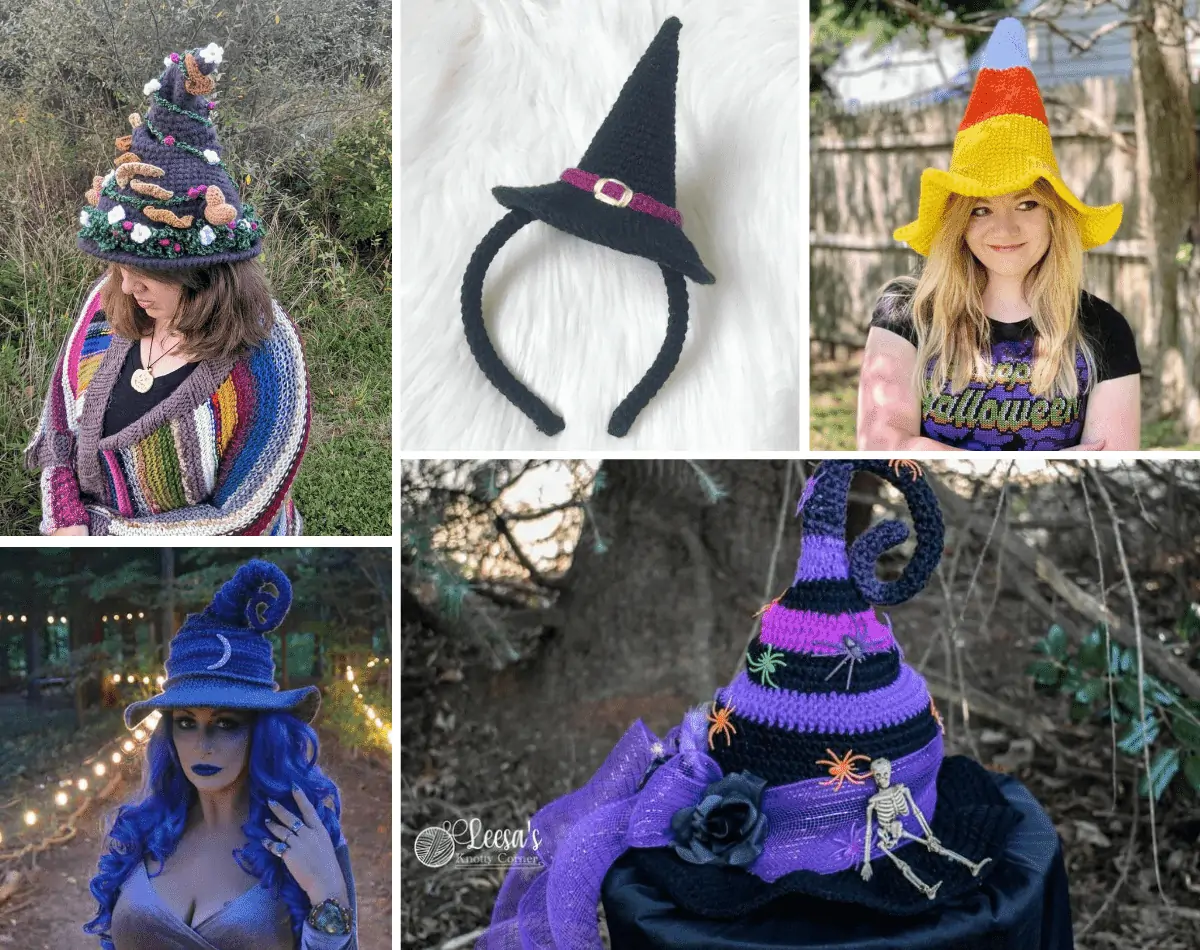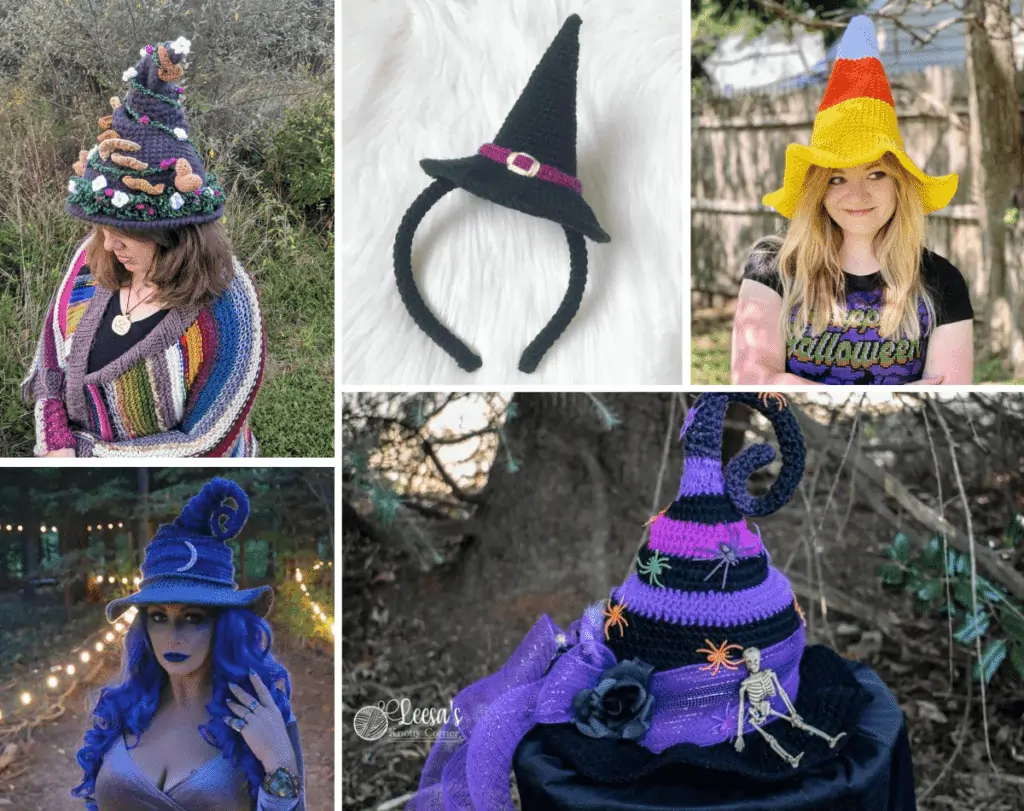 These witch hat crochet patterns are sure to be a fun costume accessory that will knock everyone off their brooms!
Most of these patterns use a variety of basic crochet stitches, so make sure that you know how to work a single crochet stitch, double crochet stitch, and slip stitch (sl st). It may also be helpful to have some stitch markers on hand as well as some starch if you want your crochet hat to be a bit stiffer.
Remember to measure your head circumference now so that you'll already know if a pattern will work for you before purchasing. Of course, if you only need it a bit bigger or a bit smaller you can use a different crochet hook than the pattern recommends to give yourself that size difference.
Crochet Witch Hats
Dust off your crochet hook and get ready to make some magic happen with these whimsical crochet witch hat patterns. Whether you're looking for a more traditional witch hat or just a hint of fun, you're sure to find the perfect pattern.
Photo Credit: Crochetverse
This stunning witch hat pattern that has a perfect little twist at the top. I also love the pattern variation that turns this witch hat into a Christmas tree. A perfect pattern for spooky season and beyond! So fun!
Photo Credit: The Twisted Hatter
Ready to live your best garden witch life? The Twisted Toadstool crochet pattern gives me so many costume ideas! This is such a cute witch hat and I love that it's a bit of a twist on traditional crochet witch hats.
Photo Credit: S Crochet Designs
If you want to take your witch costumes up a notch, this Whimsical Witch Hat pattern is going to be perfect for you! This pattern ranges from toddler to adult size, so every family member can have their very own hat.
Photo Credit: Leesa's Knotty Corner
There really is something about purple and black yarn that screams fall, isn't there? The Witches' Brew-tiful Hat Pattern is so fun and I really love the added decor. It gives it a touch of magic that is just so fun!
Photo Credit: Crochet Spot Patterns
If you want to get back to the basics with your witch hat, this crochet witch hat pattern has that perfect spooky look. This easy pattern comes in five different sizes and has the best shaping. I also love the excuse to use some leftover yarn on the buckle and for the pop of color on the hat band.
Photo Credit: Spunky Purl Crochet
Who doesn't love a wide-brimmed hat? The Sabrina Hat is the perfect essential costume accessory. This witch hat crochet pattern is sized to fit all from a newborn head to an adult head, so you can have a whole coven of witches!
Photo Credit: Crafty Kitty Crochet
You definitely need a candy corn witch hat. I mean, just look at this beautiful pattern. The ruffled brim gives it the feel of a slouchy witch hat without it being too floppy. Perfection!
Photo Credit: Crafty Kitty Crochet
Who knew we needed a harvest witch? This super cute Sunflower Witch Hat is adorable. I also love the added touch of feathers and the floppy brim is just an absolute must-have!
Photo Credit: Happy Crochet Lady
There really aren't enough green witch hats out there!  I love this Garden Fairy Witch Hat. So fun and whimsical.
Photo Credit: Fandom Vintage Shop
If you're more into a summer and spring witch theme, then you'll love this Straw Hat pattern! I adore the ribbon around the neck to help keep your hat on. So fun!
Photo Credit: Pawsome Crochet
Just for fun, I had to include this cat hat pattern. I mean, really how could I not? Surely you need a cat witch hat in your life, right? For more cat hat patterns, check out this crochet cat hat collection.
Photo Credit: Shop Zoe Creates
If you're more of a headband person, this is a super cute option. 'm loving that it's got that traditional style but on a headband, so it's a pretty quick crochet project. It would look great as an easy Halloween costume accessory.
Photo Credit: Chrisette Designs
There is so much to love with this Witch Hat. First of all, it has a stiff brim if that is more to your taste. Second, it has some adorable creatures including a cute little crochet cat and a crochet pumpkin. Third, it was made with glowing yarn on the bottom! How cool is that? Now you really won't lose the members of your trick or treat group when they're glowing.
Photo Credit: Thread Tutorial
Another witch headband, but this time, let's add some pumpkins! This pattern by is so stinking cute and it's perfect for everyday fall wear. Plus it comes in multiple sizes, so you can make one for everyone in the family!
Photo Credit: Wolf Bite Fiber Works
The Bramble Witch pattern is the twisted witch hat of any garden witch's dreams. I really love the mushroom stairs, I think they're just so fun.
Explore More Halloween Crochet Patterns
Do you love crochet as much as I do? I think you're going to love these other fun crochet patterns:
I love seeing your finished projects! If you enjoyed making one of my patterns I'd love to see yours on Instagram, be sure to tag me @crochet365knittoo. If you are on Facebook, stop over to the Crochet 365 Knit Too Facebook page or pop over to the Crochet365KnitToo Club and share a photo! I'd love to see your work.