Look who's invited to your next fall get-together?  A Crochet Pumpkin Wine Cozy, of course!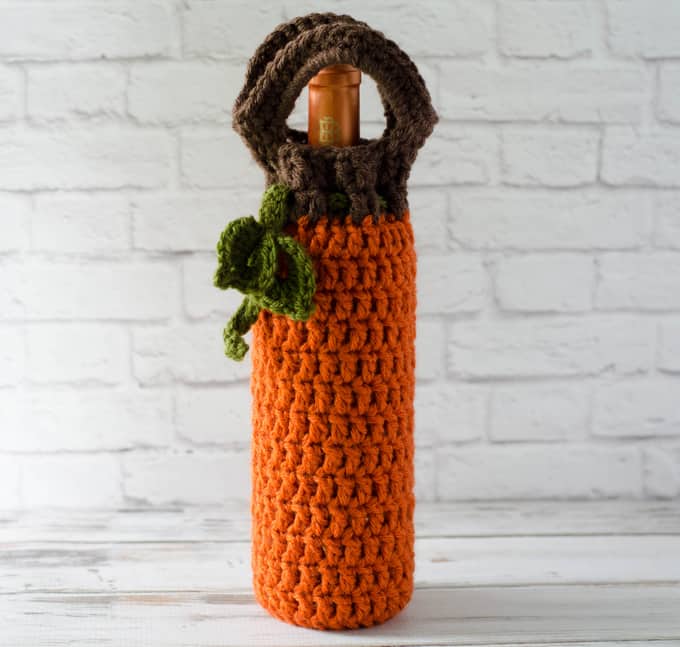 There's just something about this pumpkin wine cozy that makes me happy.  Maybe it's the tall elegance in that lovely, juicy orange color.  Or perhaps how that tendril curls just a little.  Or maybe it's the cute little leaves or how the handles form the pumpkin stem.
As you probably figured, I have a thing for wine cozies these days.  They are just so darn fun.  And easy.  I can make one in an evening and almost always out of scrap yarn.  And any time I can dig in my stash and come up with something.  Well, that's the best, isn't it?
If you've missed any of my wine cozies, be sure to click here to see every last one.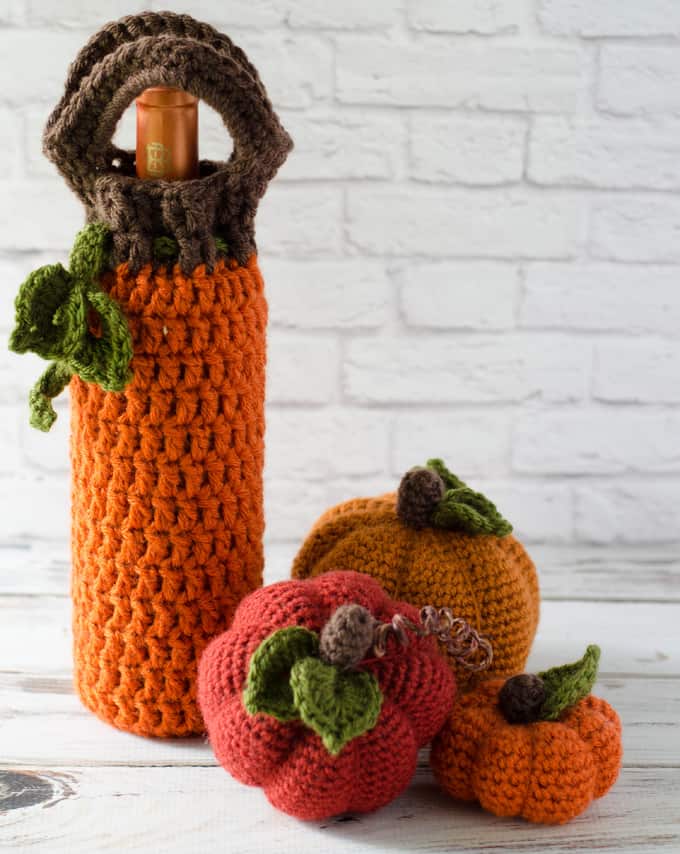 And here she is with the small, medium and large pumpkins.  Aren't they a cute bunch?  Decorating for fall has never been so fun!
Let's get started on this beauty, shall we?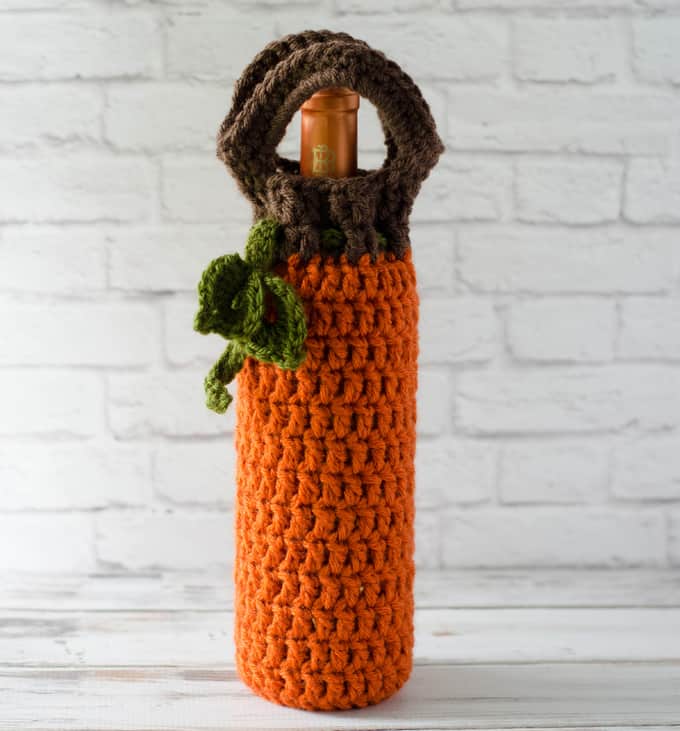 Purchase an ad-free printable version of this pattern
Crochet Pumpkin Wine Cozy Pattern
Here is what you will need:
Resources and tutorials you may find helpful in following this pattern: Crochet Abbreviations, US to UK Crochet Conversion Chart.  Find links to stitches on the "Tutorial" menu: Getting Started will show basic stitches used in many patterns and Crochet Stitch Dictionary shows our growing collection of crochet stitch tutorials.
Cozy
Wine cozy is worked using 2 strands of yarn.  So either pull a strand from the outside and inside of the yarn skein or wind a small ball to use as your 2nd strand.
R1:  Using 2 strands of orange yarn, make a magic ring, chain 3 (counts as 1st dc) 11 dc in ring (12 dc total). Sl St to 1st st.
R2:  Ch 3 (counts as 1 dc here and throughout), 1dc in same st as joining, 2 dc in each of the remaining stitches. Sl st to 1st st. (24 st)
Now work in even dc:
R3-15: Ch 3 for 1st stitch, dc in remaining stitches (24 st)  Sl st to 1st st.  Change to brown color in joining slip stitch of last round.
R6-17:  With Brown and using a double strand of yarn, Ch 3 for 1st stitch, dc in remaining stitches (24 st) Change to Brown color in joining slip stitch of last round.
R18:  Ch1, sc in same st as joining and next 2 st, ch 14, skip 7 st, sc in next 5 st, ch 14, skip 7 st, sc in last 2 st.  Sl st to 1st st.
R19:  ch 1, sc in same st as joining and next 2 st, sc 16 in ch-14 loop from the previous row, sc in next 5 st, sc 16 in ch-14 loop, sc in next 2 st. Sl st to joining. (42 st)
R20:  ch 1, sc in same st as joining and around row. (42 st).  Fasten off and weave in ends.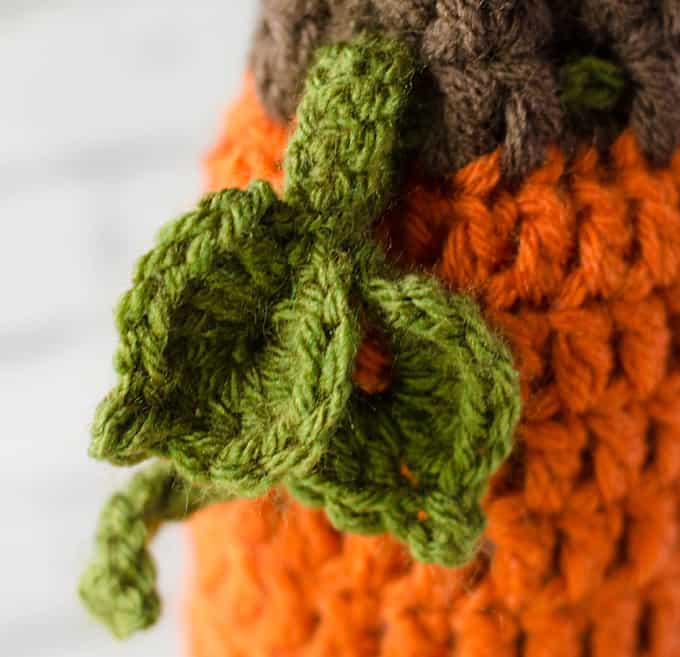 Tie:
With Green and one strand of yarn, chain 45, sc in 2nd ch from hook and across.  At end of row, do not fasten off, but make 2 leaves as follows:
Leaves:
*Chain 8 and join to form ring.
R1 in the ring just made work all of the following:  ch 2, 6 dc, ch 3, sl st to 1st ch, 6 dc, ch 2, sl st.*  One leaf made.  Do NOT fasten off.
Repeat from * to * to make a 2nd leaf.  Fasten off, leaving a long strand for sewing.  Use the long strand to better attach the two leaves to the end of the tie, then weave in the end and fasten off.  Weave in the end from the other side of the tie.
Finishing:
Starting at the left front as you are looking at the cozy, weave tie over and under 2 dc around row 16 and tie loosely, letting the side with no leaves gently curl naturally.
There are wine cozies for just about every occasion right here on the blog!  Check them all out here!
There are lots of fun patterns coming up that you won't want to miss! Sign up for my weekly newsletter so you won't miss a thing!
Purchase an ad-free printable version of the Pumpkin Wine Cozy
I love seeing your finished projects! If you share your Crochet Pumpkin Wine Cozy on Instagram, be sure to tag me @crochet365knittoo.  If you are on Facebook, stop over to the Crochet 365 Knit Too Facebook page and share a photo!  I'd love to see your work!
Written pattern copyright Cheryl Bennett 2018, all rights reserved.  Please do not reprint or repost this pattern.  If you would like to share this Pumpkin Wine Cozy pattern with others, just link to this page.  If you'd like to make items for sale from this pattern, please visit my About page for more information.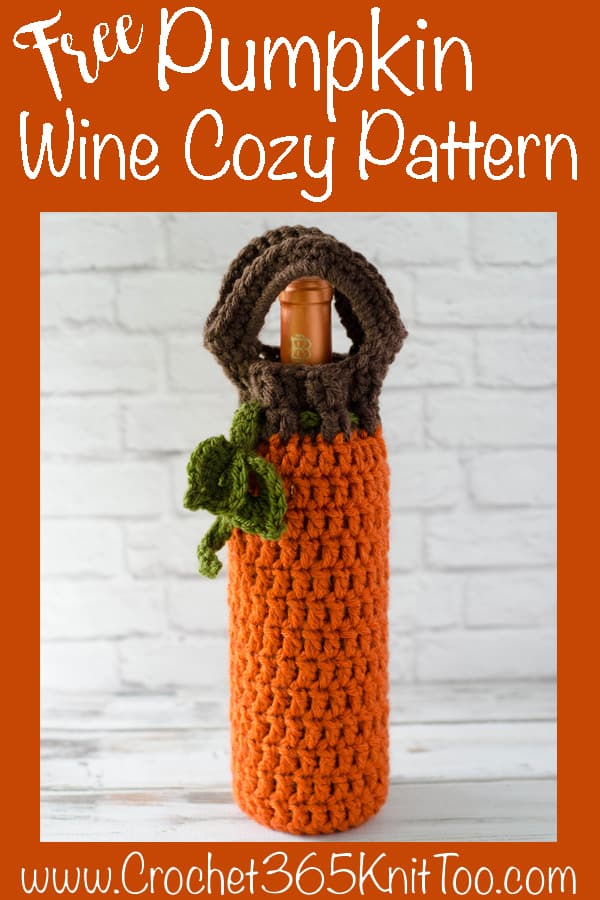 Subscribe to the Newsletter
Get crochet patterns, news, special offers and other crochet goodness straight to your in box. Look for your first email to get access to The Vault, where you can download a free crochet & knit journal and other crochet goodies!