Crochet Pumpkin Rattle
This post may contain referral/affiliate links. Please read my disclosure for more info.
You know what you really need for that baby in your life this year? A crochet pumpkin rattle. The thing you never thought you needed, but oh man.. now … you so do…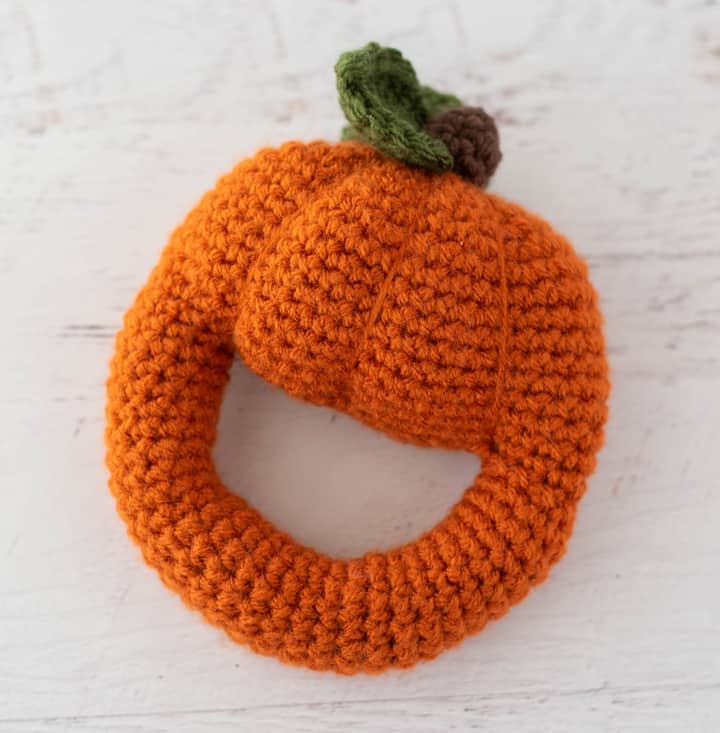 I was looking at my small and medium pumpkins the other day and bam.. it hit me..  A crochet pumpkin rattle would be SO FUN. I mean who really thinks about decking out their baby with a fall themed toy?  
Sure there are plenty of adorable Halloween costumes, but a rattle.. well a crochet pumpkin rattle is just so, so easy. It's like a piece of statement jewelry.  Only for a baby.
I love that the rattles are quick and not too hard.  I can make a crochet pumpkin rattle in an evening while watching something lovely on TV or visiting with my family.  I also love that they are a good use for scrap yarn. Just a little over an ounce of yarn for the main color and a few yards for the leaves and stem.  
Pop a little rattler in while stuffing, sew the whole thing up, a few stitches for definition, attach the stem and leaves and and you're done. A cutie pie rattle for your own little cutie pie!
More Free Baby Crochet Patterns
If you love this Crochet Pumpkin Rattle pattern, you might also like to check out these other rattles for babies. You can find all our Baby Crochet Patterns here.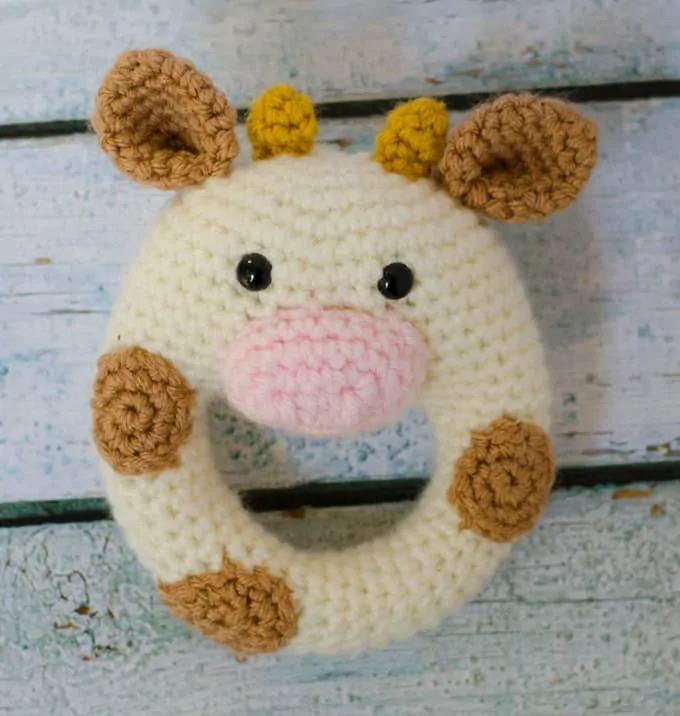 Cow Rattle // Fox Rattle // Hippo Rattle
And now… to crochet your new love… this cute crochet pumpkin rattle!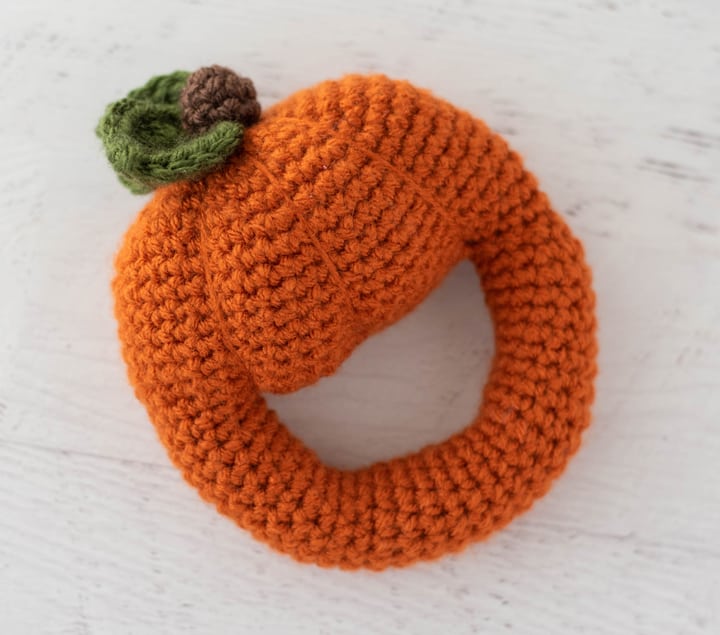 Purchase an ad-free printable version of the Pumpkin Rattle Pattern here
Crochet Pumpkin Rattle
Materials
Resources and tutorials you may find helpful in following this pattern: Crochet Abbreviations, US to UK Crochet Conversion Chart. Find links to stitches on the "Tutorial" menu: Getting Started will show basic stitches used in many patterns and Crochet Stitch Dictionary shows our growing collection of crochet stitch tutorials. I really like to use the invisible seamless join when finishing pieces that get sewn together.
Finished Rattle Size
5" tall (excluding the stem & leaves) by 4.5" across.
Pumpkin Rattle
With orange yarn, make a magic ring
R1: 6 sc into ring (6 sts). (Do not join, worked in rounds)
R2: 2 sc in ea st around (12 st)
R3: *sc in next st, 2 sc in next st, repeat from * around (18 st)
R4: *sc in next 2 st, 2 sc in next st, repeat from * around (24 st)
R5: *sc in next 3 st, 2 sc in next st, repeat from * around (30 st)
R6: sc in next 2, 2sc in next st *sc in next 4 st, 2 sc in next st, repeat from * around until last 2 st, sc in last 2 st. (36 st)
R7: *sc in next 5 st, 2 sc in next st, repeat from * around (42 st)
R8-16: sc around (42 st)
Do NOT fasten off; Continue on to handle.
Rattle Handle
Continuing with orange yarn, follow the instructions below. Note that the rattle shown in this part is the adorable fox rattle that you can find here. The instructions for the handle are worked in the same way; just using orange yarn throughout instead!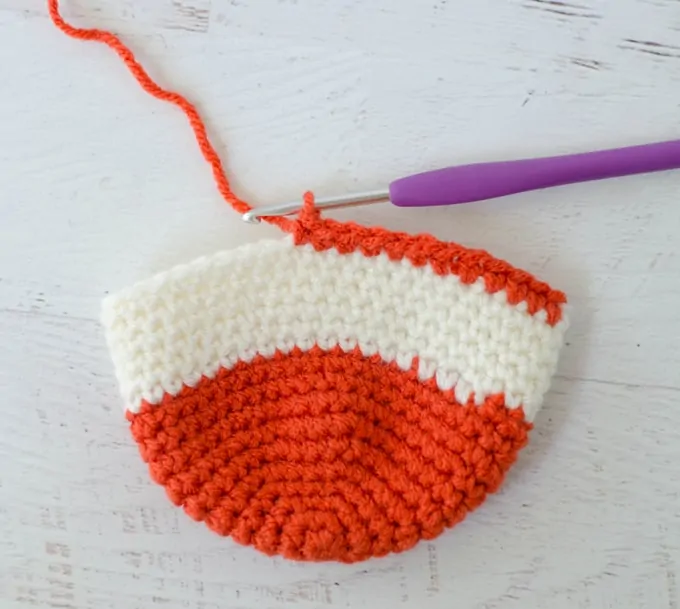 R1: Sc in next 12 st (12 st). Leave remaining stitches of row unworked.
Fold over work and starting round 2 by working in the first stitch of round 1. Continue to work handle in spiral rounds.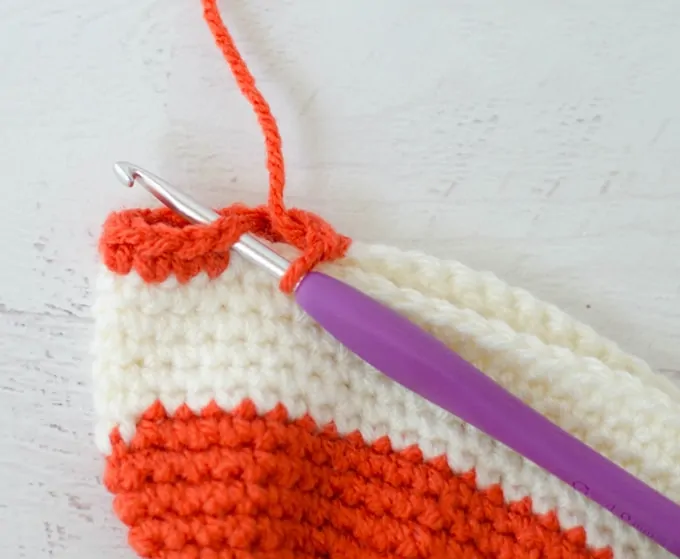 R2-28: sc around. Stuff handle every 8-10 rows or so.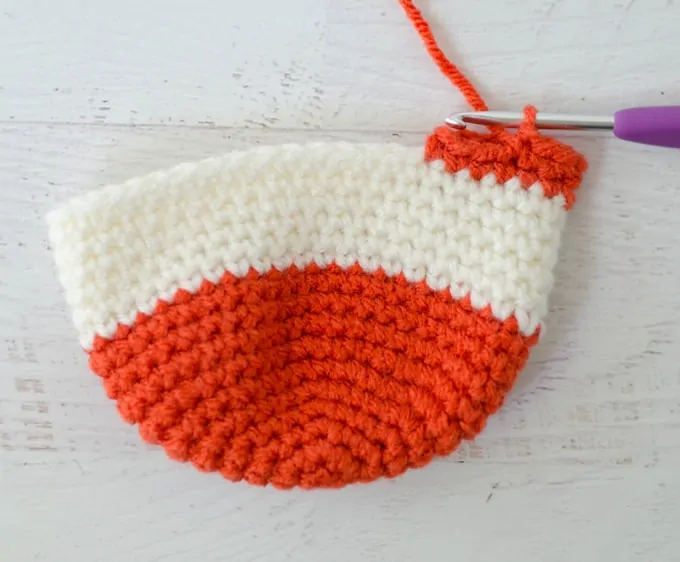 Fasten off leaving a long strand for sewing. If desired, finish row 28 with an invisible join. Or, simply fasten off in the usual way. Make sure handle is stuffed and head of rattle is folded roughly in half. Then carefully bring open end to slip into the folded area on the opposite side of the start of the handle. Carefully sew in place with overhand stitches.
Stuffing the Rattle Head
Leave a long strand for sewing.  Lightly stuff head, but do not sew shut yet. Stuff head the rest of the way and insert a rattle in between the stuffing (Photo below of the Hippo Rattle shows the noise making rattles purchased off Amazon).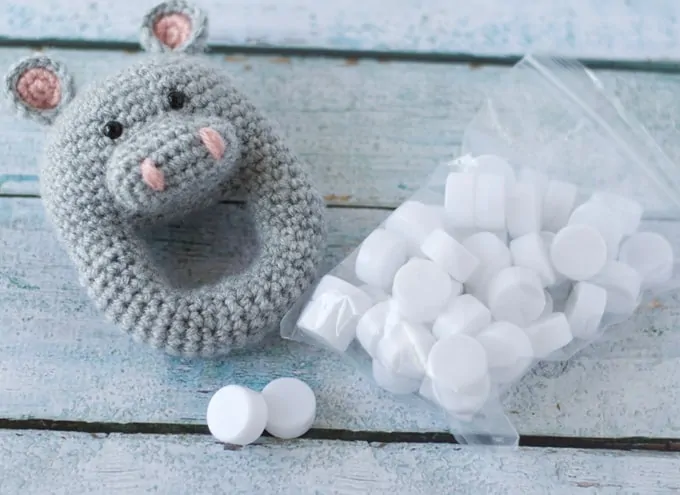 Sew head shut, making sure the pumpkin rattle is stuffed nice and firm as you work along.
Sculpting the Crochet Pumpkin Rattle
Thread a yarn needle with a long strand of orange yarn, tie a knot in one end and secure it near the top of the pumpkin. You will be using the yarn to tightly wrap yarn to form the ribs on the pumpkin. Start at the top, bring needle into the opening of the rattle near one side of the handle, bring it to the back side of the rattle on an angle back to the top and take a small stitch. Make sure the yarn is positioned correctly and pull yarn tight. Refer to the photos for help in placement of the sculpting stitches.
Note that these stitches will be hidden under the stem which is attached.
Then repeat the process on the other side, making a stitch at the top again and pulling tight. You may need to knot to hold the tension. Then repeat once more straight down and around. Pull tight, adjust as needed and knot off securely.
Pumpkin Stem
Make a magic ring
R1: 8 sc into ring (8 sts).
R2-3: sc around. At end of 3rd round, slip stitch to next stitch and finish off, leaving a long strand for sewing. Stuff.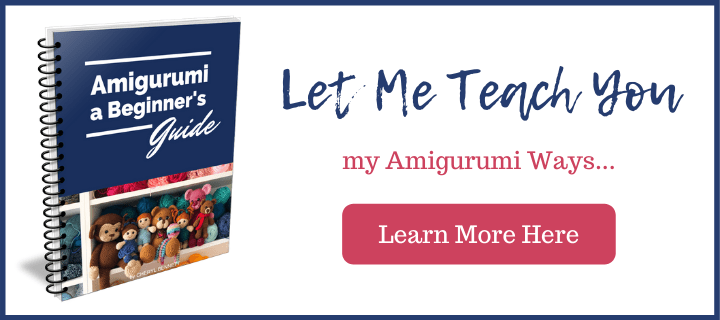 Leaves
*Chain 8 and join to form ring.
R1 in the ring just made work all of the following: ch 2, 6 dc, ch 3, sl st to 1st ch, 6 dc, ch 2, sl st.* One leaf made. Do NOT fasten off.
Repeat from * to * to make a 2nd leaf. Fasten off, leaving a long strand for sewing.
Sew the leaves and stem in place on top of the pumpkin.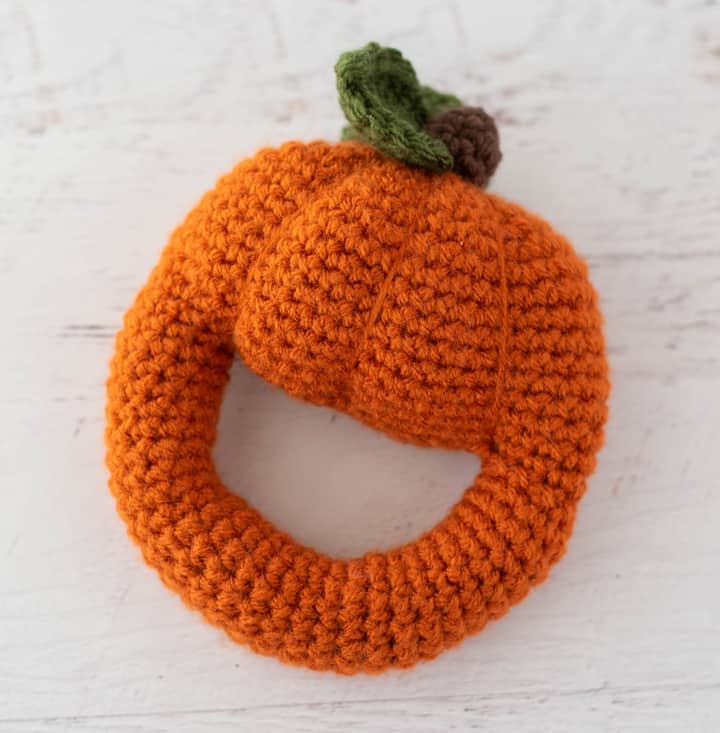 Purchase an ad-free printable version of the Pumpkin Rattle Pattern here
I love seeing your finished projects! If you enjoyed making this adorable crochet Pumpkin Rattle I'd love to see yours on Instagram, be sure to tag me @crochet365knittoo. If you are on Facebook, stop over to the Crochet 365 Knit Too Facebook page or pop over to the Crochet365KnitToo Club and share a photo! I'd love to see your work!