Easy Crochet Coaster Pattern Perfect for Your Home Decor
This post may contain referral/affiliate links. Please read my disclosure for more info.
A gorgeous crochet coaster is the perfect little touch in your home. Absorbent and functional, yet lovely, it brings texture and beauty to your decor.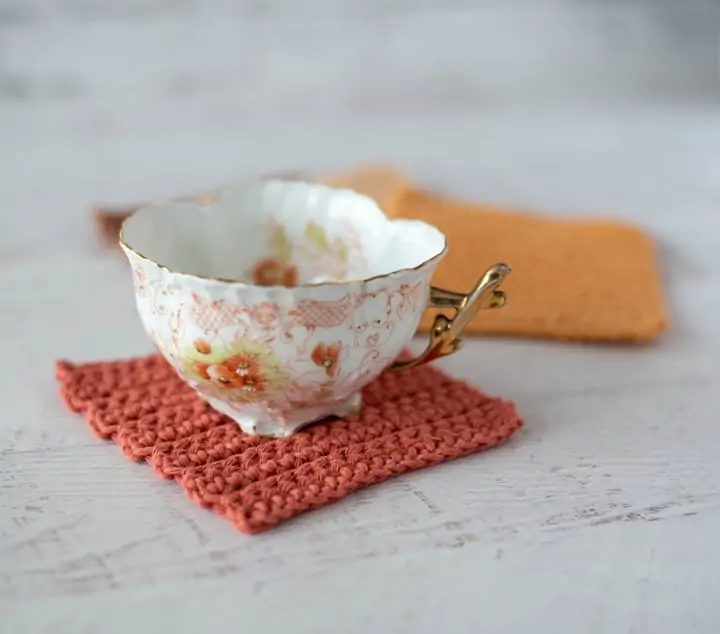 I'm pretty much in love with these Herringbone Stitch crochet coasters. Ever since we learned the Herringbone Half Double Crochet stitch I've been itching to make these little cuties. Aren't they fun?
I love how the stitch is the star of this square coaster. All that texture makes me happy and these crochet coasters are just so easy to make! This crochet coaster is a great pattern for beginners! They look amazing in your home decor while protecting your dining table or end tables from damage.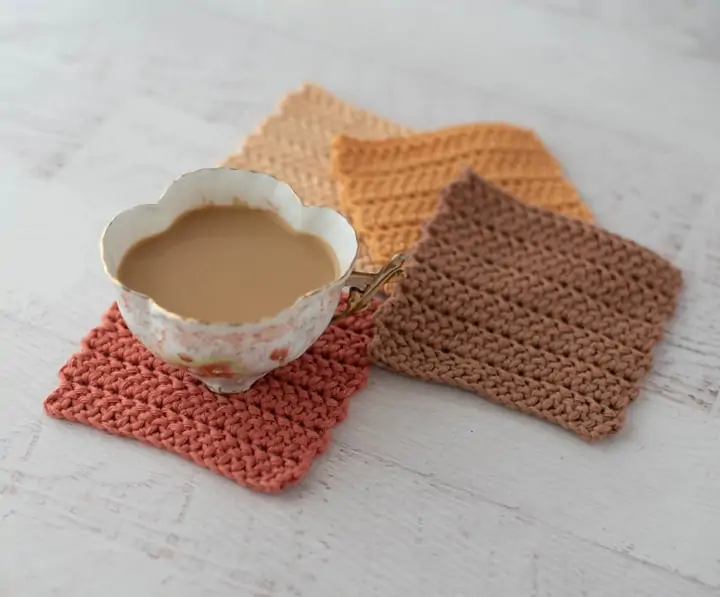 Crochet coasters make great gifts too! Whether you're looking for a nice Christmas gift, a gift for another occasion or you simply want a pretty coaster to protect your coffee table from hot mugs of coffee or cocoa, this free crochet pattern is the perfect project! Nothing says love like a handmade gift and really… who wouldn't love a crochet coaster set?!
Crocheted Coasters are fun to make too. Once you learn the easy crochet stitch pattern it's mindless crocheting and before you know it, you have a beautiful coaster, perfect for your home decor!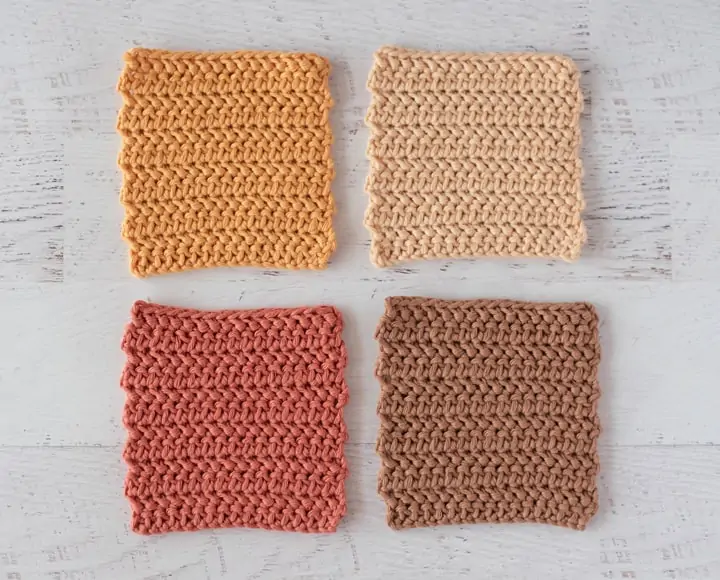 Wondering what stitches you need to know for this free coaster pattern? Just two: the chain stitch and the Herringbone Half Double Crochet stitch. The Herringbone Half Double Crochet stitch is a variation on a regular half double crochet. I love how it looks and the jagged edges it forms, so I kept my coasters as-is for a more rustic vibe.
Just think: two simple stitches and a yarn needle to weave in ends at the end! This coaster set is the perfect free crochet coaster pattern!
MORE CROCHET COASTER PATTERNS
If you love the Herringbone Crochet Coaster pattern, you might also like to check out these other Home Decor Patterns:
Crocheters often wonder how many yards do you need to crochet a coaster? And what is the best yarn for crochet coasters? Cotton yarn is absorbent and heat resistant making it the perfect choice for coasters.
I love the reasonably priced Paintbox Yarn I used for these coasters but you could substitute another worsted weight cotton yarn instead. I used just over 17 yards of yarn for each coaster, which makes it a great scrap yarn project too.
Crochet Coaster Pattern
Here is what you will need:
Resources and tutorials you may find helpful in following this pattern: Crochet Abbreviations, US to UK Crochet Conversion Chart. Find links to stitches on the "Tutorial" menu: Getting Started will show basic stitches used in many patterns and Crochet Stitch Dictionary shows our growing collection of crochet stitch tutorials.
Crochet Coaster Size:
Coaster measures approximately 4″ square.
Special Stitch for Crochet Coaster:
Herringbone Half Double Crochet (HHDC): Yarn over (YO) and insert in the next stitch (JUST like a normal hdc). Then,YO & pull yarn through BOTH the stitch & the 1st loop on the hook. YO & pull yarn through last 2 loops on hook.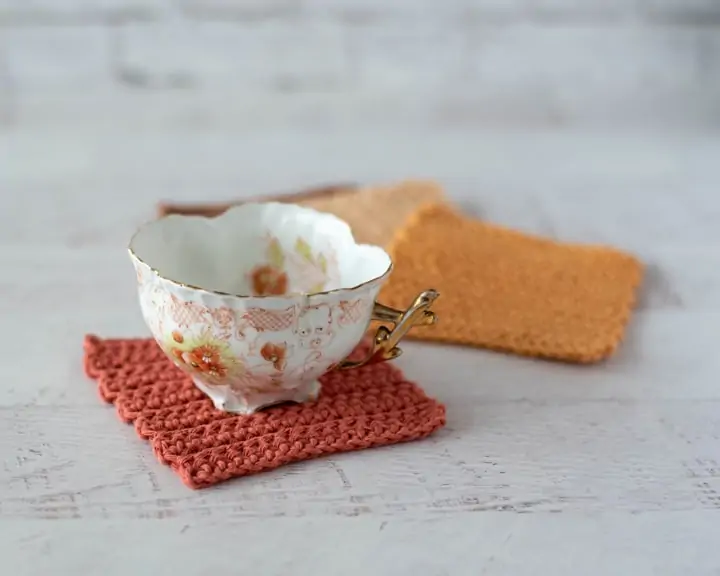 Coaster (Make 4)
Chain 18
Note: The first row of the coaster is worked in the back bump of the chain. If you are unfamiliar with the technique, my friend Nicki has a tutorial here you can check out. You can also just work the first row into the chain as you normally would.
R1: Working in the back bump, HHDC in 3rd ch from hook and across row. Turn. (16 st)
R2: Ch 2 (does NOT count as a stitch), HHDC into each stitch across row. (16 st).
R3-12: Repeat Row 2
Fasten off and weave in ends.
Explore More Crochet Patterns
Love to crochet? You may be interested in these related pattern collections:
I love seeing your finished projects! If you enjoyed crocheting the Herringbone Crochet Coaster,  I'd love to see yours on Instagram, be sure to tag me @crochet365knittoo.  If you are on Facebook, stop over to the Crochet 365 Knit Too Facebook page or pop over to the Crochet365KnitToo Club and share a photo!  I'd love to see your work!