Titan Tapestry Crochet Bag
This post may contain referral/affiliate links. Please read my disclosure for more info.
What happens when you haven't named your latest project and an adorable puppy crashes your photo shoot? Well.. you name your latest design after the pup! Everyone… meet the Titan Tapestry Crochet Bag!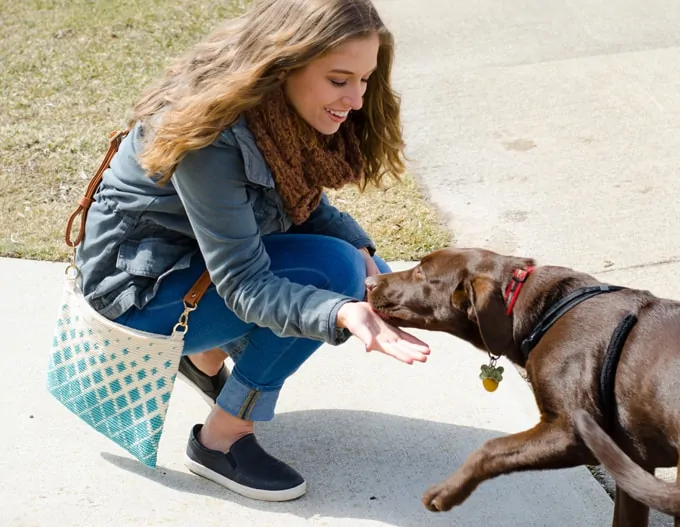 I am so excited to show you this great crossbody bag! I had so much fun taking photos with my lovely niece and I can't wait to show you everything! Let's get a better look, shall we?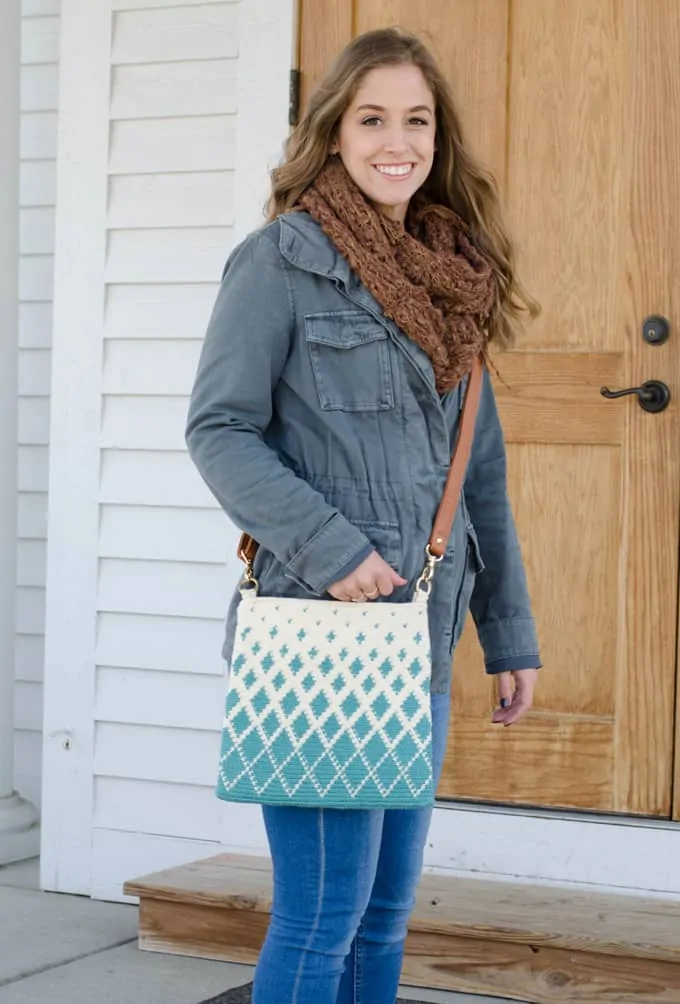 I am completely in LOVE with this Titan Tapestry Crochet Bag! Fun, stylish and it uses a relatively small amount of yarn. It is definitely going to be my go-to purse!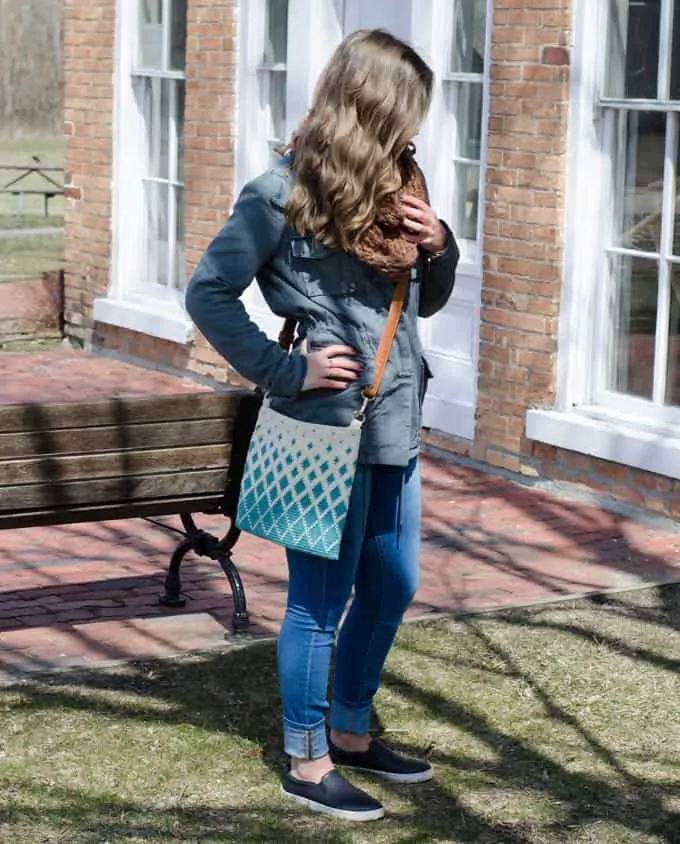 The Titan Tapestry Crochet Bag is made with Lion Brand 24/7 Cotton yarn in Ecru and Jade. The jade is just such a rich color that I can't even fully capture in a photograph. I love crocheting with 24/7 Cotton and I'm so grateful to Lion Brand for providing the yarn for this project. It crochets up beautifully.
And the final result is just a very high end crochet bag that I think you will love as much as I do. One of my best kept secrets is that the finishing touches MAKE the project and this Titan Tapestry Crochet Bag is a perfect example. When you spend all that time and effort to create something beautiful, it deserves the best hardware and the perfect strap to finish it off right. I was so lucky to find the absolutely perfect leather strap.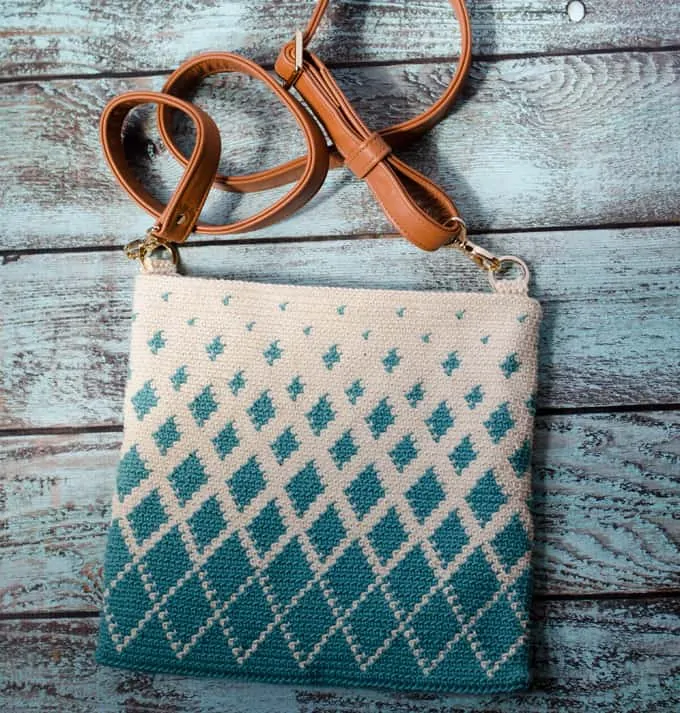 I worked exclusively with Lynette at Mautto Handbags to create an adjustable leather crossbody strap with gorgeous gold hardware. Lynette offers some of the best customer service on the planet. Over many emails, she helped me design the perfect strap and hardware for this project. And she set up a special listing on Etsy just for my readers to purchase the exact leather strap and hardware I used for the Titan Tapestry Crochet Bag!
I'm going to be honest with you. The strap is not cheap. And if that is way out of your price range, I have some other options for you at the bottom of this post. But hear me out on why this strap is something you really should consider. First of all it is absolutely high quality. The leather is exquisite both in quality and color for this bag. I am a sewer as well and have sewn many bags. I can tell you that the workmanship on this strap is phenomenal.
Second, sometimes I think we get so caught up in "making something for cheap" because we are makers, that we don't splurge a little. And I think now and then we need to do that. And third, I designed this bag so that the strap is removable. So you can use the strap on other purses you design or maybe on a store-bought purse you already own. What's not to love about that!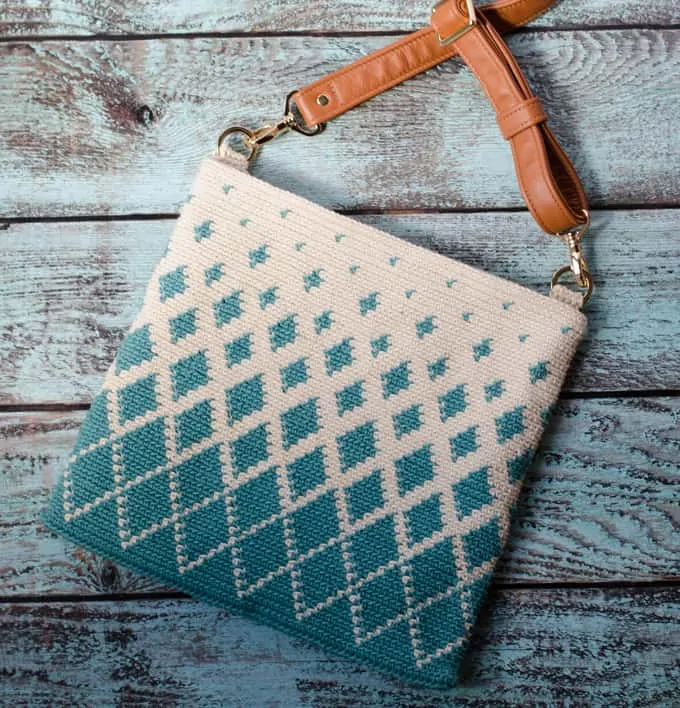 Purchase an ad-free printable version of this pattern
Titan Tapestry Crochet Bag
Here is what you will need:
Lion Brand 24/7 Cotton Yarn: Jade and Ecru, 3.5 oz each. Important note: I used every bit of the Ecru and almost all of the Jade. I suggest buying a 2nd skein, especially of the Ecru just in case you use slightly more. Also if you decide to crochet a strap instead, you will need more yarn.
US C2/2.75 mm crochet hook (here are my favorite crochet hooks)
Stitch Markers (this is the kind I use)
Leather 1″ adjustable 34″-55″ Crossbody strap with clips (I bought mine from Mautto Handbags)
(2) 1″ O-Rings, if buying separately. (The O-rings are included in the kit from Mautto Handbags)
Tapestry needle and scissors)
Resources and tutorials you may find helpful in following this pattern: Crochet Abbreviations, US to UK Crochet Conversion Chart and How to Count Crochet Stitches.  Find links to stitches on the "Tutorial" menu: Getting Started will show basic stitches used in many patterns and Crochet Stitch Dictionary shows our growing collection of crochet stitch tutorials. Be sure to read how to tapestry crochet so you understand how to change colors with this technique. Size: 11" wide by 10-1/2" tall (excluding strap and strap tabs)
Special Notes:
This pattern works a bit differently than my usual patterns. After we set up for the bottom of the purse, there are no row-by-row directions. Instead, I will direct you to follow the tapestry crochet chart. When you are done working the chart, I will provide directions on finishing off the bag as well as how to make and attach the tabs to hold the rings.
Then I will give you options for closures and an overview of how to add a lining, if you desire. Finally, I will give you some strap options if you choose not to go with the gorgeous leather strap from Mautto Handbags. This is a tapestry crochet project. You can read about how to tapestry crochet in this post. Here are important things to remember for this project:
The unworked yarn is carried along the row. This unworked yarn is encapsulated within the working stitches. Even on solid color rows, carry the unworked strand of yarn and work OVER that strand of yarn while working the current color stitch
Tapestry crochet is always worked with the right side of the work facing you
All stitches are single crochet and are worked through the back loop only
Work in the round. (Do NOT join and chain 1)
Use a stitch marker to mark each round. I mark the LAST stitch in each round.
The pattern repeat is 10 stitches. The chart shows 30 stitches, so it just shows a portion of the bag. The bag has 140 stitches in a round. Simply repeat the 10 stitch pattern across each row. I find it easiest to make sure that my starting color sequence and ending color sequence is the same as the indicated row on the chart.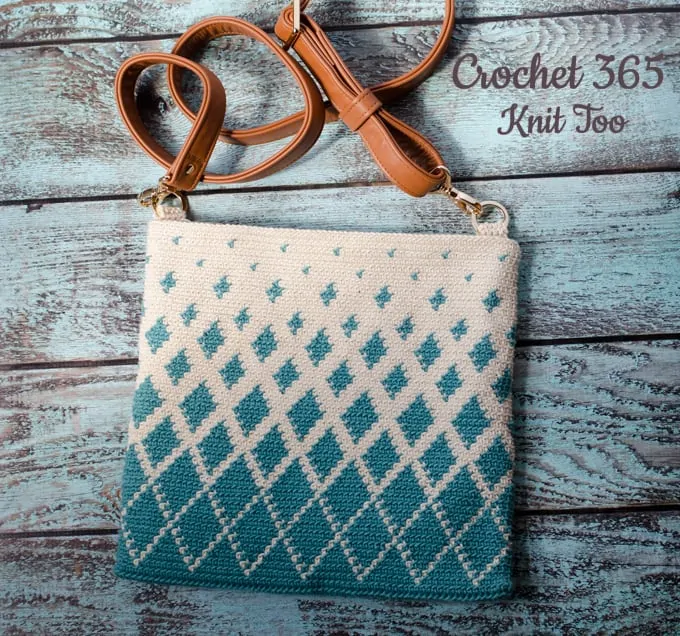 Base of Bag
Chain 70 R1: 2 sc in 2nd ch from hook and sc across to last chain. Work 3 sc in last chain, then rotate work to work single crochet on the opposite side of the starting chain. Single crochet across to the last stitch, then work 1 sc in the 1st chain. At the end of this row there are 140 stitches, with 3 stitches at either end. Be sure to count your stitches to make sure you have 140 exactly. Do NOT join, work in round, using a marker in the last stitch of each round.
Titan Tapestry Bag Crochet Chart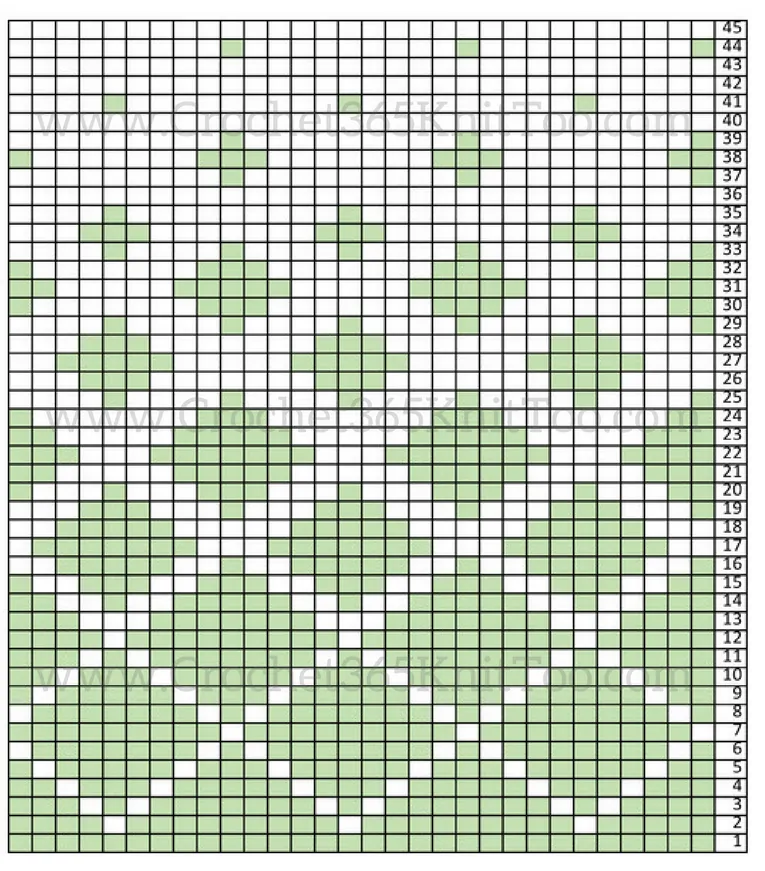 Follow the chart, starting at the bottom right of the chart (line 1), working in back loops only, in continuous rounds. Every round starts on the right side and on the right side of the chart. Note that the chart is watermarked. (An ad-free pattern is available that includes a non-water marked chart that you can print out.)
After completing round 45 continue to use ecru yarn, and working over the unused jade yarn, work 1 more round of single crochet. At the end of the round, slip stitch into the next stitch and then use an invisible seamless join to finish off the body of the purse.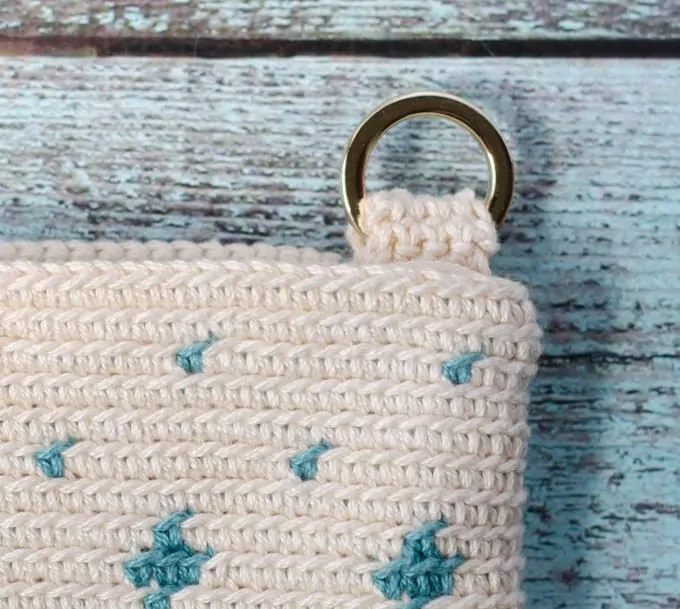 Handle Tabs (Make 2)
Ch 5 R1: sc in the 2nd chain from hook and in next 3 ch (4 st) R2-10: Turn work and Ch 1, sc across (4 st) Fasten off, leaving a long strand for sewing to the bag. Slip each handle tab into an O-ring and fold over. To position the tabs on the bag, place the bag with the right side facing you on a flat surface. The tabs are attached inside the bag to the back of the bag about 1/4″ from each folded end. Sew down securely. Be careful the stitches stay to the inside of the bag.
Closure Options
The Titan Tapestry Crochet bag is very sturdy and does not need a lining, though you may choose to make one if so you desire. You may leave the bag open and not use a closure at all. You could choose a pretty button and close with a chained loop. To do this, in the last round of single crochet, in the center of the back side of the bag, chain enough chains to go over the bag to the front and around a button, then sl st into the last sc made on the bag to close the loop and then continue to work the remainder of stitches in that last round, finishing as previously described.
You could attach a zipper to the bag without a lining, by carefully hand sewing the zipper in place with a sewing needle and thread. I highly recommend a purse zipper, like these available from Zipit on Etsy. A purse zipper has a long pull and the tape area of the zipper is wider and easier to sew in to a handbag.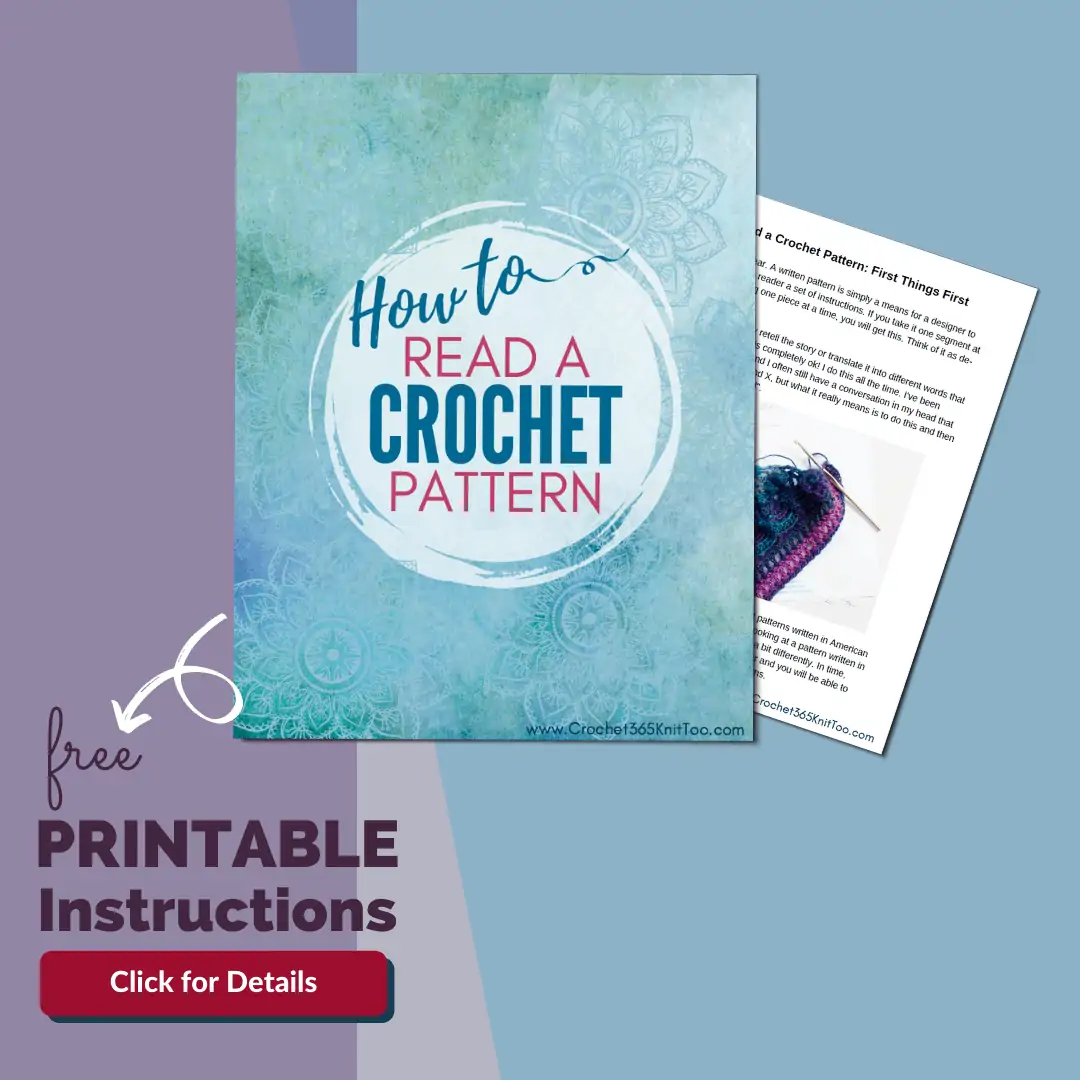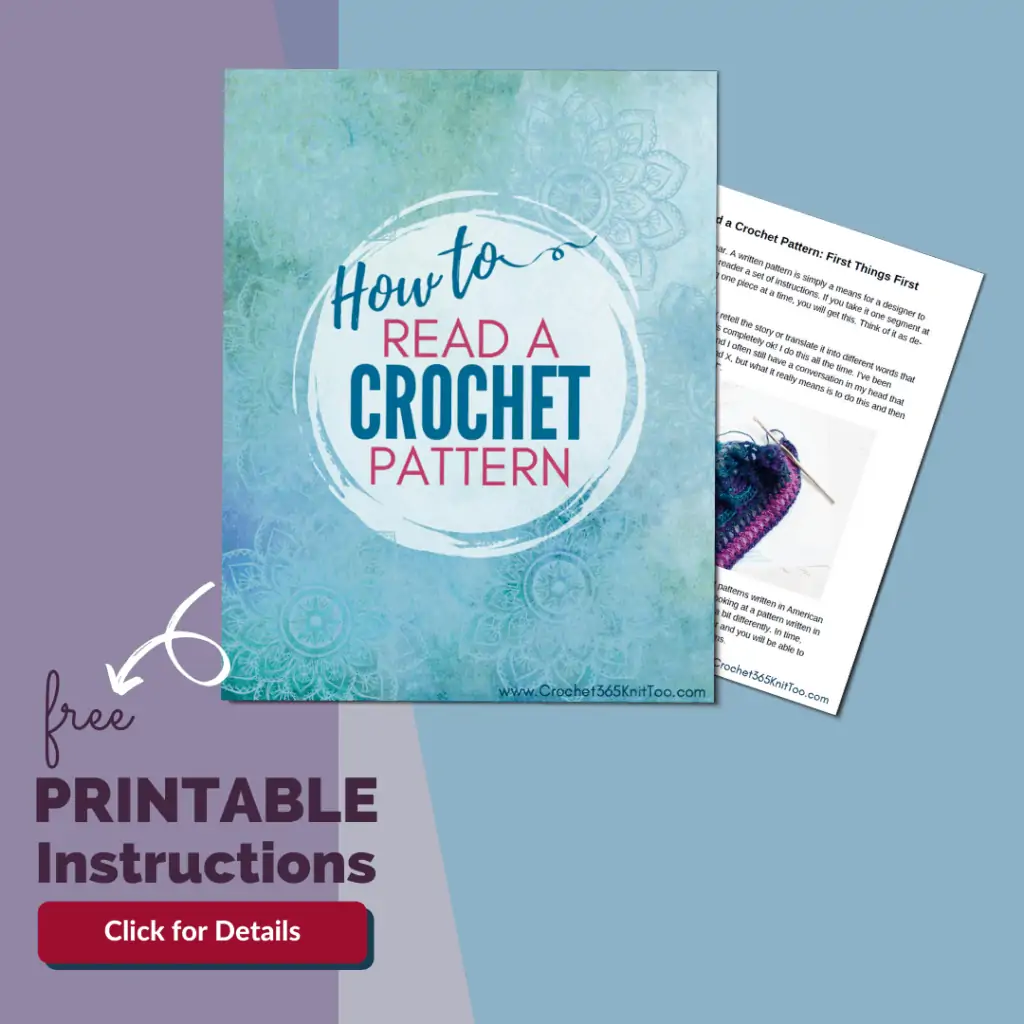 Lining
A lining is completely optional. Option 1: Sew a lining and close bag with a magnetic closure. To do this, you will need fabric, medium weight iron on interfacing and a magnetic closure. Iron the interfacing to the back of the fabric. Measure your bag (as yours might be slightly bigger or smaller than mine). Add 1/2″ to all sides and cut out 2 pieces to this new size. Sew around on 3 sides with a 1/2″ seam allowance.
You will need to fold over the top edge and the best way to figure out the spot to fold is to put the lining into the bag. The top of the lining should be below the top of the bag by about 1 row. Mark the spot for the fold. Then pull the lining out and iron the fabric over in the spot you have marked all around the top of the bag (probably 1/2 to 1 inch).
Hand sew the lining to the inside of the bag. Follow the directions on the package to secure the magnetic closure. Option 2: For the bag shown, I made a lining, similar to Option 1 and attached a purse zipper. I like to buy a purse zipper because it has a longer tab and is heavy duty. Online, I buy them from Zipit. But I can often find them at my local quilt shop. I then sewed the lining into the purse.
Strap Options
Of course, I think the Leather strap by Mautto Bags is the perfect compliment to this Titan Tapestry Crochet Bag. But if it is not in your budget here are a few other options:
Purchase different strap(s) out of a different material available at your local craft store. You may need to purchase different hardware or attach to your bag slightly differently
Crochet a strap. Using the same tapestry crochet technique, crochet a strap approximately 1″ wide to the length you desire. You will need to purchase O-rings and attach one end to the handle tabs and the other to the strap.
Sew a strap out of coordinating fabric. I love Swoon Patterns and if you like to sew, I encourage you to pick a pattern with a similar strap you like and follow the directions.
If you need to buy hardware for a different strap option, my favorite supplier is Bagmaker Supply on Etsy. I've ordered from them numerous times and have been very happy with their service.
Another Strap Alternative
If you love the leather look and here's another option for you: Go for a shorter 23″ straps instead. This set of 23″ leather-look straps on Amazon are also lovely. Keep in mind, because it is shorter, it will be a slightly different look. You can use 1 strap and place it in the same position as the cross body strap for a cute shoulder bag.
Or use both straps and add a couple more handle tabs, placing 2 on each side, for a traditional 2-strap handbag. Be sure to buy matching "O-RIngs" or "D-Rings" to connect your straps to. These D rings by Bagmaker Supply would be a great choice!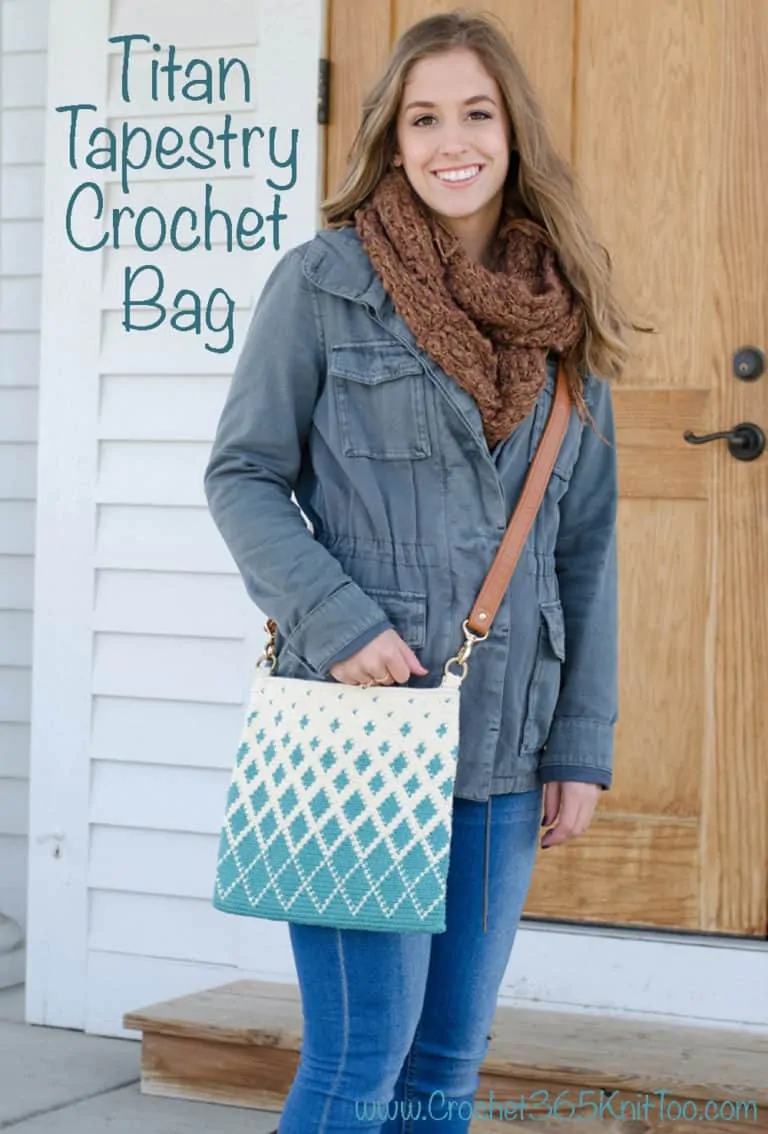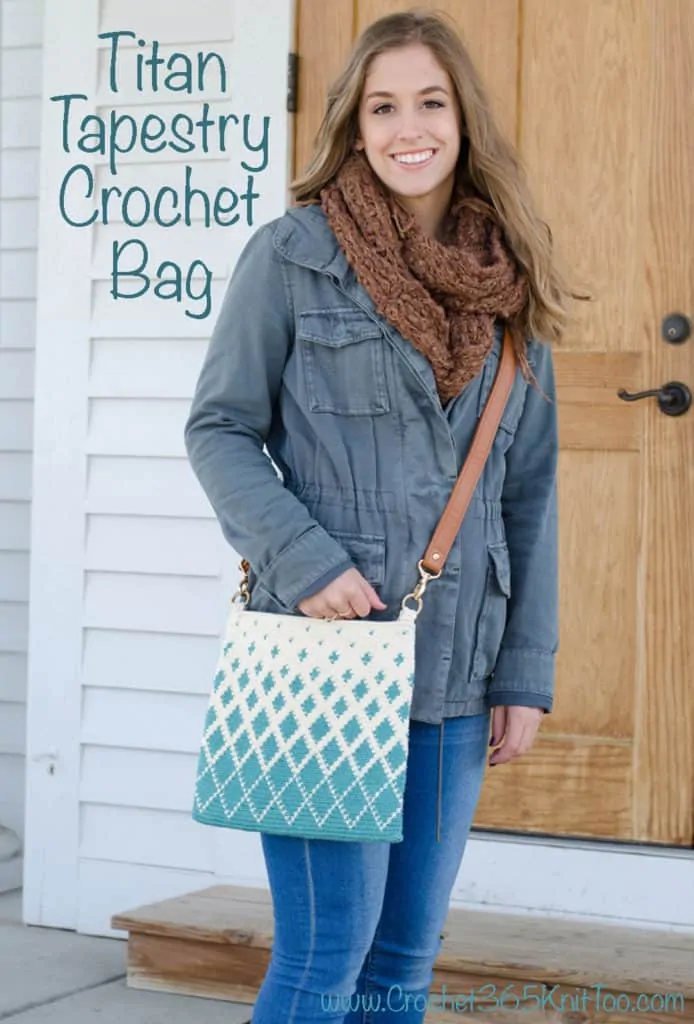 Remember, you can purchase an ad-free version of this pattern complete with a full page chart, if you would like.
Explore More Crochet Patterns
Do you love crochet as much as I do? I think you're going to love these other free crochet patterns:
If you're planning on gifting this bag for someone special, you also might enjoy this great collection of Crochet Gifts for Mom too!
I love seeing your finished projects! If you enjoyed making one of my patterns I'd love to see yours on Instagram, be sure to tag me @crochet365knittoo. If you are on Facebook, stop over to the Crochet 365 Knit Too Facebook page or pop over to the Crochet365KnitToo Club and share a photo! I'd love to see your work! And.. in case you needed another look at the adorable chocolate lab puppy we met on our photo shoot, here is a photo of the 'real' Titan. Thanks for being our inspiration, buddy!