How To Count Stitches In Crochet
This post may contain referral/affiliate links. Please read my disclosure for more info.
Learning how to count stitches in crochet is really important.  An accurate stitch count (along with your gauge) means your project will turn out just as the designer intended.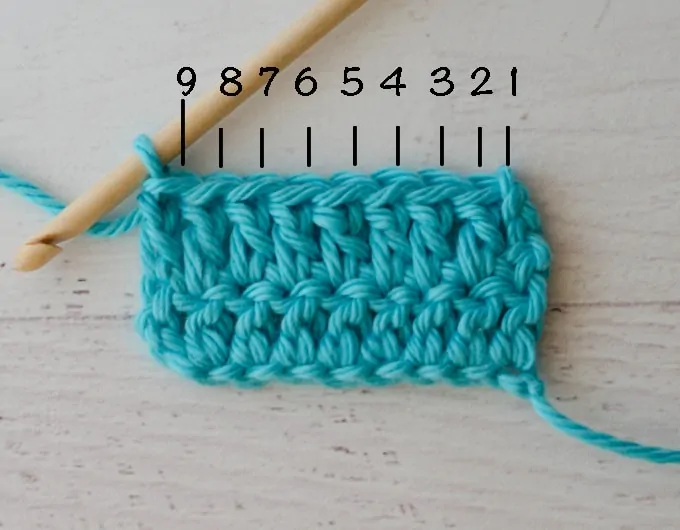 Once you learn a few little tricks, it will be easy and become second nature to to count stitches in crochet correctly! Let's dive in!
How to Count Stitches in Crochet
Let's start with single crochet.  If you remember, when we learned about single crochet (which you can read about here),  a new row starts with a chain 1.  In single crochet, the chain 1 does NOT count as a stitch.  So you start counting with the first single crochet made in the row.  See below: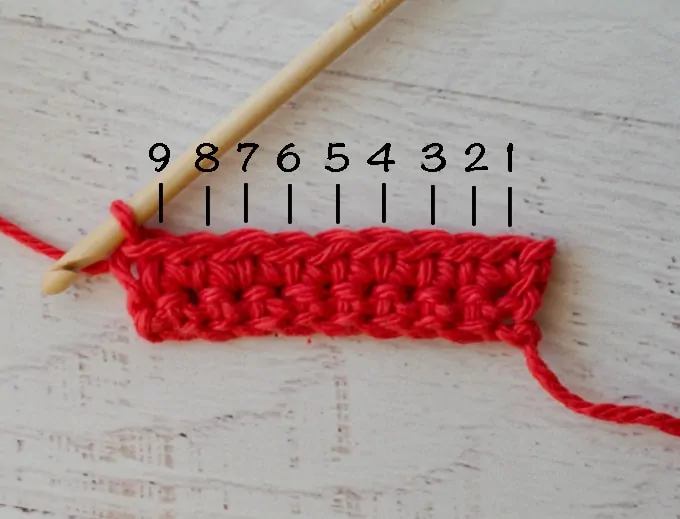 Remember when we learned about double crochet?  A double crochet row starts with a chain 3.  The chain 3 COUNTS as the first stitch.  So start counting with the chain 3 and then continue.  See the photo below: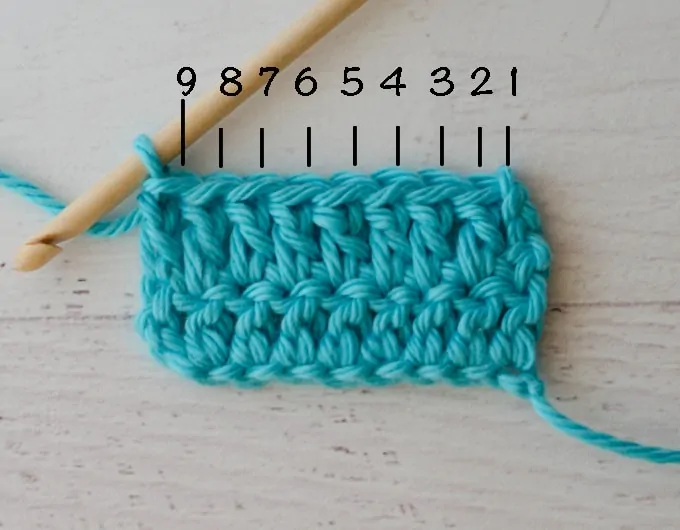 So the easy way to remember this is that a single crochet starts with 1 chain and it does NOT count as a stitch.  All the other stitches COUNT the starting chain in a row as a stitch.  That goes for half double crochet, double crochet, triple crochet and so on.  If you need a refresher on stitches or how to do anything in crochet, check out the ever growing tutorials here.
There are several ways to count rows in crochet.  Stitches look differently when worked back and forth compared to when worked in the round.  Stitches also look different from each other.  Look carefully at the single crochet piece compared to the double crochet piece in the above photos.  Over time, you will be able to quickly spot the differences and be able to count the rows.
But what if you are not familiar with stitch differences yet or you are working a row with a more complicated pattern?  Not to worry.  There are other ways to keep track of the row count.  In fact, I keep track of the row count after 40 years of crochet experience!
If you are following a written pattern, you can check off each row as you complete it.  You also can mark a line for each row right on the pattern or on a scrap piece of paper.  I like to use this finger row counter.  And if you don't like to wear it on your finger, you can just take the band off.  To use, just reset the counter to zero at the start of the project and then click once for each row!  Easy Peasy!
Counting crochet stitches and counting crochet rows is easy once you know how.  And now you do!
I love seeing your finished projects! If you enjoyed making one of my patterns I'd love to see yours on Instagram, be sure to tag me @crochet365knittoo.  If you are on Facebook, stop over to the Crochet 365 Knit Too Facebook page or pop over to the Crochet365KnitToo Club and share a photo!  I'd love to see your work!