20 Crochet Bralette Patterns for Everyday Wear
This post may contain referral/affiliate links. Please read my disclosure for more info.
When warm weather beckons these cute crochet bralette patterns are perfect for your hook. Perfect for a sunny summer day, special vacation or date night, grab your crochet hook, your favorite cotton yarn and get to work!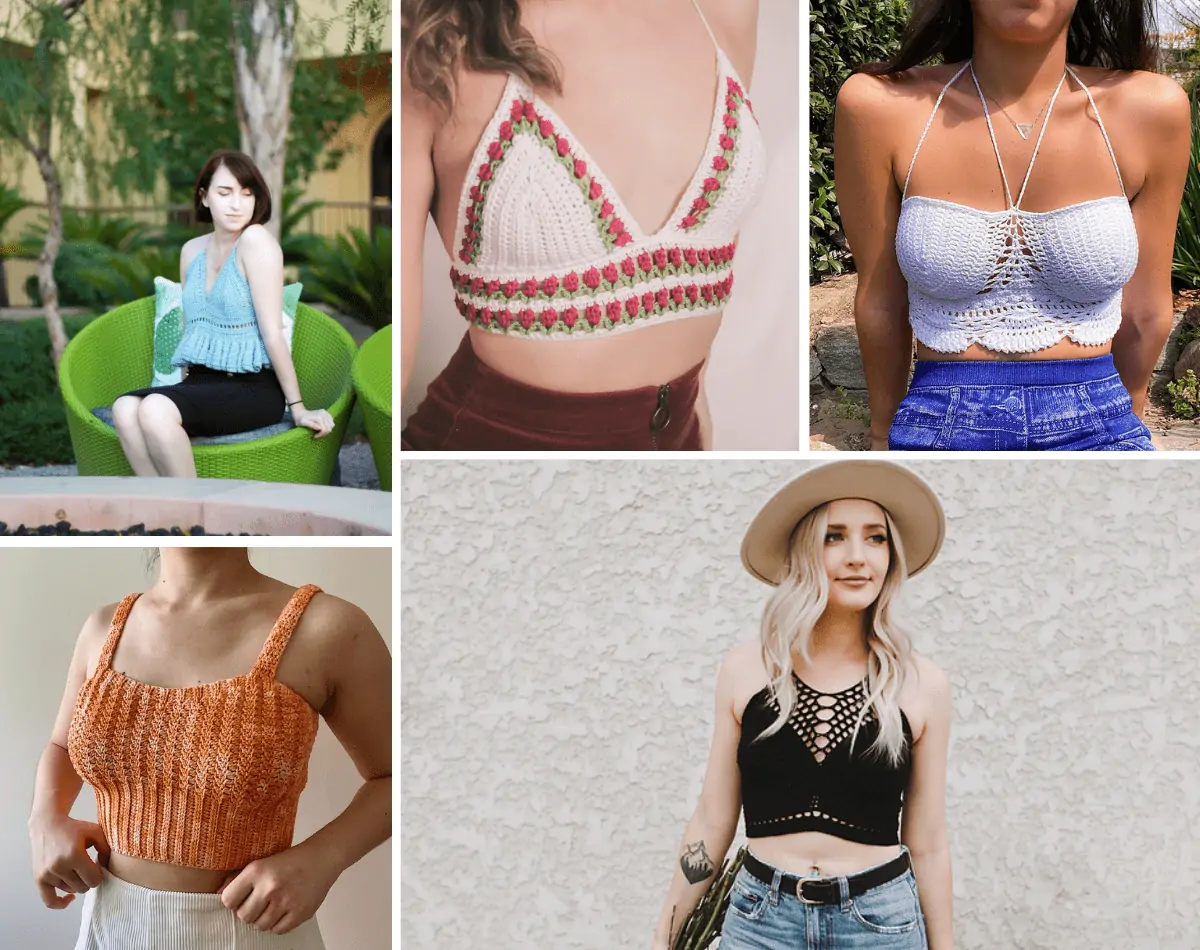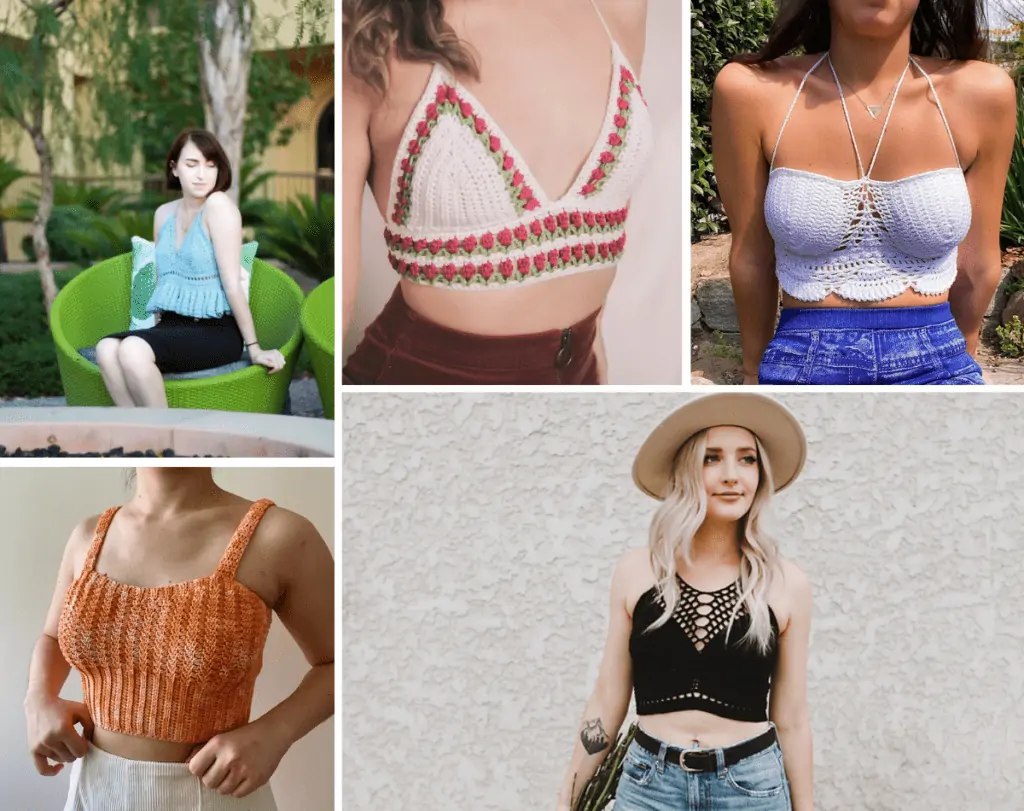 These cute crochet bralette patterns have me dreaming of summer! Many of these patterns would also make a great bikini top, so if you're like me and you dread shopping for a swimsuit, it may be time to simply make your own.
These crochet bralette patterns use a variety of basic crochet stitches, so make sure that you know how to work a single crochet stitch, double crochet stitch, and slip stitch (sl st). You may also need keep close track of your work, so make sure you have a stitch marker handy.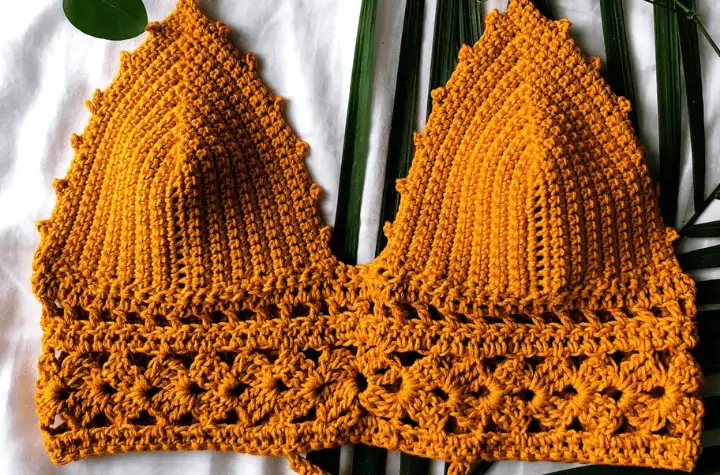 The Mariposa Bralette by Crochet By Caleigh is absolutely stunning. I really like the detailing they added to the bottom to turn this pattern into more of a crochet top rather than simply a bralette. I could also see if you took out the bottom detailing this being a really cute bikini top as well! Whatever you chose, the world is your oyster and you're going to look fantastic.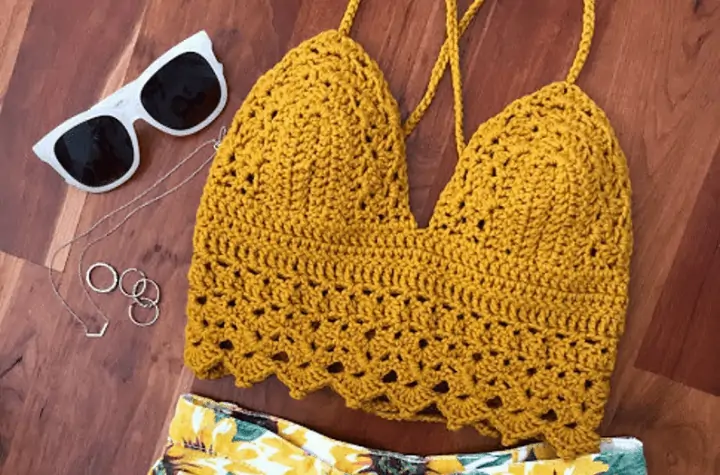 I really love this chain stitch spaghetti strap on the Boho Crochet Halter Top by Kristen A Crochet. Plus, you can adjust the length of the bralette by simply adding another row or so to the bottom. This pattern was also created to compliment any size you may need, which is always important when it comes to making a pattern with bra cup sizing.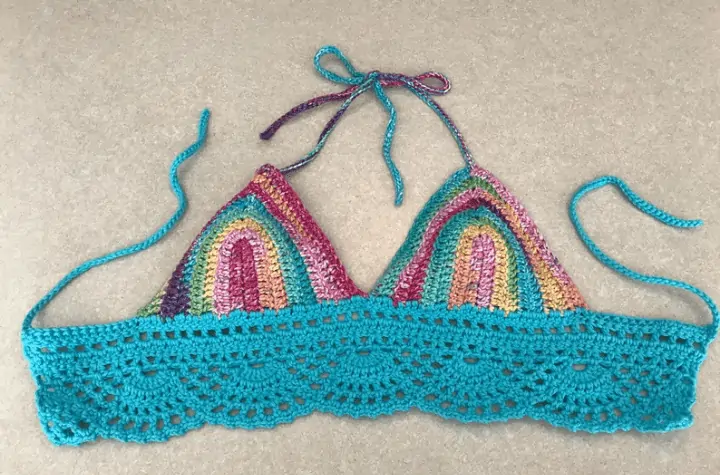 Cosmoknits Creations' Summer Bralette Crochet pattern is just too cute. This crochet top has a chain stitch tie back which is really giving me summer vibes right now. I also love that when you look at this pattern on Etsy it shows you a variety of different color options. So, you can really start thinking about your summer color schemes.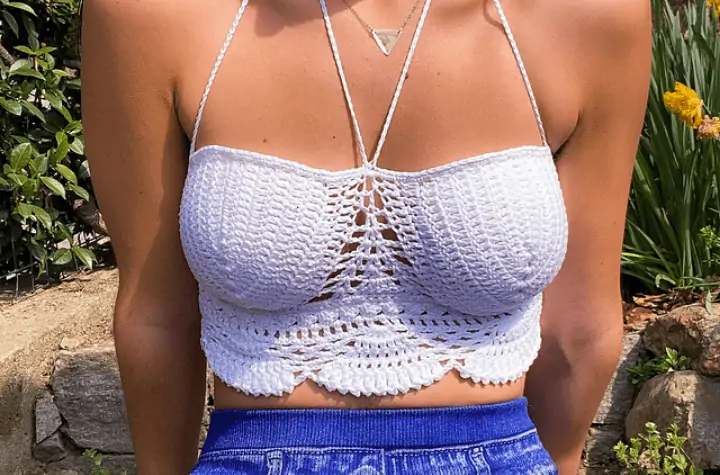 The straight neckline of Alethea Handmade's Mermaid Bralette Pattern is a fun change. I also feel like the triangle straps would give a lot more support as well as look super cute. I also really love the bra cup on this pattern, it's very different from the traditional basic bralette and I think this change can be quite fun! This is the perfect crochet bralette pattern for summer and while I am personally a big fan of the white yarn, this is a pattern that will look beautiful no matter what color you choose.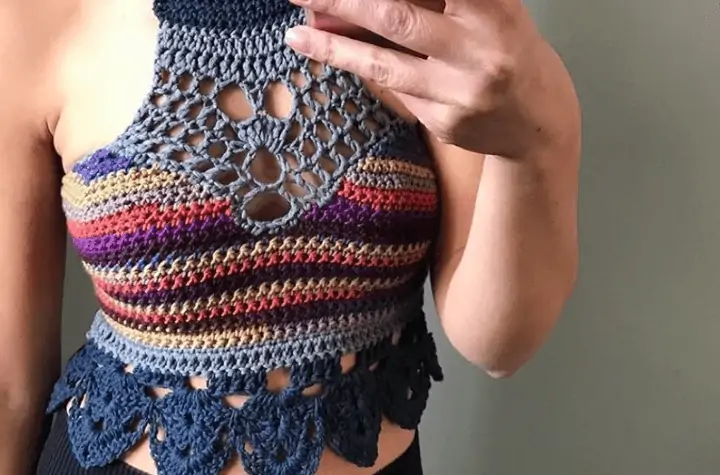 Alright, who doesn't love a halter top? Cozy Creative Crochets's Crochet Bralette Pattern is so fun! I absolutely love the detail along the bottom of this crochet top as well as the different yarn colors that went into this pattern. This is a bralette crochet pattern you don't want to miss.
I love sunflowers. I know this, you know this, everyone knows this. (Hello Sunflower Bag) So of course I had to include this super cute Sunflower Boho Crochet Halter Top by Kristen A Crochet. I really love the inclusion of the yellow yarn along the top of the bralette cup, I just really think it ties it all together. Also, something about sunflowers just screams summer to me but I am sure that you could rock this any day of the year (but maybe with a cute cardigan or something if it's a little chilly out).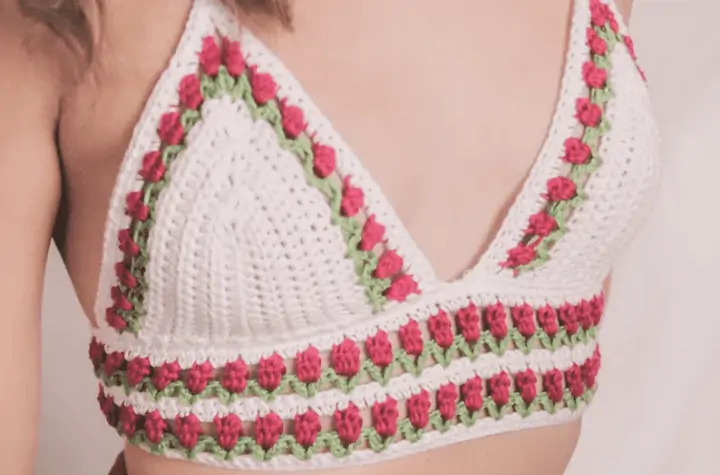 Oh, what to say about the Tulip Crop Top by Brittany Alice Crochet. Well, have you seen it? This pattern makes me feel like I am in a flower field. Or like I am on vacation at a local winery. This is just one of those crochet bralette patterns that has a nice romantic vibe about it that I just absolutely love. I also love that the designer chose to carry the tulip pattern into the bralette cup, it really brings the whole thing together.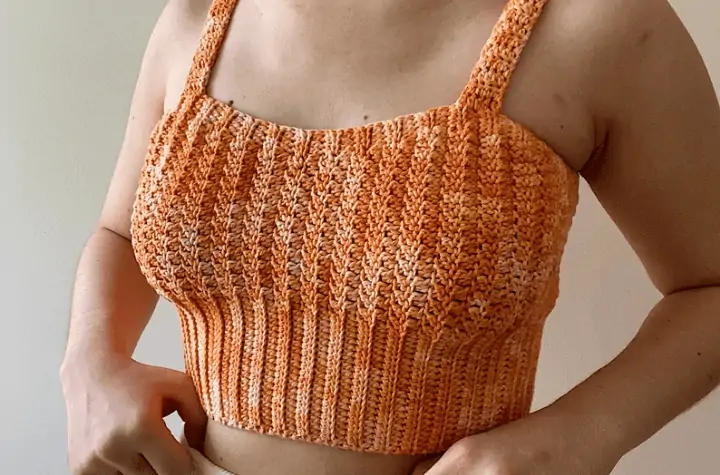 How can you say no to a corset back? Maybe I watched too much Say Yes to the Dress. The Prelude Crochet Bralette by Hellebore Crochet Shop is just so fun. I love that this pattern also has straight straps, which I just personally feel a bit more secure in.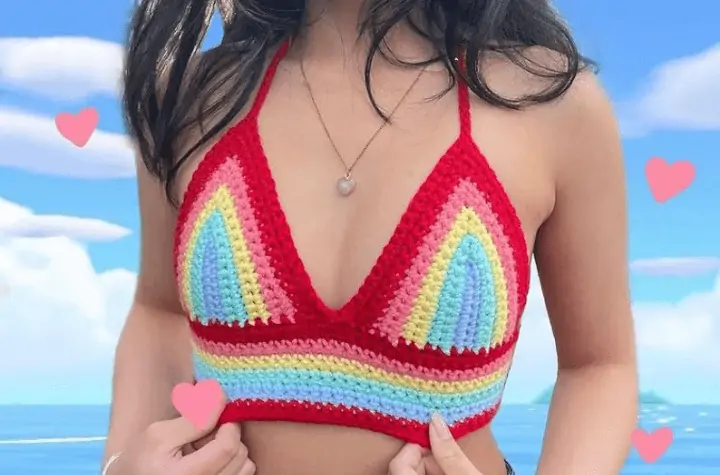 The Rainbow Halter top by My Hooking Addiction is definitely your basic bralette pattern with some cute modifications. This pattern is sized up to DDD and you can simply add more rows to the bottom if you would like to make it longer, or remove some to make it a bikini top.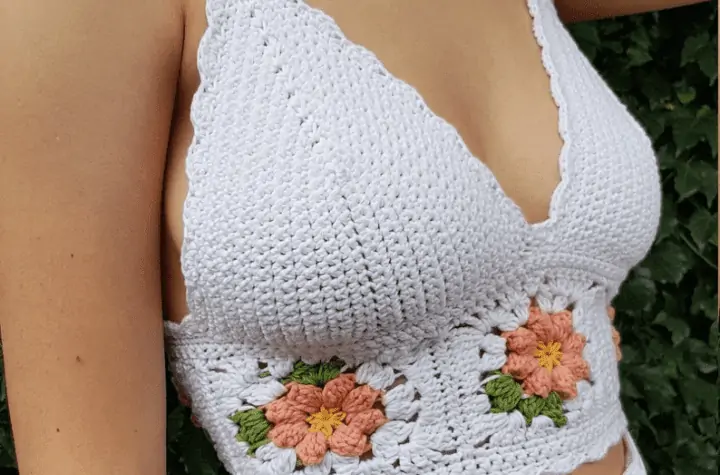 The flowers on the band of the Cosmos Crop Top by Kay Patterns make me feel like I am on a tropical island vacation. This pattern also includes adjustable straps as well as a corset back design which really makes me love it even more.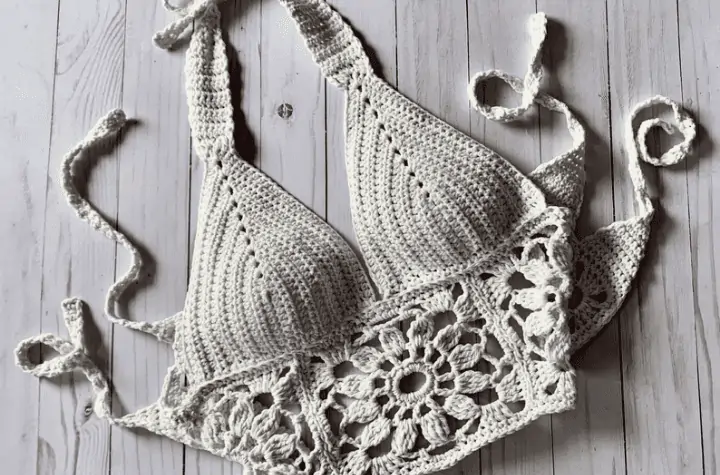 The May Flowers Bralette by Lambent Crochet is aptly named with the flower design along the bottom. I really like how this crochet bralette pattern utilizes blank space and has a variety of ties in the back for some added security. This pattern goes from bra cup size 32A to 42H so that you can find the perfect size for you.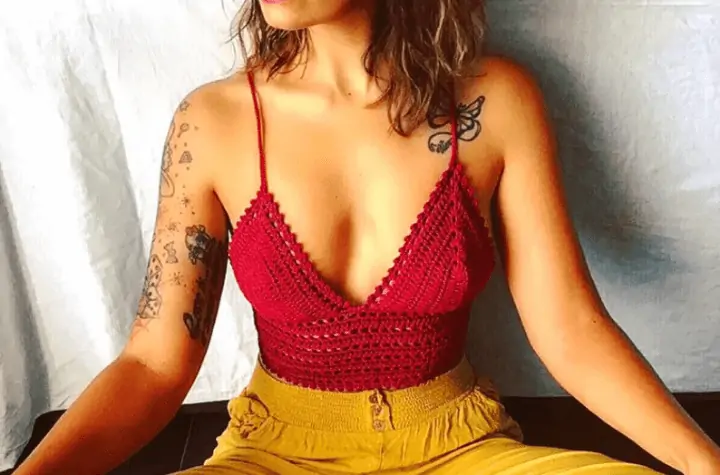 This puts a twist on the classic bralette that we know and love. Nora L Crochet Store's Arizona crop top crochet pattern is such a good look. I especially love the incorporation of easy stitch spaces to just give this a whole different look. Plus, the tie straps in the back mean you'll achieve the perfect fit every time!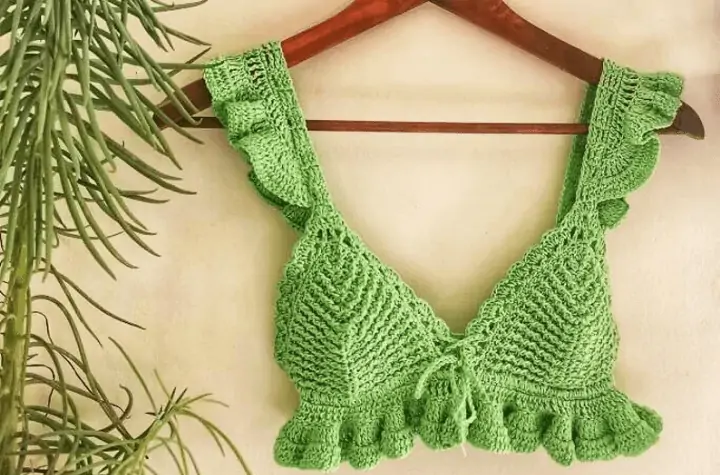 The ruffles on the sleeves and bottom of Bea Crochett's Pinnate Ruffle Bralette are such a nice touch. The detail on this is what really turns it into a bralette top instead of just the bralette in my opinion.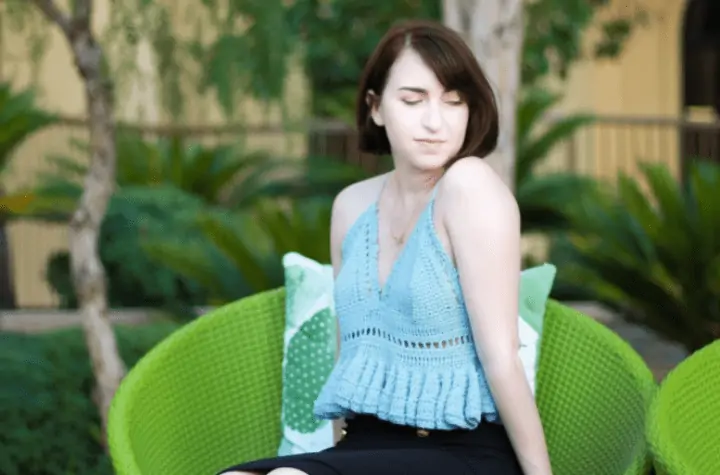 The Jasmin Bralette Crochet Pattern by Casale Crafts really combines casual and business in the best way. It may be the flowy bottom that really caught my eye but I knew I had to share it when I saw that it's a free crochet bralette pattern! Everyone loves a free pattern, especially when it's this cute. This might be a pattern for a more intermediate crocheter because it could be difficult for someone just starting out.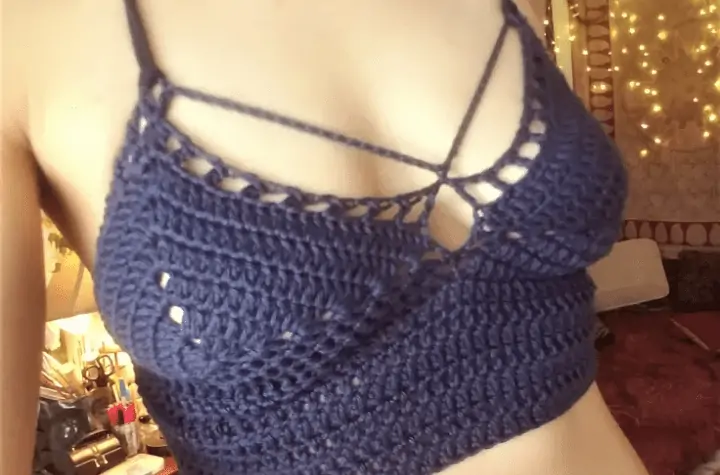 While I logically know that the criss cross in the front doesn't do much for structure, it is just super cute. The Curvy Bralette by Morale Fiber is also incredibly size-inclusive, with notes on how to alter this pattern to fit your bra cup size. Maybe the best part is that it's also a free crochet bralette pattern, which always a win.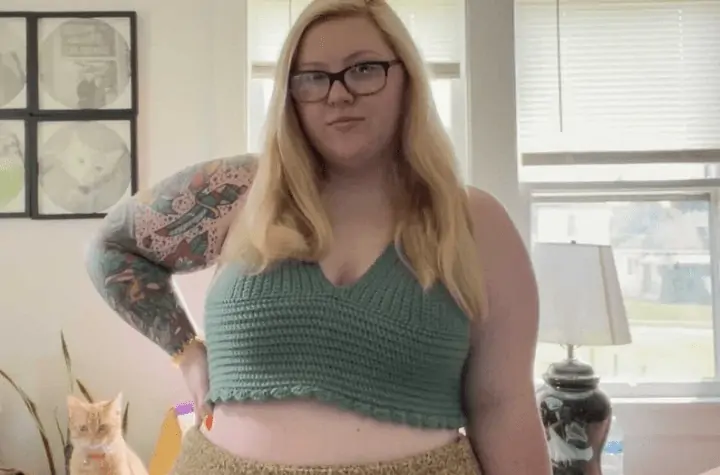 Want a basic bralette with some added flair? The Thalia Bralette by Chippy Knits would be perfect for you! This pattern is perfect for anyone looking for a comfortable everyday look. Maybe, you can even make it in a bunch of different yarn colors to really spice it up!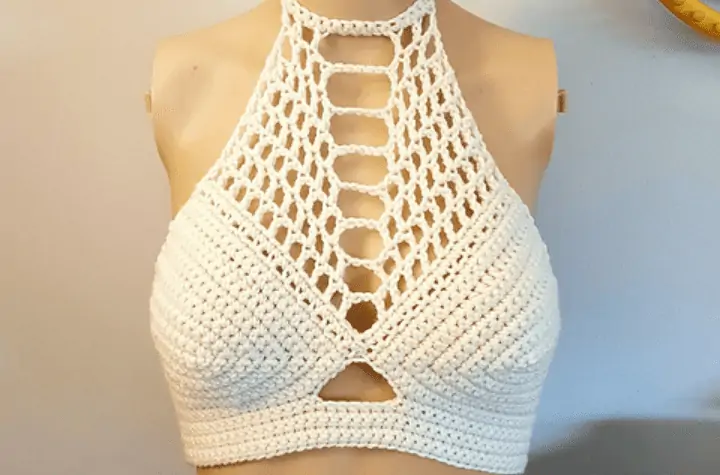 Do you ever see a really cute bralette and you're like "wow, that would make a really cute dress top."? That's how I feel about the Barricade Bralette pattern by Katherine Rombold. If anyone turns this into a cute dress or something, let me know in the comments because I would love to see it!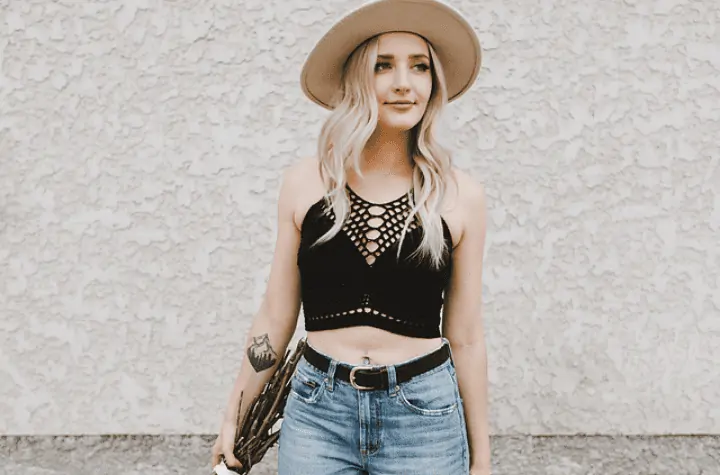 The black yarn is such a good choice for the Gilmore Bralette by Knits N Knots. It also has a corset back, which looks cute and can feel a lot more secure than a simple string back.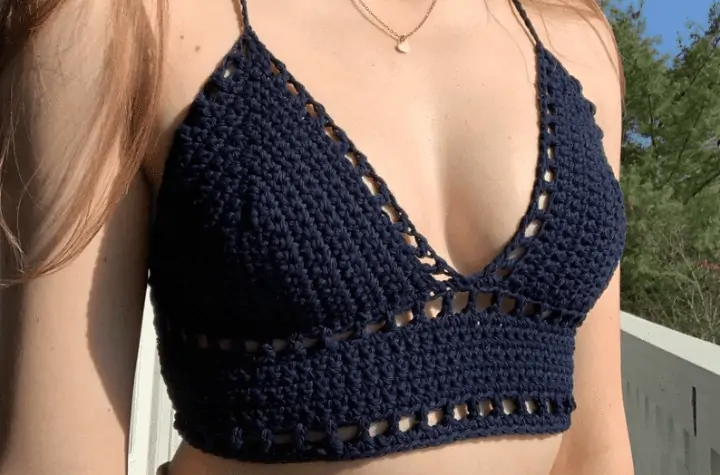 You really just have to love a simple bralette every once and a while. The Lily Top by PassioKnit Goods also allows you to customize the length a bit because you could just remove or add a row or two and get it to fit you exactly how you want.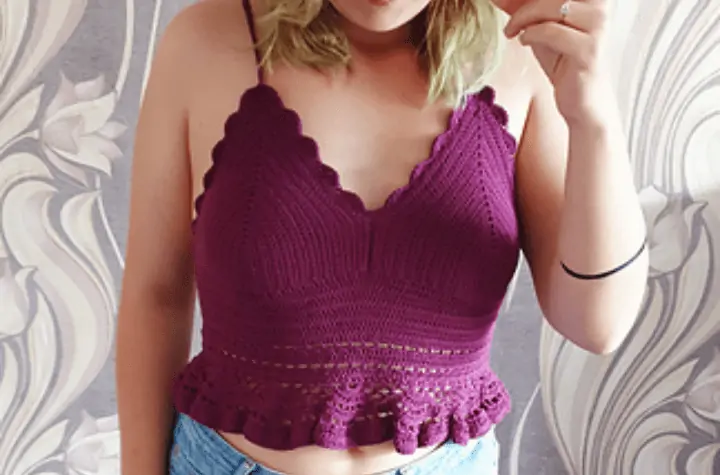 Did I hear someone say date night? The Beach Vibes Bralette by Diana Slavova is perfect for a night out on the town, or a romantic dinner for two at home. Whatever you chose, this bralette is a perfect match.
I hope that you were able to find the perfect crochet bralette pattern that matches your style! Let me know your favorite in the comments below.
Explore More Crochet Patterns
Here are some other articles that you may be interested in if you like to crochet:
I love seeing your finished projects! If you enjoyed If you enjoyed making one of my patterns I'd love to see yours on Instagram, be sure to tag me @crochet365knittoo. If you are on Facebook, stop over to the Crochet 365 Knit Too Facebook page or pop over to the Crochet365KnitToo Club and share a photo! I'd love to see your work