Crochet Bucket Hat Patterns for Every Day
This post may contain referral/affiliate links. Please read my disclosure for more info.
Crochet bucket hat patterns are perfect for every season!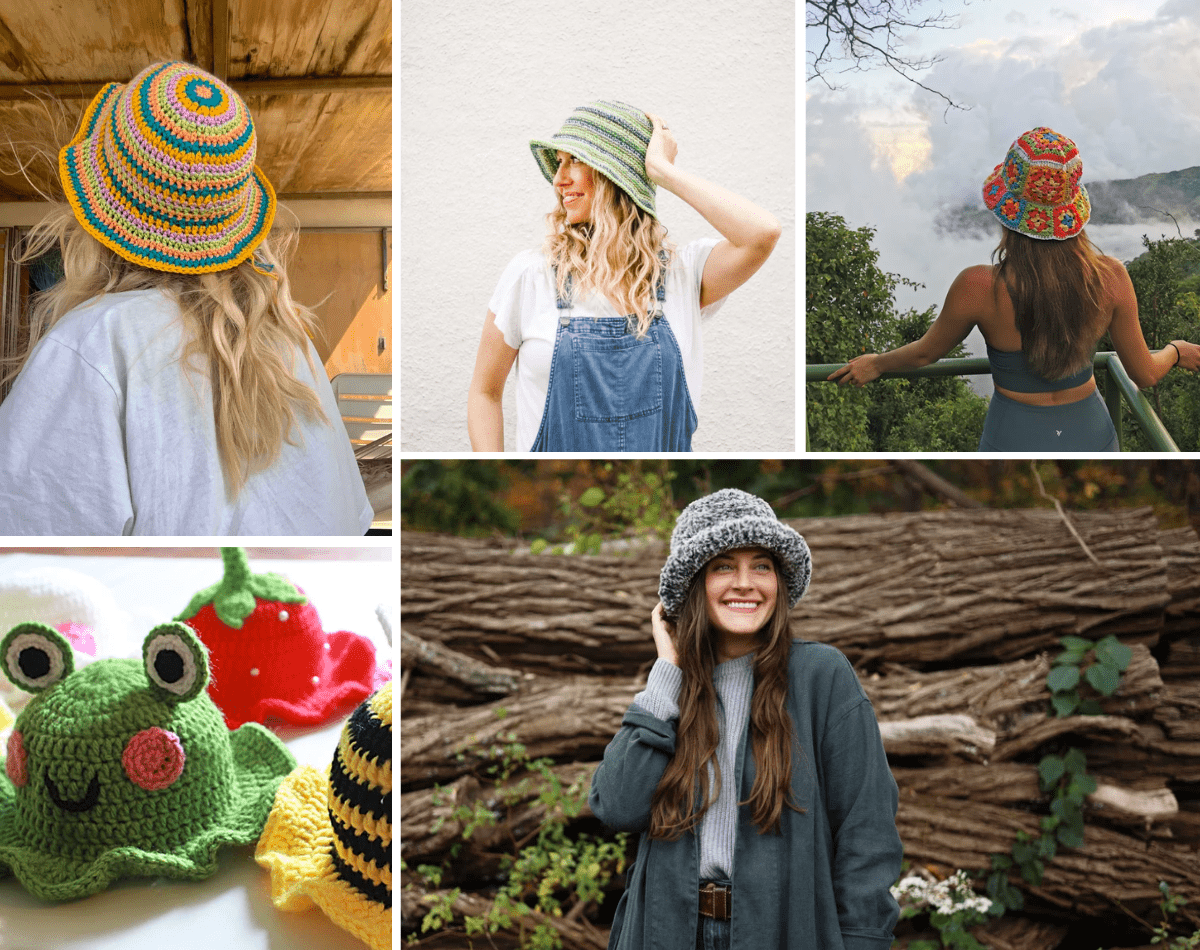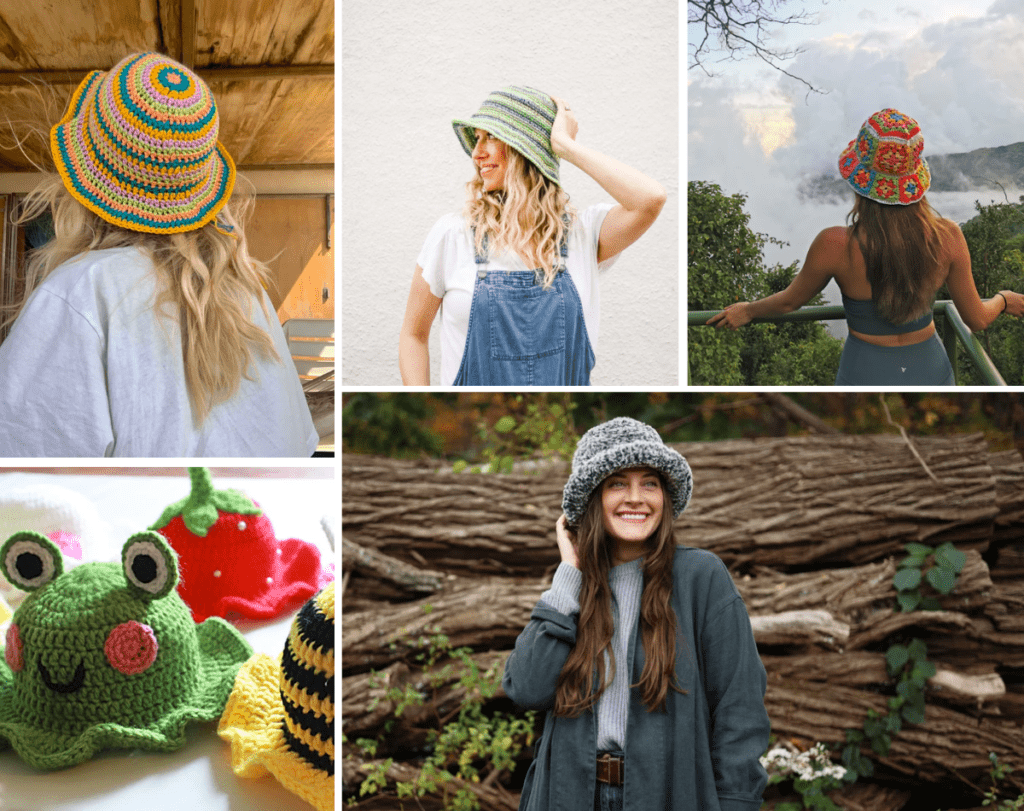 I really love about crochet bucket hats. They work up quickly and are so fun to make so you can make them in a variety of color schemes to match all your different outfits.
If you're going on a beach vacation, you'll love a great bucket hat pattern. They pack very well since they hold their own shape while still offering complete head coverage even in the hottest weather.
When it comes to choosing yarn weights or yarn types, it's important to keep in mind what season you would want to wear this hat. For summer, you may want to choose cotton yarn or acrylic yarn.
But, for winter, it may be better to choose a warmer wool or a bulky yarn or faux yarn that will help keep your head warm. Whichever type of yarn you choose, make sure to have your stitch markers handy to help keep track of rows in the more complicated patterns!
These patterns feature simple step-by-step tutorials that will make a gorgeous hat that fits an adult head. There are also a few patterns that include tutorials for making a baby or a kid's hat if you want some sun coverage for your little ones.
Most of these patterns use a variety of basic crochet stitches, so make sure that you know how to work a single crochet stitch, double crochet stitch, and slip stitch (sl st). Since these great patterns won't take a long time to complete, your cute crochet bucket hat is just a few steps away!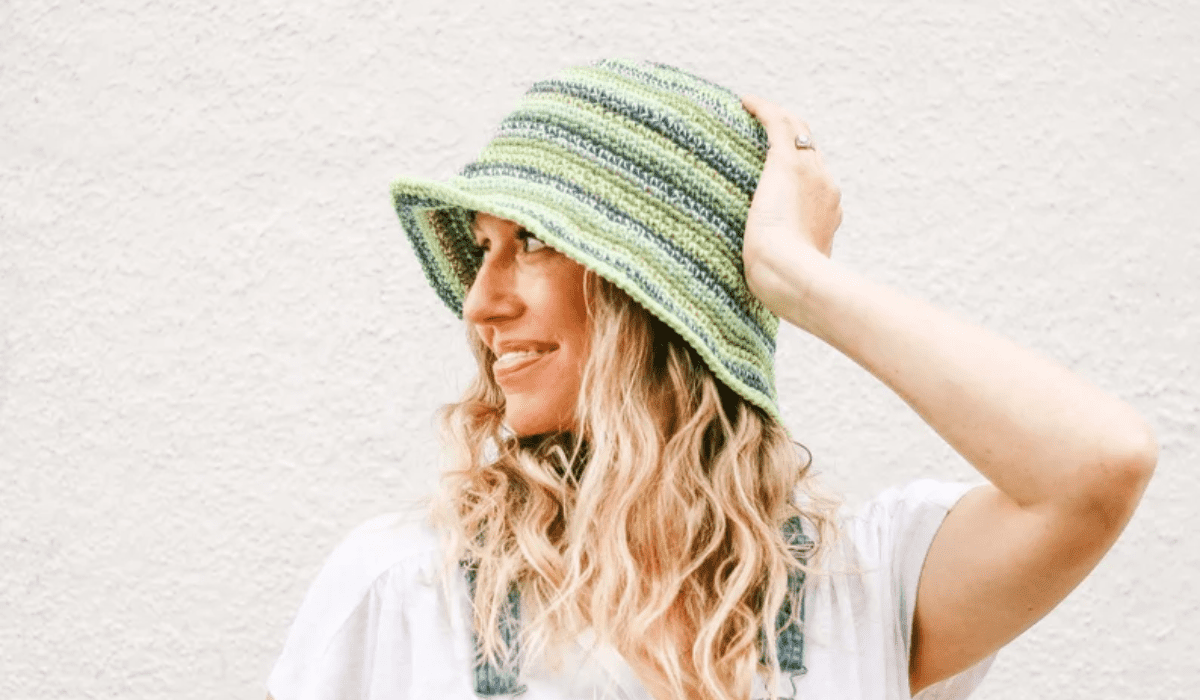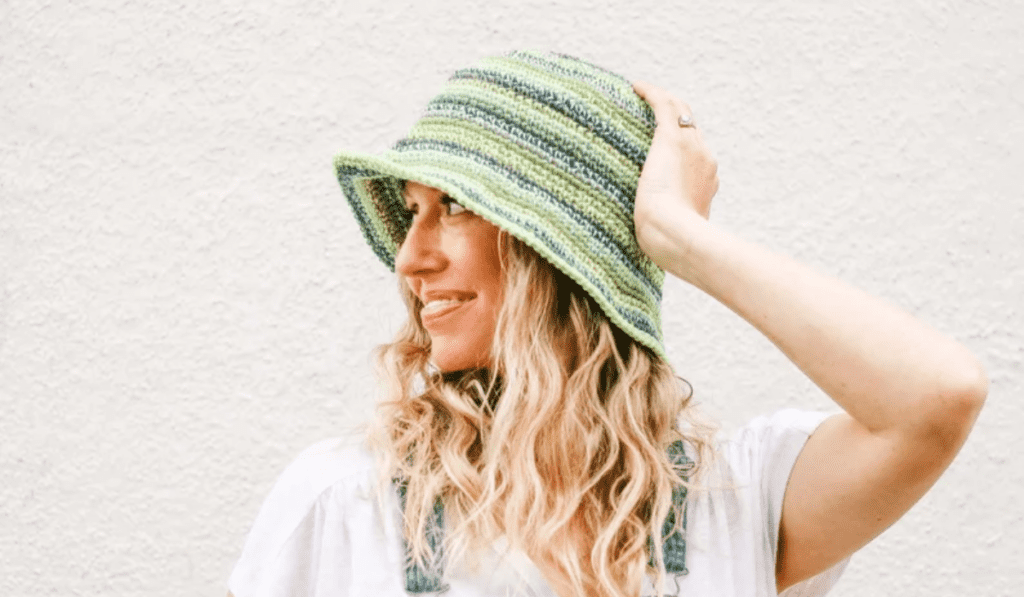 Scrappy Crochet Bucket Hat
This free stylish bucket hat pattern by Make and Do Crew is just way too cute! I love the color patterning on this hat, specifically, these green color combinations. But you can use any combination of yarn colors because this is all done with scrap yarn!
This pattern uses Lion Brand 24/7 cotton yarn, the same yarn we used for the Titan Tapestry Bag. Cotton breathes so well that this would be the perfect hat for the summer! I am totally making myself one!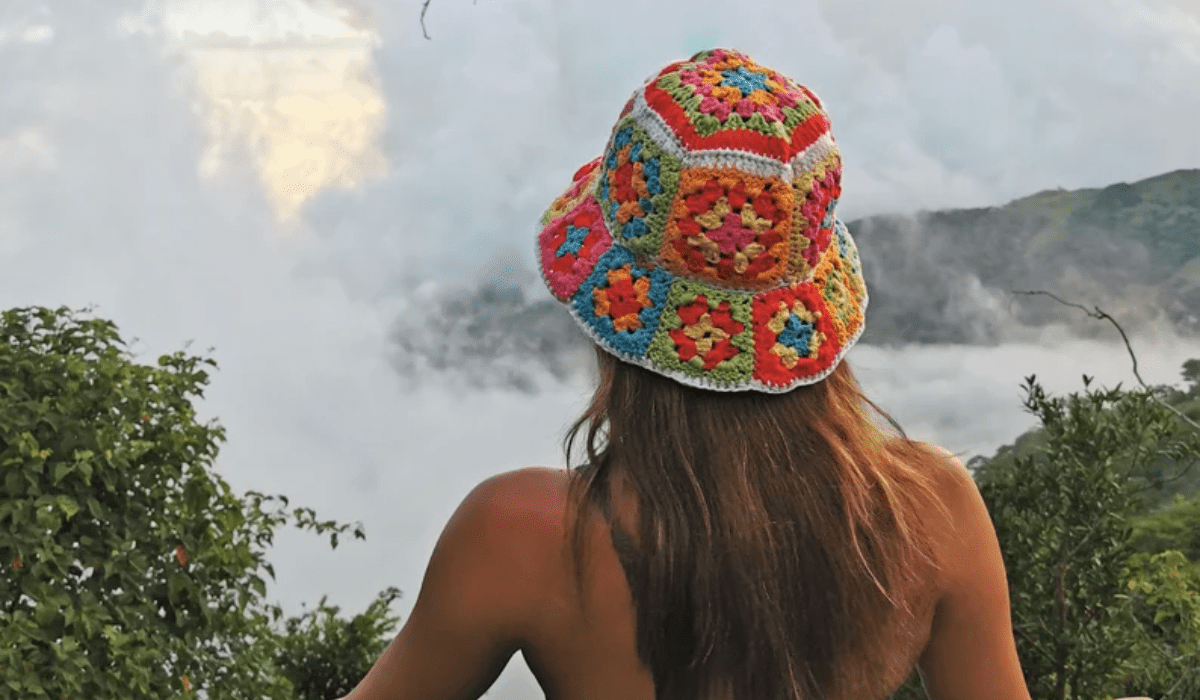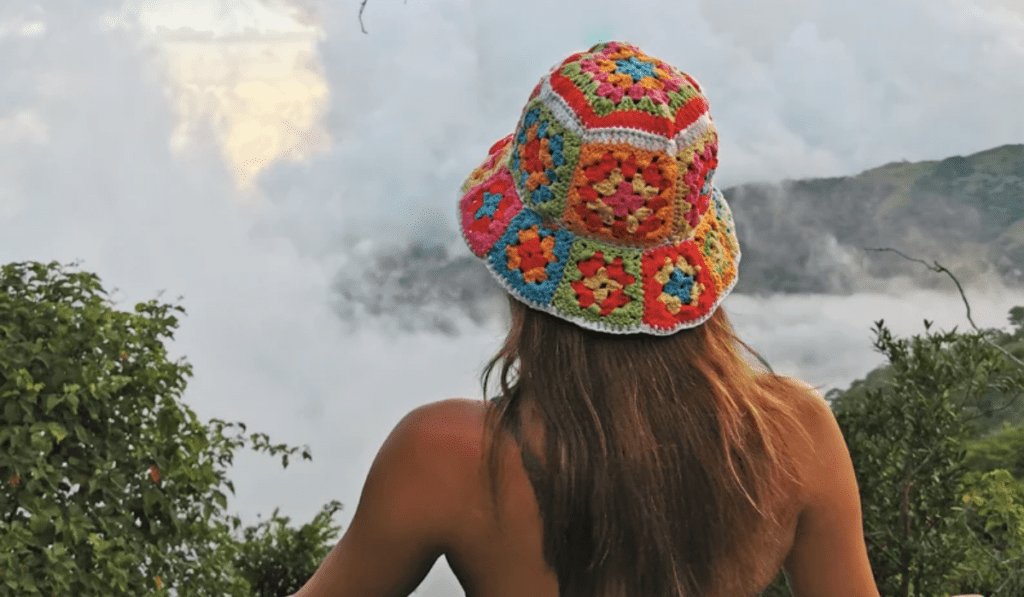 Alice Granny Square Bucket Hat
I love all the bright colors on this pattern by The Easy Design! It really levels up your basic bucket hat into something a little more fun you'll love wearing every day.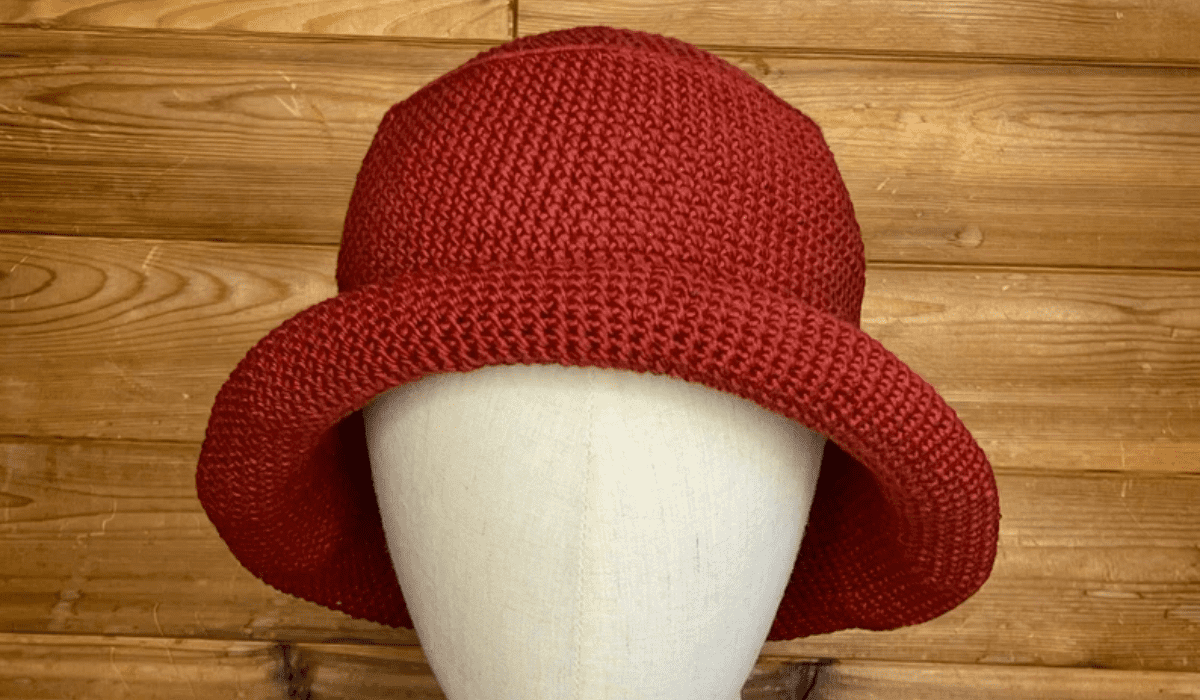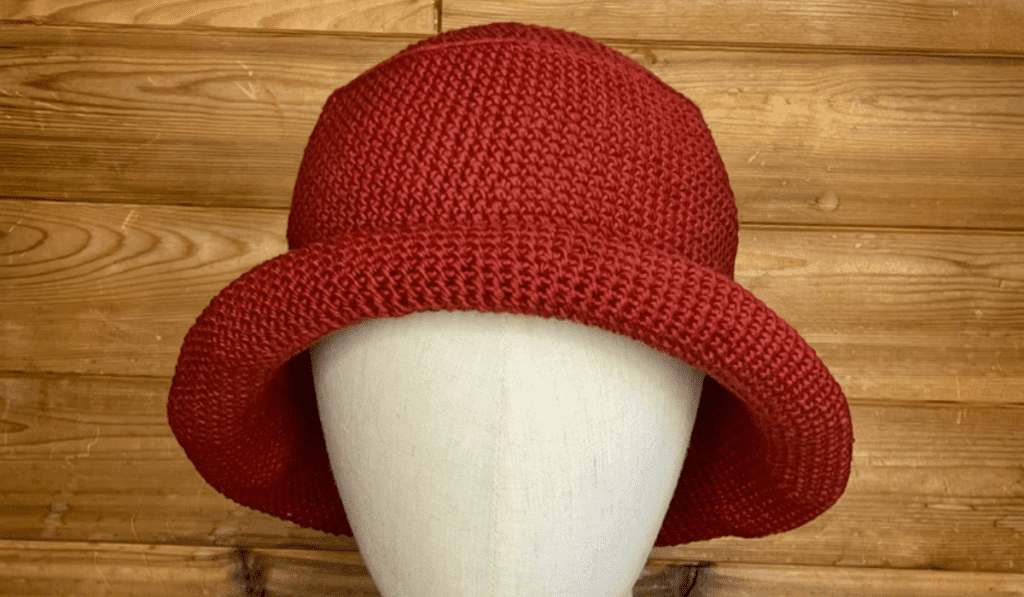 Bucket Hat Crochet Pattern
This beautiful bucket hat by Creatrix in the Matrixx is worked in continuous rounds and is perfect for beginner crocheters.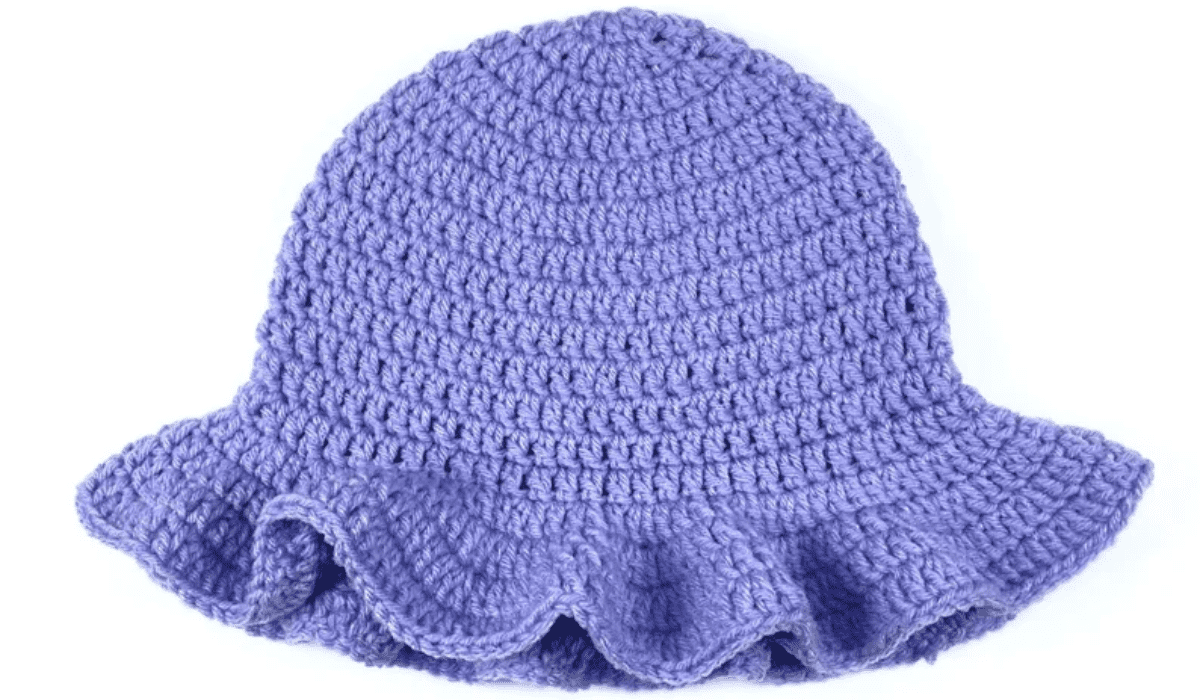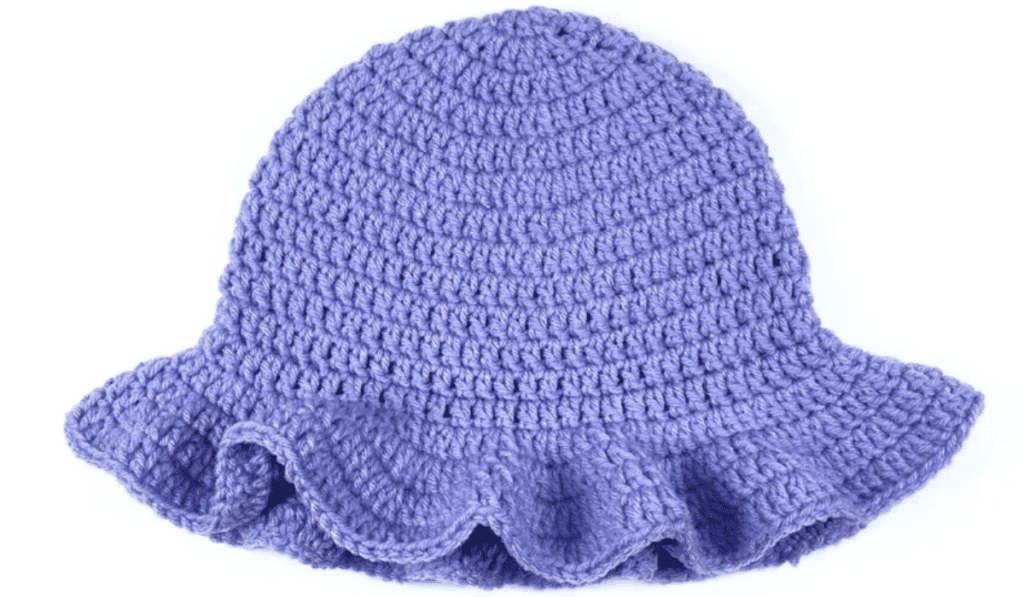 Floppy Brim Hat
I love how the frilly brim looks on this bucket hat by Hygge Crochet Co. You can choose cute solid colors or adorable color-changing yarn, whichever you prefer! I think this really takes the simple bucket hat to an all-new level, don't you?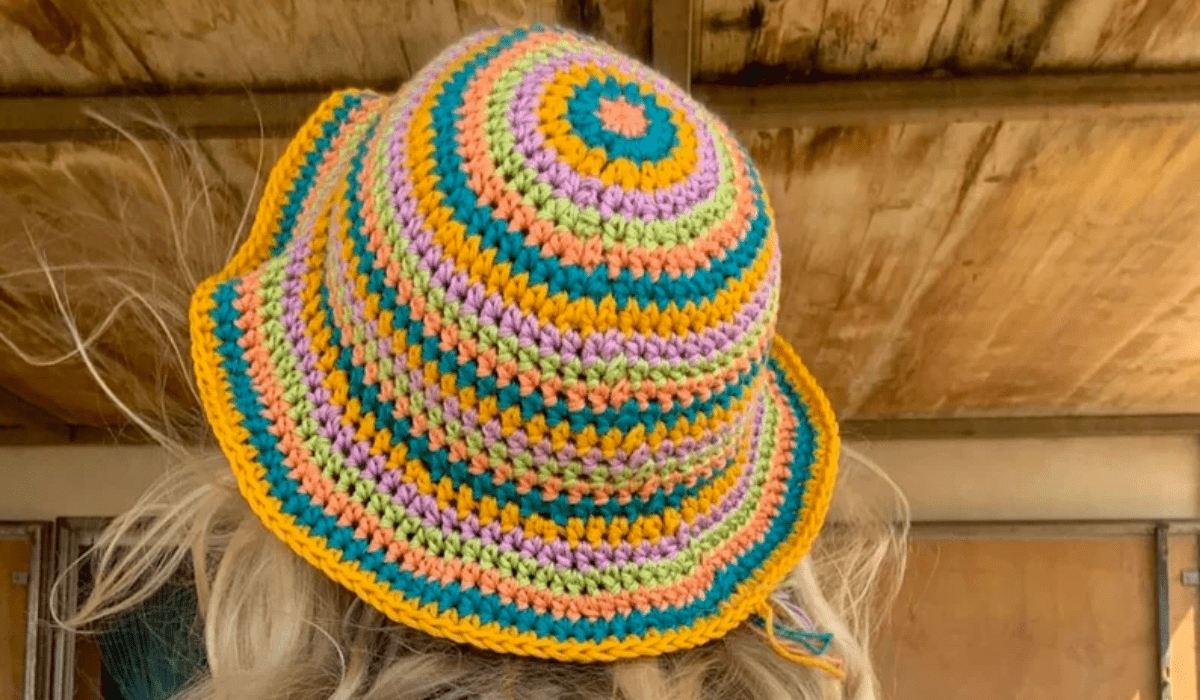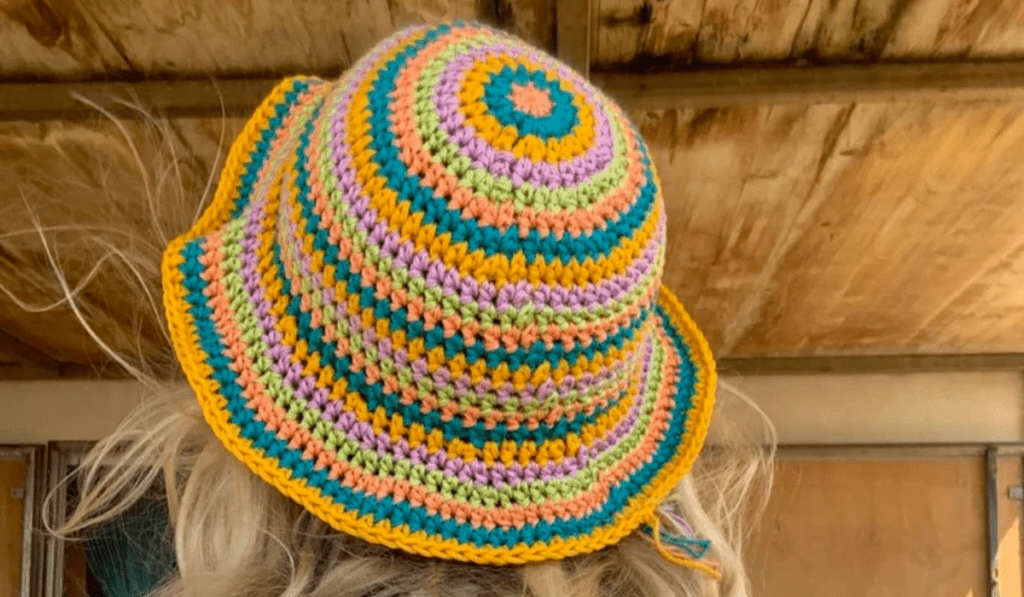 Colorful Crochet Hat
If you need the perfect beach day bucket hat, this pattern by Merino Patterns is so cute! I love the different rows of colors. If you can't tell already, I really adore bright colorful wearables.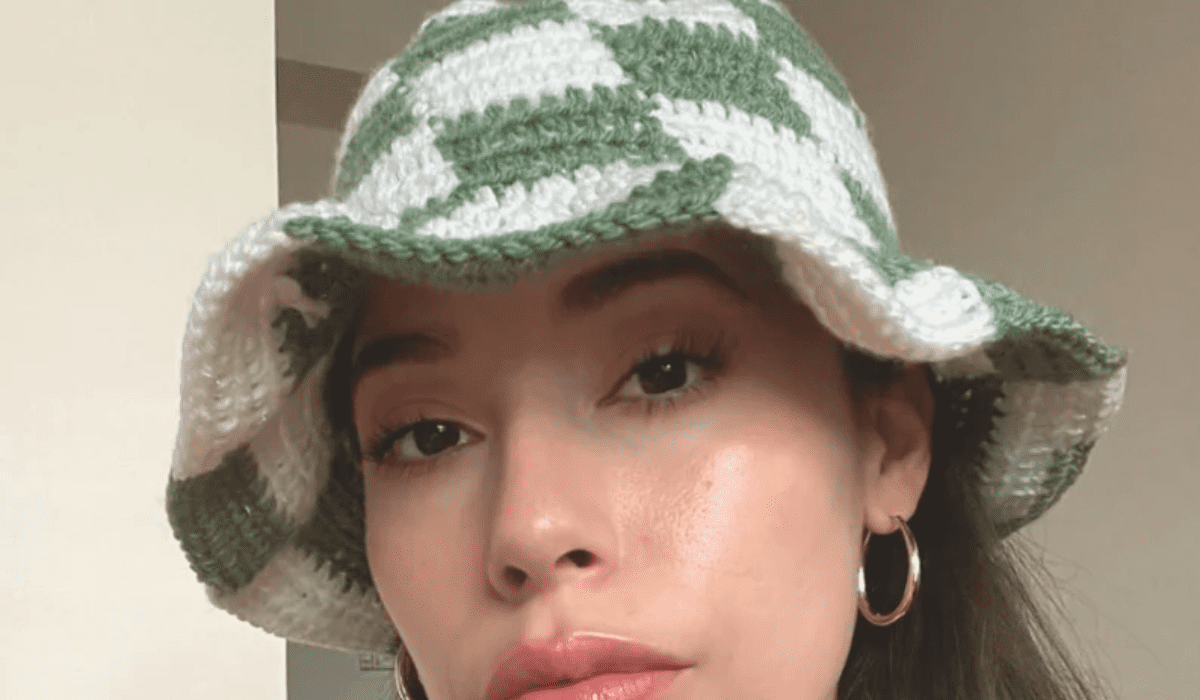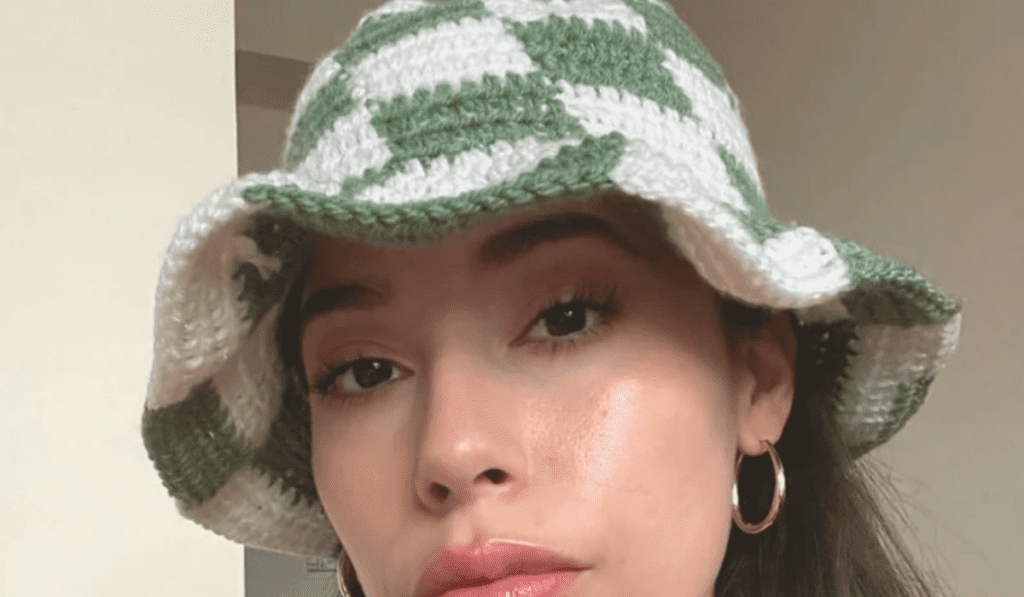 Checkerboard Pattern Hat
If you're trying to look stylish in warmer weather, this bucket hat by Lala Perez Crafts is absolutely the perfect accessory. Be prepared to make this in all your favorite colors! Personally, I love the green yarn on this pattern, but I might mix it with cream yarn instead of white yarn.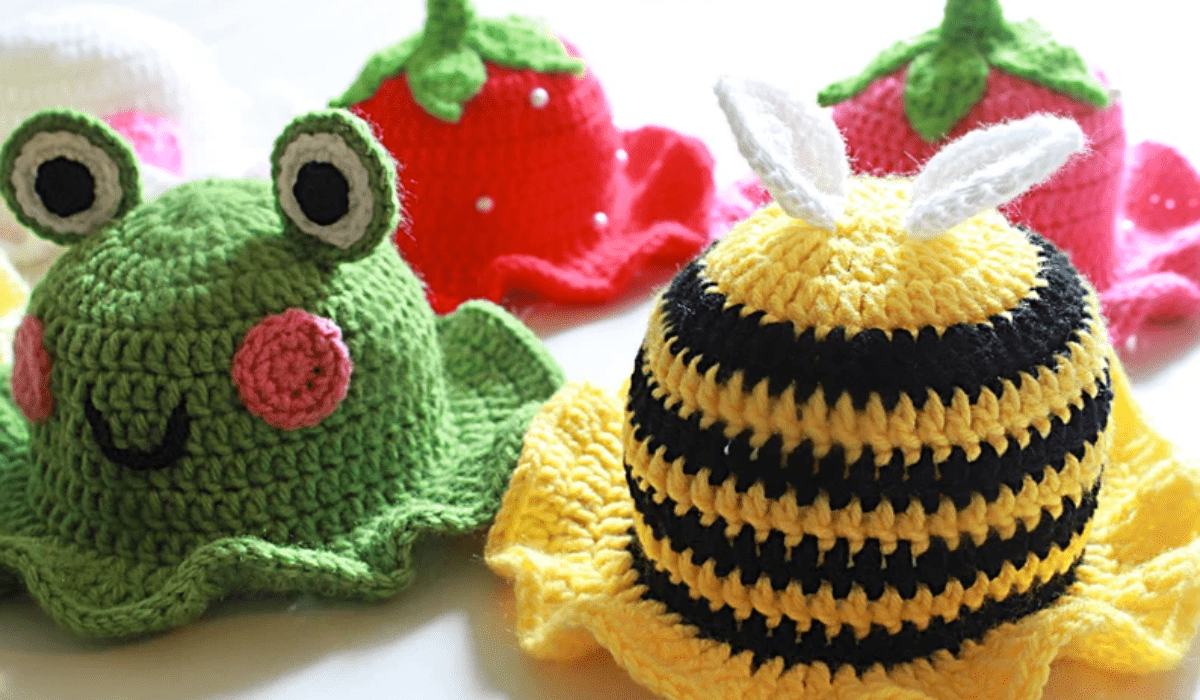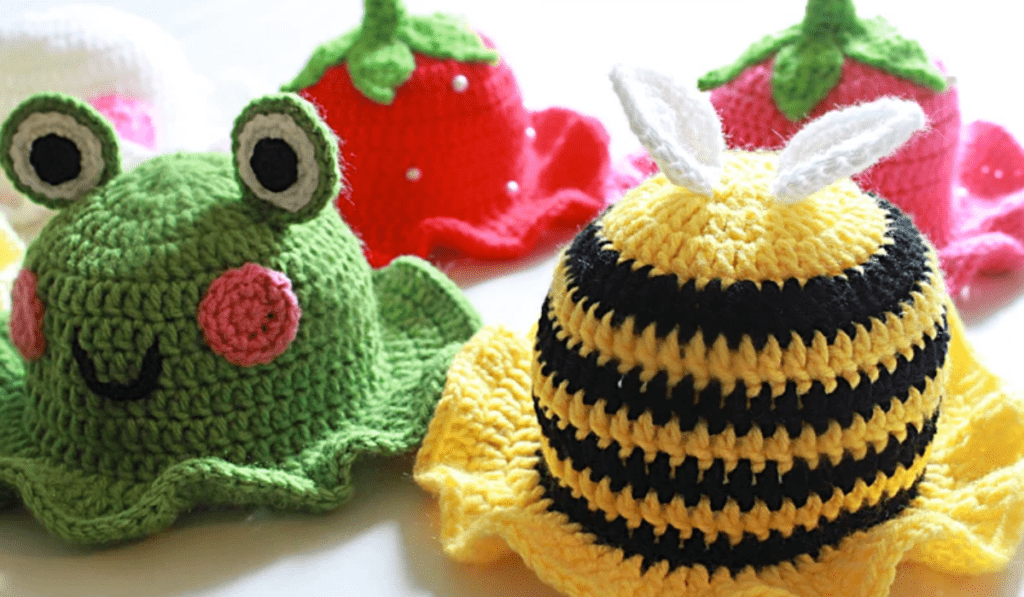 Four Magical Crochet Bucket Hats
If you want to match with your littles, these adorable bucket hats by The Dearest of Things are going to be perfect. There are patterns for a snowman, frog, duck, and bee! These are sure to be your favorite accessory this summer.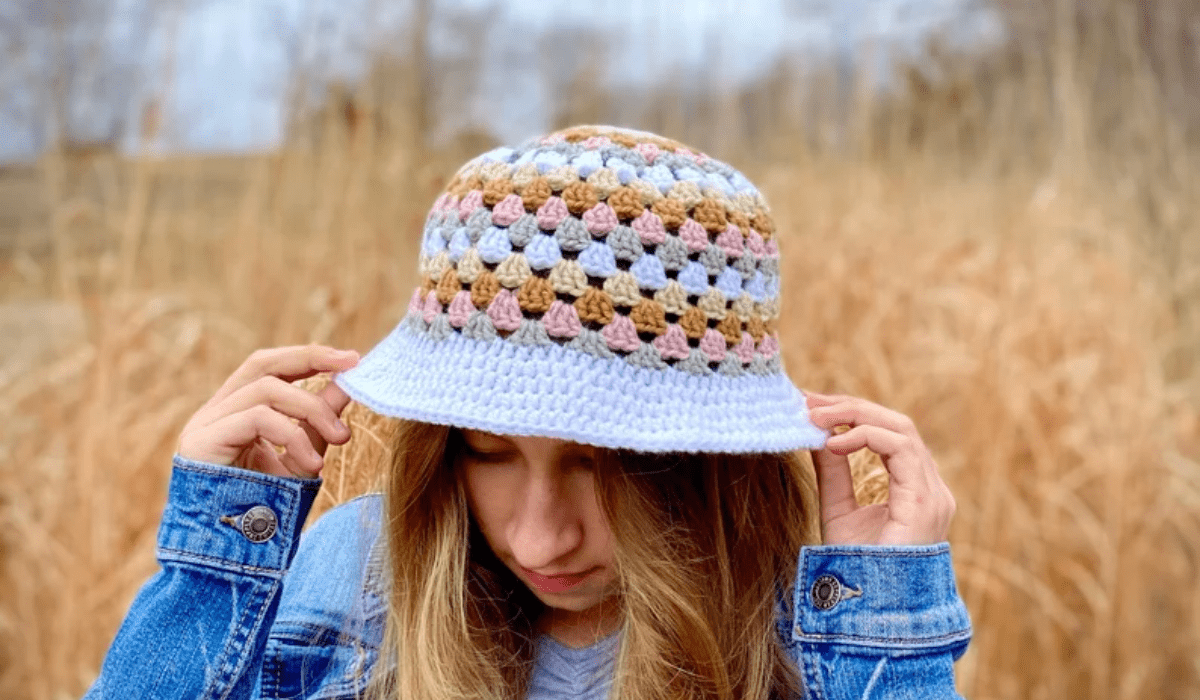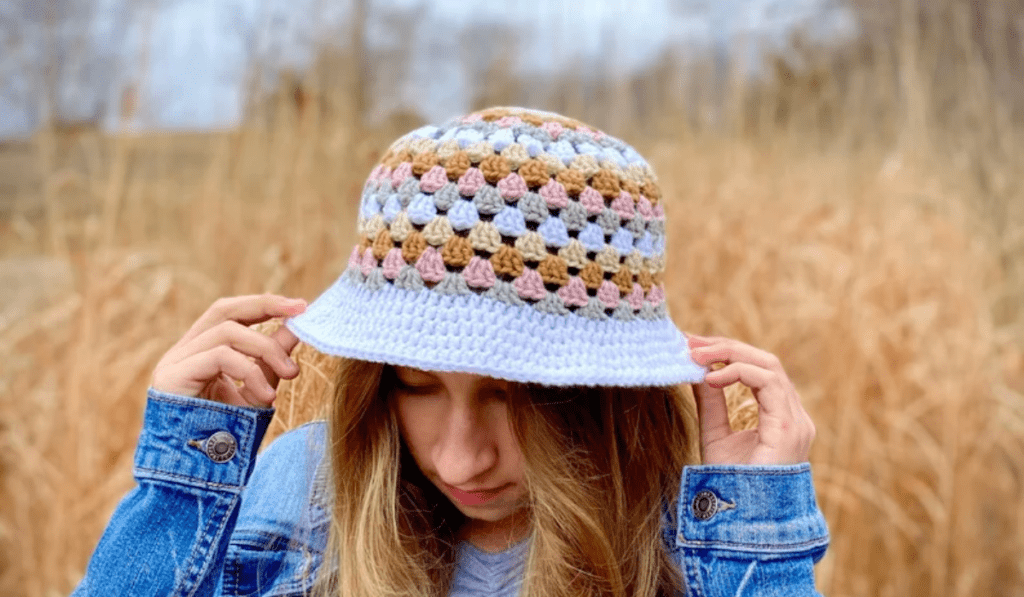 Cute Crochet Bucket Hat
If you want something a little more interesting than a regular bucket hat, this pattern by Be Ewenique Boutique is going to be the pattern for you! I really love that it has a solid color brim because I think it makes it even more visually appealing.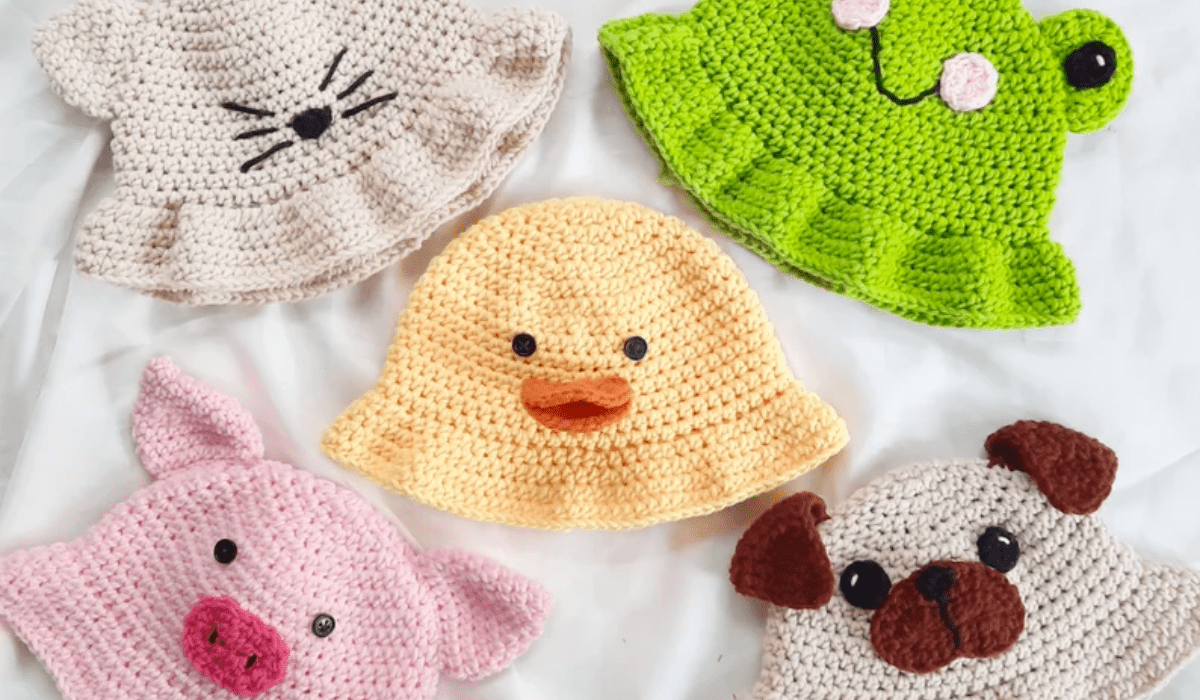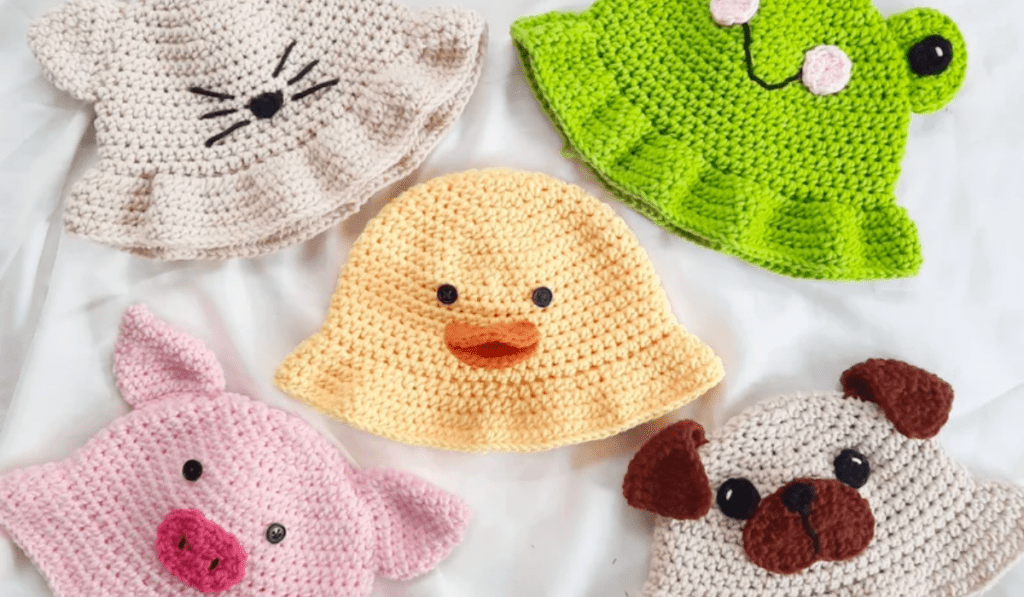 Animal Crochet Bucket Hat Patterns
These adorable hats by Moon Dragon PH include hats for Dogs, Ducks, Pigs, Cats, and Frogs. This pattern is made to fit both baby and adult sizes so you can match your littles!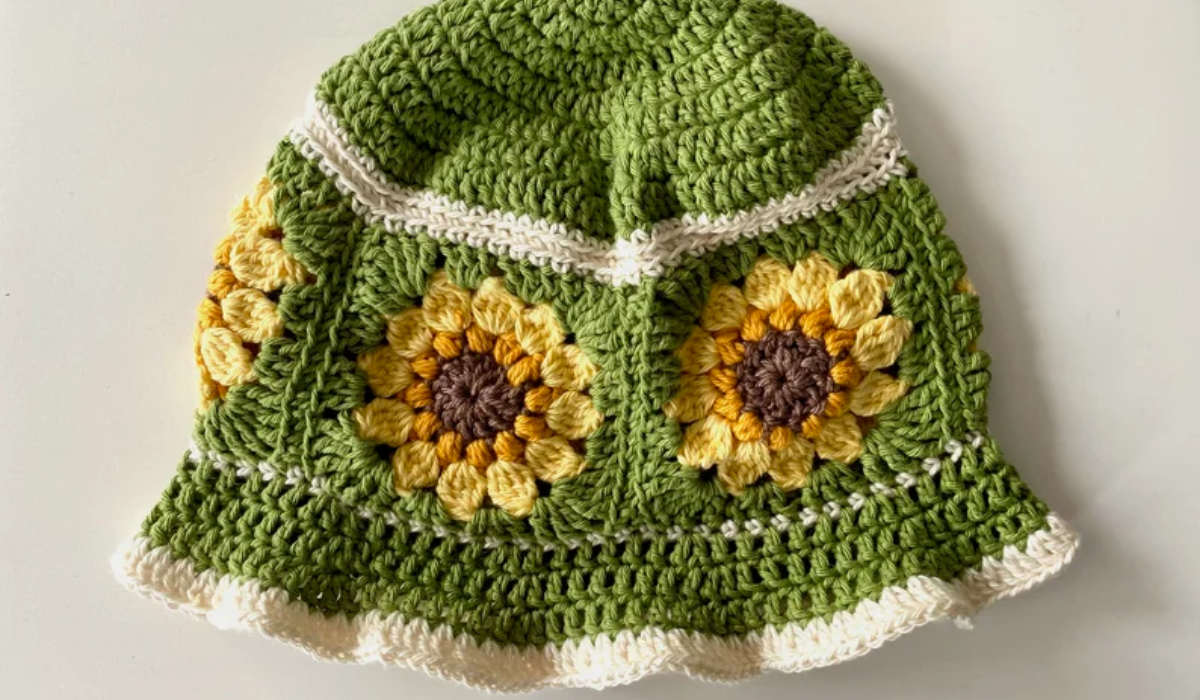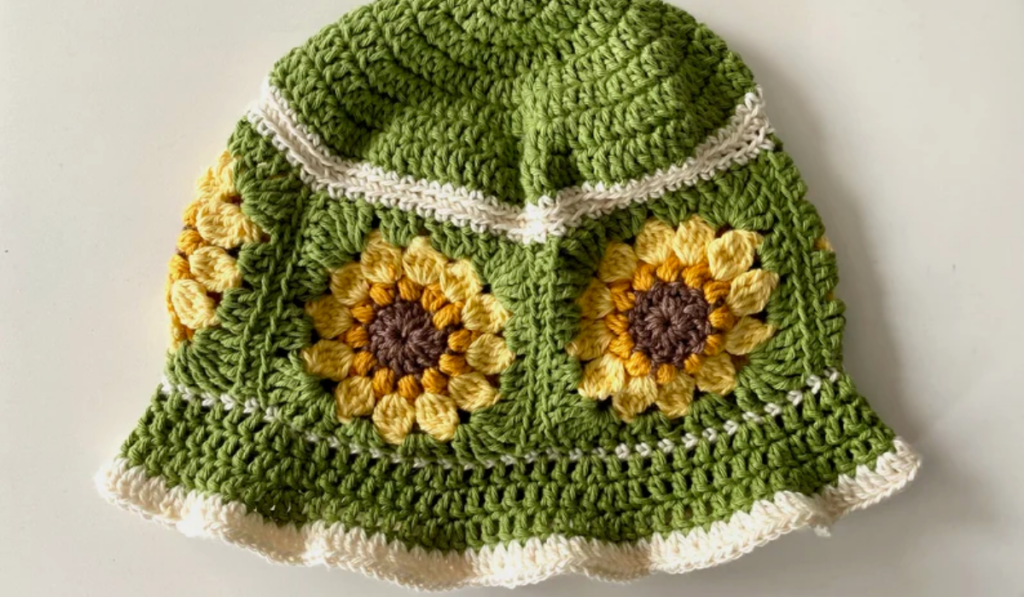 Sunflower Beach Day Bucket Hat
This bucket hat project by Crochet Love Melbourne is perfect for any sunflower lover who wants the perfect summer accessory. This is also a super cute pattern for craft fairs since they can be immediately used that day. Side note.. wouldn't these colors look amazing on a Sunflower Bag?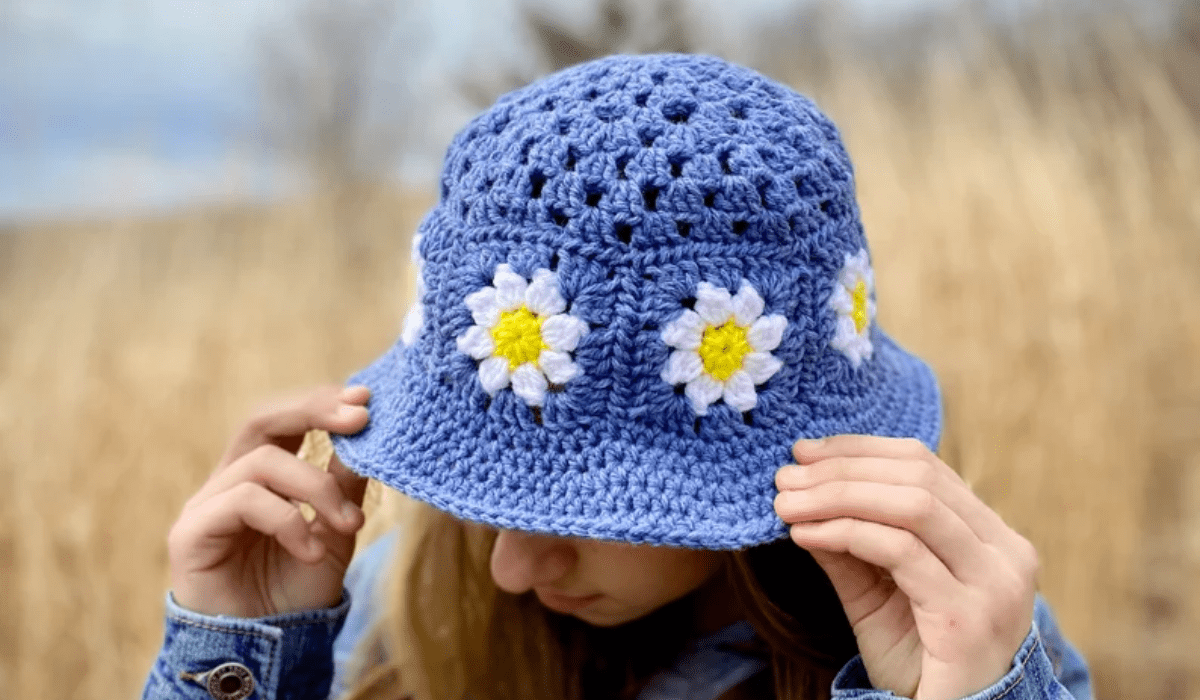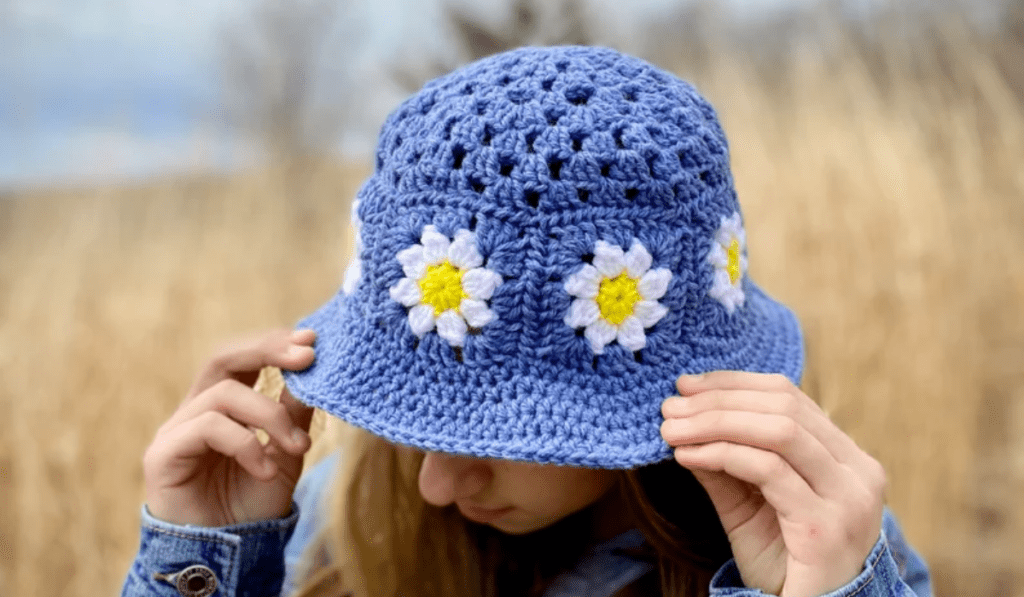 Daisy Flower Bucket Hat
These adorable daisy granny squares by Be Ewenique Boutique bring so much fun to your outfit! How could you say no to a daisy bucket hat?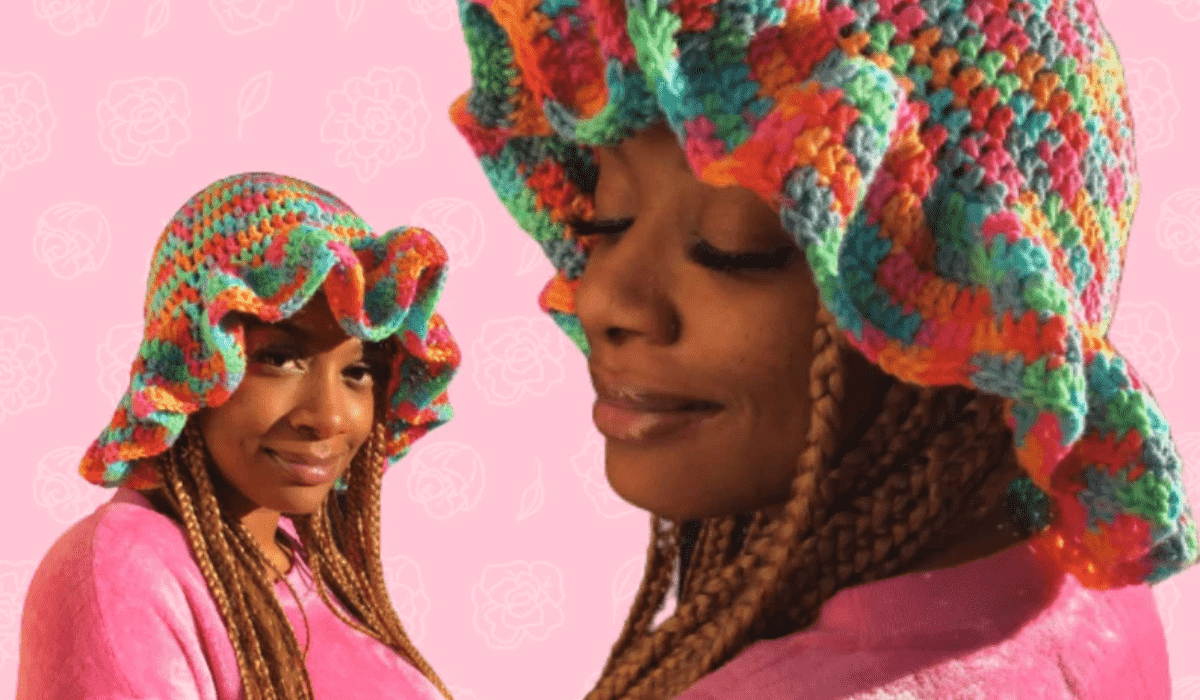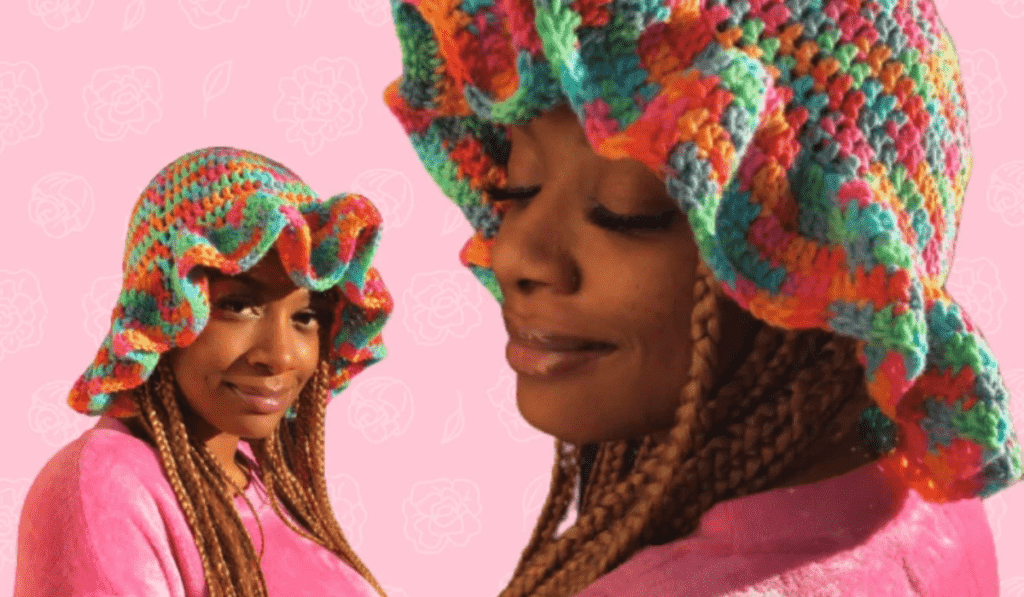 Large Ruffle Hat
If you need a beginner-friendly pattern since you only know basic stitches, this pattern by Uniquely By Nita only uses Double Crochet Stitches! You don't need to be an experienced crocheter to have a cute summer hat.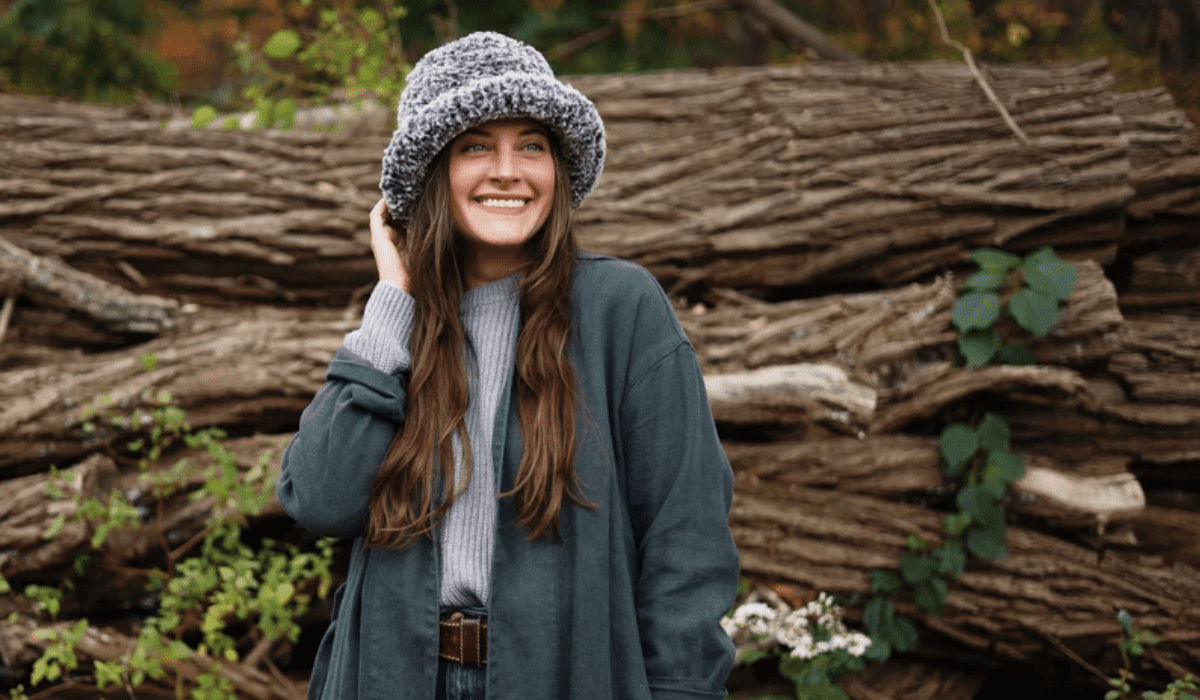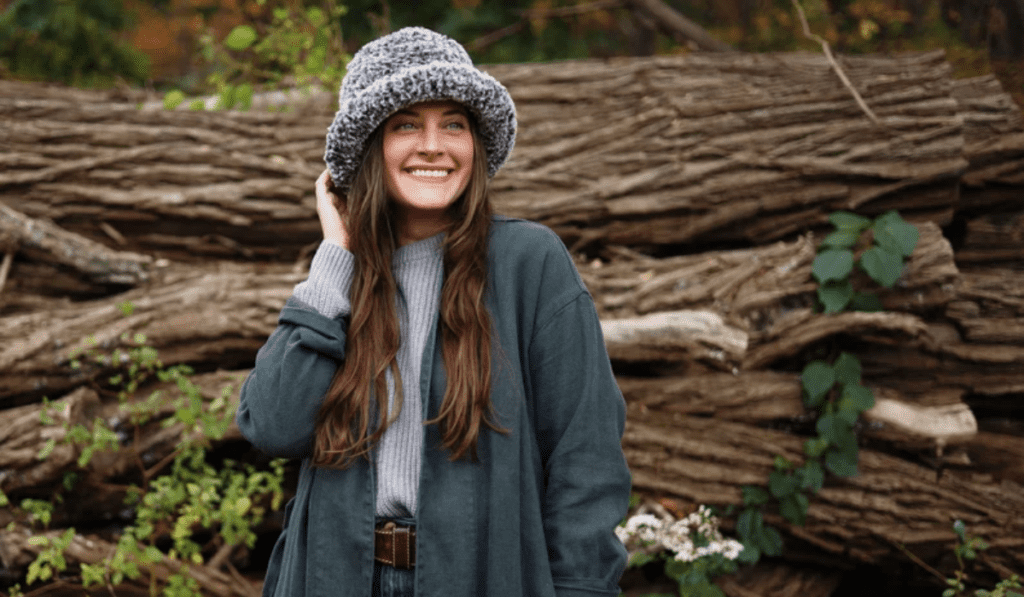 Faux Fur Bucket Hat
If you love faux fur yarn and you've been wanting a hat for the colder months, this pattern by Two of Wands Shop is about to be your cold-weather best friend!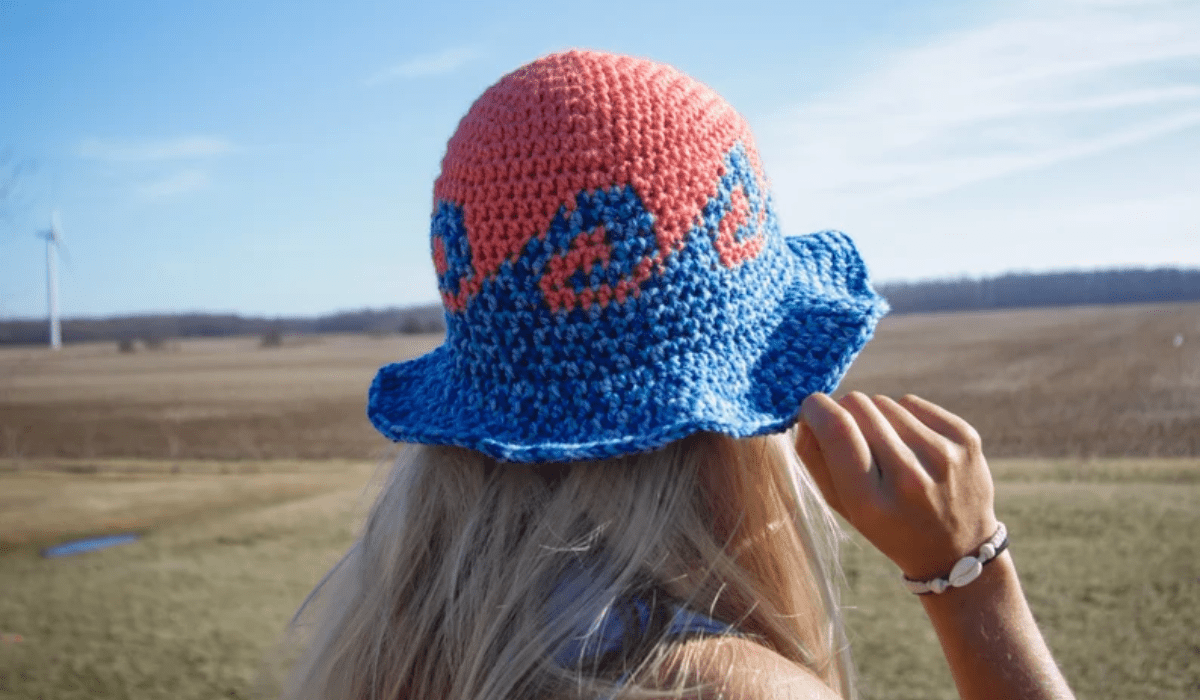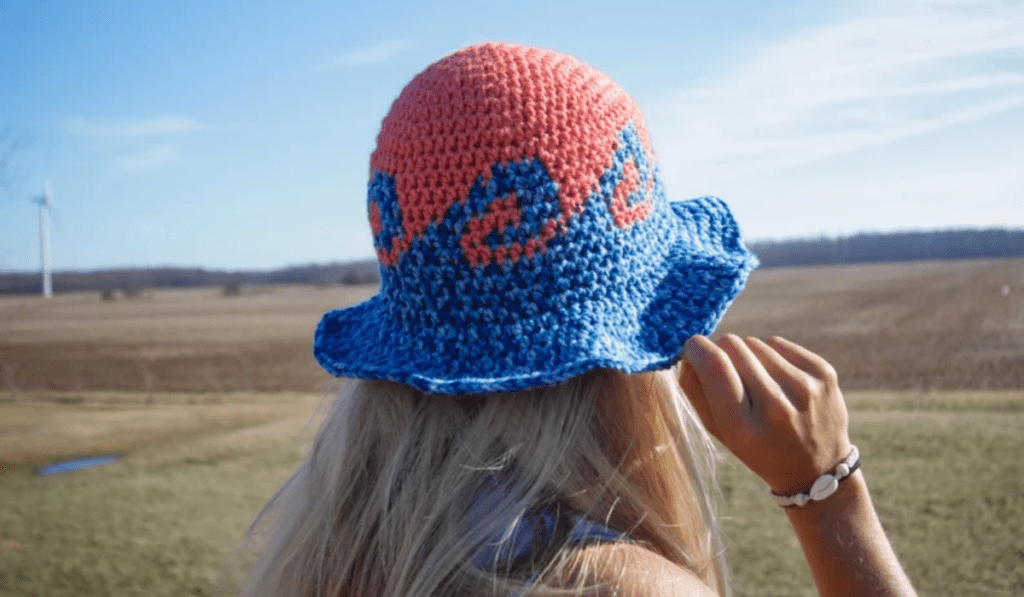 Wave Bucket Hat
If you're trying to keep your head cool during the warmer months, this bucket hat pattern by Kristinaa Creates is a must-make. I love the look of the waves on this hat, they're so cute! If you're worried that this pattern requires a lot of crochet knowledge, don't worry, it only needs basic stitches and you will be off to the races!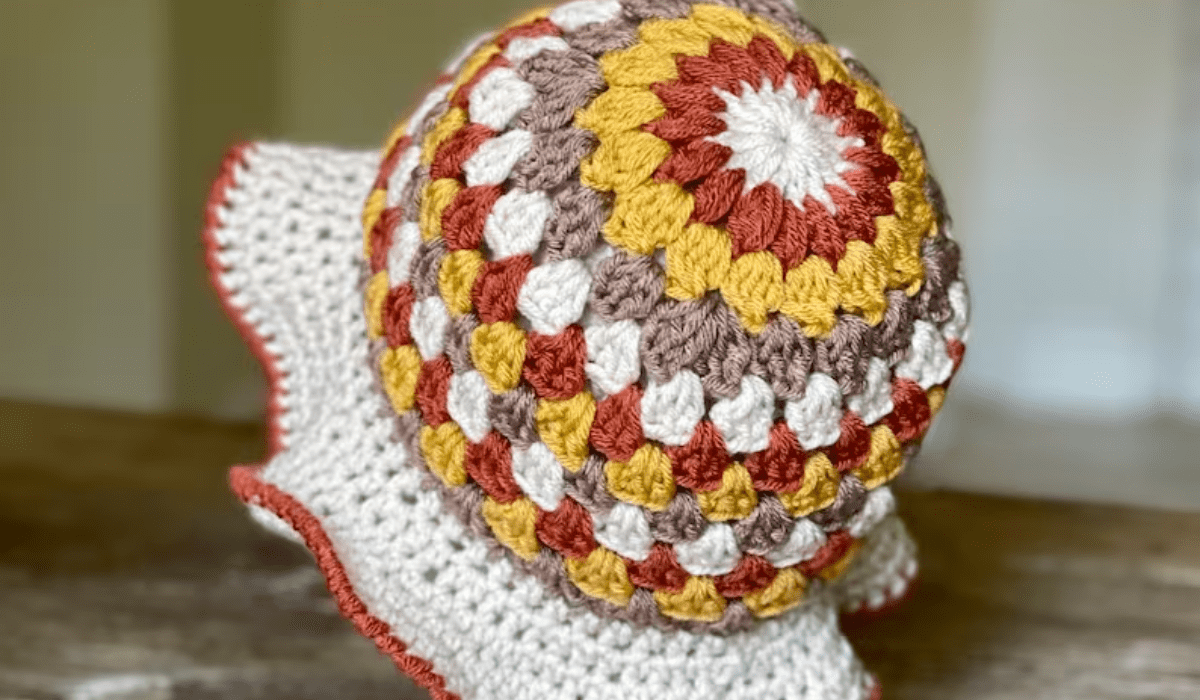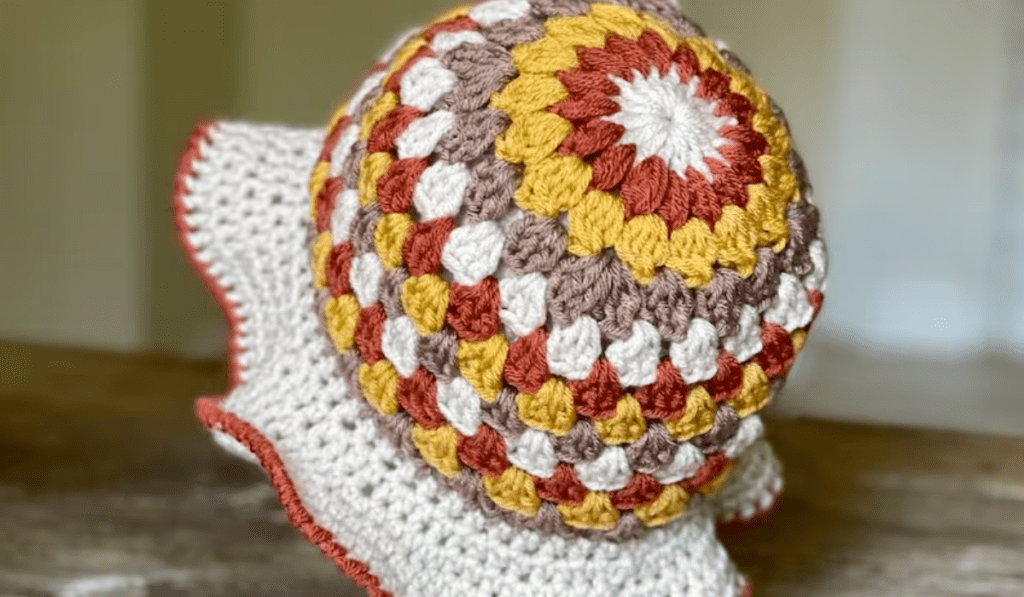 Sunburst Bucket Hat
This beach bucket hat by Days Crochet NC is ready for some fun in the sun! This is the perfect pattern to add a little homemade happiness to your wardrobe. I kind of love that the top looks like a bright, cheerful flower!
I hope you will find your perfect hat pattern. Happy crocheting!
I love seeing your finished projects! If you enjoyed making one of my patterns I'd love to see yours on Instagram, be sure to tag me @crochet365knittoo. If you are on Facebook, stop over to the Crochet 365 Knit Too Facebook page or pop over to the Crochet365KnitToo Club and share a photo! I'd love to see your work.