Sunflower Crochet Pattern: Bring On the Sun!
This post may contain referral/affiliate links. Please read my disclosure for more info.
Bring on all the sunshiney goodness with these adorable sunflower crochet patterns!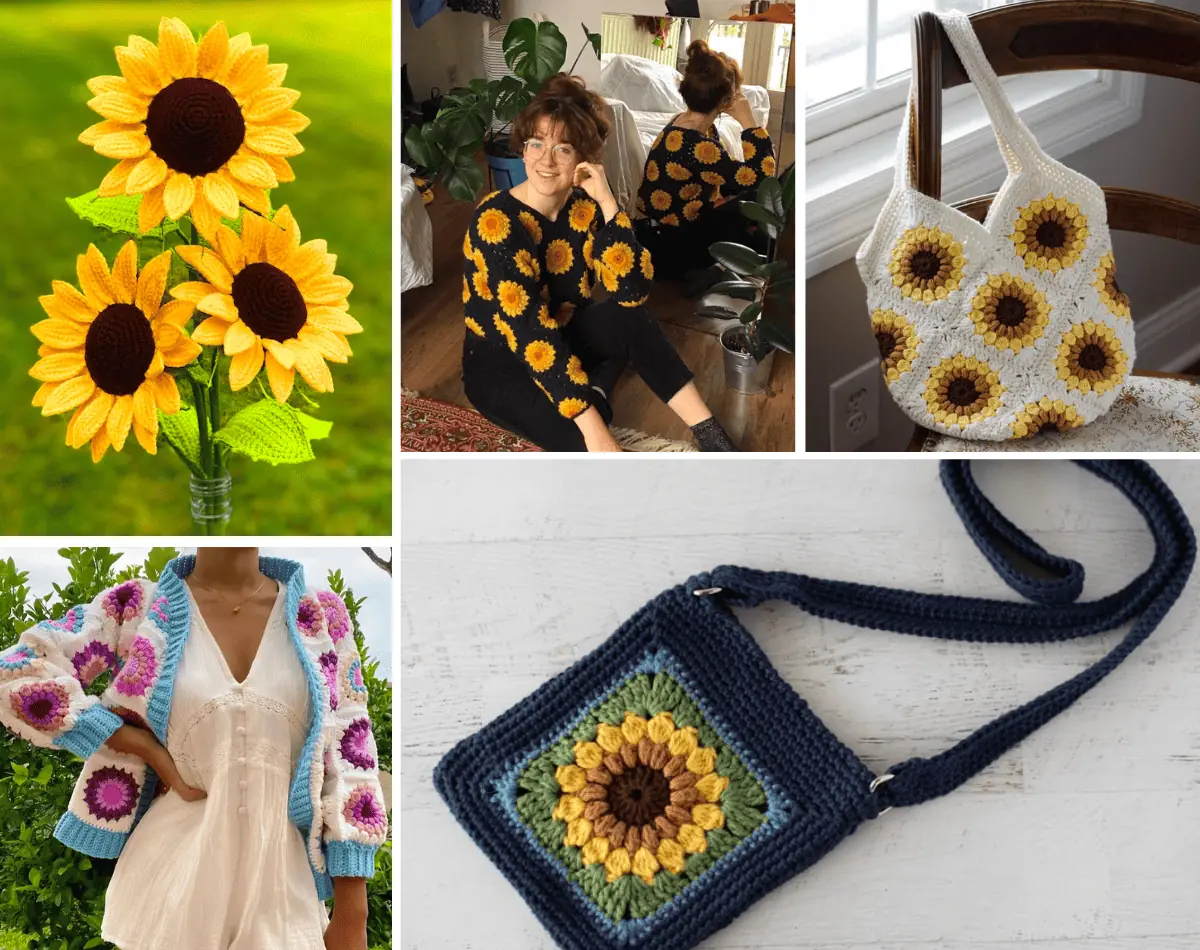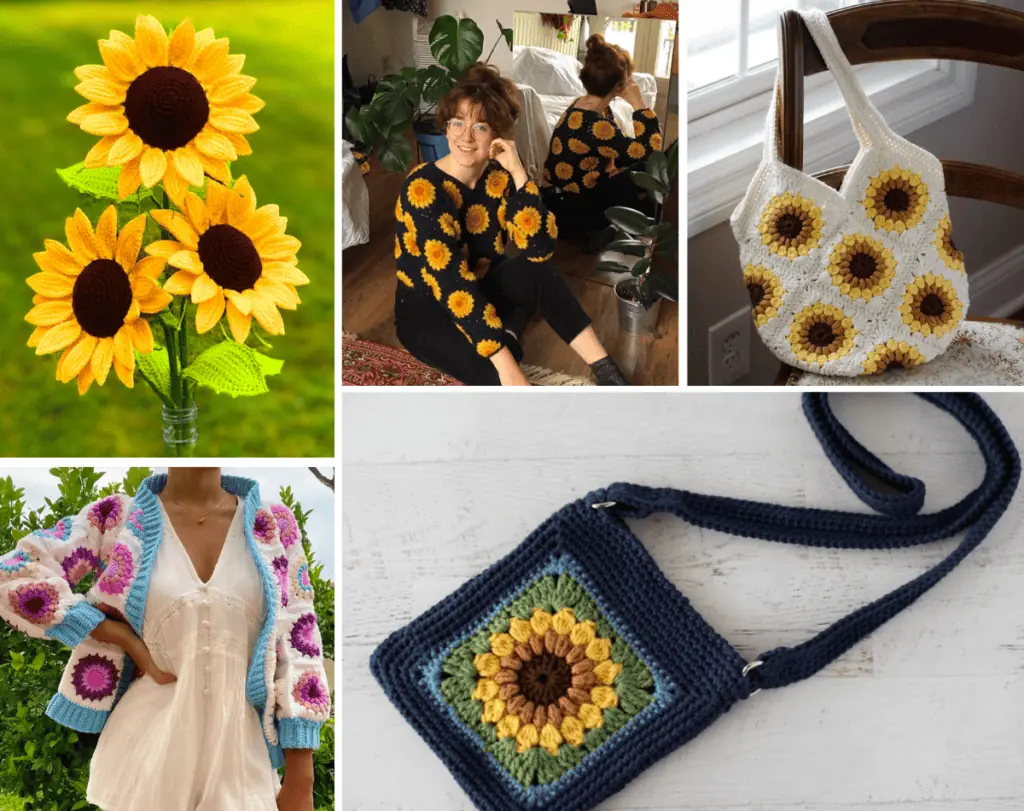 As you all know, I love a good sunflower and these patterns really do steal the show.
Types of Crochet Sunflowers
I love a little sunshine in my life and these crochet sunflower patterns speak to my soul!  Crochet sunflowers are generally constructed in 3 main ways:  a square, an appliqué motif or tapestry crochet piece.  The Sunburst Granny square lends itself to a sunflower and can be used in so many ways: A bag, an afghan or part of a bigger project.  An appliqué can be used on a piece of decor or clothing.  
And working color changes in tapestry crochet gives rise to gorgeous wall hangings, pillows and bags.  Be sure to read my tutorials on how to change color in crochet and tapestry crochet for the best results!
What You Need to Crochet Sunflowers
Typically a crochet sunflower consists of a dark brown center, golden inner petals and bright yellow outer petals. Sometimes patterns will alternate the gold and bright yellow petals instead. 
To crochet a sunflower you will need yarn in these 3 basic colors along with any contrasting color or green color (for leaves) to round out your piece.  You'll also need a crochet hook that works best with your chosen yarn.  The yarn and hook size will be specified in the pattern you choose.
What Yarn is Best for Crochet Sunflowers?
The yarn you choose should be suitable for your project and often is dictated by the pattern you choose. I typically love bags made in a cotton yarn or wool yarn. For afghans, I love acrylic yarn for its washability. However, crochet flower patterns can be made out of scrap yarn with beautiful results!
What Crochet Hook is Best for Crocheting Flowers?
As a long time crocheter, I always stick with the crochet hook brand that I love in the size indicated in the pattern.  My go to crochet hooks are the Armour Crochet Hooks and the Tulip Crochet Hooks.  For more information, read my complete Guide to Crochet Hooks.
Most of these sunflower patterns use a variety of basic crochet stitches, so make sure that you know how to work a single crochet stitch, double crochet stitch, and slip stitch (sl st). Since these great patterns won't take a long time to complete, your cute crochet sunflower is just a few steps away!
Sunflower Crochet Pattern
If you've been wanting to add more beautiful crochet sunflowers to your life, look no further than these lovely patterns.
I love how the white color background makes the brown and yellow yarn of the sunflowers pop. I'm a huge fan of the natural sunflower colors on a neutral background, but this bag looks stunning in all kinds of colorways. It even looks beautiful as a solid color bag.
This is the perfect travel bag! It folds up small to fit in a suitcase and it has just enough room for all the essentials if you don't want to carry a bigger, heavier bag. Plus this sunflower granny square is a pattern you'll find yourself using over and over again.
I adore crocheting sunflower appliques! What better use for them than to add them to this beautiful wine cozy? If you are hosting any parties this summer, this is going to be a show stopper. 
This beautiful coaster is a great way to practice bobble stitches as well as puff stitches and you end up with some simply gorgeous coasters at the end! These also make the perfect housewarming gift because you'll always find that you need more finished coasters.
Photo Credit: Mermaid Cat Designs
This is the perfect gift for someone who is looking for a new beach bag! I love the beautiful color of the yarn that makes up the background of this back, it's such a nice offset to the flower pattern.
Photo Credit: Natagor Finlayson
These stunning sunflowers are a great way to add a bit of summery colors to your home that won't wilt away. This beautiful crochet flower tutorial is perfect for intermediate crocheters who want to try their hand at something more realistic looking. A sunflower bouquet might just be the best way to light up a room.
Photo Credit: Pippa Patterns Crochet
The bright petals on this beautiful sunflower design really liven up the room! I love that this great sunflower pillow looks equally great adorning your bed or your couch!
Photo Credit: Crochet Love Melbourne
This beautiful blanket is the perfect throw for summer! This pattern could be easily turned into a pillow cover if you want to add small touches of this pattern to other parts of your home. I love the idea of turning this into a baby blanket as well by making it a bit smaller.
Photo Credit: Hook N Saw
This beautiful crochet sunflower pattern is the perfect wall art for all your cottage core dreams. This would make such a great birthday gift for someone who's looking for some beautiful art for their new home.
Photo Credit: Sleeping Sheep Crochet
This beautiful pillow is the perfect accessory for Spring, especially if you like doing gorgeous decor projects. I think this adds just a bit of sunshine to your home. The blue background and partial sunflower speaks to my soul!
Photo Credit: Luna Wear Patterns
There's nothing better than new crochet clothing pieces, don't you think? This is a little burst of sunshine that you can carry with you every time you wear it. I do love that this sweater uses primarily black yarn but you could go with something a bit brighter if that is more your style.
Photo Credit: Costas Crochets Shop
Grab all your favorite color yarn and get to work on this beautiful crochet pattern! You can even customize the length to make a cute cropped cardigan or something longer to fit your preference. In the listing, one of the samples uses brown yarn as the background and it's absolutely stunning!
Photo Credit: Baby Crochet Designs UK
Surely, your crochet hook is itching to make this adorable baby overall outfit! This would be such a fun crochet project to welcome a new little one to the family. How can you say no to beautiful flowers?
Photo Credit: BeEwenique Boutique
If you love beautiful accessories, you're going to adore this gorgeous hat. The slouchy look is so fun and it's a great way to practice both the puff and cluster stitch.
Photo Credit: Lily's Handmade Store
If you're looking for the best quick project that you can sell at a craft fair, this pattern is going to be the perfect pairing. This sunflower and leaf duo is sure to be an absolute hit!
I love seeing your finished projects! If you enjoyed making one of my patterns I'd love to see yours on Instagram, be sure to tag me @crochet365knittoo. If you are on Facebook, stop over to the Crochet 365 Knit Too Facebook page or pop over to the Crochet365KnitToo Club and share a photo! I'd love to see your work.