Sometimes the very best in all of us comes out at the very worst of times. When things seem bad.  Desperate even.  People rise up to a challenge. So friends, I interrupt this crochet blog to bring you everything you need to know to sew a DIY Face Mask.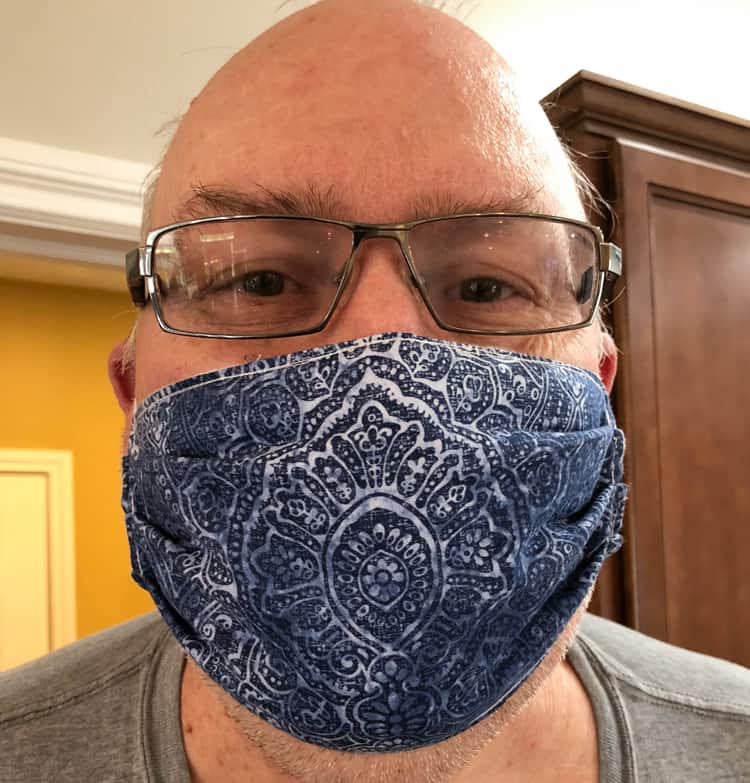 Meet my amazing better half. Like many husbands he was a reluctant model. Somewhere between 'I just got up' and 'I gotta get ready to work', I pulled out my camera and forced a handmade face mask on him. Sigh. Desperate times call for desperate measures.
***NOTE: Be sure to read through to the bottom for my latest update and research on this***
Let's back up a step.  Was it only 2 weeks ago that our little corner of the universe was happily, maybe even blissfully going along in life? Things seemed so normal–like going to the grocery store on the way to or from work or grabbing takeout because life was so stressful that we just need a break. Sure, we'd seen a sickness overseas and then way out on the West coast of the United States.  But it seemed like something that affected other people. But really:  It was a tidal wave we didn't realize was going to wash right over us too.
At the moment it seems like we have this definitive point in time.  "BEFORE" was when all was well and normal and good.  And now.  Well.  Now we seem to be in some undefined "AFTER" where we don't quite know where things are going to end up.  But things are completely upended and there we are like someone just picked up a huge box of toys and threw it down hard, scattering them everywhere.  And we're left wandering and a little lost…trying to pick up the important toys and let go of the not so important ones.
And things we thought were good.. like so good we didn't even THINK about them.. are suddenly way up high on our 'holy smokes' radar.  Like face masks. My husband works in a hospital. Not as a doctor or nurse, but as someone who comes in daily contact with patients and medical personnel.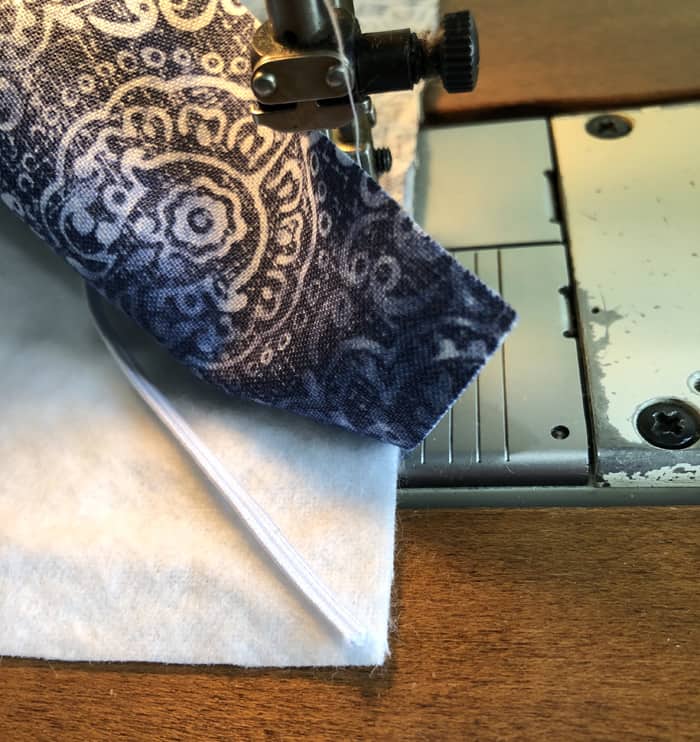 So before a week ago, I'm pretty confident we never had a conversation about face masks.  Just like I never discussed the intricacies of Pivot Tables for my job as an accountant, he never discussed masks and gloves with me.  And why would he.  Because he had confidence in a system that would ensure his physical safety no matter what.
But last week he came home and said the most curious thing: 'We've been given one mask to use indefinitely'. And I was full of questions and alarm.  Because, really, when it started to sink in that this tsunami of illness was likely going to wash its way into my husbands workplace, I never, ever thought that he wouldn't have the proper gear to protect himself.  And I knew there were doctors, nurses, paramedics and countless others who were the front line of defense. And that sunk in too.
And then like a glimmer of hope in a sea of despair, social media and then mainstream media started to spill out information on cloth face masks and before I knew it.. I was all in.  Suddenly I was researching and digging out sewing supplies and reading this and that.  And seriously? Getting confused on what was right and best.
So I thought I'd sum it all up for us in one spot.  So you can find what you need to make the best mask and have the very best information on what to do with them.  Let's dive in.
Do Fabric Masks Work?
Let's be super clear: a N95 mask is the best mask for medical personnel.  A fabric mask is a mask of last resort. A fabric mask is better than no mask at all. The CDC talks about handmade cloth masks here. The company Smart Air has a really great article on various materials for masks and how they compare to a common surgical mask.  You can read that article here.  (Remember for the best information on this novel virus, go to the CDC's website here.)
What Fabric or Material Is Best For a DIY Face Mask?
In general, most resources indicate that 100% cotton or a cotton blend are best.  Liners can be made with the same type of fabric, flannel or t-shirt cotton.  A vacuum cleaner bag or a non-fiberglass furnace filter can be added.  However there are a few concerns with this filter material.  First, you must be absolutely sure that the vacuum cleaner bag and the furnace filter does not have any fiberglass material.  Second, there can be breathability issues with this materials.  Finally, they typically cannot be washed, so they would be an 'insert' to a mask and then presumably thrown away when the mask is washed.  Update: I currently do NOT recommend a non-fabric filter (read through to the bottom of this post for the latest
How does the Mask Stay On?
There are basically two main options for the handmade masks:  Elastic straps that go over the ears or tie on straps.  Elastic is getting hard to come by, especially in communities where non essential businesses have closed. Local stores have exhausted their supply of elastic due to the mask demand also.
For tie on straps, you can use anything that doesn't stretch and is washable, such as bias tape or ribbon.  You can also sew your own by cutting 4 strips that are 18″ long and 1-1/2″ wide to 2″ wide (pick one size).  Then fold lengthwise in half and press with iron.  Fold edges of fabric to meet at the middle center fold and press again, so that the cut edges are hidden inside the strap.
What About a Wire Nose Bridge?
Traditional masks have a small piece of wire that can be bent to fit the wearer's nose for a better fit.  If you want to include this feature, think about whether or not the wire will be removed before washing.  Most patterns that include this piece, have a step to sew a little channel for the wire.  You may use a floral wire, wire ribbon or a paper clip.  The edges should be turned in so as not to poke the wearer. Read through to my latest update at the bottom of this post for my clever solution for a nose bridge.
Who Should Wear the Masks?
The intended purpose of the masks are to donate to medical staff in the front lines of defense in treating this new virus.  It is a way to help.  To find a donation drop off point, look at the websites for your local hospitals and news media.  They will likely tell you who is accepting sewn face masks and details on how to get them to the proper place.
I plan on making one for myself to wear to the grocery store as well.  I've noticed that people in other countries routinely wear masks, even though we currently are being told it's not necessary for non infected people to wear them.  If nothing else, it keeps my hands from touching my nose and mouth and I feel like that would be helpful at this time.
Best DIY Mask Patterns:
I've scoured the internet to come up with the best patterns.  Here are best I've found and my reviews of them.

Deaconess and the Turban Project
The Deaconess Health System is a provider of health care services in Indiana, Illinois and Kentucky.  Their website was one of the first to lead the charge in the DIY Face Mask call to action!  Their mask is very basic and requires elastic.  There is no accommodation for a wire bridge or a filter.  The mask seems to suit small and medium size faces best.  If you are making for a larger person, consider adding ½ inch to both the height and width of the fabric.
Deaconess relies heavily on a pattern by the Turban Project which can be found here.
While helpful, I find the written directions to be difficult to follow.  So I recommend using the two websites in conjunction with one another.  The Deaconess site offers a great video tutorial and the Turban Project offers the print and cutting instructions.

Dr Lauren Streicher
Dr Lauren Streicher is a top US doctor. She is a researcher, educator and surgeon.  She also happens to be a sewer and combined her unique skillset to design a mask. The pattern is provided as a list of cutting instructions that are easy to follow.
Dr Streicher's mask is a bit bigger in height than other pleated masks out there.  She does use a larger seam allowance than others. The biggest difference is that Dr Streicher's mask is about 3 inches larger in height.
She uses a ribbon wire sewn into the mask for the nose bridge area. She encourages sewers to not worry about perfection and teaches little tricks in her video to make the process go smoothly.  In my opinion, she's got the trifecta going on: she's a surgeon so she knows what's important in a mask.  She's an educator so she knows how to teach.  And she sews so she can describe the process very well.  Here's Dr Streicher's Post on making a mask.

Joann Fabric Mask
Joann also has a nice video tutorial featuring how to make a pattern for a pleated mask. Joann's mask features lightweight fusible interfacing, 2 layers of cotton cloth fabric and elastic.  The mask is the same size as the Deaconess version.  Joann covers a methodical method for the pleats which I think is really helpful.  I am not sure about the fusible interfacing however.  I don't know if it would make it difficult to breathe through or if the interfacing filters particles.  If you are considering a pleated mask style this video is worth a look, especially for the strategy for the pleat portion of the project.

Pins and Needles Face Mask
Pins and Needles is a family run sewing store in the Cleveland Ohio area that is mobilizing sewers to make 1 million masks to help protect medical staff during these unprecedented times.  They offer two style of mask patterns on their website.  Both feature wire nose bridge pieces which can be fashioned from a twist tie, a picture wire or even a paper clip.  The website provides a printable pattern for the shaped mask and cutting directions for the second mask.
First is a shaped, 'no-pleat', head strap model.  A channel is made on either side of the mask and long tie made of ribbon or fabric runs through the bottom of one side of the mask, up to the top with a large loop left to go over the head, then coming back down on the opposite side through the top of the channel and out the bottom.  It then ties in the back.
I like this one for innovation and it seems that having just one tie would be less hassle for a worker to take on and off.  On the downside, a channel might be a task for a more experienced sewist.
The second is a pleated mask style featuring channels on either side to hold a ring of elastic.  It also features a pocket for a filter which slips into place between the main outer piece and the lining piece.  This pattern features separate channel pieces for the elastic as in their first model.  It is written for the experienced sewist.
I love the looks of both masks, however they are more difficult to construct.  I also wonder how the channel style construction works in practice.  I'm not sure if it allows for a more customized fit (which would be desirable).  Or, perhaps the gathers in the fabric on the side might be uncomfortable.  You can read up on their masks here.

Jennifer Maker Mask
Jennifer Maker offers a mask shaped mask (no pleats) that features an optional wire nose piece and filter pocket (note that the filter pocket needs to be in place to sew the wire nose piece portion).
Jennifer de-constructs a furnace filter to use as filter fabric for her masks.  You can get the filter here. UPDATE: My husband asked me to gather more information on use of this particular filter.  So I called 3M.  As you might imagine, they stated that their furnace filters have only been tested for furnace use and not for use in this manner.  The representative did add that there is no fiberglass in this filter or any known harmful material. If you decide to use the filter in this manner, you are doing so at your own risk and you'll have to weigh out any perceived benefit against that.  Jennifer is no longer recommending a furnace filter nor am I.  Scroll to the end for an important update on the filter options.
Jennifer's pattern is available as a printable PDF or by using a Cricut Explore or Maker with a SVG cut file.  All patterns are accessed through a password protected library.  To gain access, you will need to sign up for her mailing list. Note that the pattern comes in multiple sizes.  Jennifer notes that the small fits her face.  I made the medium size mask and it was too big for me, but fit my husband very well.
Jennifer is always a delightful teacher.  Her instructions are very good and comprehensive.  She researched and sought the advice of a respiratory therapist (a relative) and features ties to secure the mask.
I like that Jennifer encourages sewers to use what they have in their own home.  I also like her creative use of the ties and showing more than one way to tie the masks.  I like the shape of the mask and the option to use a filter.  You may or may not like that you have to subscribe to her newsletter to get access to the pattern.  You can find Jennifer's instructions and video here.
What Is My Mask Making Recommendation?
The verdict is still out!  I will update this post as I continue to experiment.  So far we've tried the Deaconess pattern and I modified that pattern for a second mask with ties.  In both cases, the mask feels too small for my larger-guy husband.  For the tie portion, I made my own that extended across the entire top and entire bottom of the mask.  This was too much and too cumbersome. Next time I would just put a tie in each corner.
I plan to sew two masks and see what I like best.  First, I will modify a flat pleat mask using rectangles that are 9.5" wide x 6.5" wide with elastic to see if that gives my husband better coverage.
I also have a furnace filter on order and will try the Jennifer Maker mask. NOTE: This is did work out.. scroll on for details.
I will update this post as we figure out what works best for my husband.
NEW!!  UPDATE 7/21/20:  Whew… 3 months later and masks are shown to be so important in fighting this virus!!  And woefully.. I have a need to make more masks, especially for myself since I am going out and about more often.  Here are what we've decided for favorites:
My husband truly loves the modified mask I made from the YouTube video I shared in April.  Be sure to read THAT update for all the details on that.
I've modified a DIFFERENT Joann.com Mask that I just love!  Take a look: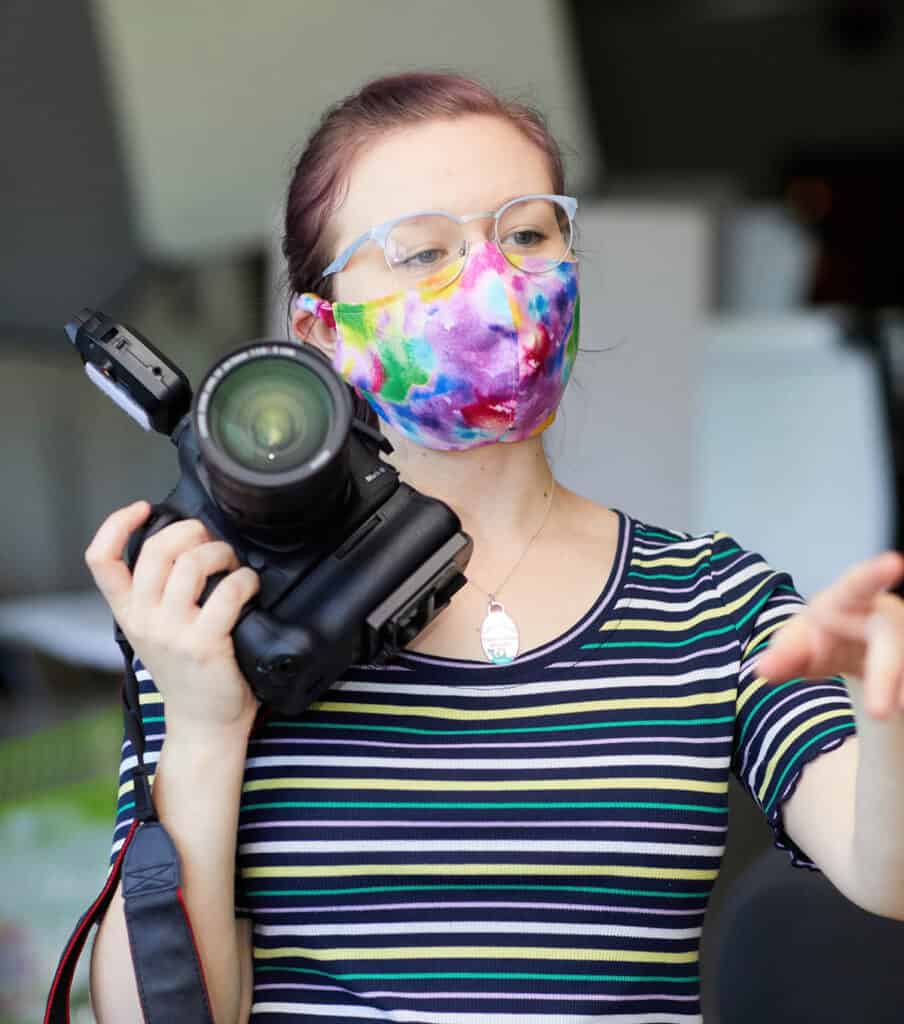 Joann seems to have quite a few themed masks that uses this same basic pattern.  Here's a link to this particular mask and their directions.  Note that when you get to the pattern page, you should for the "download PDF" link that is under the "Print description" link.  I use the 'adult' size on this pattern, by the way. I think if you are a petite adult you could go down a size.
I purchased 12 gauge jewelry wire from Michaels, cut a piece about 5″ or so long, carefully bent over the ends so they wouldn't poke through the final piece.  Before closing off the mask, I sewed a little channel in the bridge of the nose and inserted the wire and then sewed the ends of the channel closed.  I then finished closing off the open edge of the mask and top stitched around.
I seriously love this style mask.  Super comfortable and the wire lets me form it to the top of my nose so it doesn't steam up my glasses!  Plus I kinda love that I can use fun quilting fabric to jazz it up!
UPDATE: 4/10/20 A lot has changed in a week.  Goodness.  So first up, my husband is now working in the hospital on a floor WITH patients who have tested positive.  Scary, right?  In a weird way, dreading was worse than the reality. He is fortunate to have a N95 mask to wear there, which he is reusing every day.  So right now I'm making 2 masks.
First, our 2nd choice (but easier) mask is the Deaconess version, based on the Turban Project which can be found here. I am making these with 1/8″ elastic I scored at Hobby Lobby before they shut down.  1/4″ elastic would also work or you could make your own ties if you can't get elastic.  This is a 2 layer mask.  I'm using quilter's cotton for the outside and on the inside flannel or a layer of cotton fabric (mostly because I want options and can't decide which is better).  I feel like this is suitable to run to the grocery store or go out in public and it's the easiest to make.
Second, we felt like we needed an option that has a pocket for a removable filter and some sort of piece for the nose bridge area that could be formed around the nose.  At first we were going to use a furnace filter recommended by Jennifer Maker.  I had called 3M and they said it contained no harmful materials, though they also said it was only tested for furnace use.  So I ordered some off Amazon.
The purchased furnace filter was a fail.  It was hard to pull it away from the wire pieces (and I cut myself).  Then it was hard to cut to the appropriate size (Jennifer recommended ironing–but that was too touchy–I could tell the filter would melt).  Then I got concerned when I saw how easily the little fibers in the filter wiggled out of the fabric and I thought that breathing them was probably dangerous.  After that I noticed Jennifer did another article reviewing filters noting that 3M since came forward with the advice to NOT use their filters in this manner.  In fact, none of the "make do" filters have been tested in this way. So I decided that the risk is just too great to use a re-purposed sort of filter.
I decided to use a layer of flannel fabric inside a pocket style filter.  This would give me 3 layers of fabric–which I feel is the best combination.  Too many layers means you can't breathe through it–and if you can't breathe, your body will suck air from the outside edges of the mask, thus defeating the purpose.
For the mask itself, I made some major modifications to the mask shown in this YouTube video.  First I cut my fabric 15″ x 9″.  The 9″ side goes across the face and thus is the same width as the other style of mask.  I finish the edges and sew the mask together on the sides, as in the video.  We like 7.25″ of 1/8″ elastic.  A lot of people like a 7″ length and are using 1/4″ elastic. My recommendation is to make one and try it on and see what you think before cutting up a bunch of elastic.
After much experimenting with wire options for a nose piece, I found one that works great!  I take a long pipe cleaner, fold it in half and then twist it all along the length. Then, I cut the ends so that the piece of twisted pipe cleaner is 5″ long. I used pliers to bend back the sharp ends and tuck into the twisted part so that it doesn't poke once inside the mask.
Then, after the mask is turned right side out (but before the pleats are sewn), I sew a channel about 1/4″ wide by 5″ long at the top of the mask.  It is open on either end and can be accessed from inside the pocket of the mask.  I push the pipe cleaner in.  Since the pipe cleaner won't wash well, I will be removing the pipe cleaner before washing (and spraying it with alcohol and hanging to dry.
From there I follow the rest of the directions on the YouTube video for sewing in the pleats. When it's all done, I cut piece of flannel and wiggle it into the pocket of the mask.  I really, really love this mask.  The  wire portion can be bent around the nose and if it wears out, I can make a new pipe cleaner piece for it. The mask also ends up being a little bit taller than the Deaconess mask and we like how it fits nice over the nose and down over the chin.  I will be wearing this mask when I go out to the grocery store (or when I want a little more protection). It feel comfortable and I feel like the 3 layers is a good compromise between "the benefit of more layers" and "being able to breathe".  It took a bit of careful research and trial and error, but I am really happy with the final result.  I hope you try it and like it too!
UPDATE: 4/3/20  Still woefully behind and now I have my husband's coworkers wanting masks too.  Sigh.  I did find a different pleated mask that I'm really excited about.  You can watch a YouTube video HERE on it. What intrigues me on this is that it's the pleated mask style with a pocket for a filter.  This means I can cut a bunch of small rectangle filters that we can throw away out of the furnace filter I bought on Amazon.  So this is my latest plan.
UPDATE: 3/31/20  I'm woefully behind in the mask making endeavor.  Currently I'm enjoying making the Deaconess version with 7.25″ of 1/8″ elastic on each side instead of the 7″ called for in the pattern.  This seems to be more comfortable for both me and my husband.  I made the Jennifer Maker mask, but somehow got things mixed up and the pocket for the filter ended up on the inside of the mask (sandwiched between the layers).  3 Layers of fabric seemed thick for my husband (and that was without the furnace filter).  I called 3M to ask about the safety of the furnace filter (if you scroll back up to the Jennifer Maker section you can see what I learned on that).  In the next few days I plan to make the Jennifer Maker mask WITH the removable furnace filter option and see what the hubs thinks of that.  Side note: Hubs keeps getting it in his head that he should wear these handmade cloth masks INSTEAD of the surgical mask provided at work.  As flattering as it is that he has this confidence in my sewing prowess .. I just want to remind EVERYONE.. if a surgical mask is available it is the better option.  The cloth mask is an option of last resort.
I love seeing your finished projects! If you enjoyed making one of my patterns I'd love to see yours on Instagram, be sure to tag me @crochet365knittoo.  If you are on Facebook, stop over to the Crochet 365 Knit Too Facebook page or pop over to the Crochet365KnitToo Club and share a photo!  I'd love to see your work!