Alpine Crochet Headband
This post may contain referral/affiliate links. Please read my disclosure for more info.
My friends, meet a thing of beauty and function:  Introducing.. The Alpine Crochet Headband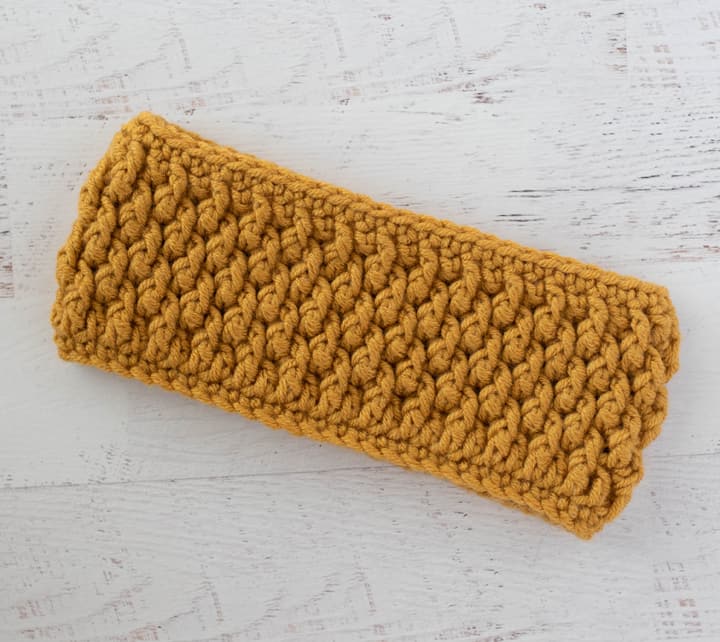 Whether you call it a crochet headband or a crochet ear warmer here's what you need to know: It's cute.  It's warm.  And It's Easy to make!
It's like two of my favorite patterns:  The Pumpkin Hat and the Michigan Mountain Ear Warmer had an adorable baby!  This is one that I can't wait to wear!  And it's one that my husband is going to have A LOT to say about…and maybe not in a good way.  Why, you ask?
Well.. let's start with the fact that my winter coat is a lovely shade of blue.  And the aforementioned ear warmer.. is well.. gold.  And we live in Michigan. This color combination are the team colors of.. the University of Michigan.  Meanwhile.. I reside in Spartan country.. which is the big rival team.
I can't even tell you how much green and white makes up my husband's wardrobe..and he likes to say he was a Spartan in the womb because both his parents went to MSU–but BEFORE it was even a university–when it was just Michigan State College.
To say that my husband is not a fan of blue and gold is an understatement.  We desperately need reflectors at the end of our long, country driveway for these cold, dark winter nights when finding our driveway can be a challenge.  Let me tell you WHY we don't have them.  He doesn't want to match our neighbor's red reflectors (the most common variety) and the only other color they came in was BLUE.  Not blue and gold.. mind you.. just BLUE… and the man REFUSED.  Yes.. flat refused.. to BUY blue reflectors.  I can't even make this up.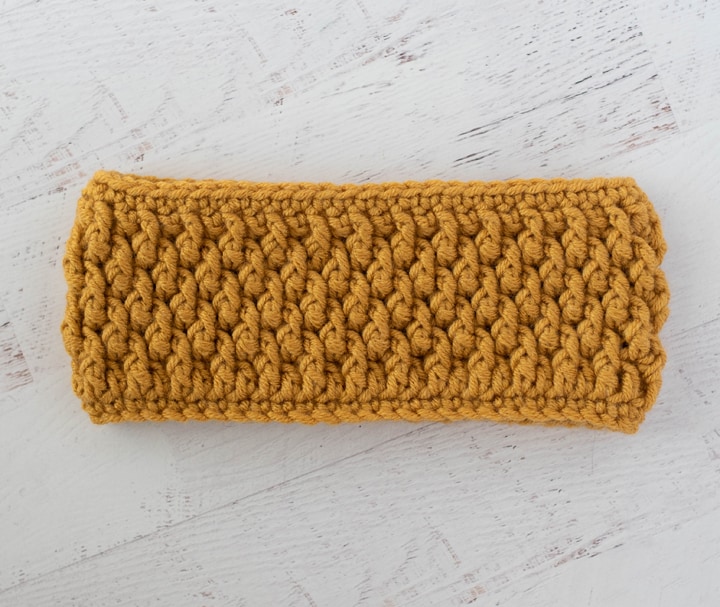 And so.. I'm going to take a lot heat for wearing this adorable ear warmer with my navy blue coat.  But you know what?  I don't even care.  Because this is so darn cute.  And amazingly warm.
The Alpine Crochet Headband is made with Lion Brand Color Made Easy which is quickly becoming one of my favorite yarns.  It's a bulky #5 weight yarn and it comes in a variety of delicious colors that really speak to me.  This is the mineral yellow and I love that it's not too bright but stylish and fun.
The Alpine stitch is a series of double crochets and front post stitches.  Easy peasy.  And because of the bulky weight yarn, this is a quick project.  You can easily get one or two done in an evening.  Kind of my idea of a perfect project!
Let's dig in!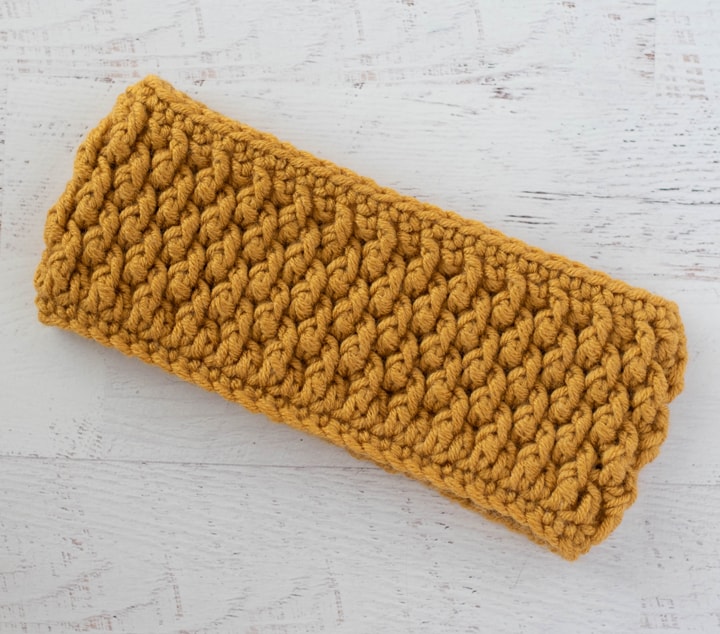 Purchase an ad-free printable version of this pattern
Alpine Crochet Headband
Here is what you will need:
Materials:
Resources and tutorials you may find helpful in following this pattern: Crochet Abbreviations, US to UK Crochet Conversion Chart.  Find links to stitches on the "Tutorial" menu: Getting Started will show basic stitches used in many patterns and Crochet Stitch Dictionary shows our growing collection of crochet stitch tutorials.  I really like to use the invisible seamless join when finishing pieces that get sewn together.
Size:
Fits an adult size head that is 21″ – 23″ around. Approximately 20" around x 3.75" wide.
Crochet Ear Warmer/Headband:
Ch 54, making sure that you work the chain loosely so that finished headband will be stretchy and not too tight.  Slip stitch to 1st stitch being careful not to twist stitches.
Row 1: Work this row only into back bump of chain.  ch1 and sc into same stitch as joining.  Sc into each chain across.  Join with sl st to top of 1st single crochet (54 st)
Row 2:  Ch 3 (Counts as 1st dc).  Dc into each st across row.  Join with slip stitch to top of starting chain. (54 st)
Row 3: Ch3 (counts as first stitch), *FPDC around next st, dc in next st.  Repeat from * around ending with a FPDC.  Sl st to top of starting chain 3. 54 st)
Row 4: ch1, FPDC around ch 3 from previous round, dc in next st, *FPDC around next st, dc in top of nextstitch.  Repeat from * around.  Slip stitch to top 1st stitch. (54 st)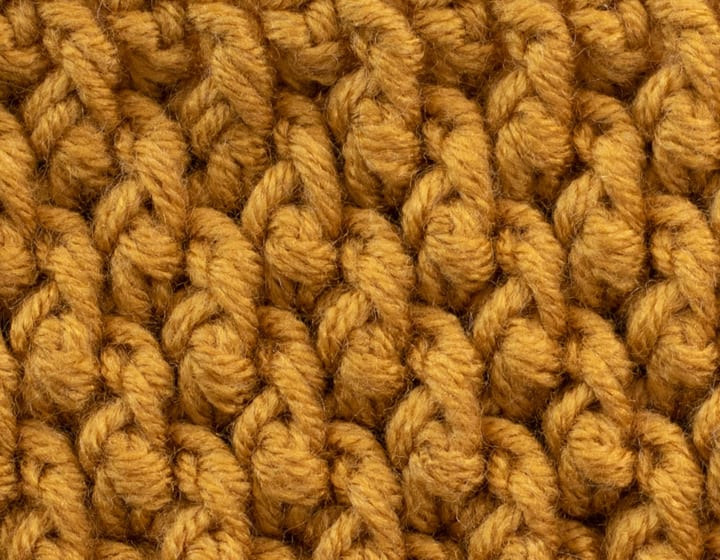 Row 5-6: Repeat rows 3-4
Row 7:  Repeat row 3
Row 8:  ch 1, sc in same stitch as joining.  Sc across row.  Join with a sl st to top of 1st single crochet (or join with an invisible join).
Fasten off & weave in ends
More Free Winter Wear Patterns
If you love the Alpine Crochet Headband pattern, you might also like to check out these other crochet wearables:

1. Big Bay Beanie //   2. Michigan Mountain Ear Warmer //   3. Great Lakes Beanie
And don't forget this beginner friendly ribbed crochet scarf pattern too!
I hope you enjoy making your Alpine Crochet Headband as much as I did!  And maybe, just maybe, yours might make it on a winter walk like mine did!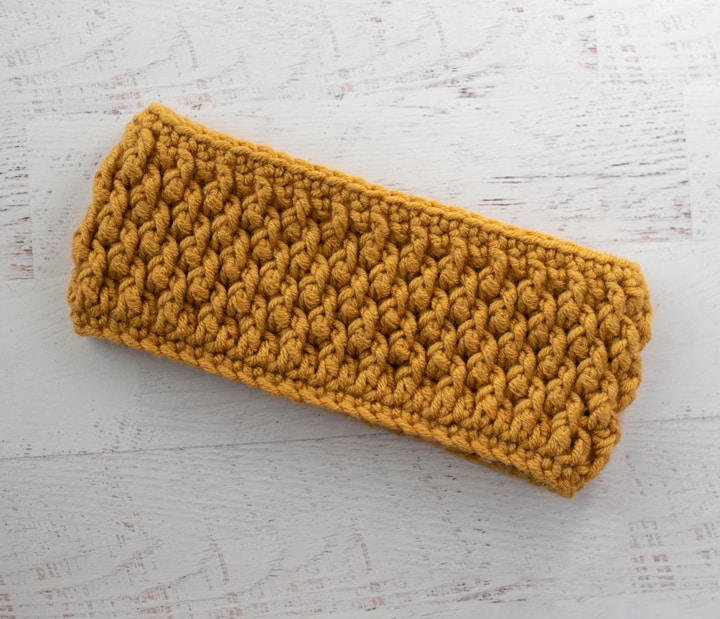 Purchase an ad-free printable version of this pattern!
I love seeing your finished projects!  If you enjoyed making the Alpine Crochet Headband,  I'd love to see yours on Instagram, be sure to tag me @crochet365knittoo.  If you are on Facebook, stop over to the Crochet 365 Knit Too Facebook page or pop over to the Crochet365KnitToo Club and share a photo!  I'd love to see your work!