Easy Crochet Scarf for Beginners
This post may contain referral/affiliate links. Please read my disclosure for more info.
If you're looking for the easiest crochet scarf pattern ever that you can whip up in a hurry, this, my friend, is it.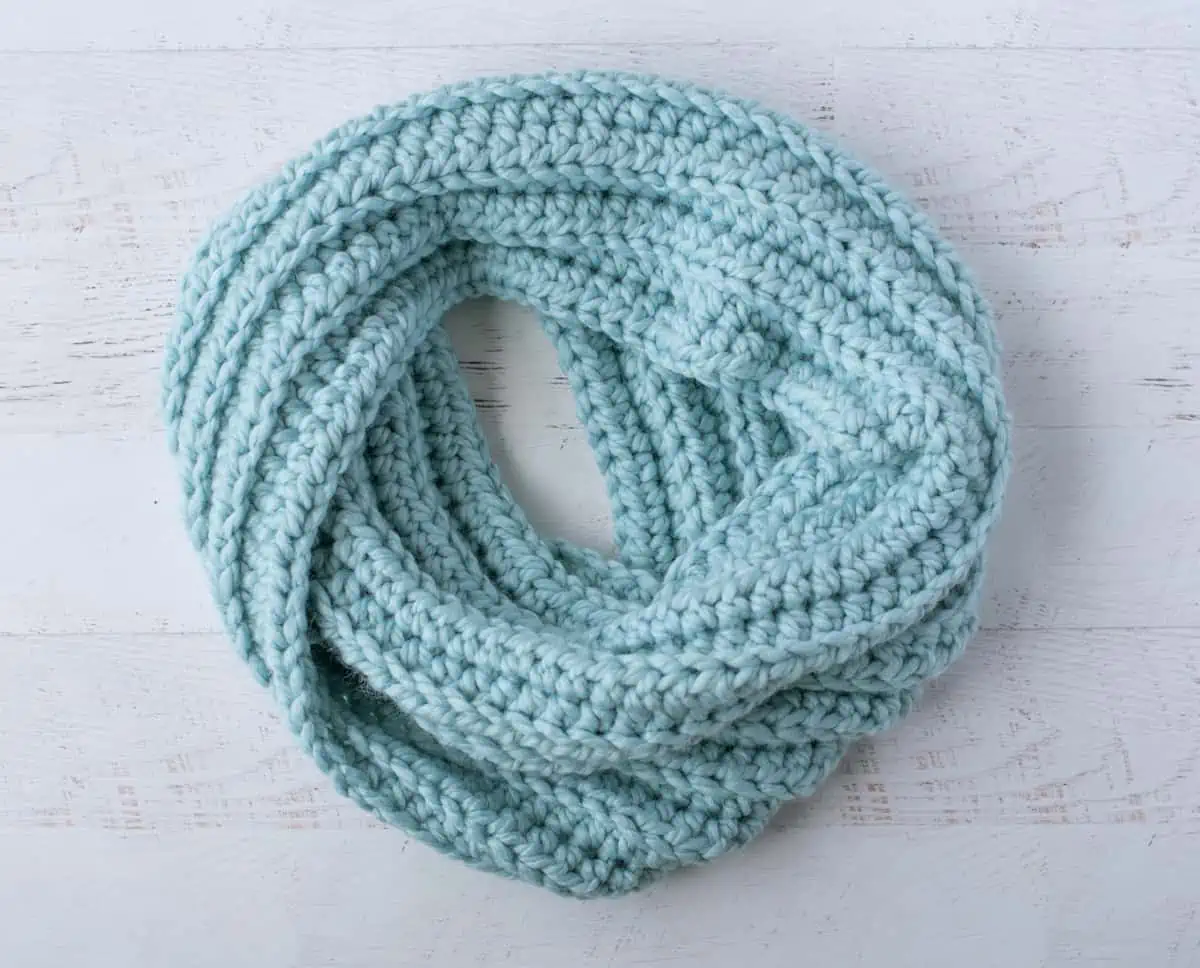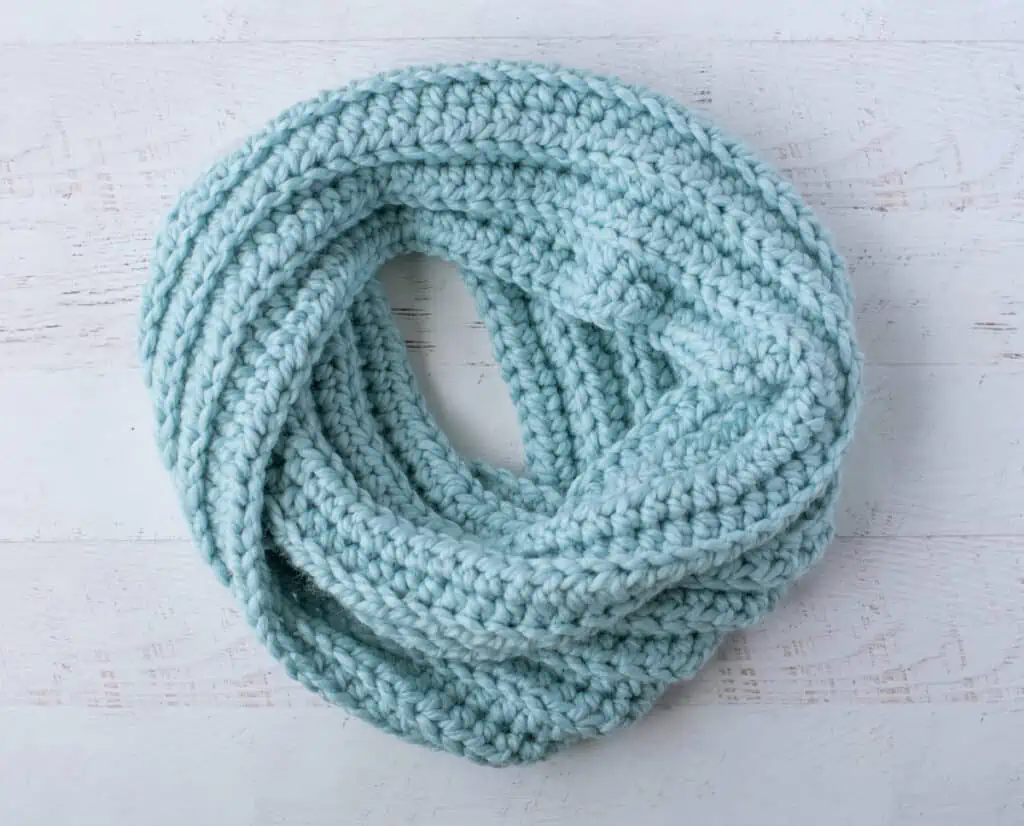 I love this crochet scarf on so many levels. It is a beginner friendly pattern, but beautiful enough that the most experienced crocheter will find joy in making it!
This delightful scarf is inspired by the blog favorite Ribbed Wonder Crochet Hat! Both are easy projects that are quick to make with simple stitches, look amazing, and perfect for your first crochet project. I love that no matter your skill level you can make something you can be proud to wear! So fun!
We start with a #6 Super Bulky yarn. I chose Wool Ease Thick & Quick in the beautiful Glacier color. It's a beautiful, icy blue that reminds me of the lovely things I enjoy about winter. This particular yarn has a bit of wool in it so it is extra warm and cosy which I always appreciate in the cold winter months here in Michigan!
This makes a warm scarf that is perfect for a cold weather winter scarf and it's so easy that it makes the perfect gift for friends or family. It's especially nice when you need a quick gift and maybe only have a short evening to make it in! Crochet scarves for everyone, I say!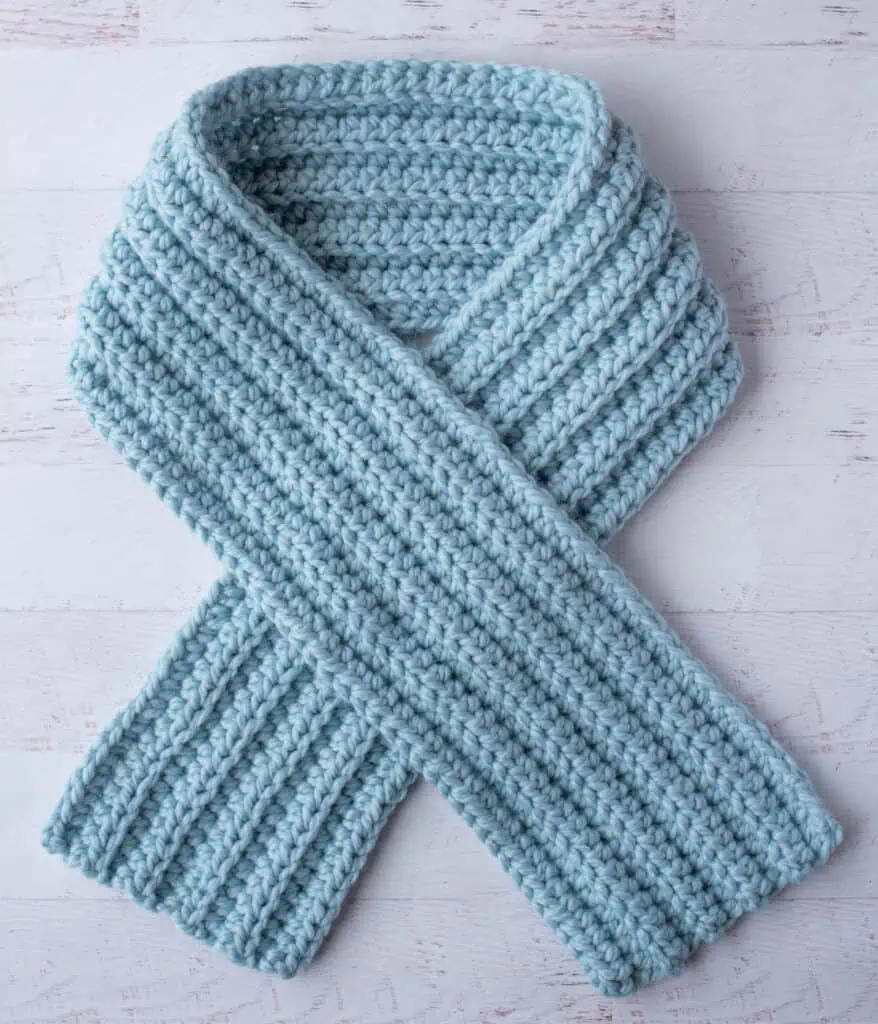 The stitch itself is one of my favorites: the half double crochet stitch (hdc). The height of this stitch sits halfway between the single crochet stitch and the double crochet stitch. All three stitches are among the basic crochet stitches you'll learn as a beginner.
I love easy crochet scarf patterns because they are fun to make and practical too. Make them throughout the year for quick gifts for family members or a few for yourself for every winter coat! This particular cozy crochet scarf uses less than 2 skeins of yarn, making for an economical project too!
This beautiful scarf has a bit of a knitted look and is crocheted back and forth in rows as a rectangle, but you could sew the short ends together, if you wish to make a crochet infinity scarf.
Pattern Stitches: HDC Ribbing
For this chunky crochet scarf we work through the back loop only (BLO) to create half-double crochet ribbing.
Here is a diagram of the parts of a crochet stitch. Most often, we work through both of the top loops (the front loop AND the back loop). However, for this scarf, we only work through the back loop. Since we are working half double crochet stitches, this pattern creates a half double crochet ribbing.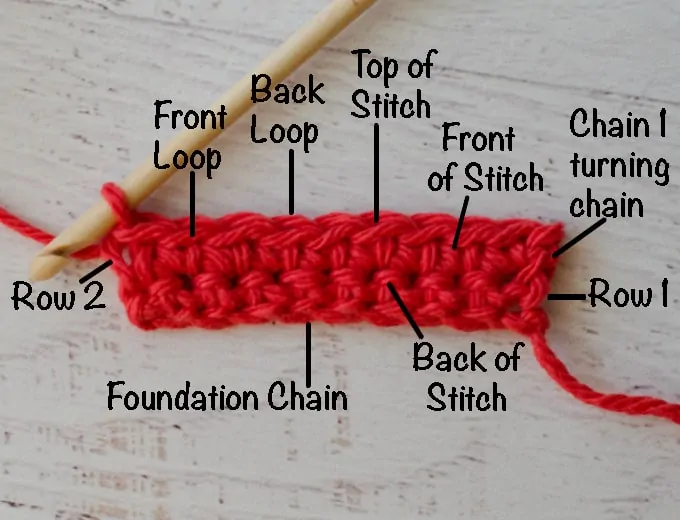 When I first learned about this technique, I was actually confused, so it's worth stating here for those that don't find this obvious. The back loop is always the back loop as the work is facing you at the present time.
So at the end of the row, you rotate your work, look at the row of stitches you just worked and find the furthest loop from you at the top, and work into THAT loop. As you're working you'll create the ridge of the ribbing as you leave those front loops unworked.
This ribbed scarf pattern is worked lengthwise, so as you turn each row and work the next row of ribbing the width of the scarf grows, creating a beautiful ribbed texture. Either side of your work can be the right side given the beauty of this stitch pattern.
For this crocheted scarf design I like using a larger hook for the foundation chain. It is very easy to crochet those starting chain stitches too tight, especially for a beginner. If you use a larger crochet hook you can keep your scarf from pulling on one side. Of course if you're an experienced crocheter and don't have this issue with your foundation row, you can use the smaller sized crochet hook throughout.
And once you are done with that first row, it's a simple one row repeat until your scarf is the width you desire!
Best Yarn for Chunky Scarves
I love a chunky scarf for obvious reasons. The bulky yarn makes for a quick project. For this project I'm using Lion Brand Wool-Ease Thick & Quick which is a super-bulky weight yarn. I really love the beautiful texture and stitch definition with this yarn, however you can substitute a different #6 weight yarn, if you wish.
However this pattern is easily adapted to other yarn weights. You can make a simple pattern ribbed scarf out of worsted weight yarn, bulky or super-bulky weight yarn. You simply need to adjust the number of starting chains and the number of rows.
My finished scarf measures approximately 6″ x 58″. You might what your scarf longer or wider. To make the scarf longer, just start with more chains. To make a shorter scarf, chain a fewer number to start. To make it wider work an extra row or two.
Remember that you'll need to buy some extra yarn should you decide to make it bigger and be mindful of hook sizes too. You may need a larger crochet hook or a smaller one. Just pick the right crochet hook size for the yarn you are using and make a small sample to determine how many stitches you may need to add or subtract to get the size scarf you need.
Let's dive in to this beautiful beginner-friendly pattern!
Easy Crochet Scarf
Project Materials:
Resources and tutorials you may find helpful in following this ribbed scarf pattern: Crochet Abbreviations, US to UK Crochet Conversion Chart. Find links to stitches on the "Tutorial" menu: Getting Started will show basic stitches such as chain stitch and half-double crochet stitch used in this pattern and Crochet Stitch Dictionary shows our growing collection of crochet stitch tutorials.
Crochet Scarf Finished Size:
Scarf measures 6" wide by 58" long. Note that scarf is rectangle in shape.
Easy Crochet Scarf Free Pattern:
Using larger (10 mm) hook, chain 115
Switch to smaller (9 mm) hook for rest of scarf.
R1: Hdc in the 2nd chain from hook and in each chain across. Turn. (114 st)
R2-10: Ch 2 (does NOT count as a stitch), hdc into the BLO of every stitch, turn (114 st)
Fasten off yarn and use a tapestry needle to weave in ends.
Explore More Beginner Friendly Crochet Patterns
Do you love crochet as much as I do? I think you're going to love these different ways to use your new crochet skills:
If you're looking for a little complete beginner crochet amigurumi kit you might enjoy this fun Woobles review too!
I love seeing your finished projects! If you enjoyed making the Simple Scarf Pattern, I'd love to see yours on Instagram, be sure to tag me @crochet365knittoo. If you are on Facebook, stop over to the Crochet 365 Knit Too Facebook page or pop over to the Crochet365KnitToo Club and share a photo! I'd love to see your work!