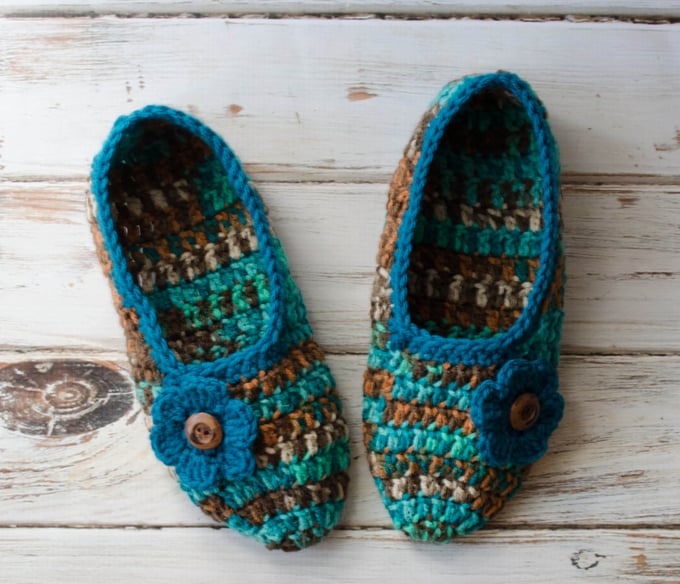 Everyone should have a grandma like my grandma.  I have some of the best memories of her and just about every day that goes by, I think of her.  Sometimes it's some crazy thing she used to say.  A lot of times I think of her when I crochet.  As a kid, I anticipated visits to my grandparents like some people look forward to vacation.  We'd arrive after a four hour drive and my parents would be exhausted.  But grandma would open the door even before our car doors closed and…boom..4 kids running in at full steam and getting the biggest hugs and smoochiest kisses.  Her thick accent would warm our hearts and she'd say love words and smile.  And there would be more hugs.  Delicious smells would drift in from the kitchen.  And the whole house just smelled like grandma's house–you know–a smell you can't quite describe, but if you closed your eyes and smelled that smell you would be taken right back there.  It was delicious and it was good.
Not long after we arrived, grandma would slip to her bedroom and come out with a bag full of crochet wonderment that meant crochet gifts were coming!  And if it was winter that usually meant slippers. Now grandma had a habit of finding a pattern she liked and then making a lot of them.  Like really a lot.  Hundreds even.  She also had strong opinions on things that were hard to change.  And so what that meant was that grandma found one pattern of slippers that she just loved and then she made them for EVERYONE every year for like a decade (or two).  And that also meant that someone once tried on a slipper, found it a bit too short, and from then on, grandma crocheted everyone's slipper to the new longer size. As a result, I always had slippers which were way too big for my feet and I had to be careful not to trip a little when I walked.  But I never said a word because my grandma made them and I loved them just the same.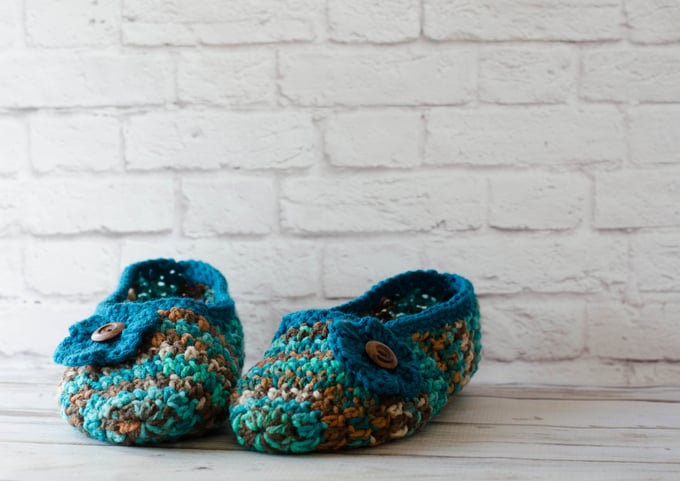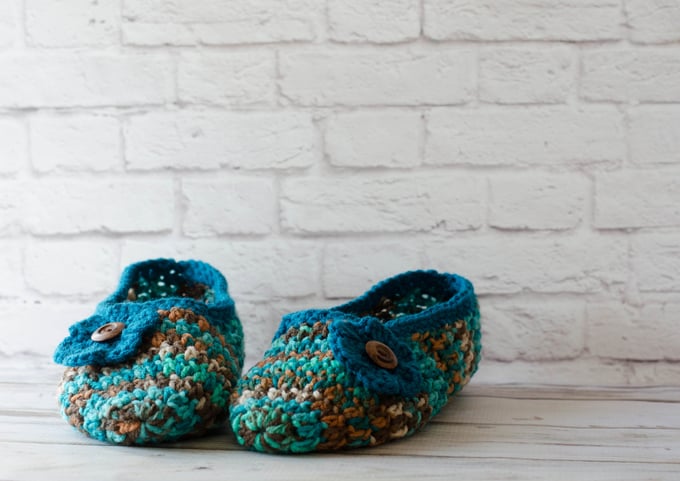 I thought I'd try my hand at designing crochet slippers that are a little more up to date.  I picked up this variegated yarn forever ago.  And when the leaves started to turn and the air got a bit chilly, I thought about that yummy yarn and these delicious crochet slippers were born.  I love rich colors and the little wood bead in the center of the flower just makes me smile.  They are also super quick to make.  These slippers will fit a size 8-9 women's size.  If you need them smaller or larger, just adjust the number of rows or adjust your hook size up or down.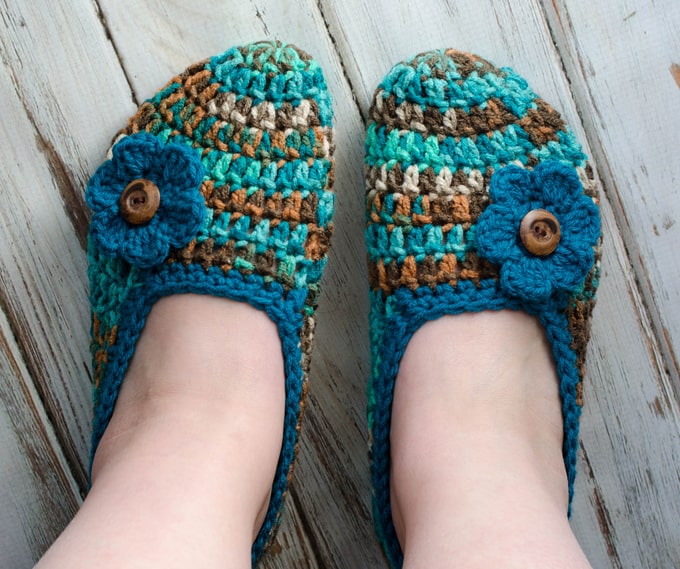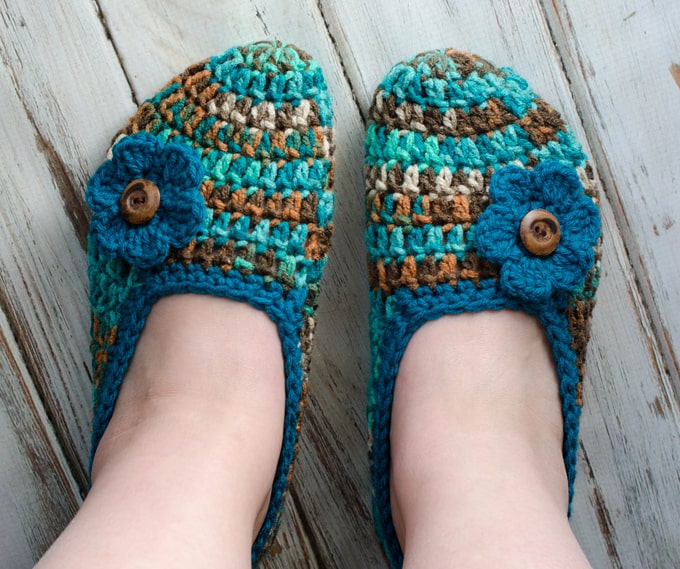 Not Your Grandma's Crochet Slippers Pattern
Here is what you will need:
Resources and tutorials you may find helpful in following this pattern: Crochet Abbreviations, US to UK Crochet Conversion Chart.  Find links to stitches on the "Tutorial" menu: Getting Started will show basic stitches used in many patterns and Crochet Stitch Dictionary shows our growing collection of crochet stitch tutorials.
Slipper (make 2):
R1:  Make a magic ring and dc 12 .  Join with slip stitch to 1st st.  (12 st).
R2:  Ch 3 (counts as dc here and throughout) dc in next st, 2 dc in next st, *dc in next 2 st, 2 dc in next st.  Repeat from * around.  Join with sl st to 1st st. (16 st)
R3:  Ch 3, 2dc in next st, *dc in next st, 2 dc in next.  Repeat from * around. Join with sl st to 1st st. (24)
R4:  Ch 3, dc in next st, 2 dc in next st, *dc in next 2 st, 2 dc in next, repeat from * around.  Join with sl st to 1st st. (32 st)
R5-8:  Ch 3, dc in ea st (32) Join with sl st to first st after each round.
The next row establishes the body of the slipper and you will begin working back and forth as follows:
R9:  Ch 3, dc in next 23 st (leave 8 stitches free).  Turn.
R10-18:  Ch 3, dc in ea st across row (24 st)
Note:  Try on the slipper and add or subtract rows here as needed for length.
R19:  Ch 3, dc in next 9 st, dc 2 tog, dc 2 tog, dc in last 10 (22 st).  Fasten off yarn, leaving a strand for sewing.
Sew up heel.

Edging:
With contrasting yarn, crochet edging as follows:
R1:  With the right side of the heel facing you, join contrast yarn to the right of the center.  Sc 2 tog, sc 2 tog (this cinches in the heel a bit).  You are working in the sides of the double crochet used to make the slipper.  Work 2 sc in each stitch around.  At the inside corners (by the toes), sc 3 together.  join with a slip st to the 1st st in the row.
R2:  Ch 1, sc around in ea stitch of the previous round.  At the front corners, sc 2 together.  Join with a slip stitch to the 1st stitch.  Fasten off and weave in ends.
Flower
The flower is made out of the same contrasting yarn, following the Easy Crochet Flower Pattern.
Sew on flowers and weave in any ends.  And your crochet slippers are done!