How to Easily Make A Beautiful Faux Fur Pom Pom
This post may contain referral/affiliate links. Please read my disclosure for more info.
Have you ever looked at that gorgeous faux fur yarn and wondered if you could crochet a fun, fluffy, super cute faux fur pom pom? Why YES… YES YOU CAN!  Get ready for your next fun, easy project!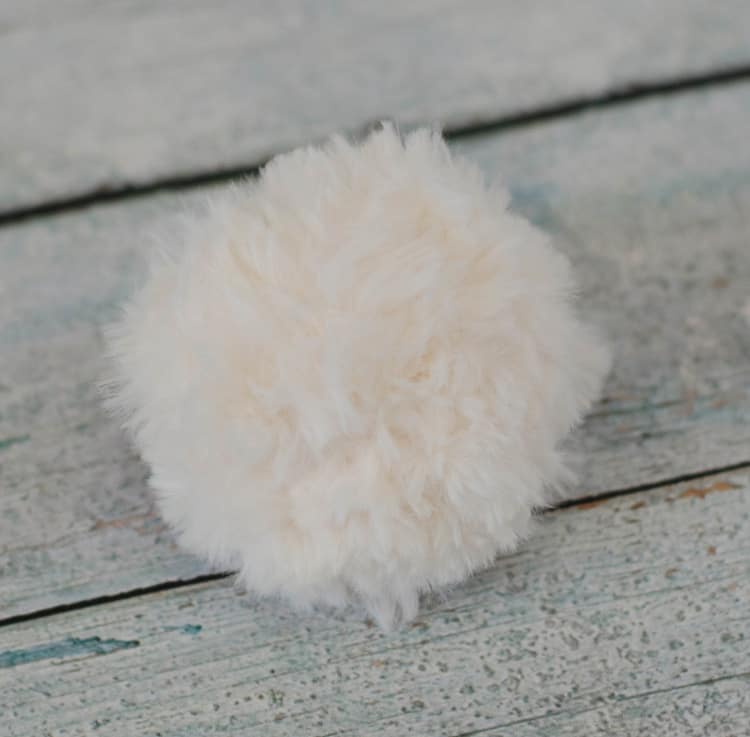 I'm kind of loving the fact that the pom pom has made a comeback.  Big balls of fluffy goodness topping hats everywhere!  Big or small, they sure make a statement! Lately faux fur pom poms are all the rage!  When they first hit the scene they weren't even available in stores so crafters scrambled to order them online.  You might remember this post where you learned out to make one out of fur fabric.
I remember as a kid, Grandma would make yarn pom poms by hand.  Grandma raised kids during the great depression so she really knew how to make amazing things out of seemingly nothing.  She was an amazing cook.  And a fabulous crocheter (you can read more about her here).  She always used every last bit of yarn…yarn which she stored in department store plastic bags–the kind with those snappy plastic handles that you don't see any more.
I have to admit those bags always got me excited when we came to visit.  Because you never quite knew what was going to come out of them.  They stored her extra yarn, her works in progress, her crochet samples of this and that.  I inherited those samples when she passed, along with hooks loved so much that the paint was worn right down to the metal.  And I mean worn–not chipped off–but smoothed down by fingers rubbing over them day after day, year after year.  I miss her so and those scraps of stitches worked with her own hands and those worn down hooks are more valuable to me than any money in the world.
There are so many times I think of grandma and how much she would have loved this little crochet world of mine.  Of all the things I've learned that I never got to share with her–like the Magic Ring for instance.  And I'm pretty sure grandma would have really, REALLY loved crocheting this faux fur pom pom.  'Well … would you look at that,' she'd say.  And then she'd put her lips together and reach out her wrinkled, hard working hand. I'd hand her my hook and yarn and snuggle in close.  Because that's how you learn best when you teach each other to crochet.
So gather close now because I'm going to tell you all about how to make this bit of cuteness, this faux fur pom pom.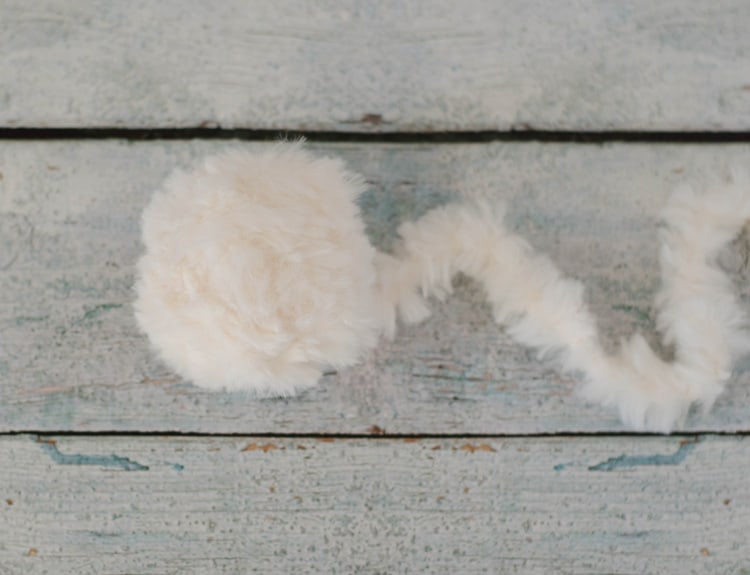 Here's what I've learned:  The faux fur pom pom is best crocheted in a medium size.  This way it gets just a bit of stuffing and stays lightweight enough to be comfortable at the top of a hat.  A larger pom pom needs a bit more stuffing and then that makes it firm and heavy and having a heavy ball on top of your hat just isn't comfortable at all.  These are the things no one tells you.
So a medium size pom pom it is! You also need to be a bit of a free spirit when crocheting with fur style yarn.  You really cannot SEE the stitches.  You must feel them instead.  But don't worry, you've either crocheted enough in life to know where the hook should go—or you don't know a thing and no one will tell if the hook is not quite in the right place because the fur hides all sins.  So do your best to feel your way around the stitches and your faux fur pom pom will crochet up just fine.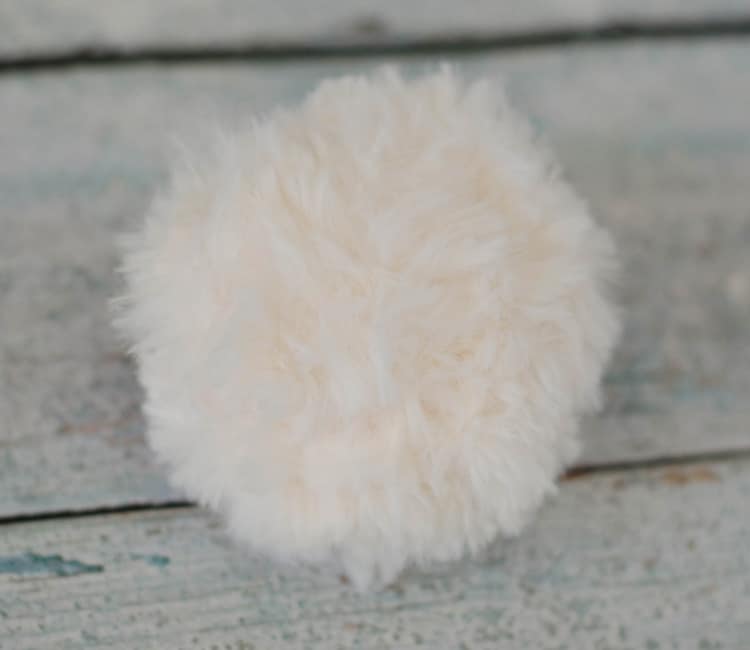 Crochet A Faux Fur Pom Pom
Here is what you will need:
Materials:
Resources and tutorials you may find helpful in following this pattern: Crochet Abbreviations, US to UK Crochet Conversion Chart.  Find links to stitches on the "Tutorial" menu: Getting Started will show basic stitches used in many patterns and Crochet Stitch Dictionary shows our growing collection of crochet stitch tutorials.  I really like to use the invisible seamless join when finishing pieces that get sewn together.
Size:
Approximately 3″ across including furry fluff.
Pom Pom:
Make a magic ring.
R1:  6 sc into ring.  Do not join; work in rounds. (6 st)
Note:  It can be hard to see/identify the stitches to work into.  It works best to do this by feel. Just put your hook where you think it should go and go for it.  It doesn't matter if you are slightly off.
R2:  2 sc in ea st around (12 st)
R3:  *sc 2 tog, repeat from * around (6 st)
Fasten off yarn leaving a long strand for weaving closed and attaching to hat (if desired).  Stuff very lightly.  Then use the fastened off strand to weave around and close the pom pom.
To fasten to hat, use the remainder of the strand to sew on to the top of the hat.  If you sew just to the tippy top of the hat, the pom pom will move around a bit.  For a more secure pom pom, take a few extra stitches just off center on the pom pom and attach this to the corresponding spot on the hat.

Hat Patterns for your Faux Pom Pom
If you can't wait to attach your faux fur pom pom to the perfect crochet hat , you might like to check out all our crochet hat patterns here.   Here are a few our most loved hats:

1. Great Lakes Beanie  //   2. Big Bay Beanie //   3. Salt of the Earth Men's Beanie
So what do you think?  Are you ready to crochet a faux fur pom pom of your own?  So easy and fun you'll want to make one for every hat you own!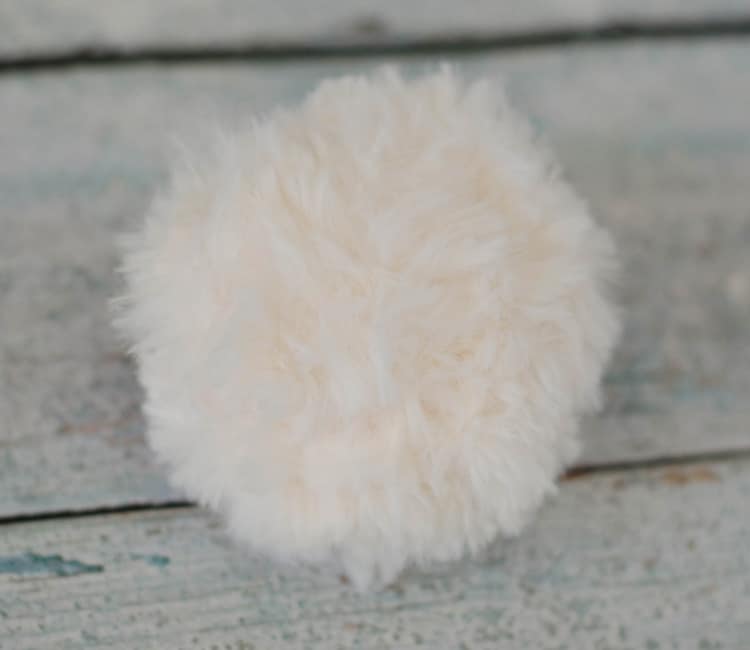 I love seeing your finished projects!  If you enjoyed making the Faux Fur Pom Pom,  I'd love to see yours on Instagram, be sure to tag me @crochet365knittoo.  If you are on Facebook, stop over to the Crochet 365 Knit Too Facebook page or pop over to the Crochet365KnitToo Club and share a photo!  I'd love to see your work!