How to Make a Fur Pom Pom
This post may contain referral/affiliate links. Please read my disclosure for more info.
Learn how to make a fur pom pom, quite possibly the easiest thing you are going to make this week.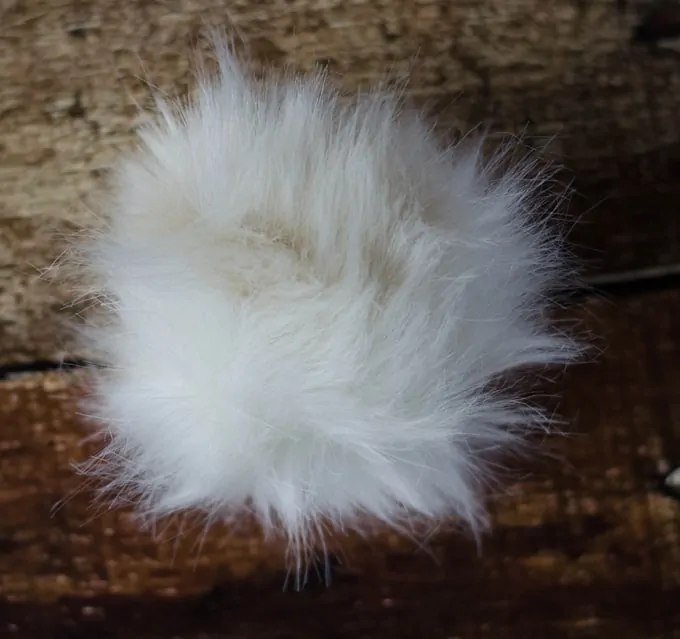 This fluffy fur pom pom.  Perfect for topping your handcrafted hats or really.. any other craft projects you have up your sleeve!
This fur pom pom is so easy to make!  Even if you've never sewn a stitch in your life, you will be able to make this.  In fact, big sloppy stitches work better than small tiny perfect stitches.  I'm going to talk you right through it.
Here is what you will need:
Fur from the craft store
A pen
A round object (like a lid or a bowl) to trace around
A little bit of stuffing
Scissors
Needle and matching thread
Step One-Pick out Fur
The first step to learning how to make a fur pom pom is to pick out the perfect fur.  Head over to your favorite craft store and check out their fur section.  Hobby Lobby has some good choices but JoAnn has a bigger selection.  You can even pick up some faux fur on Amazon here!  Pick out fur with medium to long strands (in other words, do not go for the short fur).  If you've never bought fabric before, the price is on the end of the bolt.
But before you look at the price, panic, and put the entire bolt back in a huff wondering why in the world I'd even suggest you buy something so expensive, take a deep breath.  You only need 1/4 of a yard.  Plus you need to pull up the app for the store on your phone and snag the coupon.
You will likely be getting this on sale or at a good discount.  You can make multiple pom pom's out of each section of fur you buy, so the cost per pom pom goes down when you make more.  Or you can make just one and then add the whole pile of leftover fur to your stash because..hey..the yarn stash was lonely and needed a new friend.
Step Two – Find Something Round
Head home with the fur and look for something in your kitchen that is round.  I found this lid to a small bowl.  The lid is about 5 inches in diameter and a pom pom made this size will end up being a medium sized pom pom.   If you prefer a larger pom pom, find a circle that is around 6 inches in diameter.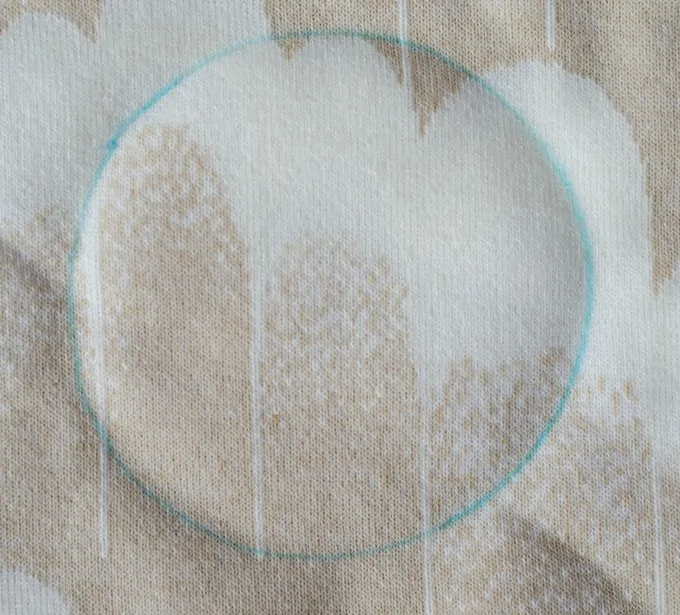 Place the round object on the back of the fur and trace around it.  I used a washable marker because I had it around, but it is perfectly ok to use a regular pen or marker.  You won't see it when the pom pom is done.
Step 3 – Cut out the Circle
Ok.. so there is a trick to cutting out the circle.  You need to try to just cut through the backing fabric and NOT cut into any fur pieces.  To do this, use sharp scissors and take small cuts.  If you wiggle it a bit, you can kind of feel it as you do it. It takes a little bit longer to cut out the circle this way, but… promise…this is the hardest part of the whole project!
Step 4 – Stitch around the Circle
Thread a needle with a double thickness of thread and knot the opposite end.  Take large, running stitches around the edge of the circle.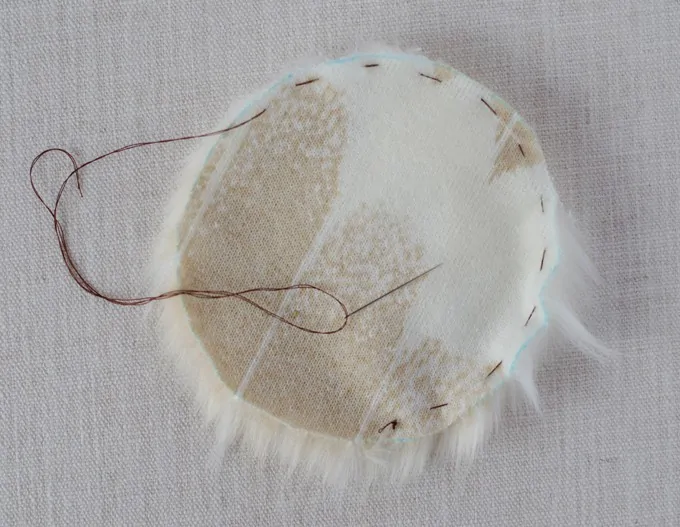 I used a contrasting thread so you could see it better, but it is better to use a color that blends better with the fur.  Big stitches like I did here are just fine.
Step 5 – Gather the Circle
When you get back to the starting point of your circle, pull the thread tight and draw up the circle.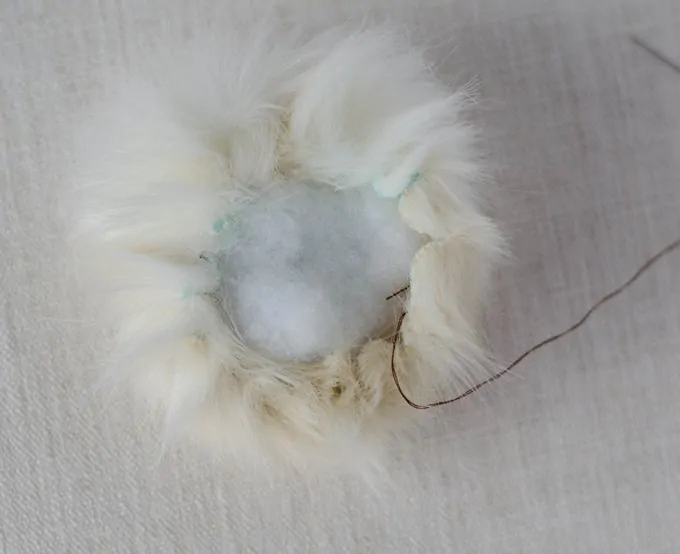 Keep pulling until the circle closes up. Right before you close it up tight, put a little bit of stuffing in there.  Then pull it snug. Carefully knot off the end and take some stitches back and forth. Fasten off leaving a long strand for sewing onto the finished garment.
Ta da!  You now know how to make a fur pom pom!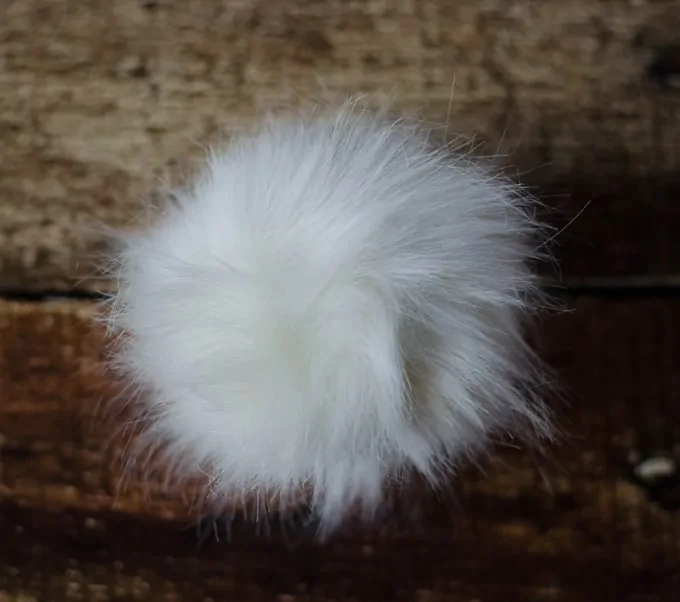 Doesn't this look perfect?!  So soft!
WANT TO CROCHET A FUR POM POM INSTEAD?
For an easy 3-row crochet faux fur pom pom be sure to check out this faux fur pom pom tutorial!
Hat Patterns for your Fur Pom Pom
If you can't wait to attach your fur pom pom to the perfect crochet hat , you might like to check out all our crochet hat patterns here.   Here are a few our most loved hats:

1. Great Lakes Beanie  //   2. Big Bay Beanie //   3. Salt of the Earth Men's Beanie
I love seeing your finished projects! If you enjoyed making this fur pom pom I'd love to see yours on Instagram, be sure to tag me @crochet365knittoo.  If you are on Facebook, stop over to the Crochet 365 Knit Too Facebook page or pop over to the Crochet365KnitToo Club and share a photo!  I'd love to see your work!