All I ever needed to know I learned from grandma
This post may contain referral/affiliate links. Please read my disclosure for more info.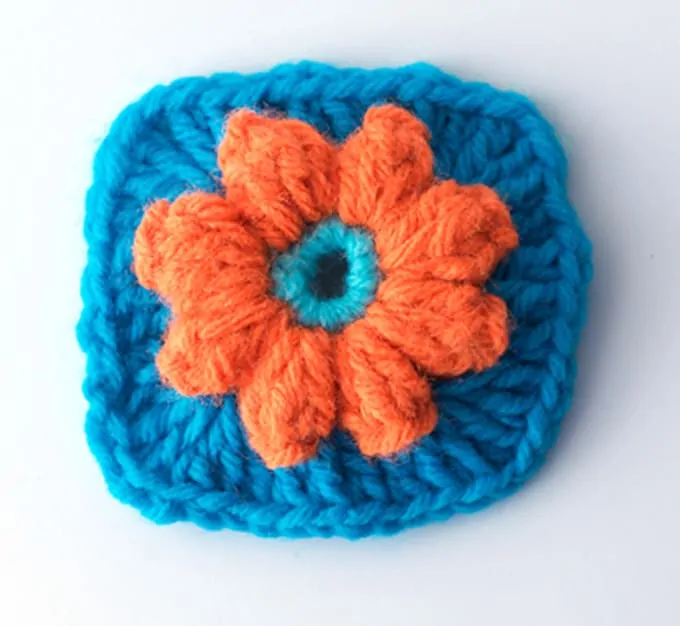 So, to be clear… this isn't entirely true.  I didn't learn everything from my grandma.  But I did learn quite a few things from her…including how to crochet.  So I thought it fitting that I share our crochet bond as my first post here…
I learned to crochet from my grandma when I was 7.  When I was young, there was no internet and long distance phone calls were expensive.  My grandparents lived a 4 hour drive away and we only saw them a few times a year.
My grandma always had her crocheting with her and I longed to crochet long before she taught me to chain stitch.  Grandma was always crocheting for others.  Christmas brought slippers for everyone and if you were lucky you got to pick yours first to get the best color.  I had an endless supply of hats, mittens and barbie doll clothes.  Her house was filled with crocheted treasures…  potholders, tissue covers, afghans.  And doilies.  Doilies were everywhere!
Grandma came to the United States when she was 17 and dad taught her English when he went to school—though if you asked Grandma she'd proudly tell you she learned English from watching "the soap operas".  She also swore (to my mother's horror), loved to feed people and thought she knew everything.  She was feisty and opinionated and loved her family fiercely.  And could she ever crochet!  She had a hard time speaking English and couldn't read a pattern, but she could look at a picture and like magic, she could crochet it.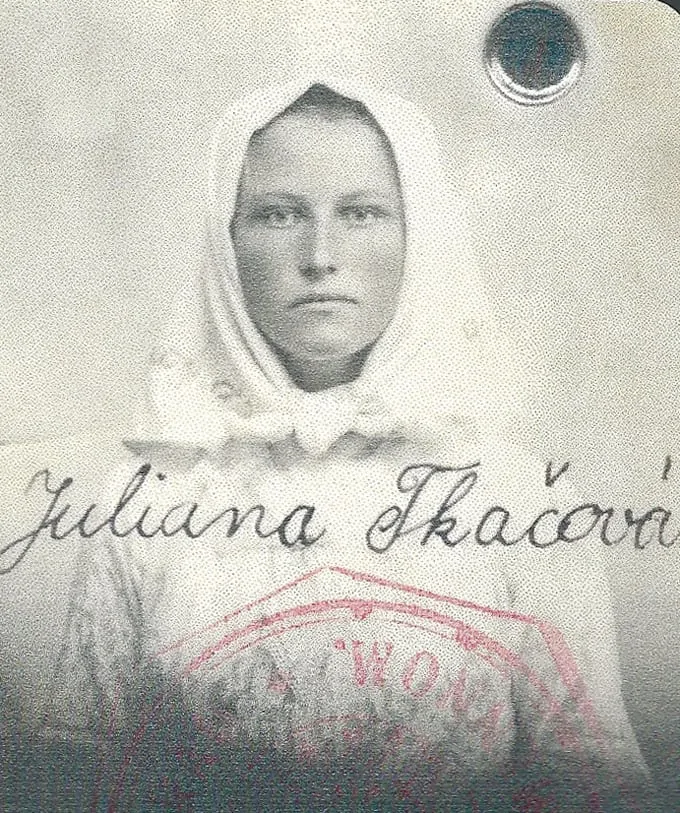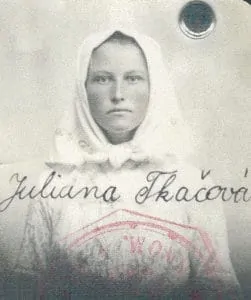 When you are young time goes by ever so slowly and it seemed like every visit I would ask grandma to teach me how to crochet.  Over and over I heard in her heavy accent,  "you too little… Grandma teach you when you get bigger".  Finally I pestered enough that she very reluctantly agreed to teach me the chain stitch.  If I could do this, she would teach me more on the next visit.  She left me with a crochet hook and a skein of yarn.  I was over the moon excited.  She was skeptical.
Grandma lived a long way away and we only saw her a few times a year.  I was determined to be ready for my next lesson.  So I chained my way through the entire skein of yarn.  In 7 year old fashion, I tried to figure out what do with this incredibly long strand of chain.  I spiraled it.  I piled it.  I tried to make it into a shape.  I walked it through the house, trailing it like a giant measuring tape.  I rolled it into a ball and looked at it.  Then I unraveled it and did it all over again.  And again and again.  I was crocheting!! When I next saw grandma, she was surprised.  My stitch was really even, she said.  I had a lot of practice!  And so it began.  Every visit I learned a little bit more and grandma would teach me.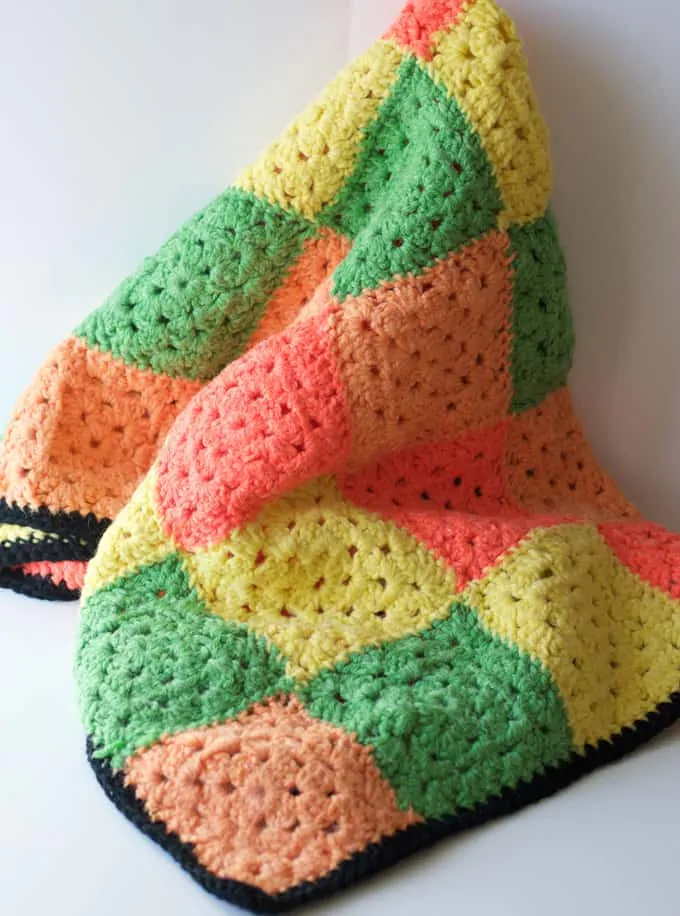 Grandma had high standards.  If you made a mistake you had to rip it.  But she was a good grandma.  When I went to bed, she'd secretly crochet me back to where I was before the mistake was discovered and then crochet some extra for good measure.  So when I woke up, I would be so surprised (and pleased with myself) at how far my project had come along!
As I got older Grandma and I would crochet together and help each other.  She taught me stitches and techniques.  But Grandma couldn't understand the English in written patterns and sometimes that created a problem.  I wanted to make something, but there was only 1 picture and the directions were too complicated.  So grandma encouraged me to read the pattern to figure it out.  When I got stuck, I would read it out loud and we would figure it out together.  Sometimes grandma would find a pattern in a magazine or book that she couldn't figure out from the picture and she'd ask for my help.  Could I please crochet her a little sample she could follow?  Grandma had a bag of samples and I thought everyone crocheted little samples before they started project!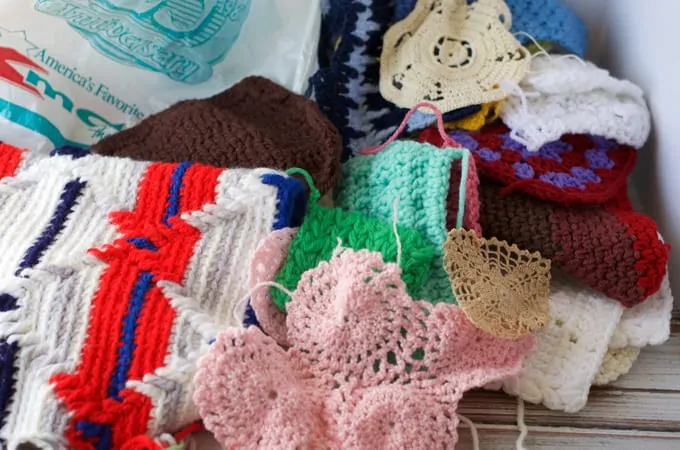 It was the start of my design process.  I learned to crochet from Grandma and I learned to think about crochet in a way to explain to someone else.  I love to design patterns.  To me it is freeing…liberating…  I am free to design cute things that have no purpose but to please me!  It makes me happy.
And I hope to share my happy crochet with all who visit here.  I hope to fill this site with my crochet wanderings and adventures. Much of what you'll find here is free.  But I also sell some patterns and you can find those here too.  I like to say it keeps me in yarn..but really it is just a way to share my grandma's legacy… one stitch at a time.
Happy crocheting, my friends!
Remember, I love seeing your finished projects! If you enjoyed making one of my patterns I'd love to see yours on Instagram, be sure to tag me @crochet365knittoo.  If you are on Facebook, stop over to the Crochet 365 Knit Too Facebook page or pop over to the Crochet365KnitToo Club and share a photo!  I'd love to see your work!
SaveSave