Snuggly Crochet Baby Blanket Patterns
This post may contain referral/affiliate links. Please read my disclosure for more info.
You know what I love most in life? Crochet Baby Blanket Patterns! They are fast, useful and perfect for gift giving!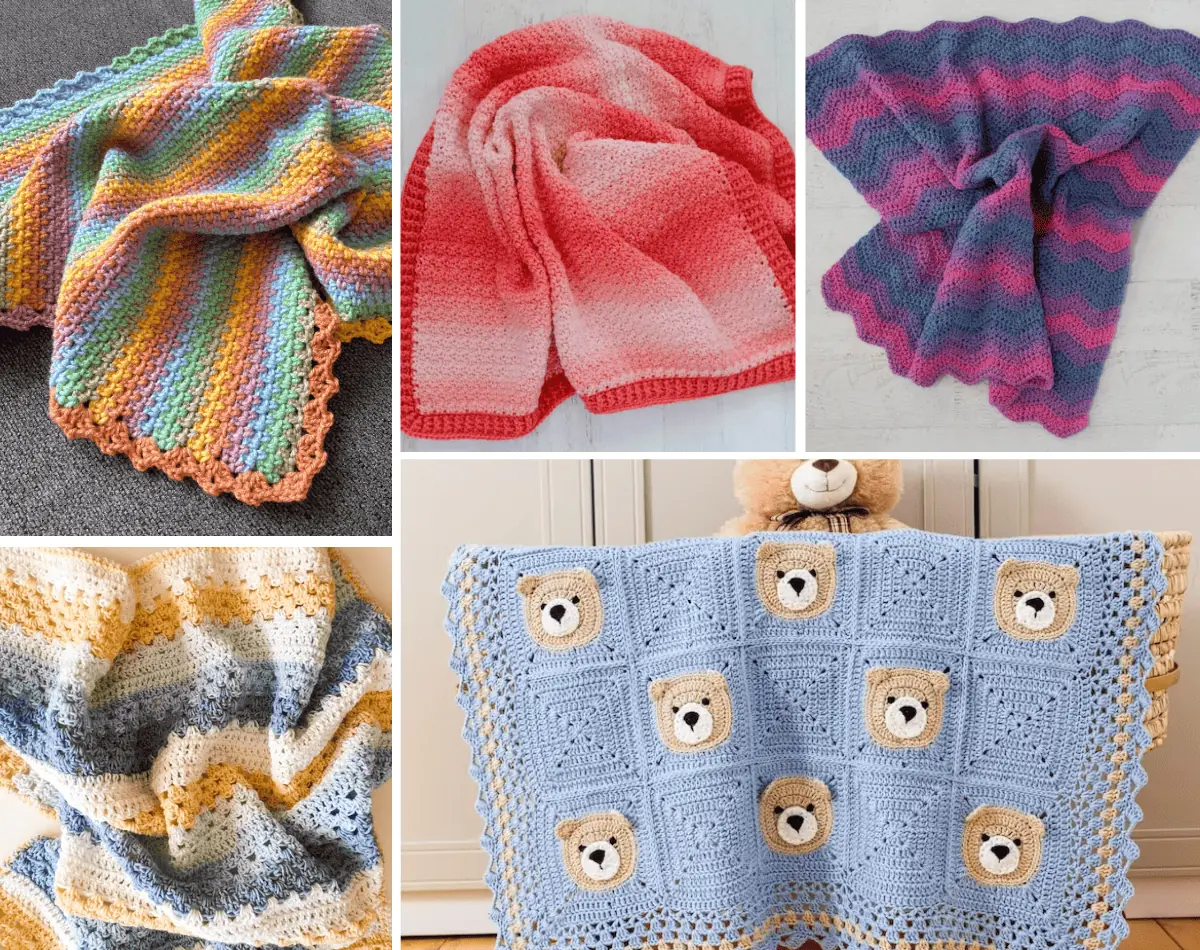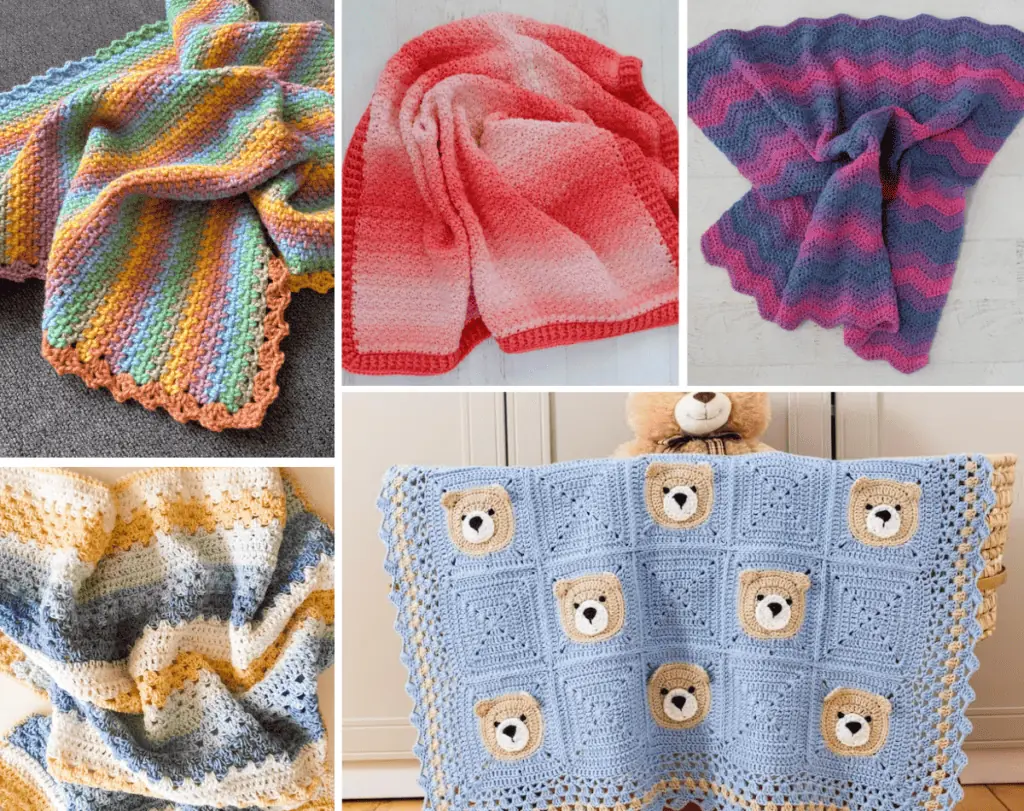 These crochet baby blanket patterns are perfect, whether you're looking for quick baby shower gifts, textured baby blankets, simple baby blankets, or just some adorable snuggly crochet baby blankets.
One of the best parts about making baby blankets is actually the baby blanket size. Meaning that.. they're small enough that they're not as daunting as making a large blanket, but you still get a whole lot of fun crocheting them! And if you don't have someone in life for gifting an adorable baby project, you can make one as a charity project for someone in need!
When it comes to creating a beautiful baby blanket, you'll want to choose a soft yarn that will be adorable and snuggly for your little one. Many of the patterns use easy-to-find worsted weight yarn but most can be adapted to other weights of yarn if you prefer. Your perfect baby blanket awaits!
What Size Should a Baby Blanket Be?
When it comes to picking out a pattern for baby blankets, consider its ultimate use to determine what size to make. Is it a blanket for a special occasion like a baptism? Will it be used on the floor? Is it a blanket for baby to grow with, that might become one that's dragged all over the house in love and used everywhere?
Crochet baby afghans often serve multiple purposes so sizing is really flexible, but here are some common crocheted baby blanket sizes to get you started:
Receiving Blanket: 24' x 24 up to 36×36″ square
Stroller: 30 x 36"
Swaddle Blanket: 40" x 40" up to 48 x 48" square
Toddler: 36" x 48"
Crib Blanket: 40″ x 60″
Most of these crochet baby blanket patterns use a variety of basic crochet stitches, so make sure that you know how to work a single crochet stitch, double crochet stitch, and slip stitch (sl st). Since these great patterns won't take a long time to complete, your cute baby blanket is just a few steps away!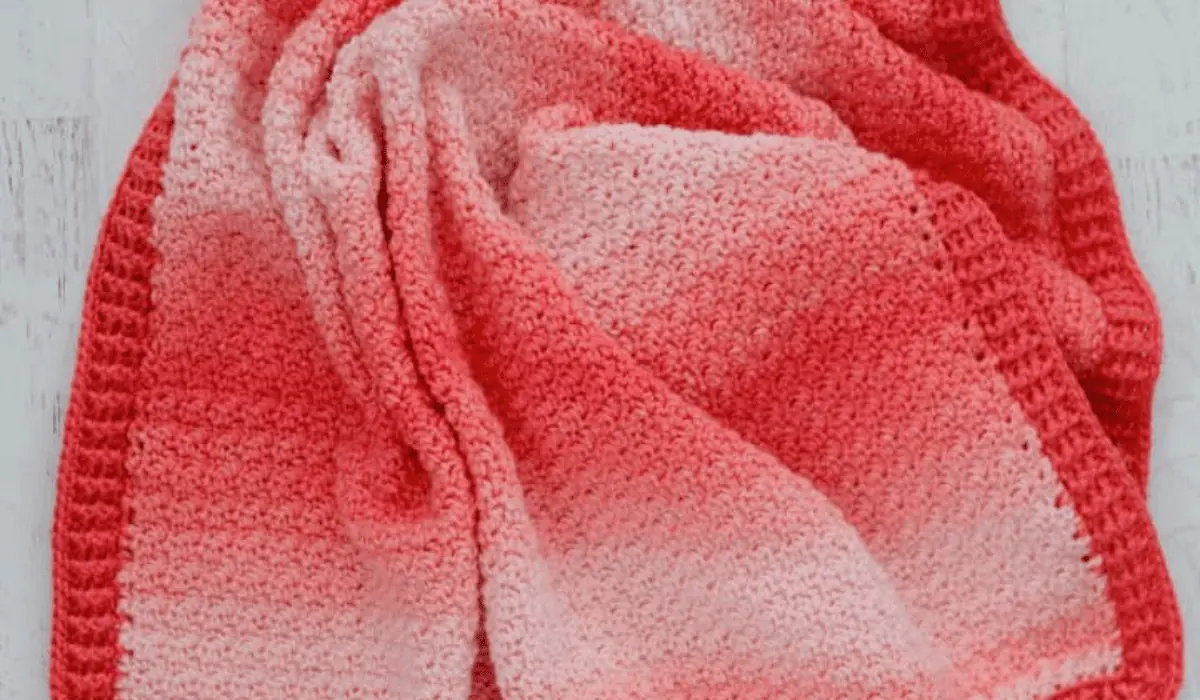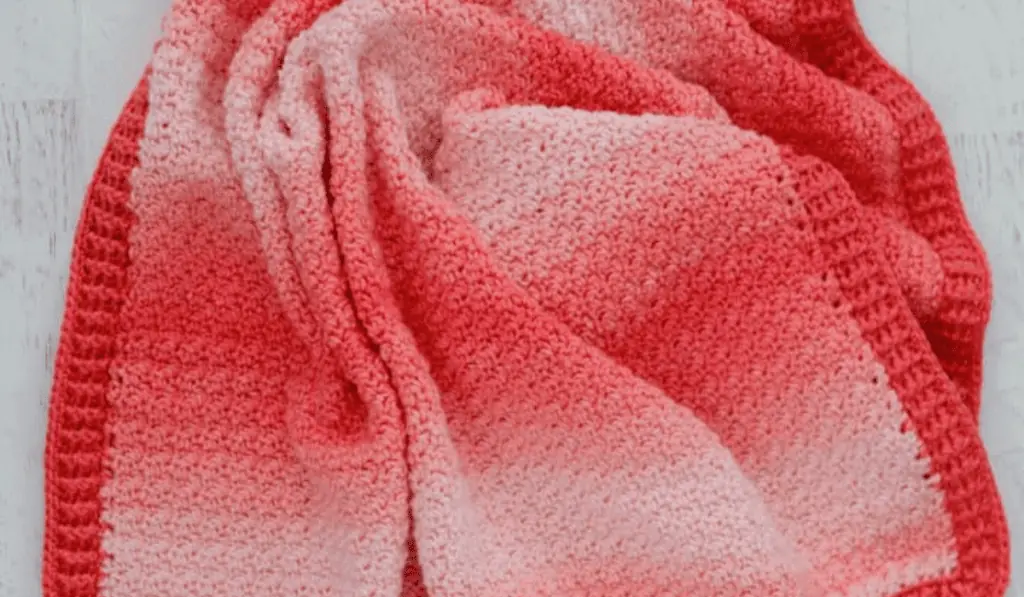 Strawberry Lemon Peel Baby Blanket
The beautiful Strawberry Lemon Peel baby blanket uses this absolutely gorgeous sea coral yarn and I just love how the color transitions look. If you want to make a blanket for a baby girl, you might want to pick up this yarn for yourself!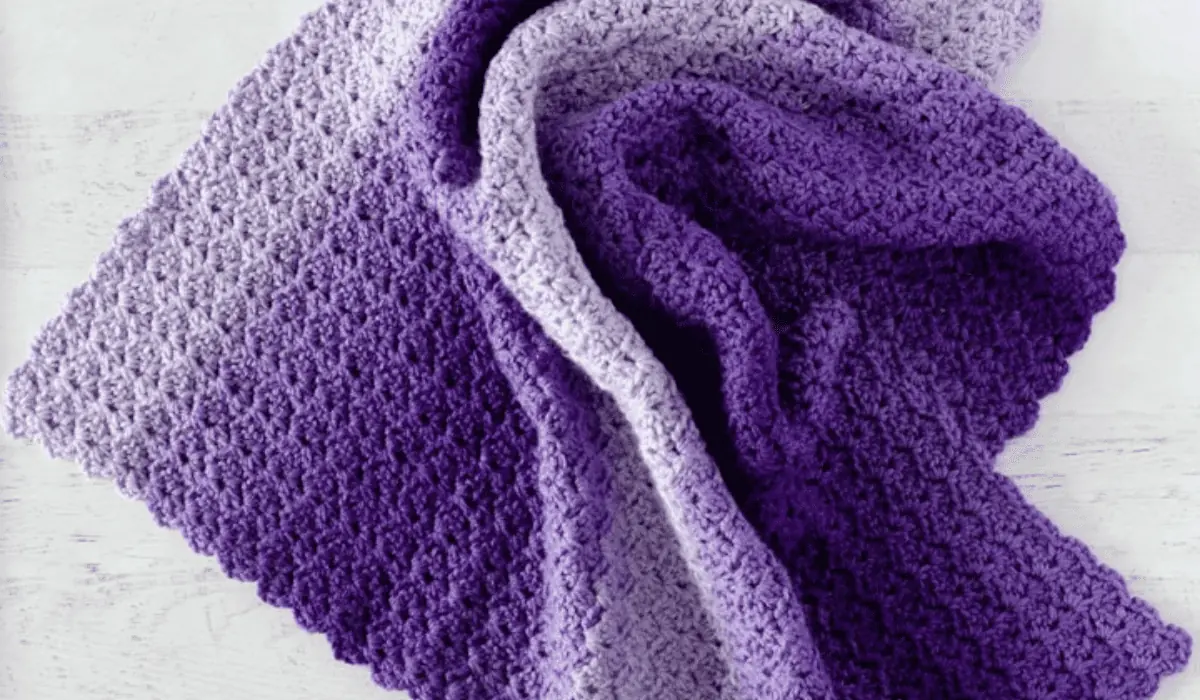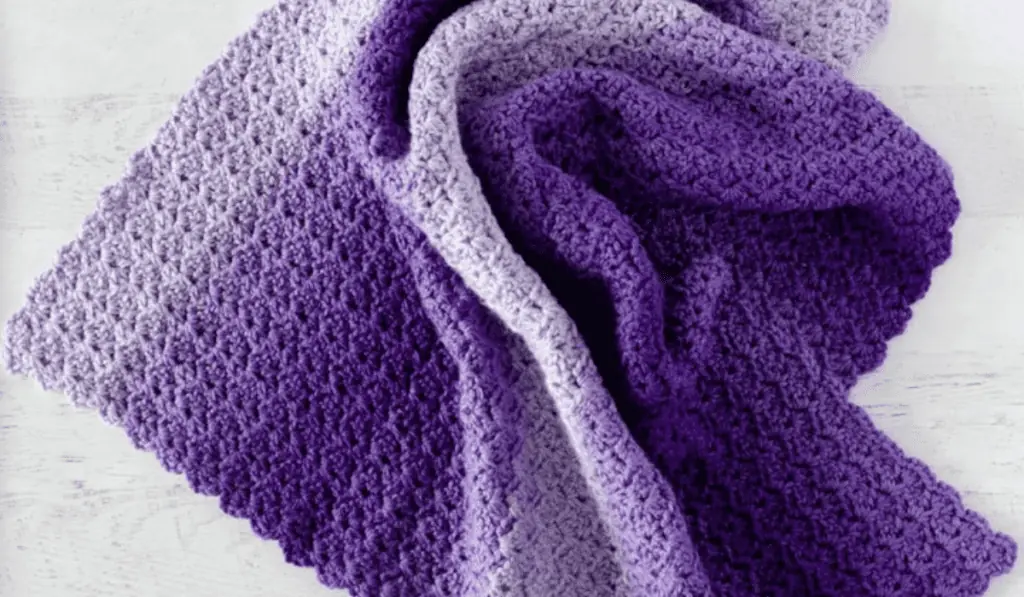 Tulip Stitch at Twilight: A Crochet Baby Afghan
Check out the amazing texture on this Tulip Stitch at Twilight crochet baby blanket! One thing I really love about this blanket is that it forms a natural blanket border so it's a project that can really be completely mindless and you can enjoy some TV while you're crocheting!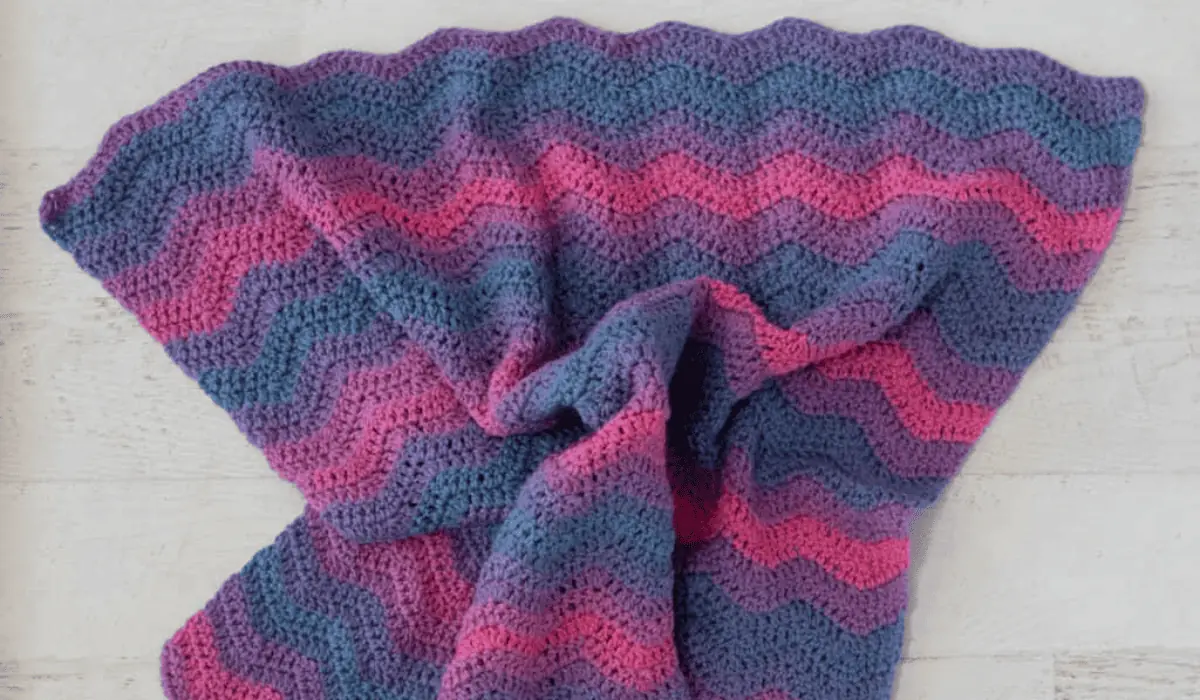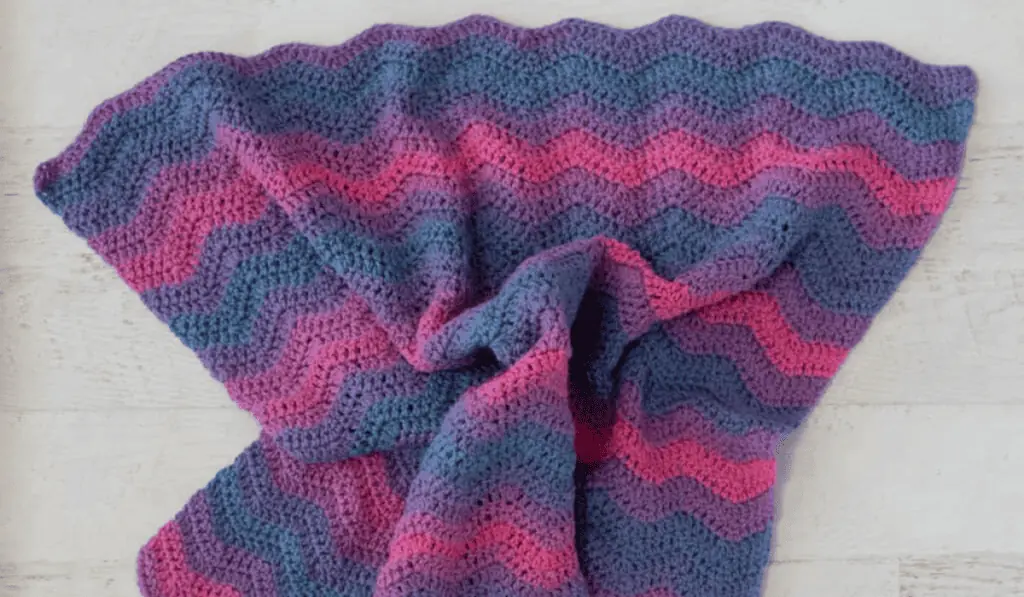 Oh Darling Crochet Ripple Baby Blanket
If you love a beautiful blanket with ripples, the Oh Darling Crochet Ripple baby blanket is going to be the perfect gift to welcome a little one in. Also, since it uses acrylic yarn, it's still machine washable, which is some important when you have a little one.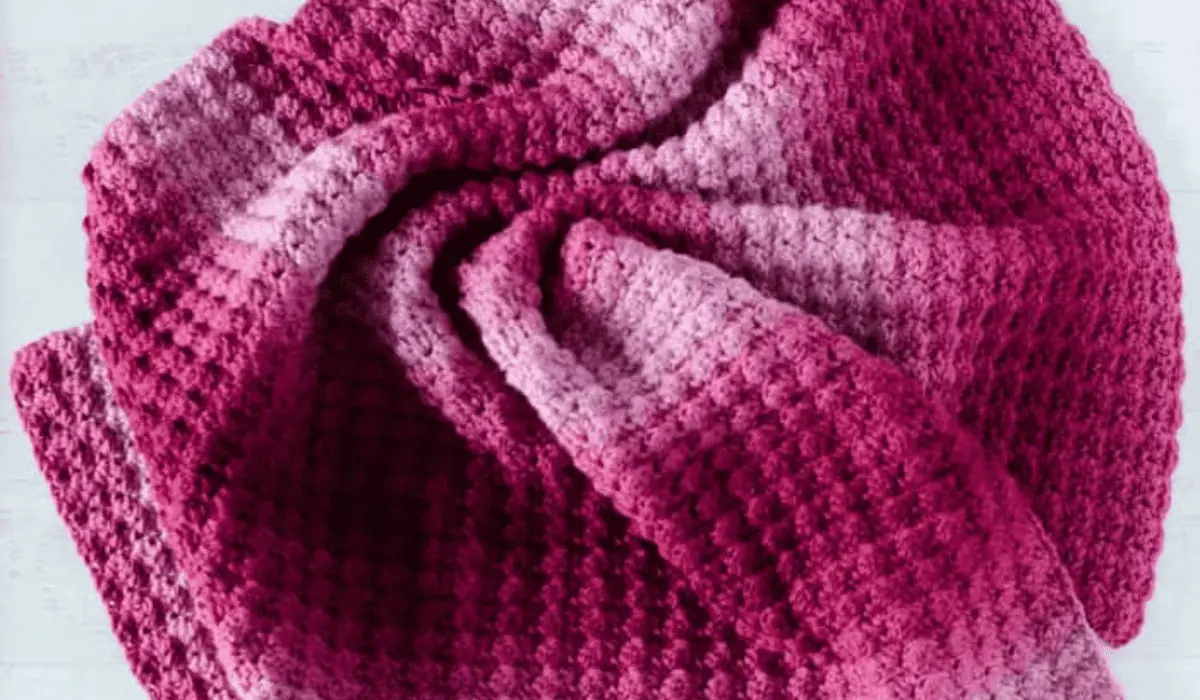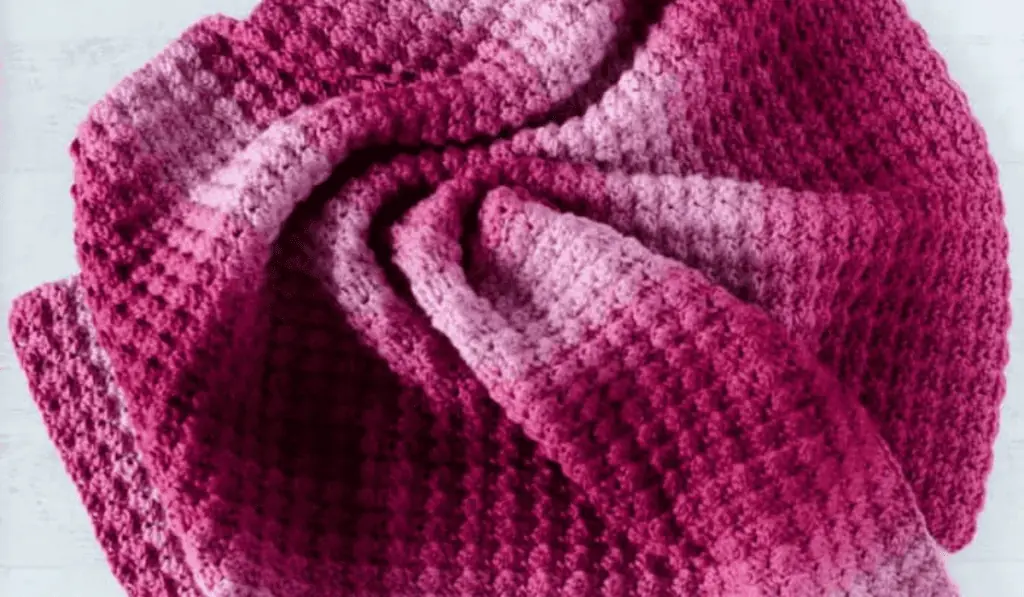 Beneficent Bella Crochet Baby Blanket
The gorgeous texture on the Beneficent Bella Crochet Baby Blanket is truly a thing of beauty. This blanket is so easy to make and only requires two skeins! If you're looking for a beautiful blanket for girls, this yarn color plus blanket is a must. But you can also sub out the yarn for a more neutral color too!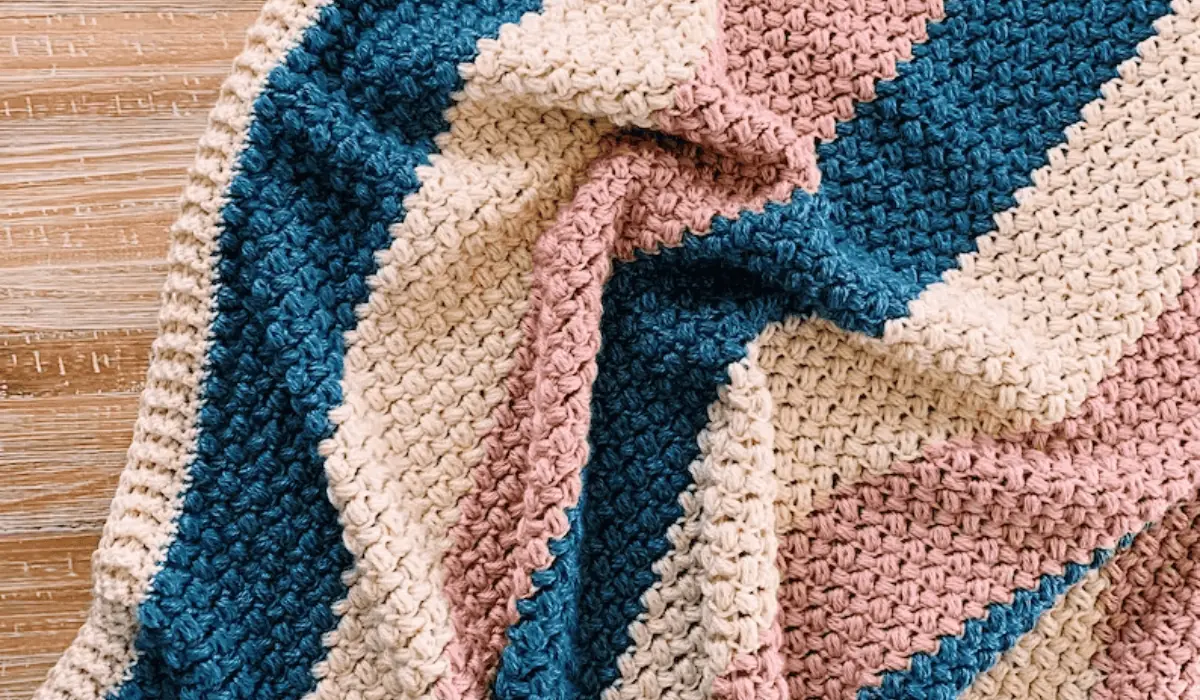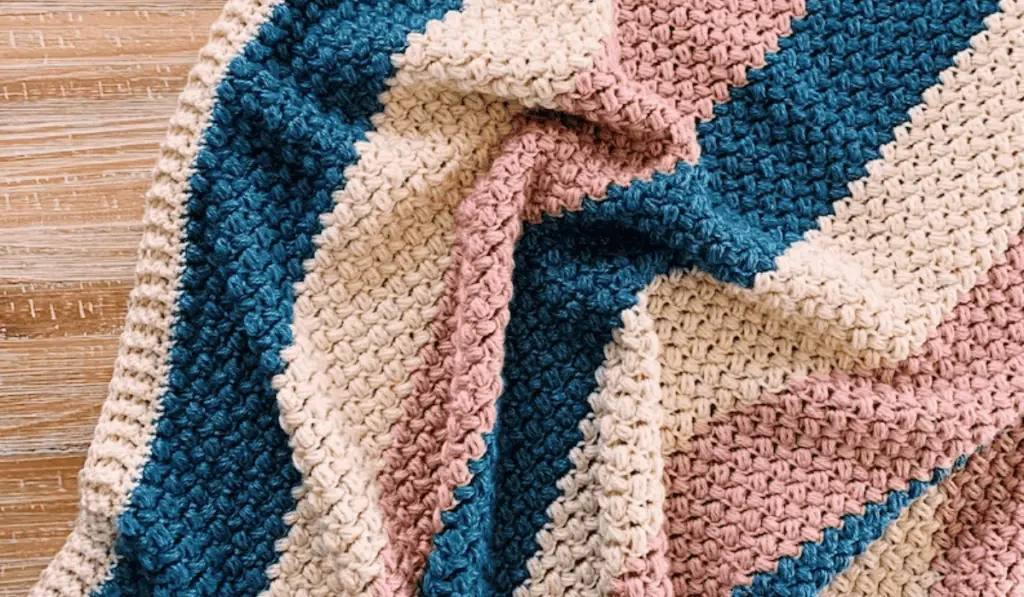 Hazel Baby Blanket
I Can Crochet That Shop's baby blanket features these gorgeous bold stripes with stripes of blue, off-white, and pink. This blanket also has some beautiful texture which I love and it's made entirely out of the bean stitch, meaning that you'll have a warm blanket for your little one.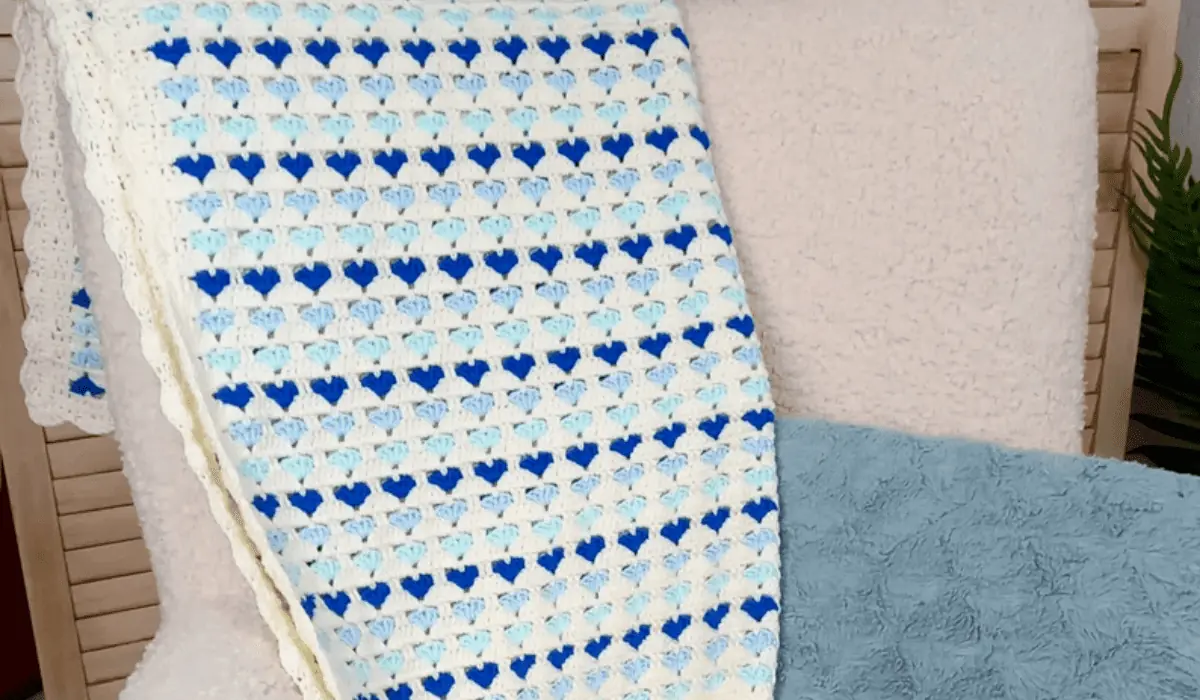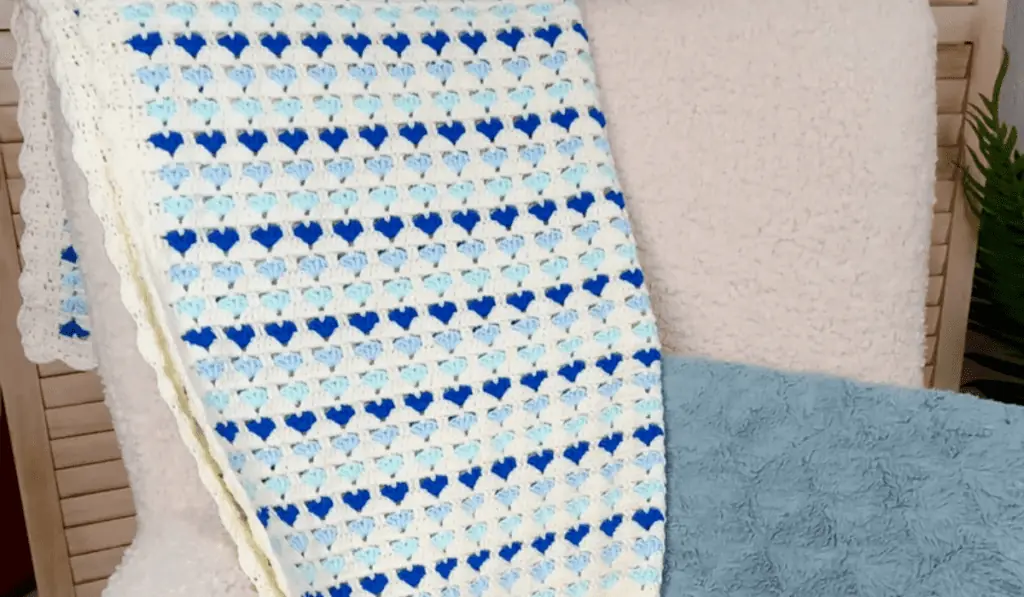 Crochet Heart Baby Blanket
This gorgeous blanket by Cotton and Wool Crochet would make such a cute baby shower gift! The blues featured in this picture would be so cute for a baby boy but I think a color-neutral option would be absolutely adorable if you're looking for something to fit more people's aesthetic or if you don't know the gender of baby yet.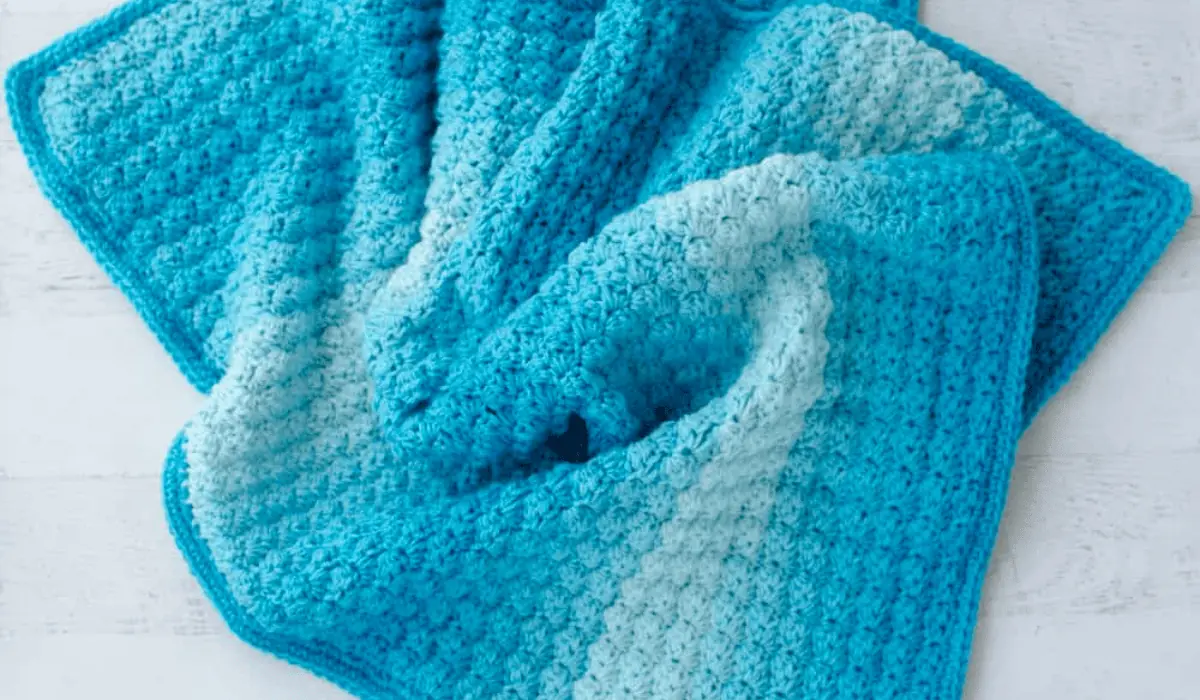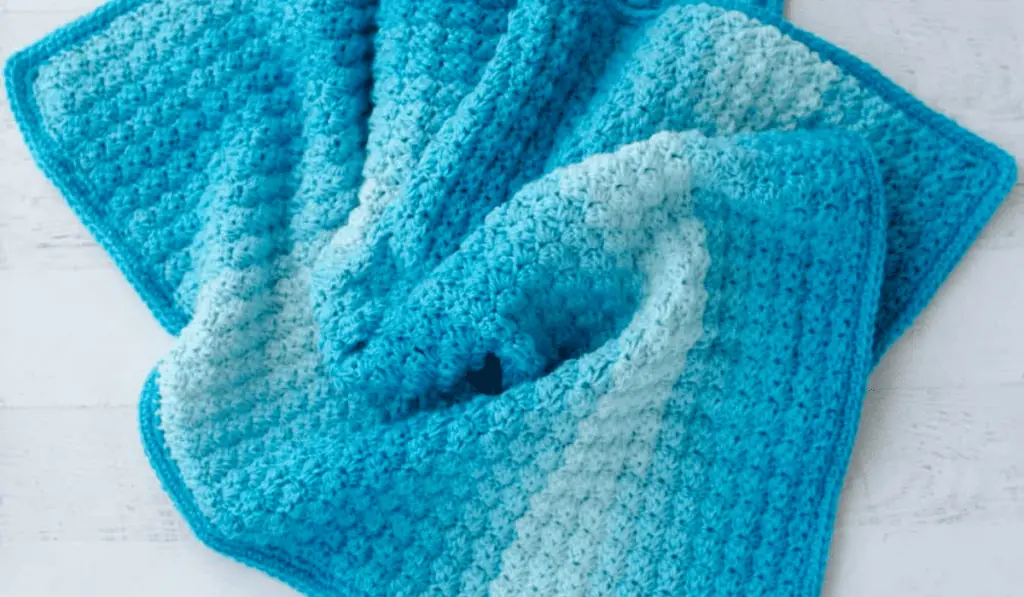 Crochet Sedge Stitch Baby Afghan
If you haven't tried the sedge stitch yet, the Crochet Sedge Stitch Baby Afghan is going to be such a fun way to practice this beautiful stitch! Plus, you end up with a beautiful crochet blanket when you are done.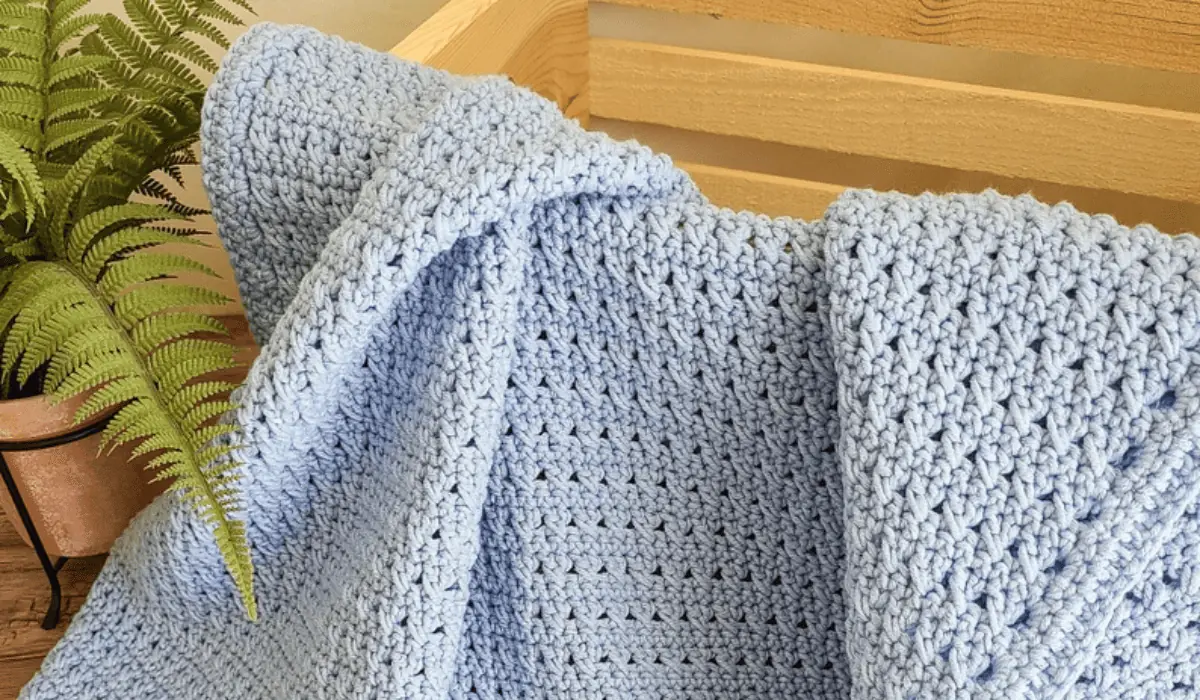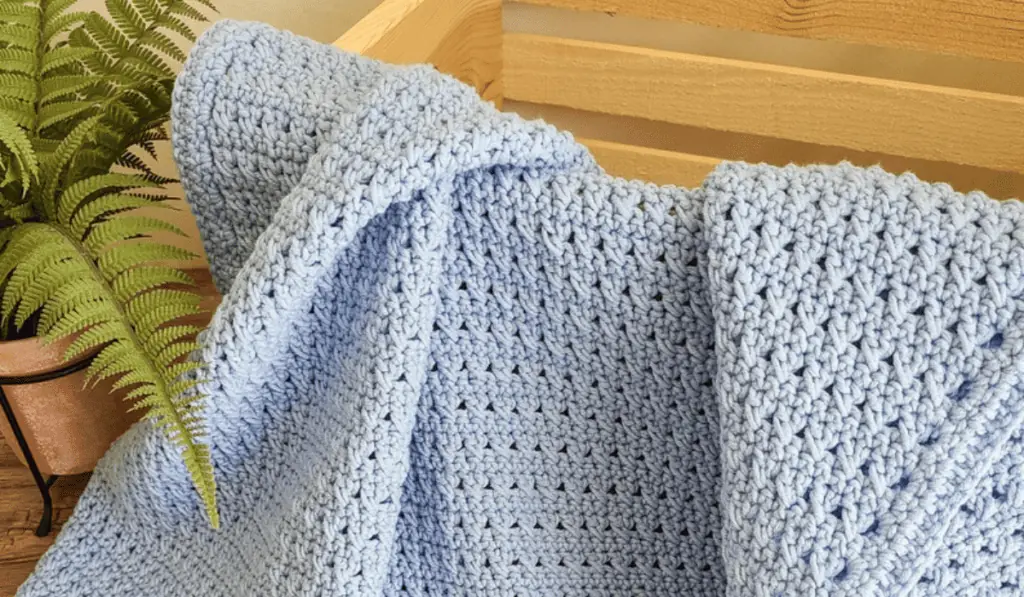 Crossed Double Crochet Baby Blanket
This snuggly baby blanket by The Loophole Fox is a special gift that will be cherished forever. I love this pattern in a solid color. It really gives it a delicate feel.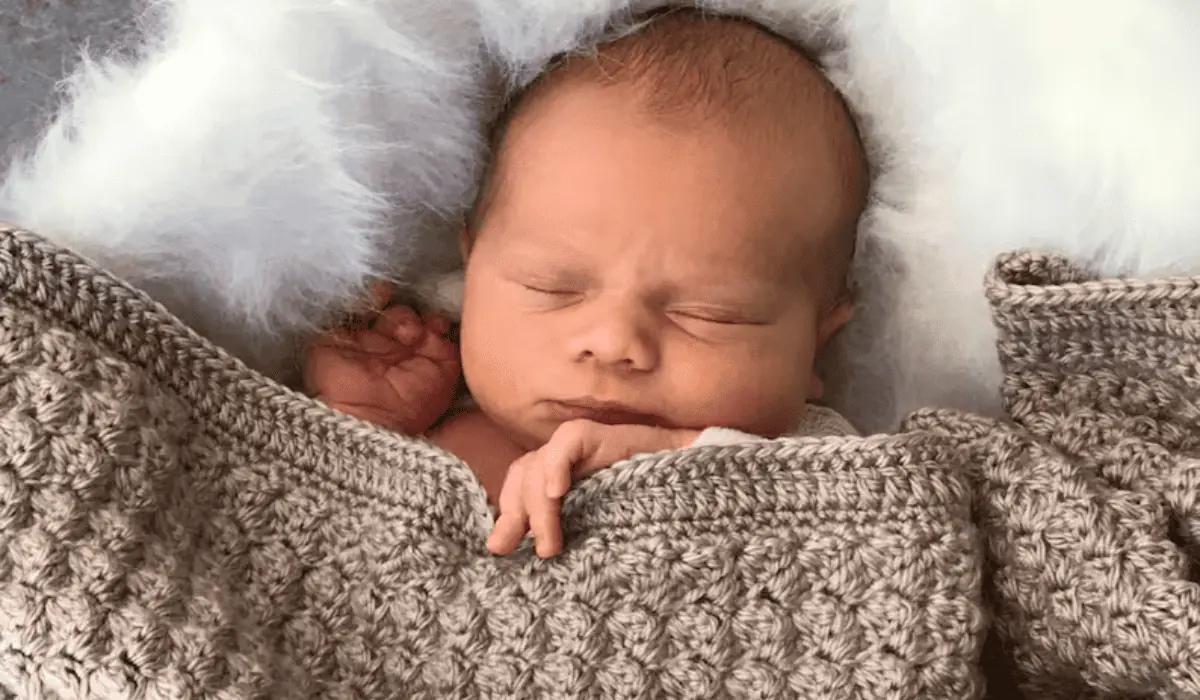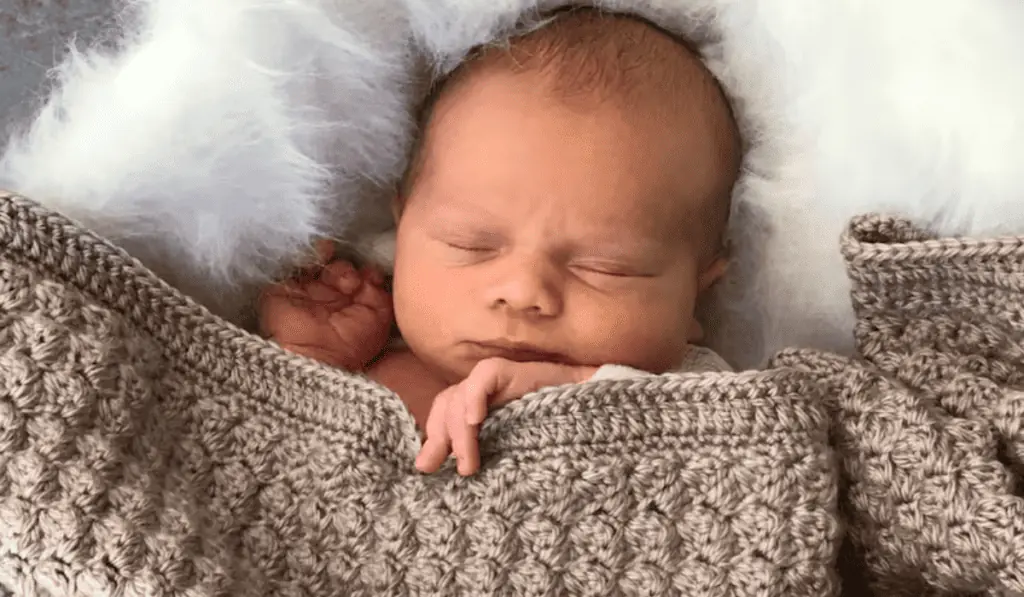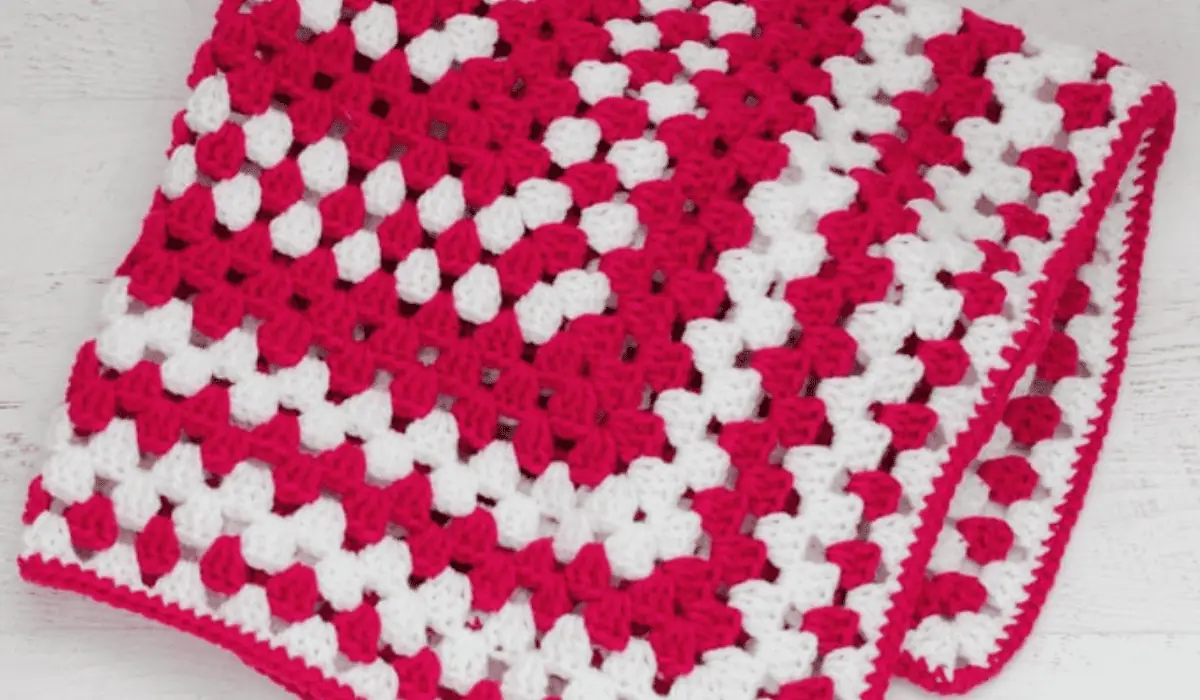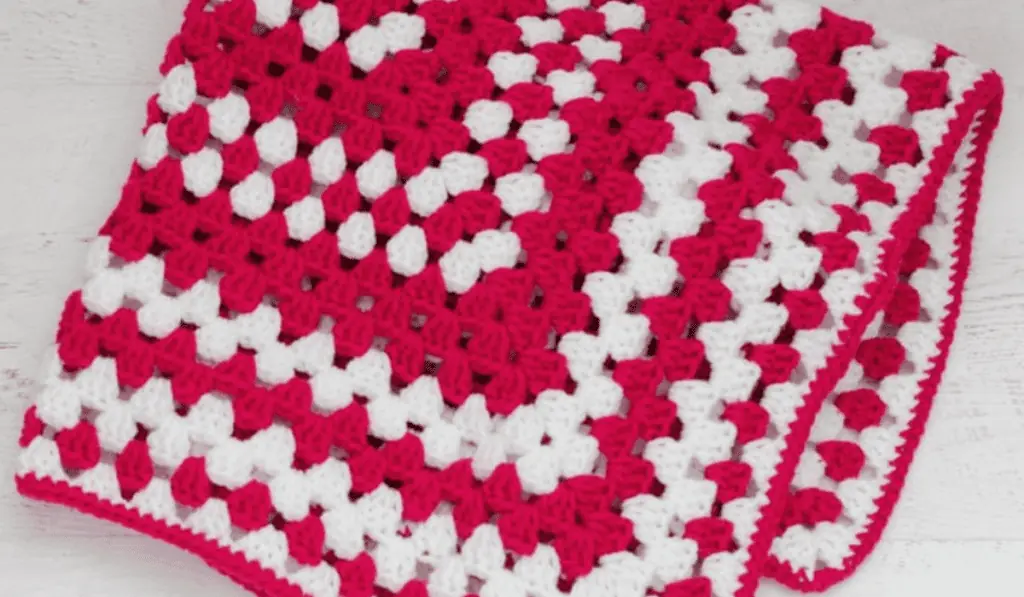 Granny Square Baby Blanket
I am still obsessed the this Granny Square Baby Blanket! I think this blanket would make such a fun pop of color in a nursery. You can also make your pattern match Zita the Zebra like I did!
Chunky Yarn Crochet Blanket
Deborah O'Leary Pattern's baby blanket crochet pattern features a beautiful and warm baby blanket that any little one will love. This is the perfect blanket for beginner crocheters since it only uses basic crochet stitches.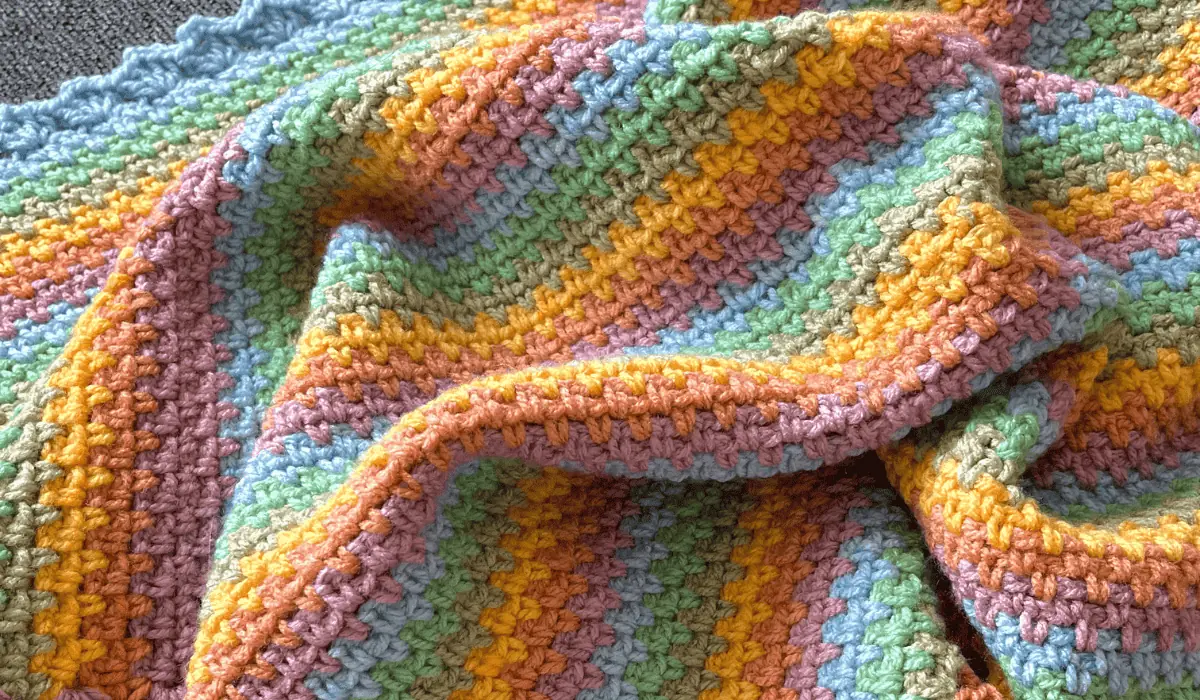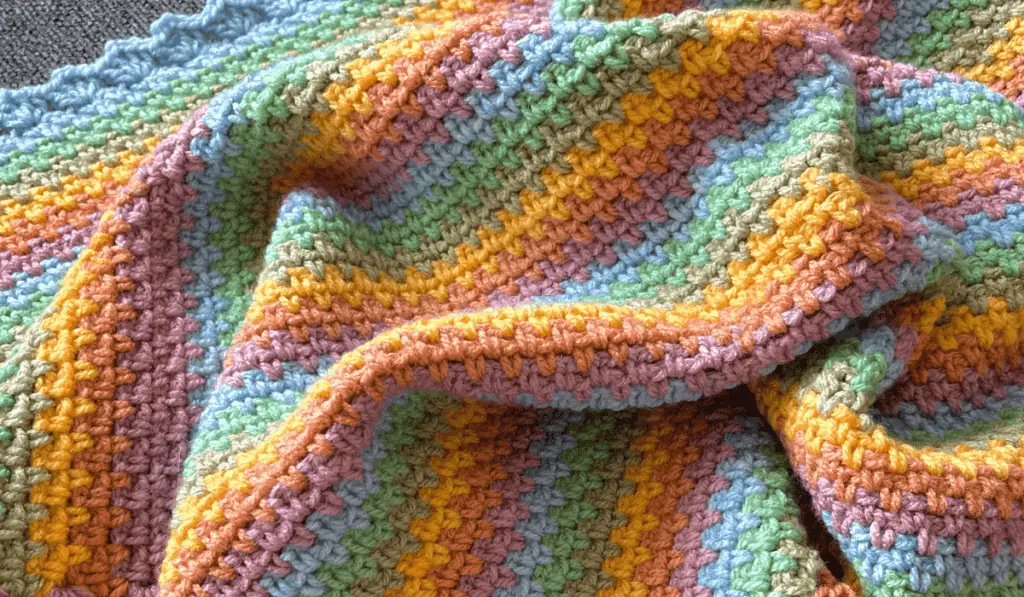 Baby Joe's Blanket of Many Colors
If you are a fan of rainbows, you're going to love this crocheted blanket by Crochet with Gabriella Rose. Honestly, a colorful baby blanket is something every little one needs, don't you think? Surely, any variegated yarn would do, but this rainbow of color is just too cute to pass up.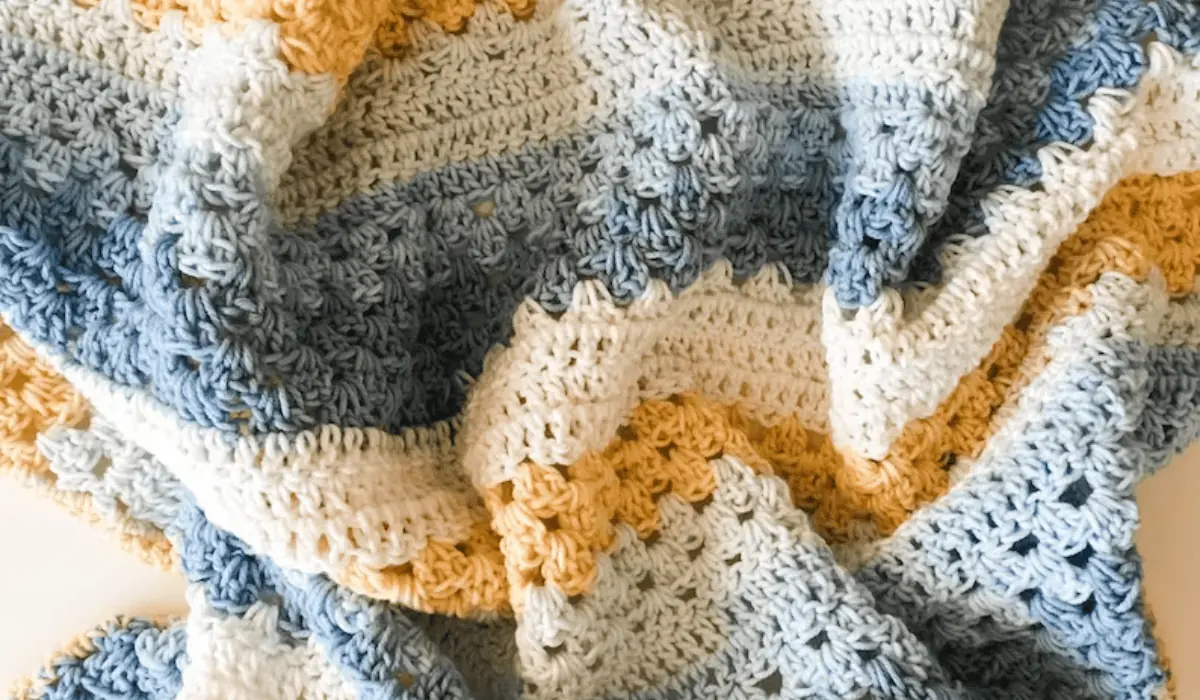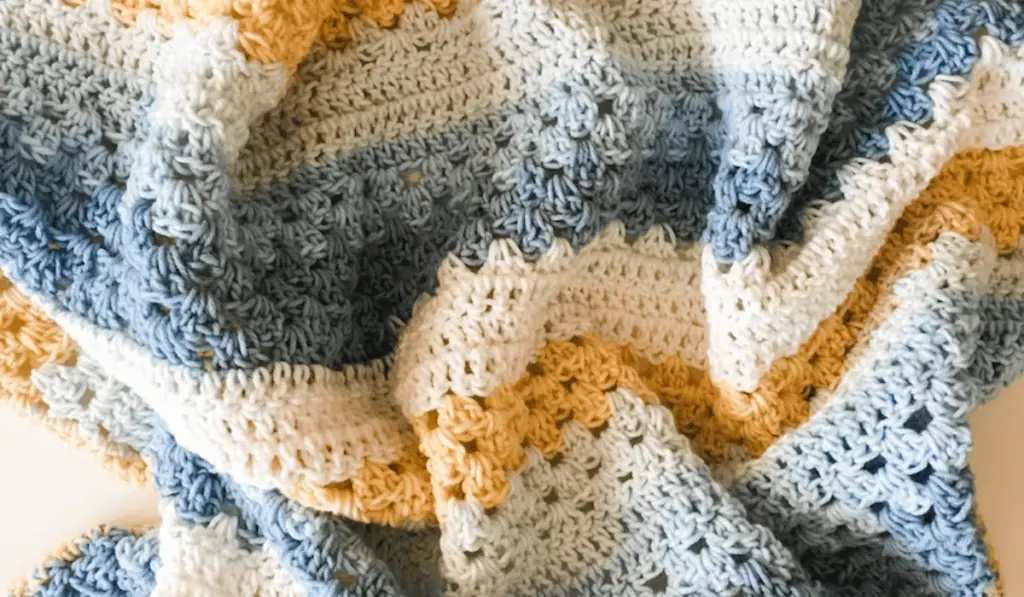 Carter Baby Blanket
If you want a gorgeous baby blanket that looks like it's a part of your nursery decor, this pattern by Domi Knits Creations is going to be a must for you. This color scheme would make such a cute spring blanket for baby boys with beautiful yellows and light colors.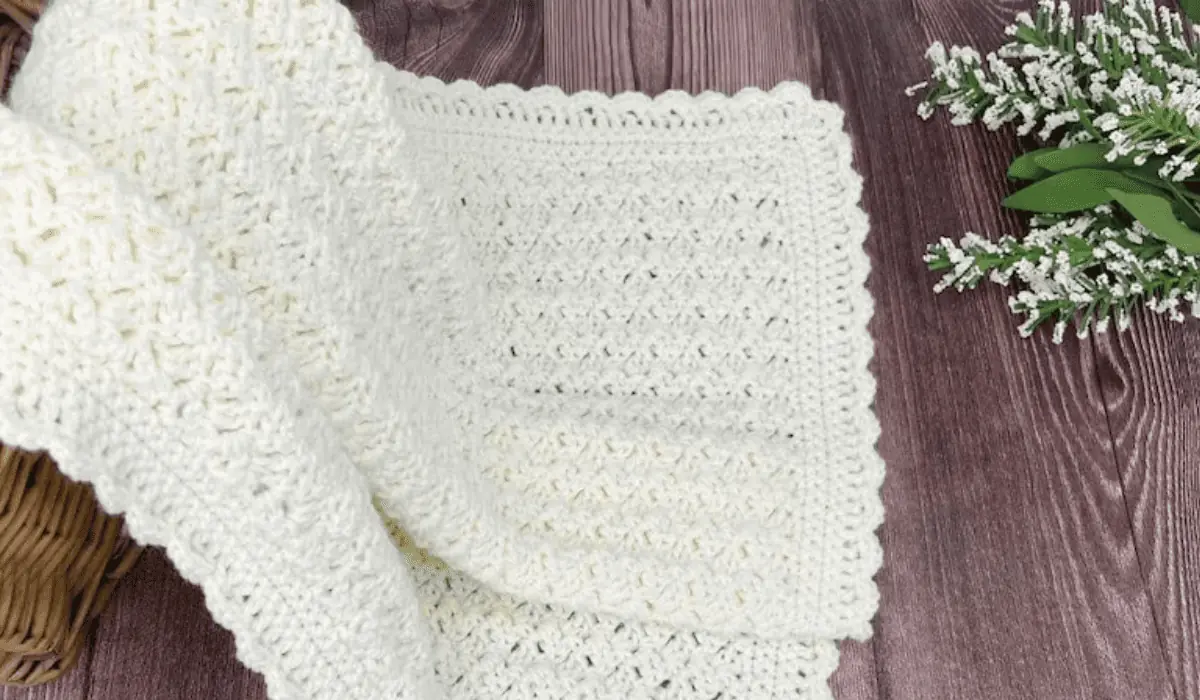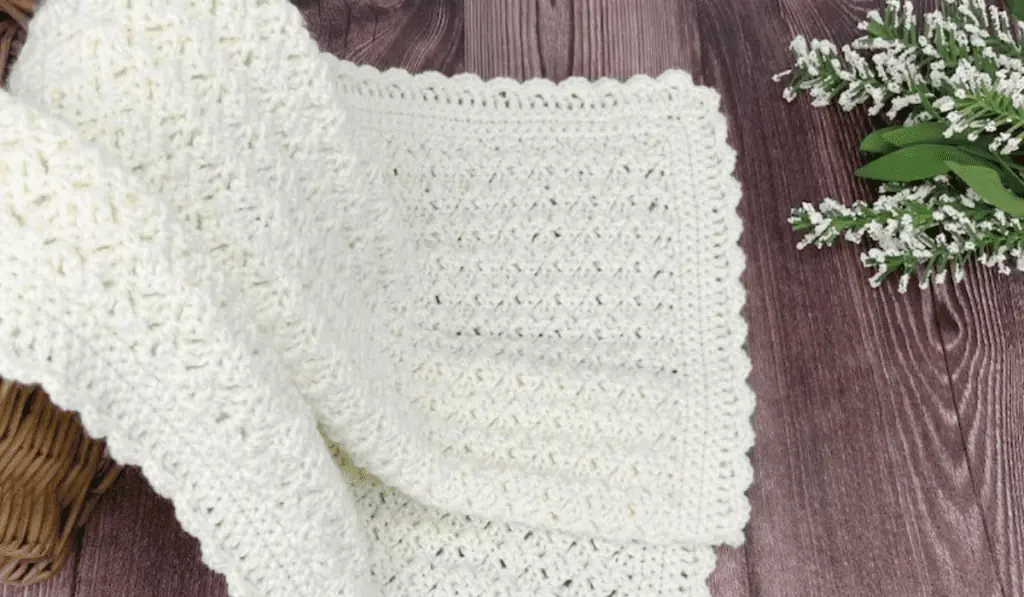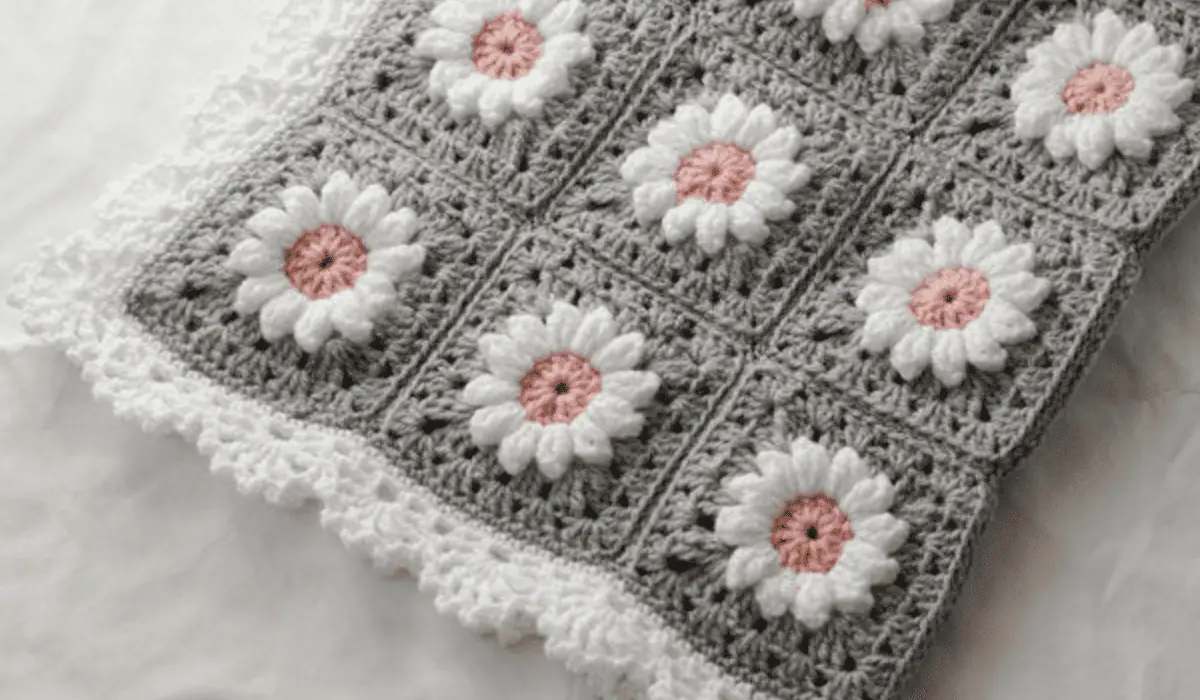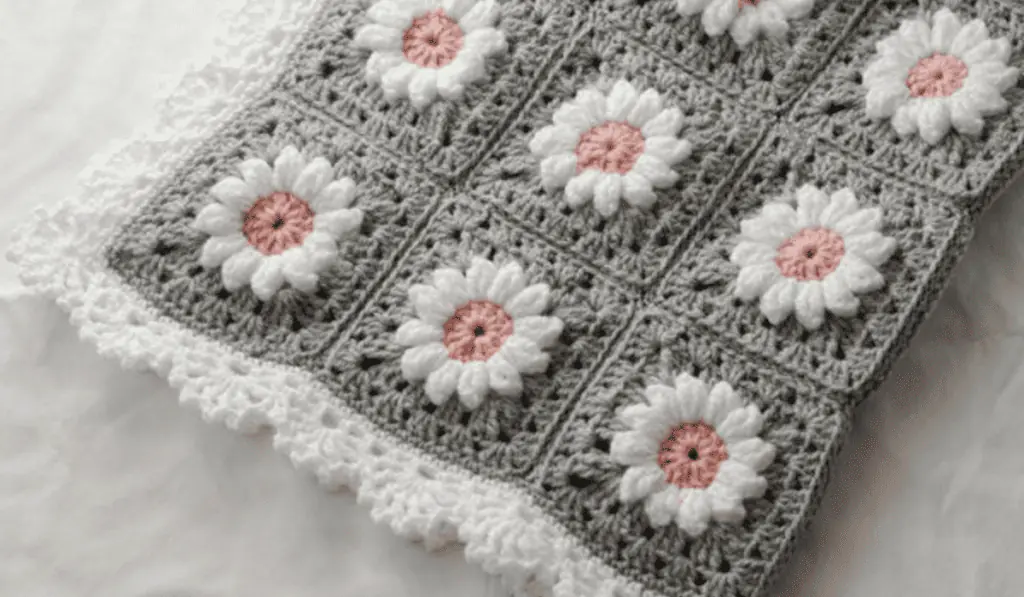 Daisy Baby Afghan
Don't you love this amazing color combo of the greys with the pink inside of the flowers on this Daisy Baby Afghan Pattern? This is perfect for someone who loves a little touch of boho chic in their home.
Classic Baby Blanket
I love an afghan that still looks beautiful in neutral colors, and this simple blanket pattern by Jo To The World Creation absolutely pulls that off. This blanket would be the perfect baby shower gift if the parents are waiting to find out the gender until the baby is born, or if they just prefer neutrals.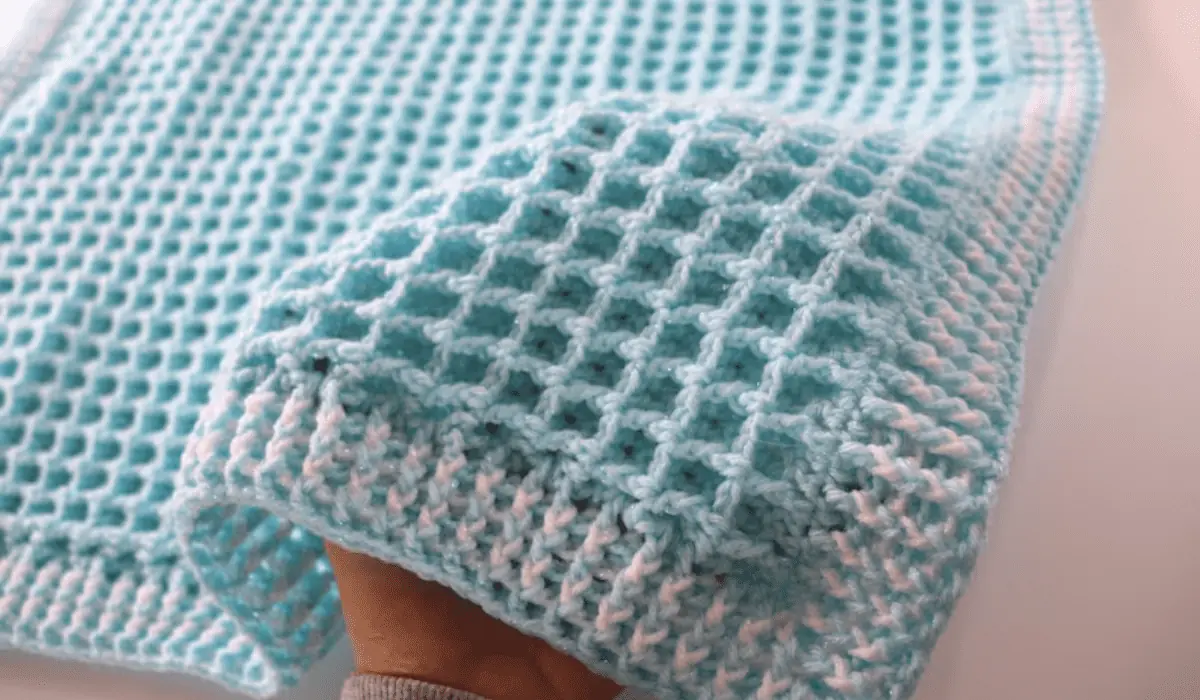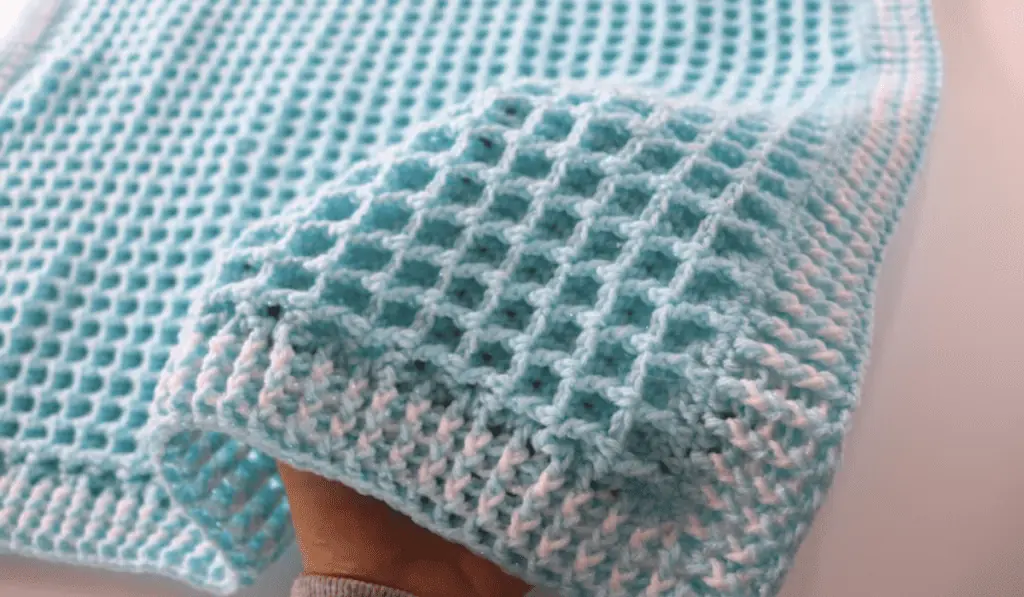 Easy Waffle Baby Blanket
Is someone welcoming a winter baby? I feel like this pattern by Sirin's Crochet is the perfect blanket for wintertime. This cozy blanket is rated 'easy' so it can be made by anyone with any skill level; you don't have to be an experienced crocheter.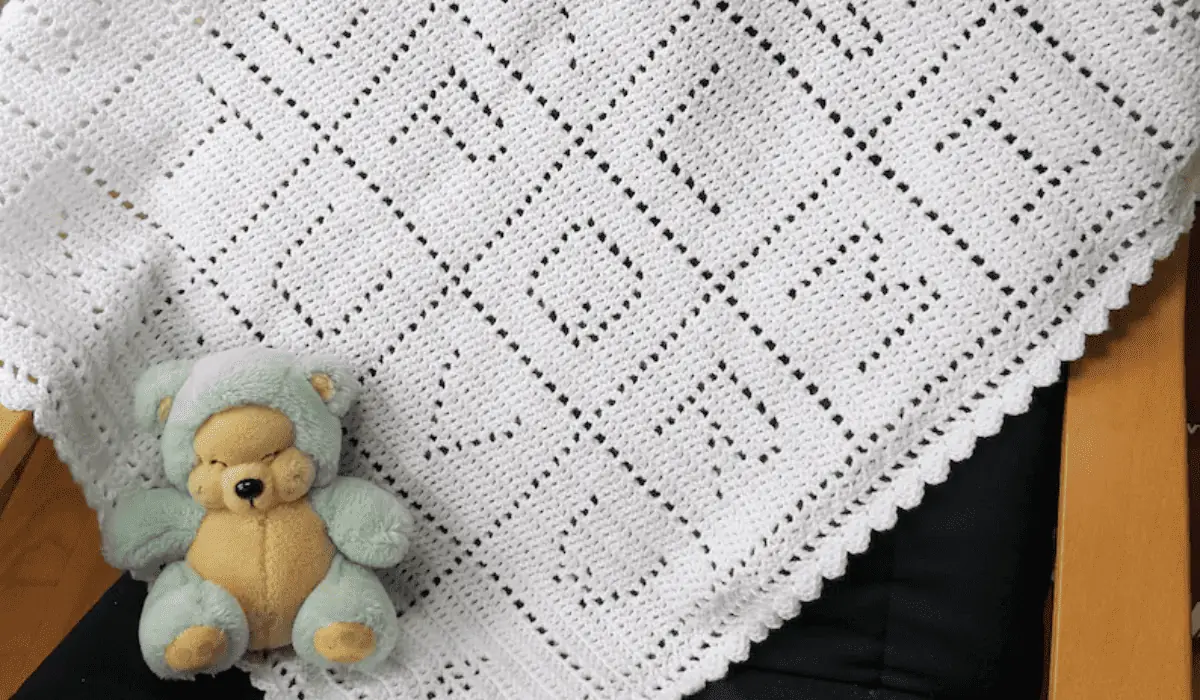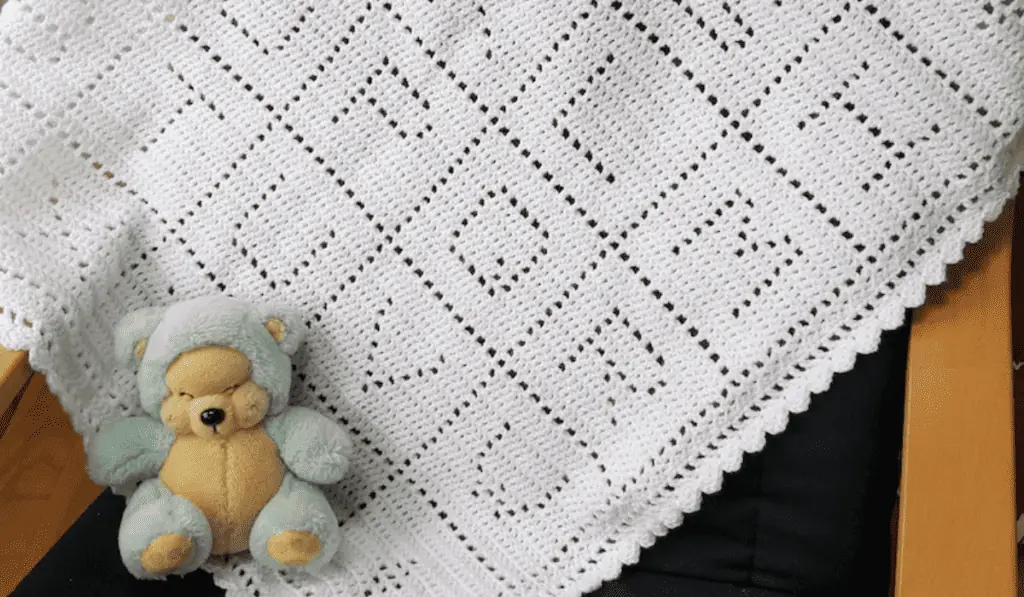 ABC Filet Crochet Blanket
I love this take on a gorgeous baby blanket. This alphabet blanket by Avondale Patterns is not only an adorable baby gift for a newborn baby but also something that can be hung up or used while they're learning to write.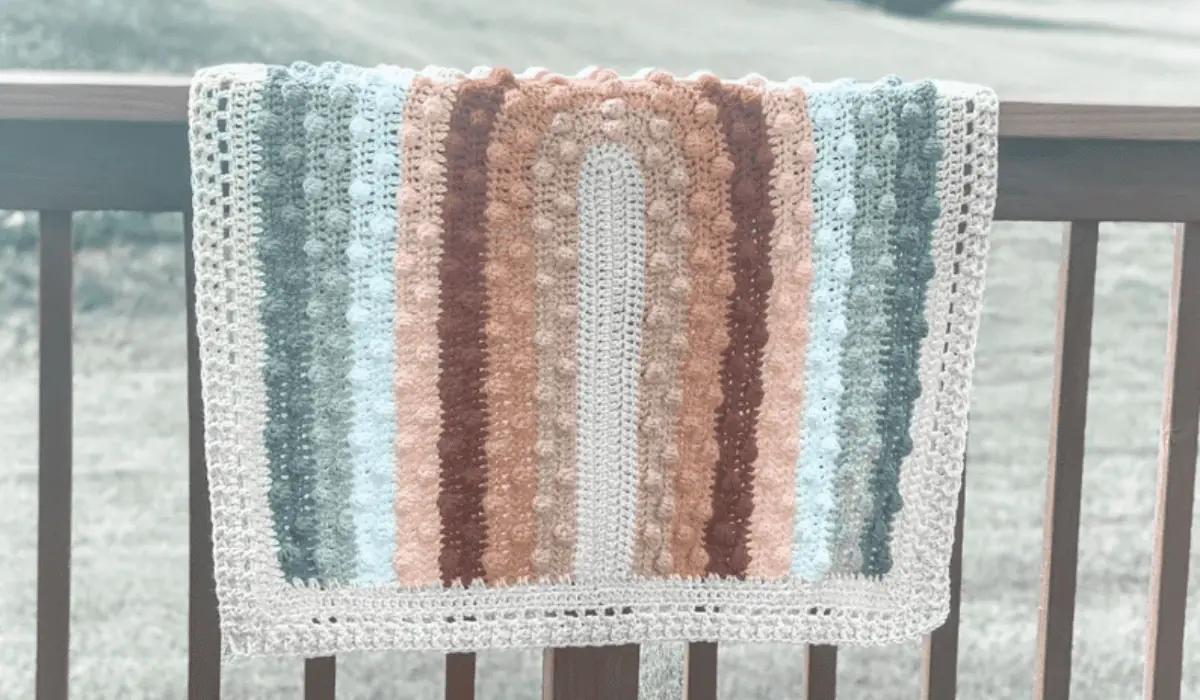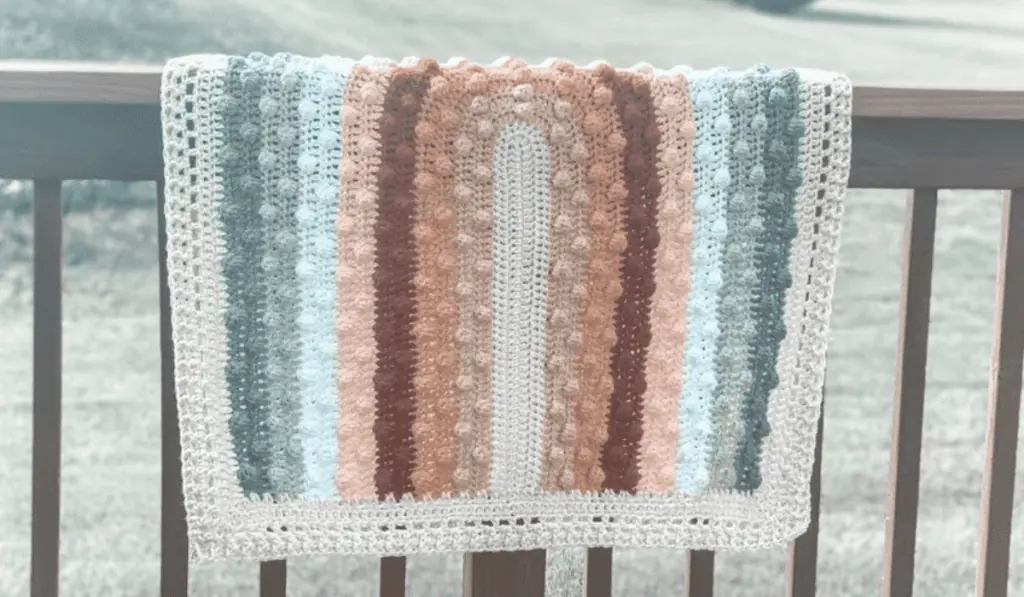 Boho Rainbow Baby Blanket
I love the gorgeous puff stitches on this rainbow blanket by Khloe Kate, plus, all the bright colors of the rainbow will simply make you swoon for this sweet blanket.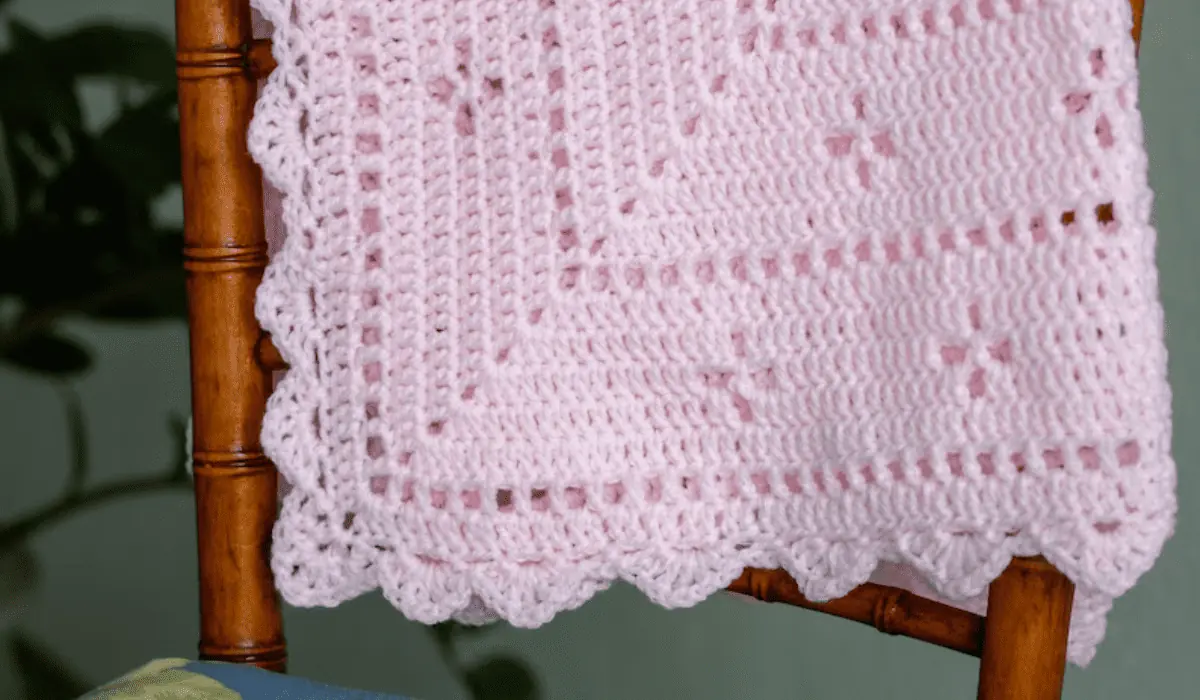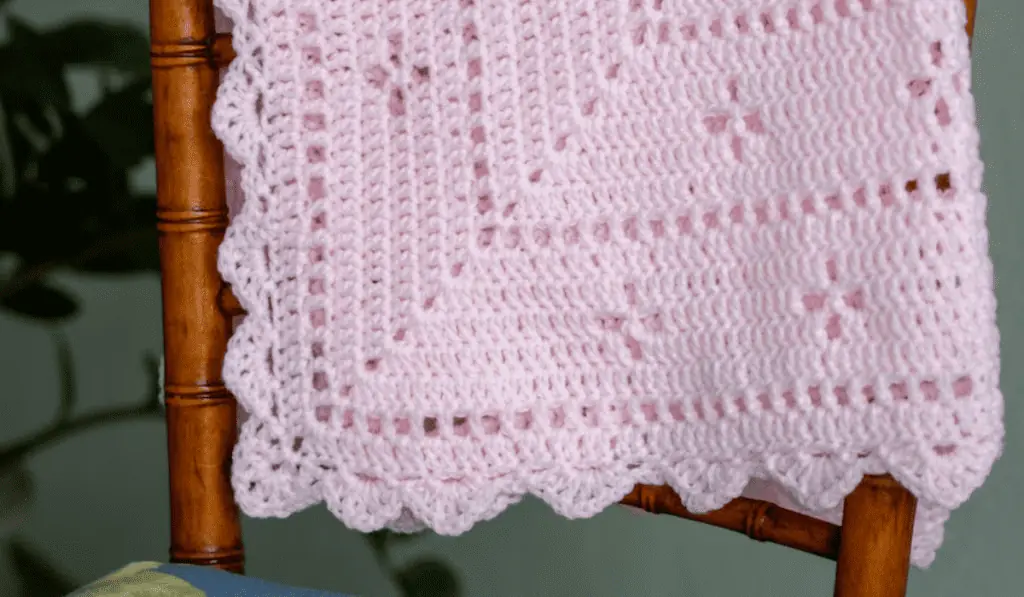 Midwife in a Square Baby Blanket
This gorgeous airy blanket by Poplar Pattern Company would be such an adorable heirloom blanket. This would be a quick project if you want to make a blanket baby shower gift a little last minute.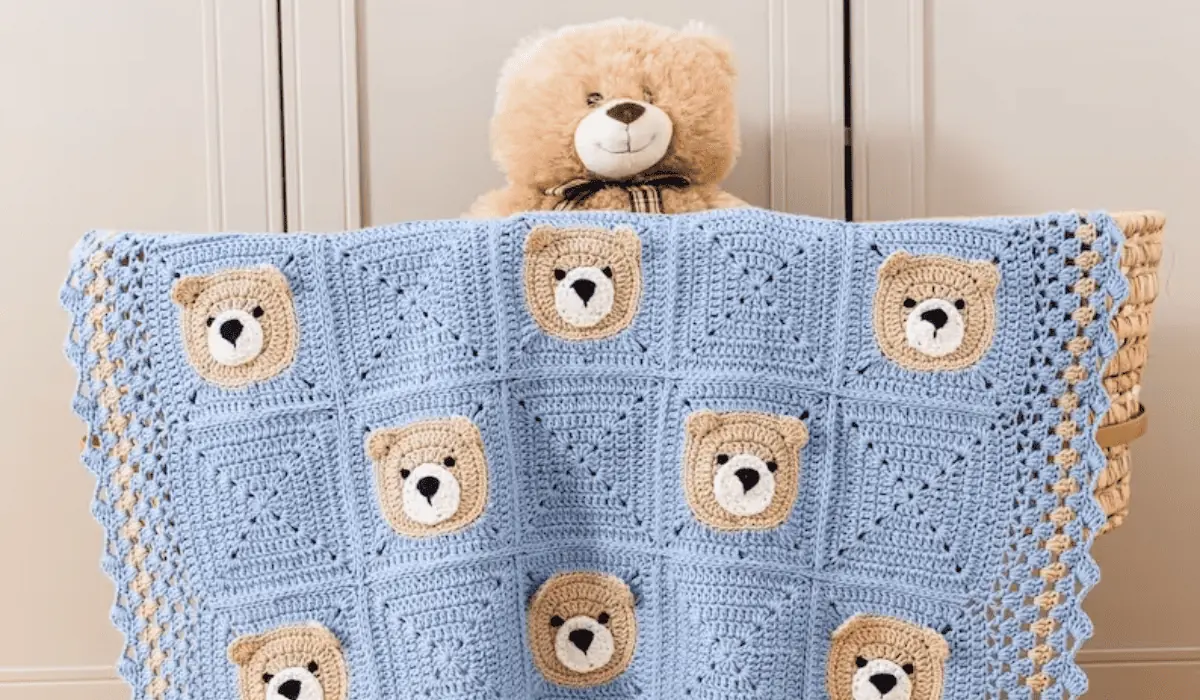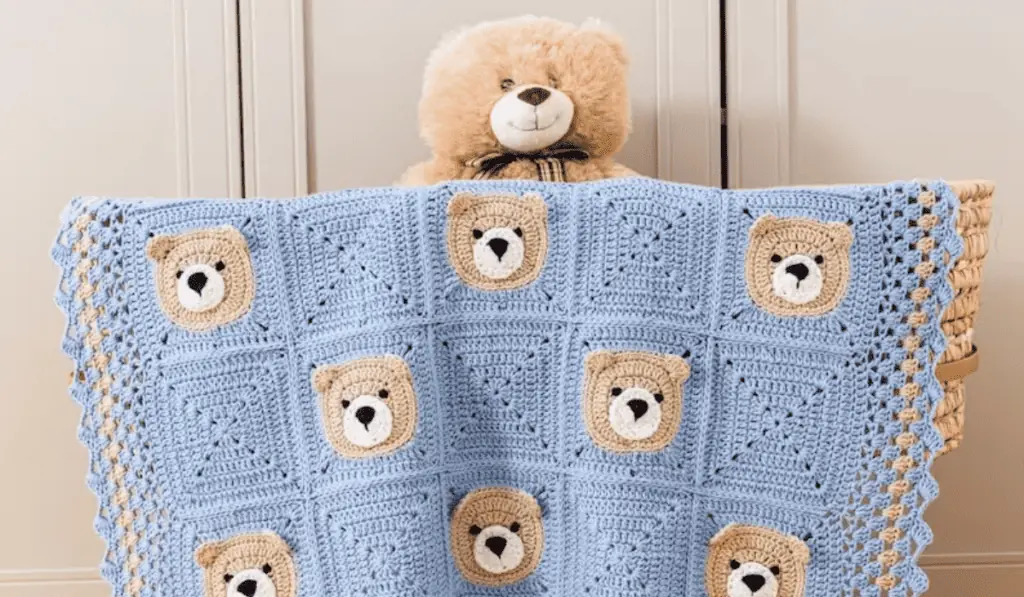 Crochet Teddy Bear Blanket
This beautiful crochet baby afghan by Maisie and Ruth Crochet looks like it would be such a cuddly blanket, I simply can not resist. Plus, it just looks like such a fun blanket to crochet!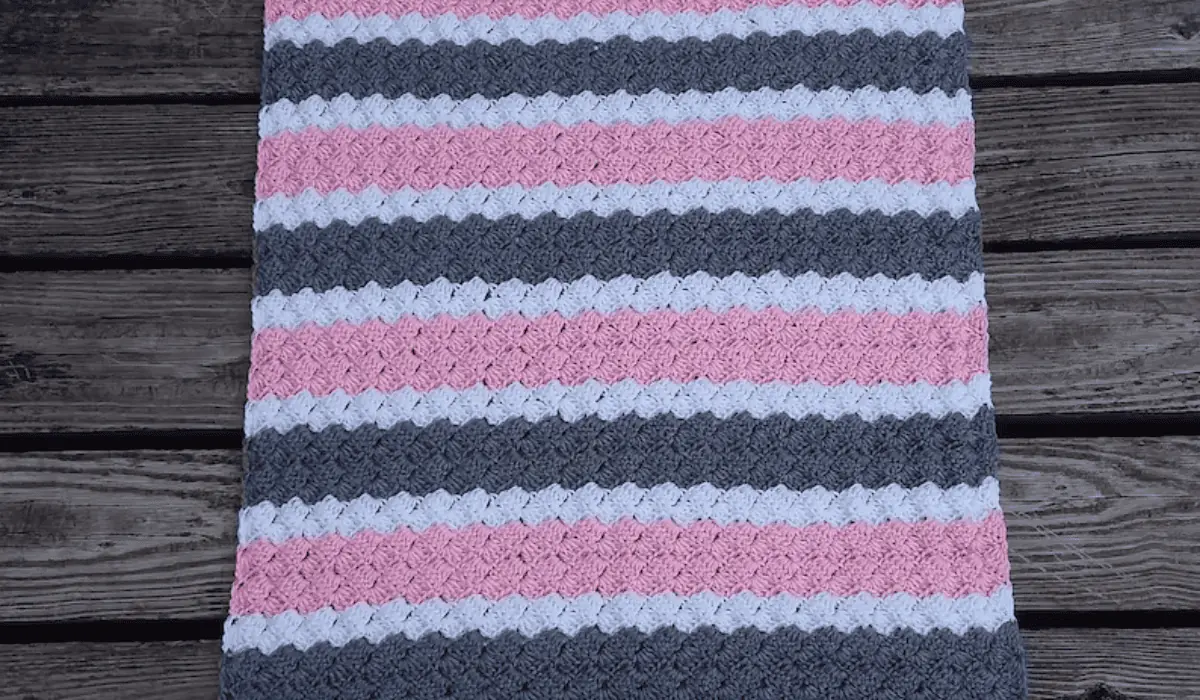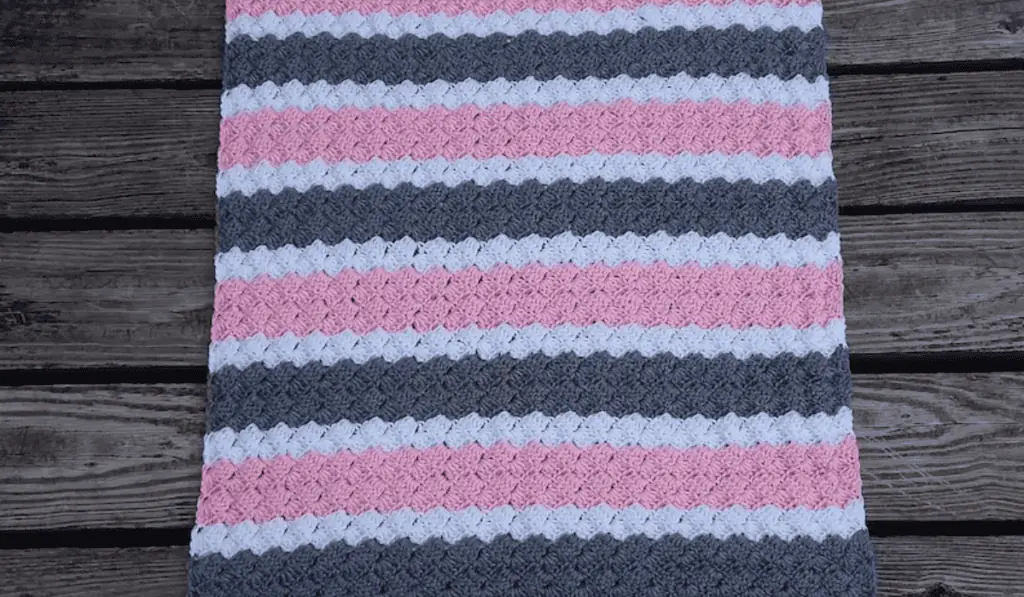 Bold Color-Blocked Baby Blanket
I love the stripes of color on this adorable crochet baby blanket pattern by Scarlet N Grey Crochet! This is the perfect baby-sized afghan since it's made to be so little. This is another simply gorgeous textured crochet baby blanket that will be absolutely treasured by whoever receives it.
If you loved these crochet baby blanket patterns and you're ready to try a larger crochet project, make sure to check out the gorgeous crochet blanket patterns or these fun temperature blankets.
I love seeing your finished projects! If you enjoyed making one of my patterns I'd love to see yours on Instagram, be sure to tag me @crochet365knittoo. If you are on Facebook, stop over to the Crochet 365 Knit Too Facebook page or pop over to the Crochet365KnitToo Club and share a photo! I'd love to see your work.