Oh Darling Crochet Ripple Baby Blanket
This post may contain referral/affiliate links. Please read my disclosure for more info.
There's something classic about a crochet ripple baby blanket that has my heart. Oh so fun to crochet and yet so beautiful. Meet the Oh Darling Ripple Baby Blanket.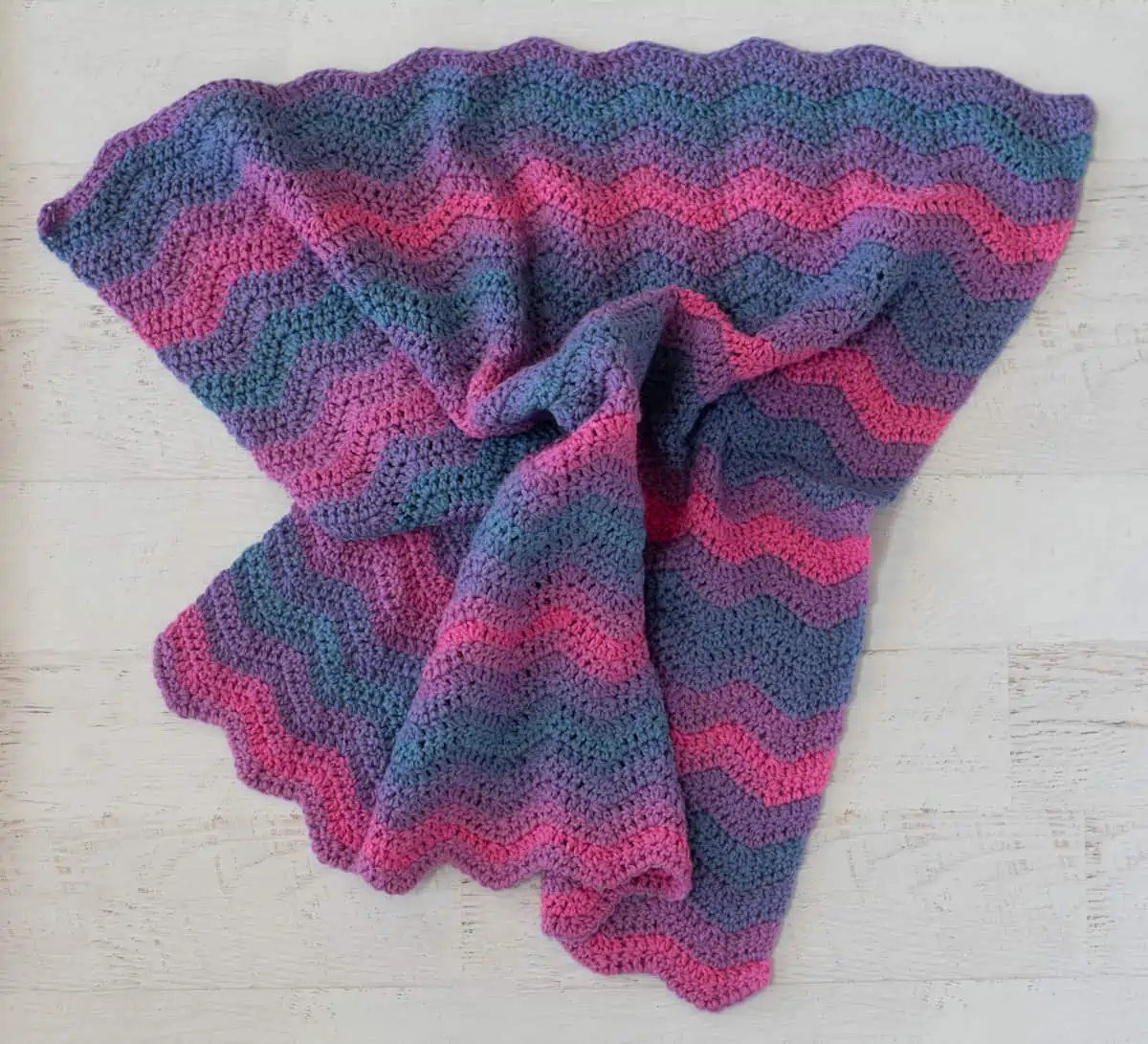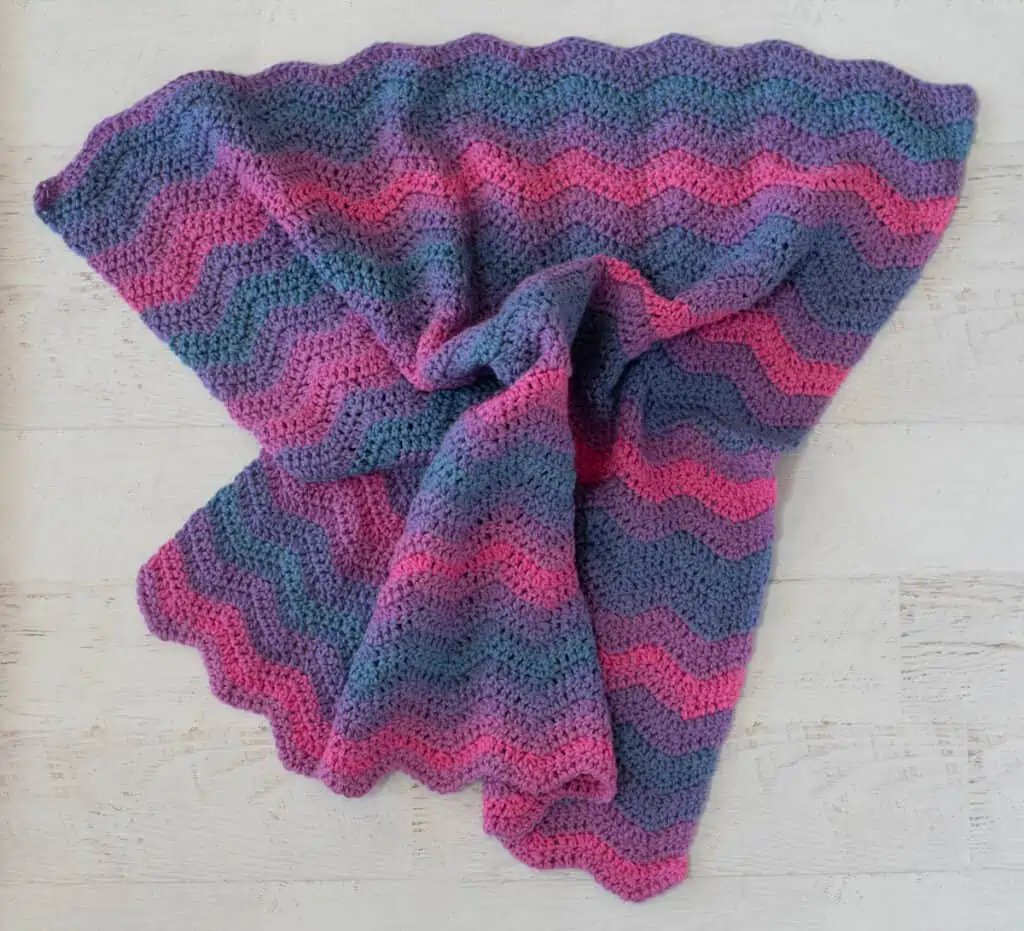 Can we pause just a minute to take in the delicious colors in this darling ripple baby blanket? Doesn't it remind you cotton candy, summer fairs and all things good and delicious? I think I'm in love.
This delectable colorway is part of Red Heart's Ombre series and is called "Sweet Treat". Perfect name for a perfect ripple crochet baby blanket, I say!
I love this yarn for a quick baby blanket pattern because the color patterns are so beautiful and yet the acrylic yarn makes it machines washable. It really is the perfect yarn for a baby blanket crochet pattern!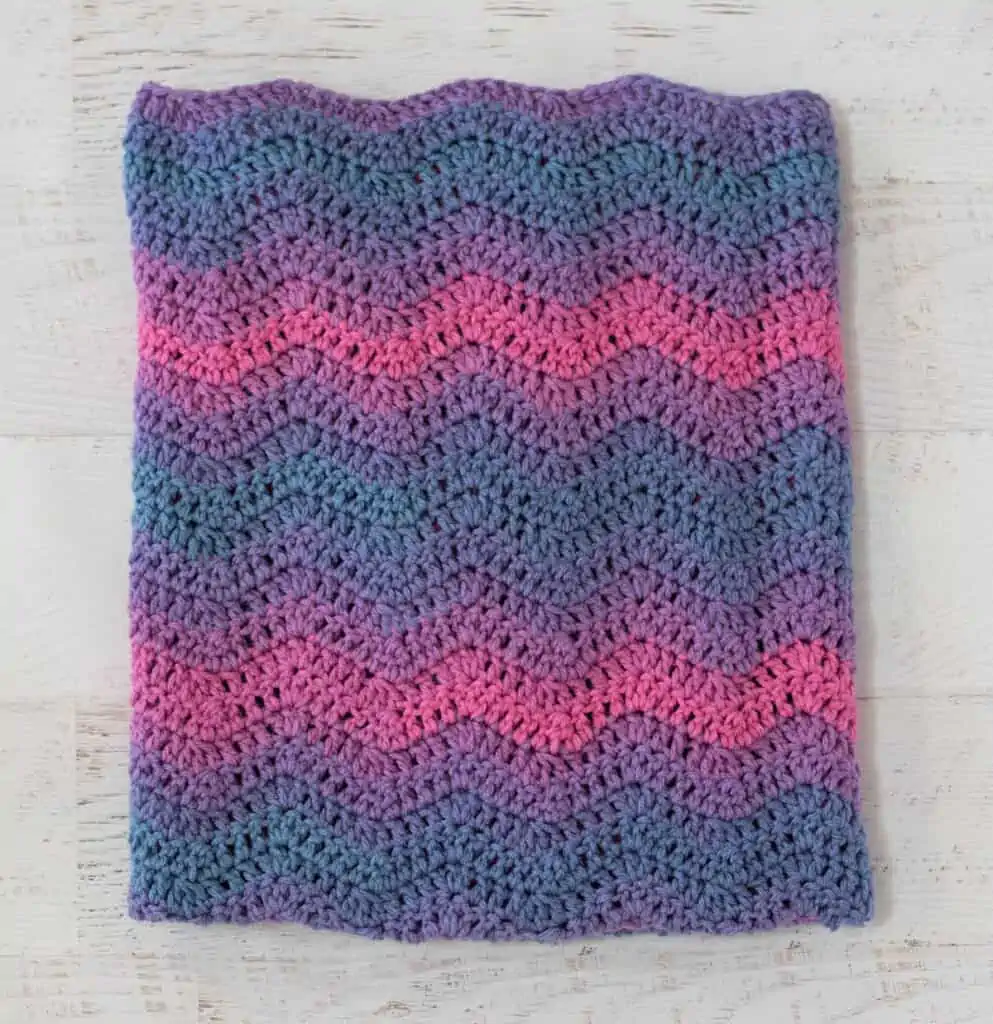 My grandmother always had a lightweight ripple afghan in her living room. And so a ripple afghan always screams "classic" and "home" to me. A crochet ripple afghan is a pretty simple affair, yet there are so many variations of crochet ripple blankets.
Most use a simple crochet stitch. My grandma used single crochet stitches for hers. This baby ripple crochet blanket features a double crochet ripple stitch which is easy and fun to crochet.
Sometimes the stitches between the "peaks" and "valleys" are more or less depending on the crochet ripple stitch pattern. And sometimes the way the increases and decreases work are different. Our Wistful Wave Crochet Blanket is a ripple design done completely differently.
For baby blanket, though, I wanted a shorter run of ripples and I think this pattern is absolutely perfect for a smaller scale project like a baby blanket. Of course, you can make it bigger into a full-size crochet afghan. Just add in increments of 10 for one more "wave".
This would also make a perfect double crochet ripple blanket out of scrap yarn. So many possibilities!
Crochet Ripple Afghan Finished Size:
Approximately 31" x 31"
Pattern Notes:
Pattern is a multiple of 10 stitches + 1 (add 2 for the base chain).
I find it easiest to work ripple stitch patterns when I understand the "lay of the land". Here are some basic rules to understand before following the written pattern below:
A ripple stitch (also called a chevron stitch) has a "peak" at the top and a "valley" at the bottom.
In this particular ripple stitch pattern, 3 double crochets worked into a single stitch form the peak. When working into a previous row, the 3 dc go into the center stitch of the previous row's double crochet peak.
The valleys have 3 stitches double crocheted together (dc3tog). To double crochet stitches together, make a double crochet, but STOP before pulling thorough the last 2 loops on the hook. Then make an incomplete double crochet into each of the next 2 stitches (3 incomplete dc stitches worked). Then YARN OVER and pull through all stitches on the hook. After row 1, this 3 stitch decrease is worked over the decrease from the prior row and the stitch on either side of it.
The sides end at the top of a peak, but with only 2 stitches worked.
Now.. onto the crochet baby blanket pattern…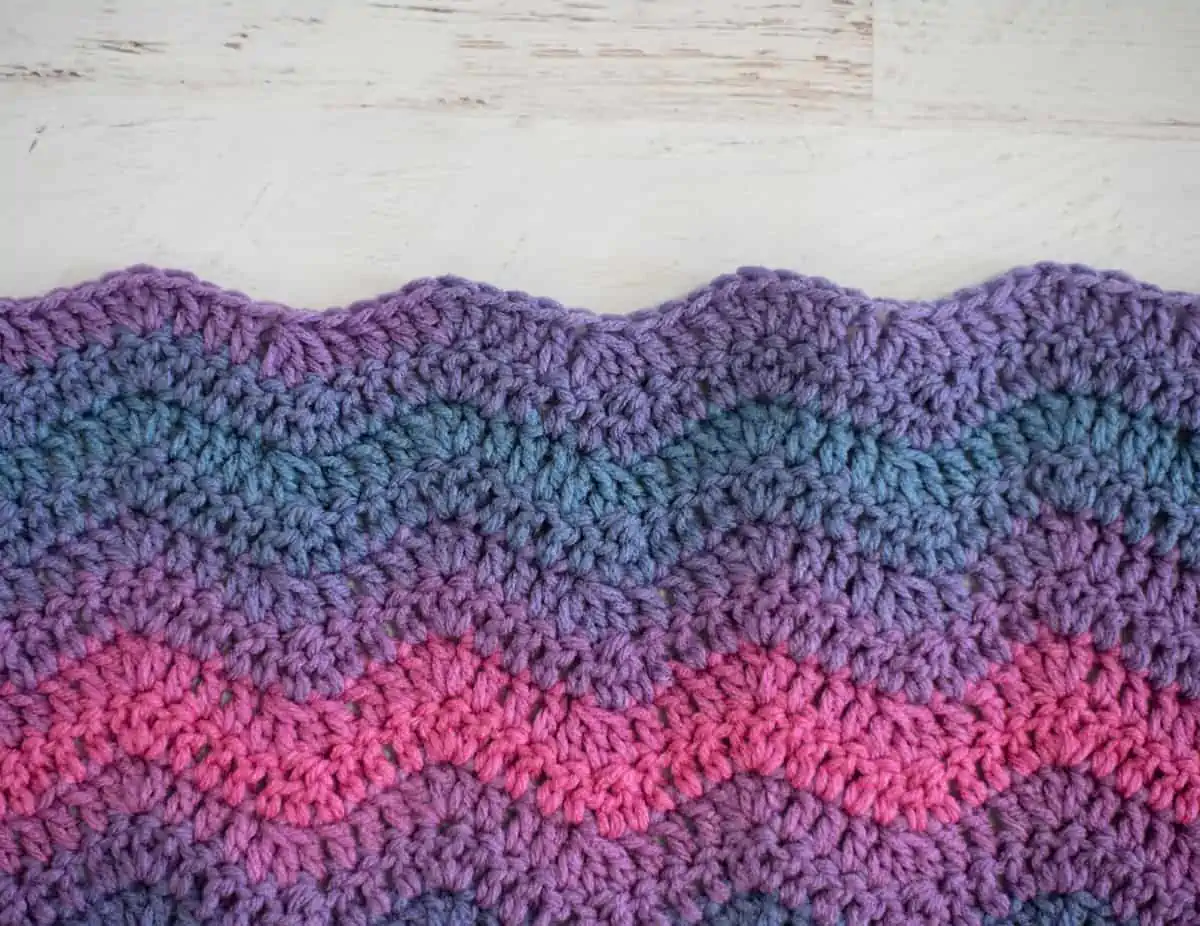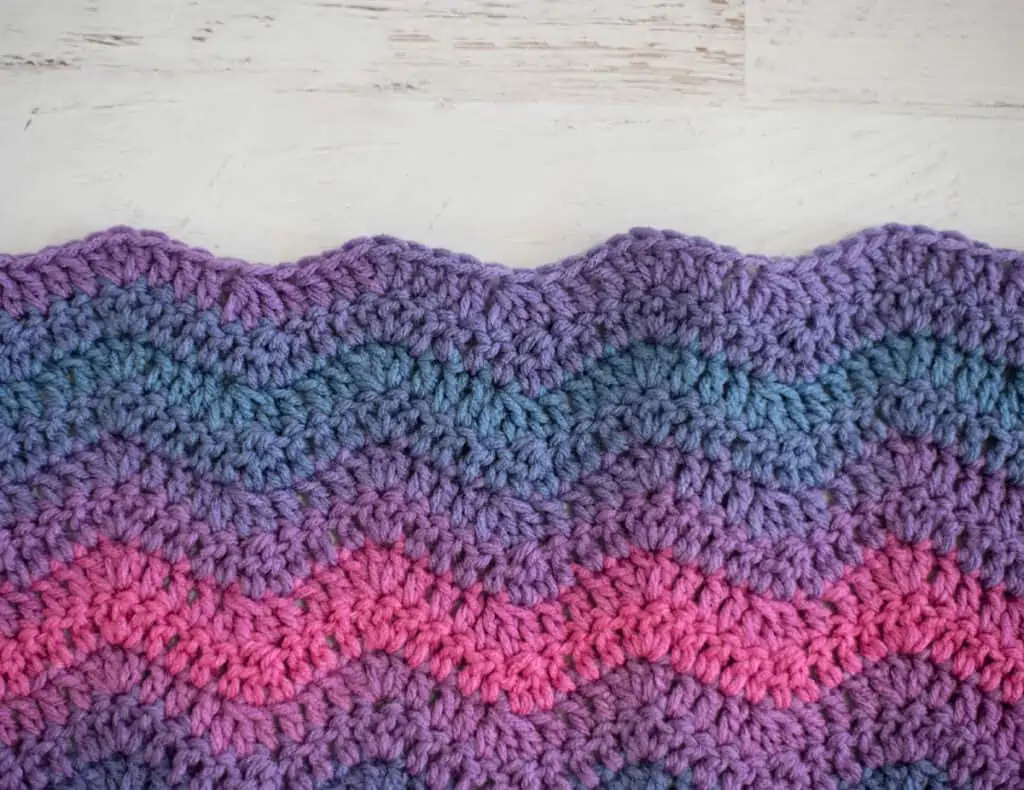 Crochet Chevron Baby Blanket Pattern
Chain 103
R1: Skip 2 ch (counts as first dc), dc in next ch, *dc into next 3 ch, (dc3tog) over next 3 ch, dc in next 3 ch, 3 dc into next ch. Repeat from * across, working 2 dc into last ch, turn
R2-52:  ch 3 (counts as first dc), dc into 1st st, *dc in each of the next 3 st, (dc3tog), dc in next 3 st, 3 dc into next st.  Repeat from * across, working 2dc into top of last st. Turn.
Fasten off and weave in ends.
I love seeing your finished projects! If you enjoyed making this Crochet Ripple Baby Blanket Pattern, I'd love to see yours on Instagram, be sure to tag me @crochet365knittoo. If you are on Facebook, stop over to the Crochet 365 Knit Too Facebook page or pop over to the Crochet365KnitToo Club and share a photo! I'd love to see your work!