Wistful Wave Crochet Blanket
This post may contain referral/affiliate links. Please read my disclosure for more info.
Soft waves.  Toes sinking into sand.  A big sigh of contentment. And this. This Wistful Wave Crochet Blanket. The perfect, soothing balm in a sea of crazy times.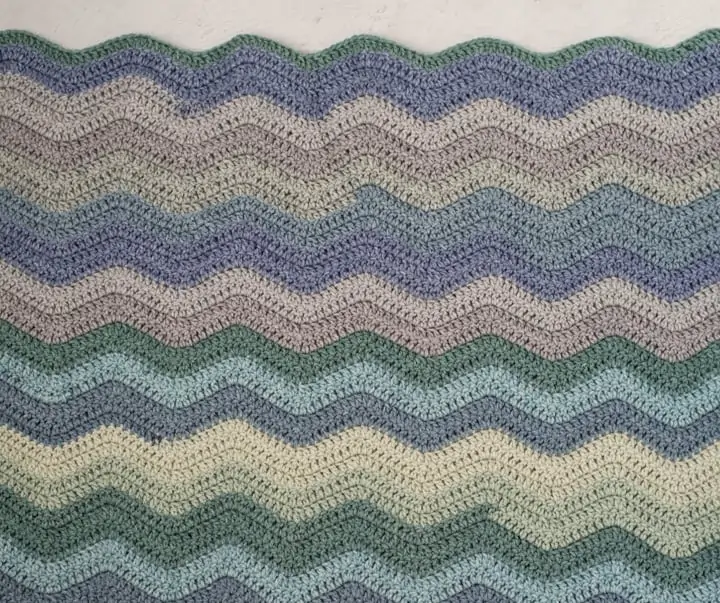 I've spent the happiest parts of my life on a boat.  Not a slow, leisurely, chat it up with family kind of boat ride.  Oh no.  I prefer the wild.  Fast. Hair whipped back by wind that smells of the sea. Boat skipping on the tops of waves, only to crash down now and then to spray water in a cool surprise that brings squeals of delight.  No point in talking as the wind whistles past.  Eyes closed, deep, soul cleansing breaths in and out.  I've done my best dreaming on a fast boat ride. And if I had to pick only one guilty pleasure in life, this would be it.
And so in this year of the unexpected.  The unsettled.  What I really needed was the soothing balm of a fast boat ride.  But the crochet variety, of course.  The kind of crochet project where you kick up your feet, snuggle under your work and mindlessly crochet away all the disturbing things in life you'd just as soon forget. And be present in the good of the moment.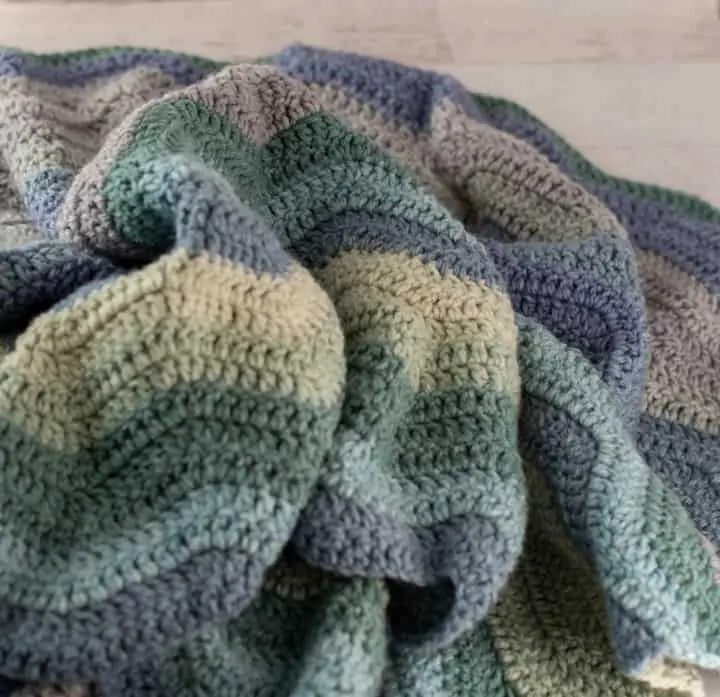 The Wistful Wave Crochet Blanket is all that.  'Wistful' means 'full of yearning and desire; melancholy'.  And so 'Wistful Wave' perfectly captures my feelings in the moment as this unusual year ends and a new one beckons… full of uncertainty, but hopeful too as those waves slowly roll in and out, constantly changing the landscape.
If you've been with me for a bit, you know that the past few years I've offered a free scrap afghan project to welcome in the new year.  You can get the completely free, printable version of the scrap afghans in the Vault, a special password protected area of my website exclusively for my newsletter subscribers.
Two years ago we were packing up and moving into our big house in the country.  And so… the Onward and Upward Crochet Scrap Afghan captured all the feels.  It's a great post to visit because I also talk about yarn selection and auditioning colors for a scrap afghan.  A scrap afghan, after all, has a certain vibe and if you have enough yarn in your stash it can flow to a certain color scheme.
Last year we made the Happy Lark Crochet Scrap Blanket.  It was a time of happiness.. moving from one year to the next with good, beautiful things on the horizon.  I chose my favorite purples, grays and delicious stash yarns for that project.
This year is different and so, too, is the 2020 Scrap Afghan Project.  I've worked this pattern two ways, so you can pick what suits you best.  In one, I've chose two delectable color ways of Caron Cake Yarn—3 of one color and 2 of the other. If you're loving all those blues in my afghan, I used 3 cakes of Caron Cakes Lovely Layers in Iced Mint and 2 cakes in Sugared Blueberries. I'm working all the way through one cake before moving to the next, letting the colors fall as they naturally occur.
If you'd like to see the color transitions in another afghan, the Fields and Furrows afghan is worked with 2 different color ways of Caron Cake yarn.  It's the perfect mindless crochet project and I love seeing the colors transition as I crochet.
If you want to try the Caron Cake method for your Wistful Wave Crochet Blanket, just find 2 color ways that blend well together.  It usually works best if there is at least one common color in both so that they transition nicely.  Then pick 3 of one and 2 of the other and your yarn picking out job is done!  Crochet on!
Or use the same pattern to crochet a scrap afghan, working 2 rows in each color.
This year I started with this gorgeous bouquet of flowers for inspiration: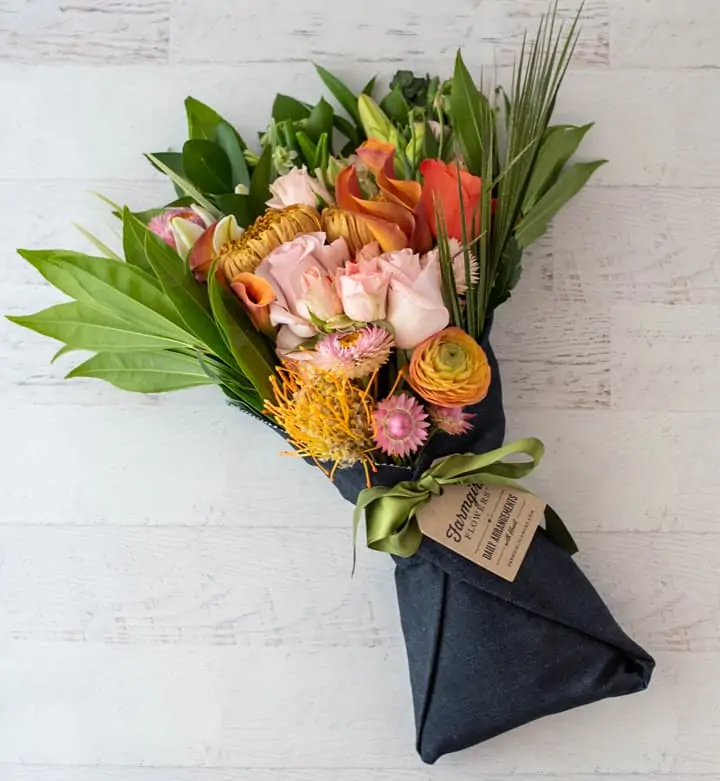 Isn't this just about the prettiest bouquet ever? A few months ago, I met a personal goal on this blog and my advertising partner sent me this bit of deliciousness!  (If you're curious, you can read about that goal here.)
I'm not kidding.  I didn't even want to unwrap this gorgeous bouquet at first!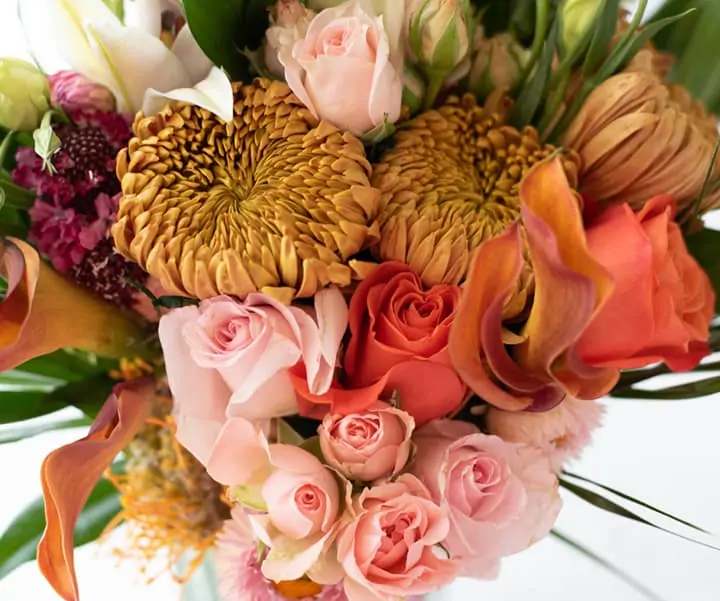 When I did, I thought it would be amazing to somehow translate those beautiful, unexpected colors into a scrap afghan that would just make me happy all over. Perfect for finding beauty in this unexpected year!
And so.. this: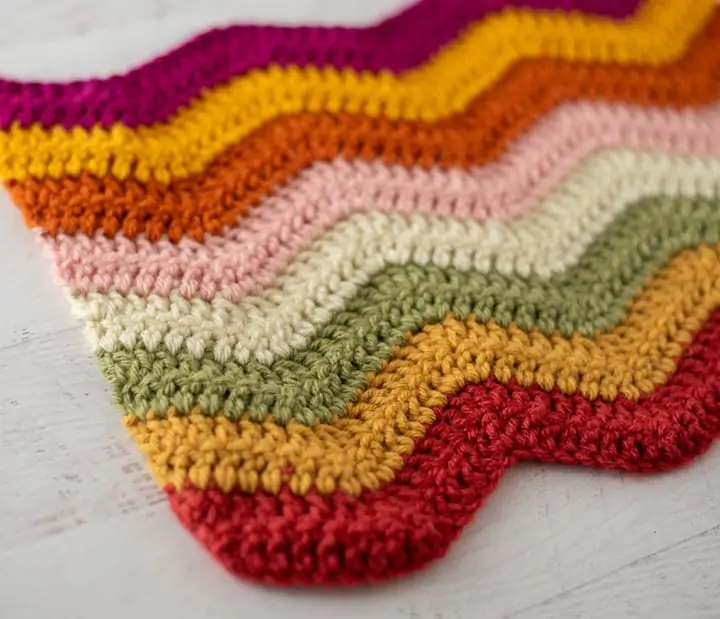 These beautiful shades, hidden in my stash, just waiting to come out and play together!  Aren't they just lovely?!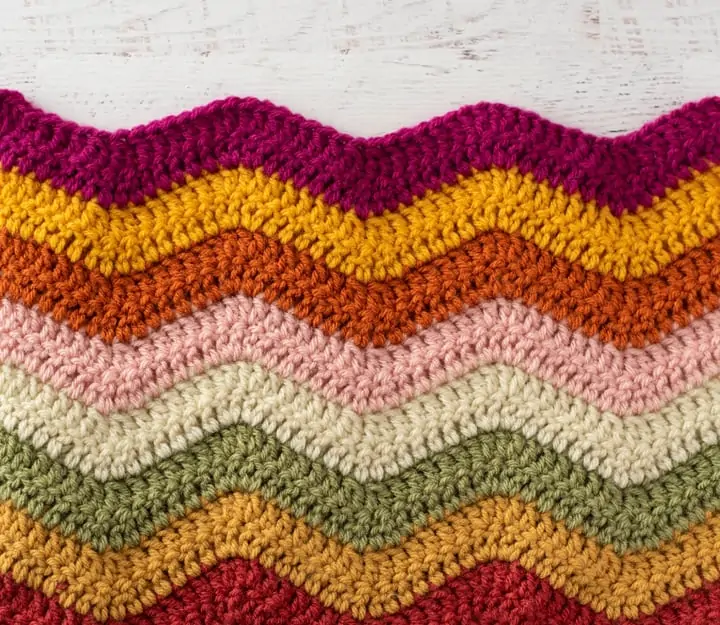 I plan to finish up this cheerful afghan and keep it in my blogging/craft space to make me all kinds of happy!
The blue version of the wave crochet afghan will likely find a home in my living room for more elegant 'under an afghan' snuggling.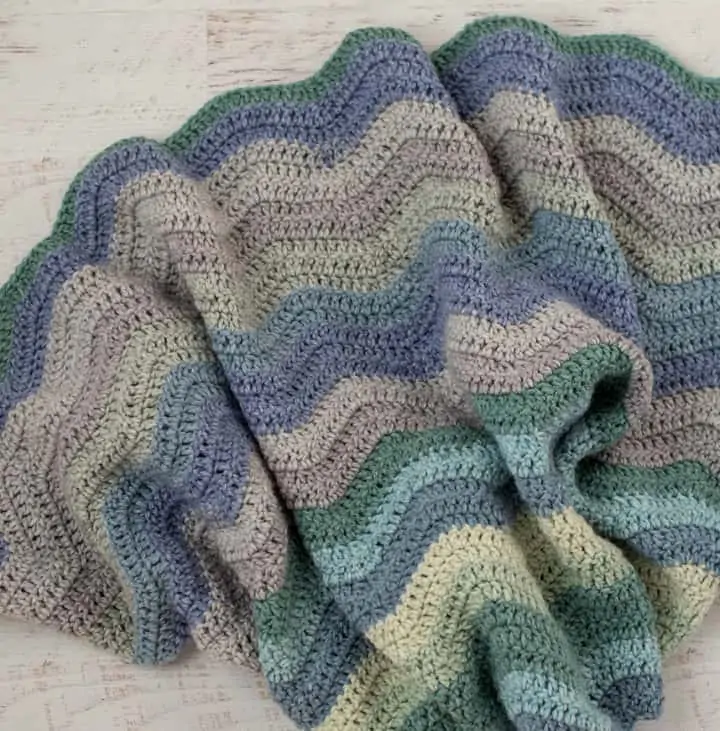 Wistful Wave Crochet Blanket
Here is what you will need:
Materials:
Resources and tutorials you may find helpful in following this pattern: Crochet Abbreviations, US to UK Crochet Conversion Chart.  Find links to stitches on the "Tutorial" menu: Getting Started will show basic stitches used in many patterns and Crochet Stitch Dictionary shows our growing collection of crochet stitch tutorials.  I really like to use the invisible seamless join when finishing pieces that get sewn together.
Size:
You decide!  The stitch pattern is a multiple of 16 + 3 stitches.  So chain any multiple of 16 to start and then ADD 3 stitches to that.

50″ Wide Wave Crochet Blanket:
Chain 179 (or a multiple of 16 + 3 more stitches for preferred width)
R1:  dc in 4th ch from hook, *dc in next 5 ch, [(dc 2 tog) twice], dc in next 5 ch, [(2dc in next ch) twice].  Repeat from * across chain.  End with 2 dc in last chain.  Ch 3 and turn.
R2:  dc in 1st st, *dc in next 5 st, [(dc 2 tog) twice], dc in next 5 st, [(2dc in next stitch) twice].  Repeat from * across row.  End with 2 dc in last st.  Ch 3 and turn.
Repeat row 2 until afghan is 65 inches or desired length.
If using cake yarn, alternate cakes until all 5 cakes are done.  If using scrap yarn, work 2 rows of each color for a striped pattern to get a similar look to the multi-color striped sample.
Finishing the Crochet Wave Afghan:
I prefer wave and chevron style afghans to be finished 'as is' with no added border.  However, you could add a single crochet border, increasing and decreasing to follow the wave pattern on the wavy ends and evenly spacing single crochet stitches on the sides.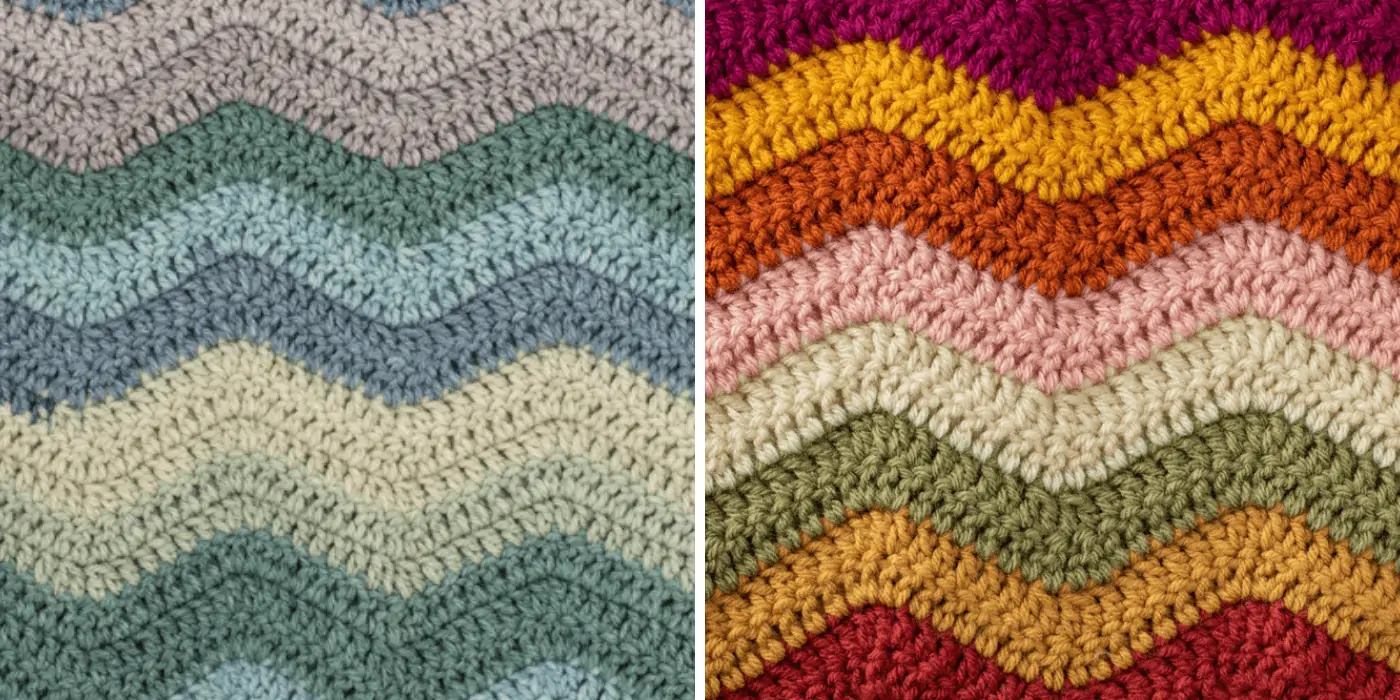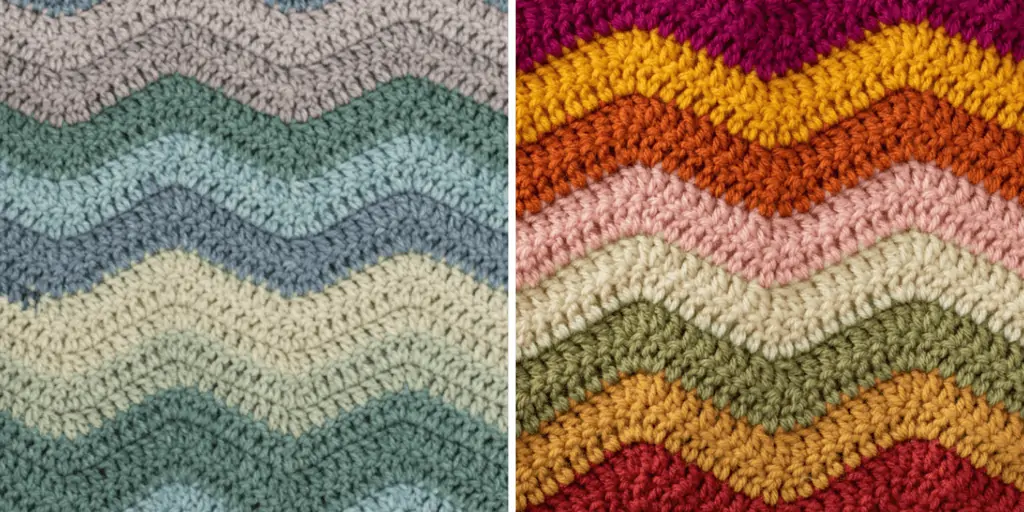 I love seeing your finished projects!  If you enjoyed making the Wistful Wave Crochet Blanket,  I'd love to see yours on Instagram, be sure to tag me @crochet365knittoo.  If you are on Facebook, stop over to the Crochet 365 Knit Too Facebook page or pop over to the Crochet365KnitToo Club and share a photo!  I'd love to see your work!