The Hills and the Hollows: A Chevron Crochet Blanket
This post may contain referral/affiliate links. Please read my disclosure for more info.
You know what might just be the most amazing thing on your hook this season? This incredibly beautiful and easy Chevron Crochet Blanket!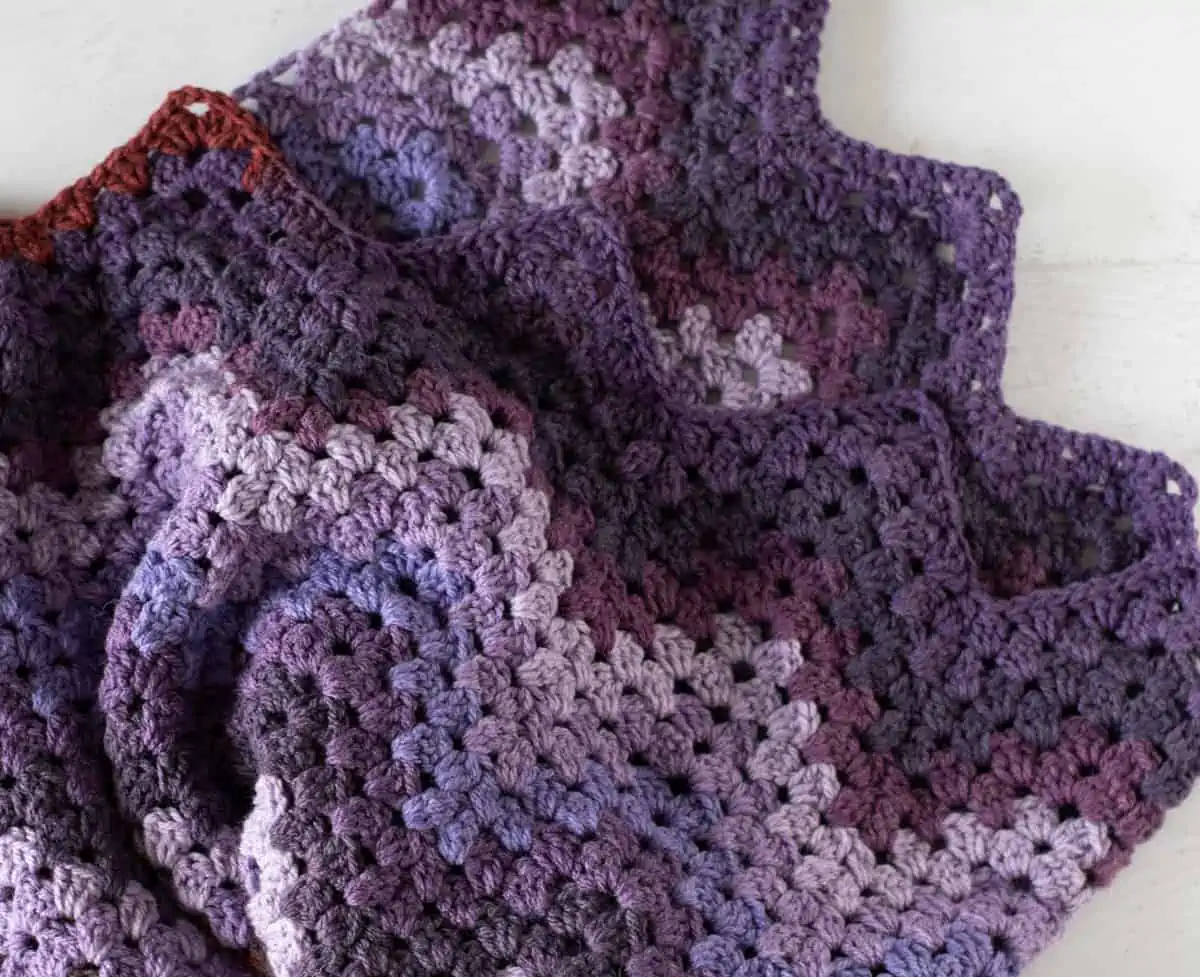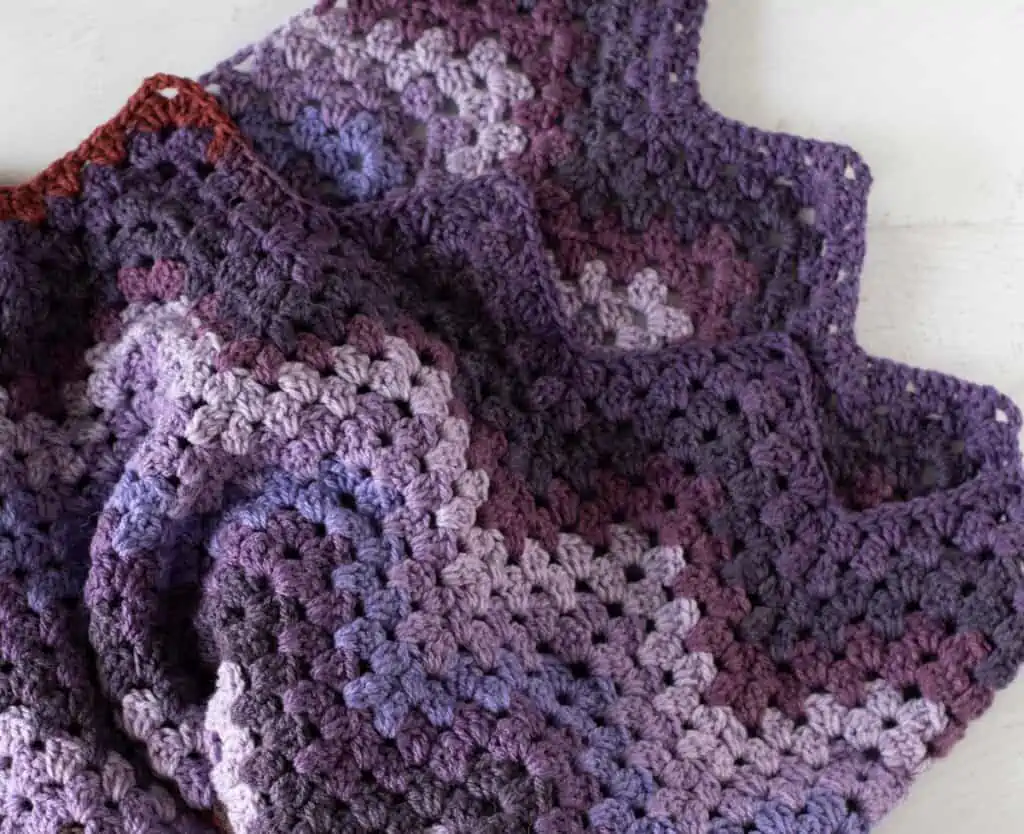 This afghan has everything I adore. A simple repeat for easy mindless crocheting. The marrying up of a granny stitch and a chevron which are quite possibly my two favorite stitches. And story that has all the feels.
The Hills and the Hollows Afghan. That's what I'm calling this little beauty.
Every year as one year ends and another begins, I give to you a little crochet celebration, if you will. An afghan designed to use up scraps.. all those bits and pieces you've accumulated all year that you don't quite know what to do with can now be put to good use in a really fun project!
I purposely design a blanket pattern that just works well with the crazy wild colors that scrap afghans are known for. But also one that works well when it is a little more planned. Maybe you don't have scrap yarn. Or maybe you just want something a little more intentional.
Would you believe this is crochet chevron pattern scrap afghan #5? I introduced my first scrap afghan back when we moved to the country, right as 2018 was transitioning into 2019 and called it the Onward and Upward Scrap Afghan. This pattern uses basic crochet stitches and a wild array of yarn colors and can be easily adapted from a full size afghan or throw blanket size to a crochet baby blanket project.
The next year I was smitten with my purple's again for the Happy Lark Scrap Blanket. This blanket tutorial is a simple stitch repeat too with so many color choices.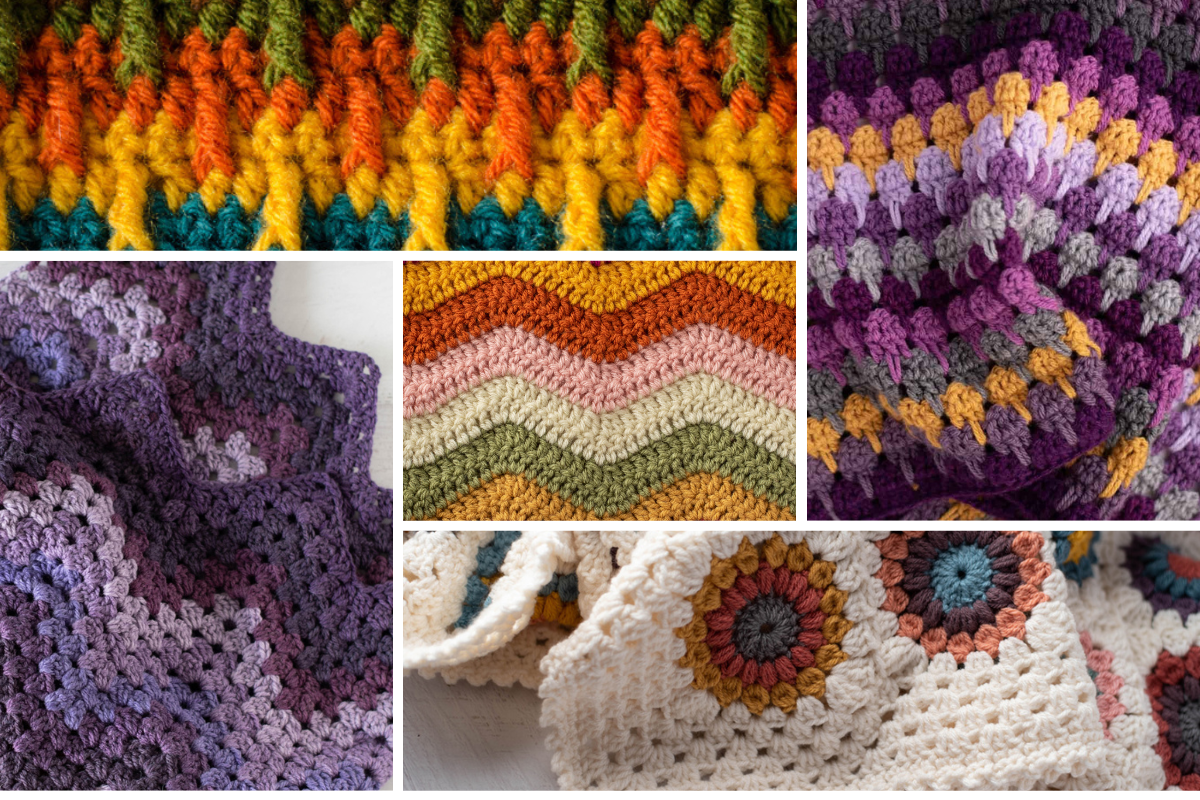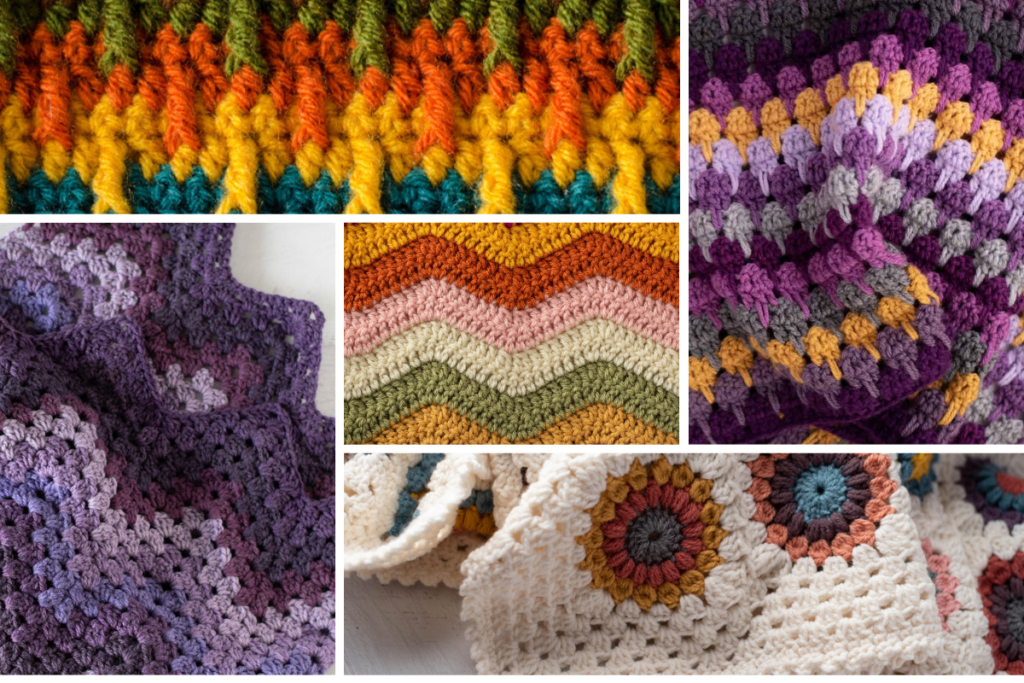 Then we went through the whole 'you know what' illness year and it seemed so fitting to make the Wistful Wave Crochet Blanket in 2 colorways.. a scrappy one and a planned Caron Cake version. This pattern is a crochet ripple chevron throw too, but with a more gentle increase and decrease resembling waves.
Last year was the Bloom Anyway Granny Square Blanket which combined my favorite Sunburst Granny Square with a gorgeous join and border. She was a beauty and my daughter-in-law, the lucky recipient, still adores it!
This year we have this delightful The Hills and the Hollows Afghan.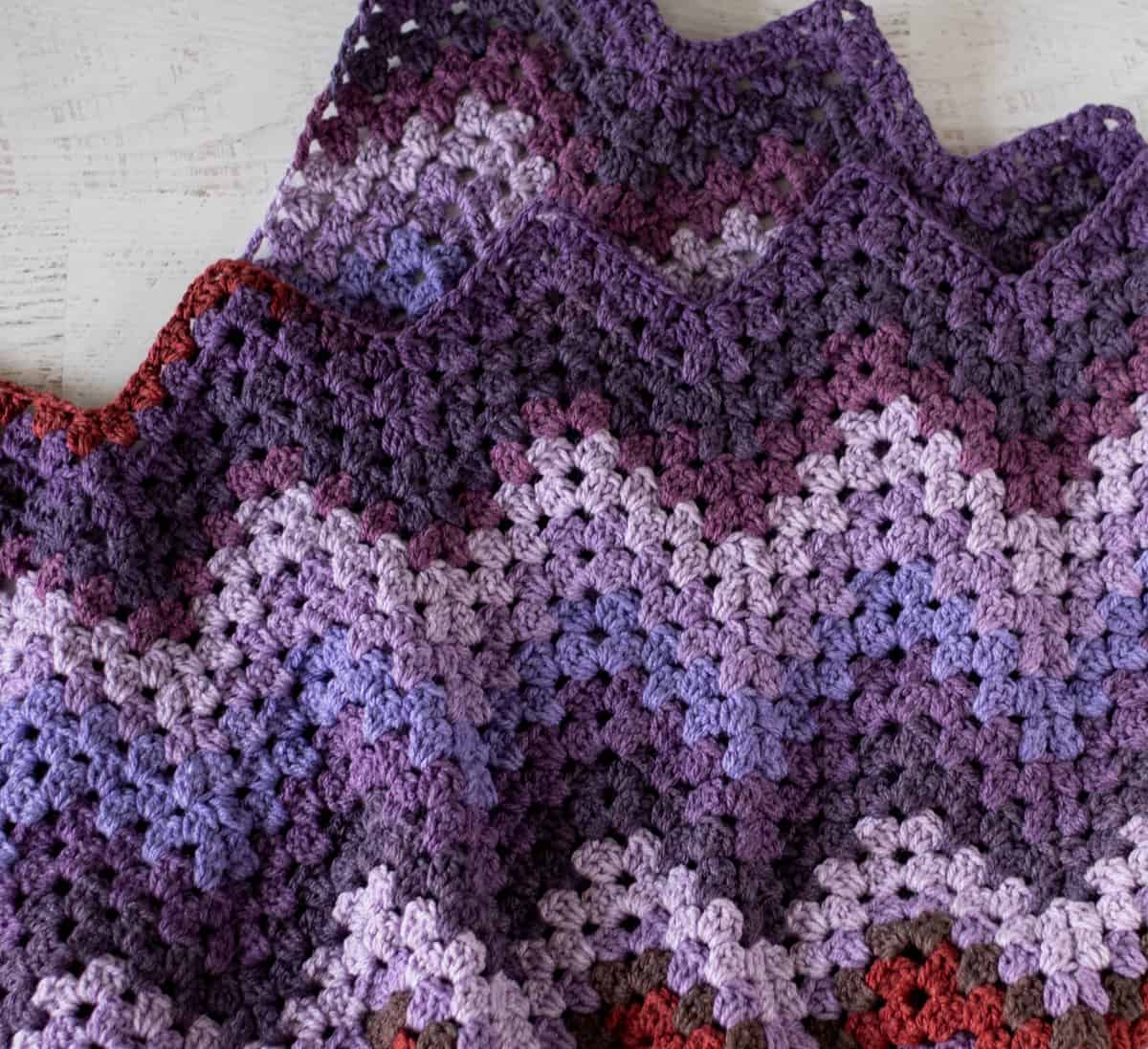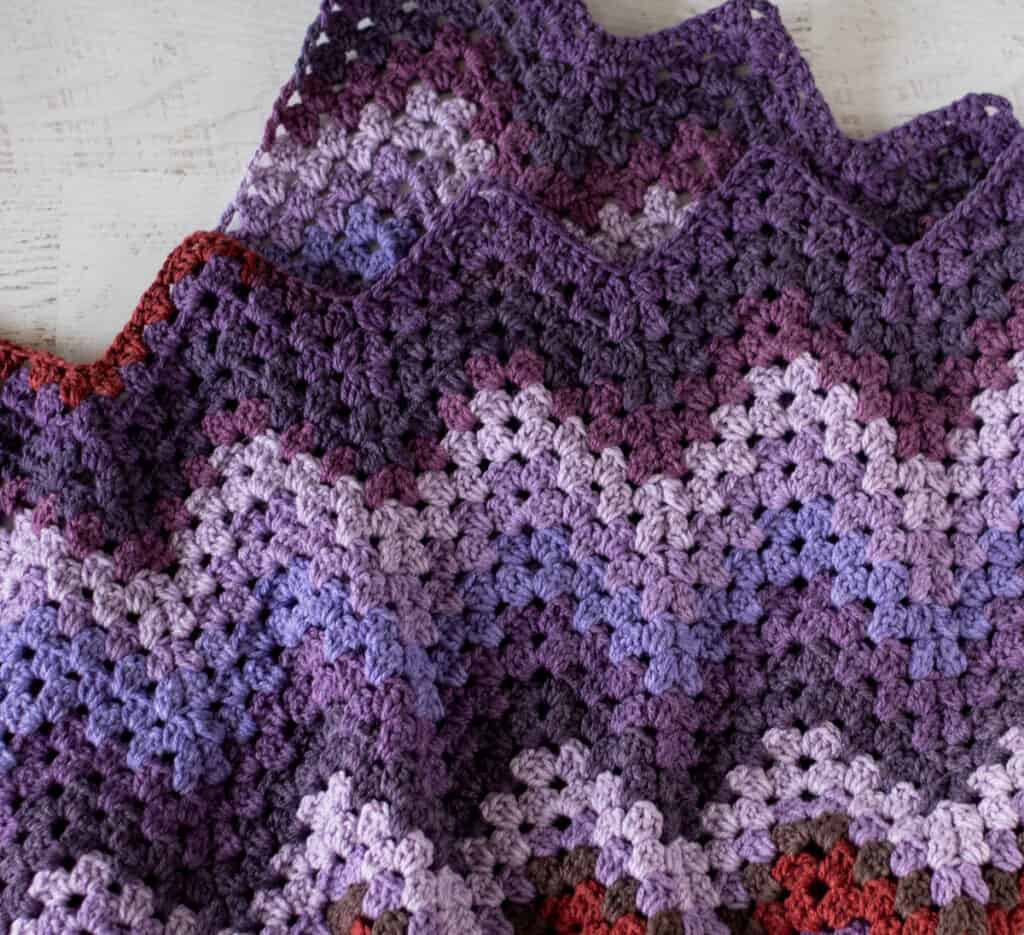 For whatever reason, this year has been one of peaks and valleys. Just life really. Where some things go well and wonderful and other things are challenging.
It reminded me a bit of a trip I took a long, long time ago, when my son was just a little boy.
Somehow in life, I got blessed with not one, but two wonderful women as mother-in-laws. It always strikes me as extraordinary when others aren't so lucky and I adored them both for completely different reasons.
And on that trip so long ago, it was me, Maggie (my first mother in law) and my son who was about 4 years old at the time. Maggie wanted so much to visit her family in Tennessee, but didn't have the means to get there from Michigan. I was in my early 20's, had time off from my job and thought an adventure was in order.
I think that trip changed my life. Because I'm pretty sure the innocent, naive girl who started the drive was not the wiser one who returned. I learned that my heart and mind had the capacity to grow and expand to let another person's life journey get deep into my soul.
And it's all because of the Hills and the Hollows.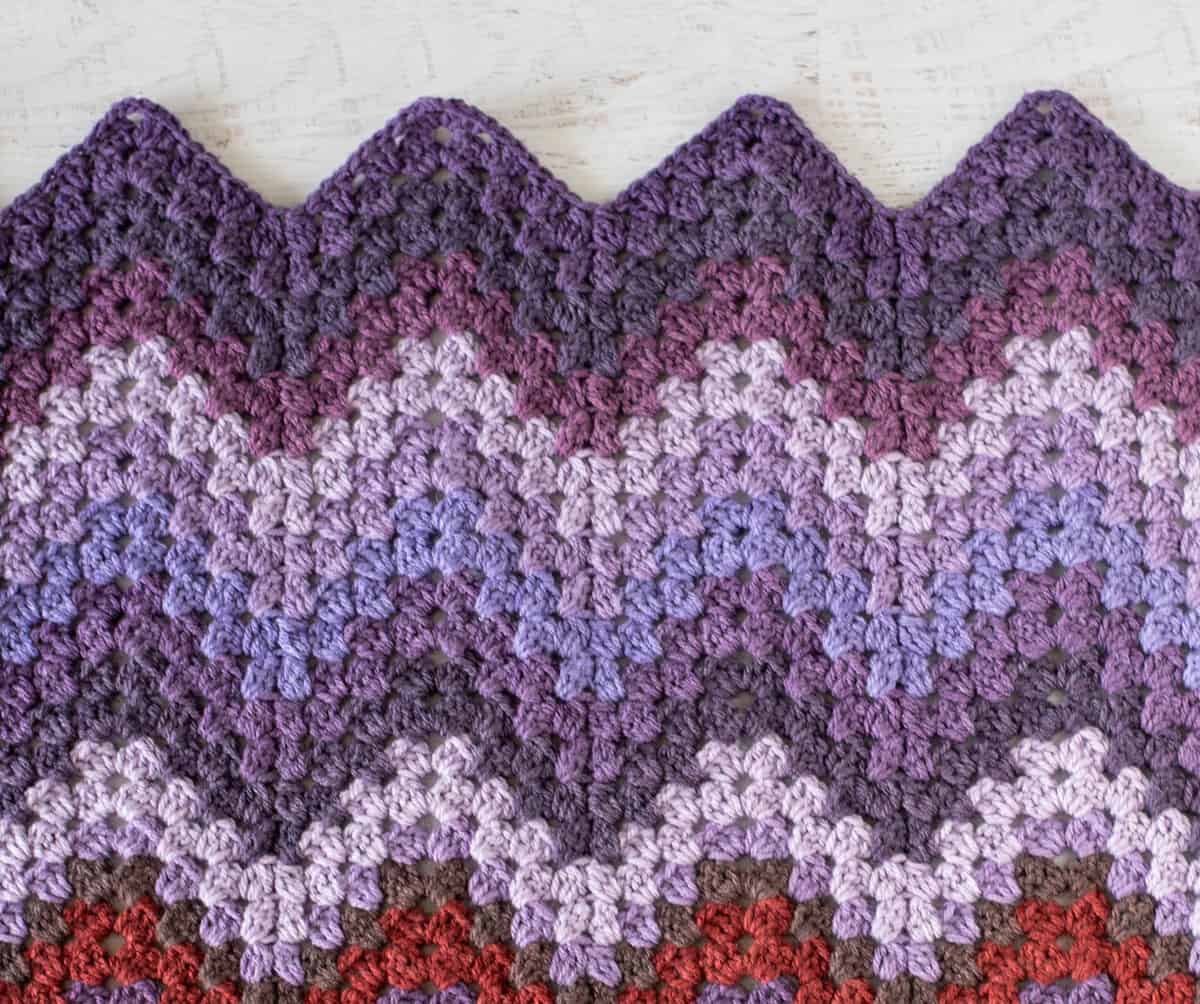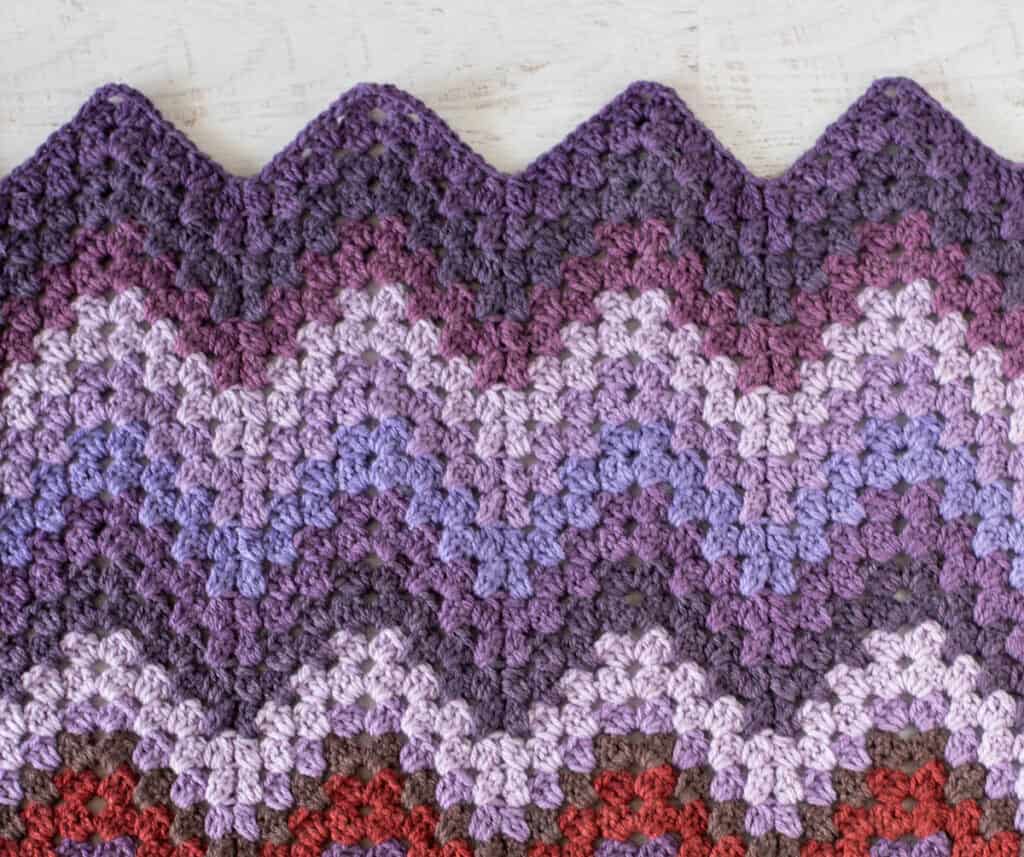 I suppose it started as we got a bit closer to the Tennessee hills Maggie called home. I swear her Southern accent got stronger the further south we drove. And our casual chat while my son slept away in the back seat grew a bit more deep.
She gazed wistfully at the hills. "Let me tell you about the hills and the hollers", she said.
I blinked. Did she say "HOLLERS?" And did she mean "HOLLOWS", I wondered?
She repeated it again and I decided it didn't really matter because I wanted to hear her story.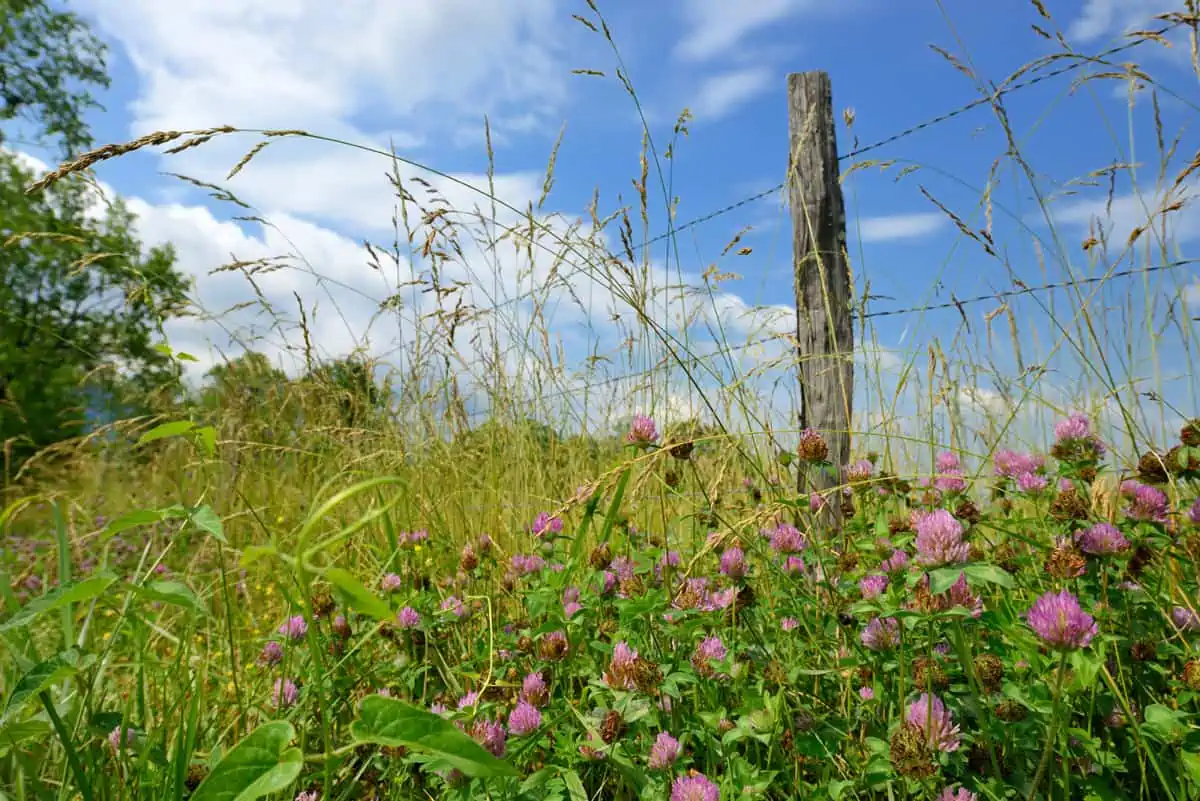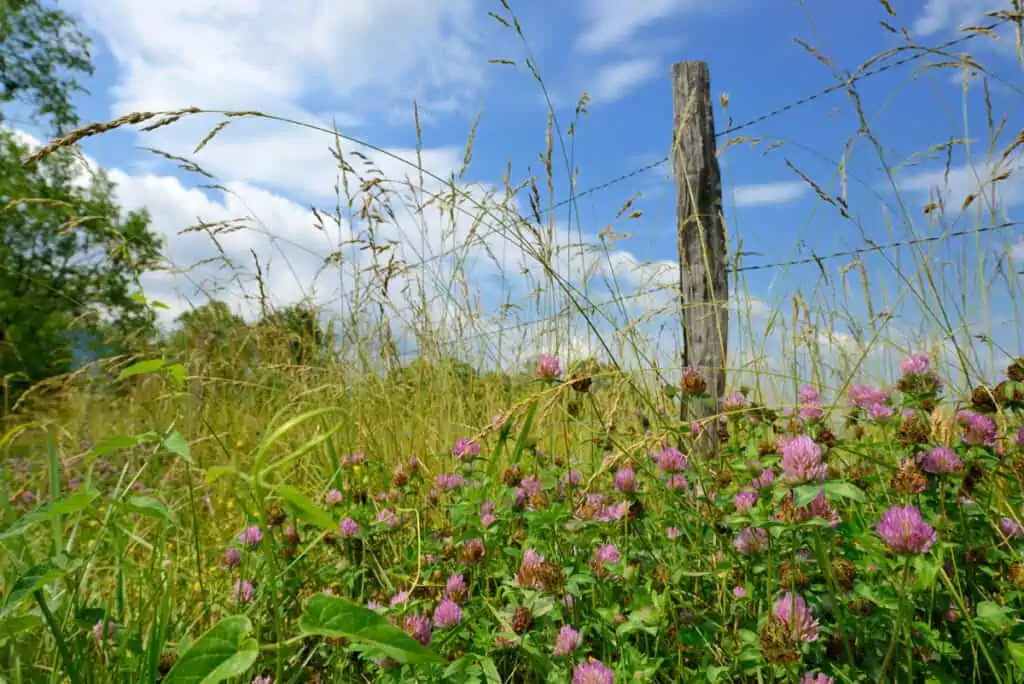 Her story of growing up poor in the hills and the hollows. A mother who loved her. One brother she adored and another she tolerated. A horribly abusive father in every way you can imagine. A hard life.
And traumatic, terrible things.
Her mother, bruised and broken, forced to leave her children on foot out of the backwoods, to save her own life. The story paused here for a bit as Maggie explained the how and why and the good that came of that in the end.
A bad hunting tragedy.. and my mind expanded again trying to understand how children could possibly go hunting alone. My eyes filled with tears as I felt how Maggie felt as she lost the brother she adored.
There were some bad things after that, but ultimately good when the kind, wise people in town found a foster home for Maggie (then a teen) and she knew the kind of love she deserved in a healthy family.
Later she fell in love with the son of the foster parents. He loved her back. But Maggie felt he was too good and she was too battered and broken after all she'd been through. So she married someone else and set up her one true love with her friend instead.
Maggie's mother, meanwhile, met a kind, soft spoken man and had three more children, who had grown up with families of their own. And just as Maggie was reunited and welcomed into that family, they welcomed me into theirs. Making space in their hearts and their home for someone different than themselves that they loved before they even really knew them at all.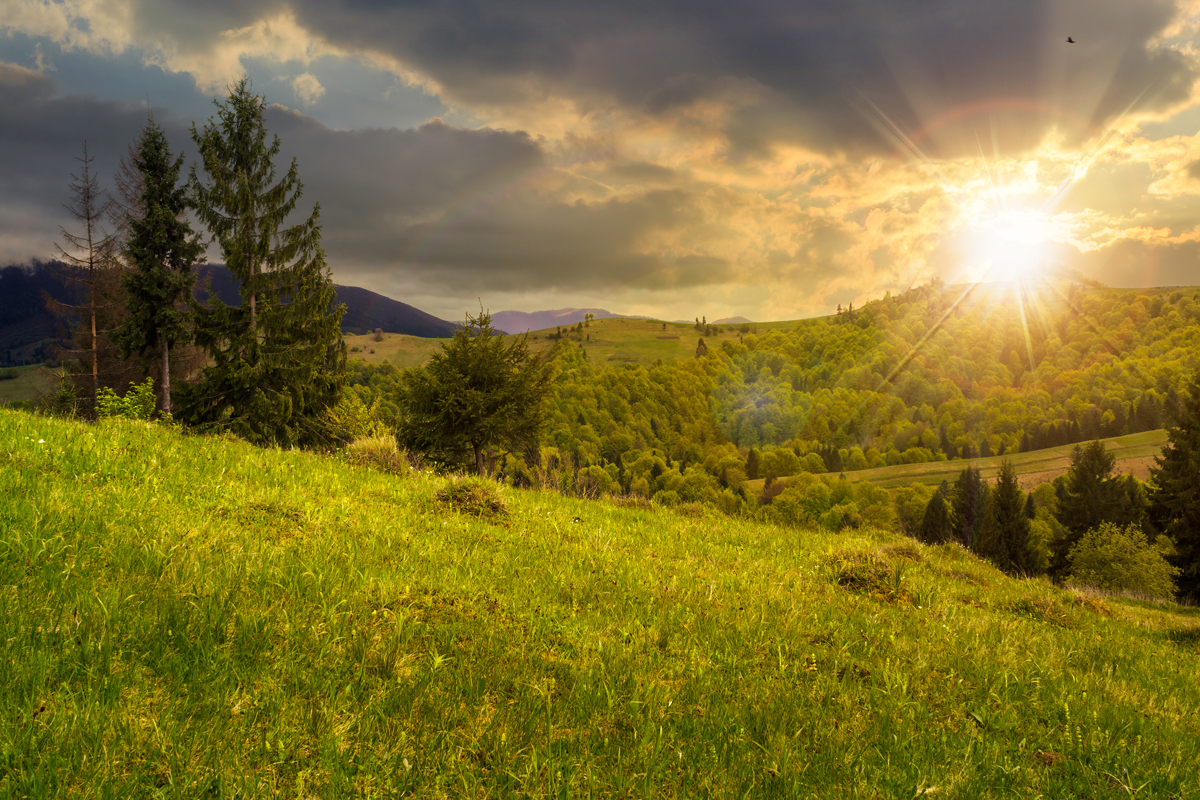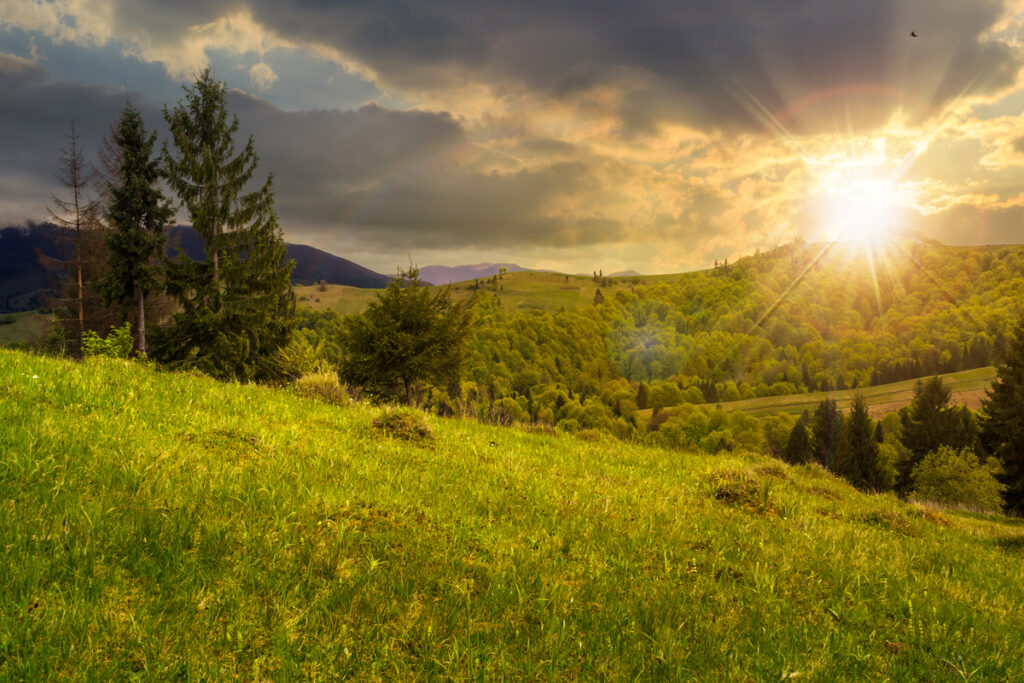 It's the hills and the hollows (or the hollers if you prefer). The ups and downs of life. The sweet times that are treasured even more when you've experienced the unsavory parts of life too.
I think we all have them.. these hills and hollows. Maybe we don't always know or understand each other completely, but we can bond through the things we share.. like crochet. And through these bits of string flowing through our fingers and our hook we can open our hearts and our minds and connect in a way that you can't even say out loud sometimes.
I love that about crochet.
And I love that about The Hills and the Hollows Chevron Crochet Blanket too! Let's talk a little bit more about this lovely bit of goodness before we dive into the pattern.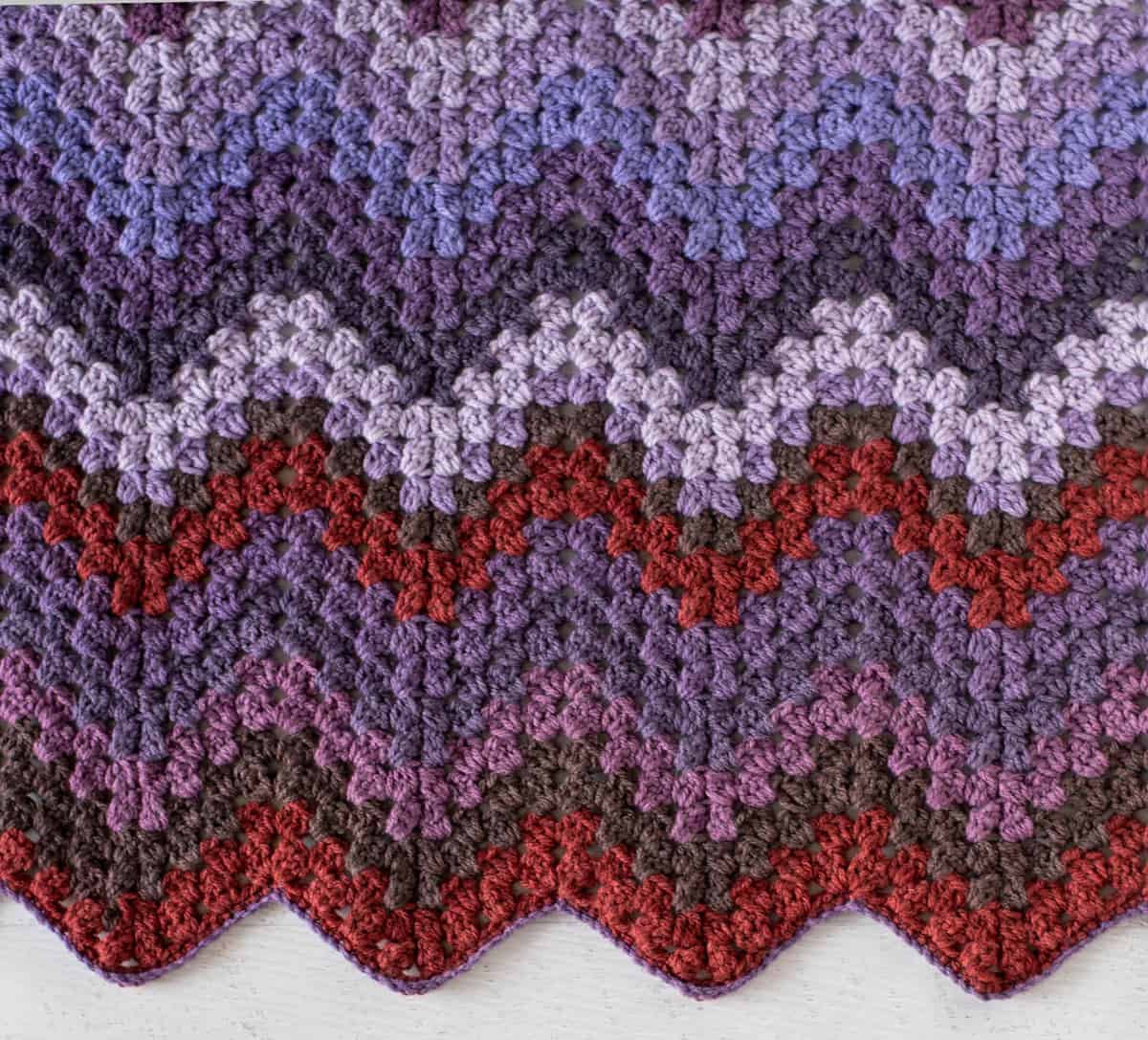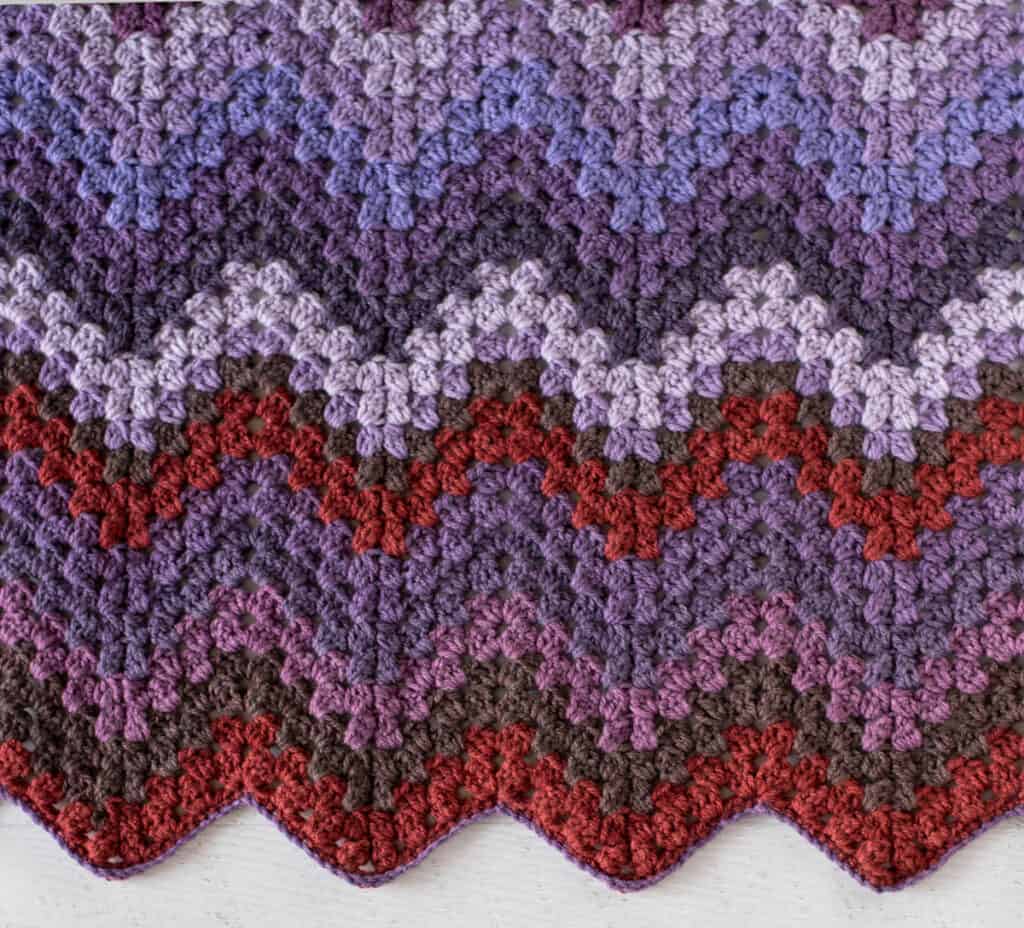 If you've been with me for a bit, you know that I have a secret little love affair with the original Caron Cake yarn. I love the mix of wool and acrylic fiber that makes it flow through my fingers. And I adore the long changes in color, which is perfect for an afghan such as this one.
I also am a huge fan of mixing 2 color ways of Caron Cake yarn. I first did this in my Fields and Furrows Afghan and this time around, I'm playing with my favorite purple color ways: Blackberry Mousse and Bumbleberry.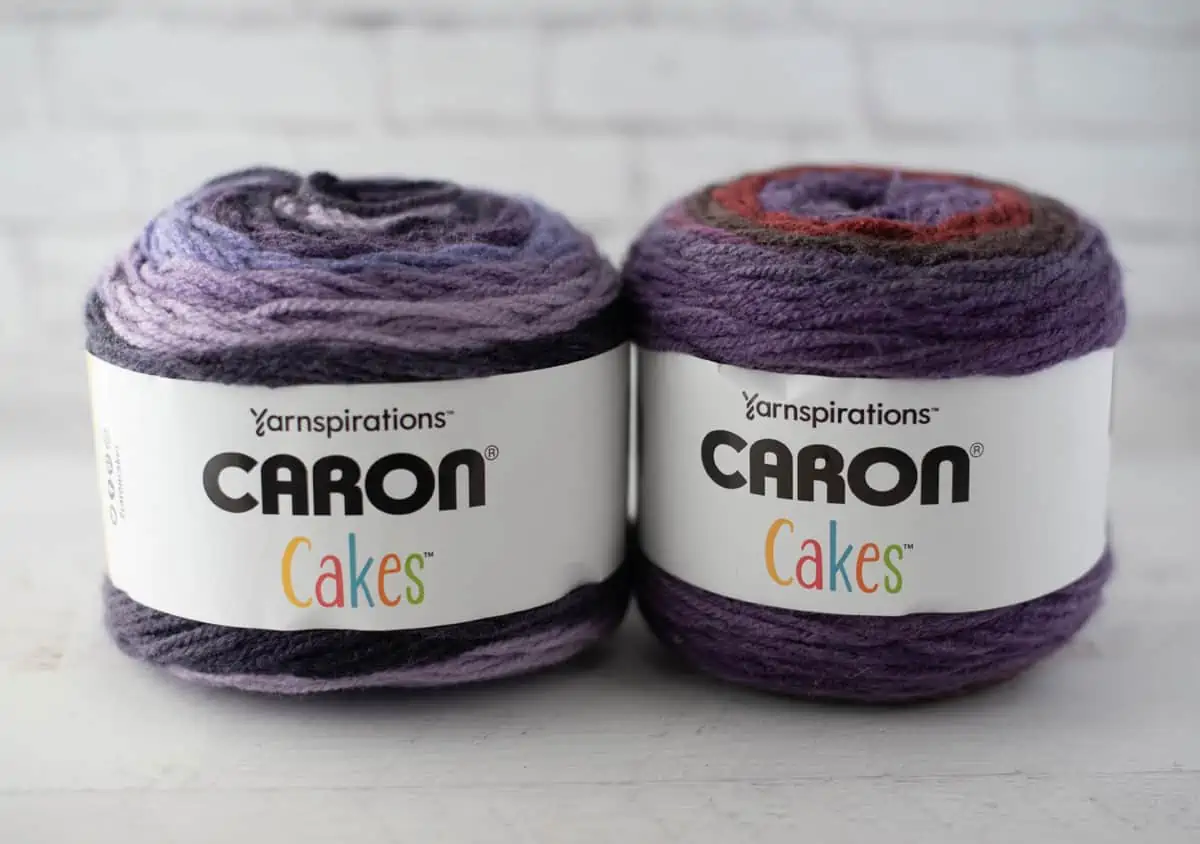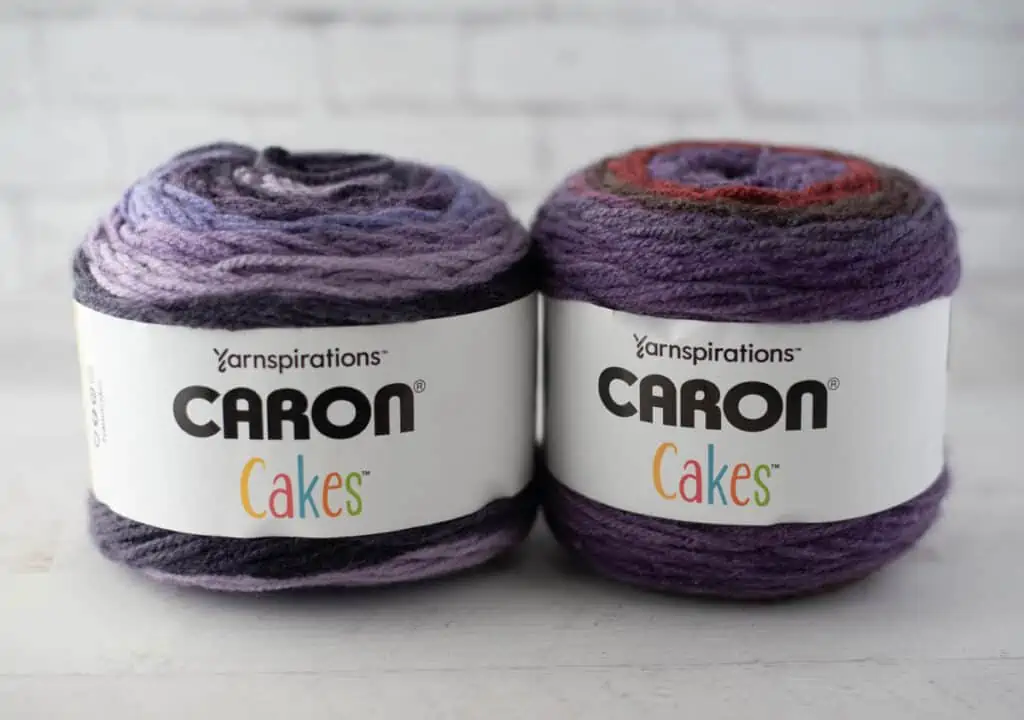 I let the color changes happen as they fall, so if you look closely you might see color change mid-row. But that's ok, because it's part of the beauty of this design.
If you want to try mixing 2 Caron Cakes yourself, it is really easy. Just look for a common color in both color ways and pick 3 of one and 2 of the other. They'll look amazing together!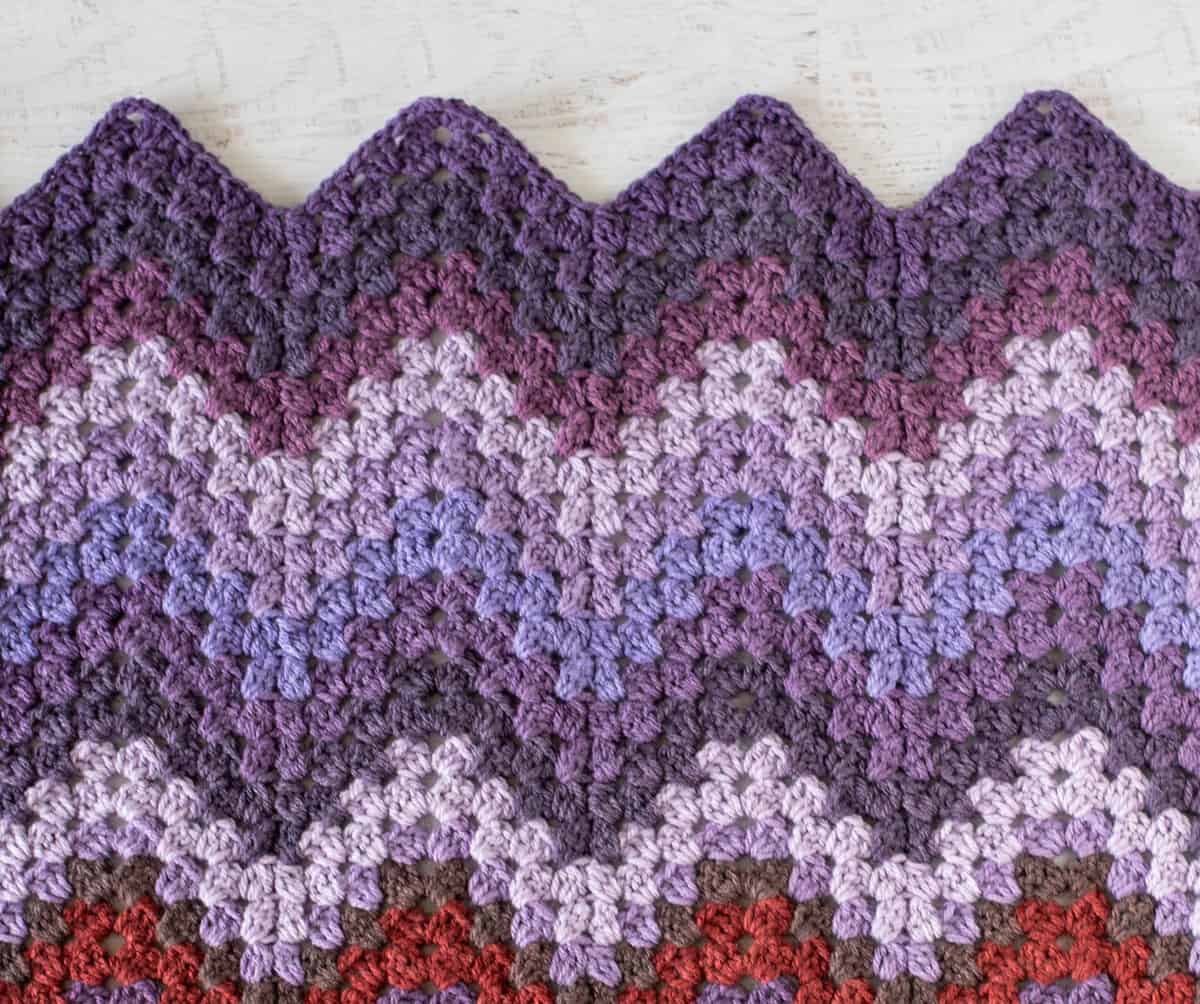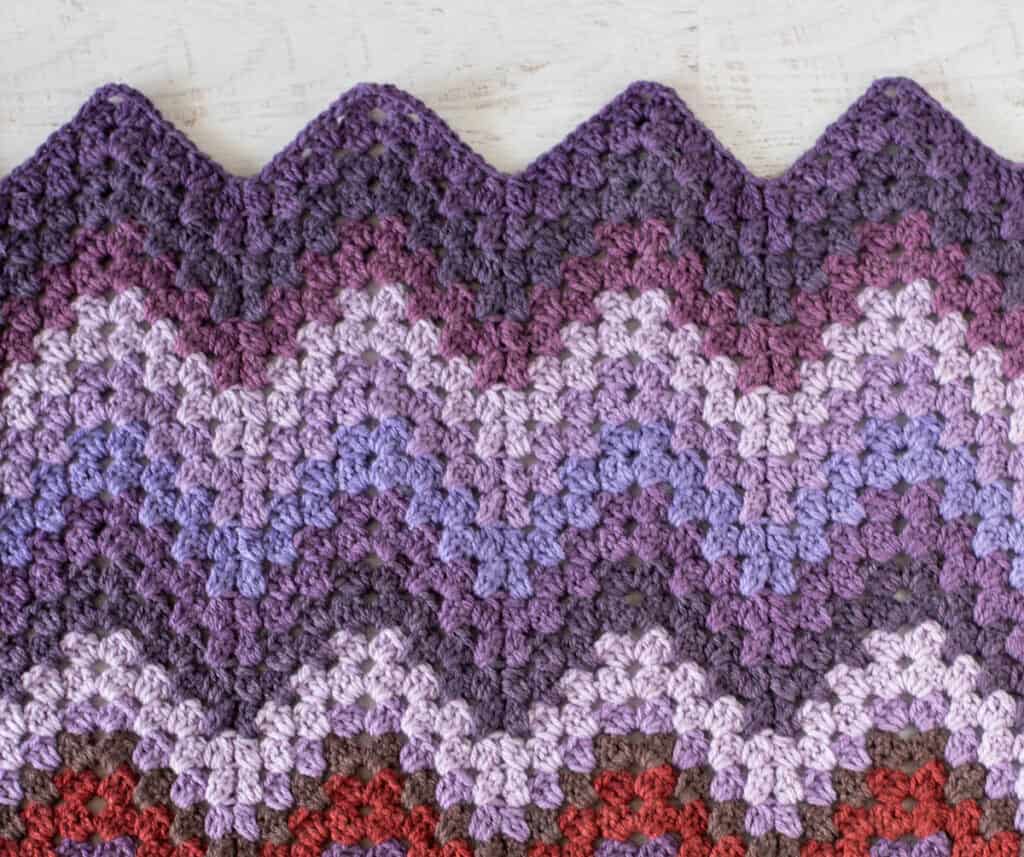 Chevron Granny Crochet Blanket
Here is what you will need:
US H 8/5.00 mm crochet hook (these are my absolute favorite hooks I recommend to everyone!)
Worsted weight yarn. Pattern is adjustable for other weight yarns, but it is best to be consistent (use all one type of yarn). My lap afghan sized blanket alternated 3 cakes of Caron Cakes in Blackberry Mousse with 2 cakes in Bumbleberry.
Resources and tutorials you may find helpful in following this pattern: Crochet Abbreviations, US to UK Crochet Conversion Chart. Find links to stitches on the "Tutorial" menu: Getting Started will show basic stitches such as chain stitch, single crochet and slip stitch used in this pattern and Crochet Stitch Dictionary shows our growing collection of crochet stitch tutorials.
Granny Chevron Crochet Blanket Size:
Size will vary dependent on yarn weight used and desired size. I worked a lap afghan with 5 Caron Cakes and my finished blanket measures 49″ wide by 52″ tall.
However you can make your chevron crochet design a variety sizes with any size yarn from a chunky crochet blanket with chunky yarn to a baby afghan with lightweight yarn.
Special Stitches
CL: In the next stitch or space work 3 partial double crochet stitches, keeping the last loop of each stitch on the hook. Then, yarn over and draw through all 4 loops on hook. One cluster stitch (CL) made.
Chevron Crochet Afghan:
For a 49" Wide Lap Afghan, using Worsted Weight and a H hook:
Chain 186 (or a multiple of 23 + 2 more stitches for preferred width)
R1: sc in 2nd chain from hook, sc into each chain, turn
R2: Ch 3, skip first 3 st, (3 dc into next st, skip next 2 st) three times. (3 dc, ch 3, 3 dc) in next st, * (skip next 2 st, 3 dc into next st) twice, skip next 2 st, CL into next st, skip next 4 st, CL into next st, (skip next 2 st, 3 dc into next st) twice, skip next 2 st, (3 dc, ch 3, 3 dc) into next st. Repeat from * to last 12 st, then skip next 2 st, (3 dc into next st, skip next 2 stiches) three times, dc into last st, turn.
R3: Ch 3, skip space between turning chain and next group of 3-dc stitches, 3 dc into each of the next 3 spaces, (3 dc, ch 3, 3 dc) into next ch-3 space. *3 dc into each of the next 2 spaces, CL into the next space, skip space between clusters, then CL into next space, 3 dc into each of the next 2 spaces (3 dc, ch 3, 3 dc) into next ch-3 space. Repeat from * to last 4 spaces, then 3 dc into each of the next 3 spaces, 1 dc into space between last 3 dc group and turning chain, turn
Repeat row 3 until afghan is 52 inches or desired length.
If using cake yarn, alternate cakes until all 5 cakes are done.
If using scrap yarn, work 1 or 2 rows of each color for a striped pattern.
Step By Step Granny Chevron Crochet Blanket
While the steps for each row may seem a little complicated in text form, this pattern is very easy to memorize. So I thought I'd do a little tour with me as a I work a row.
To start a row, you chain 3 and then work 3 double crochet stitches into the next available space. Note that the chain 3 forms the side of the blanket.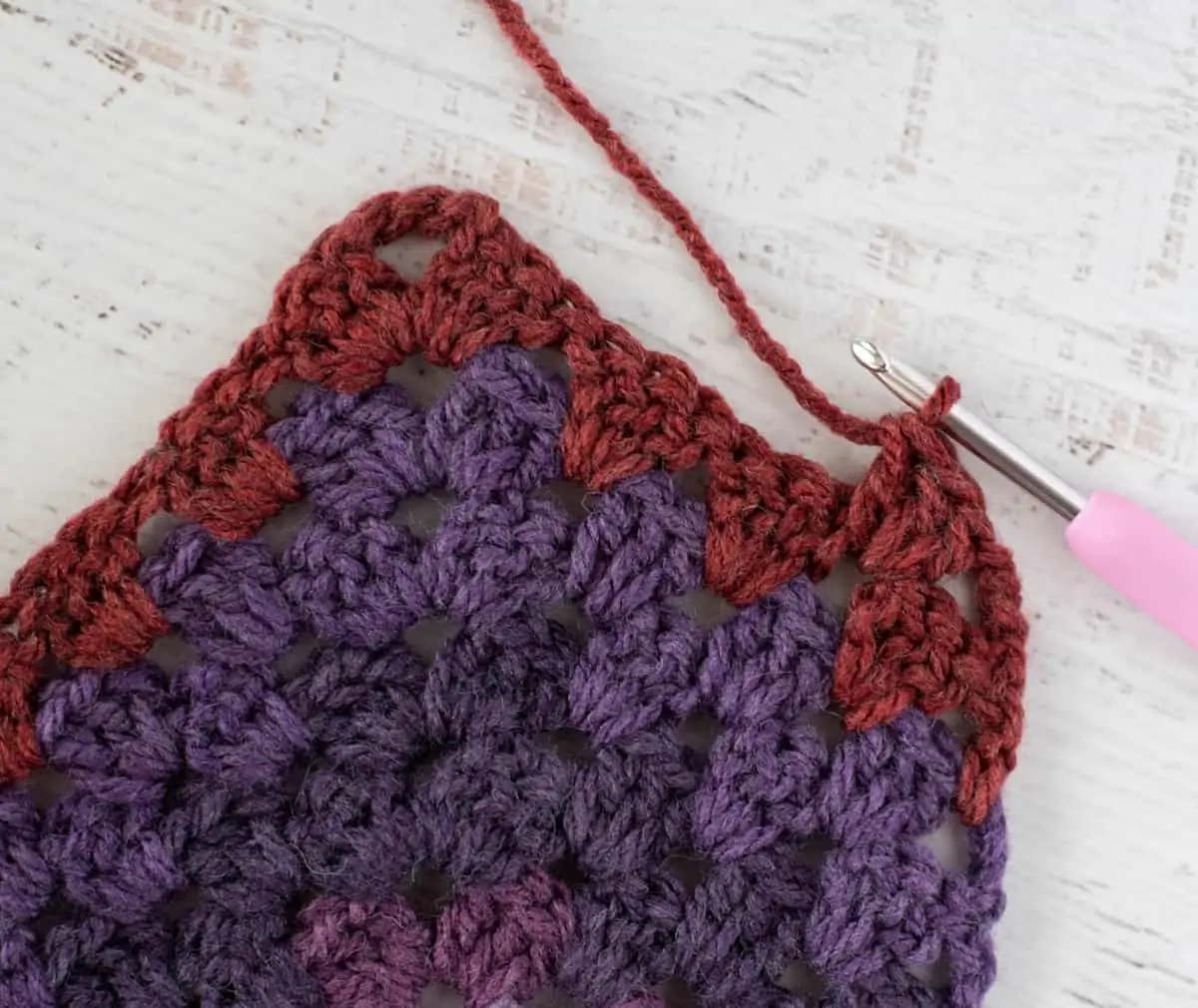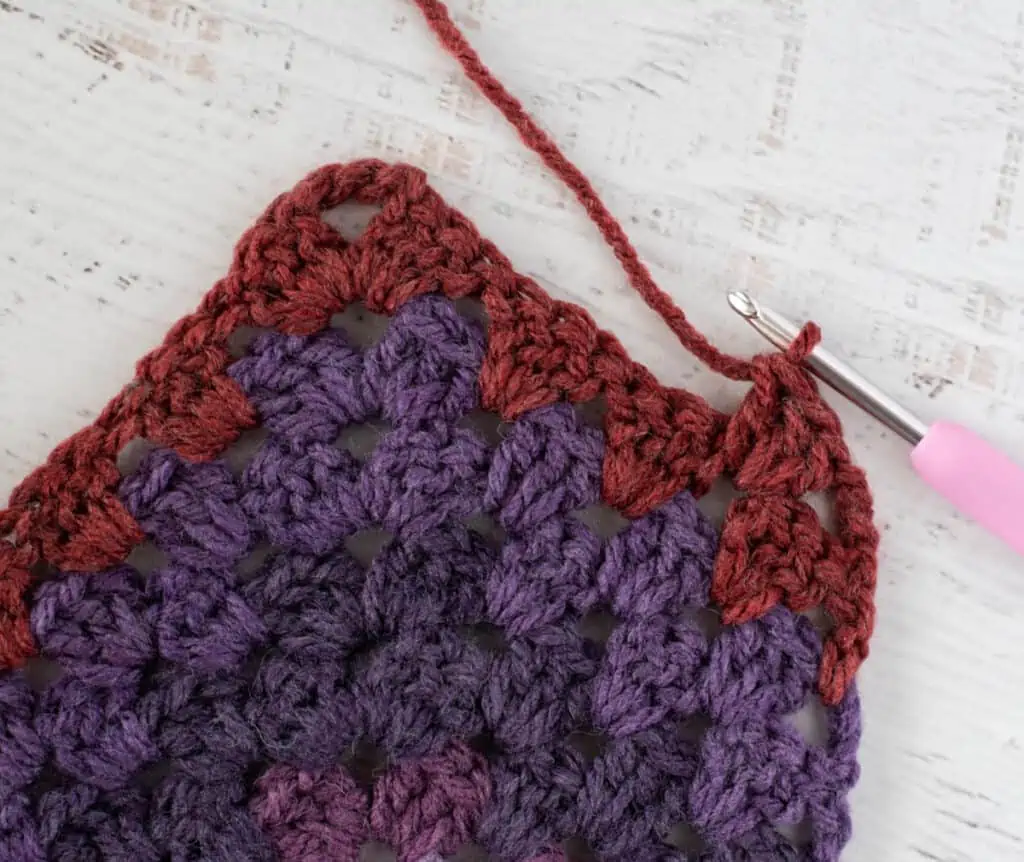 Continue to work 3 double crochet stitches until you come to the top peak space. In that space work 3 double crochet, then chain 3, then 3 more double crochet. Note that all the peaks are worked into the peak from the prior row. Also notice that this peak has a chain 3, which is different from a traditional granny square that works a fewer number of chains into a corner.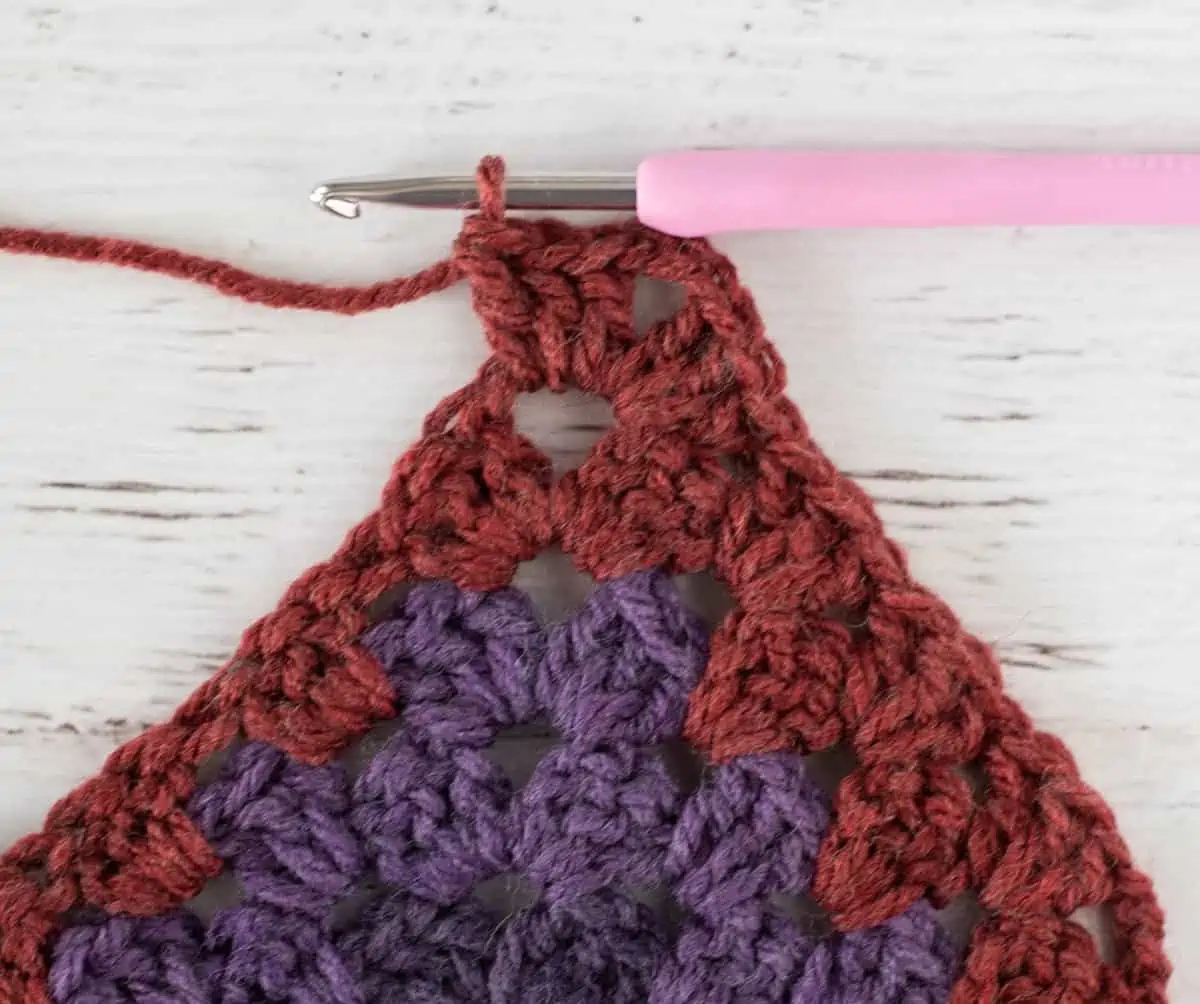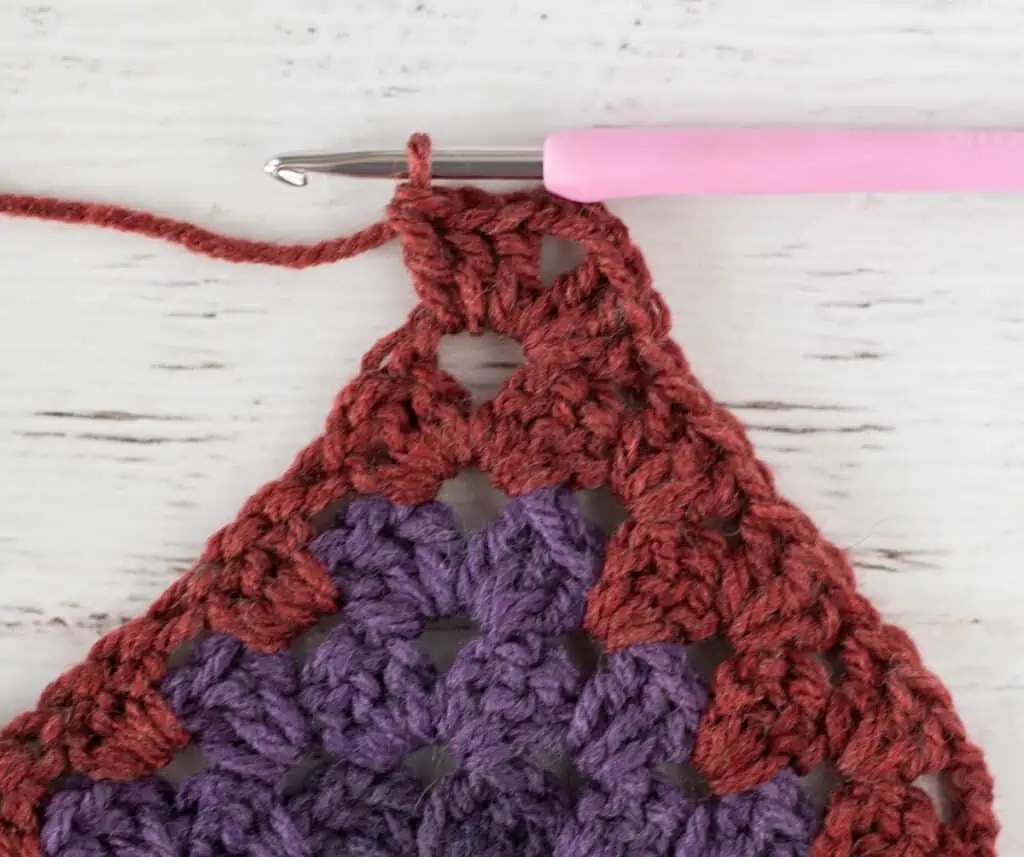 After the peak, work 3 double crochet stitches until you come to the first cluster from the row below in the "valley". Here you work a cluster stitch, which is basically a 3 double crochet decrease in the space, or to word it another way, work 3 incomplete double crochet stitches, leaving the last stitch on the hook.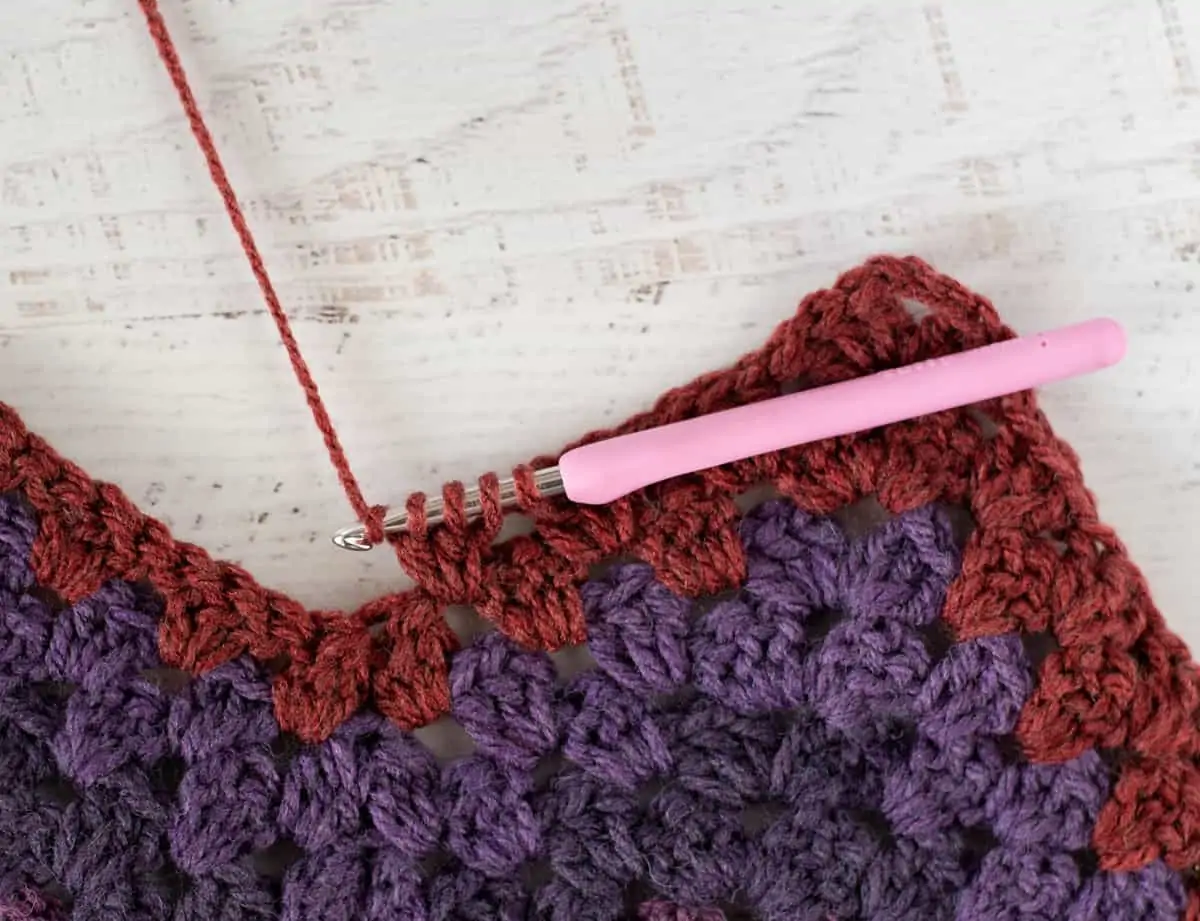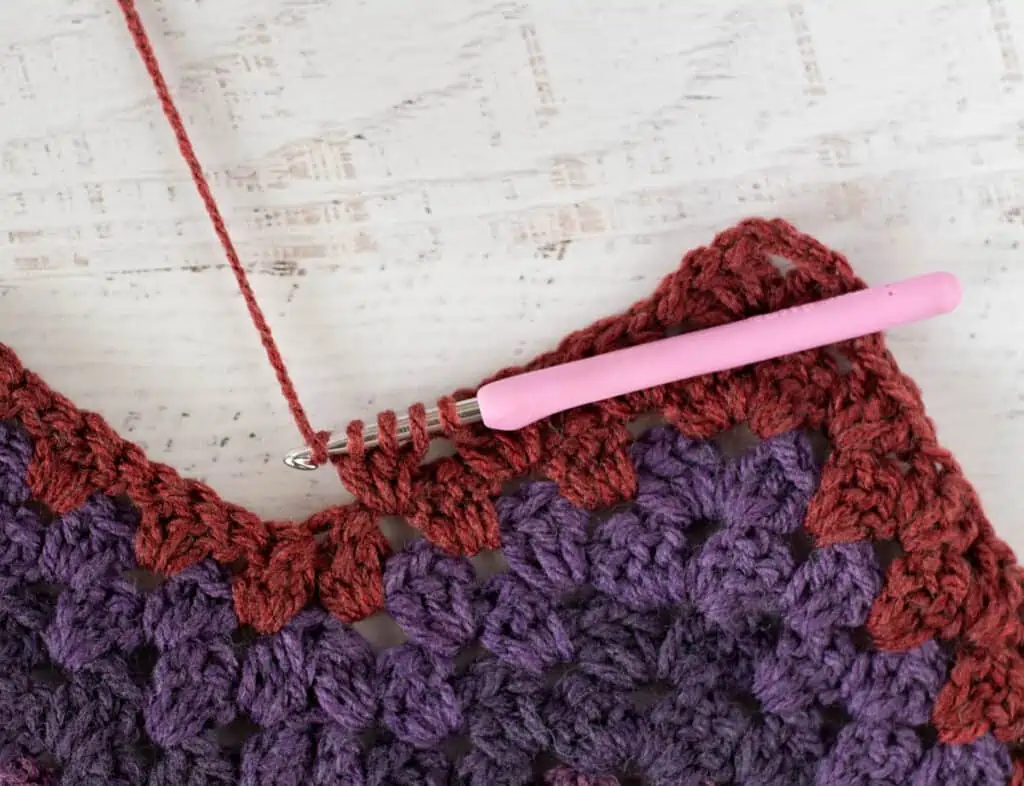 Pull the yarn through all 4 stitches and the cluster stitch is made!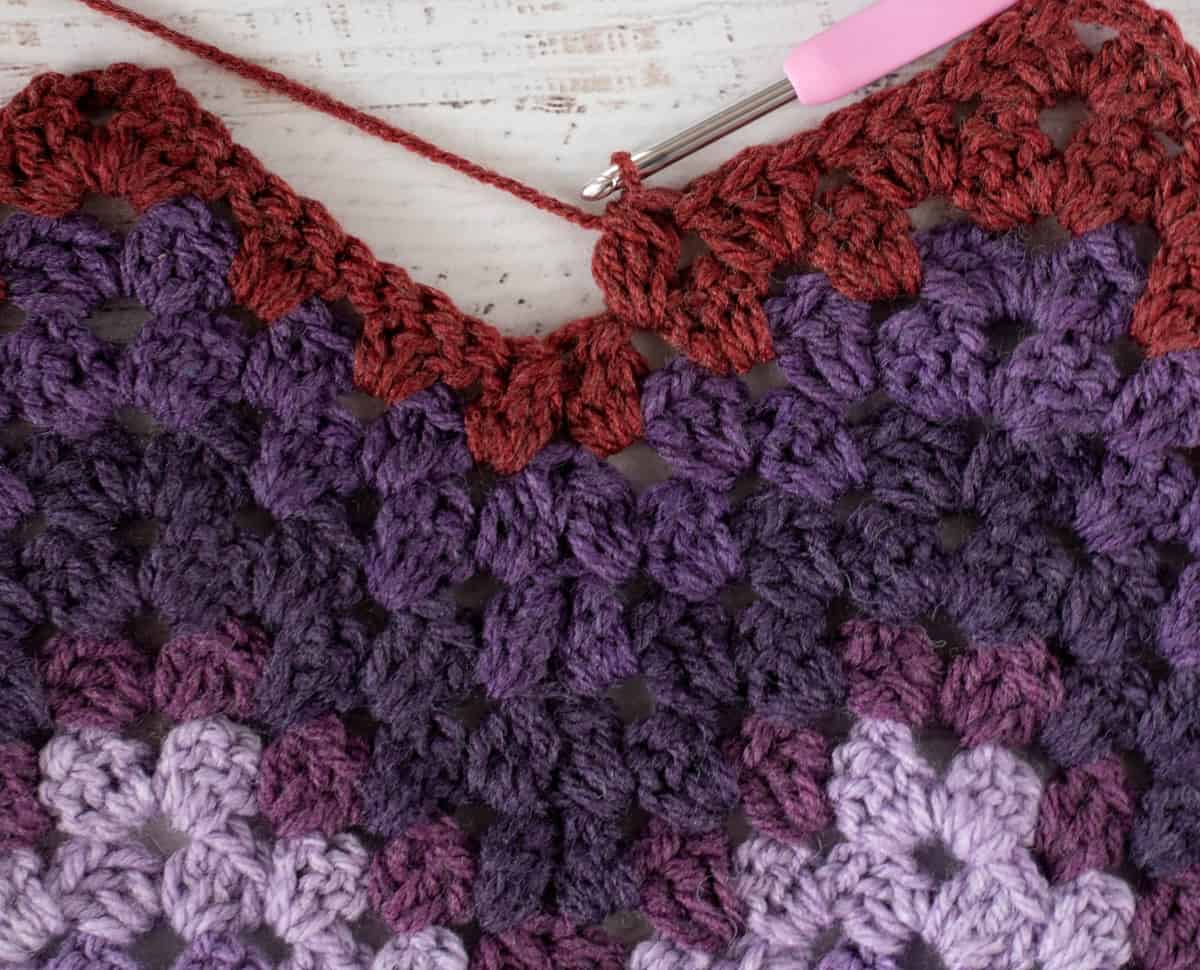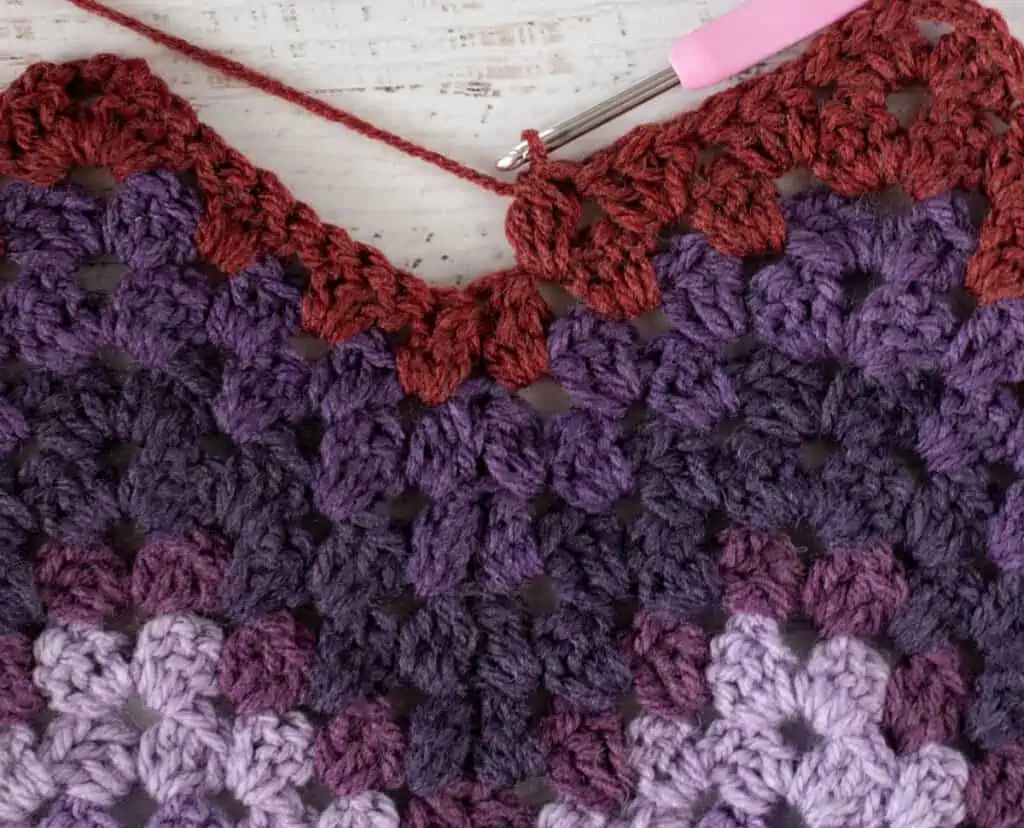 Now its time to make the 2nd cluster stitch. Skip the cluster stitches from the row below and then work a 2nd cluster stitch in the following space. The two cluster stitches are what pulls the chevron in at the 'valley'.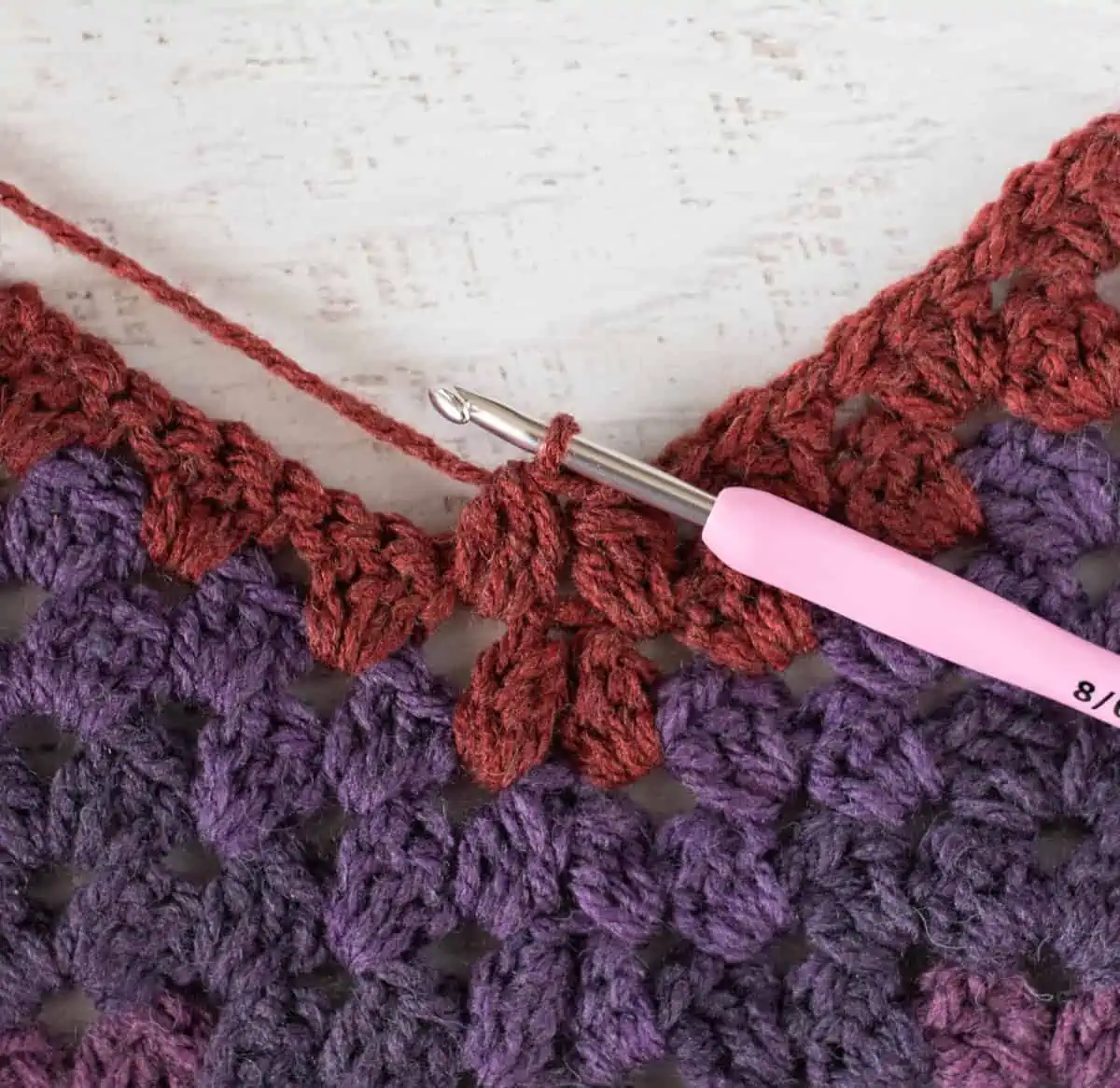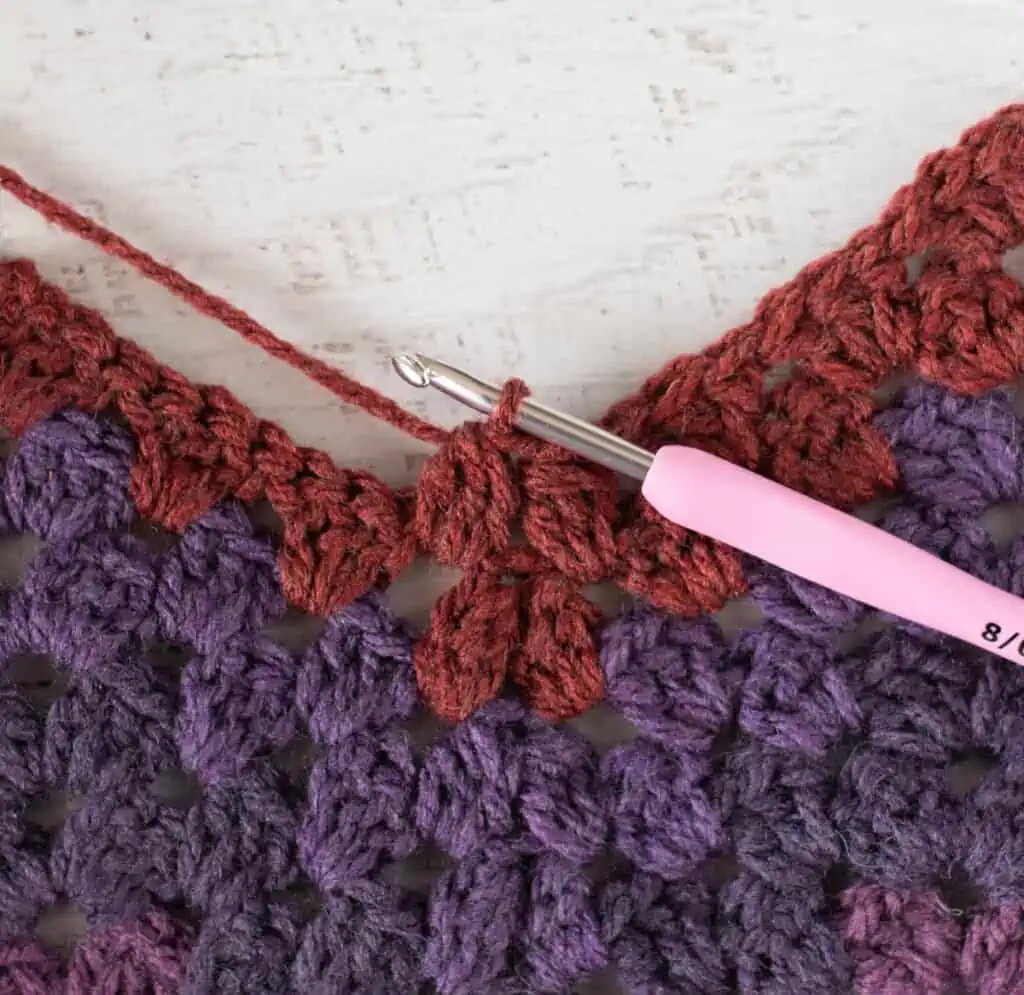 Then it is just a matter of repeating the steps across the row.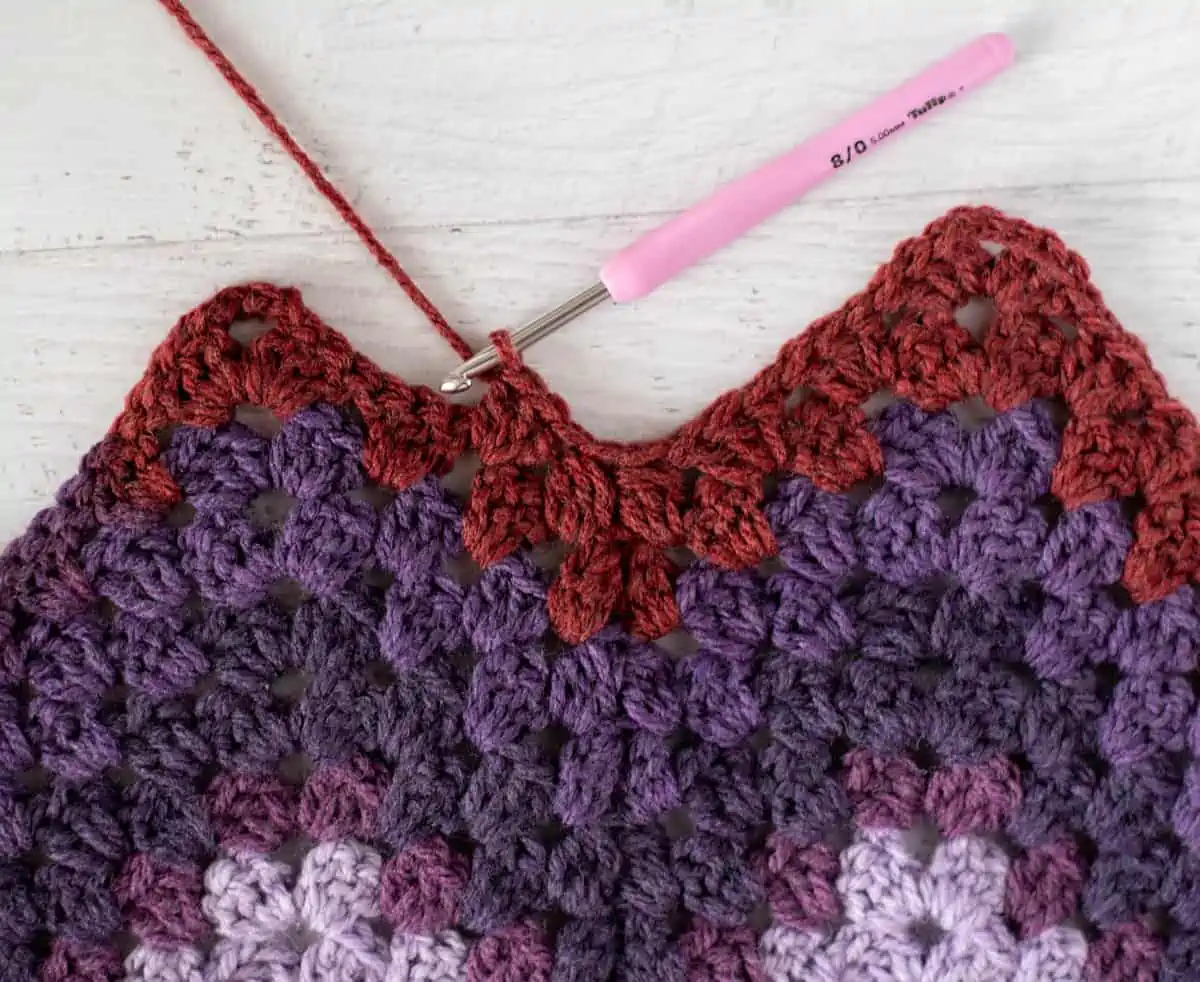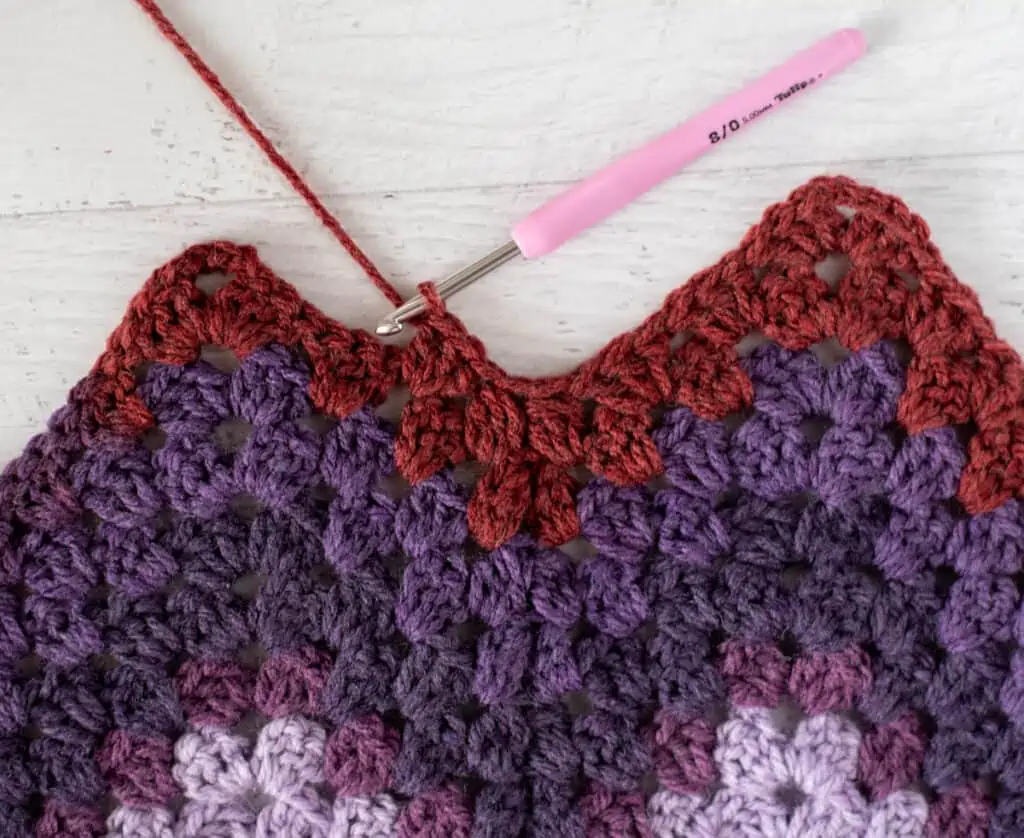 When you come to the very end of the row, you work one double crochet into the very last space in the row (which is right between the last group of 3-double crochets and the starting chain of the prior row).
Weaving in Ends
Weave in ends. If making a scrap afghan with multi color rows, there will be a lot of ends so you might want to do this every so often so it's less of a task at the end of the afghan.
Finishing and Options
I prefer wave and chevron style afghans to be finished 'as is' with no added border. However, you could add a single crochet border, increasing and decreasing to follow the chevron pattern on the wavy ends and evenly spacing single crochet stitches on the sides.
You might be wondering… since we started the afghan with a row of single crochet, should we end with one too? That is really up to personal preference. I do not think it needs it. That first row of single crochet provides some stability to the work before the chevron is started; if worked in the chain it would pull this way and that.
I think the afghan looks just fine without a final row of single crochet or a border. But, of course, this is your scrap afghan and it is up to you
Free Printable Version of this Chevron Crochet Blanket
Want a free printable of this pattern? You're in luck! All my annual scrap afghan patterns are in my crochet vault along with a lot of other bits of goodness like a crochet journal and stitch dictionary. To get yours, sign up for my email list on the form below!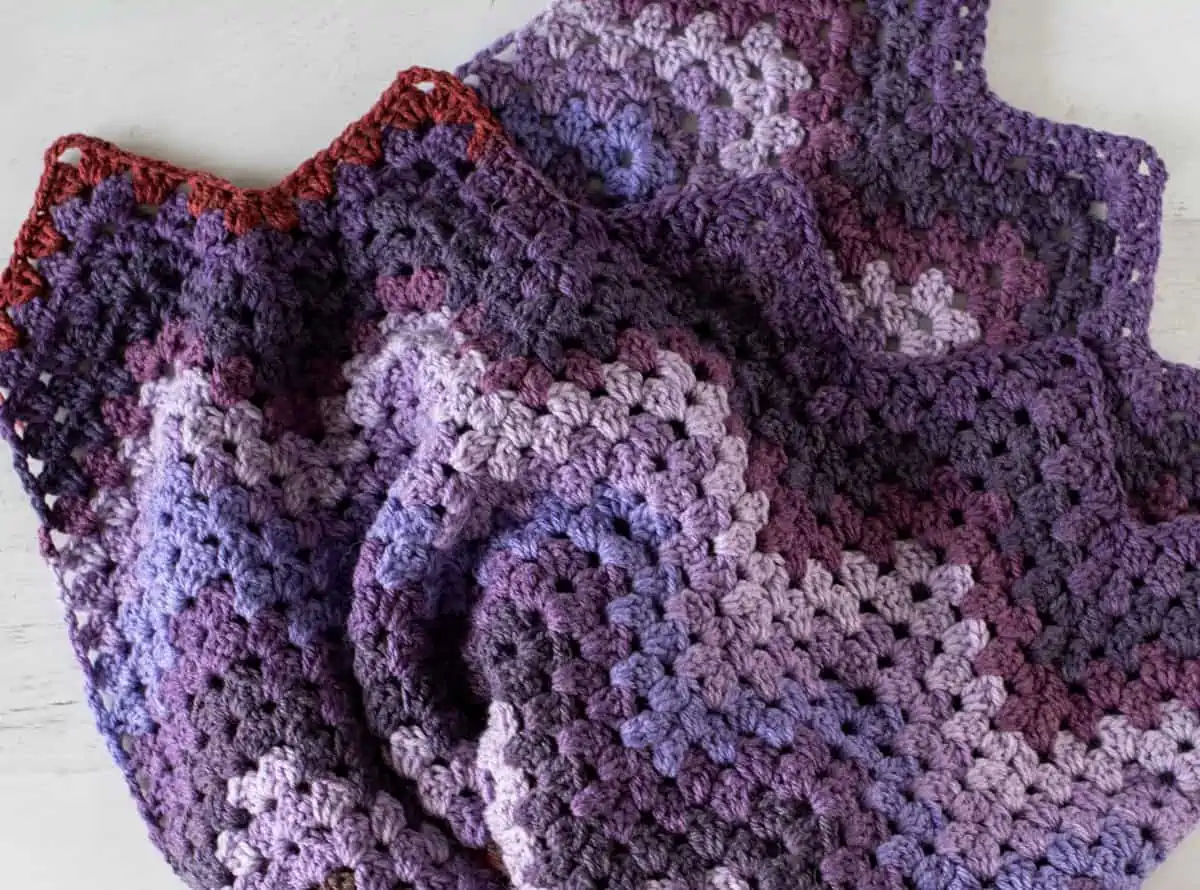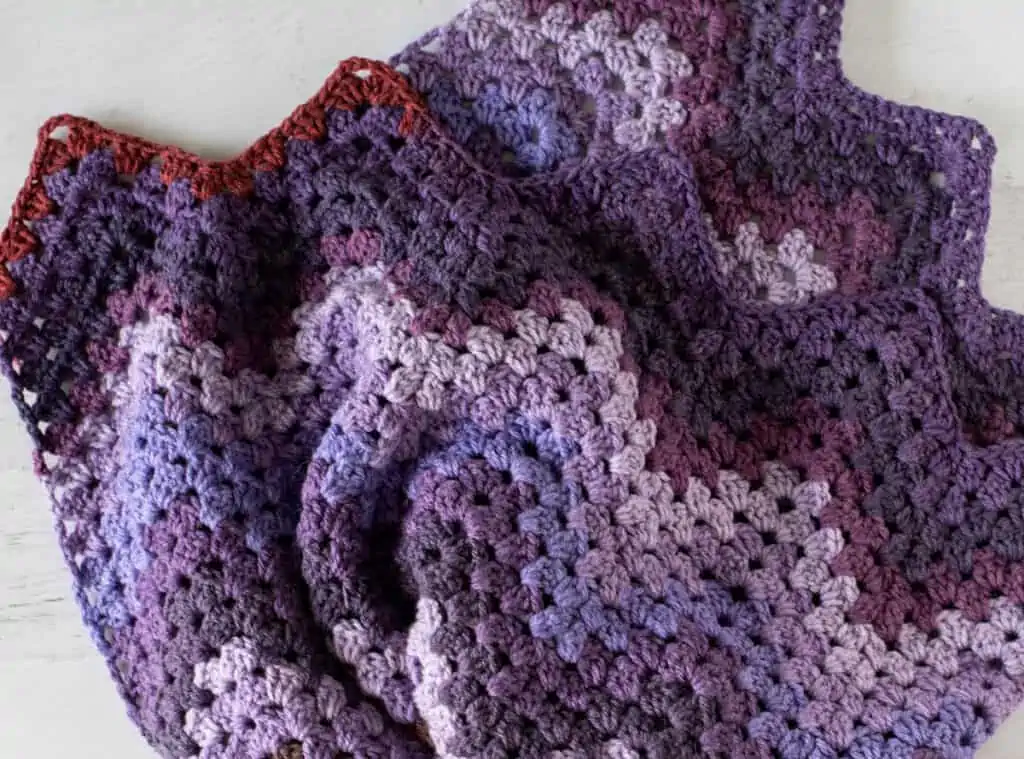 I love seeing your finished projects! If you enjoyed making The Hills and The Hollows Chevron Crochet Blanket, I'd love to see yours on Instagram, be sure to tag me @crochet365knittoo. If you are on Facebook, stop over to the Crochet 365 Knit Too Facebook page or pop over to the Crochet365KnitToo Club and share a photo! I'd love to see your work!