Happy Flower Project 2019
This post may contain referral/affiliate links. Please read my disclosure for more info.
Ever want to make a difference with your crochet?  Spread love in your community in a small, but impactful way, one small Crochet Flower at a time!  Introducing the Happy Flower Project 2019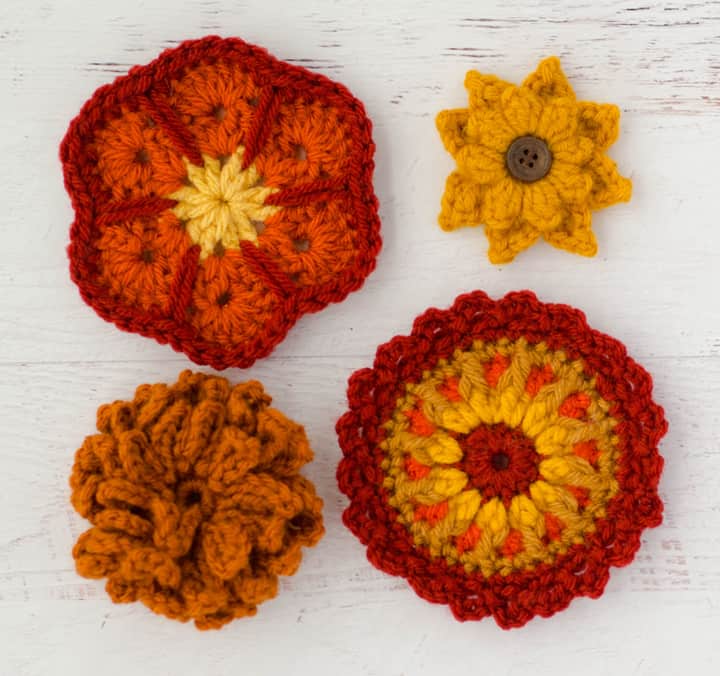 A few weeks ago I saw this amazing BBC story about Olivia Fletcher, a 22 year old crochet artist, spreading little bits of love all over the UK.  Olivia crochets flowers and leaves them in public places for others to find.  Her intent is to bring joy, happiness, and positive thoughts to a world that is sometimes dark and bleak.
This is a pretty amazing and wonderful mission.  A couple of my blogging friends and I were marveling at this and we wanted to get involved.  We decided to work together and spread some crochet love on this side of the pond.  Our big goal is to rally our audiences…and well.. the world… to get in on this crochet bit of goodness.
Just imagine… little crochet flowers attached to anonymous notes of goodwill in YOUR community.  In your schools.  In your shopping destinations. Park benches.  Libraries.  And the smile and little bit of joy someone might feel when they find a crochet flower.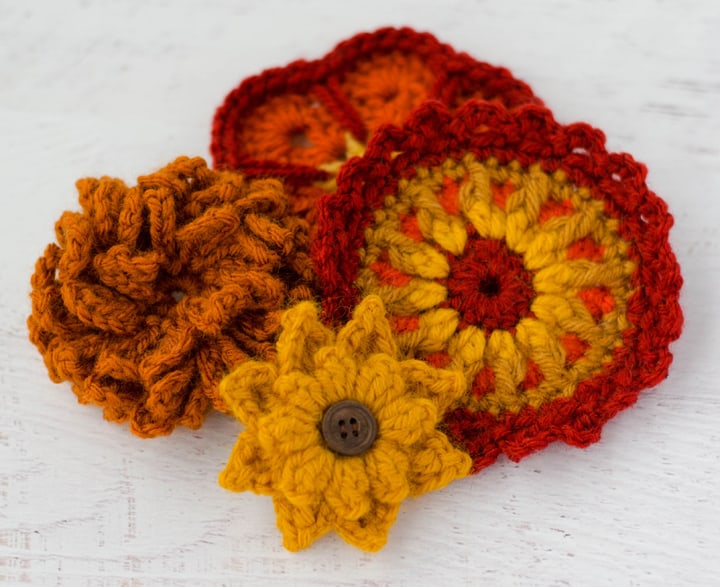 It's just a little reminder that no matter what.  No matter how hard, bleak and hopeless life sometimes seems.  There is always a flower of hope to guide us back.  To center us.  To ground us.  To bring just a small smattering of happy into the day.  What do you say?  Are you in?!
Introducing The Happy Flower Project 2019
For 30 days (October 1 – 30) we're going to help spread joy by making flowers, attaching small notes and scattering them throughout our communities.  Here's what you need to know:
The Bloggers Behind the Mission
Cheryl from Crochet 365 Knit Too (yours truly)
Lindsey from Winding Road Crochet
Jessica from Stitching-Together

The Details
Each week in October one blogger will share a free crochet flower pattern for you to make.  When the flower pattern goes live, come back to this page and I will revise it with a link to the free pattern.
To participate, make a flower, attach a note and leave it for someone to find.  There is no requirement on the number of flowers to make or the number of days to participate.  Make one.  Make 30.  Make hundreds.  It's completely up to you!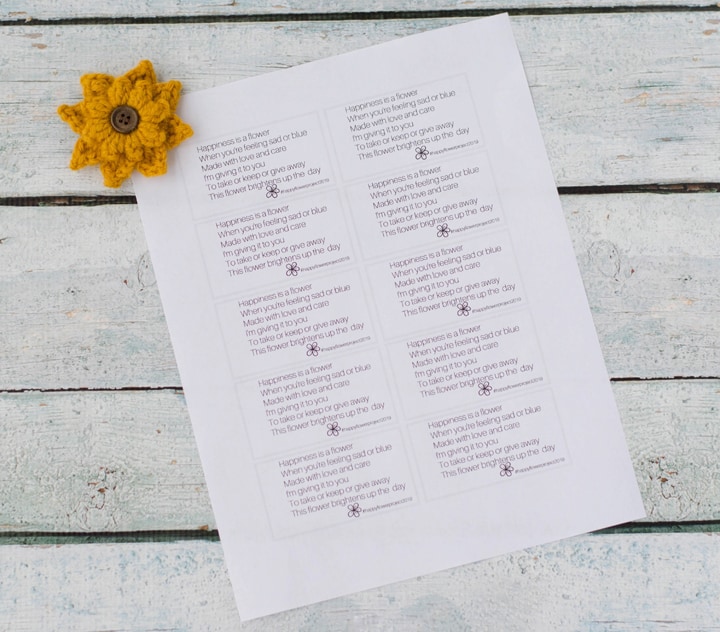 Attach a small, anonymous note.  You can compose your own note.  Or, to make things easy, I composed a little poem and placed it on a sheet of tags for you and placed it in my Vault.  The Vault is a password protected place where I share all sorts of printables and fun things for my newsletter readers.  To sign up for the newsletter and get access to the vault, just follow the instructions below.  If you're already a newsletter reader, the password and Vault location are shared at the bottom of every email.
Subscribers to my Newsletter get Access to my secret library of freebies including these free Printable Tags with a sweet poem for the Happy Flower Project!
Free Flower Patterns to Get you Started
And don't forget… a new flower pattern will be released each week:
Week 1: October 2nd – Winding Road Crochet
Week 2: October 9th – Crochet 365 Knit Too
Week 3: October 16th – Love Life Yarn
Week 4: October 23rd – Stitching Together
Be a Part of a Global Crochet Movement!
So.. are you in?
I can't wait to see how far we reach with our little crocheted flowers.  Me. You. Friends. Family. Together small creates great.  Let's spread some love!
I love seeing your finished projects! If you enjoyed making one of my patterns I'd love to see yours on Instagram, be sure to tag me @crochet365knittoo.  If you are on Facebook, stop over to the Crochet 365 Knit Too Facebook page or pop over to the Crochet365KnitToo Club and share a photo!  I'd love to see your work!