Faux Braid Join – Daisy Mae Bag CAL Part 2
This post may contain referral/affiliate links. Please read my disclosure for more info.
My friends, meet your new best friend–at least for crochet joining purposes:  The Faux Braid Join.  This joining method offers the best of everything:  It is quick.  It is easy.  It looks amazing.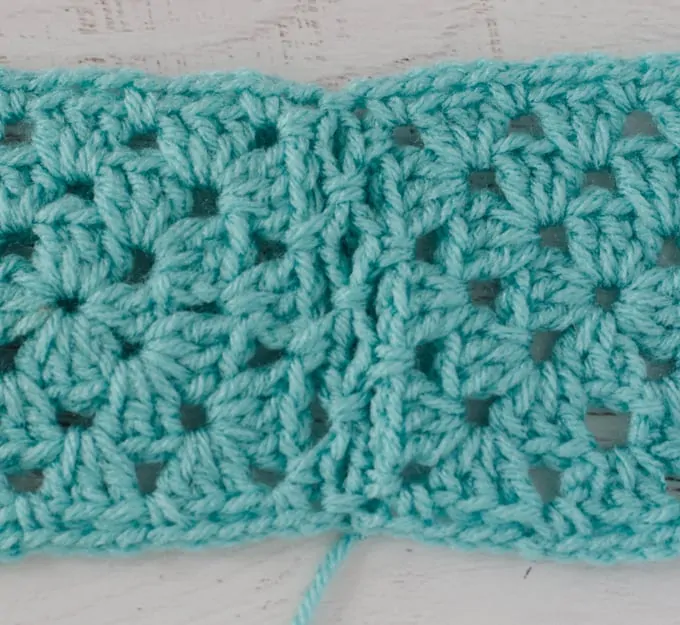 It is also the amazing join we are using to join the Daisy Mae Squares into a purse like shape.  So this post is doing double duty:  To show how to do the Faux Braid Join and how to use this join to assemble blocks into a purse.  You could also use it to join afghan blocks together.  And while it looks somewhat similar to the very popular Flat Braid Join, it is much easier to execute. It might just be your new favorite thing.  Just saying.
I am loving our new Facebook Group:  Crochet 365 Knit Too Club.  It is so fun seeing all the color combinations for this bag!  I love how everyone just jumps right in to help each other out–whether someone is not quite understanding something or just wants an opinion on color choices.  What a great group of crocheters!  If you haven't joined us yet, just click over to Crochet 365 Knit Too Club and request to join and answer a few crochet related questions so I know you are really a crocheter and not a spammer (isn't it crazy I have to do that?)
To recap where we are on the Crochet Along (or if you are just joining us).  We learned all about the amazing Daisy Mae Bag in this post here.  Then in Part One we learned how to make the squares with the extra border row to enable us to start this Faux Braid Join.  If you haven't looked at part one, you need to go back and look at the last row of the square.  That row of single crochets and chains prepares the block for this technique.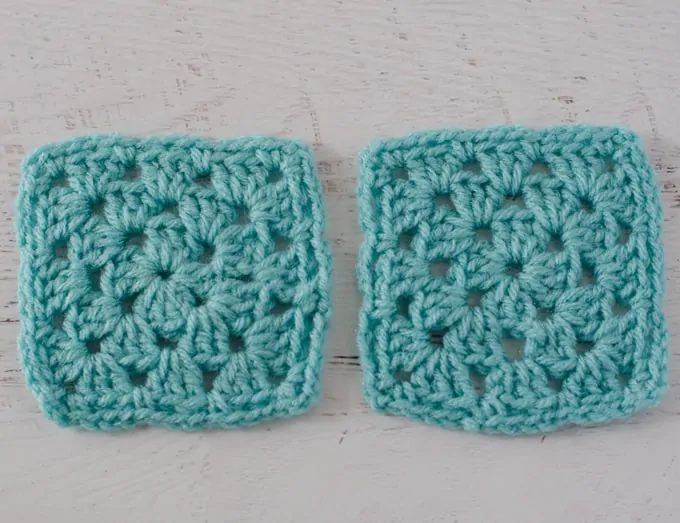 Start
To start, two afghan squares to join together.  In this example I'm using an ordinary granny square to which I crocheted the prep row previously discussed in Part 1.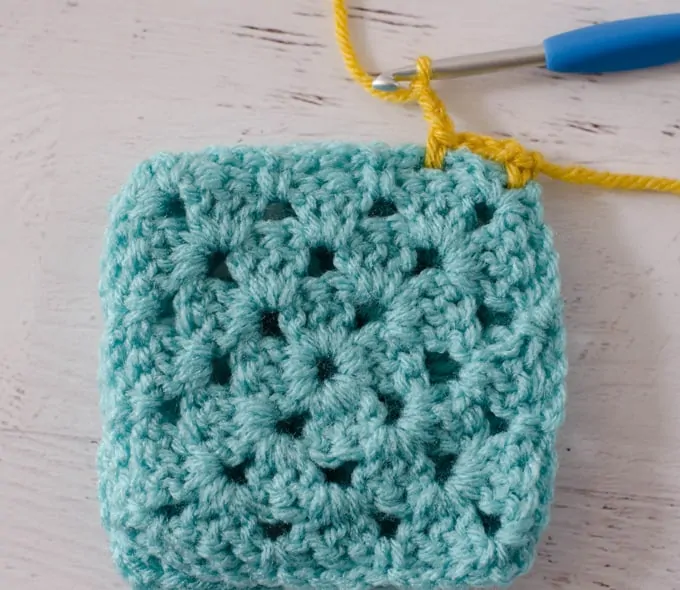 Step 1
Start holding two squares right side together.  Then using a standing single crochet, attach in a corner space. Chain 3 and single crochet in the next chained space across row.  You can use the same color yarn or a contrasting yarn as shown here.  (If you are doing the CAL, use the same color as your squares.)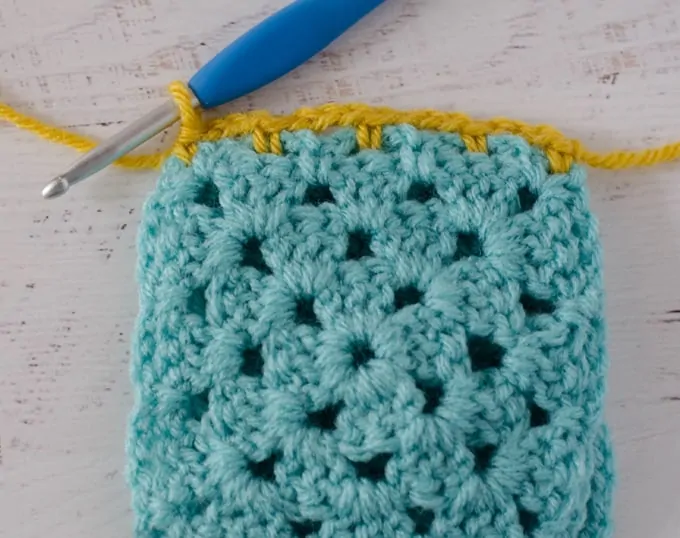 Step 2
At the end of the row, make sure there is a single crochet in the corner space.  At this point, you have options.  You can join as many squares together at a time as you wish.  I find it easiest to look at a diagram of the afghan or purse I want to make and to join a complete row of 2 squares at a time.
Don't forget corner will have a sc. So take the next 2 squares, right sides together and without cutting the yarn, start over in step 1.  Continue to work through the project, connecting all the open ends, following the diagram below (scroll down).
But first.. a few more photos of the Faux Braid Join: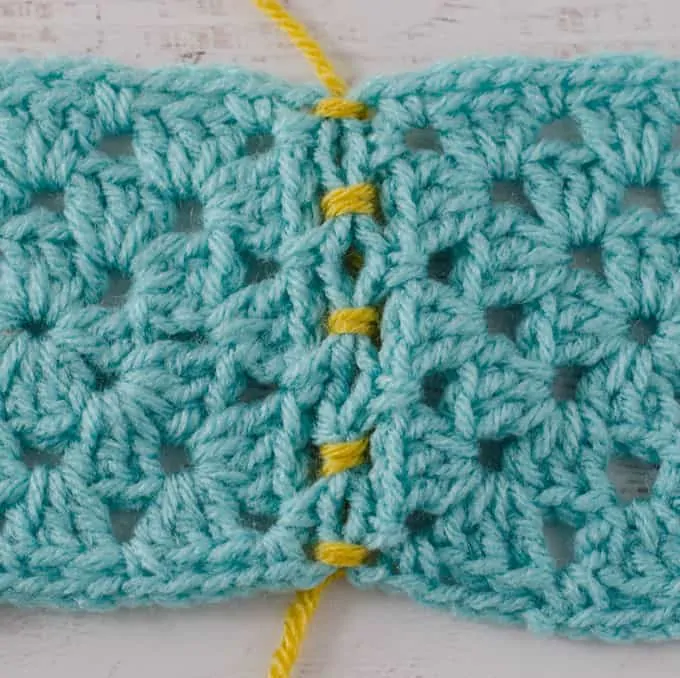 Here is the right side of the Faux Braid Join in a contrast color.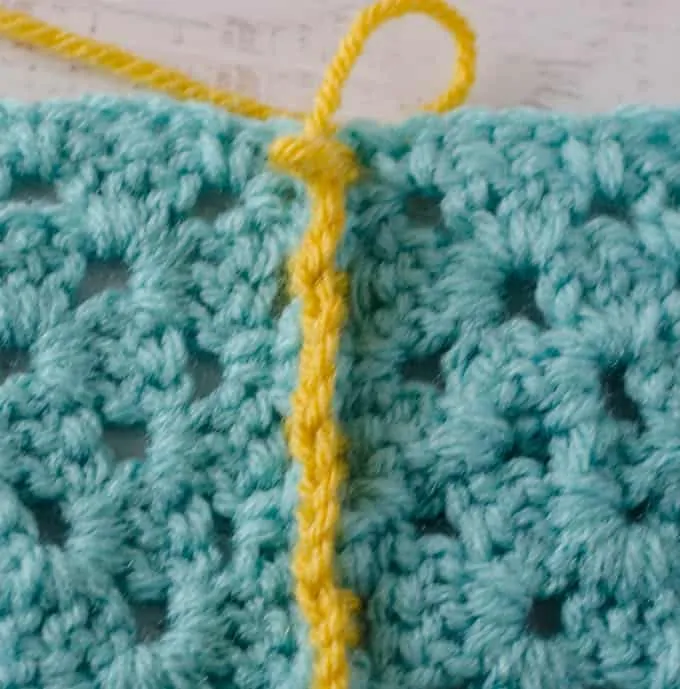 Here is the faux braid join on the wrong side from the top.  Notice that it forms a small ridge on the wrong side of the work.  You may or may not like that ridge.  Personally, I think this is a perfect join for the Daisy Mae Bag because the ridges will be hidden inside the purse.  I'm not sure I would like the ridge as much on an afghan that is more reversible.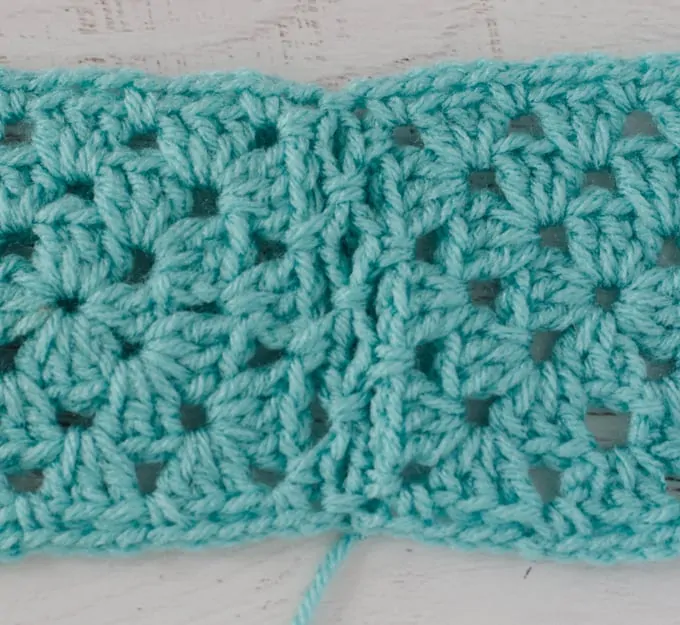 Here is the Faux Braid Join worked in the same color on the granny square example.  See how it blends in nicely and really looks like a braid?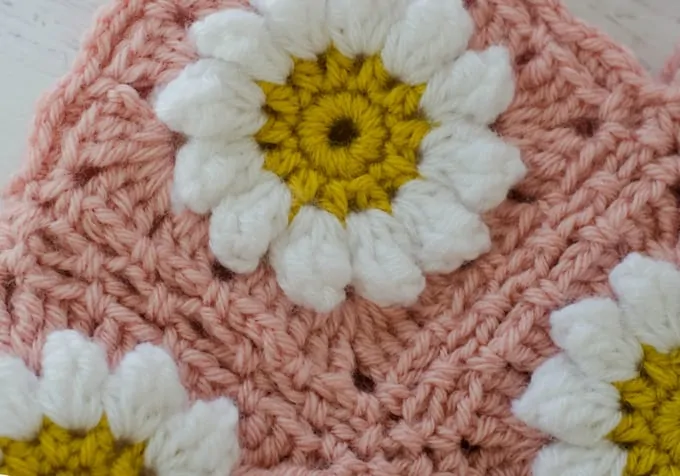 And here is a close up of the Faux Braid Join on the Daisy Mae Bag.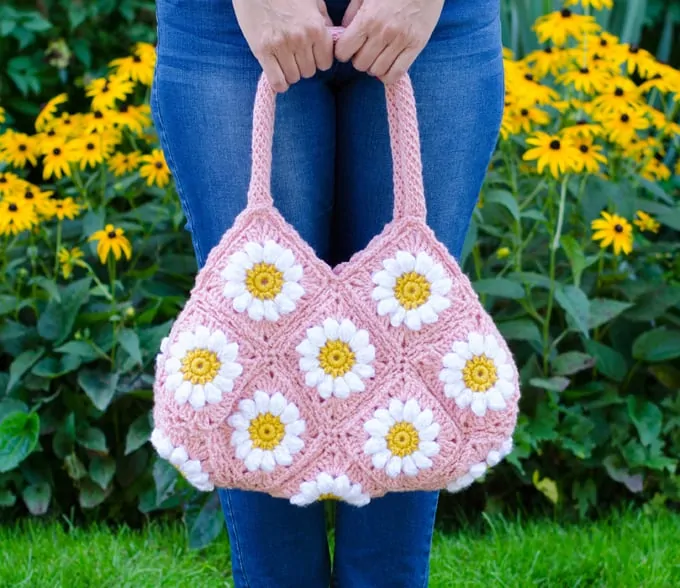 Purchase an ad-free printable version of the Daisy Mae Bag pattern here
Joining Diagram
Now that you know how to do the Faux Braid Join, let's talk about how this cute purse comes together.  You need to follow this diagram carefully to join the blocks properly.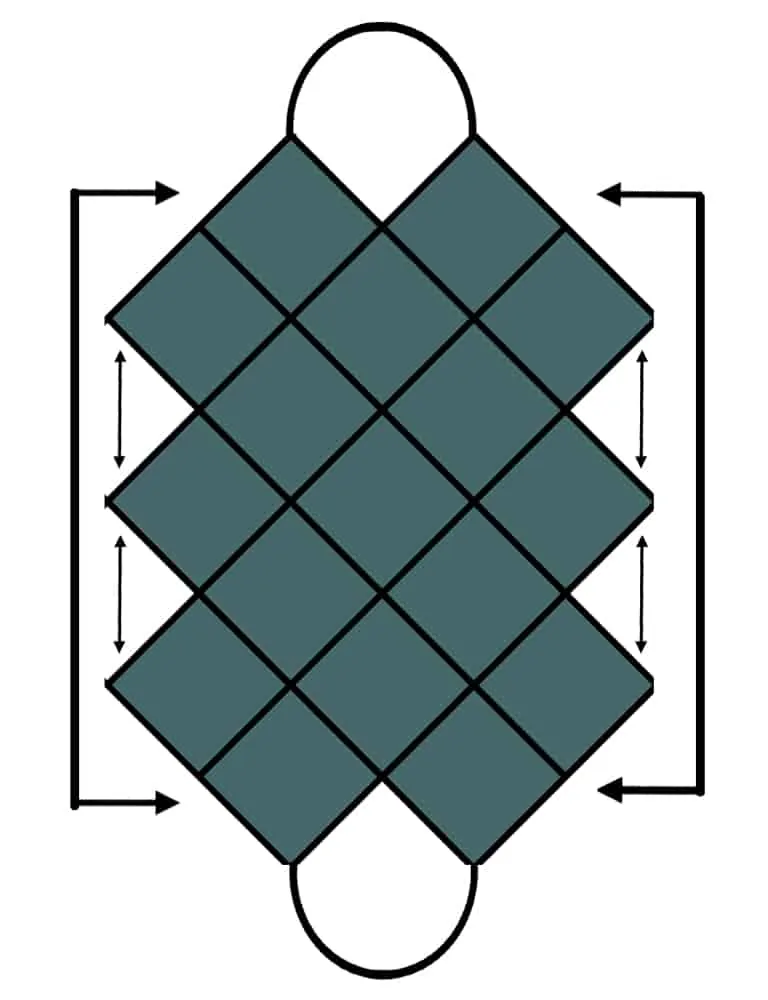 It really doesn't matter what steps you take to attach the squares so that they end up in this formation.  You can do 2 at a time.  You can do a row of 4 and then add the other pieces around it.  Everyone sees this diagram slightly differently and you need to just connect all your squares so that that when you lay them out flat, they look like this shape.  Double check this and refer to the diagram often. You will be starting and stopping multiple times
Once your squares are laid out and crocheted together in the same shape as the diagram of teal colors squares above, you will look to the arrows to fold the purse in half and join those sides.  I found it easiest to fold in the bottom center first.  Once I did that, it seemed more obvious what sides went with what part.  You may find it helpful to use pins or clips.
Also pay attention to the small arrows.  Those indicate that only ONE side of a block gets joined to only ONE side of the opposite block. You are making a 3-D project here and it can be easy to overlook or forget this fact and then incorrectly join the sides.  If you get confused, pop over to our Facebook group: Crochet 365 Knit Too Club and post a photo.  Someone will jump in and help you out!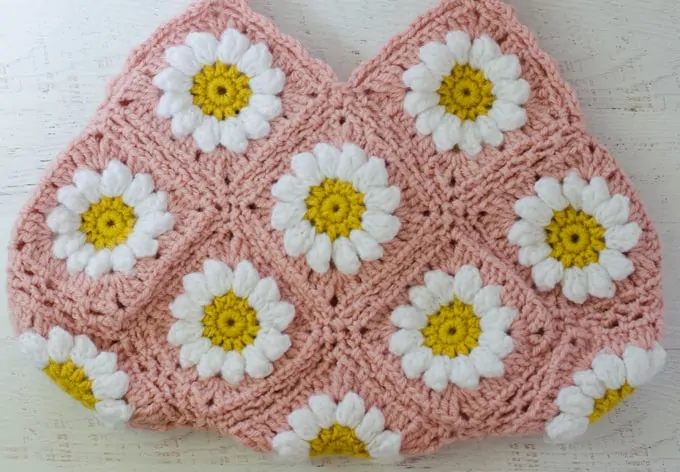 Keep referring to the diagram and the finished bag (above) to connect your pieces correctly.  (Note that the above photo shows the border on the top edge; we won't be working that until part 4.  But this still gives a good visual of the shape of the bag).
A Word About Corners
A final important note about working corners.  When you are putting together the squares, there will be times that 4 squares are joined together.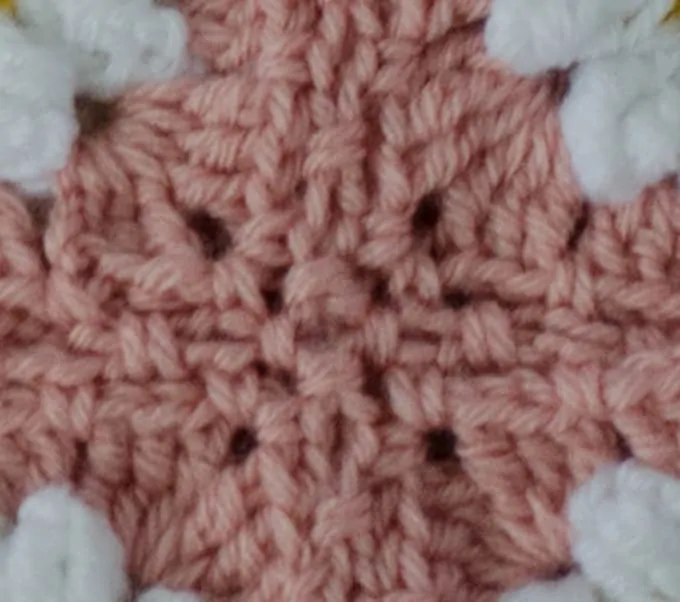 Note that when 4 squares come together that the finished piece will have the join worked into the corner spot twice (once for each side).  It is really easy when joining rows together to "forget" to place the corner stitch.  To join correctly, make sure to connect each corner to it's adjacent piece.  If you look at the photo above you can see that each corner square is connected twice—once to the square next to it on the side and once to the square connected to it on the top/bottom side.
You are going to be surprised at how quick it is to join the squares into a bag!  Now is a good time to weave in any ends.  Next up I will teach you how to make a spiral cord for the handles–something I know a lot of you are excited about learning how to do!
Please head over to the Facebook Group:  Crochet 365 Knit Too Club.  Post your photos.  Ask questions.  Show me your progress!  I can't wait to see!
Be sure to check out:
Part 4: Putting it all together: Edging, lining and more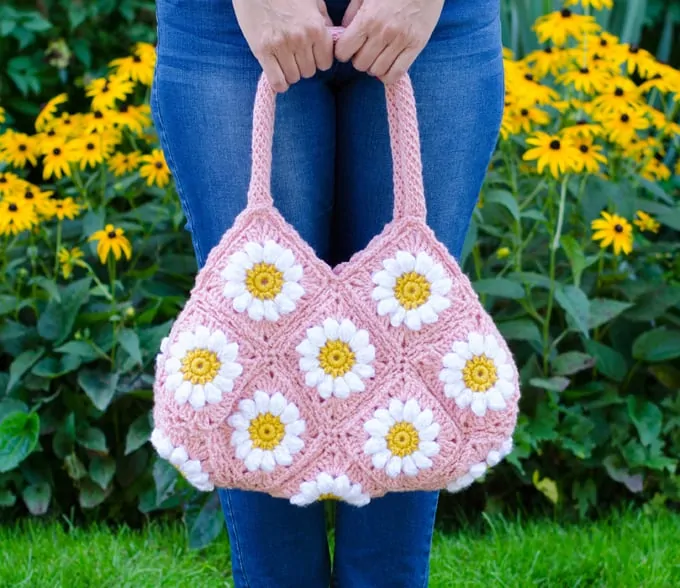 Purchase an ad-free printable version of the Daisy Mae Bag pattern here
I love seeing your finished projects! If you enjoyed making one of my patterns I'd love to see yours on Instagram, be sure to tag me @crochet365knittoo.  If you are on Facebook, stop over to the Crochet 365 Knit Too Facebook page or pop over to the Crochet365KnitToo Club and share a photo!  I'd love to see your work!