This crochet spiral handle.  For years I looked at it and marveled that it was crocheted and yet, I just could not figure it out.  It remained elusive and just out of reach.  This thing of beauty.  The perfect crochet bag handle.  But today.  Today I am victorious!  I've got it figured out and have broken down all the confusing bits.  And I'm going to teach you exactly how it's done so you can be victorious too.  My friends, meet the crochet spiral cord!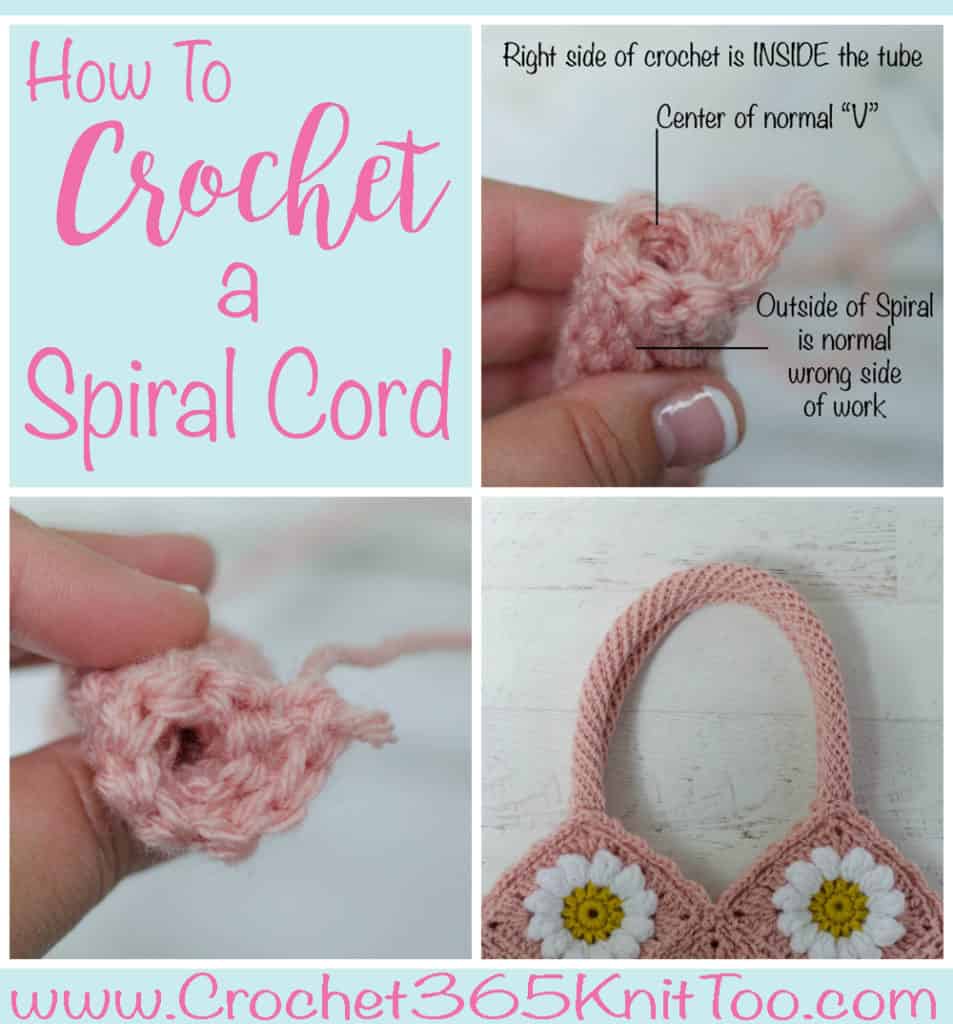 This is also Part 3 of the Daisy Mae Crochet Along (CAL).  You can read everything you need to know here.  In Part 1 we covered the crochet square.  And then in Part 2 we joined everything together with the amazing faux braid join.
In case you missed it, I spent years trying to "get" how in the world to achieve that amazing spiral.  YEARS.  Do you know how annoying it is to be a very experienced crocheter and yet unable to figure out this crochet spiral handle?  And what is even irritating is that I knew the basic premise is a single crochet worked in the round.
The lowly single crochet.  And in a round.  Why oh why, was it SO difficult to understand how to do?
And that brings us to the exact crux of the matter.  The crochet spiral handle is very easy.  And at the same time, unlike anything you've ever done before.  It sort of breaks all the crochet rules.
So for now, put aside what you know about crochet (ok.. you do need to remember the single crochet part).  Take a deep breath and relax.  This is a new ball game.
Overview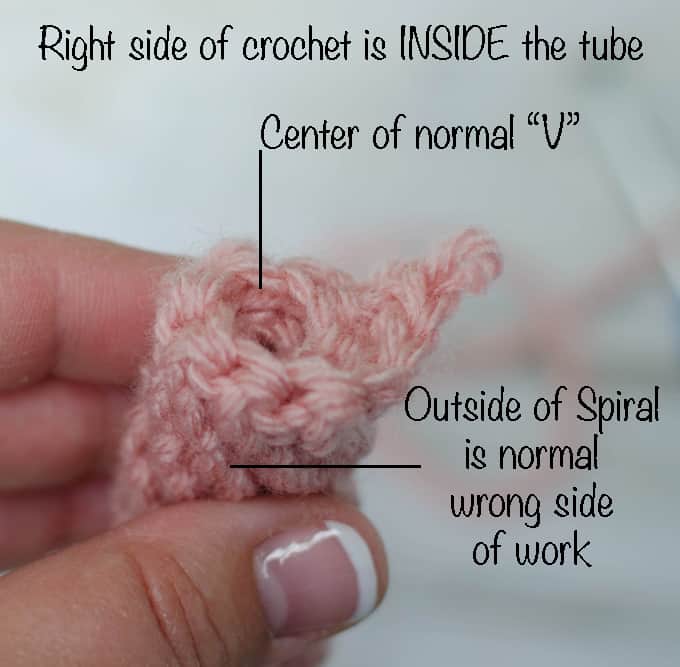 So talk about completely different.  Yes, we are working single crochet in the round.  However, the normal "right" side of the work will stay on the inside of the tube.  And the normal "wrong" side of the work goes to the outside.  And what really makes things fun is that you work the single crochet into a completely different area that you never knew existed.  Bear with me.  You will get this.
IMPORTANT:
Please read through the picture tutorial first and then at the bottom of this post, watch the video.
To Start:
One handle takes about 1/2 oz of yarn.  So give yourself a little over 1 ounce for both handles.
Ch 6.  Without joining, return to the the first chain and make the first single crochet.  This sets the work up for crocheting in a spiral.
R1: sc in the remaining chains.  (6 sc)
R2: continuing to work in a spiral, sc in each st (6 sc).
Now TURN your work so that the inside of the tube leans towards you.  Here's where we change things up.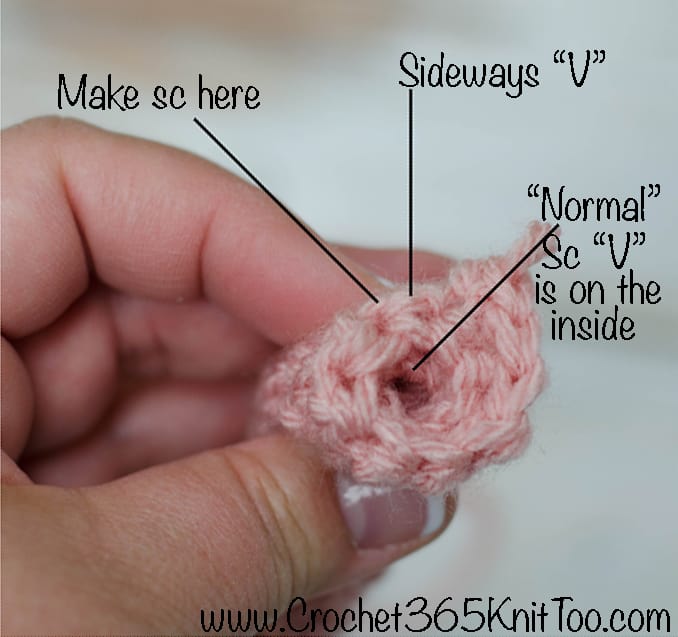 Forget about everything you know about what crochet looks like and where you work your stitch.  Look for the sideways "V" and then identify the loop above that "V".  (See above photo).  Work your single crochet into that strand of yarn.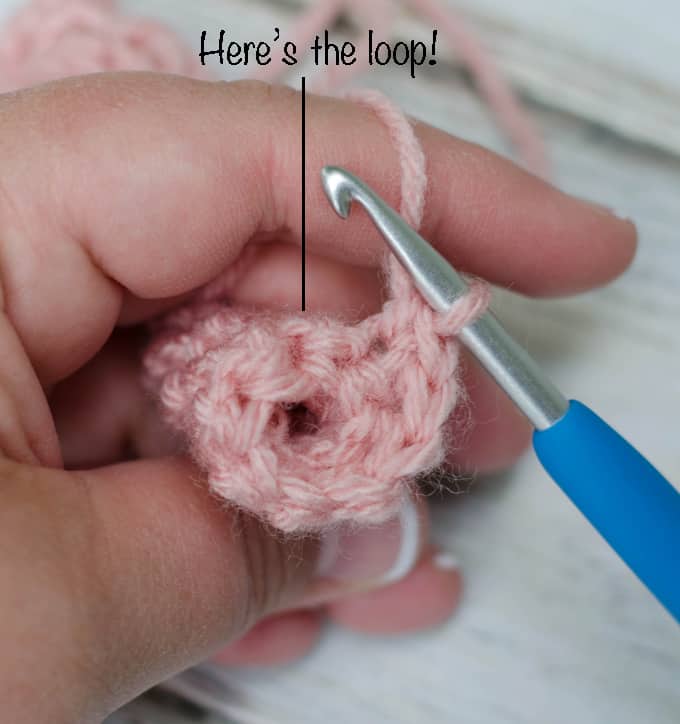 The first row is a bit tight.  Just continue to move along, identifying the sideways "V" and working a sc in the strand above the "V".  You will feel like everything is wrong.  It's not.  Just go stitch by stitch and carefully work a sc in each little strand.  Around and around.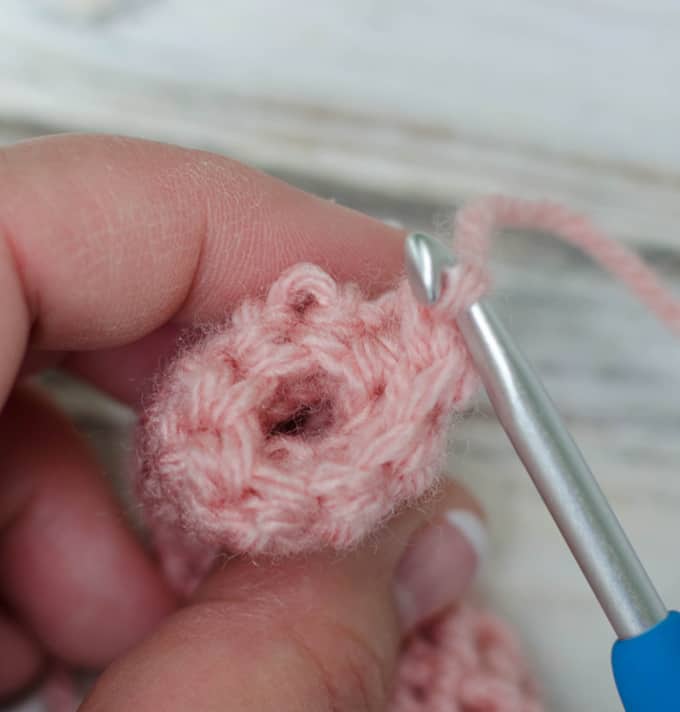 Here's another view with the strand raised up a bit.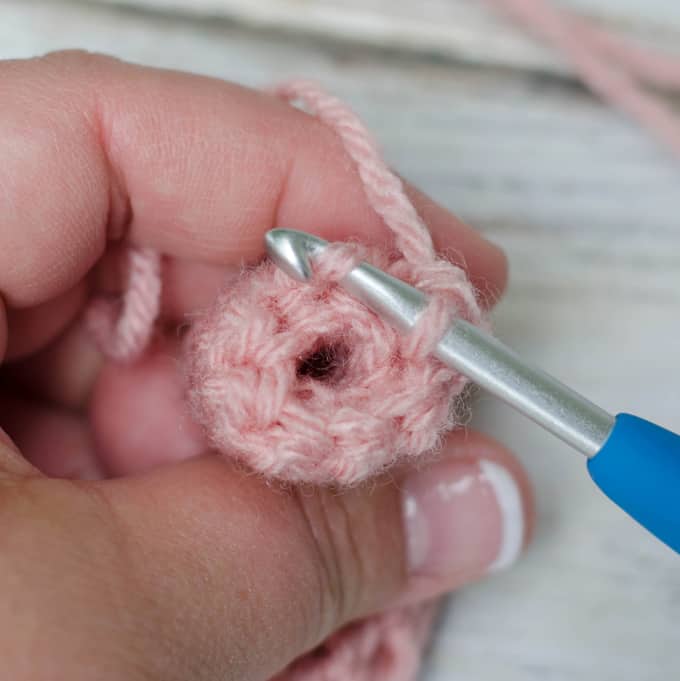 Just wiggle your hook in and work a normal single crochet into the strand.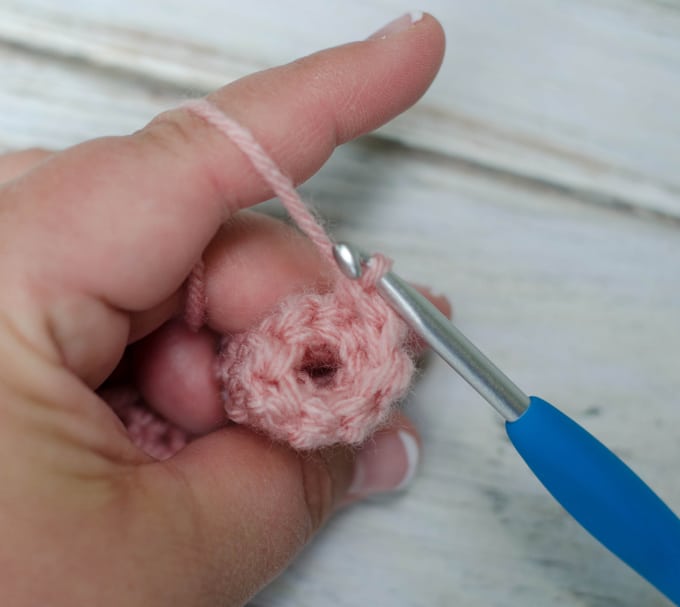 As you work, a spiral ridge will form on the outside of the crochet spiral.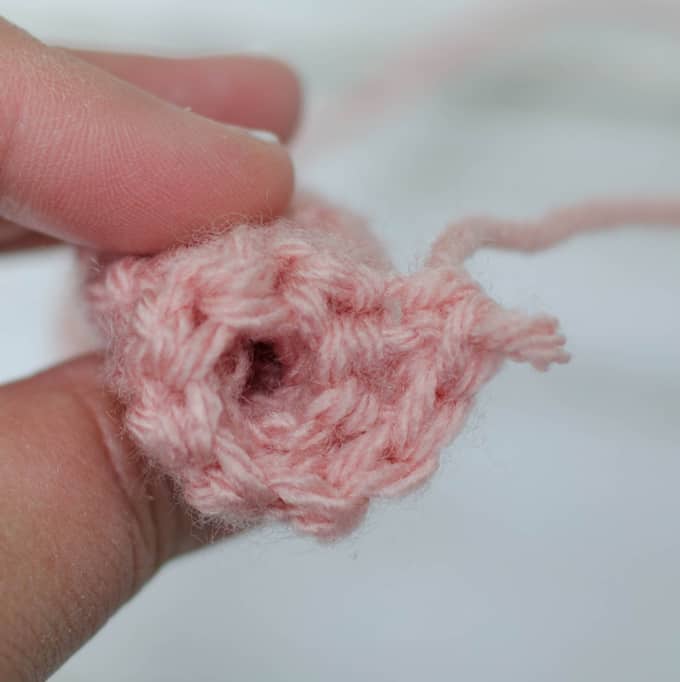 And here's another view.  See if you can identify the "V" and the strand.  Then look at your own work and find the same points.
A Deeper Understanding
If this is still confusing, here is another perspective.  The below photo shows a row of single crochet, from the back (wrong) side.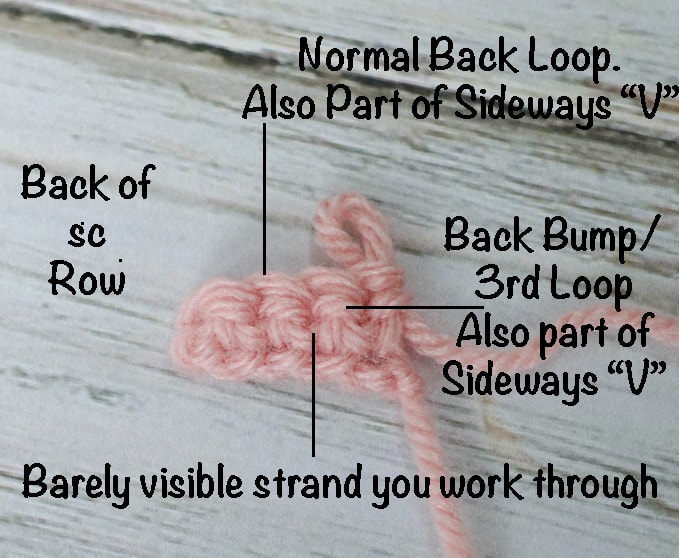 The Sideways "V" is actually two strands: the Back loop and the Back Bump (also called the 3rd loop).  The strand you work into is actually the somewhat hidden strand of yarn that is between the stitches.
How Long To Make The Handles
For the Daisy Mae bag, I made each handle 16 inches long.  They do stretch a bit when in use, so that allows them to stretch a bit and still look very nice on the bag.
A Special Note:
If you are making the Daisy Mae bag, do not sew the handles on just yet.  We need to work the edging stitches BEFORE the handles are sewn on.  The edging stitches, lining and finishing touches are covered in Part 4.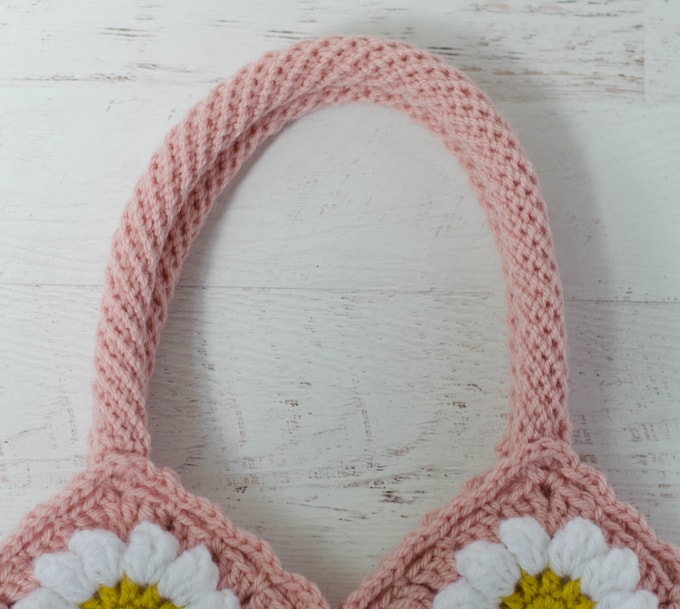 Meet My Very First Video
I thought it would be helpful to see this technique in a video.  So I made one for you.  Please be patient with me as I learn "all the ways" of video.
A Final Word
I want to give a shout out to Nicki over at Nicki's Homemade Crafts.  Up to now, the only instructions online were a few videos that were blurry and difficult to understand.  As I was struggling to figure out where in the world these crocheters were inserting their hooks for this crochet spiral handle, I reached out to a few blogger friends.
Nicki came to my rescue!  She watched the blurry videos along with me and was able to identify the strand between the stitches as the "key" to this puzzle.  But when I looked at my work from upside down and wrong side out, I still got all mixed up.  And that is why I came up with this method of identifying 'where to put the hook'.  If you'd like to see another perspective on this amazing crochet spiral handle, head over to Nicki's post.
Don't forget to check out our new Facebook Group:  Crochet 365 Knit Too Club.  It is so fun seeing all the color combinations for this bag!  Everyone is so helpful and complimentary.  What a great group!   If you haven't joined us yet, just click over to Crochet 365 Knit Too Club and request to join and answer a few crochet related questions to join the club.
Remember, to learn all about the amazing Daisy Mae Bag click here.  In Part One we learned how to make the squares with the extra border row to enable us to be ready for Part Two.  In Part Two we learned an amazing Faux Braid Join.  In this post we make the handles for our bag.  And then in Part 4, we do the edging, make a lining and sew the handles on!
Please head over to the Facebook Group:  Crochet 365 Knit Too Club.  Post your photos.  Ask questions.  Show me your progress!  I can't wait to see!
I love seeing your finished projects!  If you enjoyed working the Crochet Spiral Handle, I'd love to see yours on Instagram, be sure to tag me @crochet365knittoo.  If you are on Facebook, stop over to the Crochet 365 Knit Too Facebook page and share a photo!  I'd love to see your work!
Written pattern copyright Cheryl Bennett 2018, all rights reserved.  Please do not reprint or repost this pattern.  If you would like to share this Crochet Spiral Handle pattern with others, just link to this page.  If you'd like to make items for sale from this pattern, please visit my About page for more information.