Guess what?  We are going to do a crochet along!  My friends… meet the Daisy Mae Crochet Bag which we will be making over a couple of weeks as a fun crochet along!  I'm so excited about this bag and let me tell you why.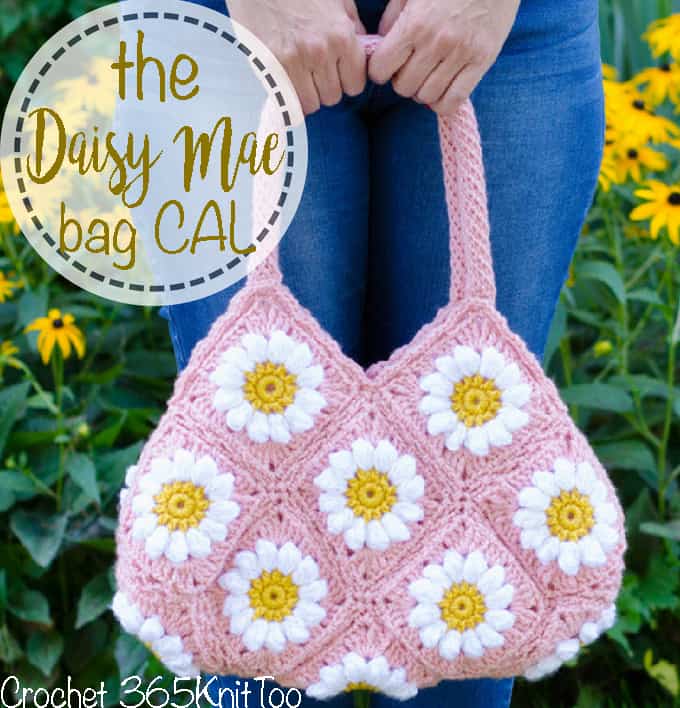 I've been wanting to make this bag forever.  I love the big roominess of it.  The very unique handles (hint: they are not your normal single crochet).  The idea that you can take a granny square–or a variation of it–and turn it into something amazing–well.. it makes my heart soar.  And then my imagination goes crazy..thinking of all the different kinds of granny squares I can make..and different purses I can make!
Do you do that too?  Think about all the things you can make and get a little rush of excitement?  Maybe that's just me.
I thought it would be fun to do this as a crochet along (CAL).  I've never done one before.. so in last week's newsletter, I asked my readers… 'would you be interested in doing a crochet along?' and then I said… 'just hit reply'.
Did I mention I have 10,000 people on my email list?
And GUESS WHAT!?!?!
They WANT TO DO A CROCHET ALONG!  Yippee!
Side note:  If YOU aren't on my list and you'd like to be.. just head over to this post and read about the free crochet & knit journal you can get when you subscribe.
I'm really excited about the Daisy Mae Crochet Bag and I can't wait to tell you all about how this is going to work.  And .. please.. if big ole daisies aren't your thing.. just find a similarly size crochet square and join along.  I will tell you how to adapt that to work in this pattern!
Details for the Daisy Mae Crochet Bag CAL
The Daisy Mae Crochet Bag Crochet Along is finished, but the posts live on in parts for you to enjoy!
Share your bag over at our Crochet 365 Knit Too Club group on Facebook!
You can follow along on the blog and you don't NEED Facebook to participate.  But the Facebook group is a special place where you can share your photos, ask questions and interact with fellow members of the club!  It will be a lot of fun.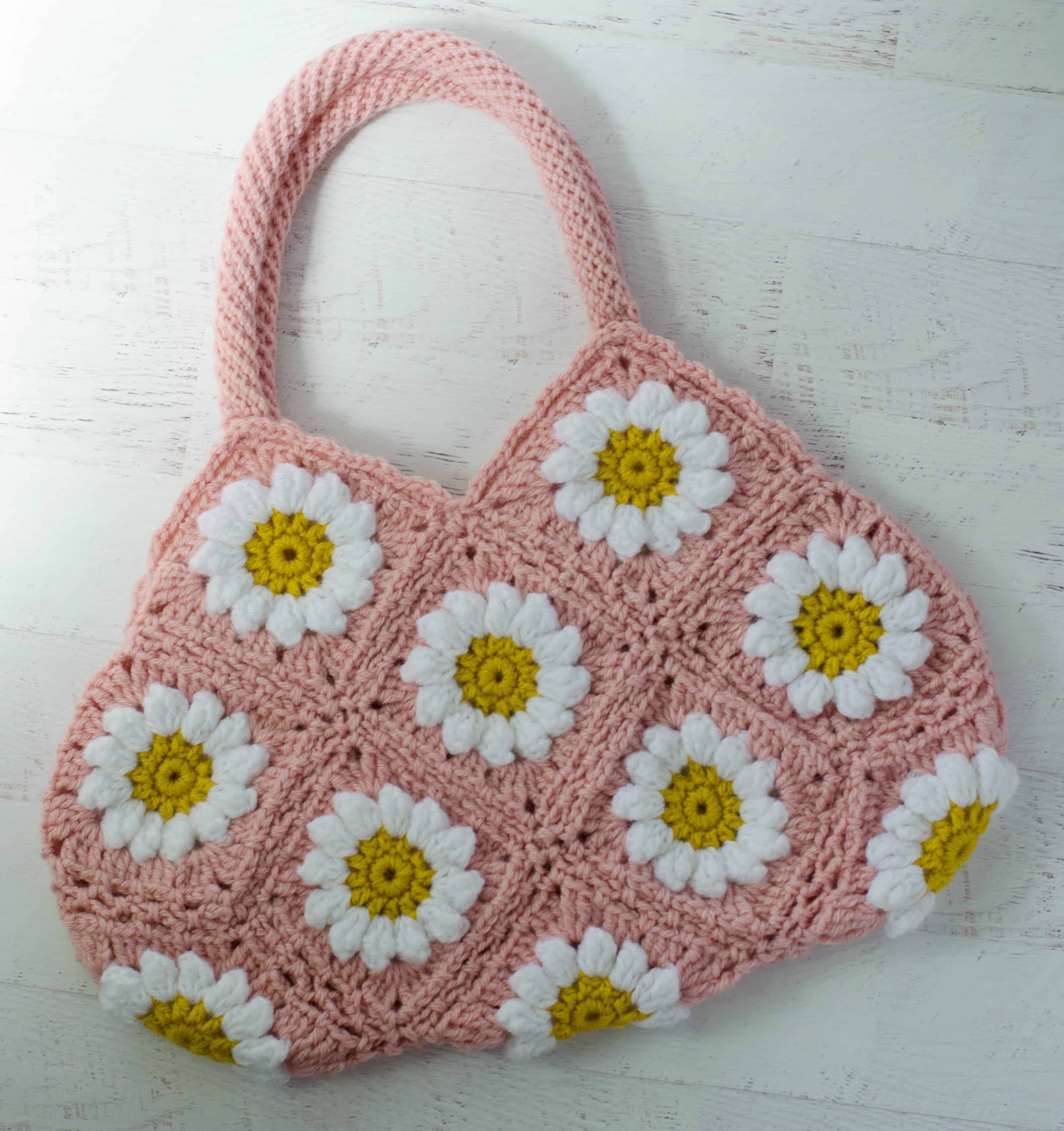 Purchase an ad-free printable version of this pattern
Here Is What You'll Need:
Materials:
US H8/5mm crochet hook  Did you know you can purchase my go-to hooks on Amazon?)
Worsted weight yarn:  5 oz main color (sample used Vanna's Choice in Pink), 2 oz for flower centers (sample used Vanna's Choice in Mustard) and 3.5 oz for flower petals (sample used Vanna's Choice in White)
NOTE:  Lining and a closure for the purse is optional.  Purse can be used without a lining and/or closure.  A lining requires use of a sewing machine, 1/2-3/4  yard of fabric, magnetic closure.  If not lining, you may wish to purchase a button to use in closing the purse.
Resources and tutorials you may find helpful in following this pattern: Crochet Abbreviations, US to UK Crochet Conversion Chart.  Find links to stitches on the "Tutorial" menu: Getting Started will show basic stitches used in many patterns and Crochet Stitch Dictionary shows our growing collection of crochet stitch tutorials.  I really like to use the invisible seamless join when finishing pieces that get sewn together (in this project this is an optional step).
Size:
Each square is approximately 4.5" x 4.5" before joining (this includes a final round to prepare for joining).  The finished bag is 17.5" wide by 18.5" tall (including handles).
Remember.. the crochet along starts Friday morning and don't forget to join the Crochet 365 Knit Too Club on Facebook!
Purchase an ad-free printable version of this pattern
Be sure to check out:
Remember, I love seeing your finished projects!  I can't wait to see your Daisy Mae Crochet Bag on Instagram – be sure to tag me @crochet365knittoo.  If you are on Facebook, stop over to the Crochet 365 Knit Too Facebook page and share a photo! And don't forget about the NEW Crochet 365 Knit Too CLUB – where it's even easier to share on Facebook!   I'd love to see your work!