The Boho Boss Bag just might be my most favorite pattern of all time.  Gorgeous!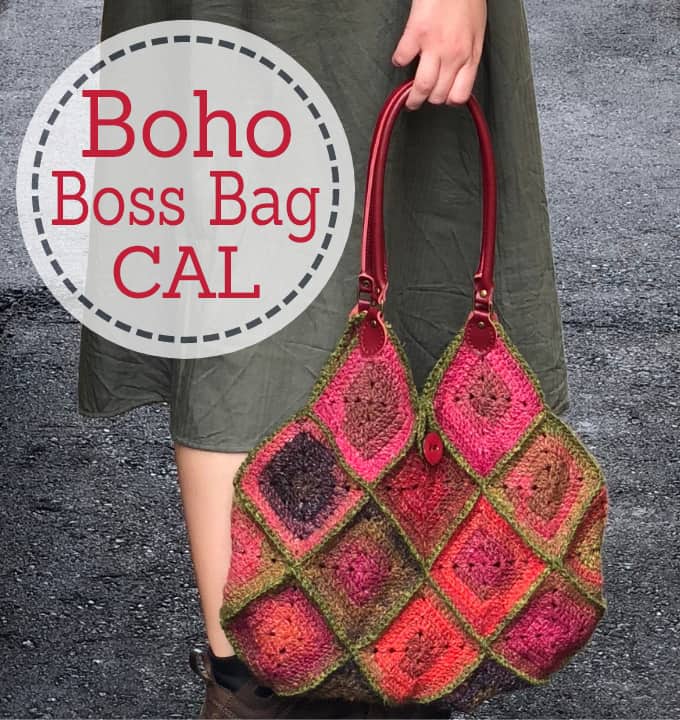 My friends.. meet a thing of beauty.  Take the lowly crochet square (similar to a granny square), add a gorgeous yarn and you've got one amazing bag.  Perfect for…well.. just about anything!
This bag is roomy and so fun to carry!  Show off your crochet with a stylish bag you made yourself!  Does it get any better than that?  Let's talk some important details….
The Crochet Along is done.. but you can still make this amazing bag by following the series of posts!  Read on for all the details…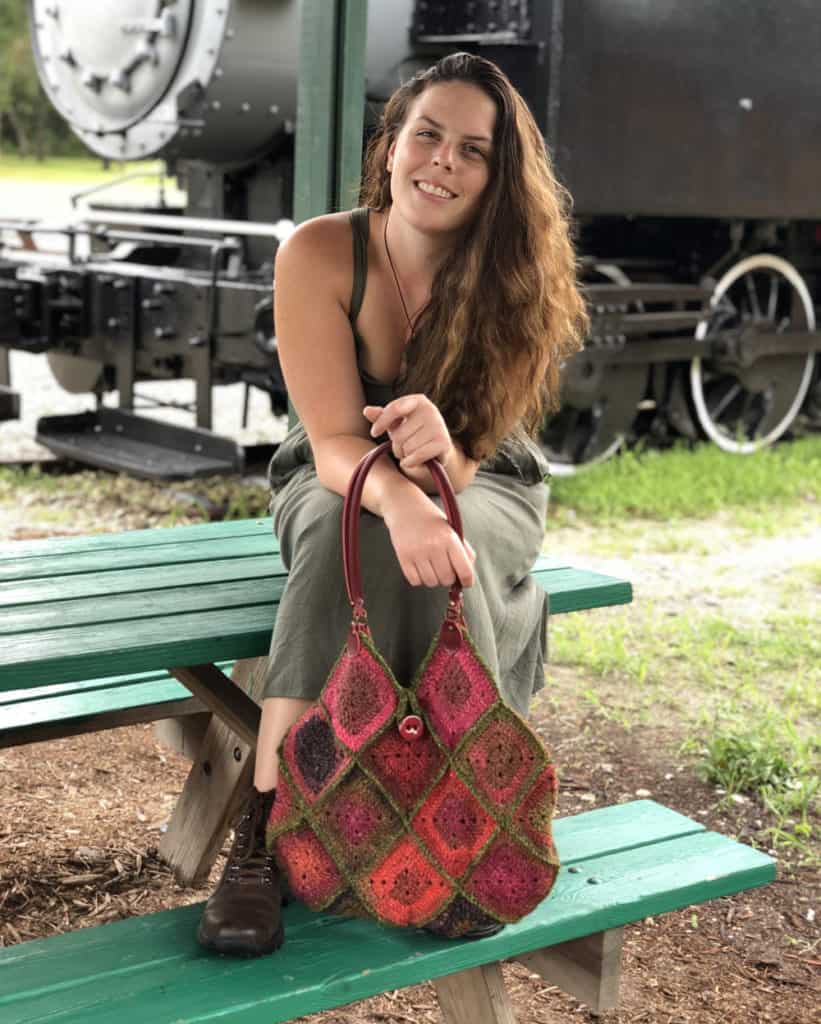 Let's talk about the amazing yarn.  I'm pretty much in love with Noro brand yarn.  I feel like I could look at it and touch it forever.  This is the time, my friends, to visit your local yarn store for some delicious, high end yarn goodness.  Noro Silk Garden yarn is a mix of silk, mohair and wool.  The colors are vibrant and they flow from one to another in a beautiful pattern.
I went with Color 84 which you can see here on Amazon.  Then I picked a contrasting solid color olive green (Col 188) which I can't seem to find a sample of anywhere on the internet.  But no matter.  Just pick out a Noro Silk Garden colorway you adore and find a more solid contrast and you will be fine.
If Noro Silk Garden is not in your budget or you can't find it in your area, just find two lovely colors and make your bag with that.  I've used a size G6/4mm with this lighter weight worsted yarn, but a more standard worsted weight may give you a slightly bigger bag.
And do you love those leather handles as much as I do?  I purchased these 23.6″ leather handles by Wento off Amazon on a whim and they are a great match!  They also sell the same handles in many other colors, so you'll be sure to find the perfect pair for your bag.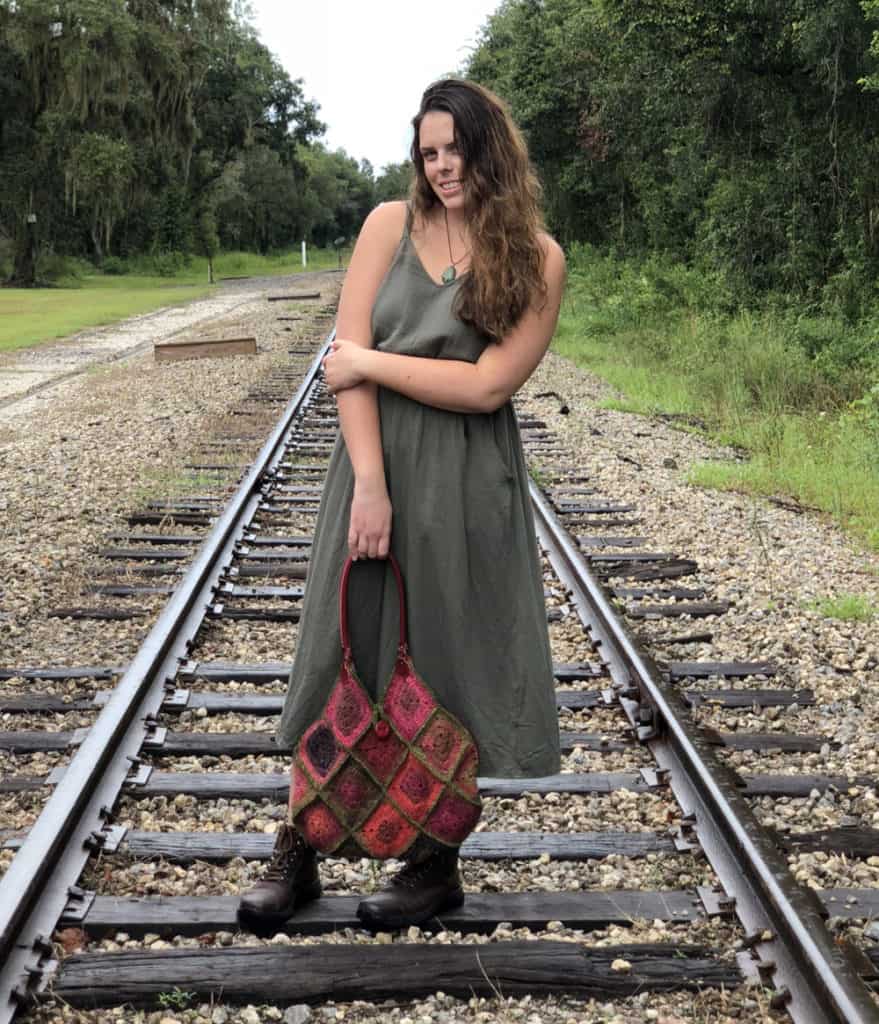 Details for the Boho Boss Bag CAL
The Boho Boss Crochet Along is done, but don't worry.. you can still find everything you need for this fun bag!  Just follow the below posts in order and you'll be carrying a gorgeous bag you made yourself in no time!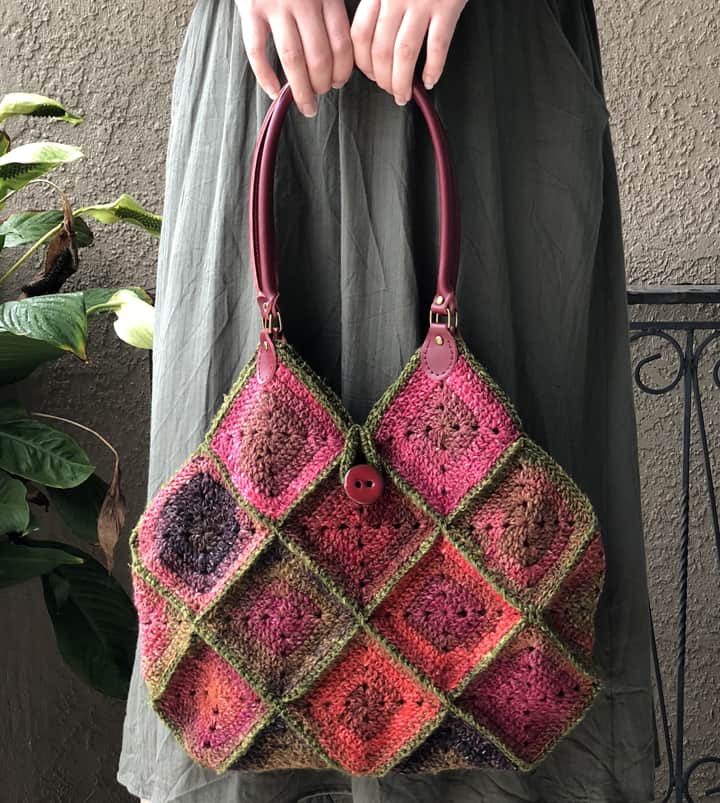 Purchase an ad-free printable version of this pattern
Here Is What You'll Need:
Materials:
NOTE:  Lining and a closure for the purse is optional.  Purse can be used without a lining and/or closure.  A lining requires use of a sewing machine, 1/2-3/4  yard of fabric and fusible interfacing.
Resources and tutorials you may find helpful in following this pattern: Crochet Abbreviations, US to UK Crochet Conversion Chart.  Find links to stitches on the "Tutorial" menu: Getting Started will show basic stitches used in many patterns and Crochet Stitch Dictionary shows our growing collection of crochet stitch tutorials.  I really like to use the invisible seamless join when finishing pieces that get sewn together (in this project this is an optional step).
Size:
The finished bag is 17" wide by 14.5" tall (including handles it is 22″ tall).
I love seeing your finished projects! If you enjoyed making one of my patterns I'd love to see yours on Instagram, be sure to tag me @crochet365knittoo.  If you are on Facebook, stop over to the Crochet 365 Knit Too Facebook page or pop over to the Crochet365KnitToo Club and share a photo!  I'd love to see your work!