Our fur babies deserve the best and what better way to warm their four legged souls (and our hearts) than with a darling crochet dog sweater!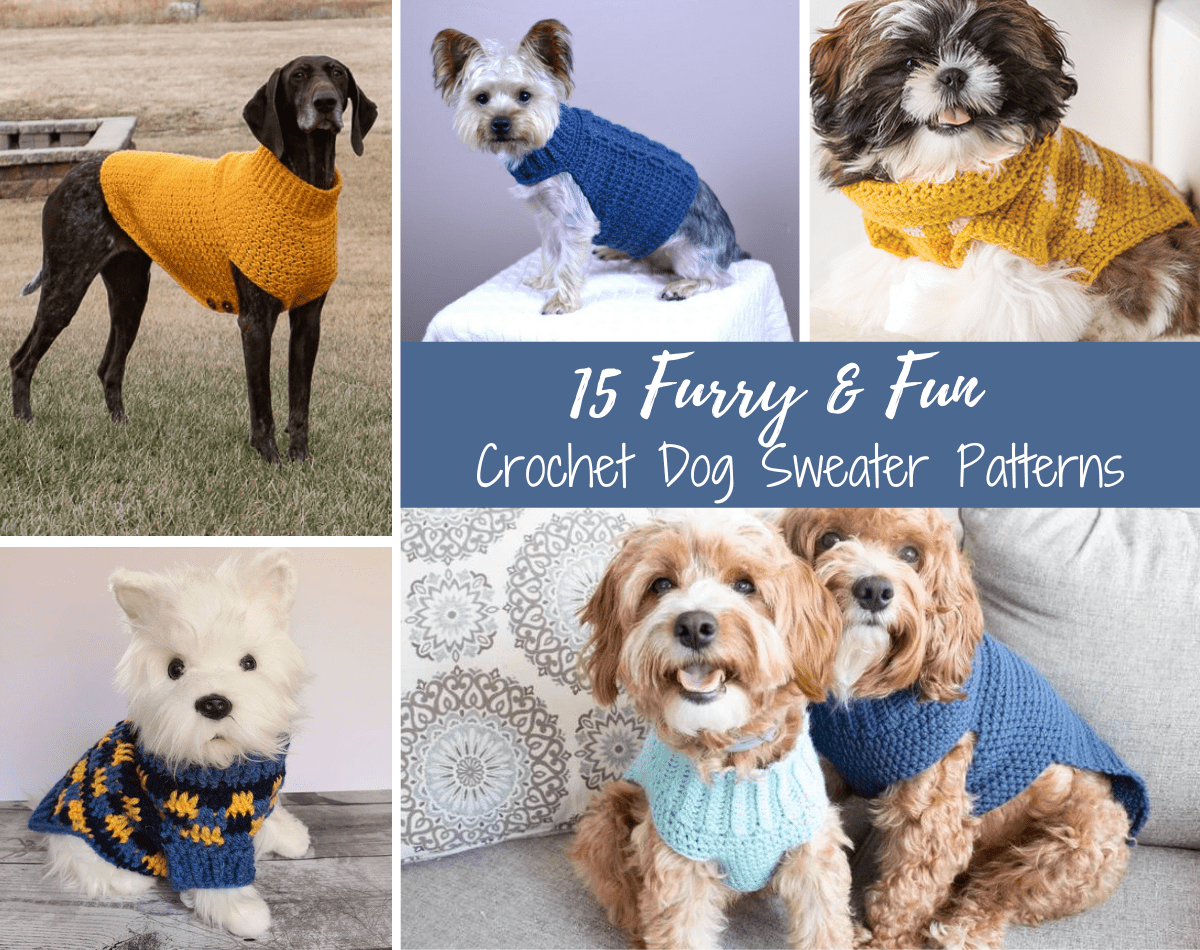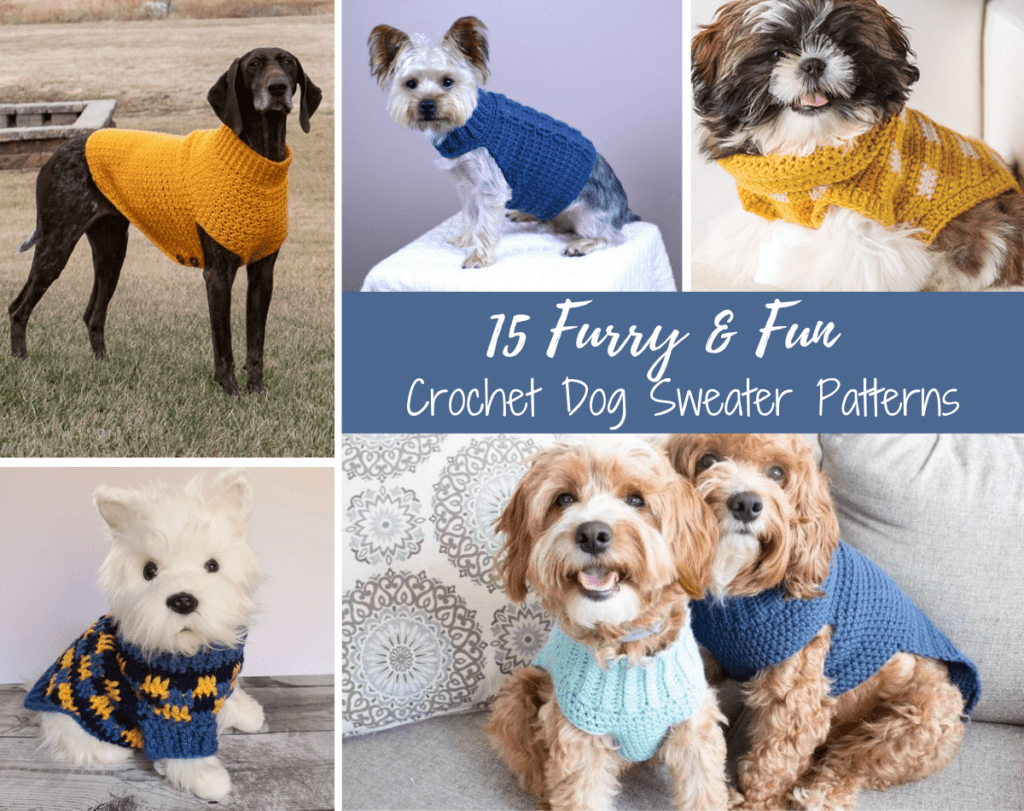 Here are some stylish dog apparel patterns so your pooch can strut their stuff and be the talk of the town. And also.. I just love crochet dog sweater patterns, so this is just an excuse to share some of my favorites!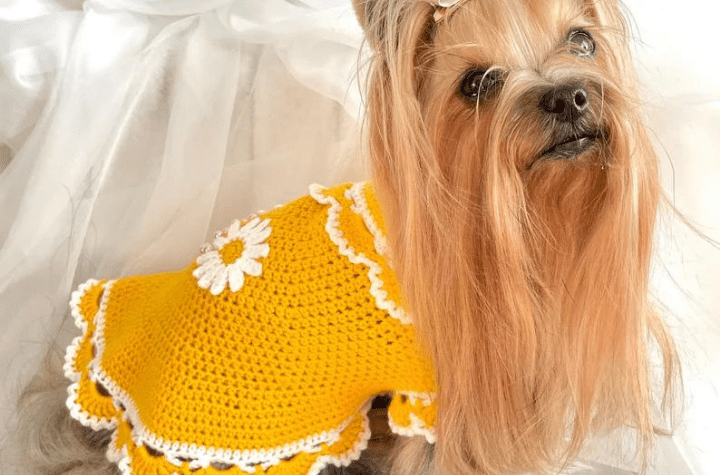 How happy and bright does this dog sweater crochet pattern from Yria Svet look on her adorable pup! What dog wouldn't want to feel so pretty and fabulous? This pattern gives me some good spring vibes, and I really like that it is a button design for the little ladies that simply do not want their heads touched under any circumstance.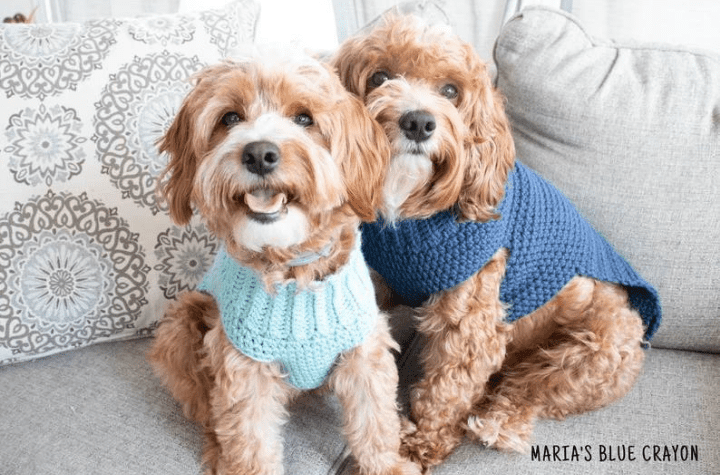 Can't go wrong with Maria's Blue Crayon's simple blue crochet dog sweaters! This is an adorable but simple everyday dog coat that can be perfect for any pup. The nice thing about this pattern is that it is not something your dog will take off as easily. So, if you've got an escapist, this pullover design means your pup is a lot more likely to stay in this one.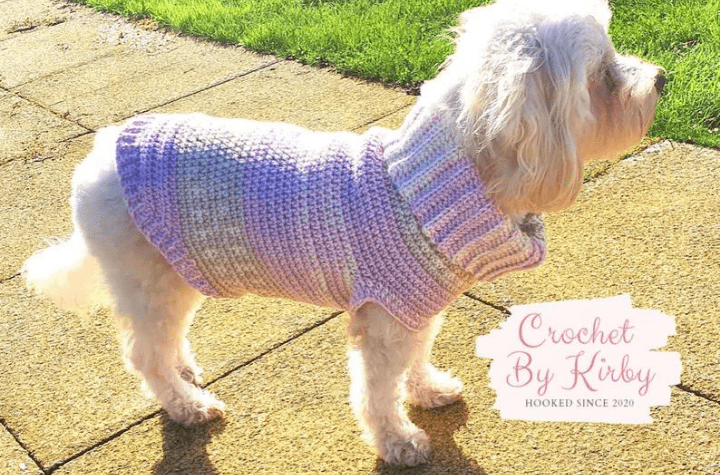 I can't get over this oh-so-fun crochet cowl on Crochet by Kirby's crochet dog sweater pattern! The stitching around the leg hole is a super cute touch and really adds to the aesthetic.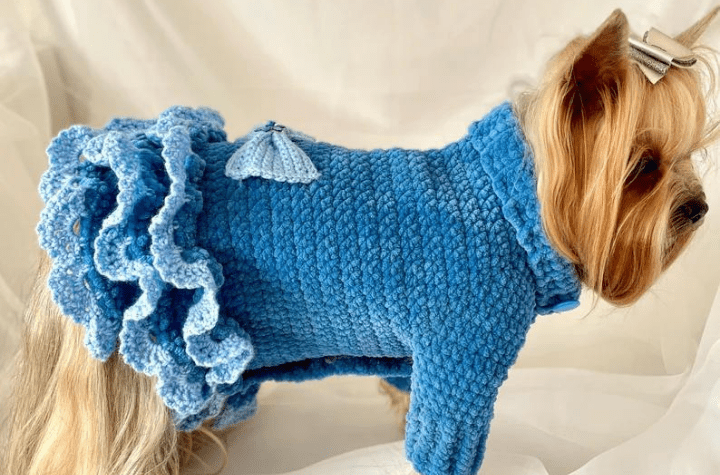 Okay… these ruffles might make this my new favorite crochet dog sweater. And with the little bow, Yria Svet has got the cutest little touches! This pattern is perfect for the small dog in your life and this adorable sweater is sure to keep them warm and cozy during the cooler months.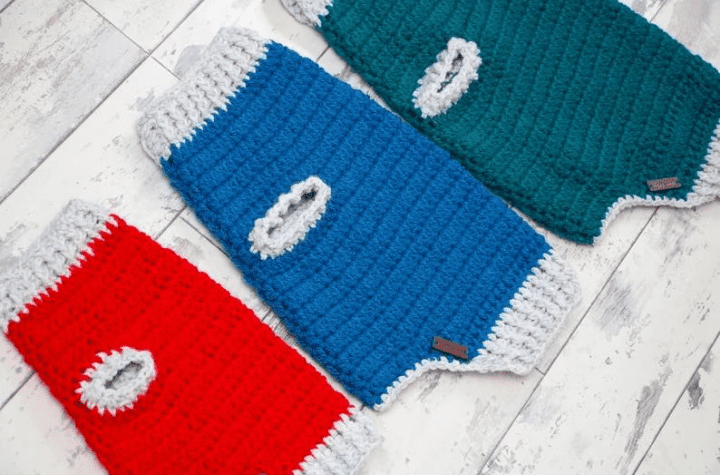 Another easy and fun option that is great for small to medium-sized dogs! Opulent Essence Store shows off some cool post double crochet stitches in this adorable ribbing trim. I also love the way that the neck, leg hole, and bottom of this sweater all match. This is a cozy crochet dog sweater you just can't miss.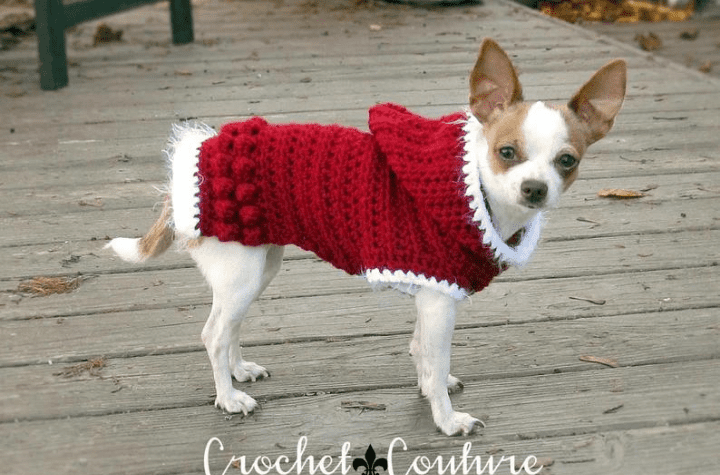 Ho ho ho! Jenny Staker Inspired's red dog sweater crochet pattern with a hoodie is too cute to resist! The little bobbles are such a great touch, your furry friend will not be able to resist this sweater. This pattern is definitely geared towards the little dog in your life, so make sure to keep sizing in mind when you are looking at this pattern.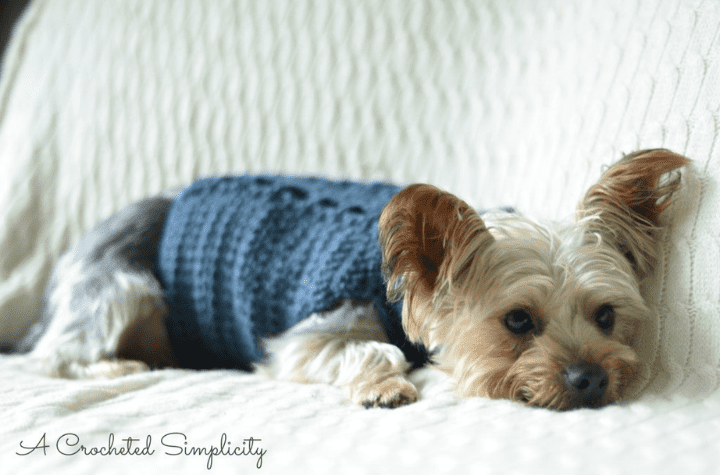 Who doesn't want a lazy day in, especially with this cabled dog sweater from A Crocheted Simplicity! This pattern is also made with both a smaller AND larger dog in mind, so you can make your furry friends match!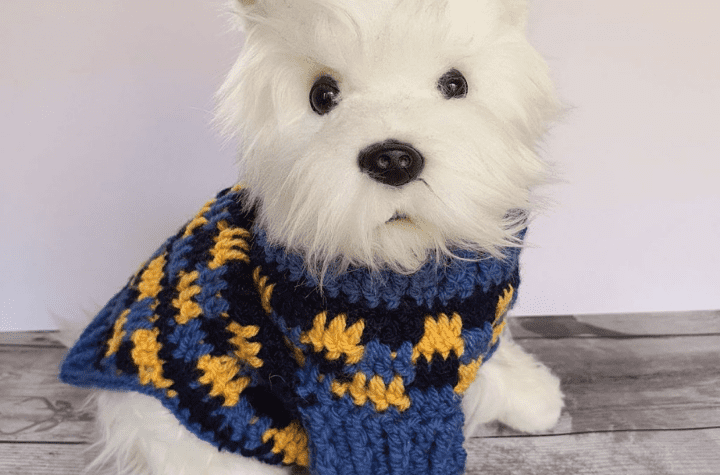 You all know I love my gingham, and this crochet dog sweater is no exception! I love The Stitch Foundry's addition of the ribbing on the sleeves and trim too. This is also a free pattern, so if you're not sure how your pup will react to a crochet sweater, maybe start here first.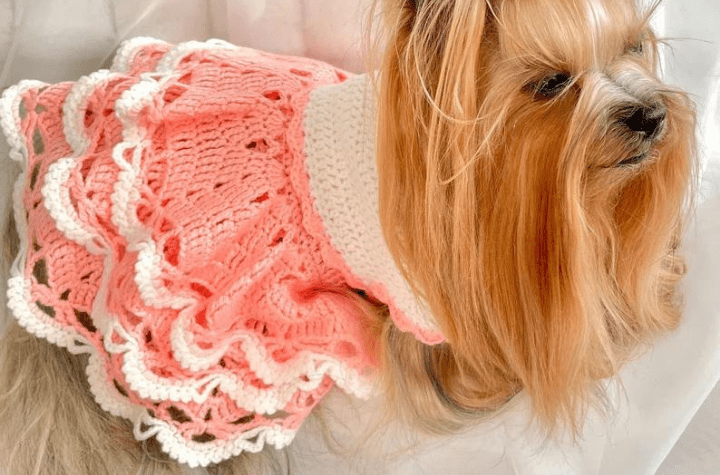 Another fantastic princess-style crochet dog sweater from Yria Svet! I honestly can't say no to a little dog in a sweater, especially when she looks this good. This is the perfect small dog sweater for any little lady to strut about town in, so it's a must for anyone trying to up their pup's wardrobe.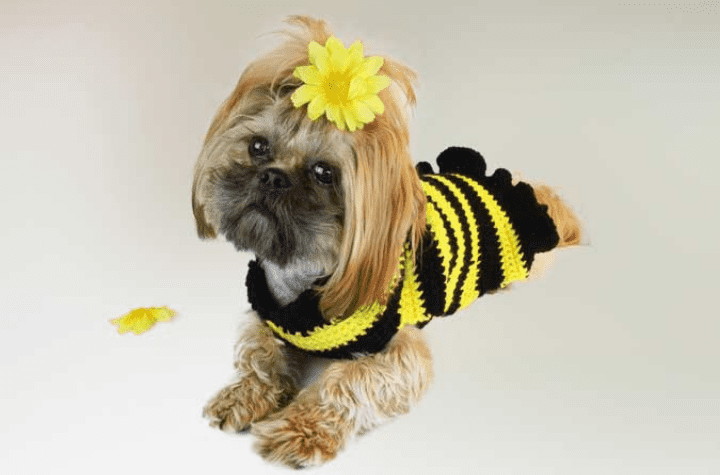 Can you BEE-lieve how cute this bee crochet pattern from Crochet Guru is? My heart is just melting with that little ruffle at the end! This little dog coat is an absolute must for an around-the-house summer look, but it can also double as a cute Halloween costume. This small dog coat is just so versatile!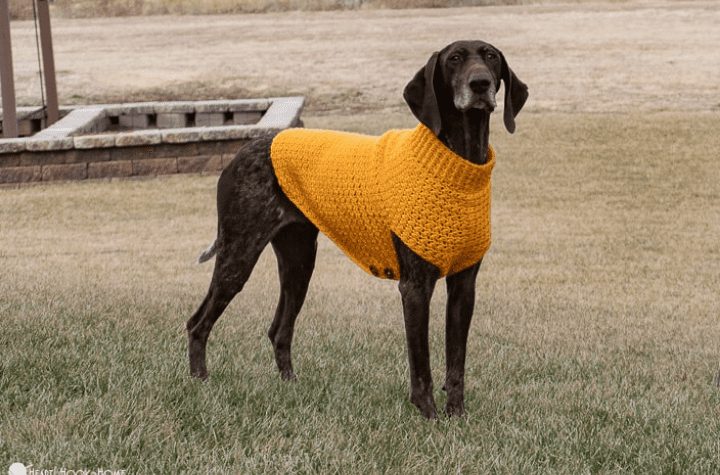 Looking through these patterns and wondering when your large dog is gonna get some love? Heart Hook Home is here for you! This simple but classy crochet dog sweater has got a neck cowl, buttons, and a large leg hole to keep your dog warm, comfortable, and fashionable. This would also be an easy crochet dog sweater to make for anyone that hasn't made any puppy clothes yet. Start your dog's wardrobe with a casual, everyday statement piece.
More Fun Crochet Patterns
If you love these crochet dog sweater patterns, you might also like to check out these other fun crochet patterns. You can find all our Free Crochet Patterns here.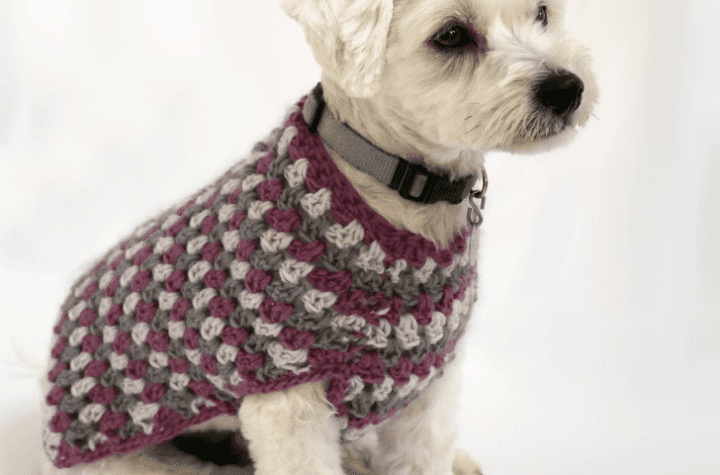 Who doesn't love a good granny square project? I love this Moogly crochet dog sweater that shows us yet another wonderful way to repurpose the granny square stitch we all know and love.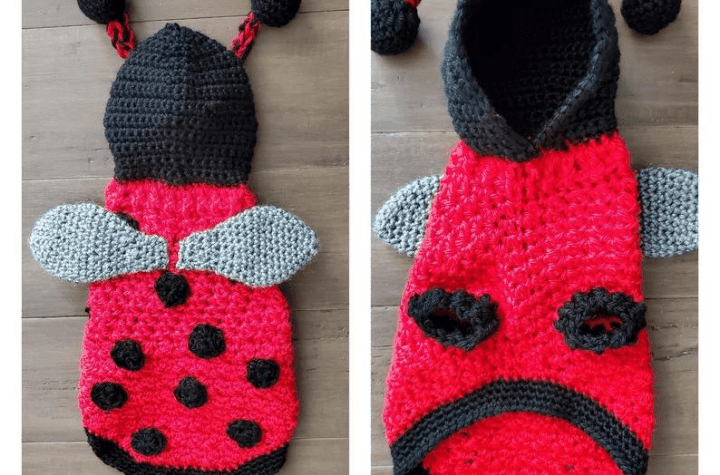 Got two pups and looking for another crochet dog sweater pattern to pair with that bee sweater? Creek's End Inc has this adorable ladybug dog sweater that is sure to have your dog feeling cute and fun! Also, this could be such a cute Halloween costume for your pup. Plus, if you live somewhere cold, it'll also keep your furry friend warm.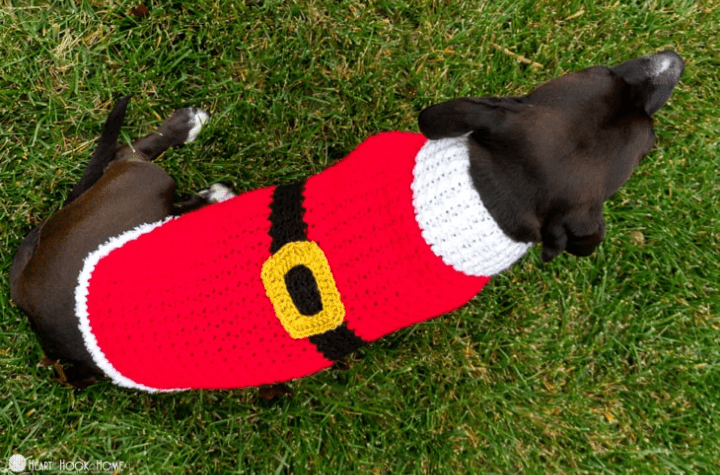 Santa pup is coming to town in this festive crochet dog sweater from Heart Hook Home! Even your dog deserves to have the opportunity to spread holiday cheer. This should be an absolute staple in your dog's winter wear collection, so make sure that you grab this pattern for your pup and get to work. Don't forget, it's large dog friendly! So, even the biggest of furry friends can wear this adorable doggy sweater.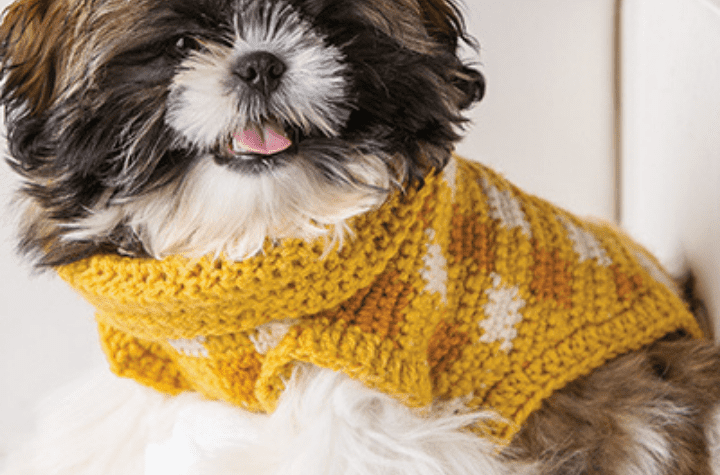 I am in love with this yellow plaid! This crochet dog sweater by Annie's has a simple cowl paired with some classy plaid and it's just the cutest thing ever. This is an adorable sweater for the little dog in your life that just wants to add a bit of everyday fashion.
I love seeing your finished projects! If you enjoyed making one of my patterns I'd love to see yours on Instagram, be sure to tag me @crochet365knittoo. If you are on Facebook, stop over to the Crochet 365 Knit Too Facebook page or pop over to the Crochet365KnitToo Club and share a photo! I'd love to see your work!