Delightful Crochet Christmas Tree Patterns
This post may contain referral/affiliate links. Please read my disclosure for more info.
Nothing quite says the holidays like a Crochet Christmas Tree! Green, fragrant, full of lights, sparkle and memories that make me smile.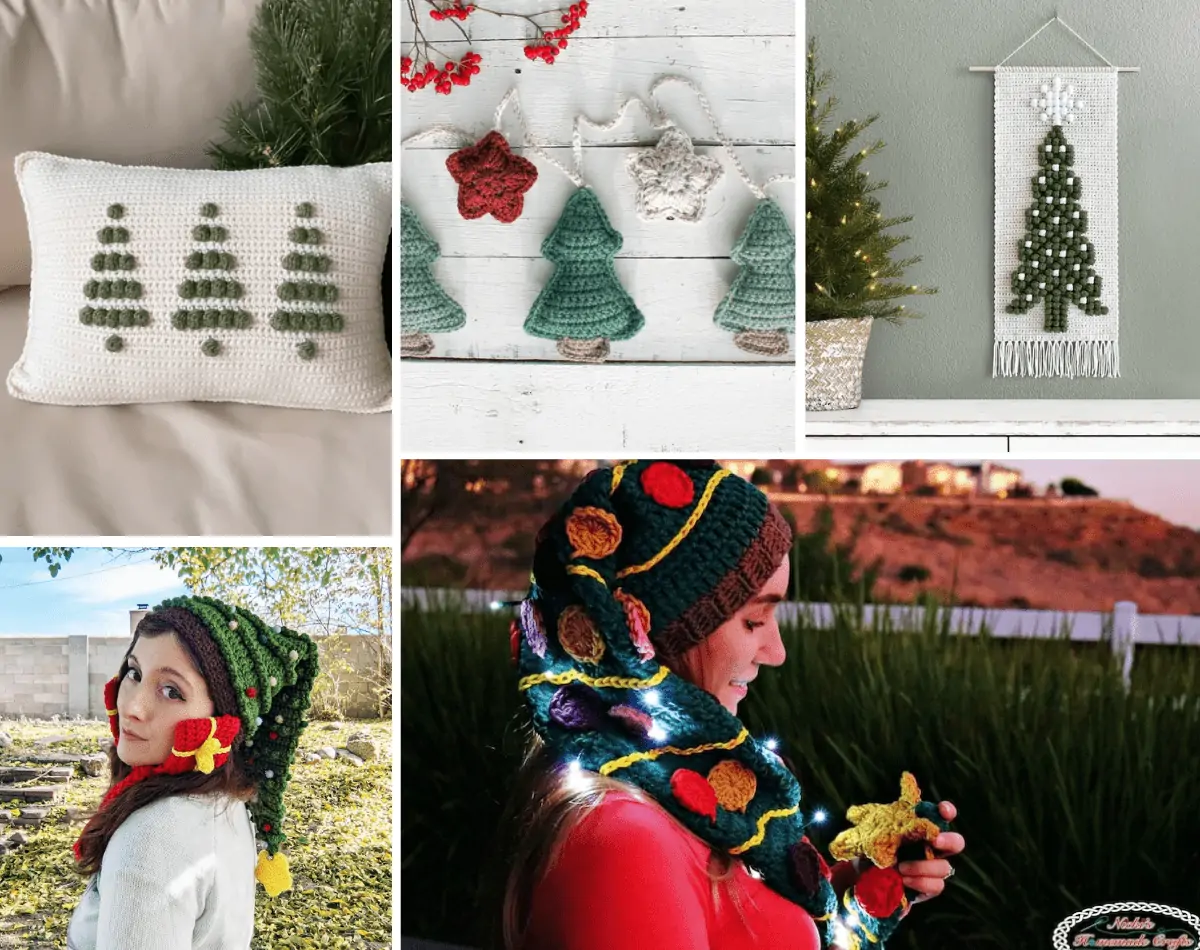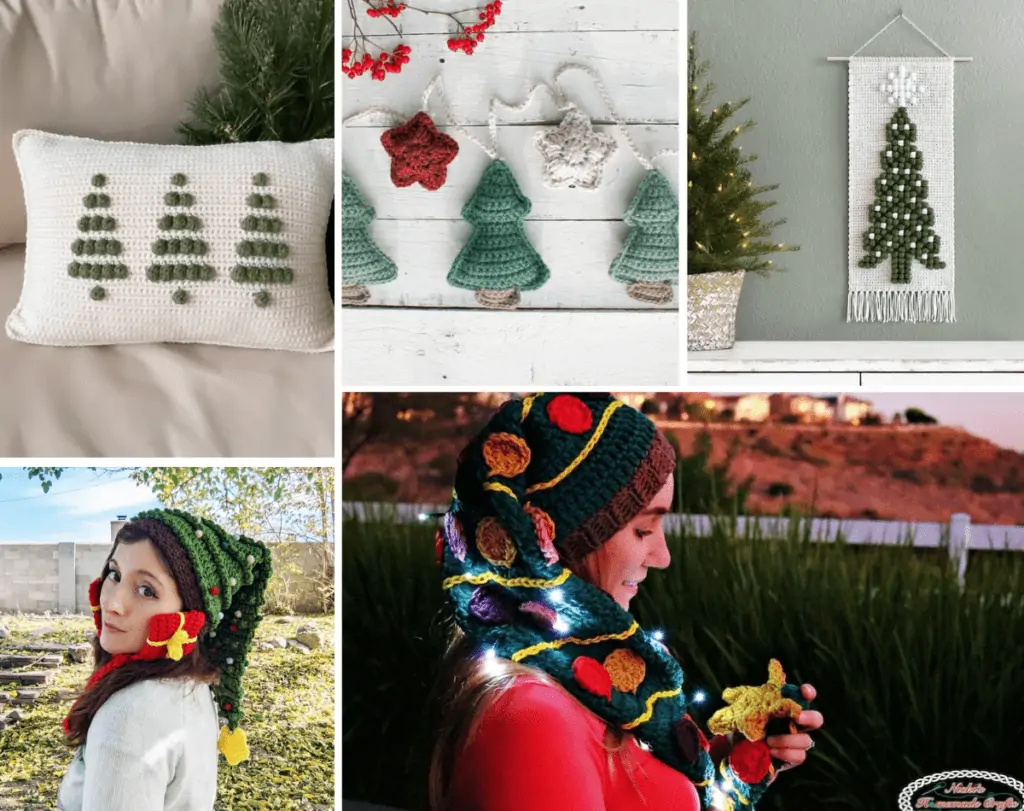 There's something magical about a Christmas Tree that stirs up deep-down good feelings in my soul.
Each year it is a delight. There's something wonderful about heading out to a Christmas tree farm, finding the perfect tree, and then bringing home that freshly scented beauty. It always seems to relax and grow a bit in the warmth of our home. And then it's time to string the lights… always a debate in our house because I love the look of white lights nestled deep in between branches and the hubs loves colorful lights.
Then it's time to bring down boxes and boxes of Christmas treasures! Some are destined for the tree and other things are displayed here and there. I love visiting my favorite ornaments each year and that wondrous moment when the lights are plugged in and everything glows with the Christmas spirit!
And what could be more fun than a delightful collection of Crochet Christmas Tree patterns?
How Do You Crochet A Christmas Tree?
A crochet tree is such a fun project! Most crochet Christmas trees use basic crochet stitches such as slip stitch (sl st), chain (ch), single crochet stitches (sc), half double crochet stitches (hdc), and double crochet stitches (dc). (Be sure to check out our crochet abbreviations if you see an unfamiliar stitch.) The gauge is not super important in the decor patterns, but make sure to use the correct mm crochet hook and yarn skein as indicated in the pattern instructions for best results.
Many of the patterns use a medium weight yarn and are worked in continuous rounds, so a stitch marker is a must! If you'd like a tree for your Christmas decor that stands on its own, a stuffed tree might be the perfect Christmas decoration! If you're not into stuffing your tree, you can also look for patterns with foam cones so the tree shape stays a bit stiffer.
Also, keep in mind you may need some craft supplies such as decorative buttons and beads in addition to your crochet hook and a ball of yarn or two. Plus, a yarn needle for sewing in ends and fastening parts together. The recommended yarn weights will be included with each pattern, so make sure to keep an eye on that.
Crochet Christmas Tree Patterns
If you're looking for an awesome pattern that will leave you with a beautifully finished tree that's not going to drop pine needles all over your house, I've got you covered. These tree decorations are a gorgeous compliment to your home, or if you've got a friend who can't put up a tree due to sizing issues in a small home, these patterns are sure to bring a smile to their face.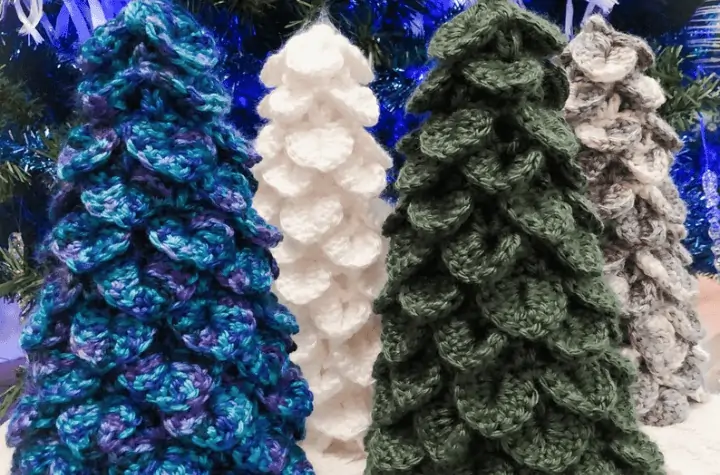 I love the texture of leaves on these beautiful Christmas Trees by In SL Stitches! I also love how the tree looks great in green yarn, white yarn, and even in variegated yarn so you can confidently make it in your favorite color and know it's still going to look as cute as ever!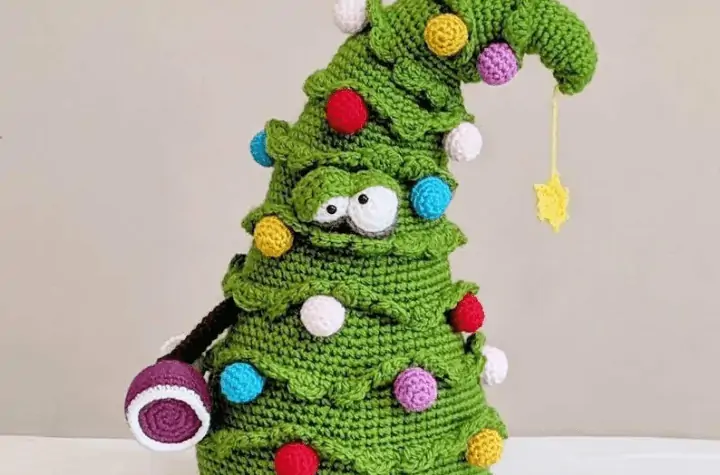 If you're wondering how do you crochet an amigurumi Christmas tree, you might just love this Christmas tree by Cottontail and Whisker. He looks like he enjoyed that holiday office party, doesn't he?! What a fun crochet decor piece!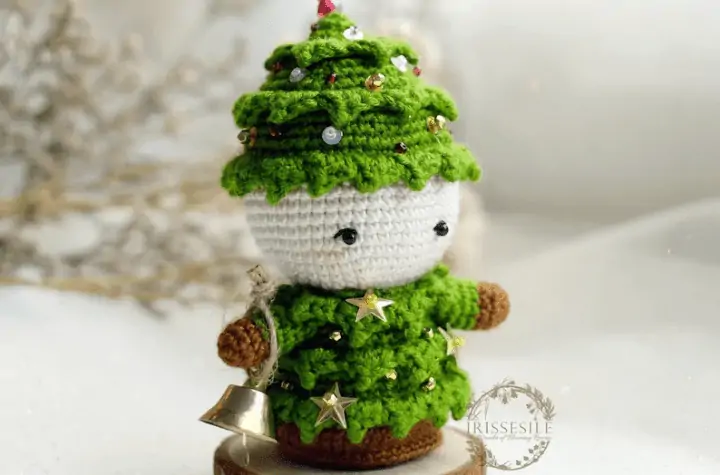 This Christmas tree amigurumi is melting my heart! it's like a little snowball inside the Christmas tree! No frozen hearts this year with Irissesile's irresistible little guy! I'd love to have him around this holiday season! I also love how the brown yarn acts as the tree trunk and also this little guy's feet. So clever!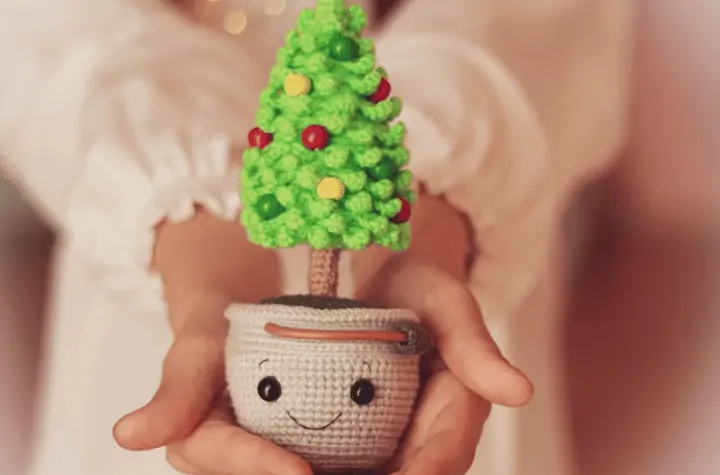 Is the winter season killing your plants? Not this one! Juliia Pyha has the perfect adorable tree crochet pattern to keep you enjoying that plant mom life! I love the colorful bead Christmas ornament look too! And the beige yarn pot with the little face steals my heart. Honestly, there can never be enough amigurumi tree patterns in my opinion.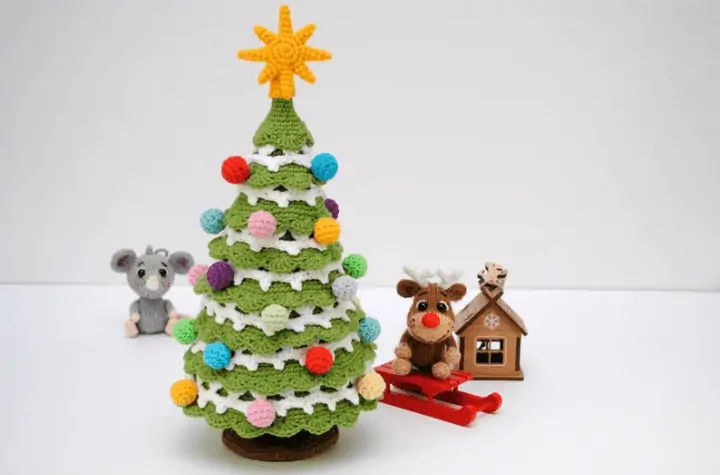 Can't go wrong with a cute and simple crochet Christmas tree! I love this little scene Crochet Toys Ukraine has put together to showcase this Christmas tree pattern! From the unique crochet star to the bauble crochet ornaments to the lacy snow garland this might just be the perfect Christmas decor!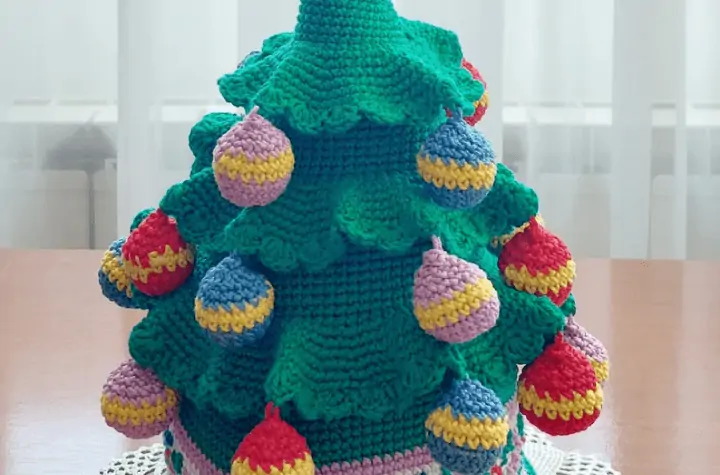 I love the vintage vibe BOJA Crochet Gallery's crochet Christmas tree! The color work is so fun and stylish! Definitely a fun Christmas crochet project!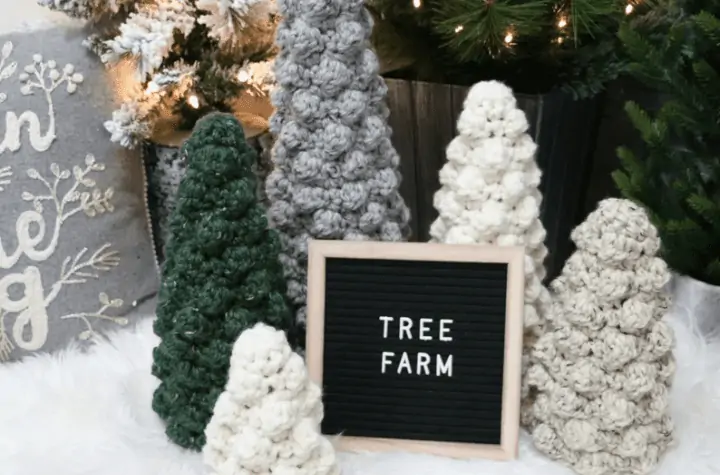 I love the bumpy branches on MJ's Off The Hook Designs crochet trees! This is a fun set that even includes a mini Christmas tree! I can just see a little forest of little trees with that small size pattern.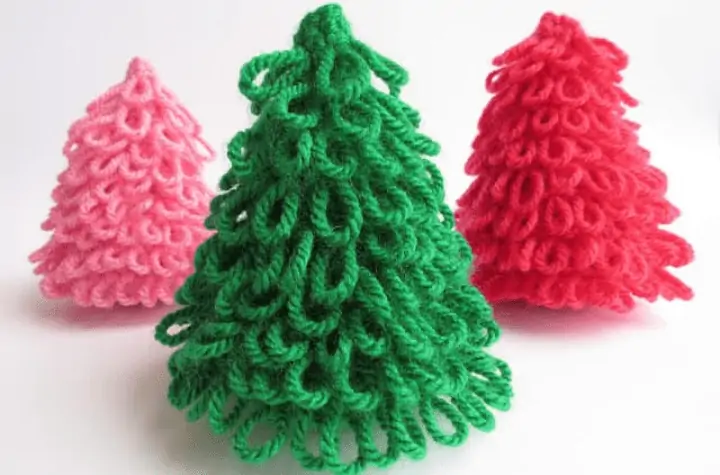 Feeling a little loopy with these oh-so-cute crochet Christmas trees by Maria's Blue Crayon! Super fast and easy to make! Plus, a great way to practice the loop stitch. I personally love the array of colors in this image, you just know you can easily customize your yarn choice to nicely complement your home.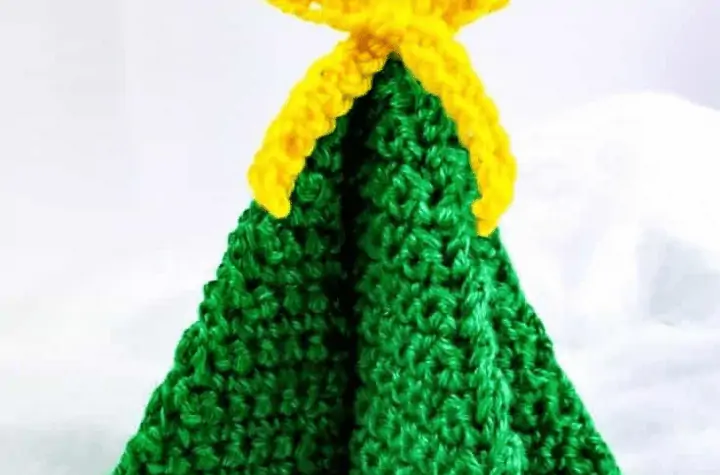 Need another fast and easy Christmas tree project? Nicki's Homemade Crafts has got your back with this non-stuffed tree perfect for a table or bookshelf display!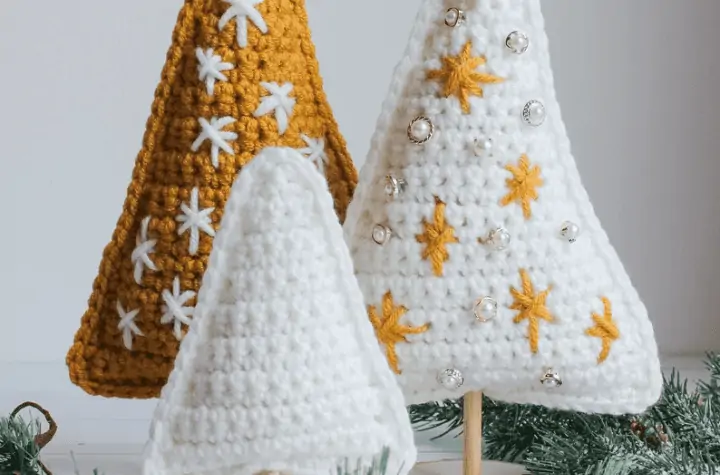 I love these white crocheted trees with a splash of gold! Nana's Crafty Home is bringing some modern style into this pattern and I am loving it! The embellished details of these trees are bliss!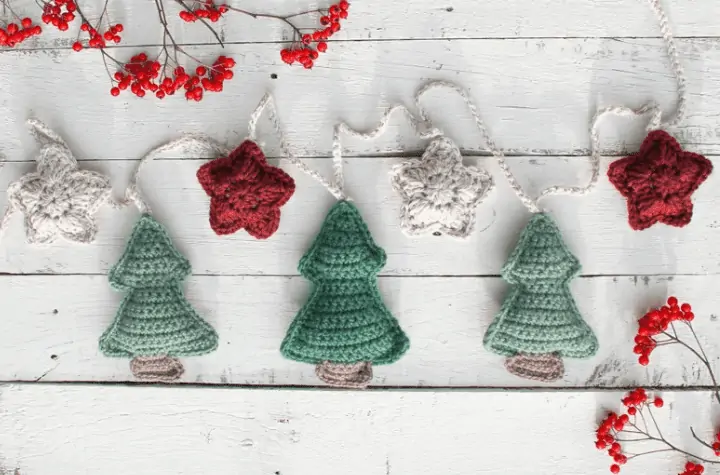 I am going to have to make this Christmas Tree garland crochet pattern by The Knotted Nest Shop immediately! Simple, but cute and I love the red crochet star too! These would also make adorable crochet Christmas tree ornaments.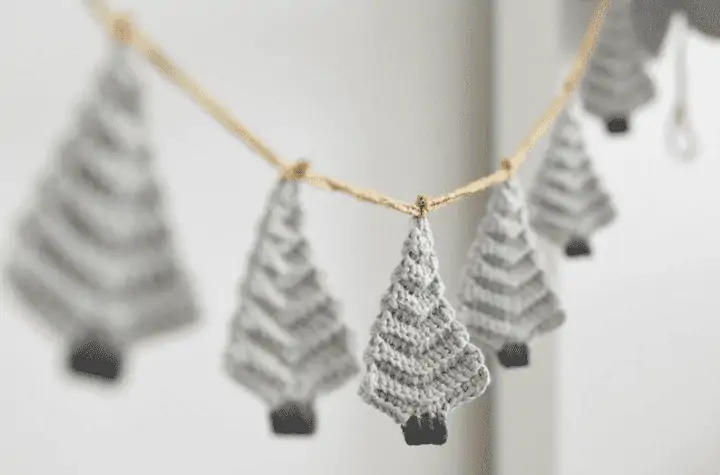 Oh no! How will I decide what garland to make with another gorgeous tree garland crochet pattern by Iilleliis? I love how the look of these Christmas Trees can change with simple color changes. This gray-toned look is stunning, but the Christmas Tree would look great in traditional green too! And if you don't want to make a garland, these would make great crochet Christmas ornaments!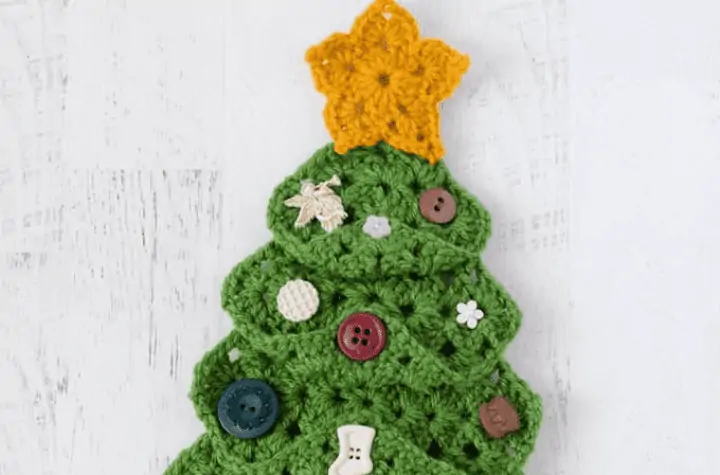 Who doesn't love a good old granny square? If you're wondering how to crochet a granny square Christmas tree, you will love this free pattern from our archives. And the best part is the ornaments are fun buttons! Easy peasy and a perfect pattern with worsted weight yarn for beginners! (I used acrylic yarn, but the pattern would look awesome in wool or cotton yarn too.)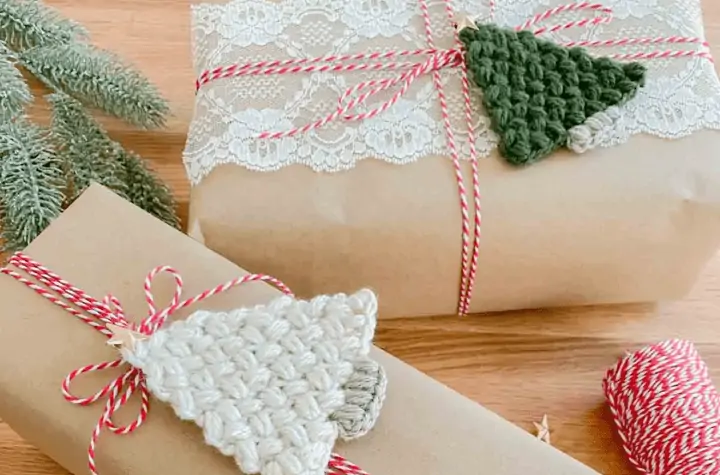 Wondering how to crochet a Christmas Tree appliqué? Or better yet, a fun Christmas Tree crochet pattern that does double duty as a bow stand in and Christmas Ornament? Check out Stitching Together's free crochet pattern!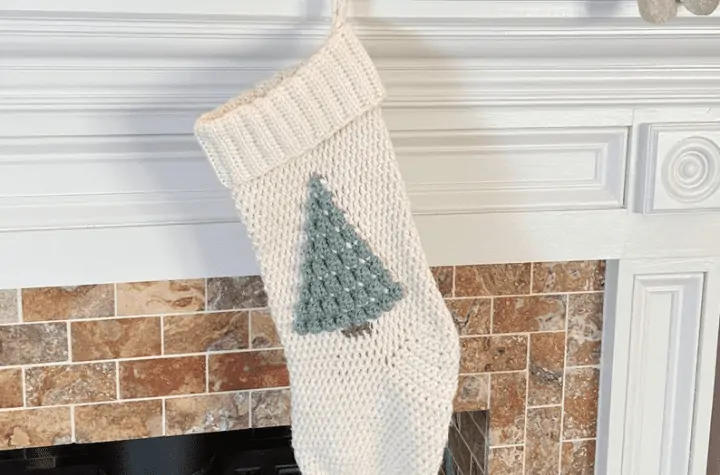 I've been a little obsessed with stockings this holiday season, and I am falling in love with this green-on-cream Christmas Tree Crochet Pattern by Knotted Nest Shop! How cute are those little bobbles! (Be sure to check out my classic Crochet Stocking pattern too!)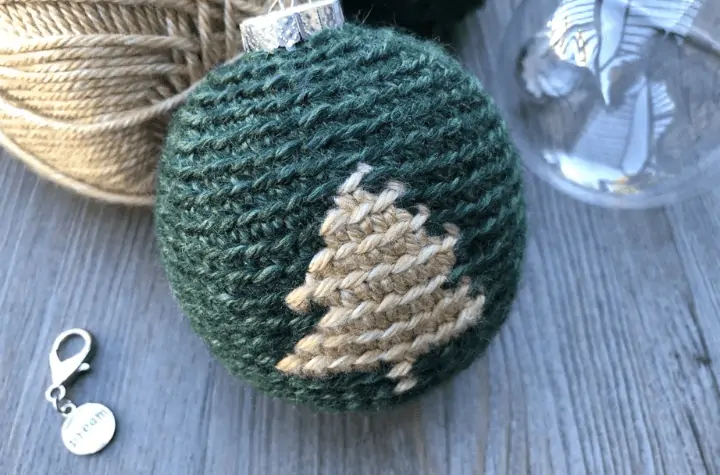 Got some room on your Christmas tree for one more ornament? Rich Textures Crochet has got the perfect pattern to jazz up your Christmas tree this year with this great Christmas Tree Ornament!
Christmas Decor
If you're wanting to bring the Crochet Christmas Tree vibe into your home decor, you're going to love these next patterns!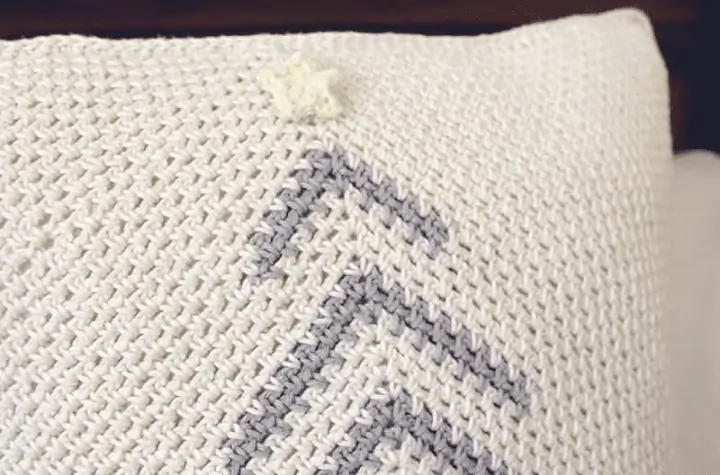 I love the simplicity of this modern-style Christmas tree crochet pillow by Ned and Mimi! This would look lovely in your holiday decor.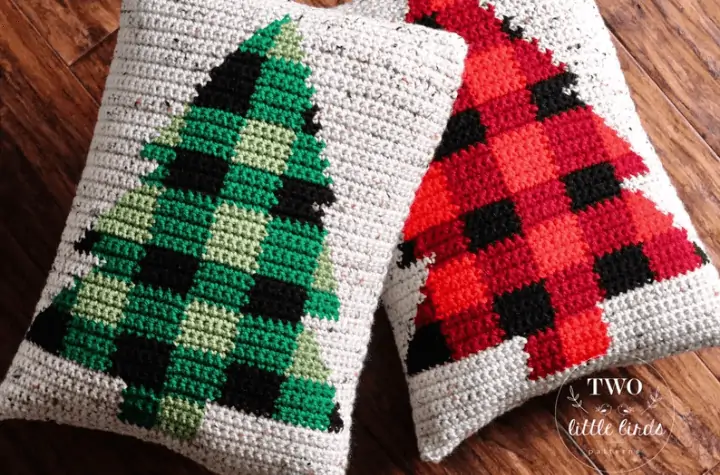 Big fan of plaid? So is Two Little Birds! Might have to make both of these Crochet Christmas Tree Pillows because these color combinations are just fantastic!!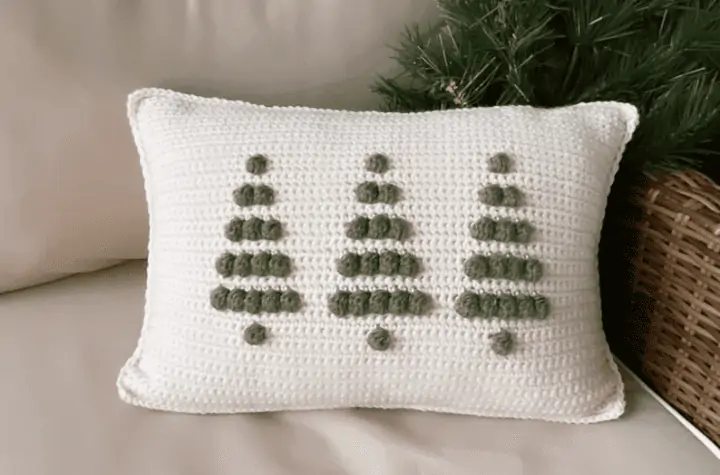 Here comes another crochet bobble tree into my life! Seacliffe Cottage blends simplicity and fashion in this fun crochet pillow design!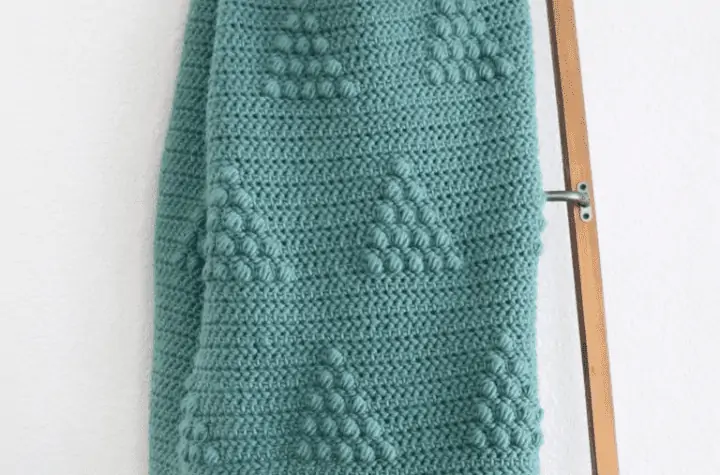 Bobbles are truly meant for every crochet project! This crochet pattern by Daisy Farm Crafts features crochet Christmas trees and is the perfect winter blanket to snuggle up with by the fire and enjoy the holidays! I feel cozy already!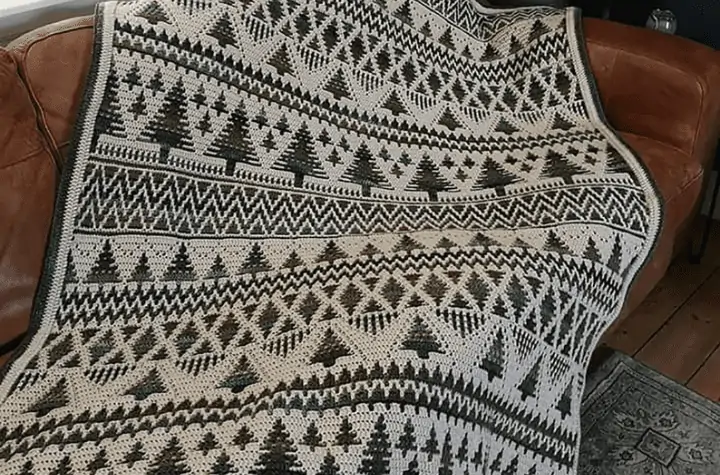 While simplicity is nice sometimes, other times you have to appreciate the details! Get Yer Hook On has really brought their A-game with this crochet tree blanket pattern! Who wouldn't want to show that off on their living room couch?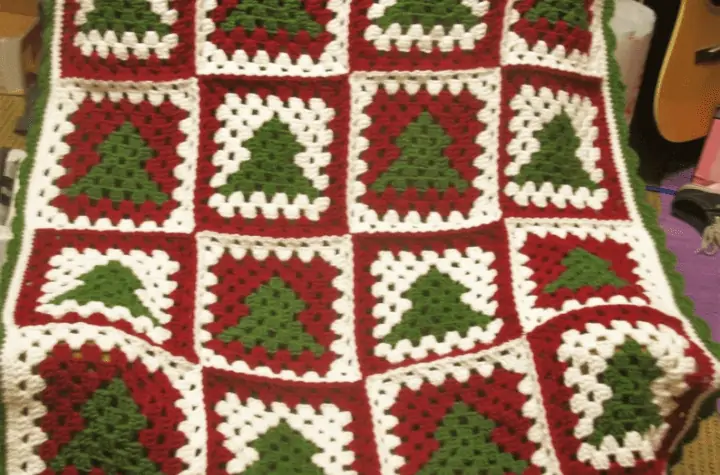 What a unique way to combine two of my favorite things: crochet Christmas trees and granny squares! Sensible Designs really went outside of the box with this fun afghan design!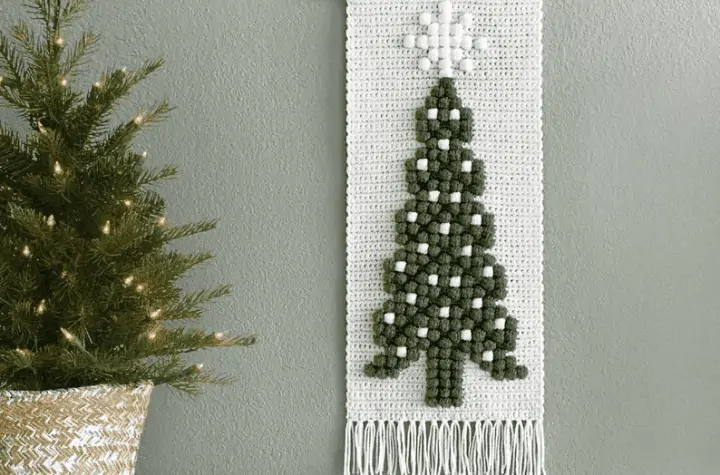 Wall looking a little bare this season? Not anymore with this fun Little Light Design Com Christmas tree wall hanging crochet pattern!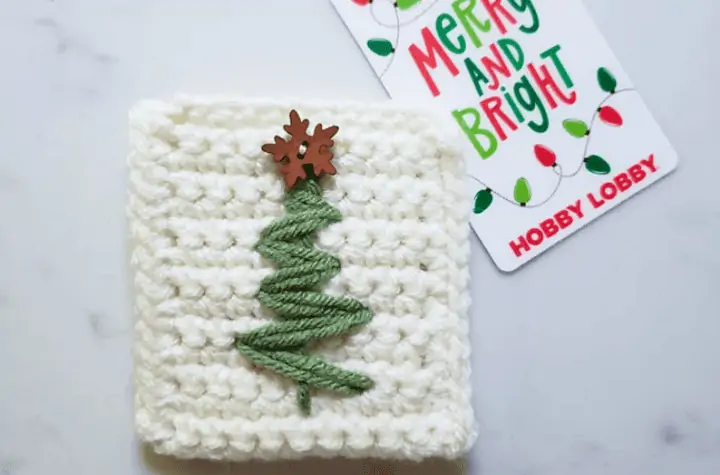 Need to jazz up that gift card? HC Crochets is way ahead of you with this adorable little Crochet Christmas tree gift card holder!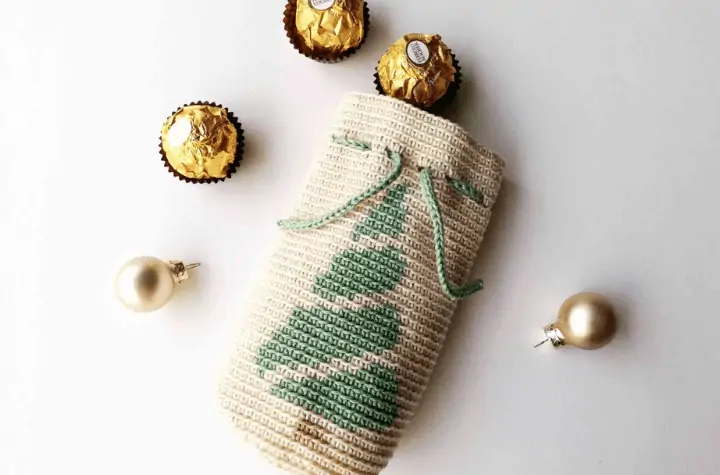 I think I just found the perfect place to stash my holiday candy! This Crochet Christmas Tree drawstring bag by Nordic Hook fits everything you need to survive the holidays this year!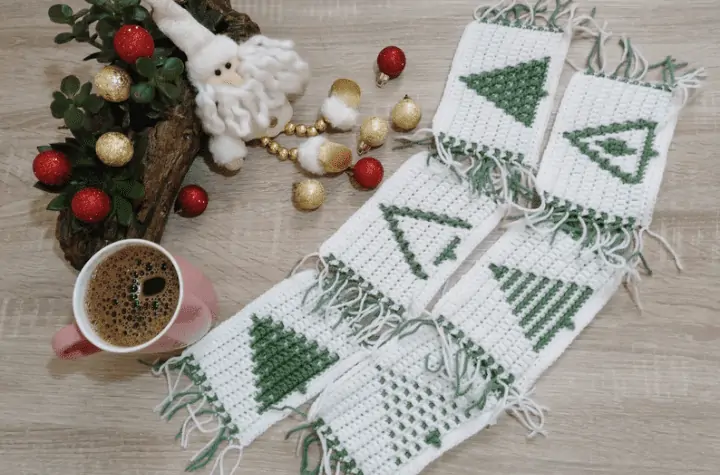 And how about these darling Crochet Christmas Tree coasters by Beba Blanket Designs? These guys are destined for some glasses of eggnog, I think!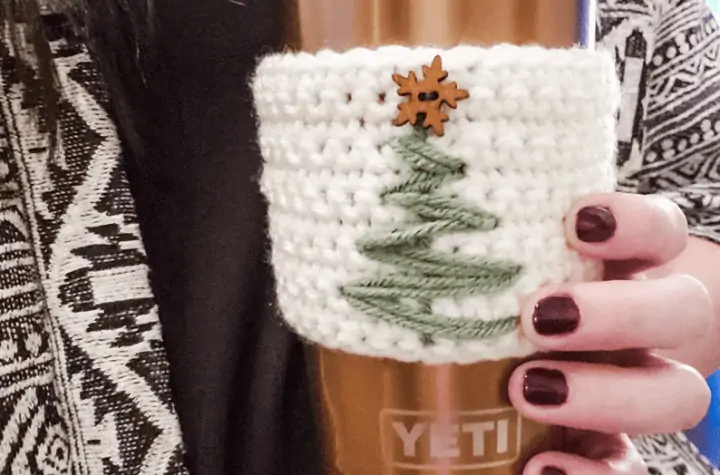 Deck out your coffee with this darling Crochet Christmas tree cozy by HC Crochets! Another great quick and easy gift idea!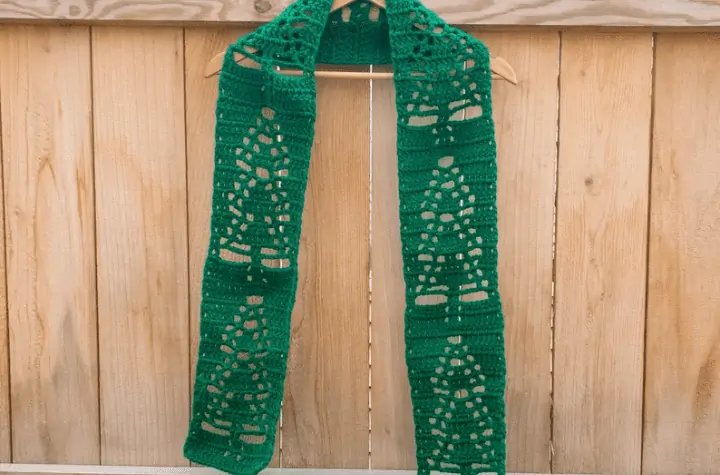 Out of scarf ideas for this holiday season? Scattered Scarves has this beautiful scarf design that is sure to be a favorite!
Crochet Christmas Tree Hats
If you are looking for the perfect pairing to your holiday outfit, is there really anything better than a tree hat? These patterns are just so fun!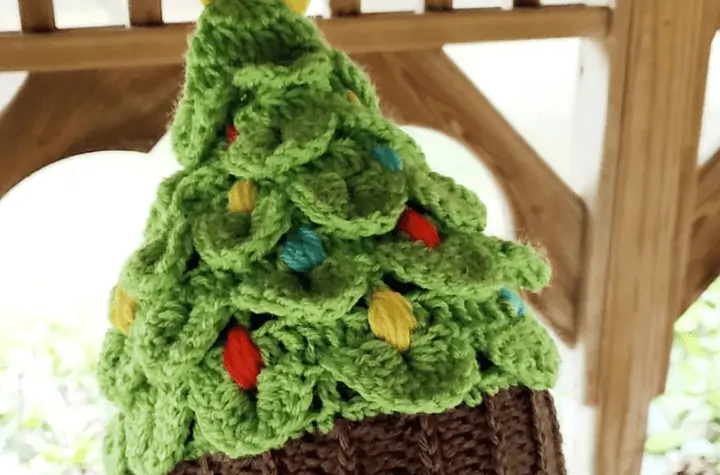 Want a fun way to keep your head warm this year? This crochet tree hat by Sarah Ahren's Creations is super fun and fast to make! I love how fun the little baubles on the tree look too!
This Christmas Tree hat by Nicki's Homemade Crafts is sure to have you lighting up the room! What fun!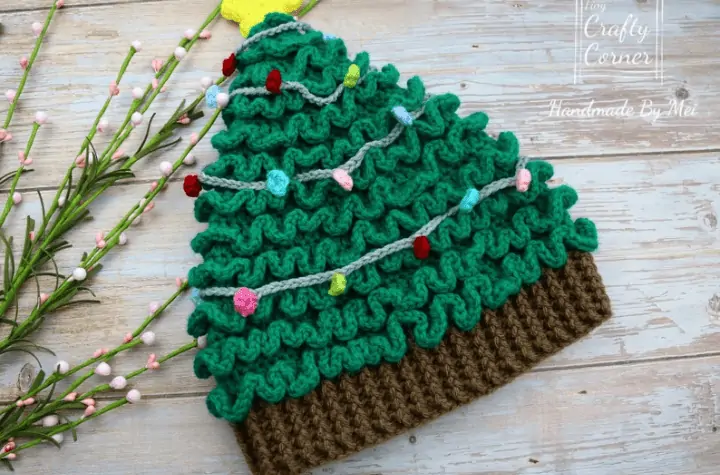 This cute fast and easy Christmas Tree hat by Tiny Crafty Corner features a fun brown yarn ribbed tree trunk and all the details! It would be fun to wear (and a great gift too)!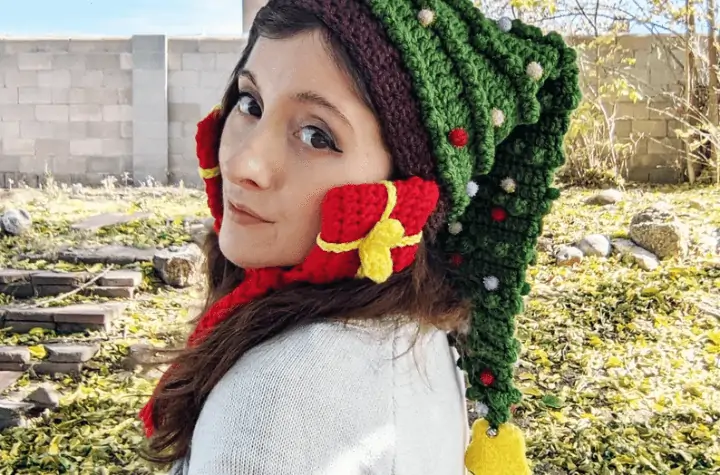 Who would've thought to make little gift boxes as ear muffs? HELLO Happy is a Christmas Tree hat crochet genius!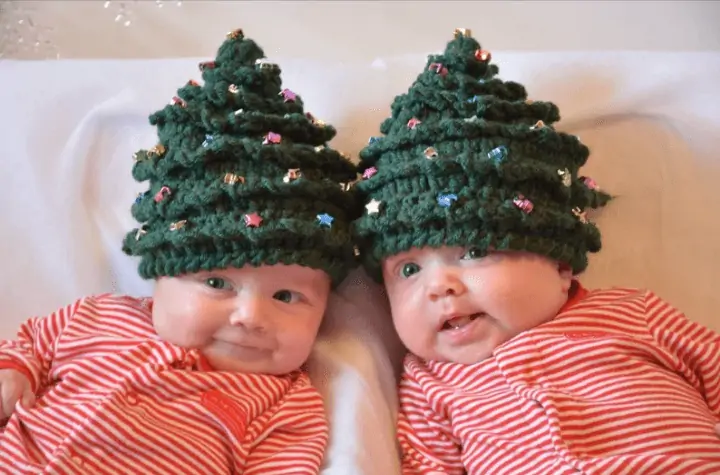 How can you resist a little baby with this Crochet Christmas tree hat by Too Cute Crochet? The answer: you can't. Also, look at those little decorative buttons that make up the ornaments. Those are so cute!
More Christmas Crochet Patterns
If you're looking for more awesome projects for Christmas, never fear! I have got you covered with some absolute must makes. Check out more patterns below.
I love seeing your finished projects! If you enjoyed making one of my patterns I'd love to see yours on Instagram, be sure to tag me @crochet365knittoo. If you are on Facebook, stop over to the Crochet 365 Knit Too Facebook page or pop over to the Crochet365KnitToo Club and share a photo! I'd love to see your work!