Woobles: Your Next Obsession
This post may contain referral/affiliate links. Please read my disclosure for more info.
Whether you're a brand new crocheter, a crocheter wanna be or you've been hooking forever, the Woobles have entered the scene and your crochet life just got a whole lot better.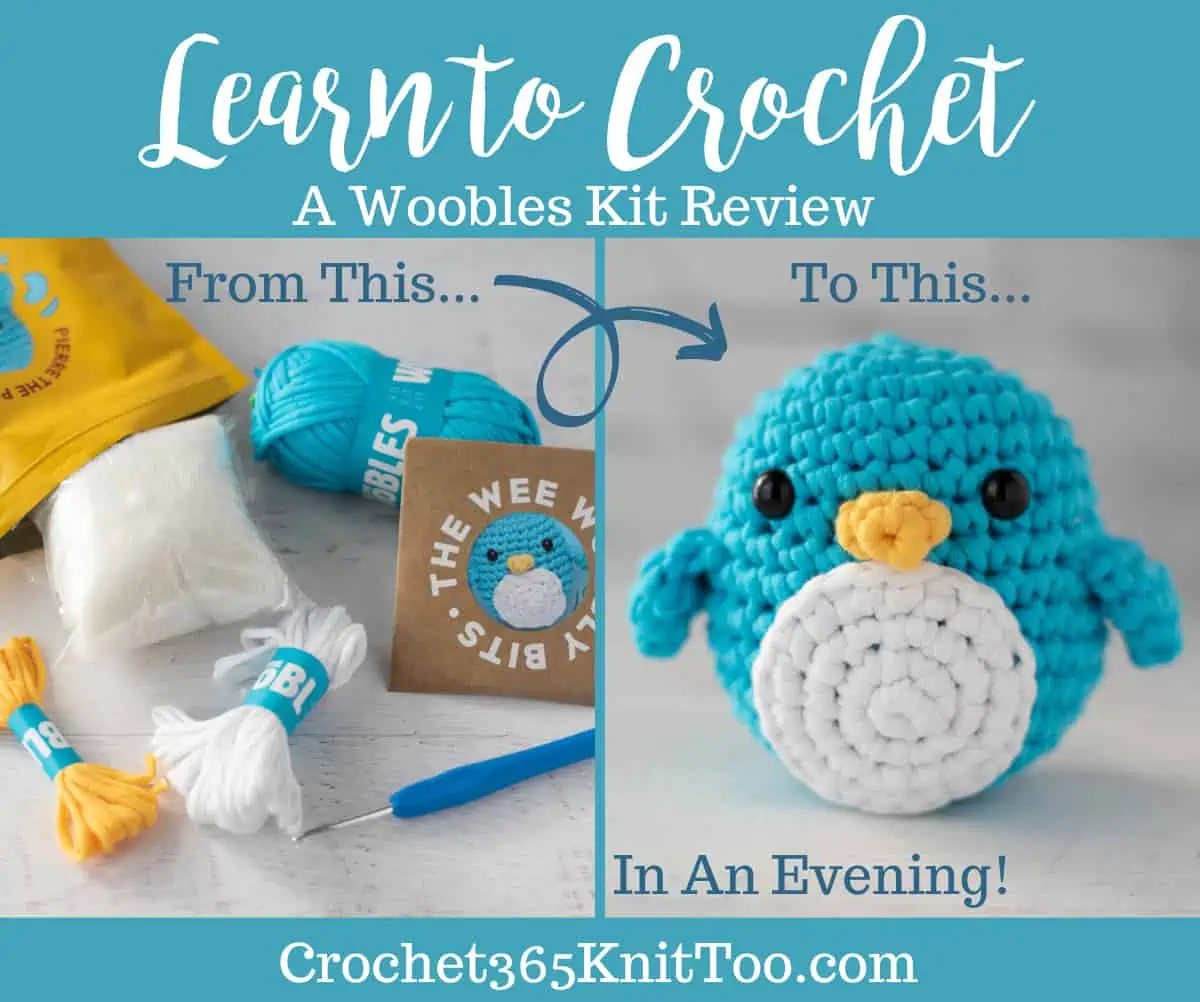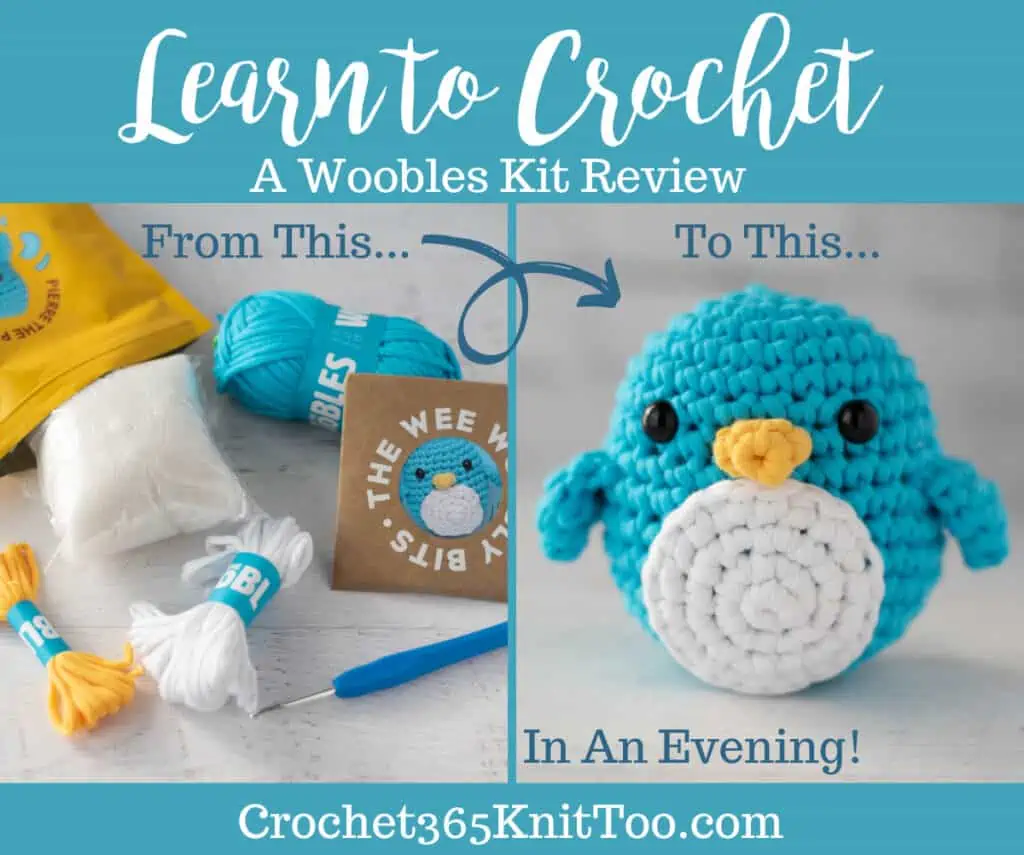 I'm in the latter category and I have a confession: I've fallen hard for the Woobles. I mean.. really… just look at them. It is hard NOT to. Cute. Adorable. Collectible. But also … genius.
Every little bit of them, from the wee wooble bits, the packaging and yarn to the collectible finished product screams "make me.. make me RIGHT NOW." And, friends.. you just need to succumb to it!
Marketed as a 'learn how to crochet kit', I'm here to suggest that even the most seasoned crocheter is going to get a whole lot of joy with the entire Woobles experience. And, of course, the fact that someone can go from "never held a hook" to "adorable Wooble" in an afternoon or evening is pretty much amazing too.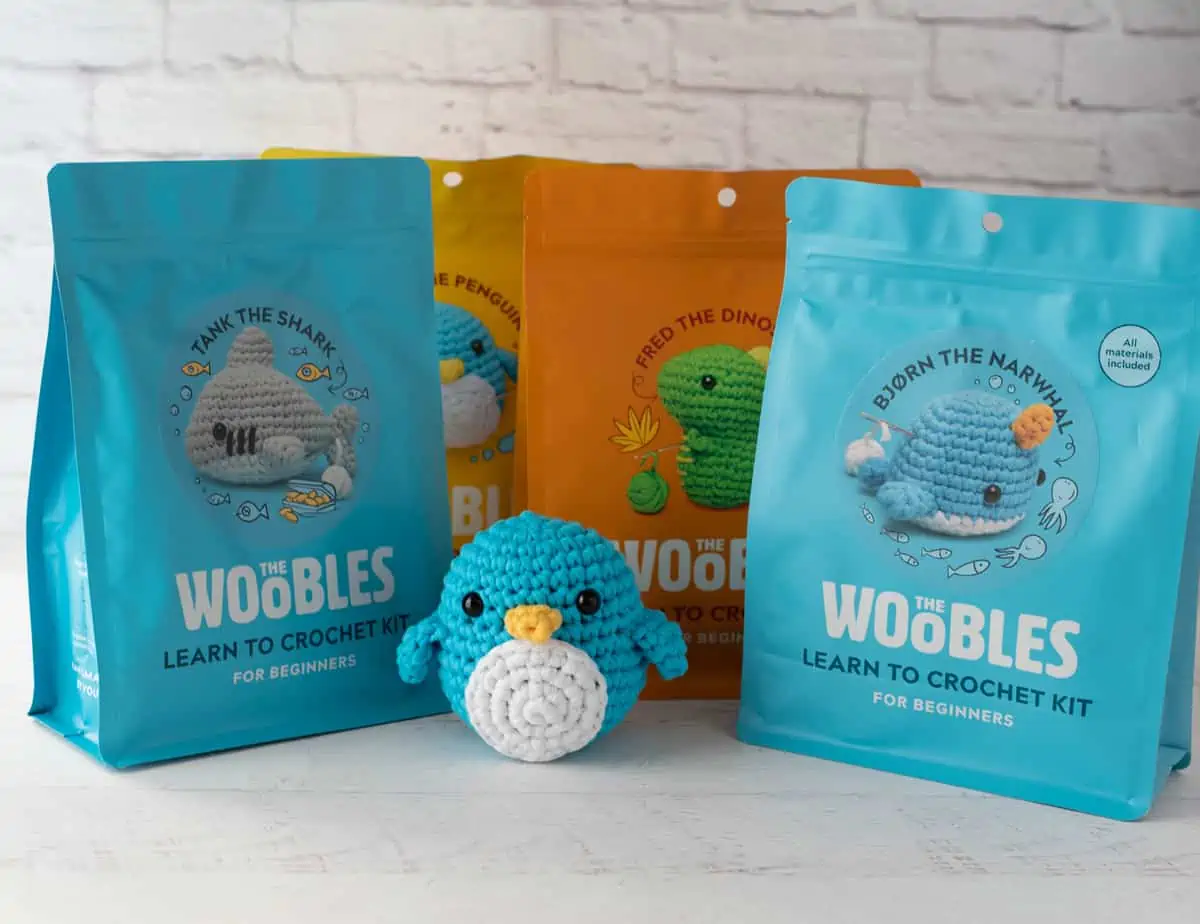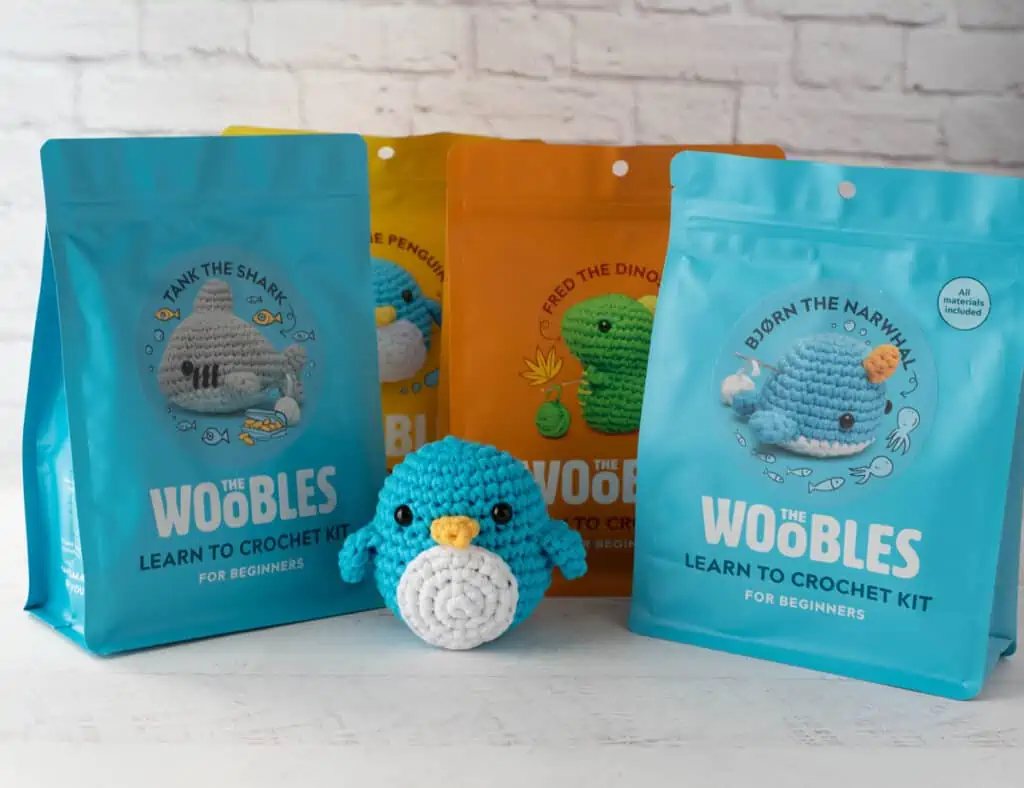 The Woobles Crochet
You might be wondering.. how did this experienced crocheter who has an entire blog on the topic (including a pretty amazing amigurumi ebook) end up a Woobles groupie?
Sigh.
It was a slippery, slippery slope, my friend.
Like many, I'd seen the ads online and thought they were adorable. But it was when their Shark Tank episode aired that I sat up and took notice. As a former corporate accountant, I was completely hooked by their story… really my two loves in one spot: numbers + crochet.
So I promptly ordered a whole slew of Woobles crochet kits to check them out in person. Then I actually contacted the Woobles people themselves and they sent me a kit to review (that's the Pierre the Penguin kit in the photos). They also kindly provided a couple of the adorable 'Woobles working' photos (because… yeah.. I was enamored with THOSE too… I mean.. come on… Woobles holding crochet hooks? I can't even…) So thank you to them for all of that.
I wanted to do a whole post on The Woobles because I think they are wonderful. The beginner amigurumi crochet kits are a fabulous start to the entire crochet craft (more on that shortly). But they are ALSO perfect for the crocheter who hasn't yet ventured into amigurumi. And the experienced crocheter can get a lot of joy out of them too.
In short.. they are great for so many people and I can't wait to show you why!
What is Amigurumi Anyway?
Amigurumi is just a Japanese word for a crochet or knit toy. When I was younger we called them 'stuffed animals'. Now we call them amigurumi and so many of us love to crochet them!
Who Started the Woobles
In a lot of ways, the Woobles beginning is much like any crocheter's journey. Justine Tiu learned to crochet as a way to unwind from a stressful job. She wanted to crochet a cute penguin for a friend but felt like the process to get there was too complicated. She knew there was a better way to make a brand new crocheter's first project even better. So in 2020, she and her husband, Adrian Zhang, spent $200 on some yarn and domain name and launched The Woobles.
Fast forward to late September 2022 and the husband-and-wife crochet kit company landed on ABC's Shark Tank, (Season 14, Episode 2) where they wowed investors with their all inclusive crochet kits, their business savvy and their desire for wholesaling opportunities and character licensing. The Sharks team of investors were blown away with the husband and wife duo (and we are too). So get ready for more Woobles in your future!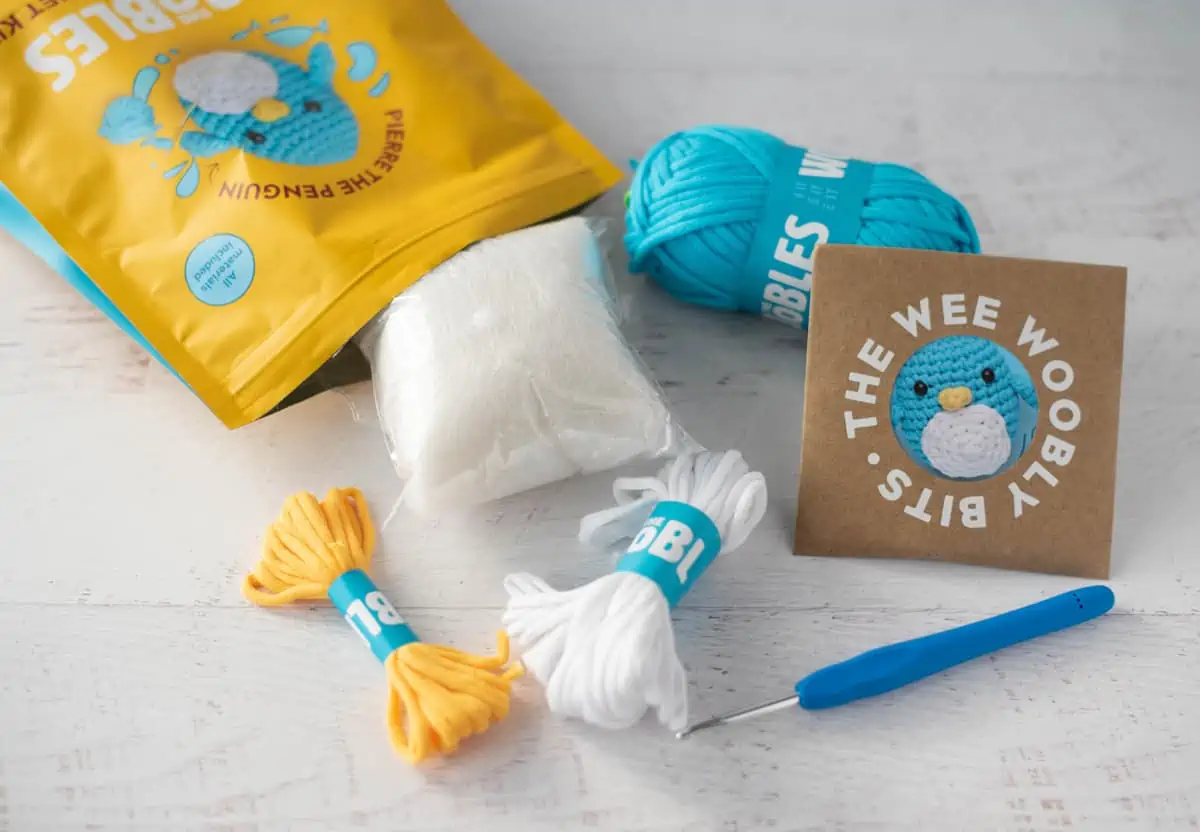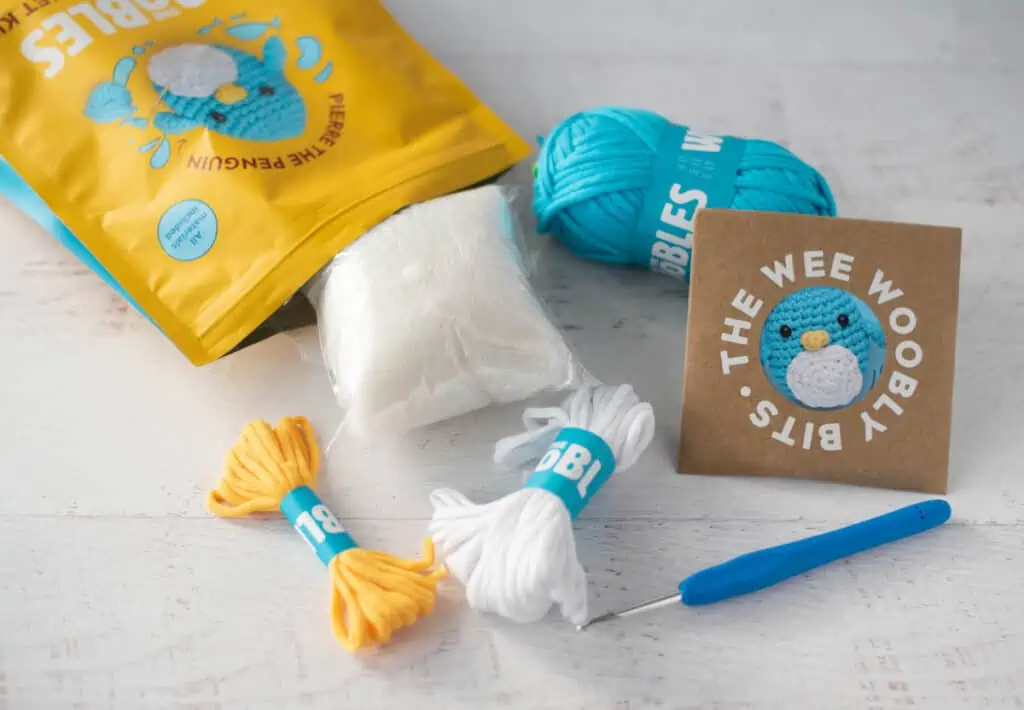 The Woobles Crochet Kit
The Woobles crochet kit has every bit you need to make a complete adorable Wooble including yarn, stuffing, and crochet hook (you can opt out if you already have the right sized hook). The beginner crochet amigurumi kits also come with a cute little envelope of Wooble Bits.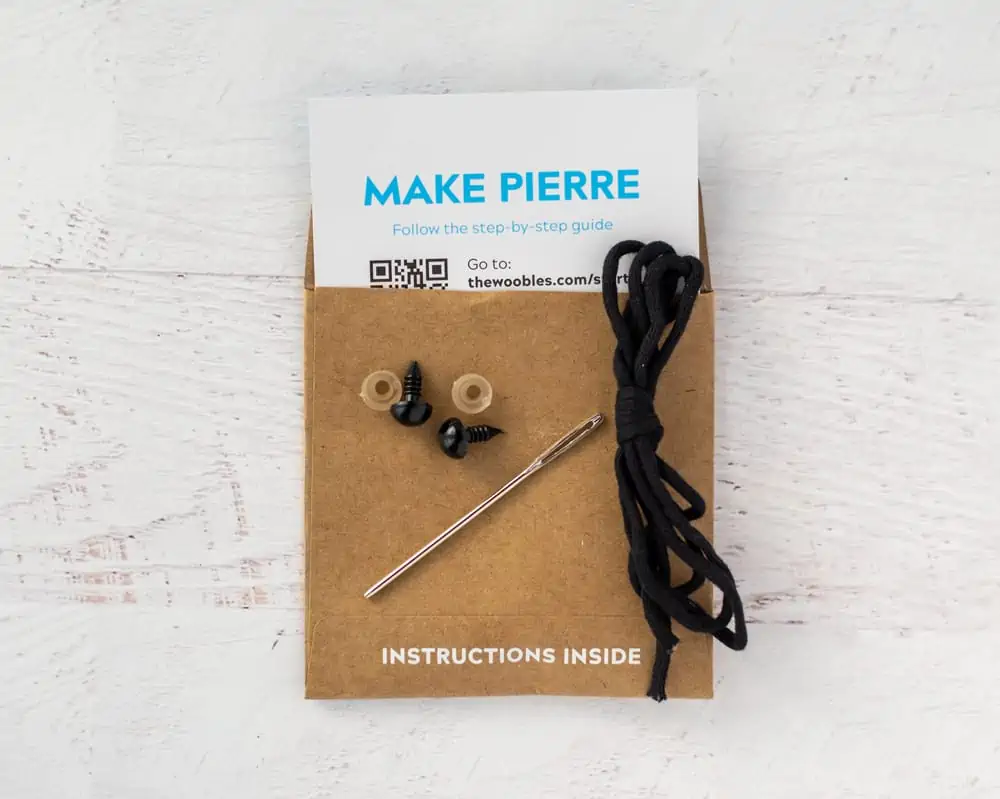 In your Woobly Bits envelope are several important tidbits you need for your Wooble. Safety eyes, which are great if your Wooble is for an adult or older child. Black yarn is included if you'd rather embroider your Wooble's eyes (a must for young children since the safety eyes aren't really safe for them). A yarn needle for sewing your Wooble together and a directions card.
Either scan the QR code or go to the website indicated on the card and enter the super secret password for your Wooble to get the instructions.
The brand new crocheter is best served by following the step by step crocheting videos. You'll crochet right along with Justine as she shows you how to make your adorable Wooble one small step at a time.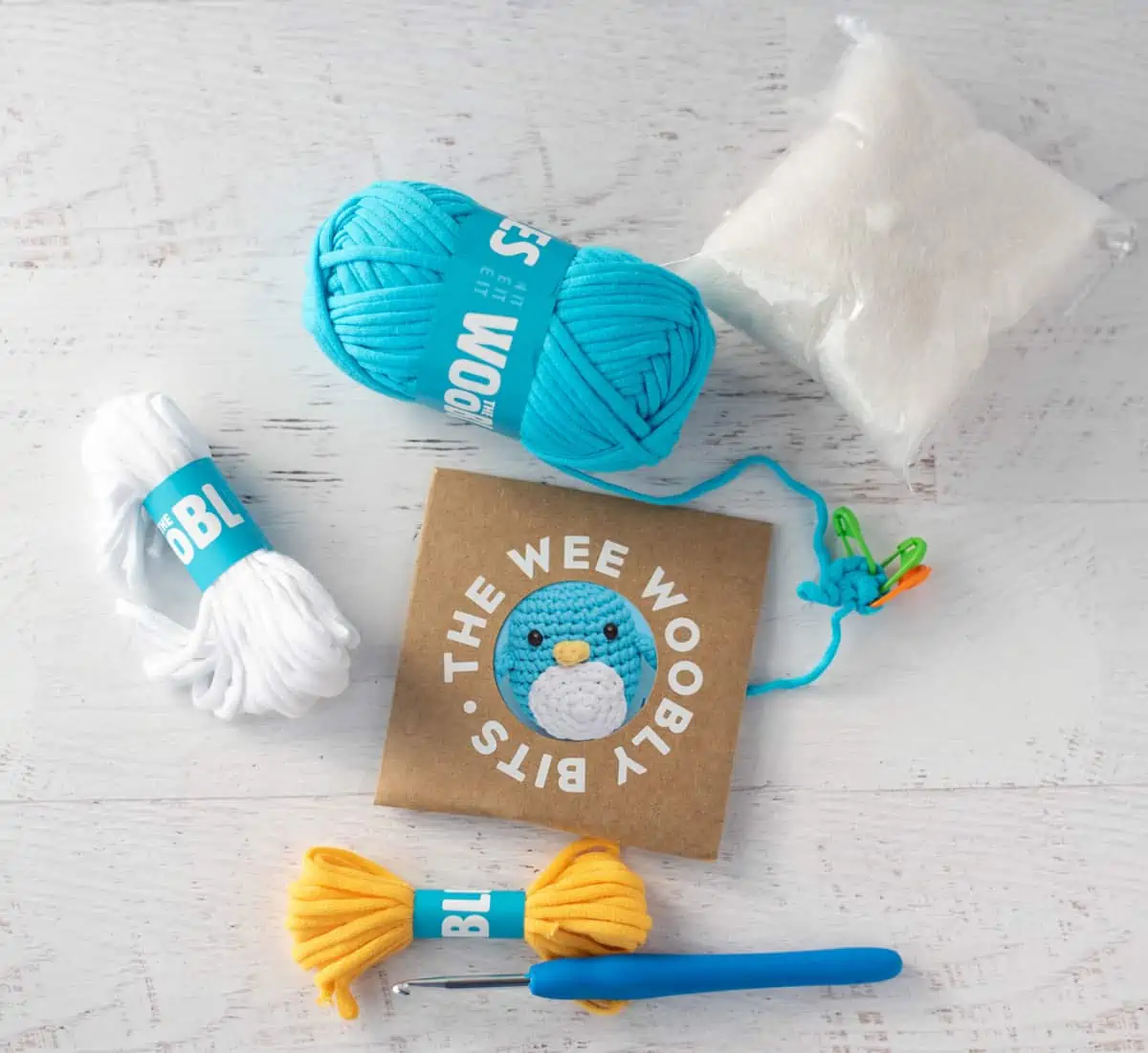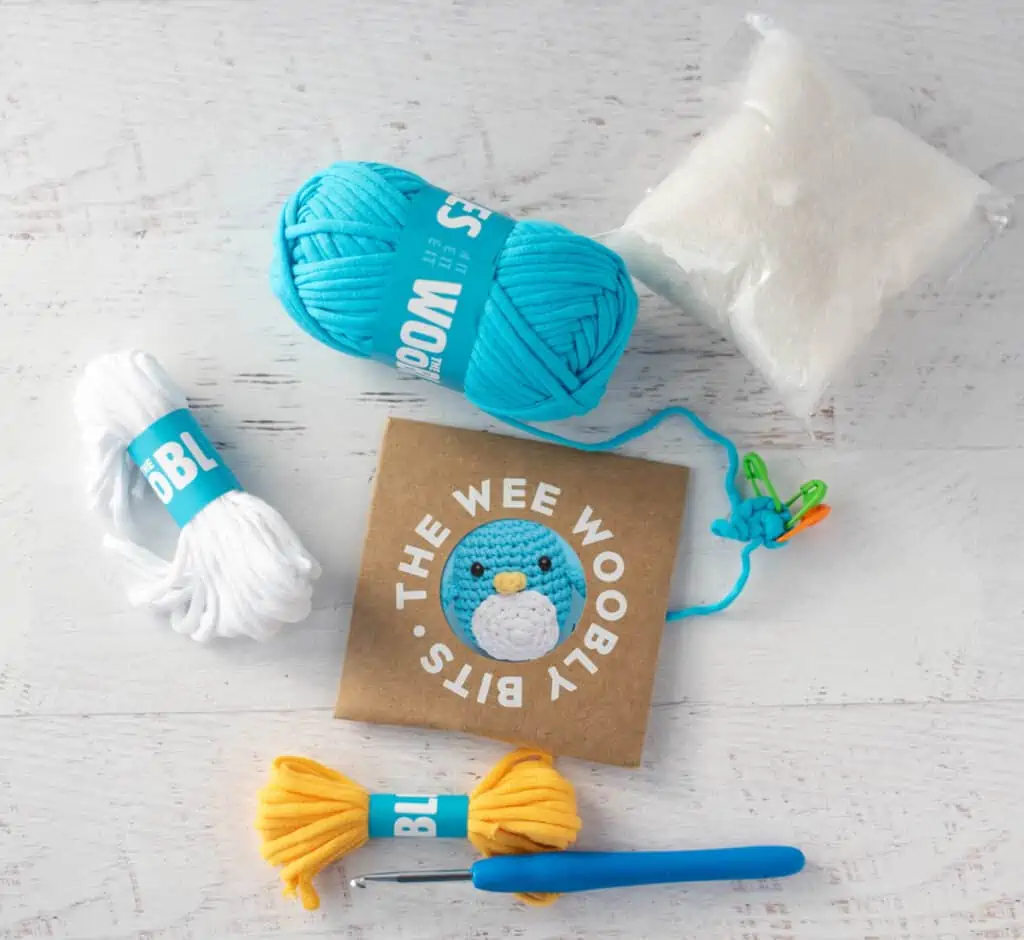 But wait.. there's more.
If you are a more experienced crocheter, this is still for you. You might find sitting through basic crochet videos.. well.. excruciating.. because you already KNOW the things. Not to worry because there is a complete written pattern you can follow too. Just look for a "download pattern" link. Click on that and download the pattern.
I actually recommend new crocheters do this too because then you can check off rows as you go on the written pattern. This also gives you an opportunity to follow a written crochet pattern. Side note: I have a complete How To Read a Crochet Pattern post to help you with that too!
What Kind of Yarn Does the Woobles Use
The latest Woobles kits use yarn designed by the Woobles themselves. It is a worsted weight #4 t-shirt style yarn. The yarn is a delight for the new crocheter because it doesn't have plies (think: individual strands) to get caught up in your hook. This makes it so much easier for beginner crocheters to learn to crochet.
After you've made your adorable Wooble you might be wondering what yarn to use to make your own Wooble. You can either buy more of the Wooble Easy Peasy Yarn or use any Worsted Weight #4 yarn. In fact, when the Woobles first started, they used Super Saver yarn. It has a different look and feel, but a nice choice for budget minded crocheter's next project.
What Stitches Do the Woobles Use
The Woobles kits typically feature basic crochet skills such as single crochet, chain stitch, increasing and decreasing. They also feature the magic ring (aka magic loop).
How Do You Crochet A Magic Circle
Whether you call it a magic circle, a magic ring, or a magic loop, this one crochet technique can stop a new crocheter in her tracks.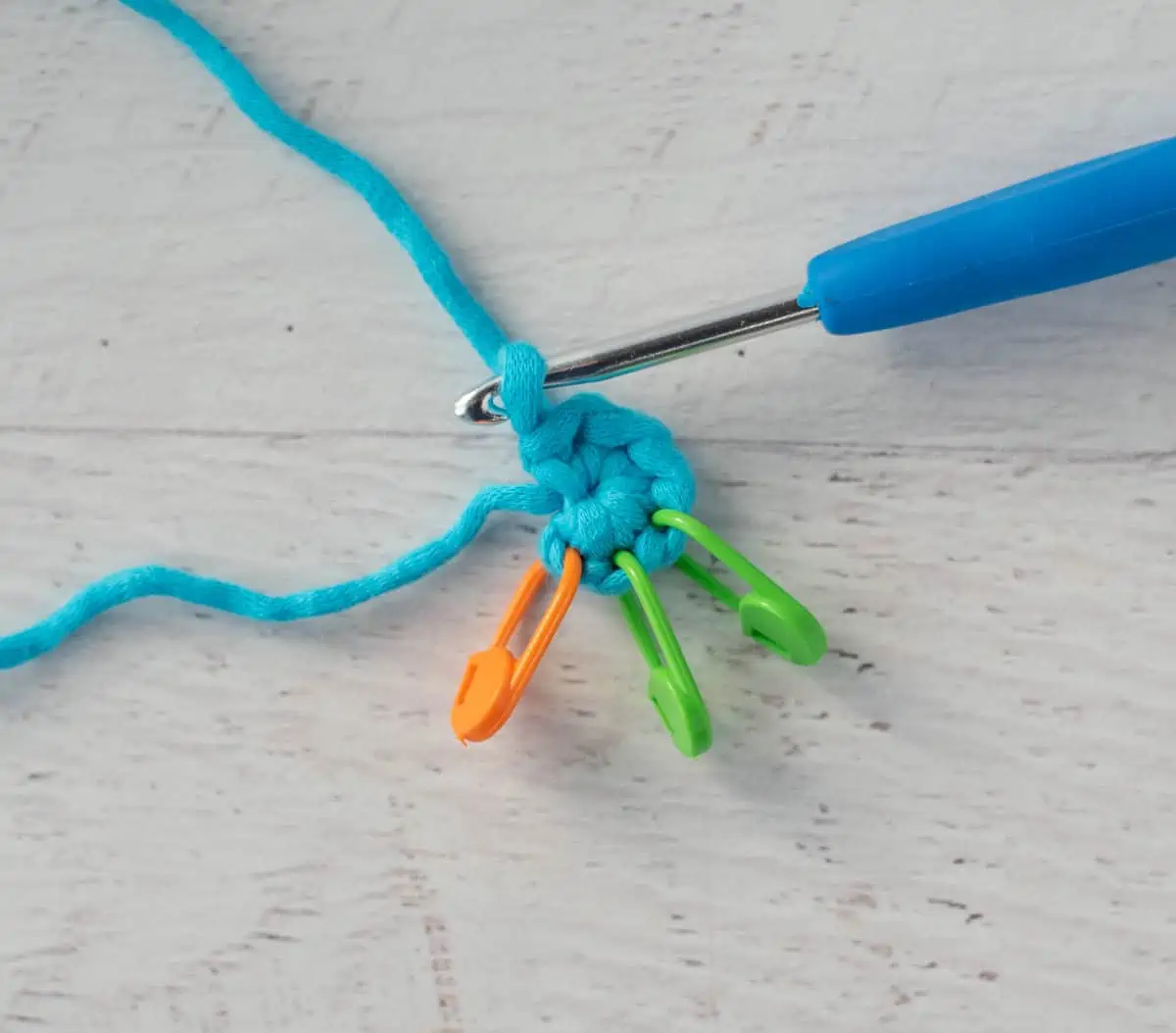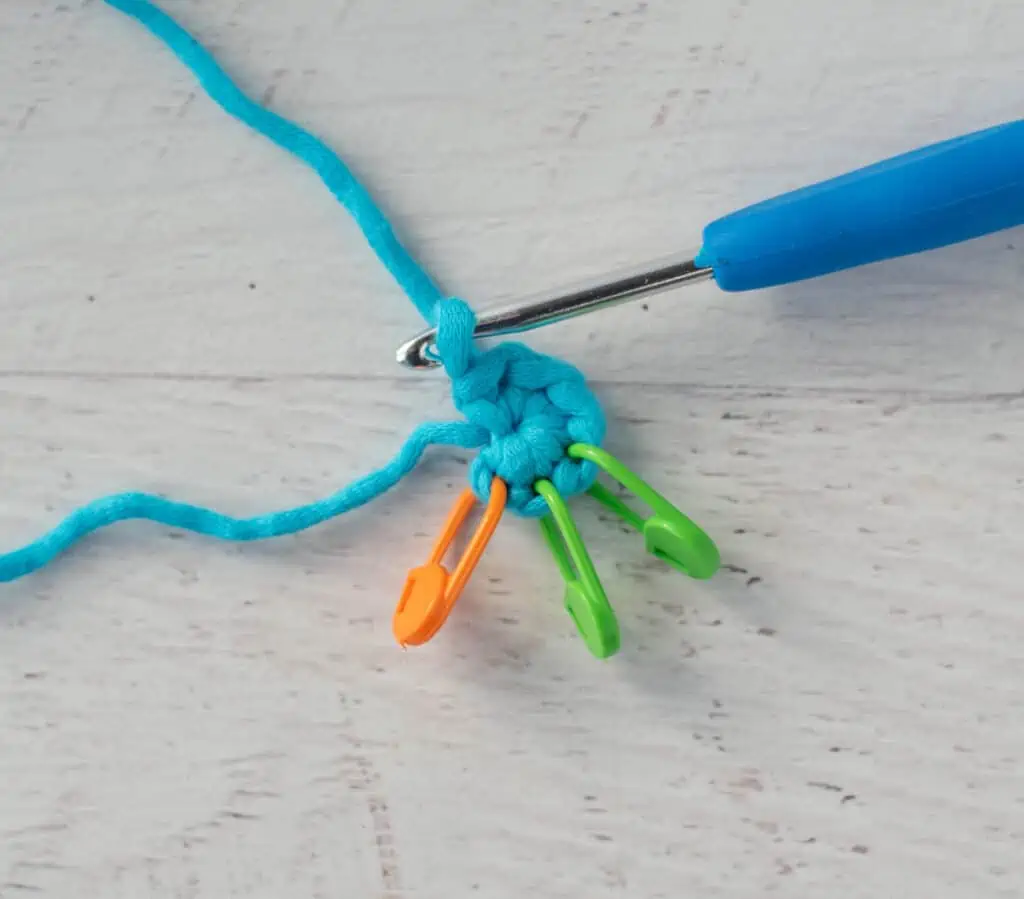 The Woobles solves this problem by doing the very first round FOR you. Yup.. you heard that right. Your kit comes with a pre-started piece of the very first row completed along with 3 stitch markers. The videos show you exactly how to use the stitch markers and continue on with your very first Wooble.
You'll learn how to crochet the magic ring step by step in later videos with your kit.
I have a very popular tutorial on how to crochet a magic ring you might like to check out too. My step by step process is a bit different than the Woobles, though the end result is the same. Try both and see which you like best!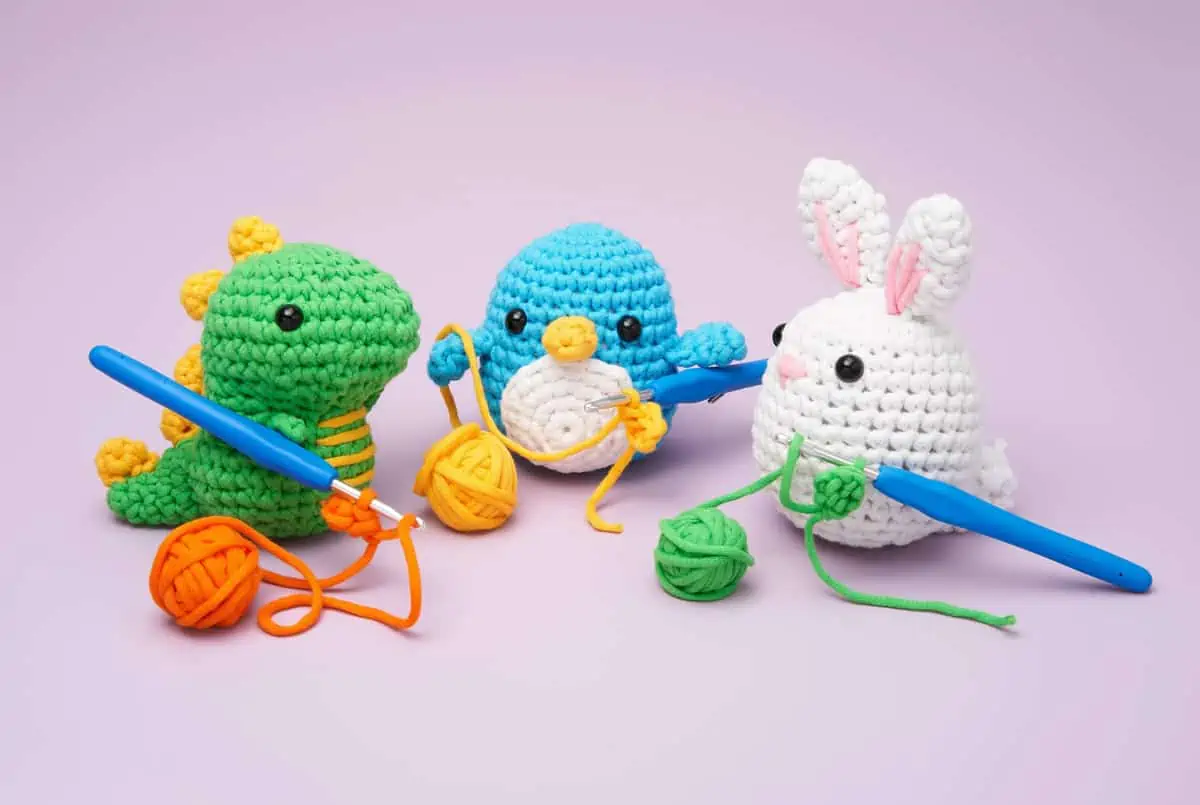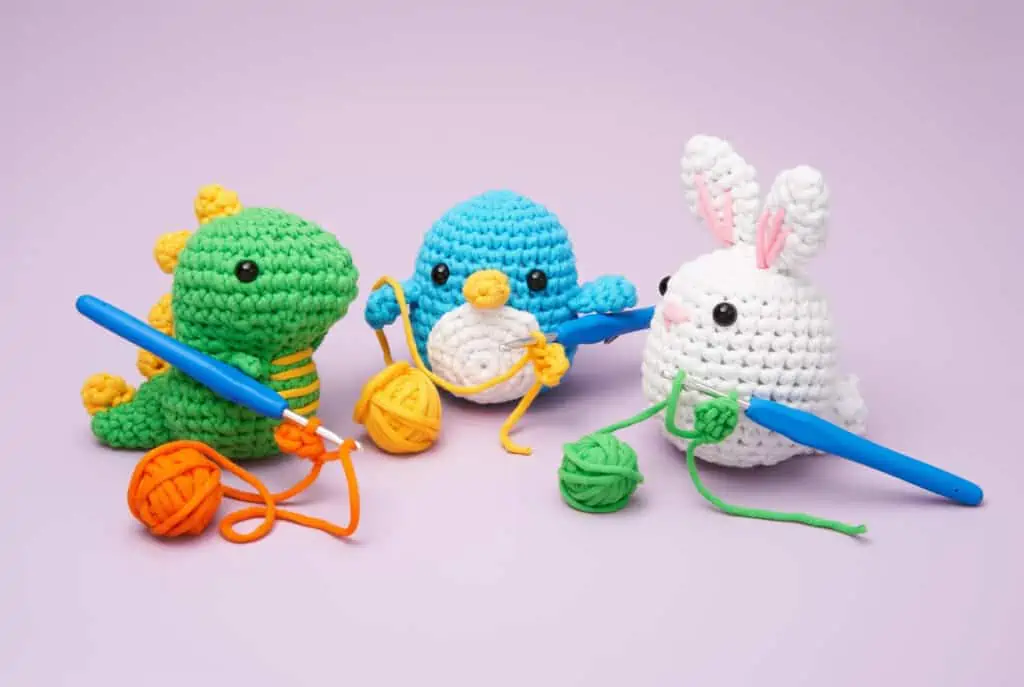 The Woobles Crochet Experience
Part of what I love about the Woobles is the entire crochet experience. If you order from The Woobles website, you'll get updates in your inbox themed with adorable Wooble updates along with cute photos of Woobles in action, like this adorable photo of Woobles holding crochet hooks and yarn (too cute, right?)
It's exciting to hear your order is Wooblin on its way to you. If you're on their website and accidentally land on the wrong page, you get a sympathetic 'you missed a stitch' message along with encouragement to keep calm and wooble on. The packaging is full of adorable Wooble language all designed to make you feel delighted and special in your Wooble journey.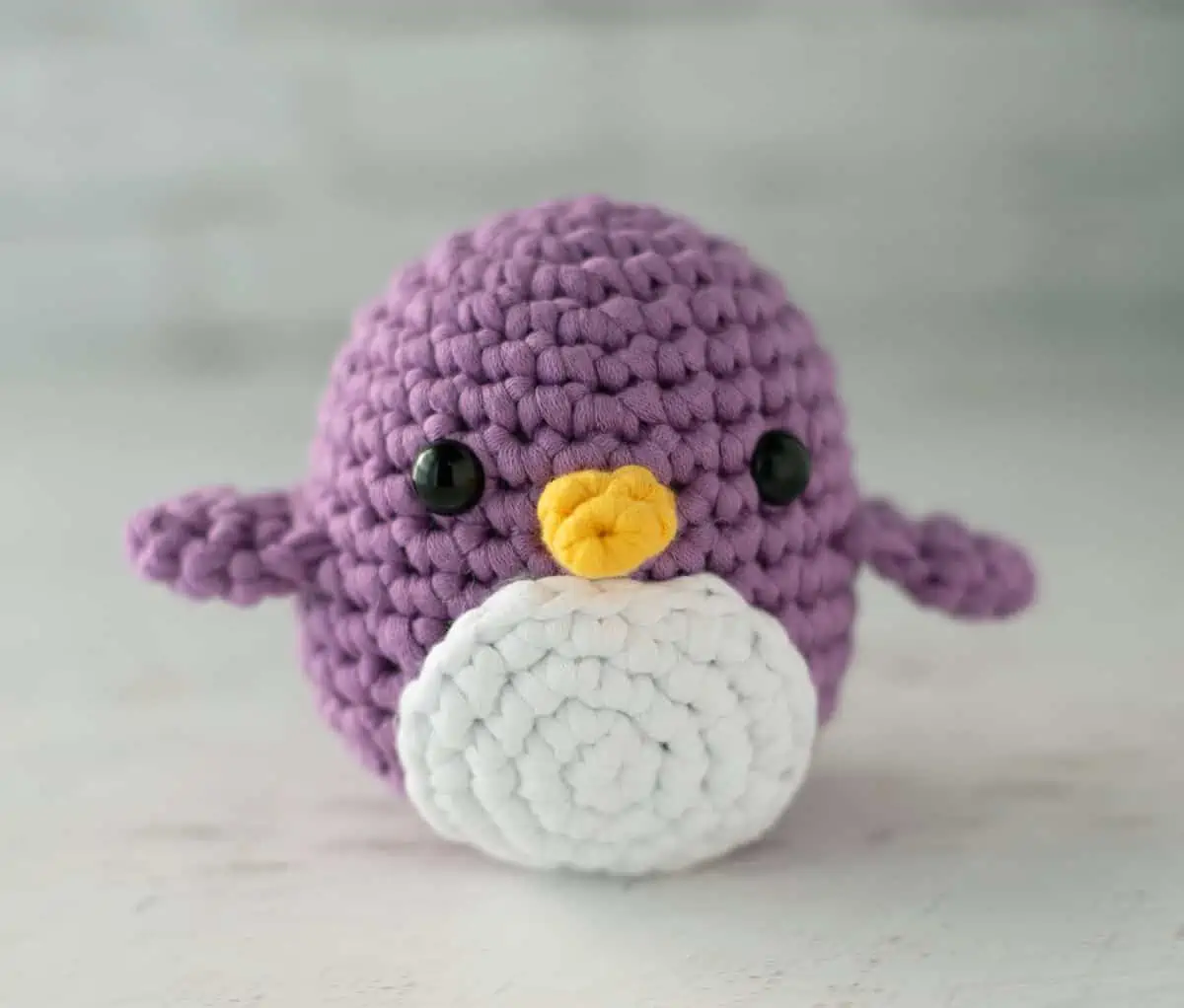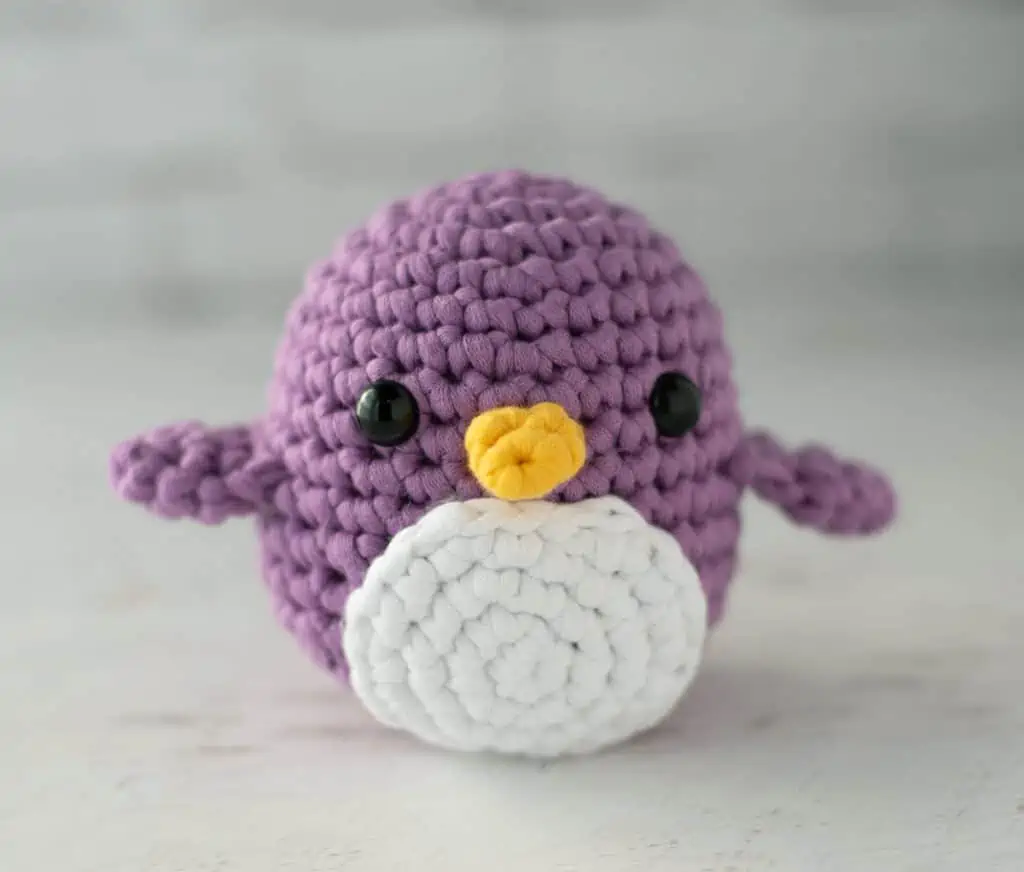 Limited Edition Woobles Kits
The Woobles are also collectible. Their Limited Edition Kits sell out fast. So be sure to sign up for text or email alerts so you know when something is live on their site. Seriously.. you will be crying Woobly tears when you realize they really are NOT kidding and you just missed out on that Limited Edition kit you wanted.
I'm still feeling pretty sad that I missed out on the adorable pumpkin costume for my Limited Edition Purple Pierre Penguin and don't get me started on Disco Fred. (Uhm.. if the Wooble higher up people are reading this post and want to send that to me.. please.. and thank you… just putting that out there…)
(Just a little side note here: The Woobles are growing at a crazy fast pace. Like any trending new business, they are bound to have some growing pains, so sometimes things sell out almost TOO fast… but not to worry… they are working really hard behind the scenes to ramp up production to keep up with demand.)
Let's talk about some cute little extras…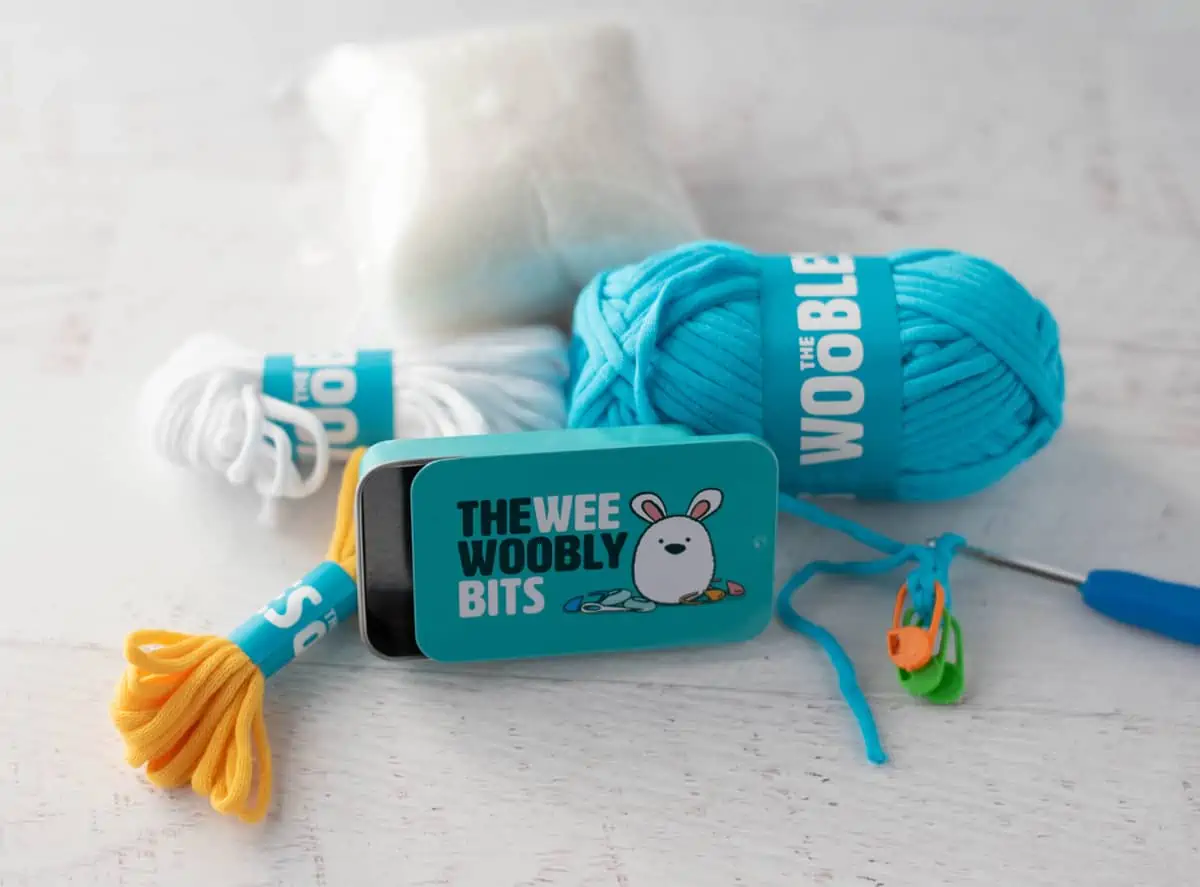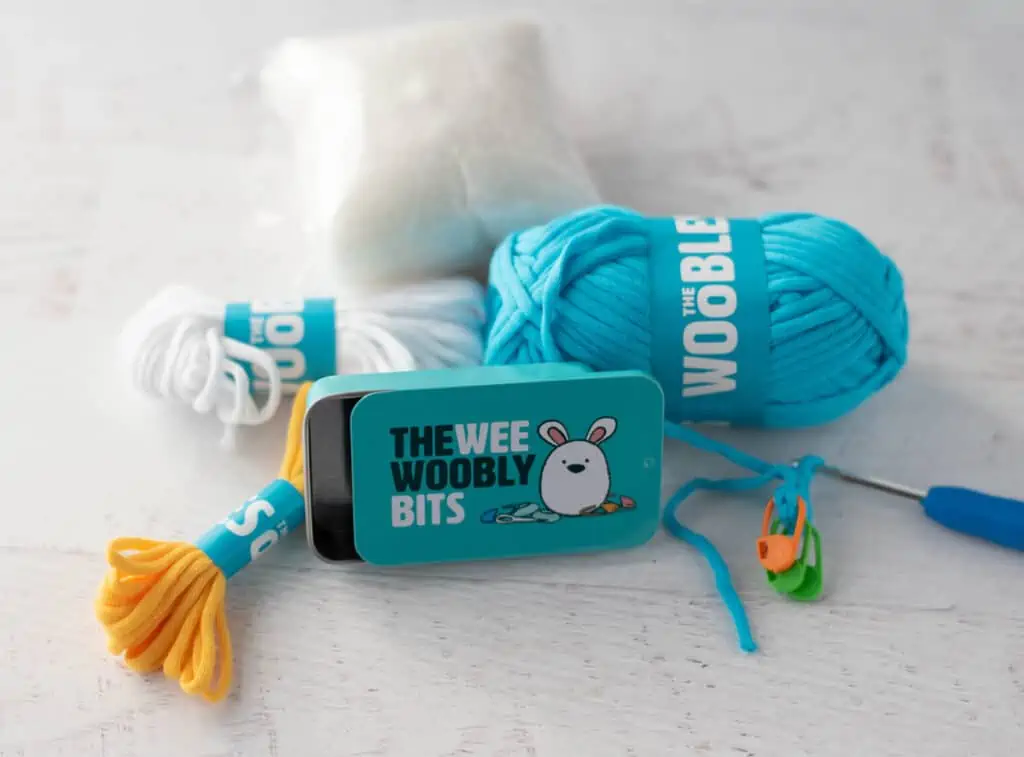 See that adorable tiny tin perfect for your wee woobly bits? Keep an eye out on the Woobles website for this cutie. When I was purchasing, I could sign up for their email list to get this little tin free on my order (but you can also purchase it too). Seriously… the cutest little thing you never knew you needed. Sigh.
Can You Really Learn to Crochet with a Woobles Kit?
Yes. Yes, you really can. I have seen many crocheters start with zero knowledge of crochet and make an adorable Wooble in an afternoon or evening.
My niece, Rachel, made her very first crochet project and shared her joy on TikTok which you can watch here.
Are Woobles Kits for Non Beginner Crocheters?
Yes. Definitely. While Wooble kits are marketed as a 'learn to crochet' kit, they really are for every crocheter. If you're used to making afghans and back and forth crocheting, a Woobles kit is a fun way to learn amigurumi.
But it's also really fun for those of us who are amigurumi pros too. There's just something exciting and fun about a complete, adorable kit of crochet that makes a crocheter's heart happy. Everything you need in one spot: Perfection.
If my husband spotted a Woobles kit at a store and surprised me with it, I would be totally delighted.. and I actually design amigurumi and crochet projects for a living. I suspect most crocheters would feel the same way.
The Woobles are just fun. They are fun to make. They are fun to collect. And it is fun to be part of a crochet movement, if you will. Crocheting is a lot like love. When you open your heart, it somehow just gets bigger, even when it feels quite full to start.
And I, for one, am super excited to have even more crocheters in our midst!
Where to Buy Woobles Crochet Kits
At the present time, the best place to buy Woobles kits is right from their website. This is the best way to get your hands on the Limited Edition kits. You can find a few of the kits on Amazon (but I do find that those prices are higher). And some Wooblers are having luck finding them in retail stores. I suspect as time goes on we'll be seeing more and more Woobles in local stores, which is so exciting. But for now, your best bet is to head to their website to pick up your adorable Wooble kit.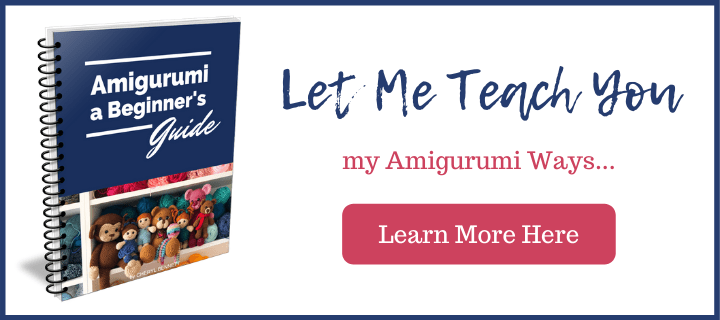 Wooble Crochet Frequently Asked Questions
What are the Woobles? The Woobles are cute crochet amigurumi kits designed to teach new skills to every crocheter.
Are the Woobles Worth It? Like anything else in life that costs money, it really is up to the individual to decide if they are worth it. A Woobles kit might seem expensive, but if you consider that you are really getting a complete supply kit and a video course teaching you how to crochet, then it seems much more worthwhile. Even more importantly, every beginner I know who has tried a Woobles kit has been successful and oh-so-proud of their very first project. That, quite honestly, is priceless.
Are the Woobles Easy? I love this question because typically amigurumi are considered an advanced crochet skill. Justine has broken this down into simple steps so that a person who has never even held a crochet hook can make one. That's pretty amazing. When you're ready to expand your amigurumi making skills, be sure to check out my amigurumi ebook.
Is it Hard to Crochet? Any new skill takes time and practice to become proficient. The Woobles kits make it so easy to learn to crochet. I love that so much!
How Do You Crochet a Beginner Kit? The Woobles make crochet easy. Just rip open your kit, pull out all the goodies inside and head to the videos that teach you how to crochet your first project. So fun!
Are Woobles Good for Kids? Wooble kits are recommended for kids 12 years old and up. However, everyone learns differently. I personally learned how to crochet at a much younger age and I think I could have handled a Woobles kit before my 12th birthday.
What do I do with my finished Wooble? Crochet is a lifelong skill and many crocheters create for themselves or make a crocheted gift for others. Whether you're looking to make a crochet kit fox, a crochet kit lion, a crochet kit penguin or even a crochet kit kitty cat by the woobles, it is easy to see how all the adorable Woobles animal crochet kits quickly pile up in your home. Of course you can keep your crochet creatures and display them, take them to work, give them as gifts or you might try leaving them scattered in public places as a way to spread joy forward.
How Long Will it Take To Crochet a Wooble? The time it takes to crochet any crochet project depends on the person and their level of experience. I can easily crochet a complete Wooble in an evening. A brand new crocheter may take longer, especially if they watch every video and take things step by step or if they want to take a break to let the new skills sink in.
What is the Best Yarn for Amigurumi? I get asked this question a lot! I personally love to crochet with worsted weight acrylic yarn. Cotton yarn can be a dream for your amigurumi projects too. And, to be honest, I never thought to use a t-shirt style yarn like the Woobles yarn for amigurumi. But, I really do love this yarn for beginners. I love that it's so easy to crochet with and it helps the Wooble stay in a lovely, perfect shape. My recommendation is to enjoy making Woobles with their branded yarn, but when you're ready to move to new amigurumi projects to try out other yarns.
Final Woobles Thoughts
I hope this Woobles crochet review helped you decide if a Woobles beginners crochet kit is right for you. Or perhaps right as a gift for someone you love. With simple patterns and step by step instructions (and step by step video tutorials too), woobles are perfect for crochet beginners wanting to learn the art of crocheting.
If you've made your first Wooble and want to learn more crochet, you're in the right place! Check out my Free Patterns here and learn more crochet skills here. Or just pop over to our home page and browse the categories to your heart's content.