Toe-taly Adorable Crochet Sock Patterns
This post may contain referral/affiliate links. Please read my disclosure for more info.
I love handmade socks which have.. up to now.. I've knitted. But this collection of adorable crochet socks have me running for my crochet hook!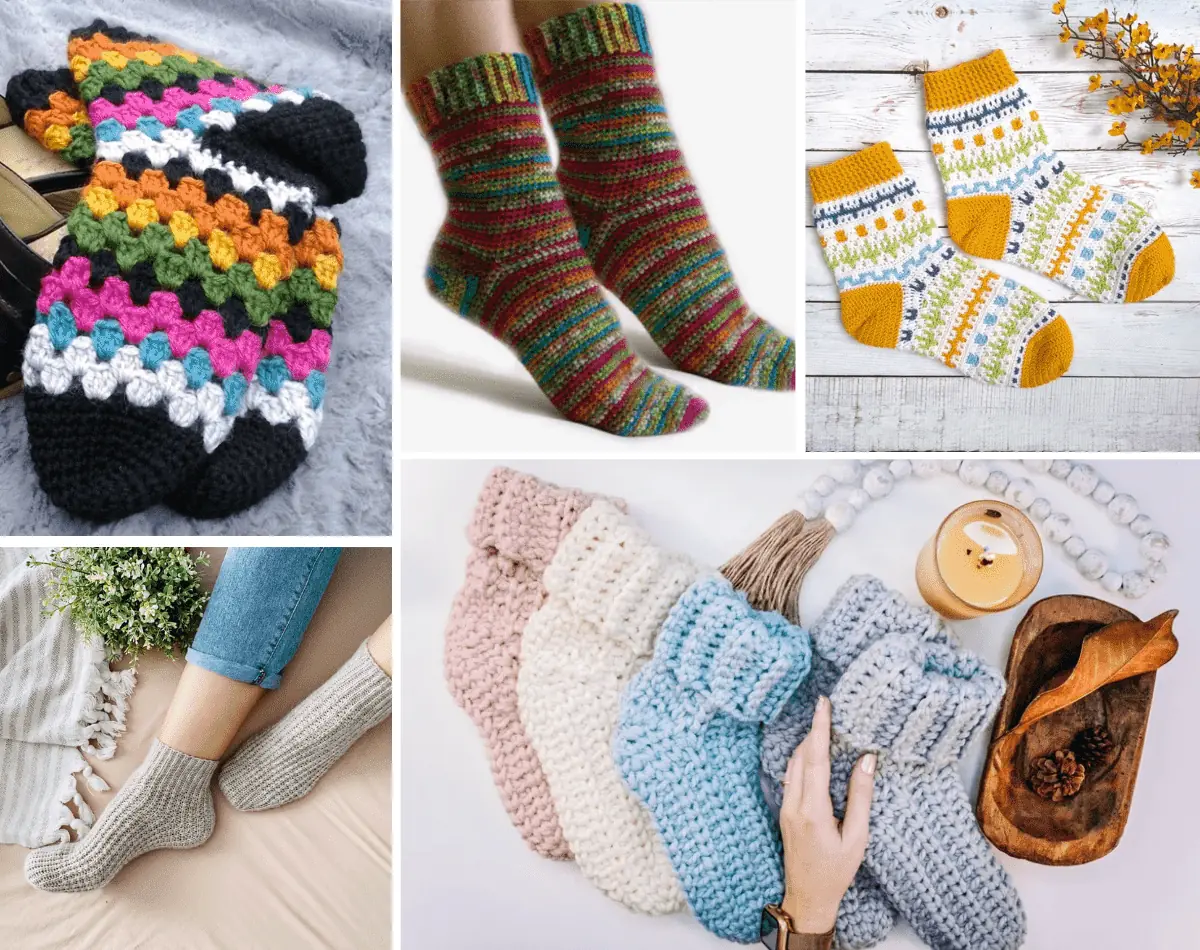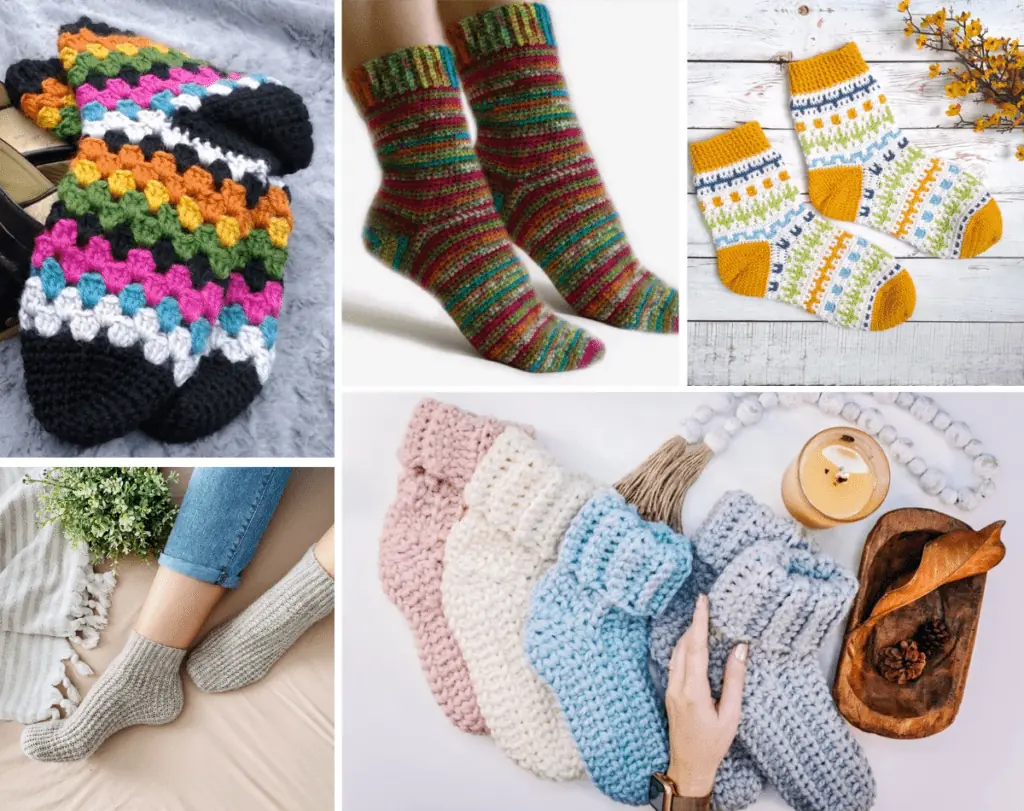 If you need to find the perfect pair of socks that fit your feet just right, there's nothing better than making some handmade socks.
Is it Possible to Crochet Socks?
If you're a knitter, you already know how fun it is to make socks. It's a great way to use delectable yarn in a small project you can wear again and again. Some people wonder if it's even possible to crochet socks. After all, crochet stitches are formed differently and you might wonder whether a crochet sock would even be comfortable.
The answer to all this is YES, you CAN crochet socks. In fact many people find crocheting socks to be faster and simpler.
How Long Does it Take to Crochet A Sock?
Generally it takes about a couple of hours to crochet a sock and 3-6 hours to crochet a pair of socks. Be sure to look at the level of difficulty of the pattern. A more difficult pattern will take longer.
Yarn weight comes into play too. A thinner yarn, like fingering weight, will require more stitches and therefore, more time to make. And a thicker yarn, like worsted weight, will require fewer stitches and be a faster project.
When it comes to crocheted socks, you have a few options depending on how you want to wear them. If you want to wear them in shoes, you may want to stick to crochet patterns that use sock yarn so they're a bit thinner.
But, if you want to wear your socks just around the house mostly as awesome slipper socks, you may like patterns that use bulky yarn or chunky yarn. 
While crocheting socks, you will find that the yarn is key, especially if you have sensitive feet. It's also important to monitor your tension, otherwise, your sock sizes may vary from their mark.
Crochet Socks vs Knit Socks
Knit and crochet socks are constructed similarly. Both can be worked from the top down or bottom up. The heel portion can be more challenging, so it's a good idea to review the pattern to see how the heel is handled and whether or not that is in your skill set.
If you want a fast and easy pair of socks, you might enjoy a yoga sock because it's made without a heel and toe. Personally I think the extra effort of learning heel and toe construction is worth it to have a sock that fits you perfectly!
Like knit socks, crocheted socks feature a stretch ribbing stitch on the cuff, which helps keep the socks up. Seriously.. I'm having a flashback to elementary school and my socks falling down on the playground.. who wants that? Ribbing is important!
Of course it goes without saying that the biggest difference between crochet and knit socks is that crochet socks are made with one hook and knit socks are made with two needles.
Another difference is that knitting tends to lay flatter than crochet. So if you have sensitive feet, you'll want to pick an extra flat stitch such as the herringbone stitch for your crochet socks. Using a lightweight yarn will help make your crochet socks more comfortable as well.
In fact, most people find that fingering weight yarn works best for both knit and crochet socks. That way the socks can be work with shoes comfortably and you'll get years of use out of them!
Supplies You'll Need for Crochet Socks
Here are some supplies you'll need to make crocheted socks:
How Much Yarn Do I Need for Crochet Socks?
It generally takes a 100 gram skein of fingering weight yarn to knit socks for an average sized woman's foot. However, crochet can take up to 25% more yarn than knit. Yardage per skein varies on yarn weight, but 100 grams of fingering weight yarn is usually about 450 yards of yarn.
If I was in a local yarn shop and didn't have a pattern in mind, I would buy a 100 gram skein of fingering weight yarn if I was knitting a pair of socks for an average sized woman's foot. If I was crocheting them, I might buy two skeins or be willing to make them slightly shorter so as not to run out of yarn. If you're crocheting from the toe up, it's easy to just make your socks a tiny bit shorter if you need to.
The absolute best thing to do is to read the pattern and buy the yarn as indicated in the pattern. There is nothing as disappointing is running out of yarn before finishing a project!
Best Yarn for Socks
I really love making socks out of fingering-weight yarn. This is a category 1, superfine yarn. However you can also crochet socks with DK or worsted weight yarn.
When buying yarn for socks, be sure to read the label carefully. I like super wash yarn because it's easier to wash the socks in the washing machine, though to be honest, you do still have to be careful to accidentally shrink and felt them.
How to Wash Crocheted Socks or Knitted Socks
The reason to take special care washing handmade socks is that wool can felt, which means the fibers fuse and the entire fabric shrinks. While nice for some projects, you definitely do not want your handmade socks to shrink and become stiff!
Two things cause felting: Water temperature and agitation. So to wash handmade socks, we avoid those two things. Use cool or room temperature water and a gentle soap.
If you are washing socks made out of super wash wool, you can put them through the washing machine, using a delicates bag and the gentle cycle.
I prefer not to take the risk of accidentally felting my socks, so I wash mine by hand. To do this, fill a bowl with room temperature or cool water and a few drops of soap. Let the socks soak for about 15 minutes or so.
Then gently lift them out of the water and squeeze them. Do not agitate them. You can repeat these steps with cool water for rinsing if you'd like. The key point is to not overwork the socks and to treat them very gently.
Let your socks dry at room temperature on a bowl or rack. Do not hang the socks to dry and definitely do not put them in the dryer.
How Often Do You Wash Socks
If you're new to hand crocheted socks or knitted socks, this may seem like a completely odd question. The truth is that wool yarn has wonderful qualities. It does not hold odor easily and it bounces back to its original shape. Therefore you don't need to wash them as often and can wear them several times before washing.
Tips for Making Crochet Socks
Here are few great tips for making your first pair of crochet socks amazing.
1. Choose the Right Yarn
Understand what you want your socks to do and pick out the best yarn for the job. If you're following a pattern, use the suggested gauge of yarn. Most people pick a fingering-weight wool or wool-blend yarn. You can also make crochet socks out of heavier yarns such as DK and worsted.
Be sure to think about washing instructions too. Look at the yarn label for washing instructions. A superwash wool is much less likely to felt and ruin.
2. Check the Pattern Size and Check Gauge
Socks are one item that absolutely must fit. Too big and you have floppy uncomfortable socks. Too tight and you'll be pulling on the socks all day. Many sock patterns come in several sizes. Measure your foot or the foot of the person you are crocheting for to find the best size to make.
Be sure to check gauge with a gauge swatch so you know you are getting the same size as the designer. Since crochet socks are often worked in the round, it's important to work your gauge in the round too. Making a gauge swatch isn't always fun, but it will save you heartache in the long run.
3. Make Sure the Cuff is Stretchy
A cuff that stretches but also holds in place is imperative for a sock. Otherwise your socks will fall down and that's just not comfortable at all! I am a huge fan of ribbing. Tight, stretchy ribbing keeps your socks up on your leg in the proper spot!
Knitters can often get away with a different stitch pattern for their cuffs because knit fabric is naturally more stretchy than crochet. Crocheters have to be a bit more careful, so you'll find most of these patterns feature a ribbed cuff.
4. Try the Sock On As You Go
A secret to a great pair of socks is to try them on as you go. You want to make sure the heel fits nicely and that the length between the heel and the toe are perfect for your foot. It is easy to add or delete a row or two to get the perfect length sock.
Your sock should be a little smaller than your actual foot dimensions because we crochet with "negative ease" which is just a way of saying, the yarn stretches, so you make the sock a little snug so that when they stretch to fit your foot, it's perfect.
Whew! Now that the socks basics are covered, let's dive into some cute crochet sock patterns!
Crochet Socks Patterns
Most of these sock patterns use a variety of basic crochet stitches, so make sure that you know how to work a single crochet stitch, double crochet stitch, and slip stitch (sl st). Many of the ribbed cuffs use post stitches. Since these great patterns won't take a long time to complete, your cute crochet socks are just a few steps away!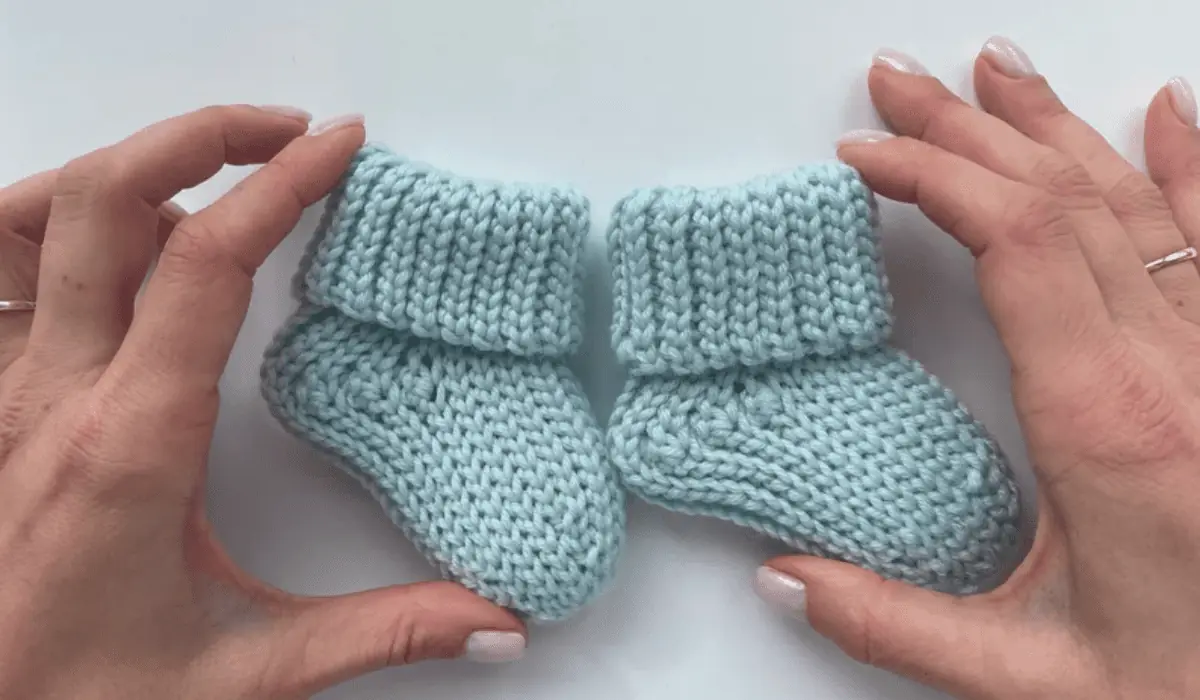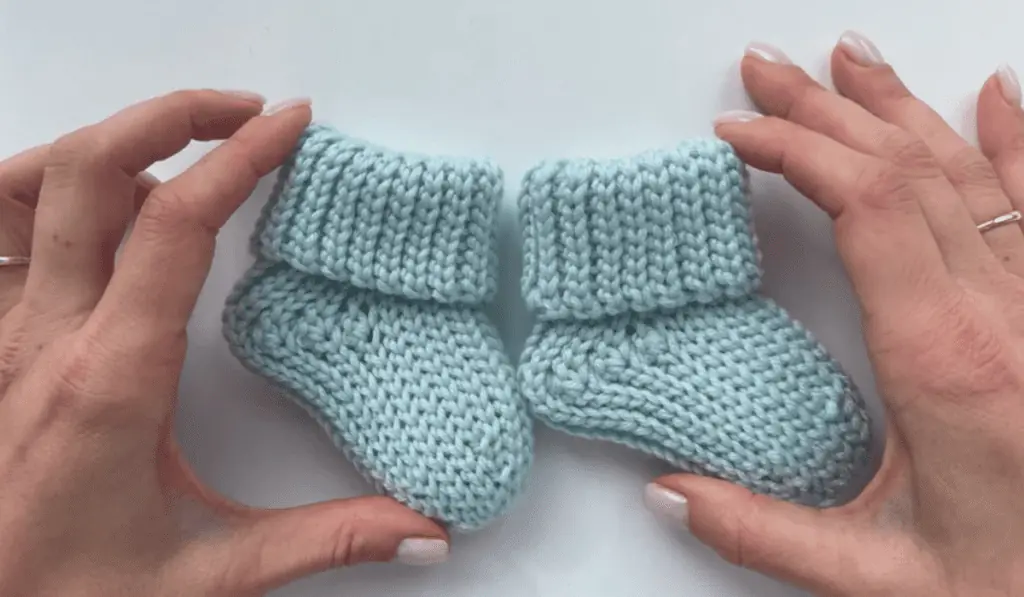 These baby crochet socks by Crochet Club Store Co are honestly the cutest things ever. These cuties might look like knit, but they really ARE crochet!
The pattern includes three different sizes depending on the size of your baby so you're sure to make the perfect pair of crochet baby socks. Plus, if you get stuck, there's a video tutorial as well!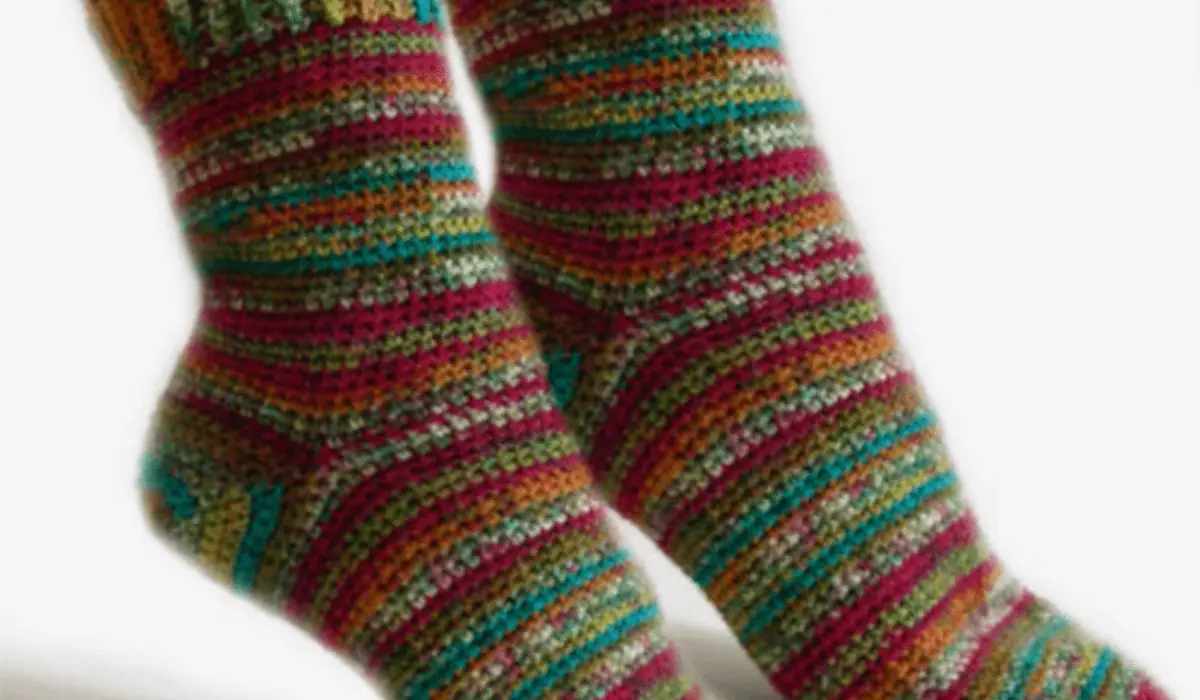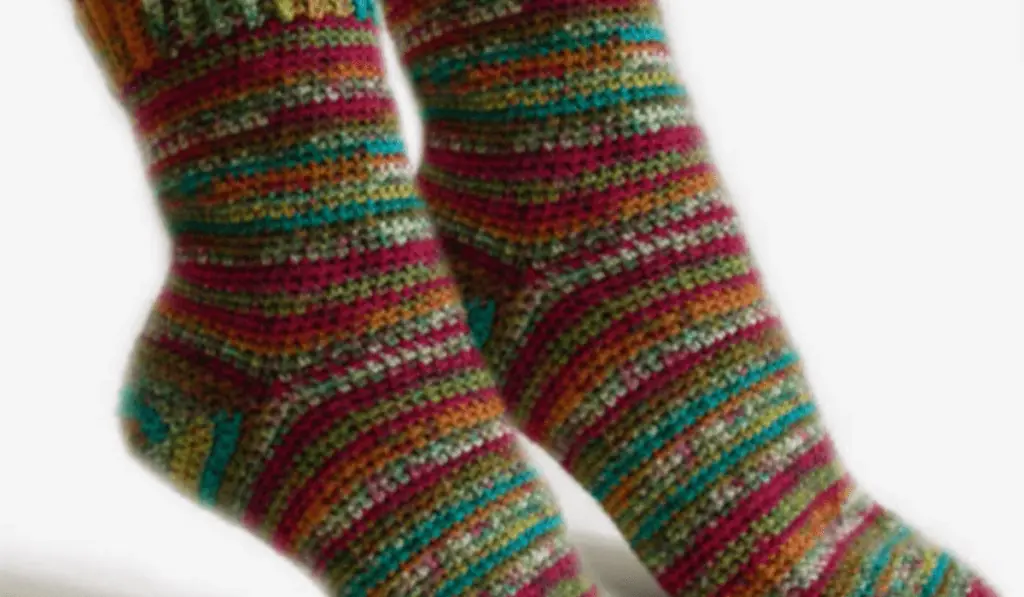 These adorable socks by Crochet Spot Patterns require no sewing! How cool! I really love the yarn choice for these handmade socks; so fun and colorful.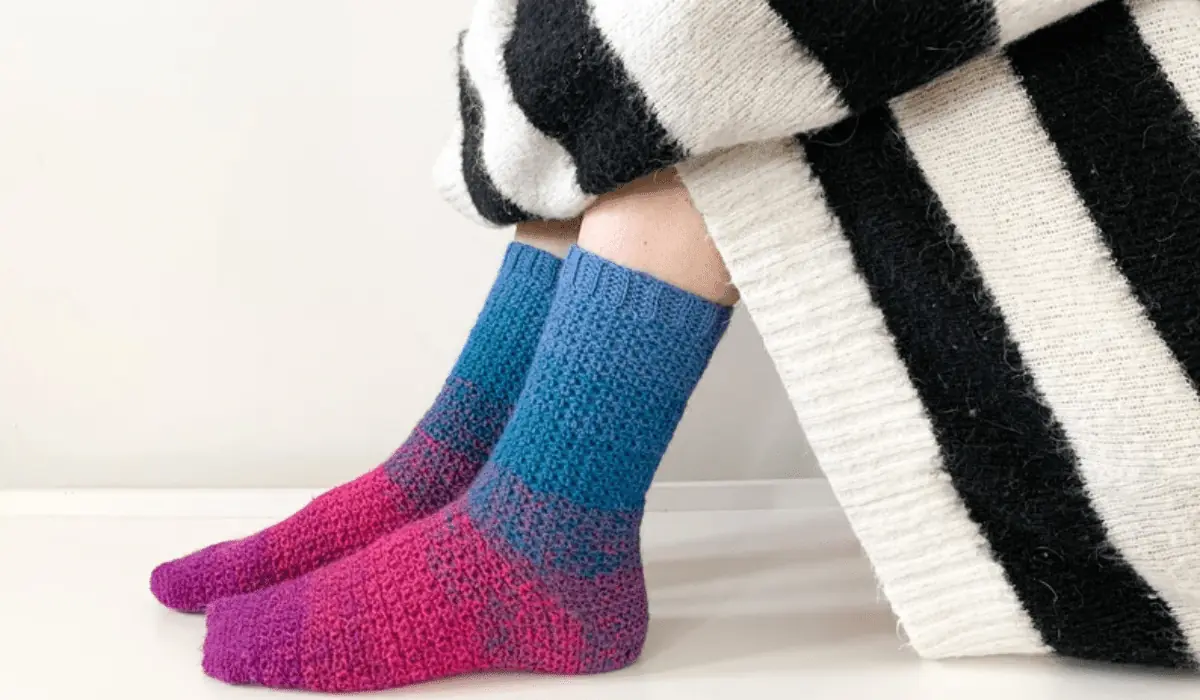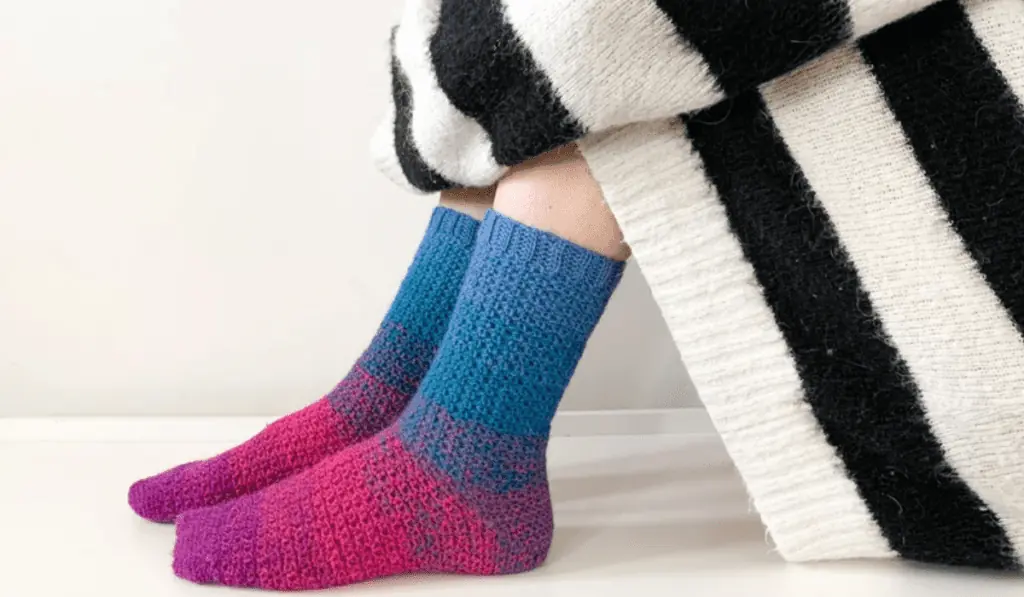 This is an easy pattern by Dora Does that only requires some basic crochet stitches, so you're sure to have the perfect pair of crochet socks worked up in no time. Plus, there is a free version of this pattern as well on Dora's site!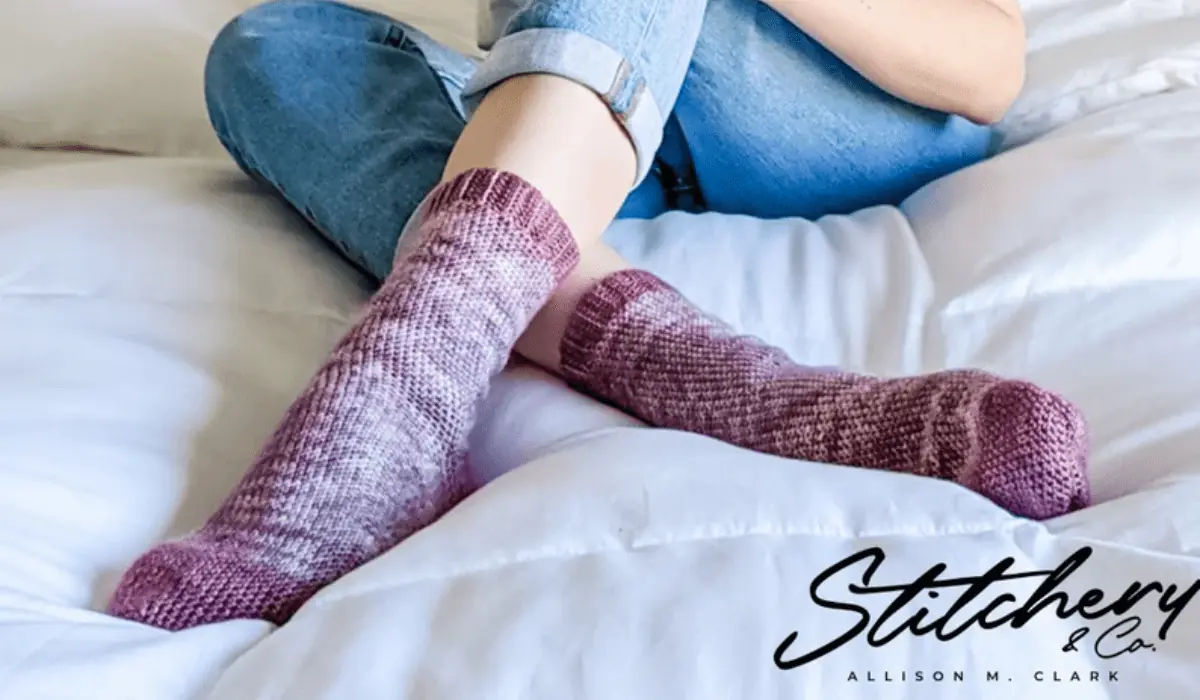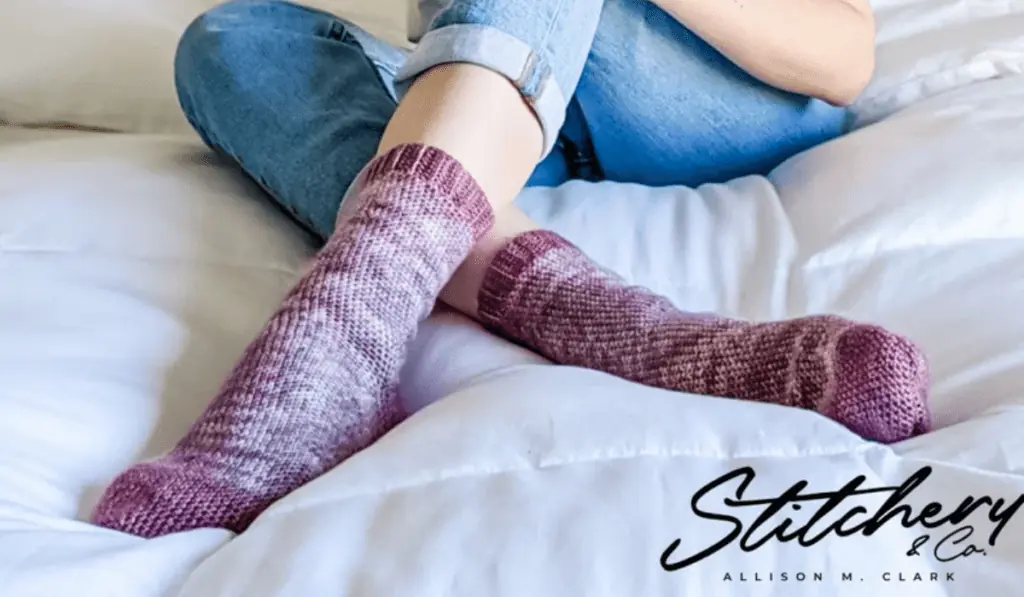 Stitchery & Co.'s classic socks look so comfy! Plus, this pattern is made to be customized to your individual size, which is ideal if you have larger feet. Best of all, it uses basic stitches, making it super user-friendly.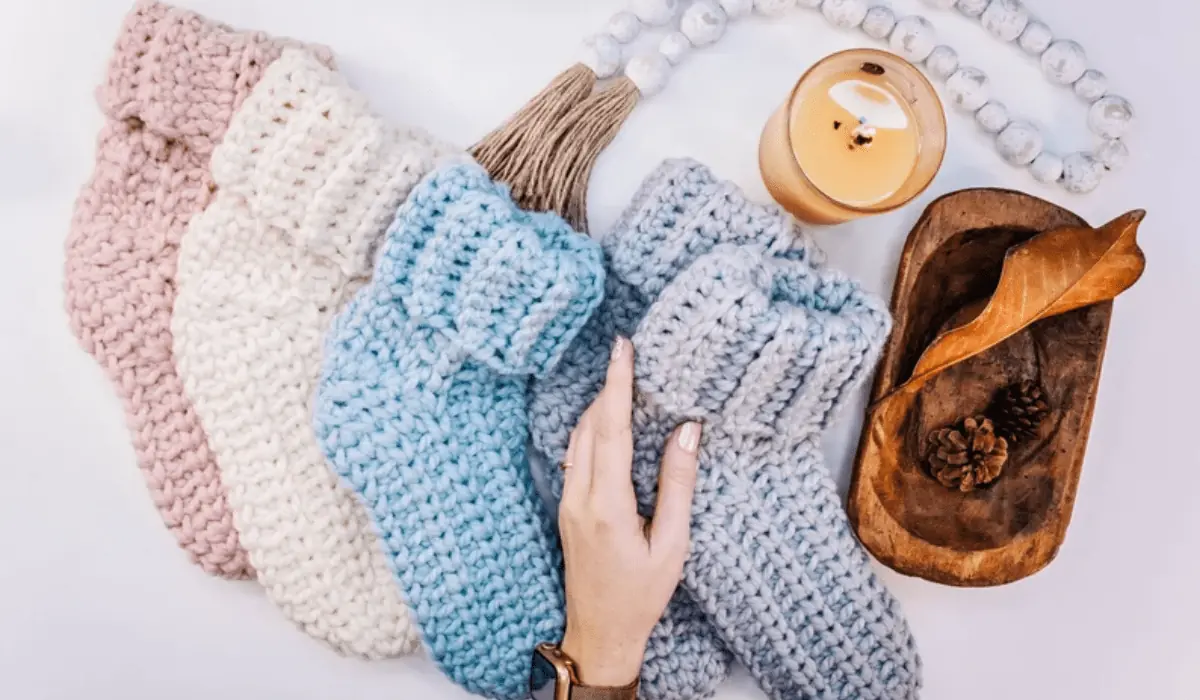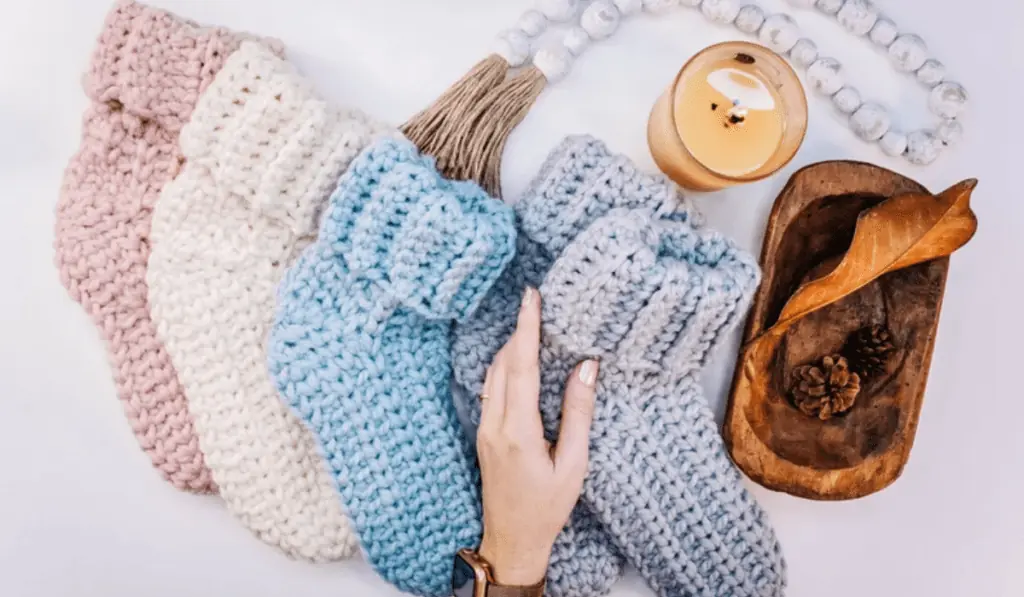 Who doesn't love bulky weight yarn? This pattern by Briana K Designs looks so cozy for cooler nights. Plus, it's designed to be a custom fit, so you know you'll feel perfect while wearing these cute crochet slipper socks.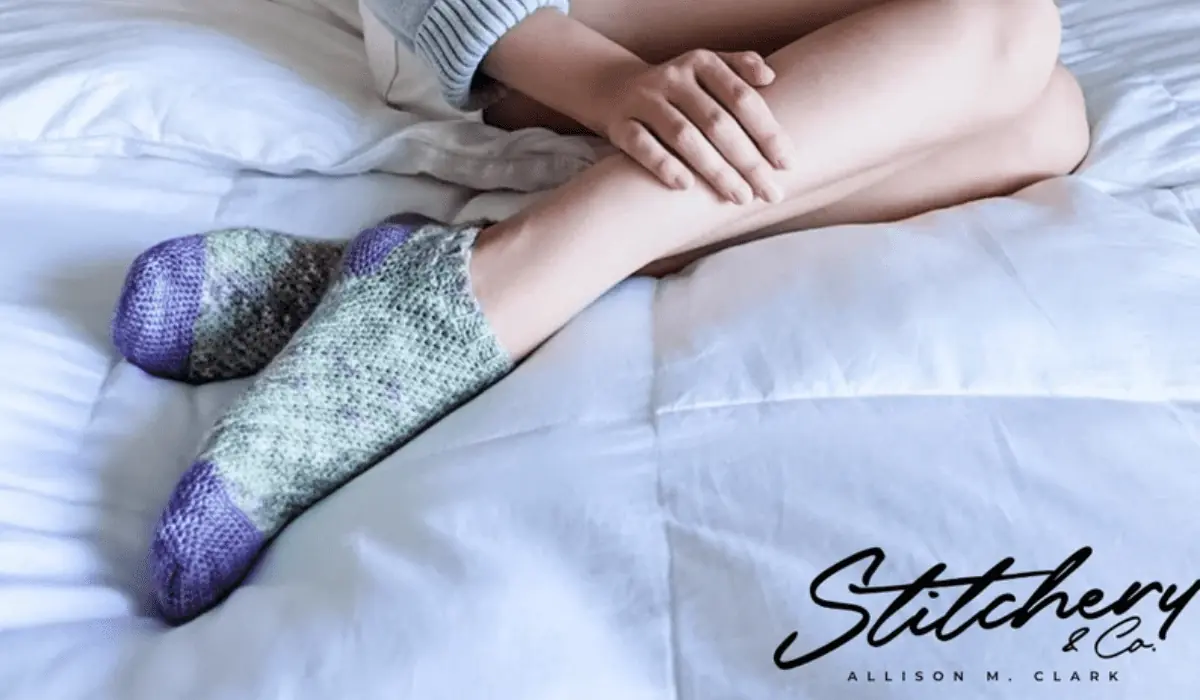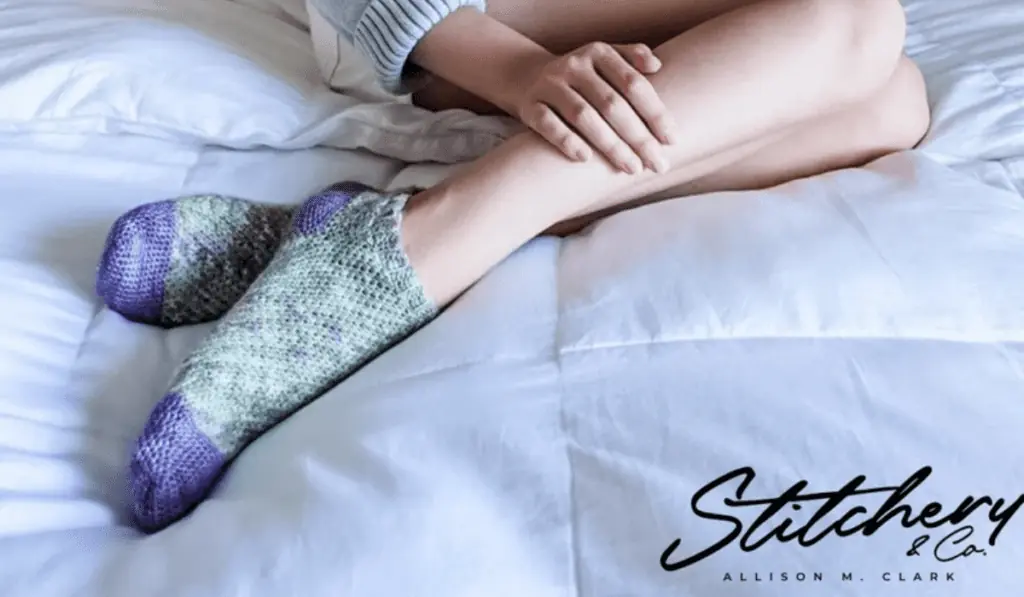 If you're looking for crochet ankle socks patterns, Stitchery & Co. has you covered with this beautiful Juniper Socks pattern! Personally, I love a good ankle sock pattern when I wear tennis shoes since I don't always want my socks to be so prominent.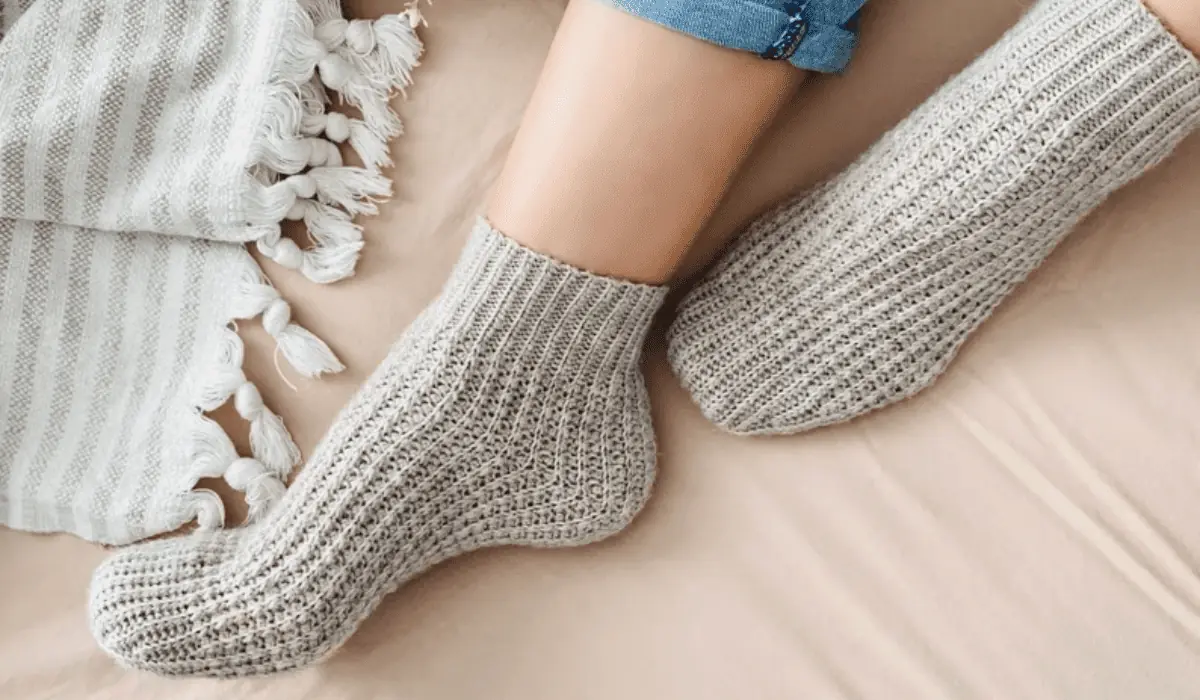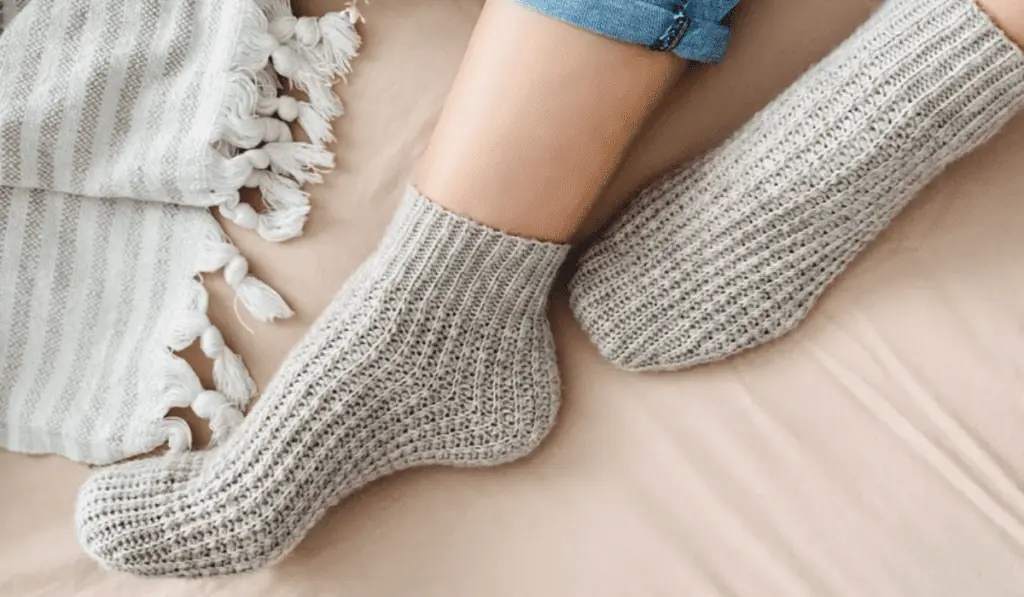 The Pixel Socks by Miss Kochkina are so beautiful! They're shorter socks, making them the perfect in-between for everyday wear. This is also great if you want more of a hidden heel in your sock.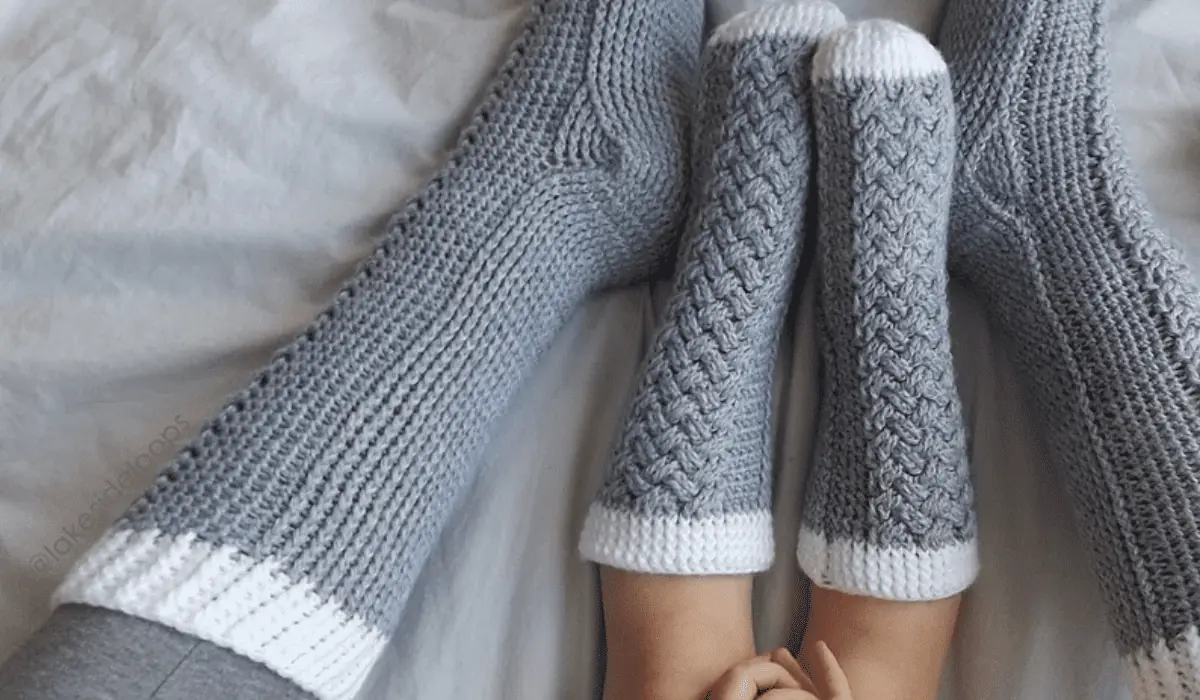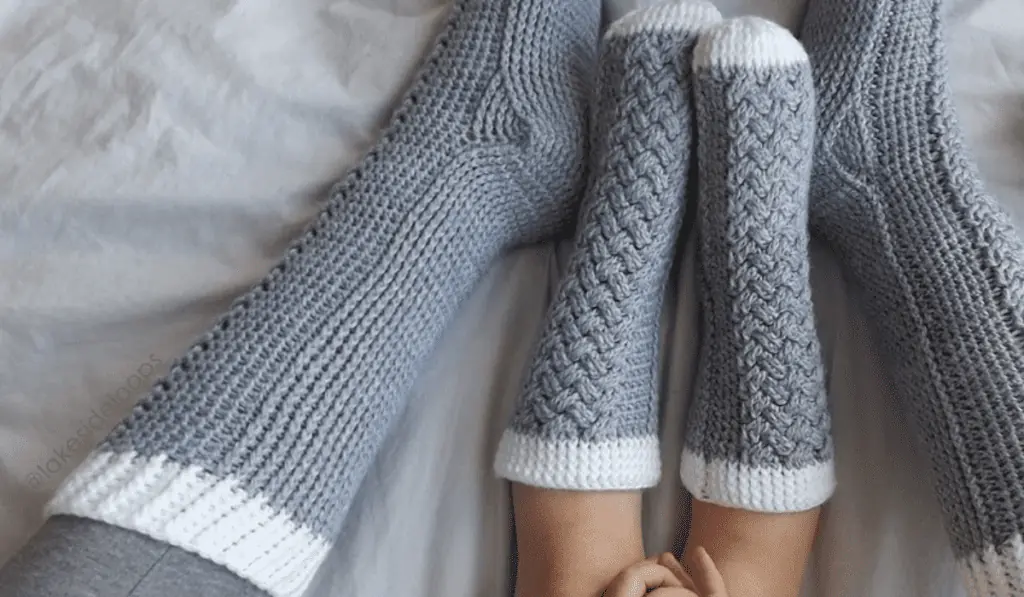 The Parker Cabled Socks by Lakeside Loops are available in baby sizes all the way to adult sizes so that the whole family can match! I also think these would be super cute peeking out from the top of your boots.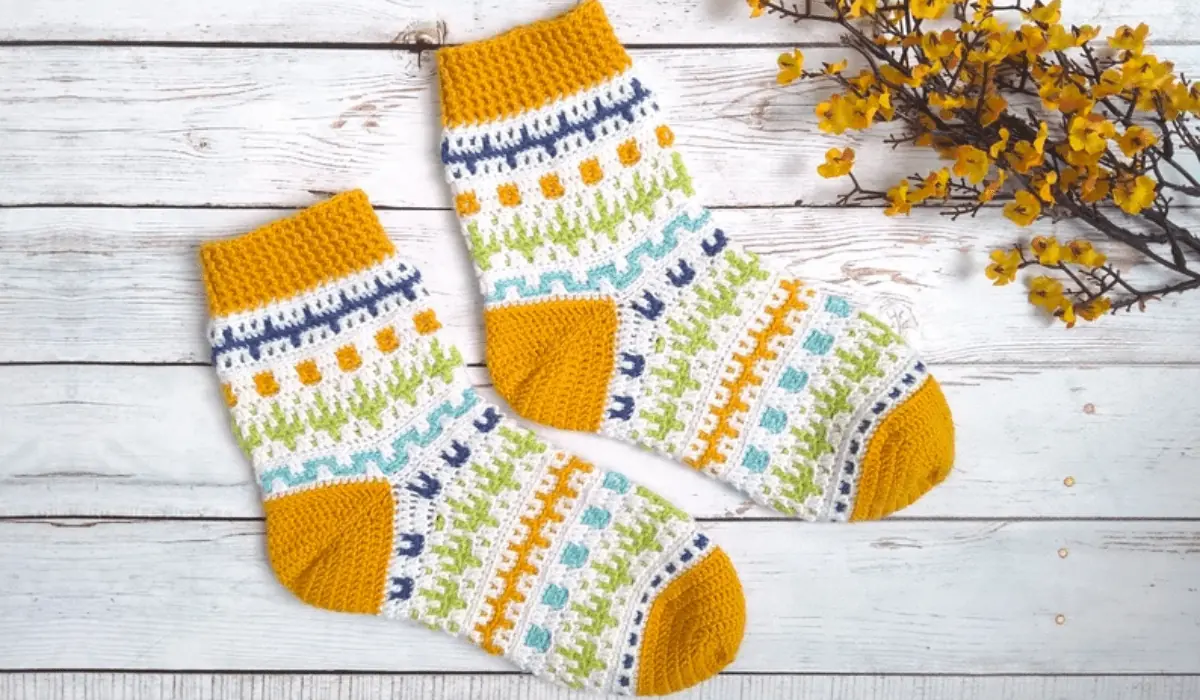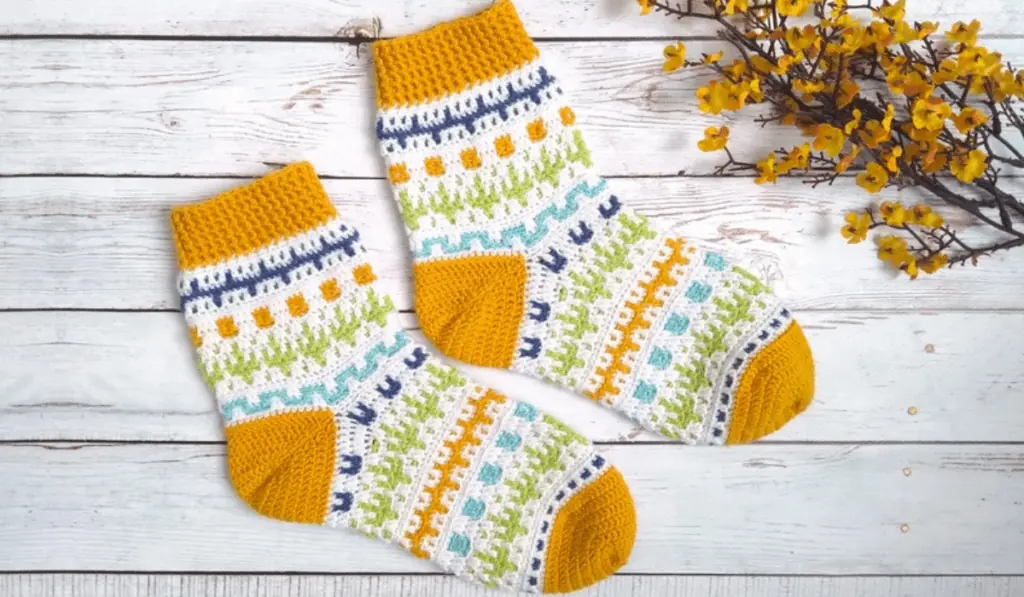 If you want to make homemade socks, but you want them to be a bit wild, these mosaic crochet socks by Lito Magic Crochet are going to be absolutely perfect. I love all the different colors and stitches on this beautiful design.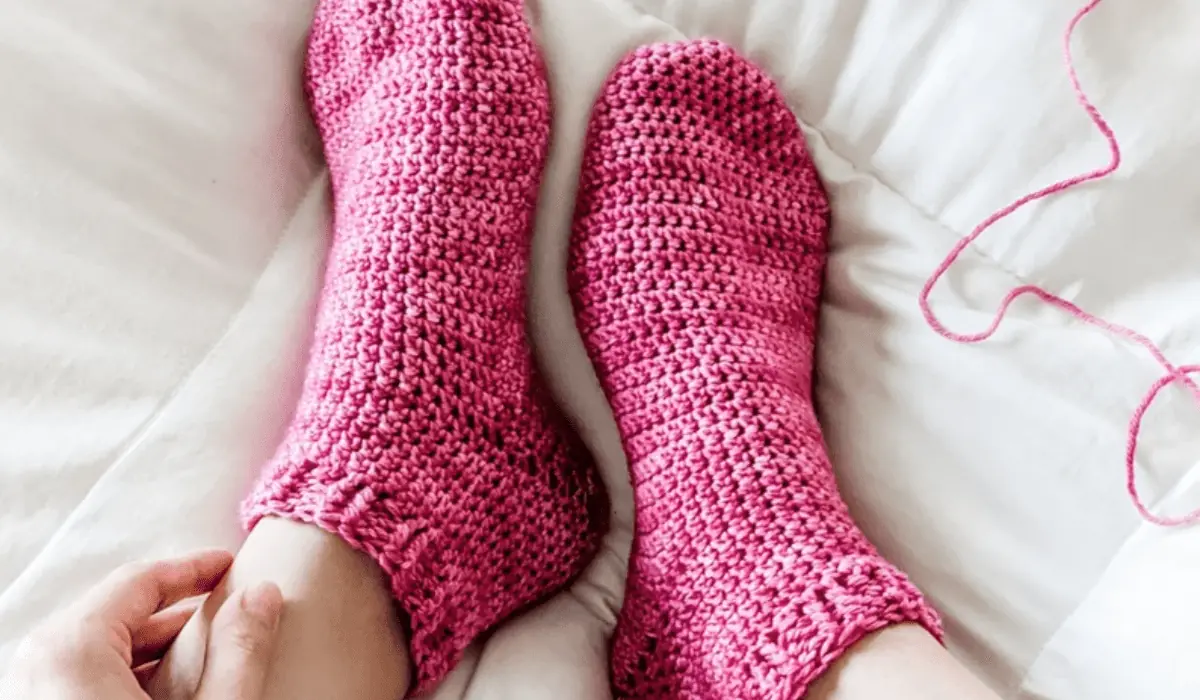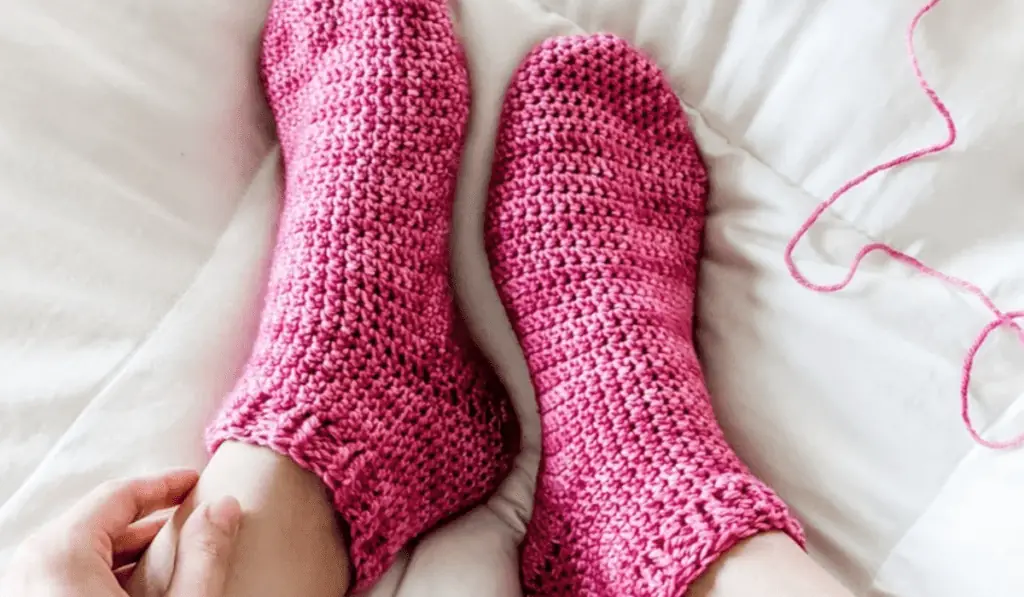 These beautiful ankle-length crochet socks by Stitchery & Co. are made using DK Weight Yarn, making it the perfect pattern to keep your feet warm without taking up too much space in your shoe.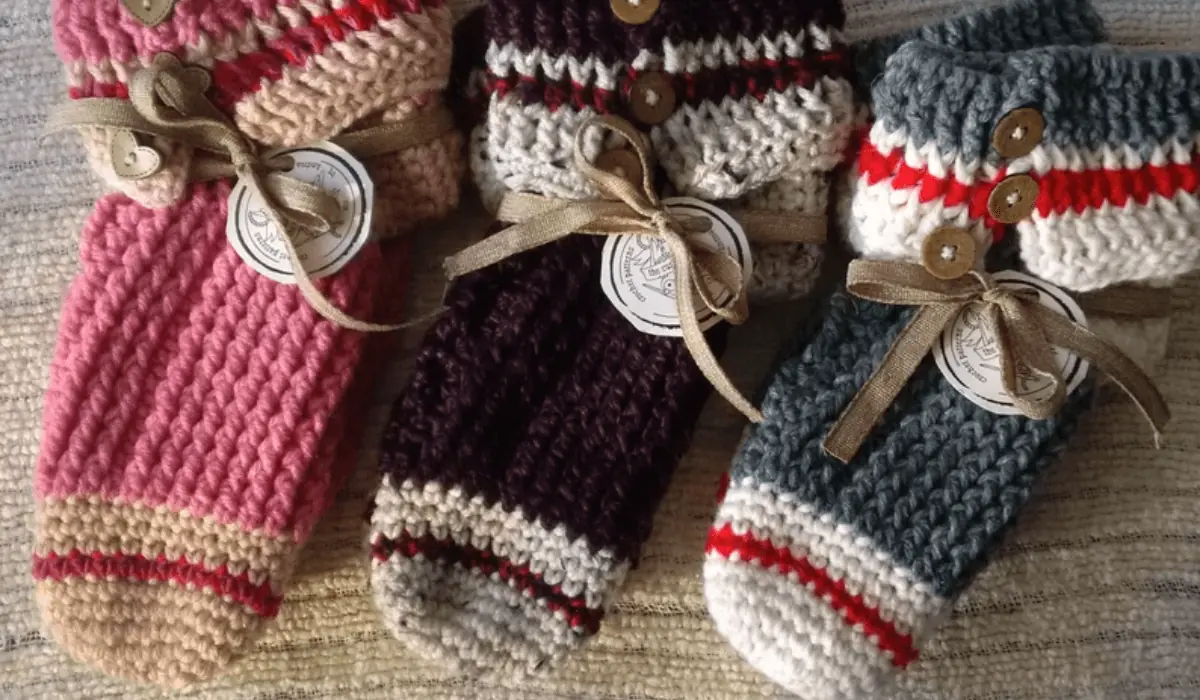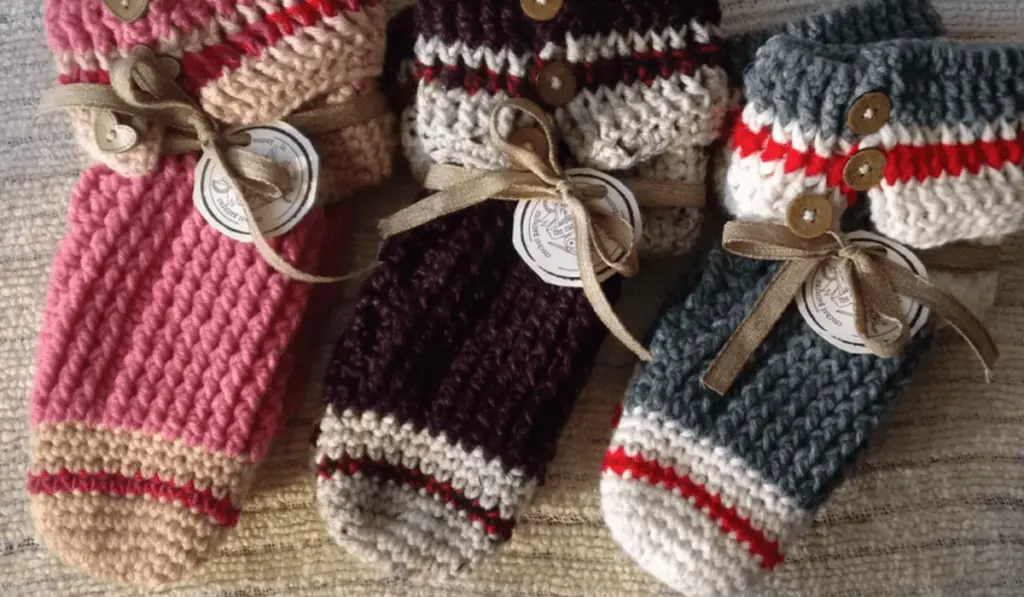 The Sock Monkey Crochet Slipper Sock Pattern by The Curly Vine is so cute! I love all the fun detailing on this pattern and don't worry, they're not just baby socks, this pattern can be made in any size.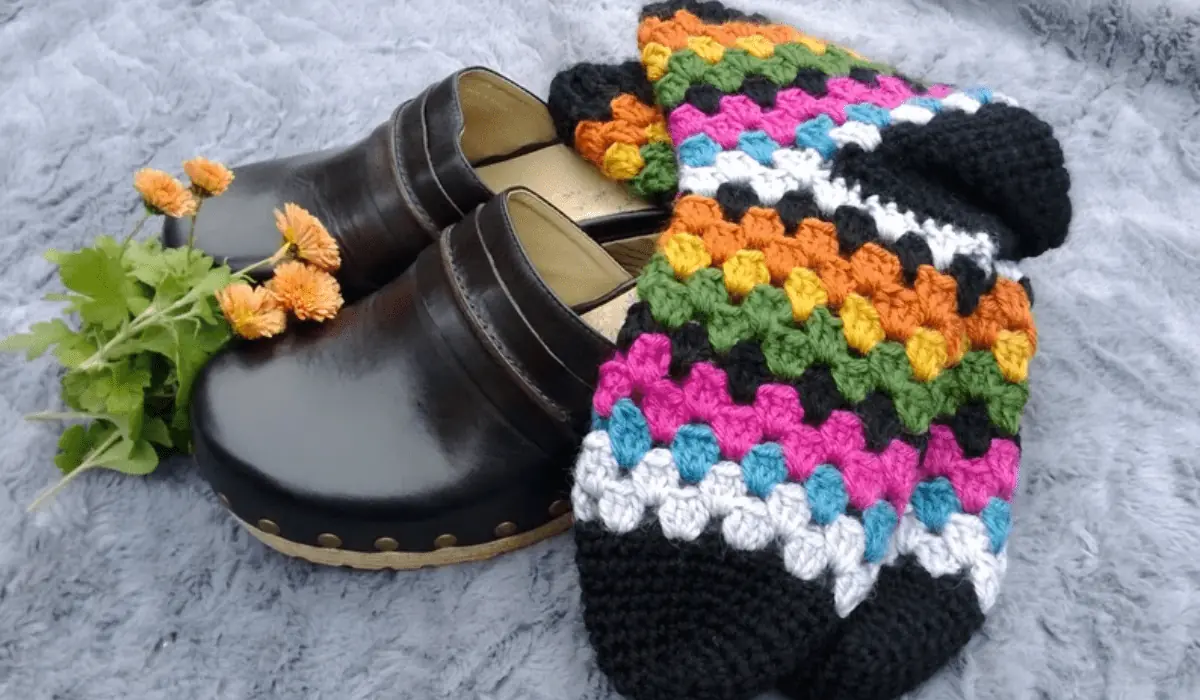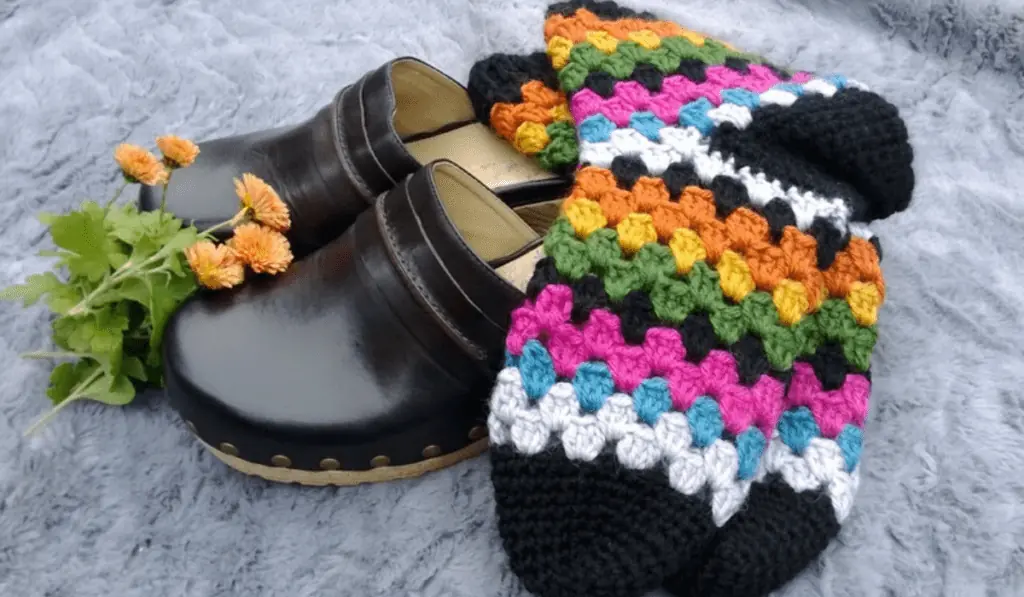 These colorful socks are by Simone Francis. I love that it has so many pops of color, it really leaves so many options open.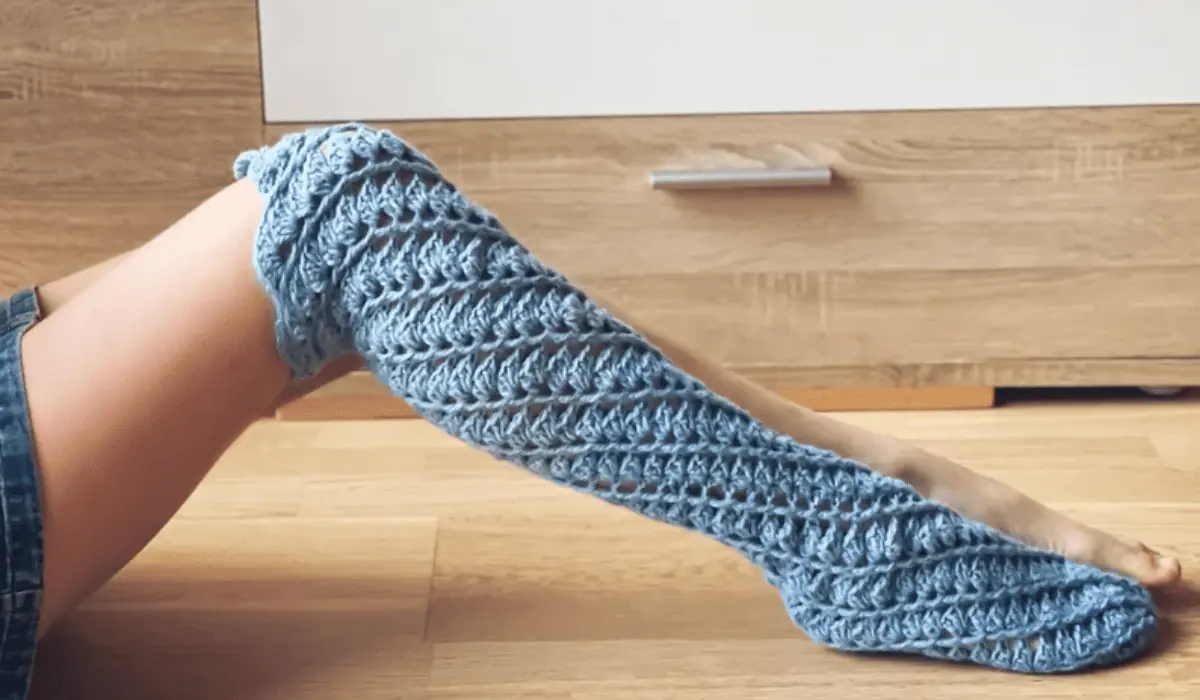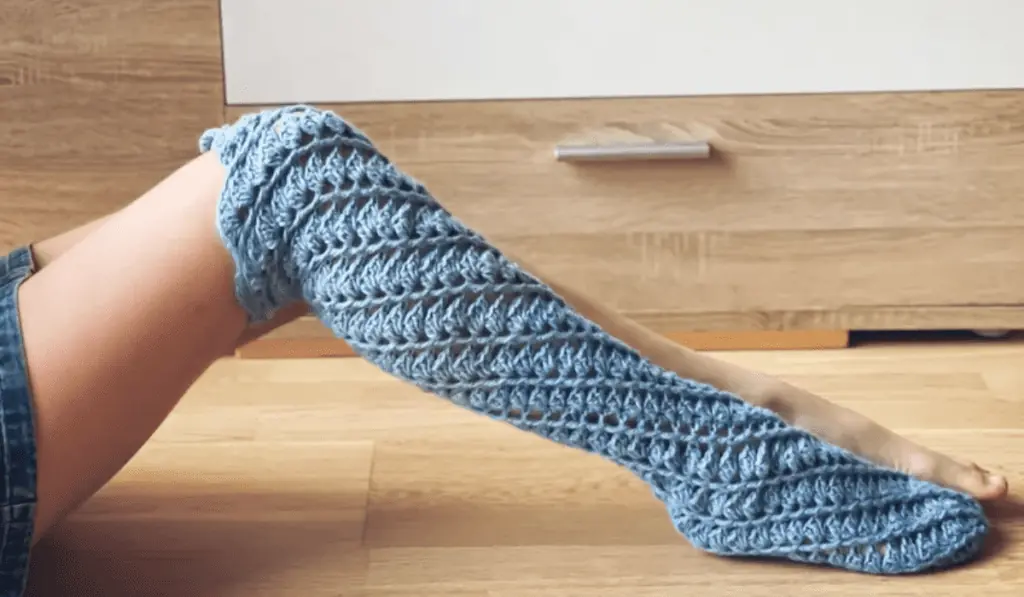 The Twirling Toes pattern by The Mailo Design is such a cute crochet sock pattern. I love all the detailing on this pattern, it's really a show-stopper.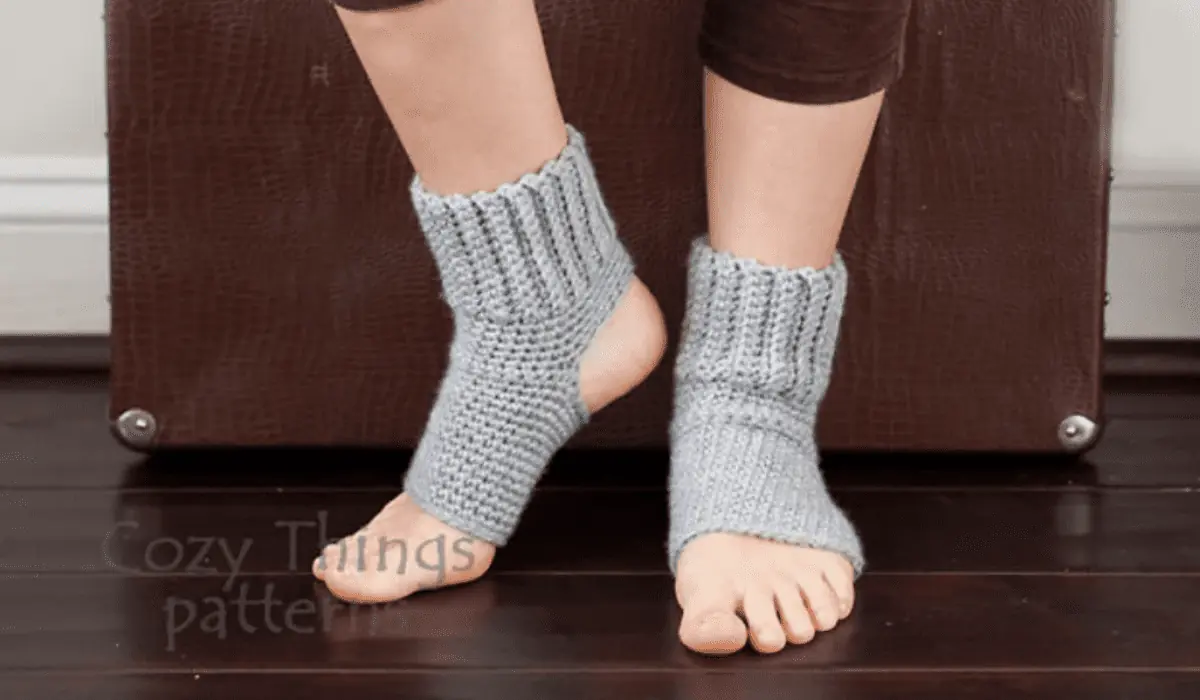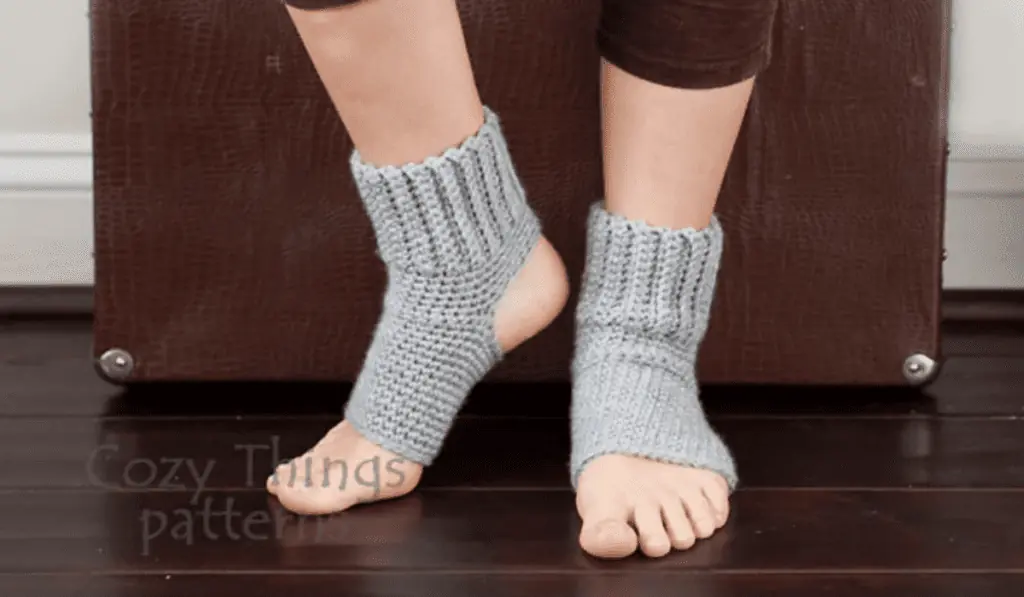 These crochet yoga socks by Cozy Things Patterns are perfect if you want some warmth but you don't want to slip and slide all over the place. This pattern is only made in adult women's sizes, so that's something to keep in mind before purchasing this pattern.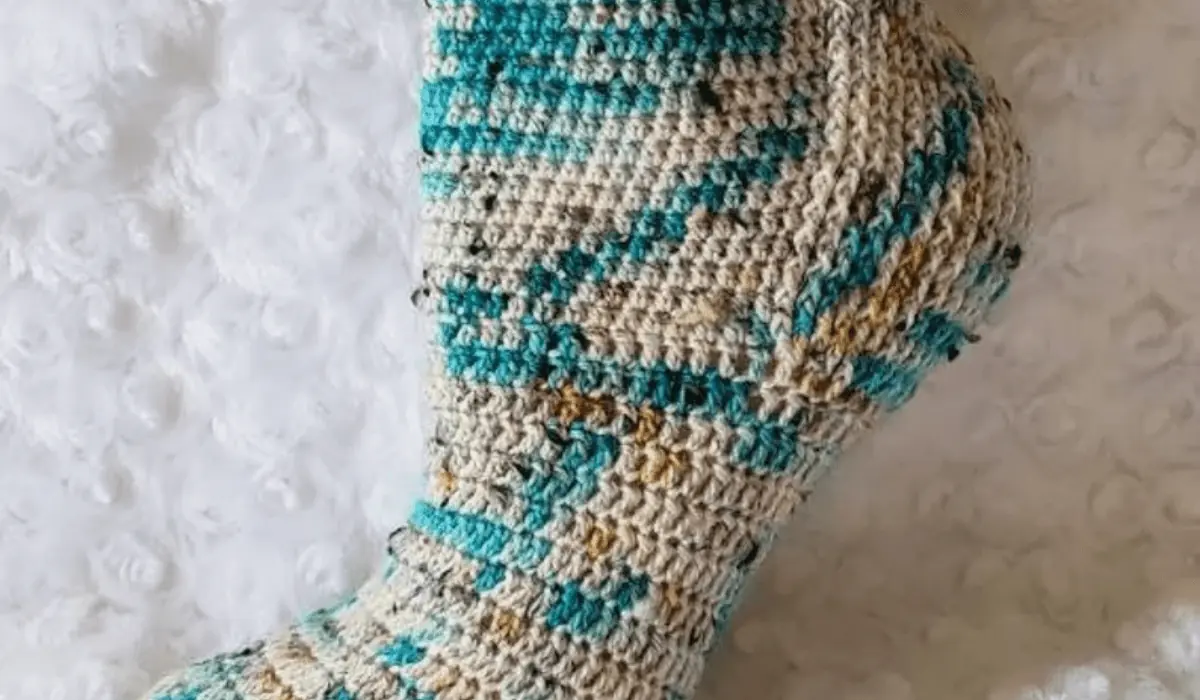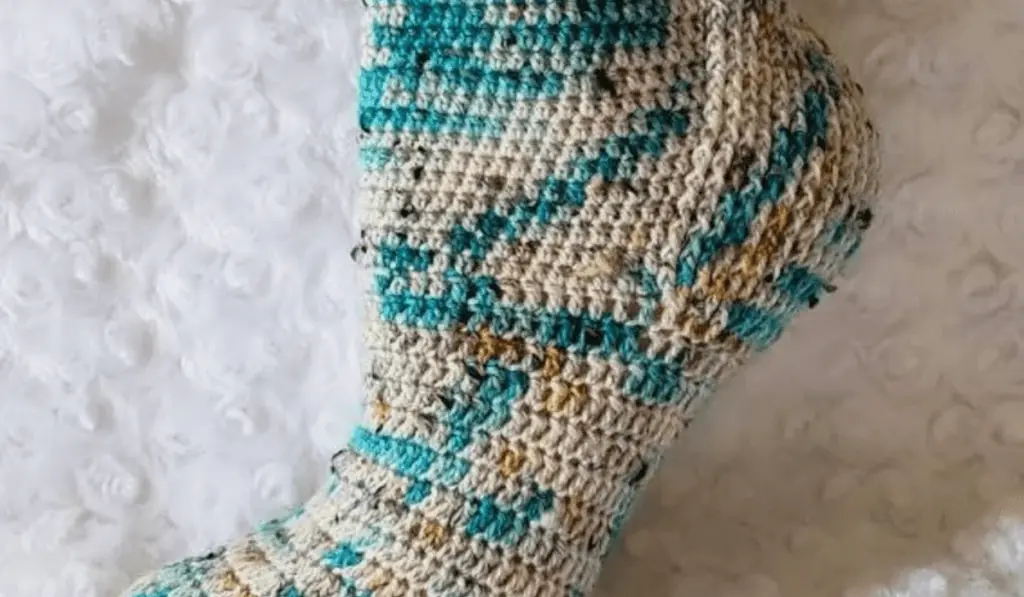 If you're looking for a crocheted sock pattern that will fit in your shoe, this pattern by Dahlia Willow LLC is going to be perfect. This pattern uses sock-weight yarn and is sure to become your favorite pair of socks when you're going out and about.
I love seeing your finished projects! If you enjoyed making one of my patterns I'd love to see yours on Instagram, be sure to tag me @crochet365knittoo. If you are on Facebook, stop over to the Crochet 365 Knit Too Facebook page or pop over to the Crochet365KnitToo Club and share a photo! I'd love to see your work.