Marvelous and Magical Crochet Snowflake Patterns
This post may contain referral/affiliate links. Please read my disclosure for more info.
I've got a serious soft spot for a beautiful crochet snowflake.  I love the intricacy and detail.  And a snowflake is really where the art of crochet shines bright!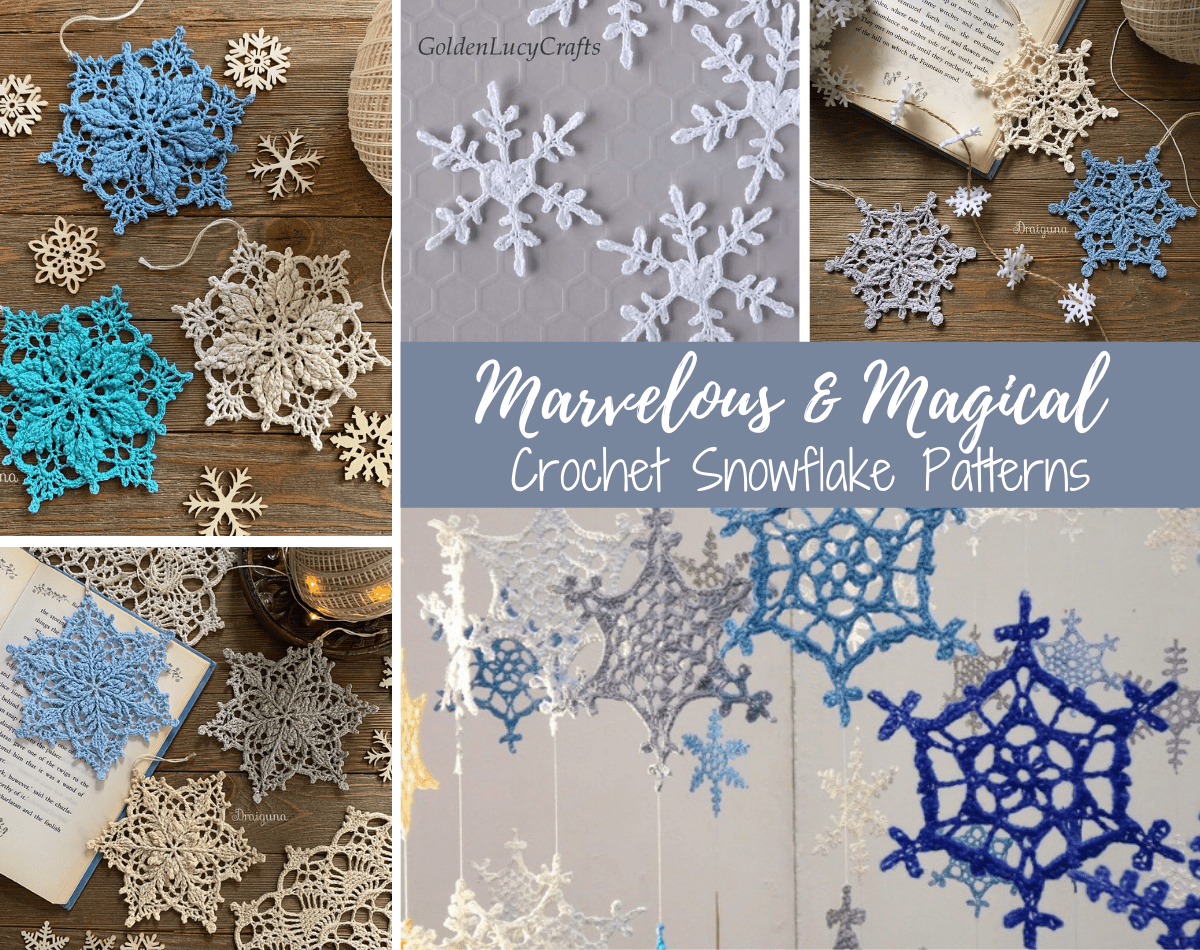 Every year my Christmas tree is adorned with gorgeous crocheted snowflakes made by my grandmother.  I love reaching into the tissue lined box every year to carefully place them one by one on my tree.  It makes me smile and think of her loving hands making them.  And even though she is no longer with us, I feel her love transcend time as I lovely hold each one.
What Can You Make With Crochet Snowflakes
I love crochet snowflakes because they are beautiful and can be used in so many ways:
Christmas Tree Ornaments:  My grandmother adorned her trees with beautiful, white crochet snowflakes.  Since each snowflake is different, it's fun to add to your collection each year with a new pattern or two!
Gift Wrapping Decorations:  What a beautiful way to adorn a gift!  I don't know about you but sometimes wrapping paper and bows cost more than the gift itself.  A simply wrapped gift in brown paper topped with a crochet snowflake is just stunning!
Crochet Garland or Banner:  Use several crochet ornaments to string together in a garland.  This is a perfect touch on a fireplace mantle or really anywhere around your home.
Home Decor:  Hang a crochet snowflake from a light fixture, attach to your computer monitor or hang from a window to brighten up your daily life with crochet fun!  Sure to make you smile every time you see it!
Crochet as Art:  Display your crochet handiwork as art!  Just buy a piece of photo matting, cut to fit a square picture frame.  Then place the snowflake on the mat, put the picture frame glass on top, sandwiching the snowflake in between the glass and the mat. Then reassemble the picture frame and hang on your wall.  Gorgeous!
The Perfect Gift:  A simple crochet snowflake or a set of snowflakes make a perfect gift.  Since it's more the effort creating the beauty, this is a low cost gift with high value because of the intricacy of your work!  I love that!
How Do You Crochet A Snowflake?
Let's face it.. a crochet snowflake is a beautiful work of art!  It make seem intimidating and maybe you're wondering if you have the ability to make crochet snowflakes.  It really is a matter of working basic crochet stitches using a thinner yarn (usually thread) and a smaller size hook.
What Size Hook Do You Use?
Most crochet snowflakes are crocheted with thread, which means you likely will need a smaller, steel crochet hook (I like this set the best).  The crochet snowflake pattern will indicate the correct size thread and hook you need.
If you find crochet thread difficult to work with, just remember that the stitches are worked the same as with thicker yarn.  Take time to work slowly can help as can a good light source.  This might be a project you work on a sunny afternoon as opposed to evening, mindless crocheting in low light conditions.
Be sure to check out my complete crochet hook post so you can pick out the best crochet hook for your snowflake pattern.
How Do You Crochet a Snowflake for Beginners
The good news is that crochet snowflakes use common crochet stitches.  You will need to know how to chain stitch (ch), slip stitch (sl st), single crochet (sc) and double crochet (dc).  It will often start with a short chain that is joined, but can start with a  magic ring instead.  Gauge is usually not too important, because, let's face it, snowflakes come in all shapes and sizes! And dont forget our list of crochet abbreviations if you get stuck!
So while a snowflake might seem intimidating, with time and some patience with yourself and carefully following the instructions, you can make a beautiful crochet snowflake!
How Do You Stiffen Crochet Snowflakes
Are you wondering how do you stiffen a snowflake when once completed?  You might find the it is easier than you think! Here are the steps:
Crochet Snowflake Ornament, using the thread and hook specified in the pattern.  For instance, use about 40 yards of size 10 crochet thread and 1.75 mm crochet hook
Weave in all ends.
Soak completed snowflake in liquid starch (or fabric stiffener).  You can dilute the starch with water if you'd like your crochet snowflake lightly stiffened.
Gently press out any excess liquid, being careful not to pull or twist stitches
Lace crochet snowflake flat on a blocking mat (you can also put a folded towel on carpet instead)
Using rust free pins, carefully pin the snowflake to the mat, working from the center out.  Make sure the stitches are facing the correctly way and that the snowflake is slightly stretched and even.
Allow snowflake to completely dry.
Remove pins and enjoy your new crochet snowflake!
Crocheted Snowflakes
Let's dive into my favorite crochet snowflake patterns from the elaborate to a free crochet snowflake pattern.  These snowflake crochet patterns are sure to transform your home into a winter wonderland!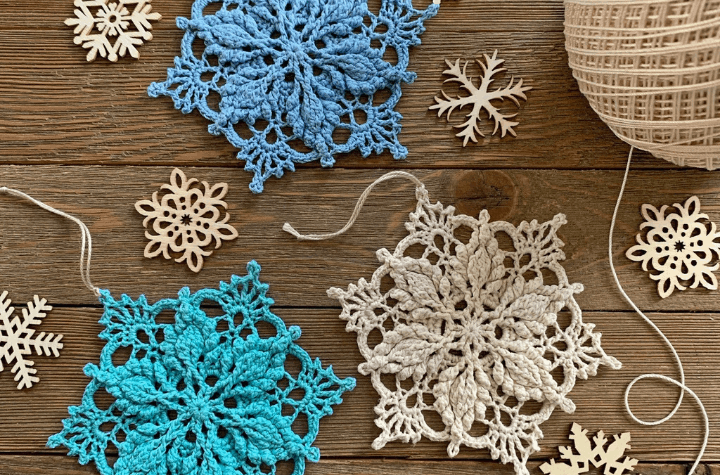 I love the complexity of Draiguna's crochet snowflake pattern! The texture on this reminds me of a winter flowers snowflake! These would look beautiful on a Christmas tree!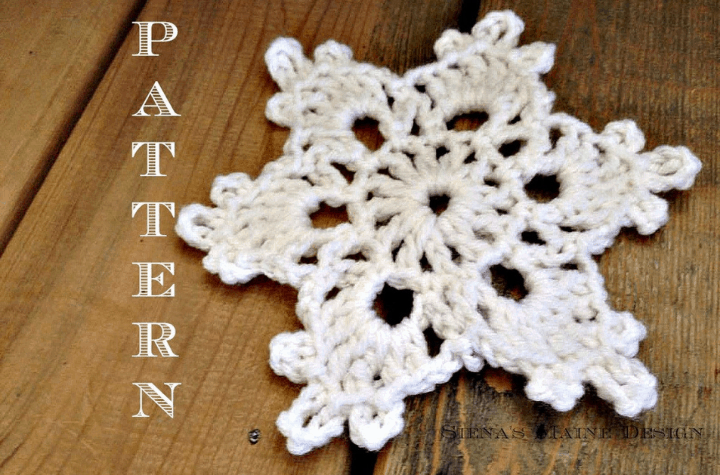 For those who value simplicity and minimalism, Jonna Martinez Crochet's snowflake pattern is here for you! This beautiful snowflake is an easy crochet that comes together quickly!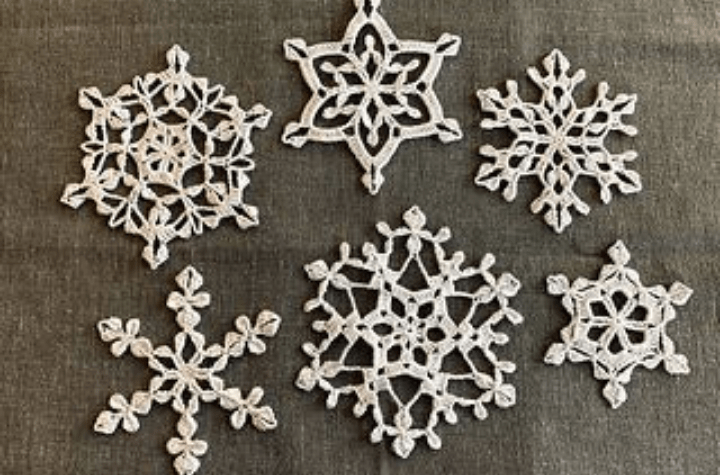 How can a choose a favorite between all of the Jessica Wifall crocheted snowflakes? I love that this is a complete set of snowflake so if you want a variety for your tree, you can get it all in one crochet pattern!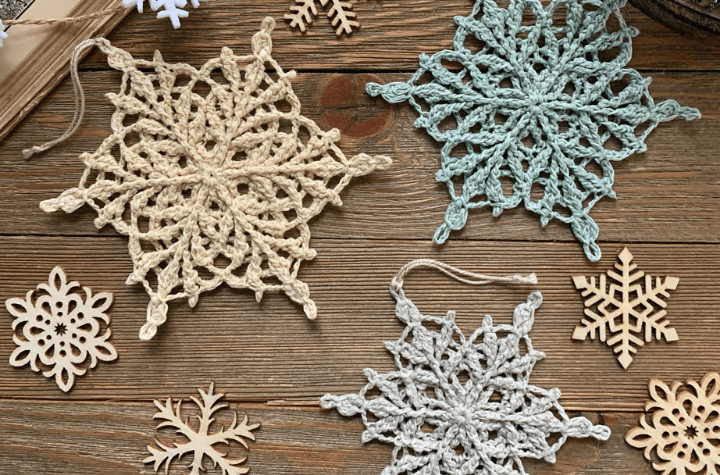 Here is a gorgeous Draiguna crochet snowflake pattern! Who says lacy snowflakes have to be white?!  I'm loving that ice blue beauty so much! And I also love the simple loop on these snowflakes.  So easy!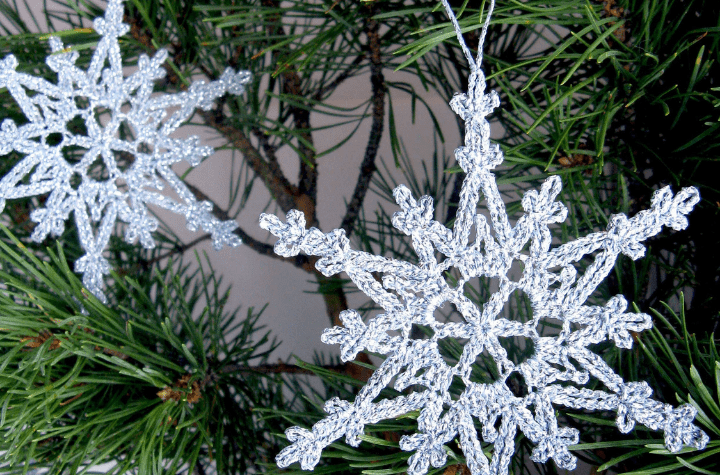 I like how these crochet snowflakes from Crochet Gifts Shop stand out with silver thread! The sparkle reminds me of glitter!  So unique!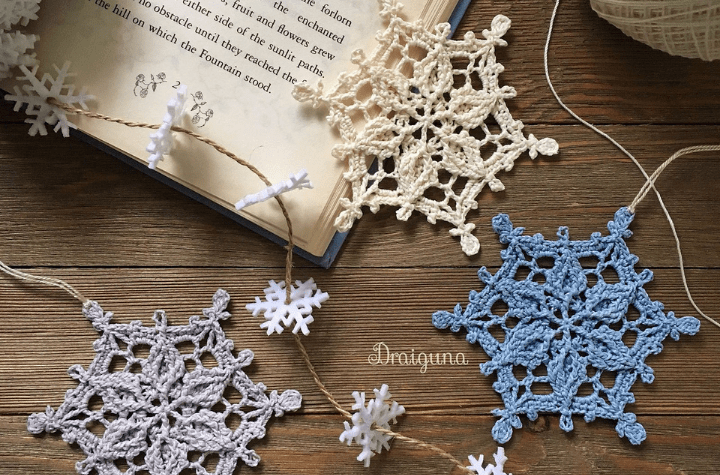 I love this intricate crochet snowflake by Draiguna. This would be a great pattern for ornaments for a Christmas tree!  Love it!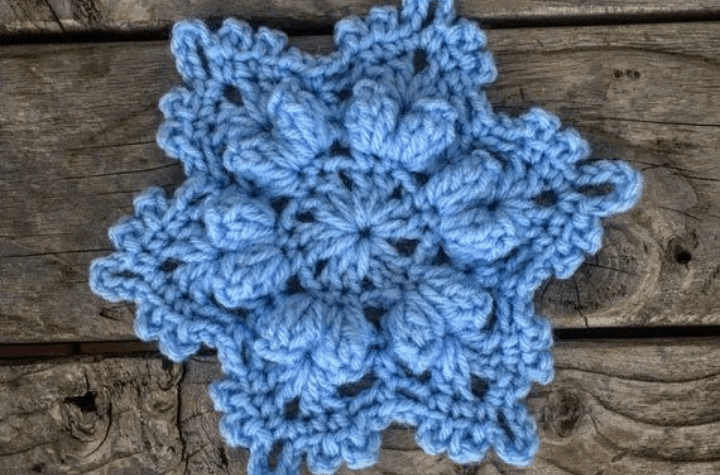 I'll be singing "Blue Christmas" all day making this beauty from Jonna Martinez Crochet! This is a great example of how the same crocheted snowflake pattern can be made in different yarn weight or thread for different sized snowflakes.  This is a more of an easy crochet snowflake that could be worked in worsted weight yarn, making it a better project for a newer crocheter or even someone that might have trouble working with thread and a small crochet hook.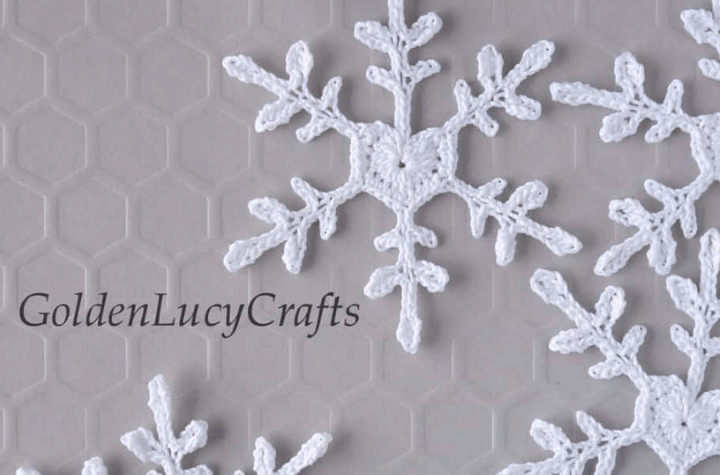 Golden Lucy Crafts has stolen my heart with this unique crochet snowflake design!  I love the heart in the center and you can access the free crochet pattern here if you would rather not purchase an ad free version of it.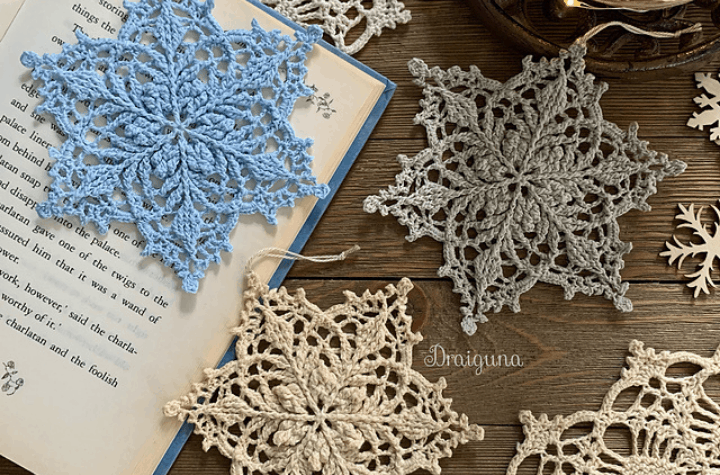 I'm completely in love with this Draiguna snowflake!  I also love the blue and beige version of the snowflake pattern.  Gorgeous!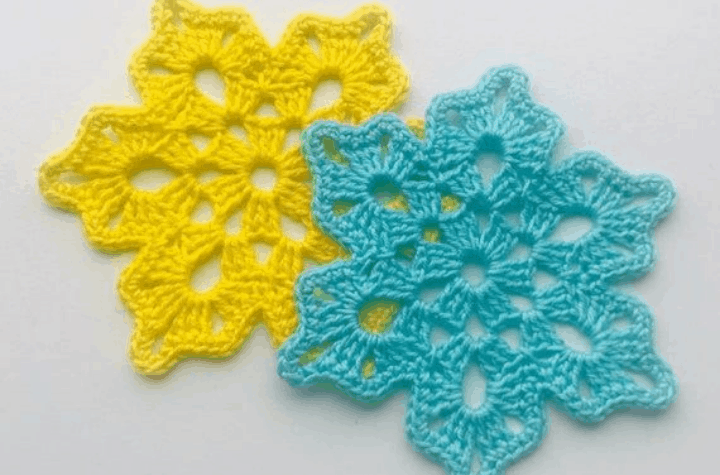 I love seeing how people can morph the basic granny square idea into a totally different pattern! And Hooked by Crochet Art does just that! Wouldn't these look great as coasters? This would be an easy crochet snowflake pattern for a beginner!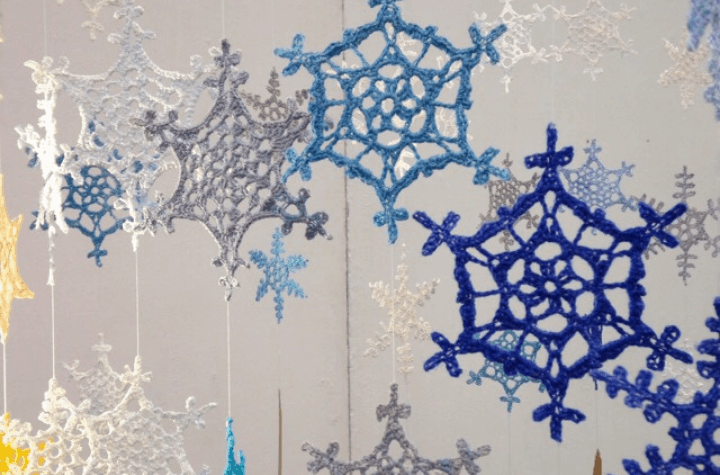 I need these crocheted snowflakes by Saraphir hanging around my home ASAP! Who else wants to crochet their own winter wonderland with these snowflake motifs?  Magical!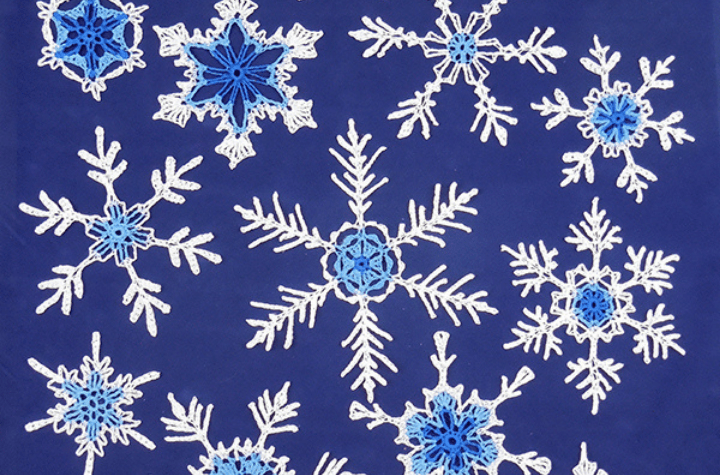 The possibilities for snowflake patterns is endless! And Kathryn Clark Design gives us so many different styles to try out!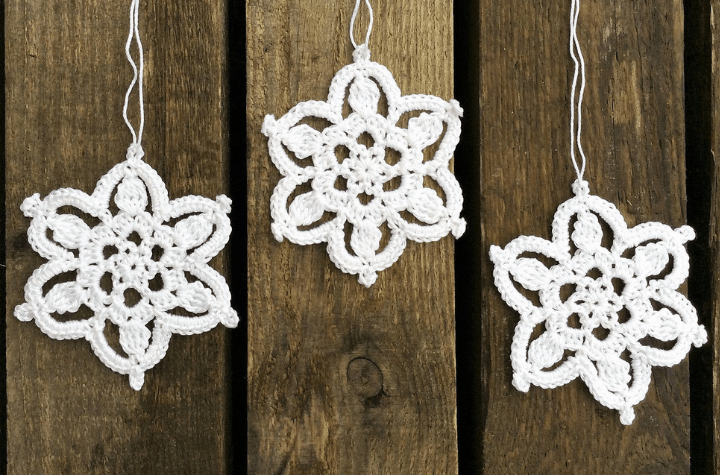 I love this classic and traditional snowflake pattern by Kristines Crochet.  It has the sophistication of a more complicated crocheted snowflake but easy enough crochet stitches for an adventurous beginner crocheter!
I love seeing your finished projects! If you enjoyed making one of my patterns I'd love to see yours on Instagram, be sure to tag me @crochet365knittoo.  If you are on Facebook, stop over to the Crochet 365 Knit Too Facebook page or pop over to the Crochet365KnitToo Club and share a photo!  I'd love to see your work!