Ever need a little bit of cuteness to brighten up your day?  Your home?  Your office?  Meet the first in the Bitty Bumble series:  A Crochet Pig.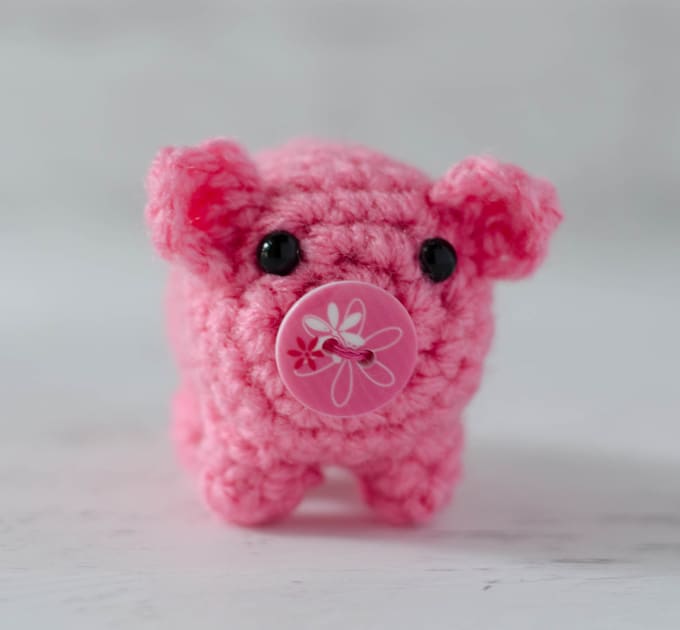 Remember when I made the bitty bumble bee?  Well.  It got me thinking.  Wouldn't it be fun to make a whole bunch of little stuffed pieces of crochet goodness?  And wouldn't it be fun to give the whole series a fun name… like 'Bitty Bumble'?  And then I found this cutie patootie button and I was a goner.
So I'd like you to meet the first in the Bitty Bumbles Series:  A Crochet Pig.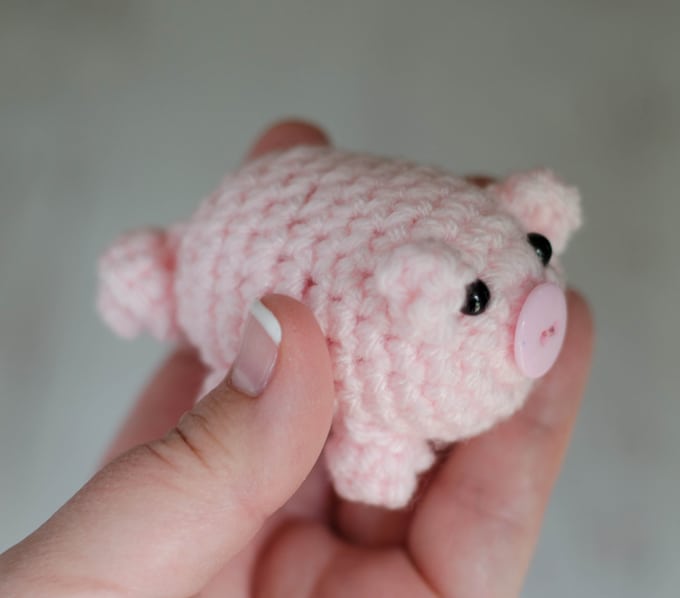 This is a small little amigurumi that I'm calling Bitty Bumbles.  You can make them and collect them for yourself or give them away.  Brighten up your desk space at work.  Stuff someone Christmas stocking.  Make them for young or old alike.
Easy. Fun. And cute as can be!  Ready to make a crochet pig?
Crochet Pig – Bitty Bumble #1
Here is what you will need:
Materials:
For other great products I recommend, be sure to check out my special store on Amazon here!
Resources and tutorials you may find helpful in following this pattern: Crochet Abbreviations, US to UK Crochet Conversion Chart.  Find links to stitches on the "Tutorial" menu: Getting Started will show basic stitches used in many patterns and Crochet Stitch Dictionary shows our growing collection of crochet stitch tutorials.
To make the decreases less noticeable, use the invisible decrease method.
Size:
Crochet Pig Bitty Bumble is about 2.5″ long (not including his wee little tail)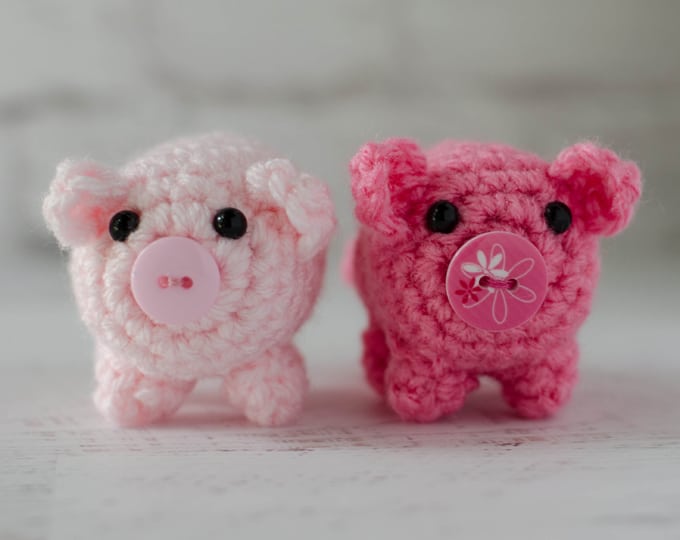 Body
With pink yarn, make a magic ring
R1:  6 sc into ring (6 sts).
R2:  2 sc in ea st around (12 st)
R3:  *sc in next st, 2 sc in next st, repeat from * around (18 st)
R4-12:  sc around (18 st)
Take time out to insert safety eyes.  The safety eyes go between rounds 2 & 3.  Refer to photo for placement.  Stuff and continue stuffing as you finish up the body.
R13: *sc in next st, sc next 2 st together.  Repeat from * around (12)
R14:  sc next 2 st together (6).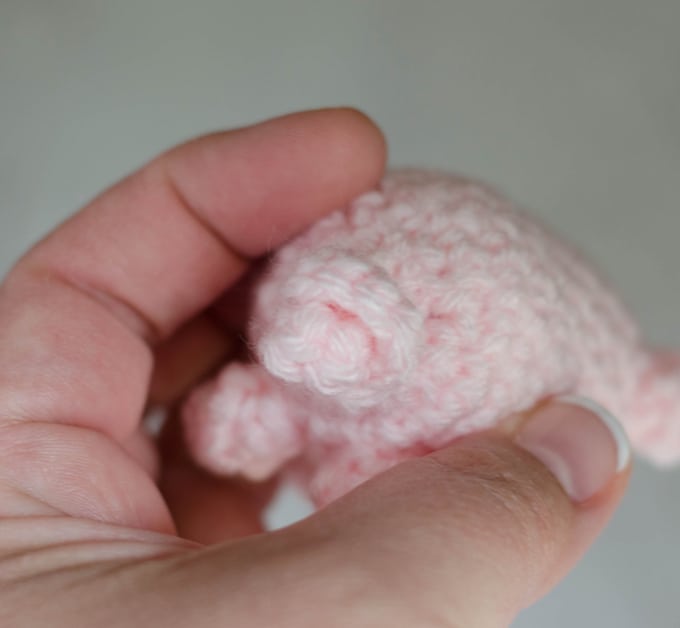 Now without cutting yarn, continue as follows to work the tail:
ch 5, work 3 sc in 2nd ch from hook and in each of the next 3 chains.  Fasten off yarn.
Make sure pig is firmly stuffed, then thread the yarn end onto the tapestry needle.  Weave opening closed.  Fasten off and weave in end.
Ears (Make 2)
With pink yarn, ch 4
R1:  sc in 2nd ch from hook, dc in next ch, ch 2, sl st to last ch.  Fasten off leaving a long strand for sewing.
Position ears so that the starting chain is resting against head and sew an ear on each side of the head.
Nose
Sew a coordinating button below eyes, using needle and sewing thread.
Legs (Make 4)
With pink, make a magic ring.
R1:  6 sc into ring (6 sts).
R2:  sc in ea st around (6 st).  For a nice finish, use the Invisible Seamless Join technique.  Leave a long strand for sewing.
Position front legs between rows 5-7 and back legs between rows 10-12 on bottom of pig (or wherever looks best to you) and sew down.  Note: Legs are not stuffed.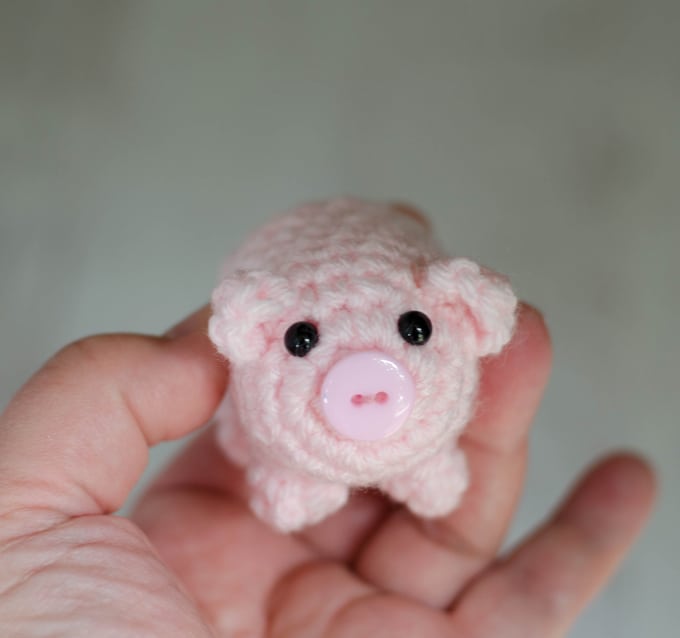 I love seeing your finished projects!  If you enjoyed making the Crochet Pig #BIttyBumble,  I'd love to see yours on Instagram, be sure to tag me @crochet365knittoo.  If you are on Facebook, stop over to the Crochet 365 Knit Too Facebook page and share a photo!  I'd love to see your work!
Purchase an ad-free printable version of this pattern!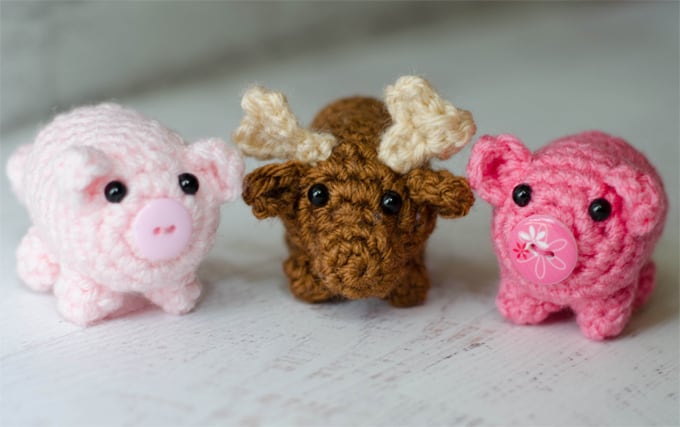 …Moose Bitty Bumble Pattern is coming soon…
Written pattern copyright Cheryl Bennett 2018, all rights reserved.  Please do not reprint or repost this pattern.  If you would like to share this Crochet Pig #BittyBumble pattern with others, just link to this page.  If you'd like to make items for sale from this pattern, please visit my About page for more information.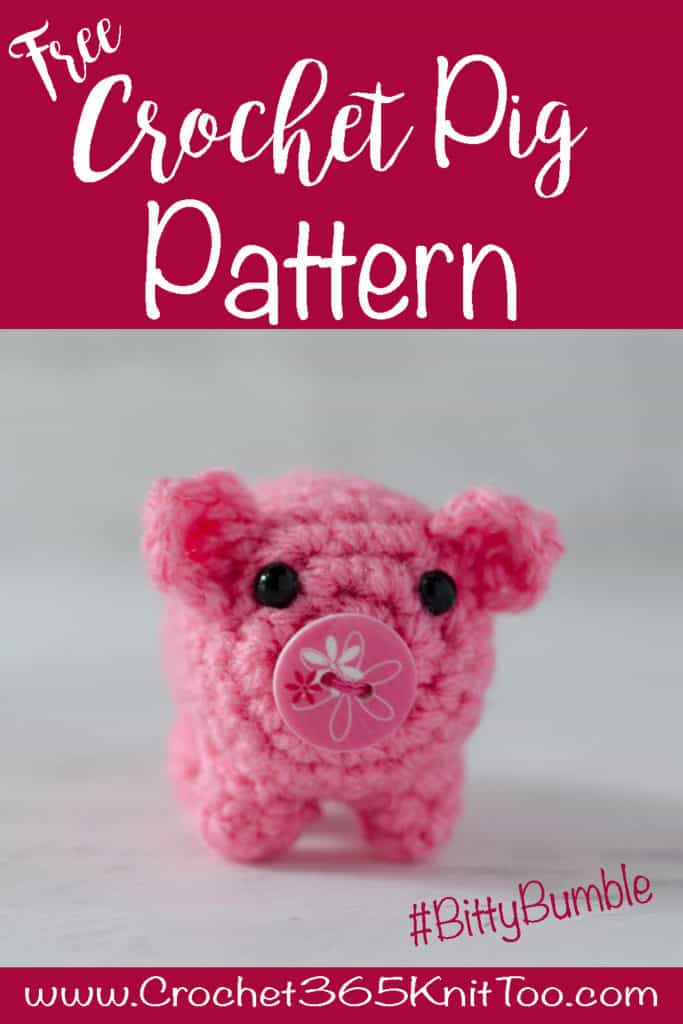 Subscribe to the Newsletter
Get crochet patterns, news, special offers and other crochet goodness straight to your in box. Look for your first email to get access to The Vault, where you can download a free crochet & knit journal and other crochet goodies!