Crochet Preemie Hat
This post may contain referral/affiliate links. Please read my disclosure for more info.
What is pink, blue and adorable all over? Why this crochet preemie hat, of course!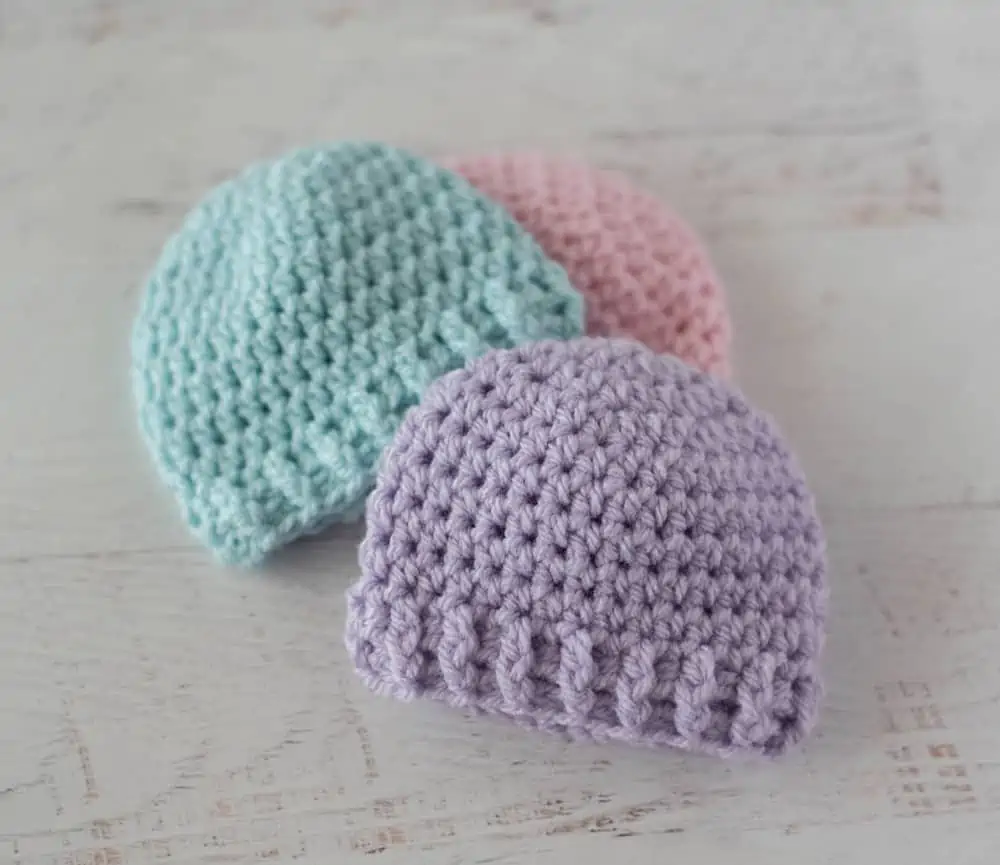 Pick any color worsted yarn in your scrap pile, grab your favorite hook and get in your cozy chair because you're about to crochet something beautiful and useful for the littlest among us!
There is something beautiful that comes from giving from the heart. So many of us love to crochet for family and friends. But many feel called to donate their crochet too. That's why the crochet octopus has always been so popular. It's perfect for your littlest little in life and also perfect charity project for your local hospital.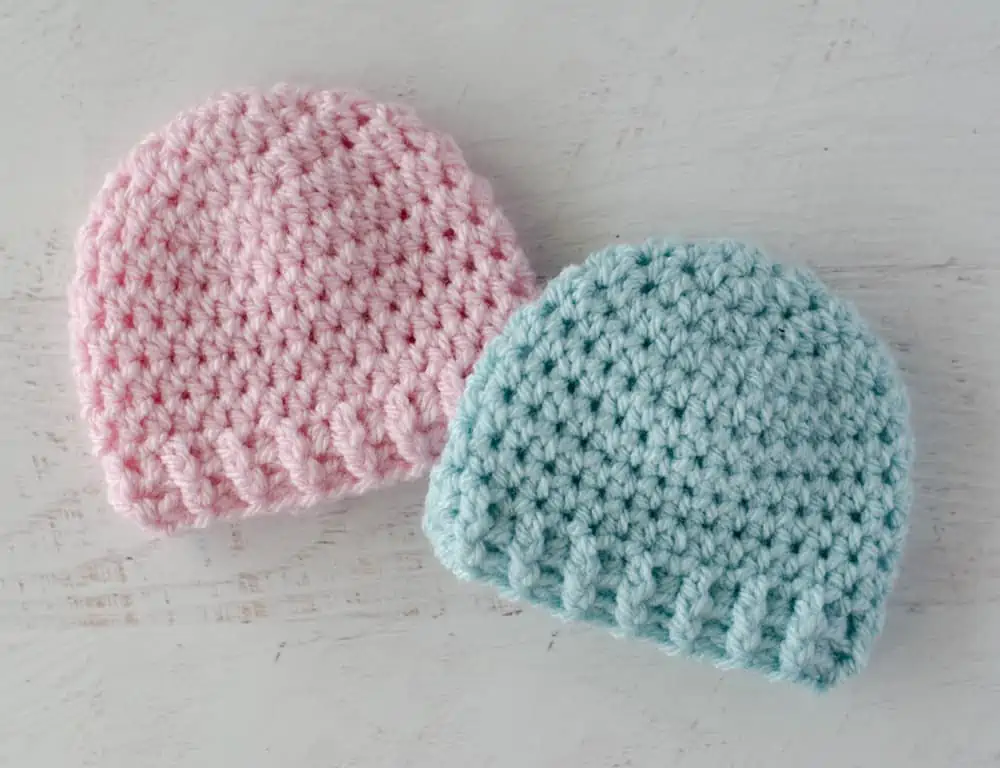 Countless of you have reached out wondering about other tiny makes to crochet for babies.
Enter this sweet little crochet preemie hat. There is so much to love about this little beauty for baby. First up.. it uses very little yarn (just 3/8 of an ounce). So this free crochet pattern is perfect for all those worsted weight scraps you have in your yarn stash.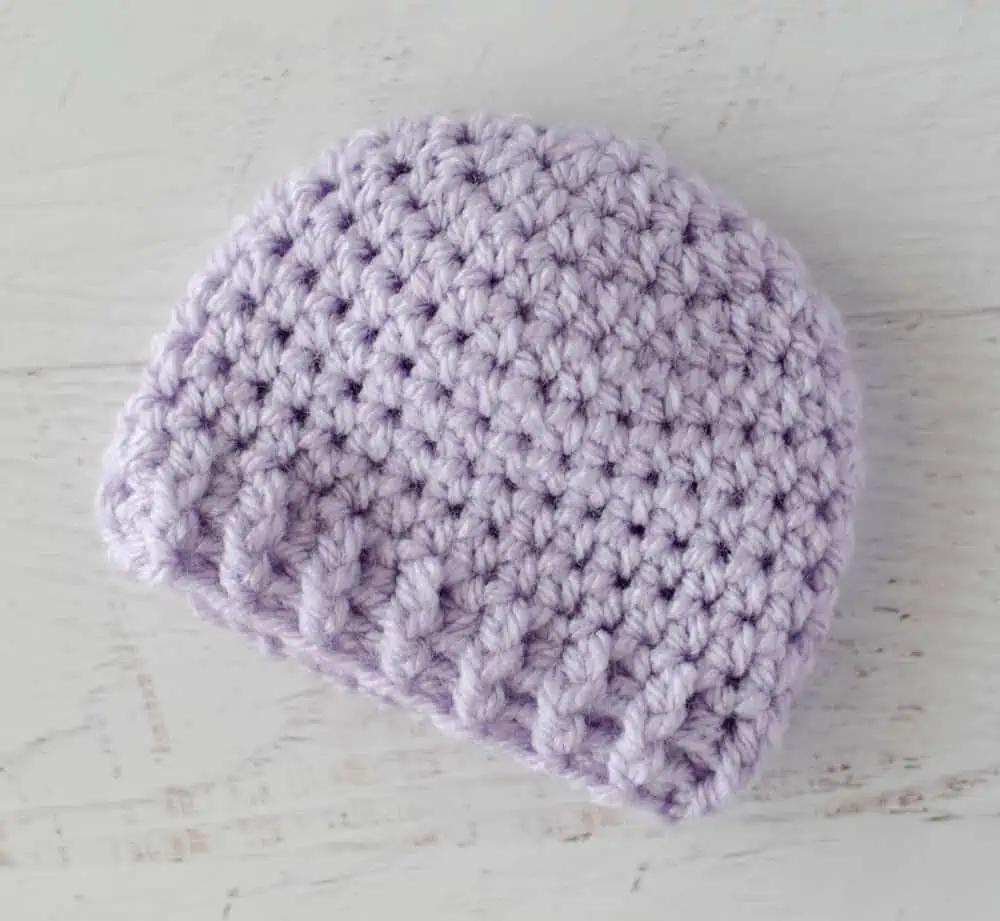 Most of the hat is worked in half double crochet stitch in the round, so it is easy, fast crocheting. It is the perfect binge while you watch TV project. The brim is where all the magic happens. I wanted a tiny ribbed edge and it was tricky to find a stitch combination that gave me both the functionality and look I wanted.
Enter a row of post stitches in half double crochet and another in single crochet. Preemie baby hat perfection! Of course, if you don't want to crochet ribbing, you can just continue rounds of half double crochet until you reach the total height of the crochet hat too. You can also attach a tiny pom pom to the top, if you'd like. A tiny baby just wants to be warm, after all!
Pull out your yarn and get ready to make preemie hats! Let's dive into this cutie pie free pattern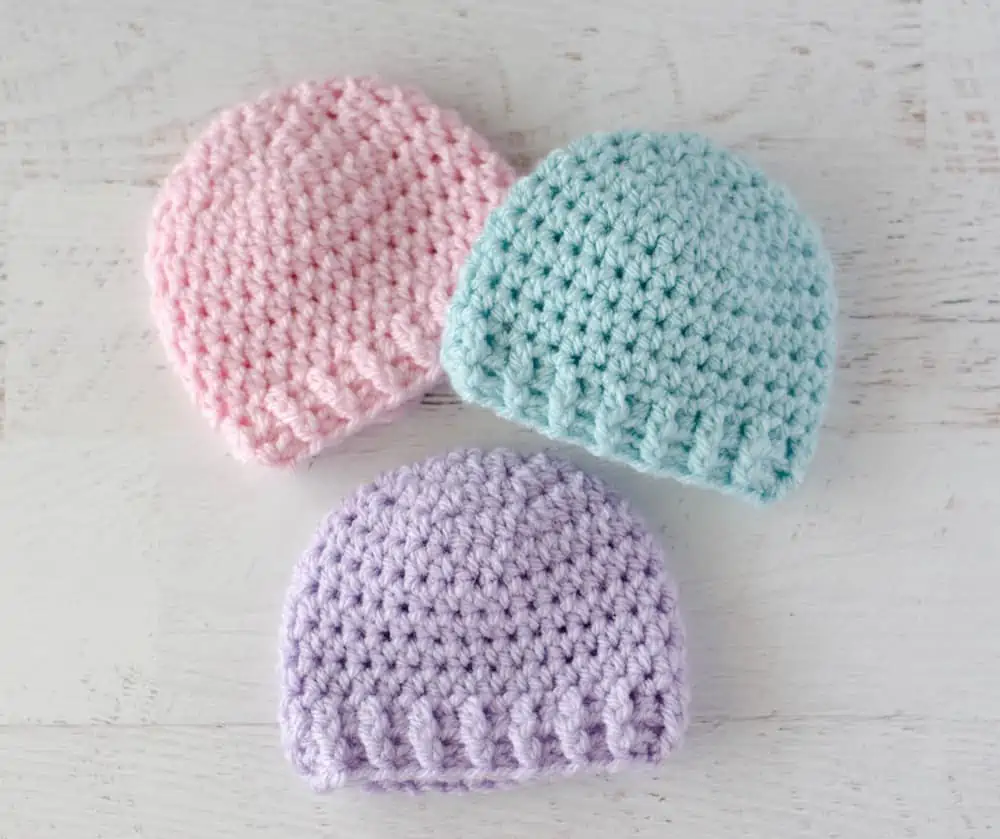 Preemie Hat Crochet Pattern
Here is what you will need:
Resources and tutorials you may find helpful in following this pattern: Crochet Abbreviations, US to UK Crochet Conversion Chart. Find links to stitches on the "Tutorial" menu: Getting Started will show basic stitches used in many patterns and Crochet Stitch Dictionary shows our growing collection of crochet stitch tutorials.
Preemie Hat Size:
When laid flat, approximately 4.5″ across and 4″ from crown to brim Gauge: Approximately 7 hdc to 2″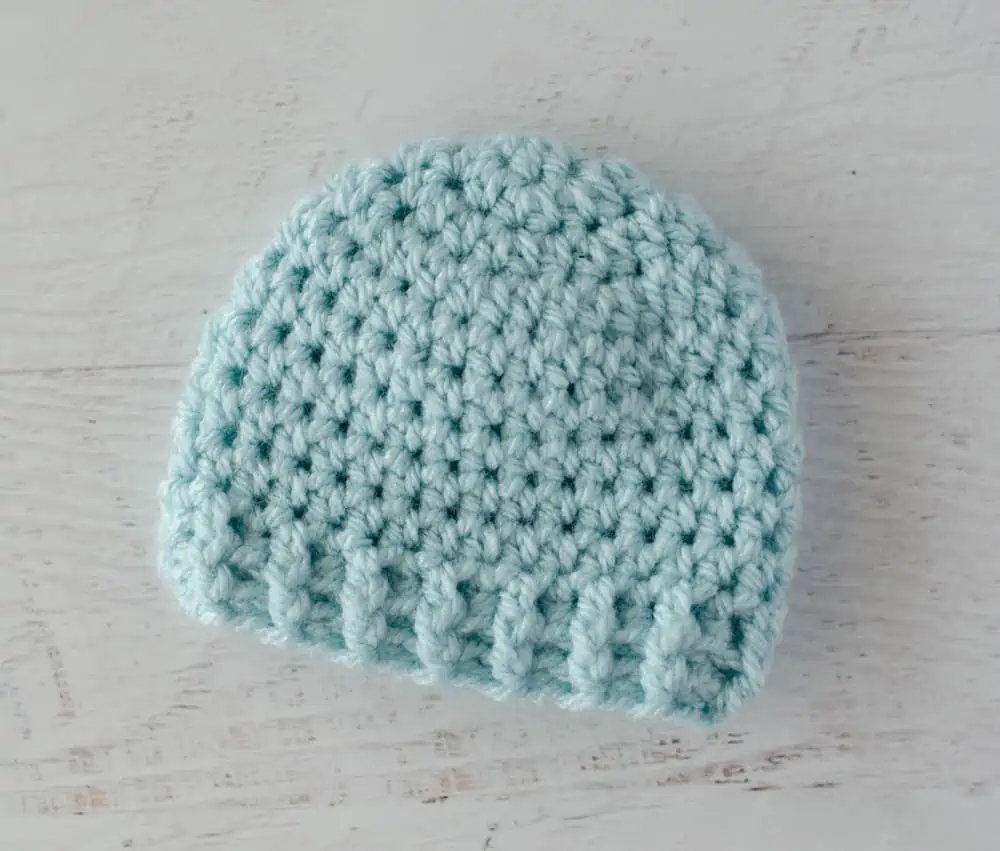 Make a magic ring
R1: 8 hdc into ring (8 sts). Work in rounds through row 9. Use a stitch marker to keep track of the rows.
R2: 2 hdc in ea st around (16 st)
R3: *hdc in next st, 2 hdc in next st, repeat from * around (24 st)
R4: *hdc in next 2 st, 2 hdc in next st, repeat from * around (32 st)
R5-9: hdc in ea st around (32 st)
**Note: Starting with row 10, rows are no longer worked in a continuous round. Instead begin each row with chain(s) and end by slip stitching to the 1st st.**
To prepare, sc in next stitch, and slip stitch in the next st before beginning row 10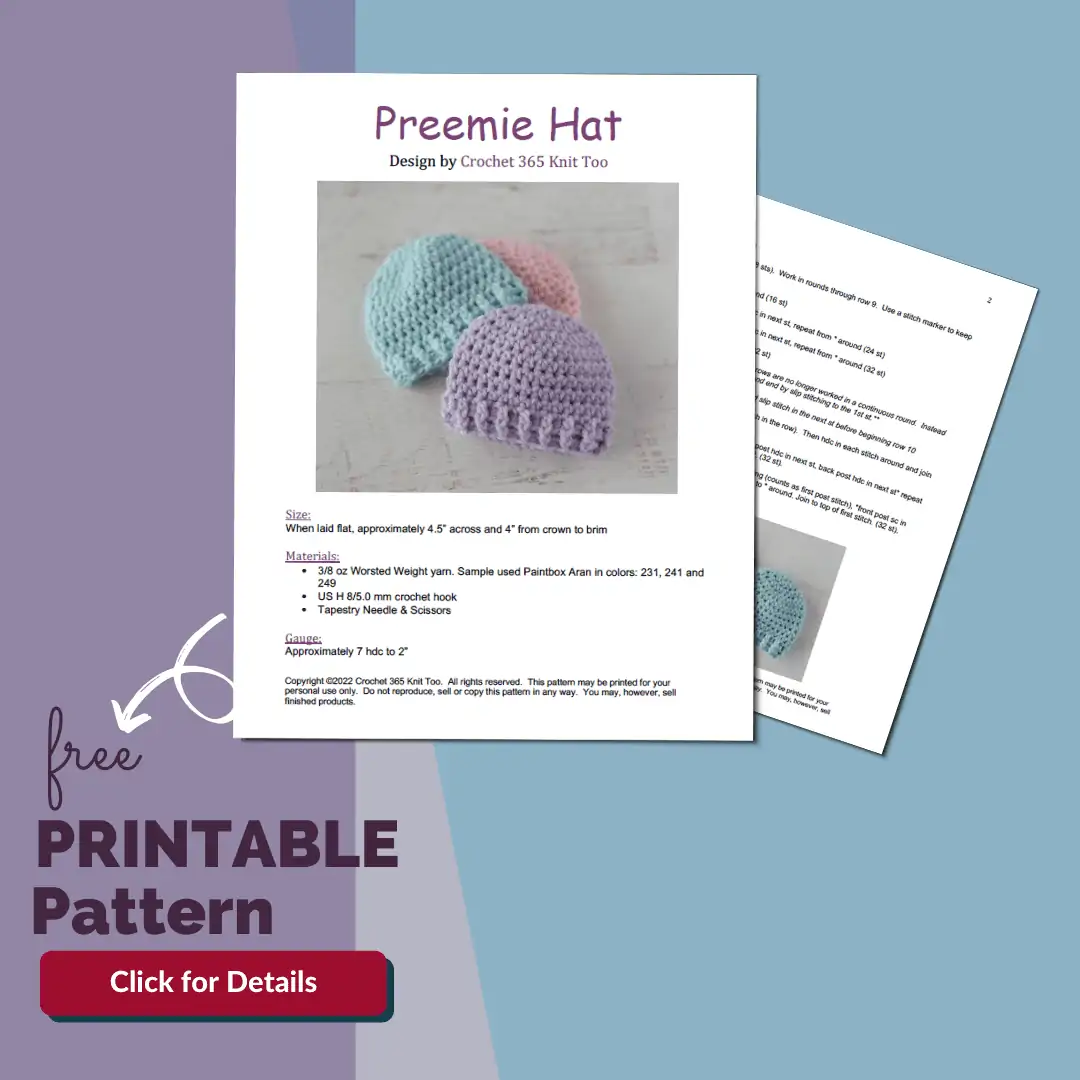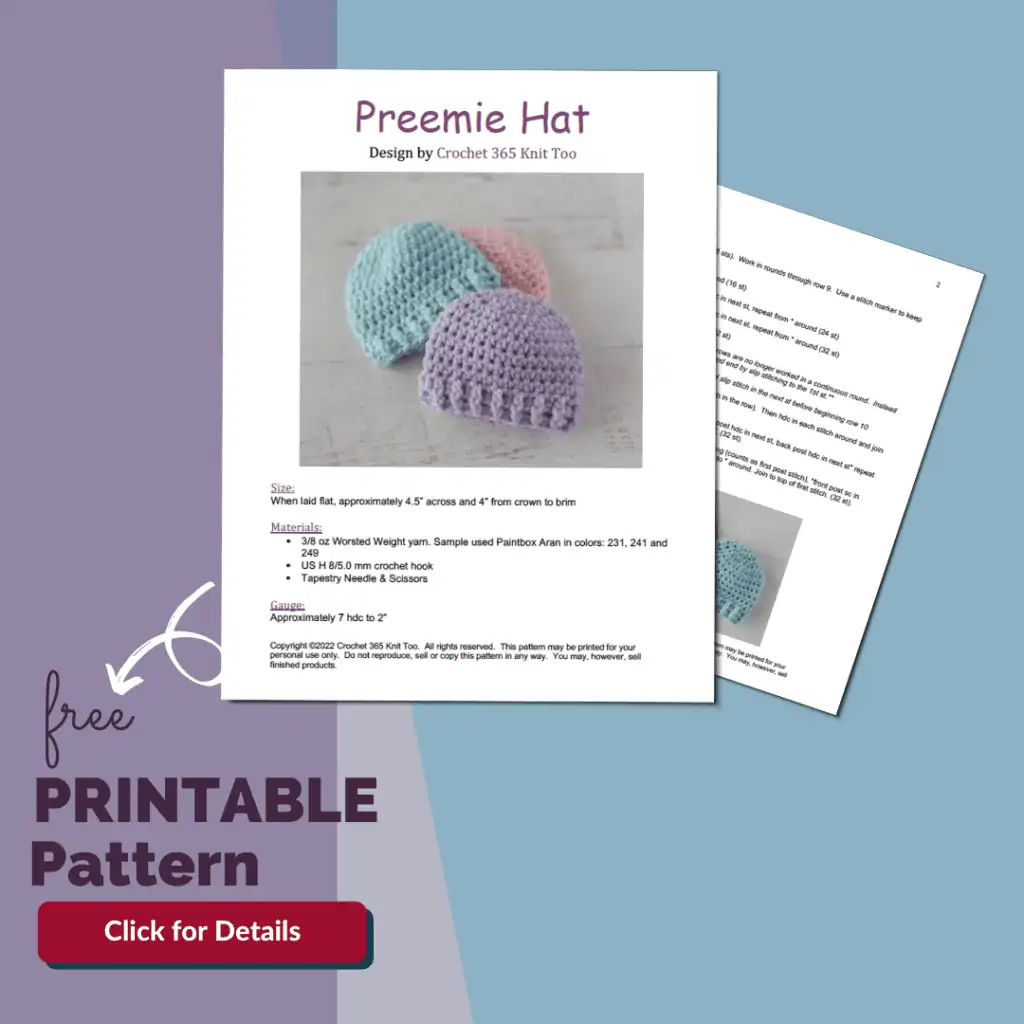 R10: ch 2 (counts as the first stitch in the row). Then hdc in each stitch around and join with the top of the ch 2.
R11: ch 2 (counts as a stitch), *front post hdc in next st, back post hdc in next st* repeat * to * around. Join with top of the ch 2. (32 st).
R12: ch 1 and sc in same stitch as joining (counts as first post stitch), *front post sc in next st, back post sc in next st* repeat * to * around. Join to top of first stitch. (32 st).
Fasten off and weave in ends.
MORE FREE BABY CROCHET PATTERNS
If you love this Crochet Preemie Hat pattern, you might also like to check out these other patterns for babies. You can find all our Baby Crochet Patterns here.
I love seeing your finished projects! If you enjoyed making the Crochet Preemie Hat for baby, I'd love to see yours on Instagram, be sure to tag me @crochet365knittoo. If you are on Facebook, stop over to the Crochet 365 Knit Too Facebook page or pop over to the Crochet365KnitToo Club and share a photo! I'd love to see your work!