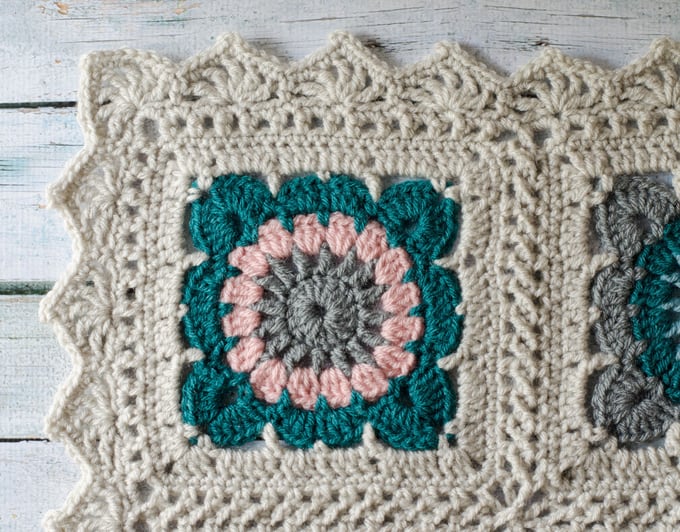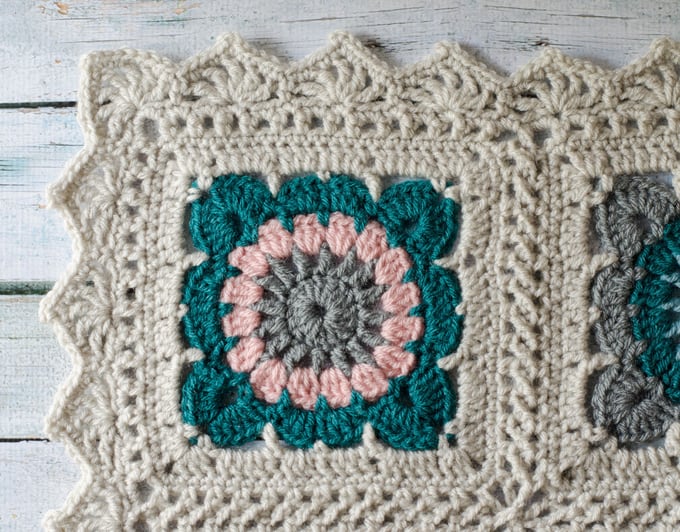 Wow, can you believe it?  We are on the last post of the Happily Ever Afghan series!  A great crochet border on an afghan is like icing on top of cake.  It is the final finishing touch that makes the afghan extra special.
If you've been following along, the Happily Ever Afghan is a special afghan I designed for my son and daughter in law as a wedding gift.  I'm presenting it here, free on the blog, in a 4 part series.  Part 1 covers the planning of an afghan.  If you ever wanted to design your own afghan from a special block, but need help with colors or calculating yarn needed, be sure to check it out.  Part 2 covers the block itself.  Part 3 is all about that beautiful braided join.  It was my first time doing that technique and I share it all with you, along with some other great websites to help you through.
This post is all about the border. I wanted a border that had a lacy feel to tie into the beautiful braided join and I also wanted some angles to it to pick up the corners of the block motif.  This is my second border design.  (To see the first border I designed, check out this baby afghan here.)
Understanding Borders
Before starting a border, you need to understand how they work and do some math.  Ugh.  I know.  But trust, me, the 'winging it' and hope it works out right (or fudging) really doesn't work well.  Put down the crochet hook and pick up a pencil and paper and let's figure this out together.
First we need a foundation row.  AND that foundation row must contain the right number of stitches for the border to work correctly.  A foundation row is important because it evens out all the jagged edges of the afghan.
To figure out how many stitches you need hopefully the border you love will give you some guidance as to the correct stitch count.
This border has a multiple of 8 stitches plus 5 stitches plus the corners.  Another way of saying this is that each side, excluding the 2 corner stitches, will have several repeats of 8 stitches each.  If you add up all those repeats THEN add 5 stitches the pattern for the border will work out correctly.
Huh?!
Hang in there.  Let me dive in a bit more.
Foundation Row Basics
On this particular afghan there are blocks joined together with a braided join.  So the side has loops on the edge of each block.  The joining point of each block has 2 larger loops.  And there are 2 corners of the afghan.  In general, the plan is to work 2 sc in each of the loops on the side of a block, to work 3 sc in each of the 2 large loops of the join (so 6 sc for each join) and then 5 sc in a corner.  However, we may have to adjust this plan so that we end up with the right number of stitches.
Let's try this with the side with 6 blocks: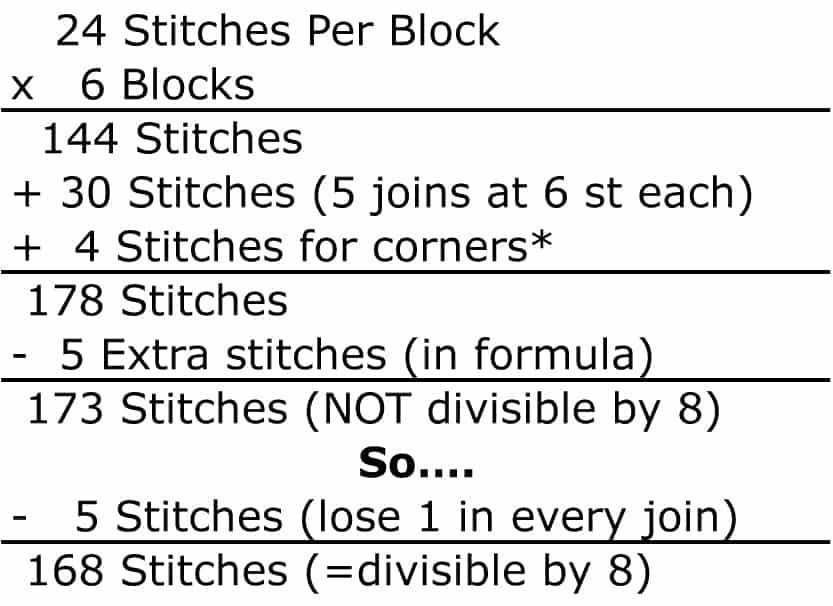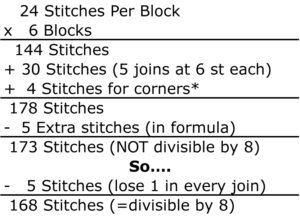 *Notice that we're only counting 4 stitches for the corners in this calculation even though I said our we would make 5 sc in each of the 4 afghan corners.  Remember we are ONLY counting the stitches on the side of the afghan and excluding the corner stitches for this calculation.  SO, our calculation includes a total of 4 stitches on the corners that will "count" in our stitch count for the side.  Again, the whole point of this calculation is to determine how many stitches in the foundation row we need for a side with 6 blocks.
Now let's try this with 7 blocks: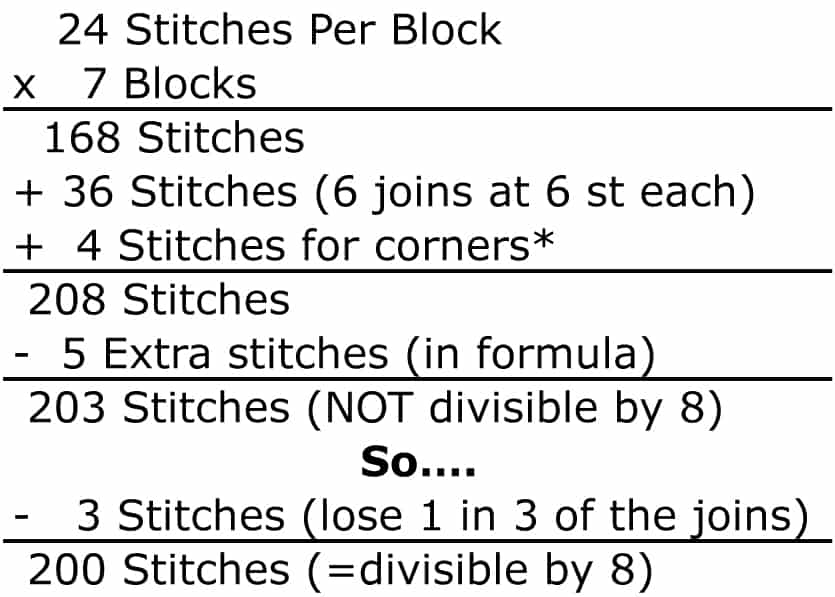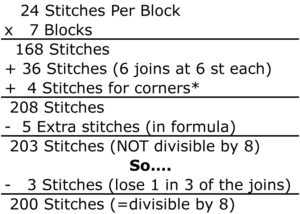 Foundation Row Recap
Now, to actually crochet the foundation row!  Based on the calculations above, work a row of single crochet around, as follows:  in each of the 4 corners work 5 sc.  Work 2 sc in each loop on the side.  Here's where we accommodate the stitches we need to lose to make the math work.  On the sides with 6 BLOCKS, work a total of 5 stitches over the 2 large loops on each join.  On the sides with 7 BLOCKS, pick 3 joins evenly spaced and work 5 stitches over the 2 large loops of the join—the other joins will have 6 stitches (3 in each of the large loops of the join).
When you get done with each side, mark the very corner stitch of the afghan and count the stitches.  The sides with 6 blocks should have 173 stitches and the sides with 7 blocks should have 205 stitches.
Now go take a break and have coffee or wine or something.  You seriously are through the worst part of the whole border—and I know..it was single crochet, but geesh…that math!
Border Pattern
Base round:  Multiple of 8 + 5 + corner stitches (described above)
Begin pattern 3 stitches to the left of a corner stitch.
R1:  Ch 1, sc in same st, *[skip 3 st, (tr, ch 1) 4 times in next st, tr in same st (shell made), skip 3 st, sc in next st].  Work from * to 2 st before corner stitch, skip 2 st, in corner work [(tr, ch 1) 6 times, tr], skip 2 st, sc in next st.  Repeat from * around, omit last sc, join with sl st to 1st sc.
Work should look like below after the first row, with scallops of 5 triple crochets on each side and a larger scallop of 7 triple crochets in the corner: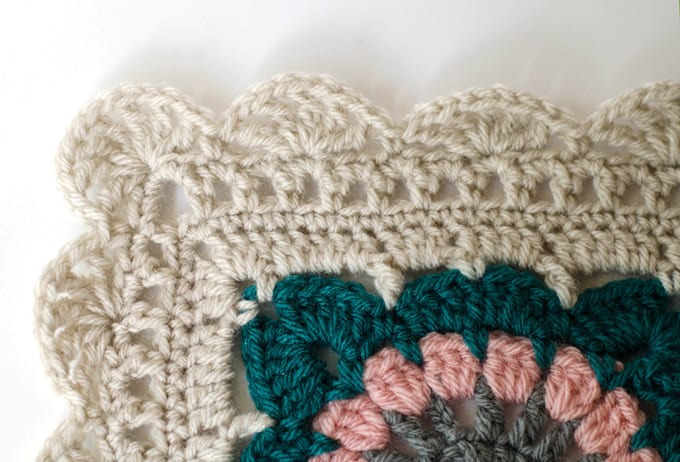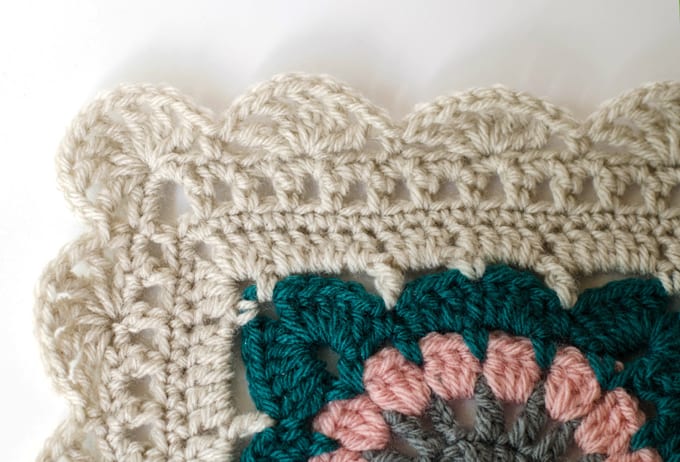 R2:  sl st in 1st st (ch1, sc in next st), (sc in next space, sc in next st) 2 times, ch 3, sc in same st as last st, (sc in sp, sc in next st) 2 times, skip next st. Continue in pattern until the corner, working a sc in every tr and space of the shell and a (sc, ch 3, sc) in the center stitch of each shell, skipping the sc between each shell.  The corner is worked similarly:  (sc in next st, sc in next space) 3 times, in next st, (sc, ch 3, sc), (sc in next sp, sc in next st) 3 times.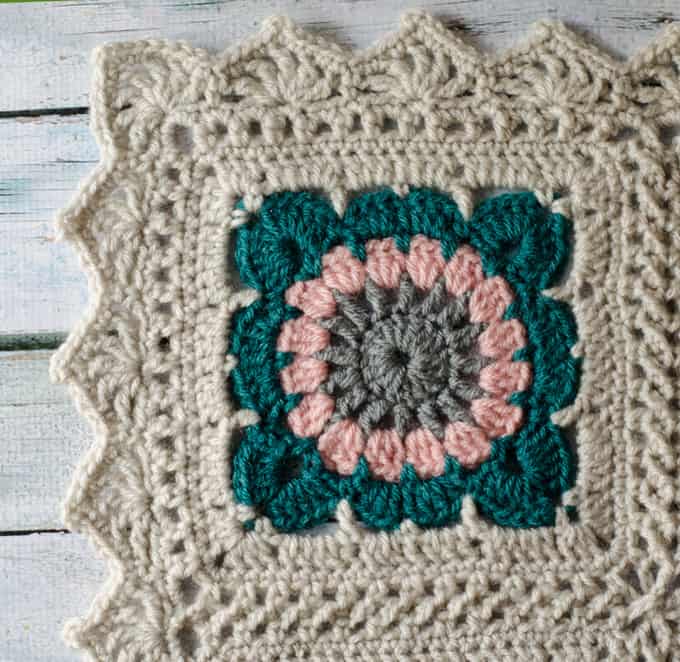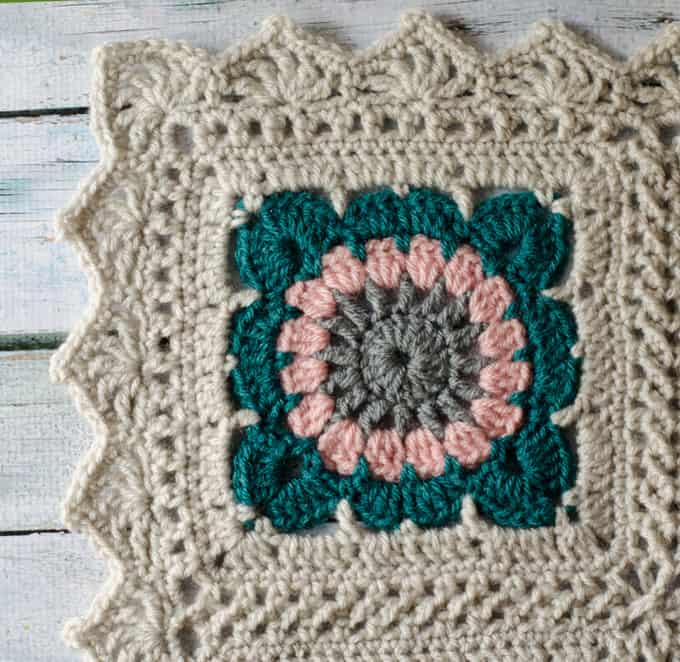 And there you go!  I hope you enjoyed crocheting the Happily Ever Afghan!  Be sure to check out Part 1, Part 2, or Part 3 if you missed them.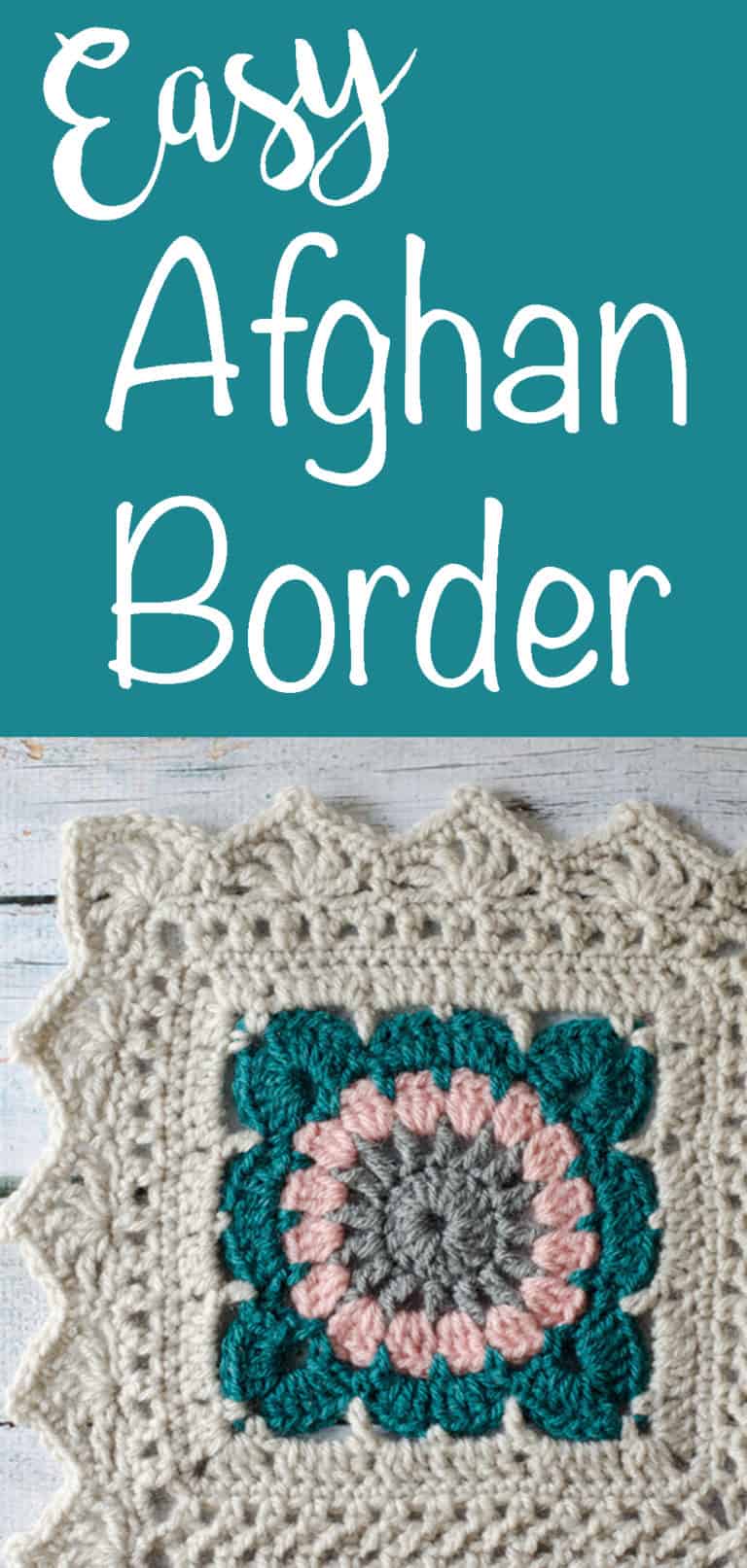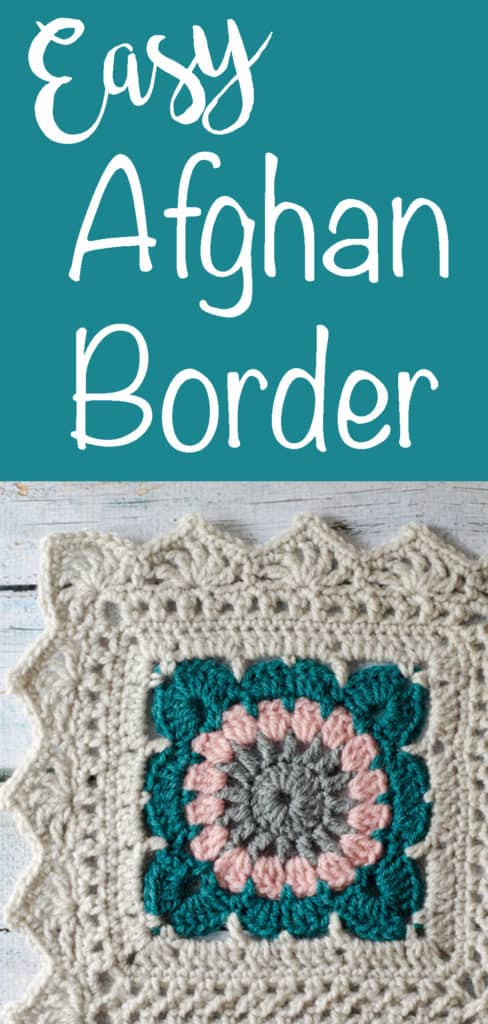 SaveSave