Find a Granny Square Cardigan You'll Adore!
This post may contain referral/affiliate links. Please read my disclosure for more info.
Really, I feel like we all are trying to find different ways to use granny squares at any given opportunity. So, let me introduce you to the granny square cardigan! These patterns are adorable, and you can use them with any granny square your heart desires. This is the perfect way to start your crochet jacket journey if this is your first time crocheting one.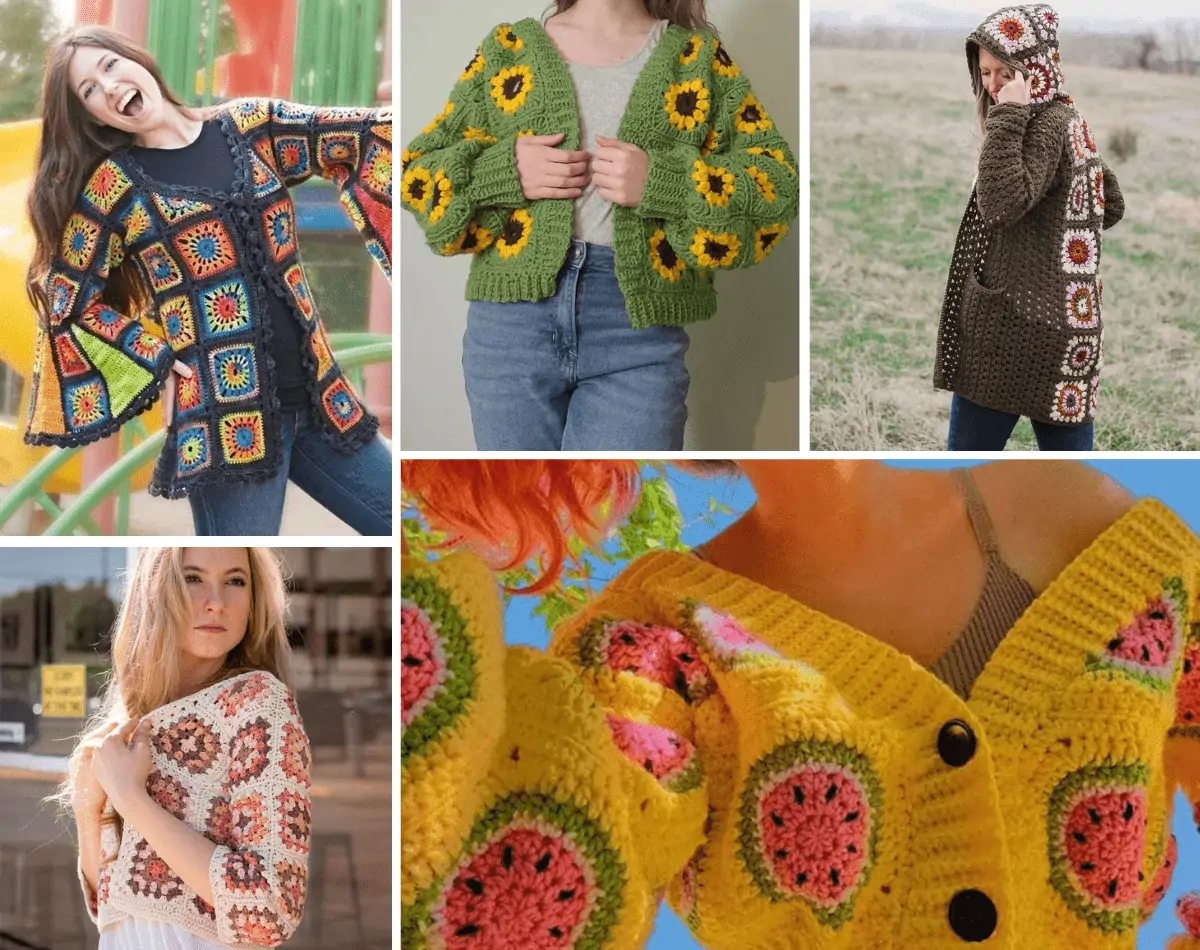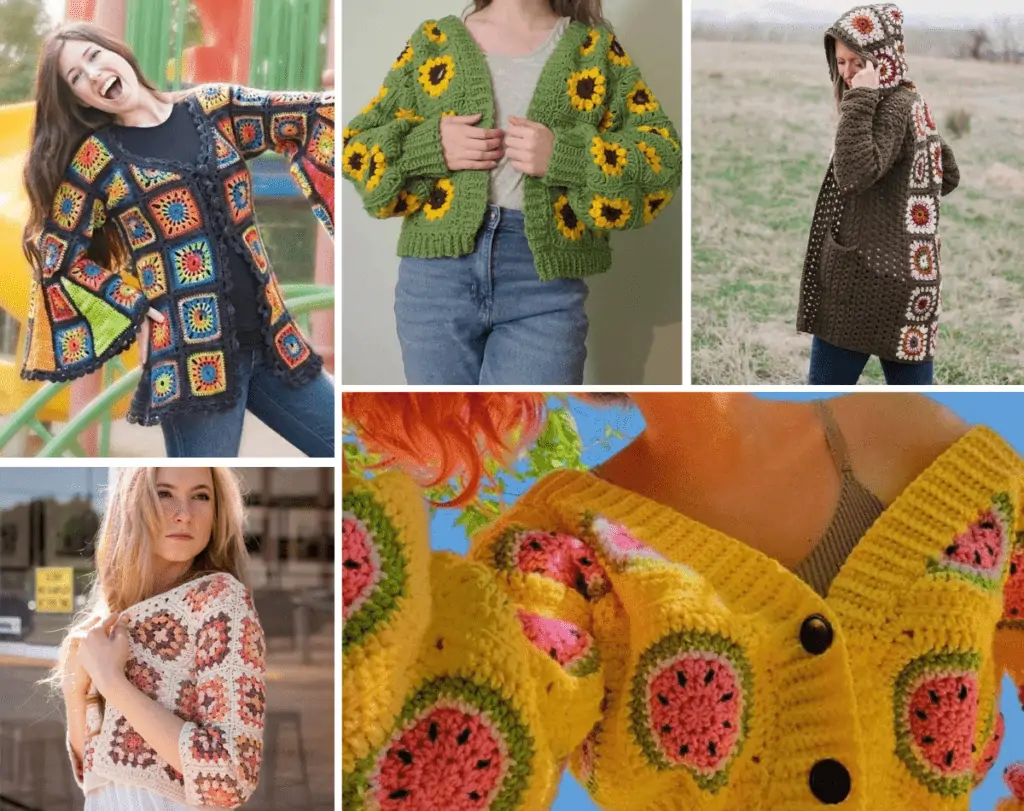 The granny square cardigan is perfect for any season. You're sure to find the perfect crochet pattern that will become your statement piece. Whichever granny square jacket pattern you're interested in, your crochet hook is surely itching to get to going!
Keep in mind, for these patterns you may need a few skeins of yarn for a main color, so make sure you check the lot numbers so they're all the same!
Most of these patterns use a variety of basic crochet stitches, so make sure that you know how to work a single crochet stitch, double crochet stitch, and slip stitch (sl st). Since these great patterns won't take a long time to complete, your cardigan is just a few steps away!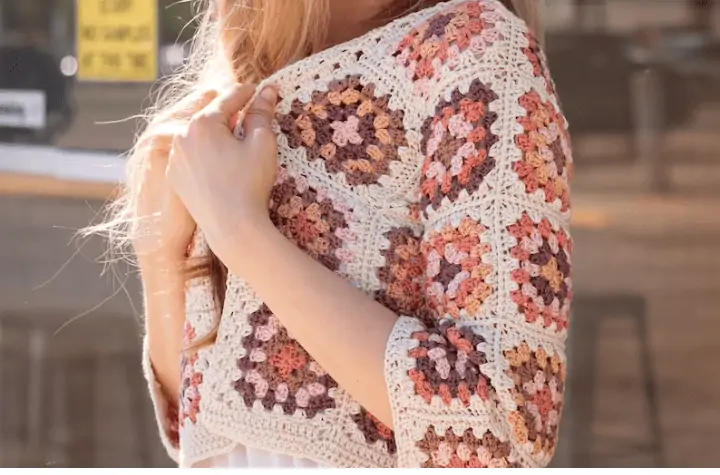 The granny square cardigan crochet pattern by Originally Lovely is the perfect cropped addition if you want something more lightweight to throw on. I love the three-quarters sleeve on this pattern, it will give you just enough warmth to bite back the chill without making you extra toasty.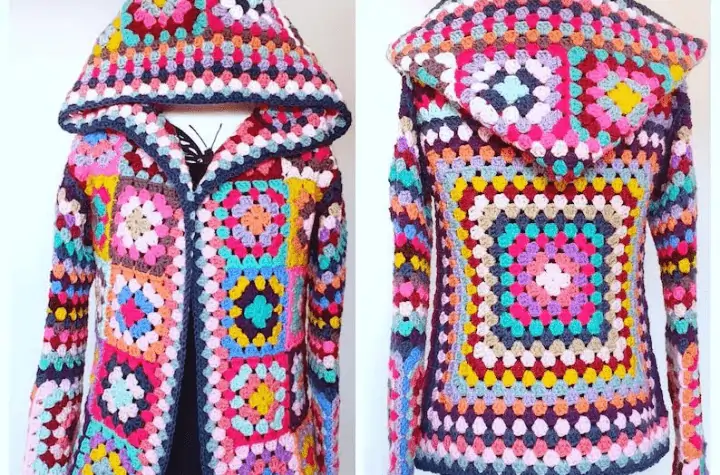 Sometimes, you really just want something bright and colorful. If you're in that boat, the granny square cardigan pattern by Annah Haakt is a perfect inspiration! I really love the hood on this pattern as well. Plus, this pattern is perfect if you're looking for a larger size, as it goes up to US size 26.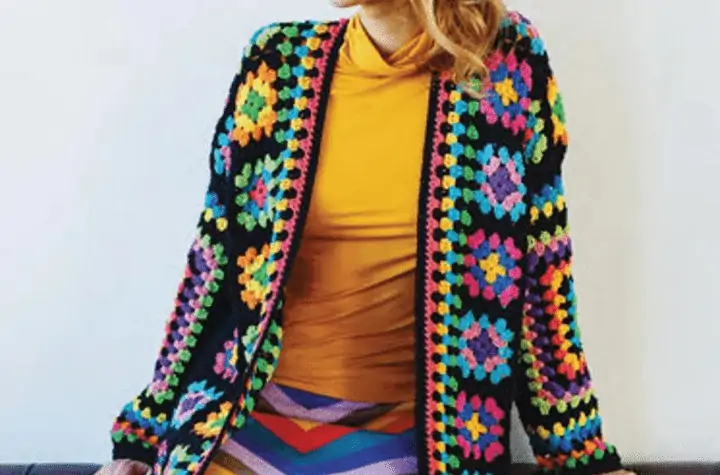 Personally, I love a longer cardigan. If you're like me, you have to check out the Kaleidoscope Cardigan by The Missing Yarn. The back panel stitch pattern is simply stunning and I really love the yarn choices for this pattern.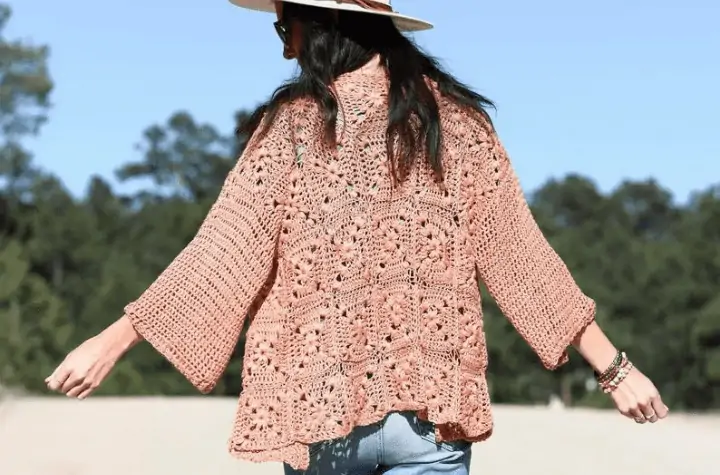 The Wildflower Granny Square Cardigan by Mama In A Stitch has some absolutely gorgeous wide sleeves! I love how much of this pattern actually is granny squares, even though the sleeve isn't fully made out of granny squares. The nice part of this is that you can make the sleeves as wide as you want!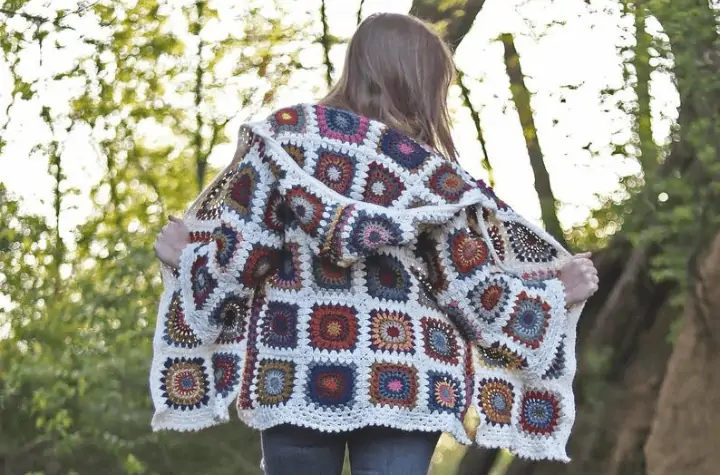 Now, this is a granny square jacket! The Granny Square Rebecca Jacket by Lilac And Loops is all granny square goodness! I love the little hood and trim of this cardigan pattern, it's just so cute. The thicker white border of these granny squares is such a pretty touch and I love how it offsets the bright color of the granny square.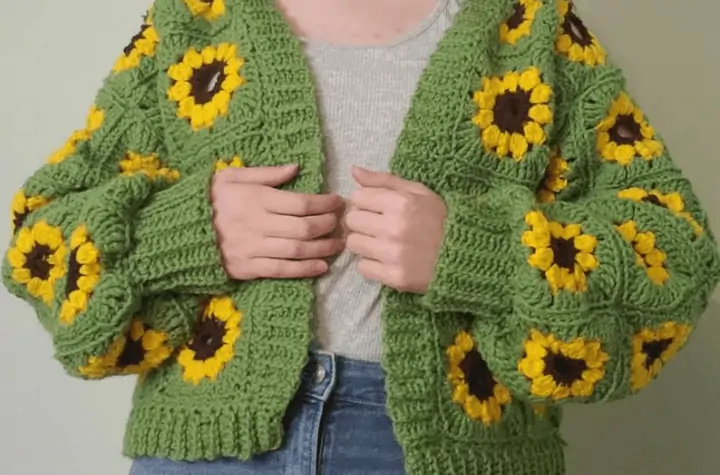 There are so many things to love about a chunky sunflower cardigan and Pop Culture Crochet CA really came through with this stunning pattern worked in worsted weight yarn. I really love the nice ribbing at the wrists so you can push the sleeves up if you need to (because honestly is there anything worse than dipping your sleeve into the water when you were trying to clean off the dishes?).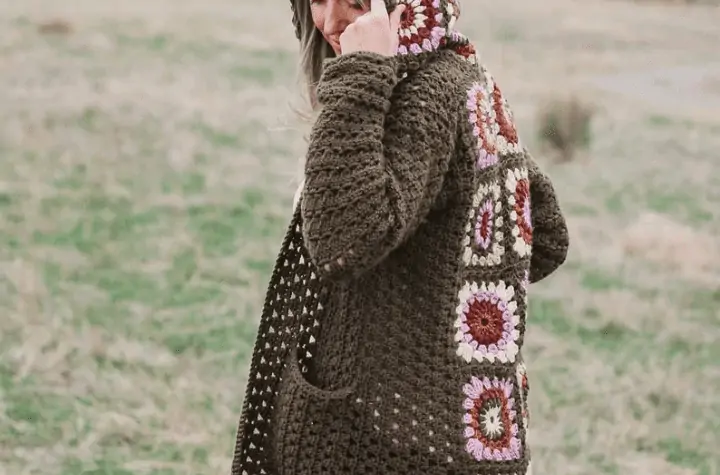 Um… Hello! Are those pockets I see on Make and Do Crew's granny square cardigan? It is! I love seeing some good pockets, so I was so happy when I saw this beautiful pattern. This pattern is also available in a larger size (up to 5X) so that you can use this pattern to make a crochet jacket for any one of your friends.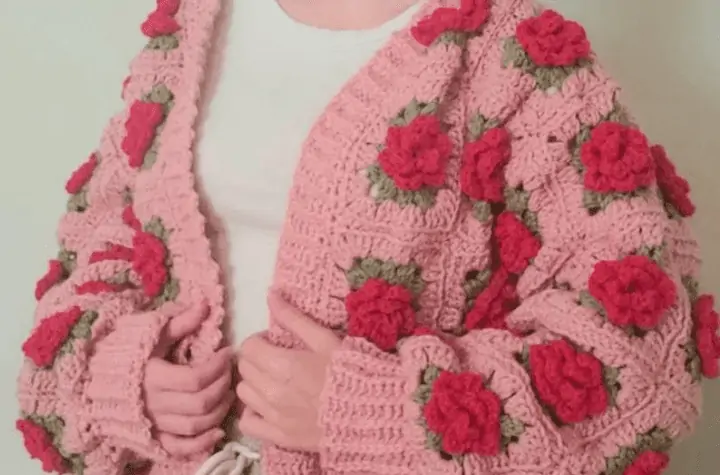 The Rose cardigan by Pop Culture Crochet CA is so fun! This feels so spring to me, I am kind of obsessed. The cropped silhouette of this cardigan is adorable, but I love that it's still oversized for those of us who don't like a tight-fitting granny square sweater.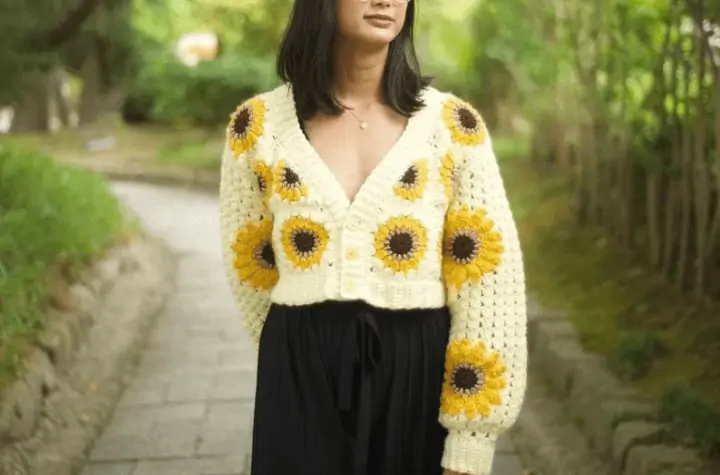 The little buttons on Love Shore Studio's Sunflower Granny Square Cardigan are so cute! This is such a beautiful cardigan for everyday wear.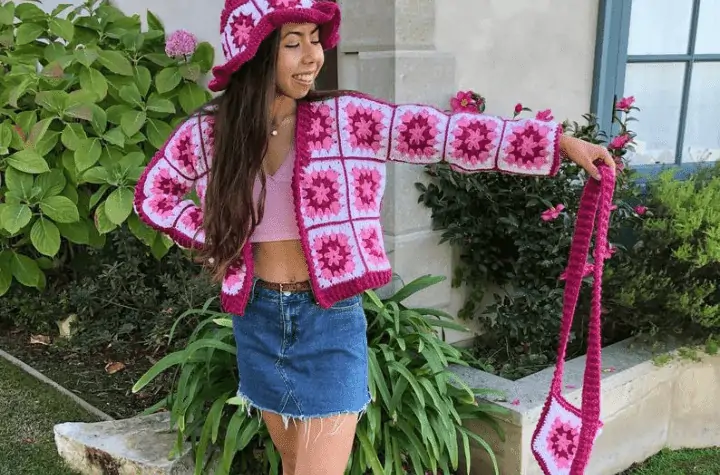 I love that this picture really shows off the versatility of granny squares. Crochet Designs SP's Boho Cardigan Pattern is super cute and looks oh so cozy! This pattern description also includes the finished width depending on your size, so you can eliminate some of the guesswork when it comes to seeing if the pattern will fit you.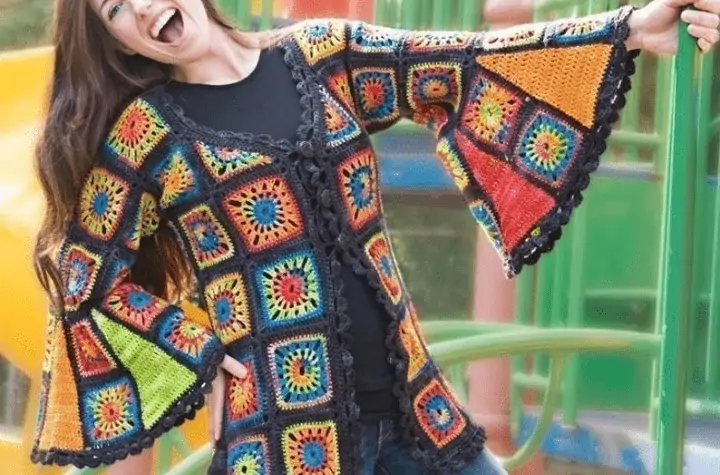 Say hello to these beautiful bell sleeves! The Granny Takes a Trip Crochet Pattern by Yarn Artist is very retro and is very much a show stopper. The partial button closures are adorable and I cannot help but love the eye-catching scalloped trim.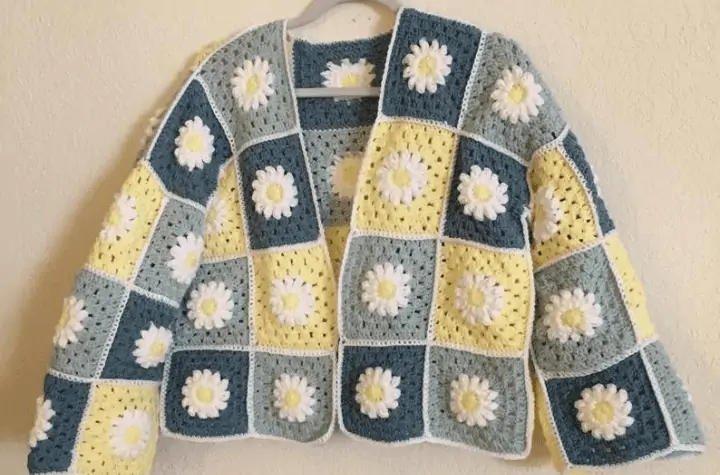 The Daisy granny square cardigan by Vincenza Designs Co is super cute and simple for everyday wear. I also love how thin the joining of the granny squares on this pattern is, it really brings the focus to the granny squares over anything else.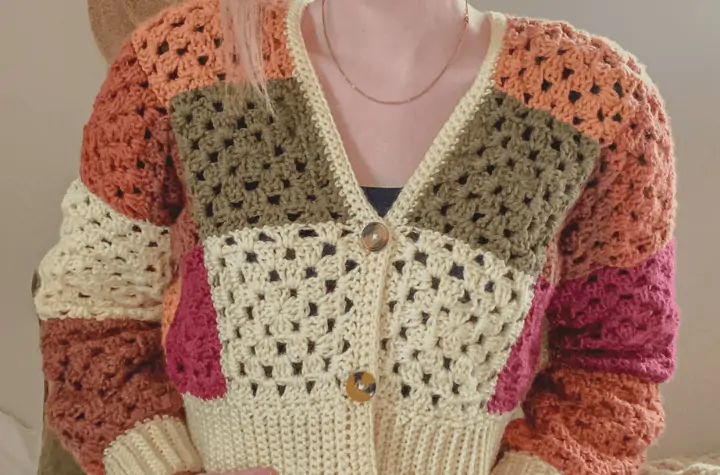 We all love a free pattern, right? This cozy granny square sweater by Hayhay Crochet is such a fun take on the granny square cardigan! I love that this pattern is mostly focused on colors, the patched-worked look is just so fun.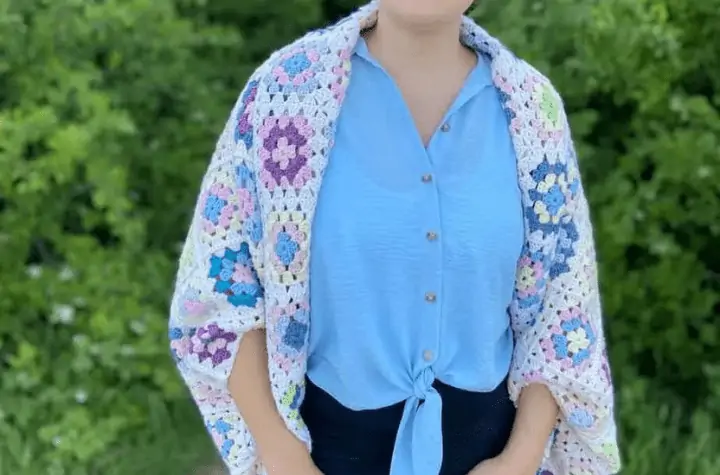 This super cute free pattern from Han Jan Crochet also has a really cool story to it. Originally, this cardigan was a granny square blanket, but when Hannah no longer had a spot for it, she wrapped it around herself and thought "Oh! This would be a lovely cardigan!". Then, a comfy cardigan it became.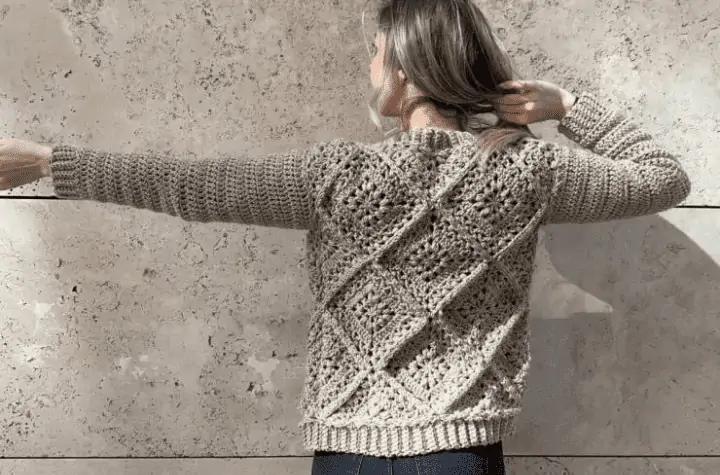 Leaning into more of a granny square sweater option, the Tulip Square Cadi by Wilmade is a super cute free pattern. This pattern utilizes Heartland by Lion Brand Yarn in a lovely Taupe and Gray blended color they call "Canyon". There's even a very reasonably priced kit available if you want to make yarn buying really easy.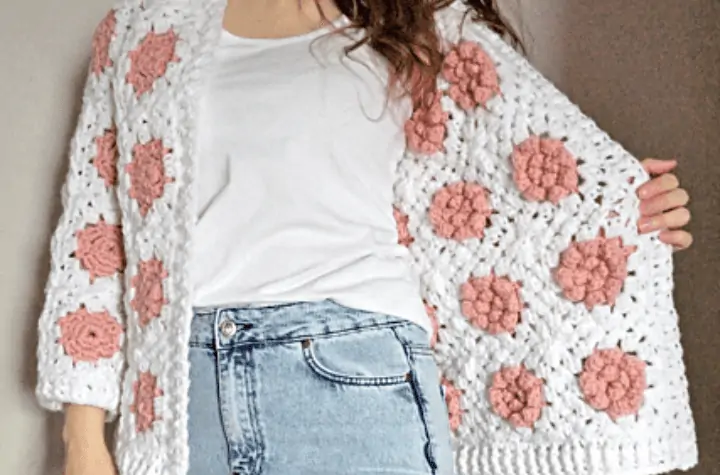 There's something about roses that I really adore. When I saw this Rose granny square jacket by Justina Kirkwood, I knew that I had to share this pattern! I kind of love that the roses aren't super three-dimensional either so you can wear this as more of a daily piece.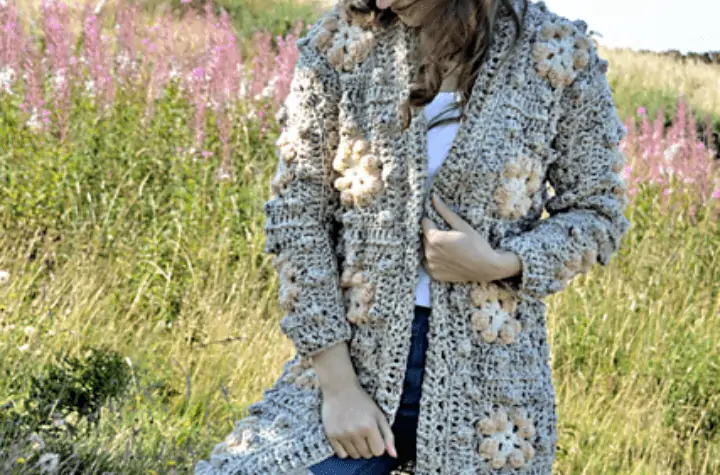 Who doesn't love feeling cozy in a long cardigan? The Bobble Flower Cardigan by Justina Kirkwood just looks so comfy! This pattern is a slight twist on a classic granny square cardigan, which makes for a fun option!
Plus, there is a YouTube tutorial as well for anyone who prefers that over written patterns. This pattern is just a whole lot of crochet granny squares, which is perfect for this collection!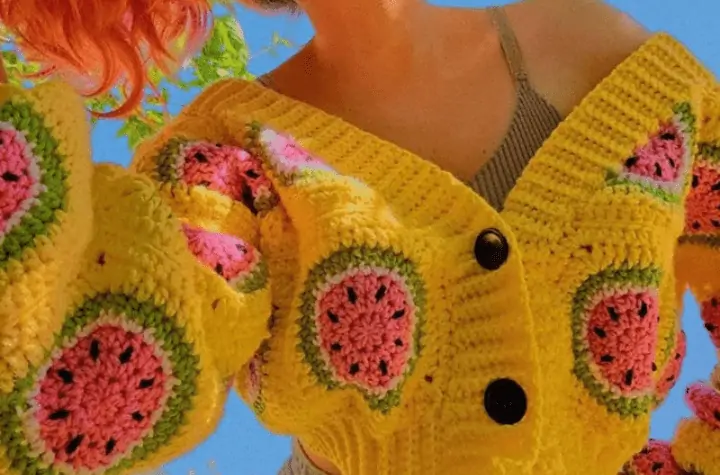 Honestly, sometimes you really need a cropped silhouette to complete a look and this Watermelon Cropped Cardigan by Bai Retro is the perfect addition! I really love these watermelon granny squares, they just have so much potential.
I love seeing your finished projects! If you enjoyed making one of my patterns I'd love to see yours on Instagram, be sure to tag me @crochet365knittoo. If you are on Facebook, stop over to the Crochet 365 Knit Too Facebook page or pop over to the Crochet365KnitToo Club and share a photo! I'd love to see your work.