15 Gorgeous Crochet Wedding Dress Ideas for Your Big Day
This post may contain referral/affiliate links. Please read my disclosure for more info.
A crochet wedding dress might just be the crowning achievement of a crafty bride.  After all, a handmade beautiful dress is perfect for a very special wedding day!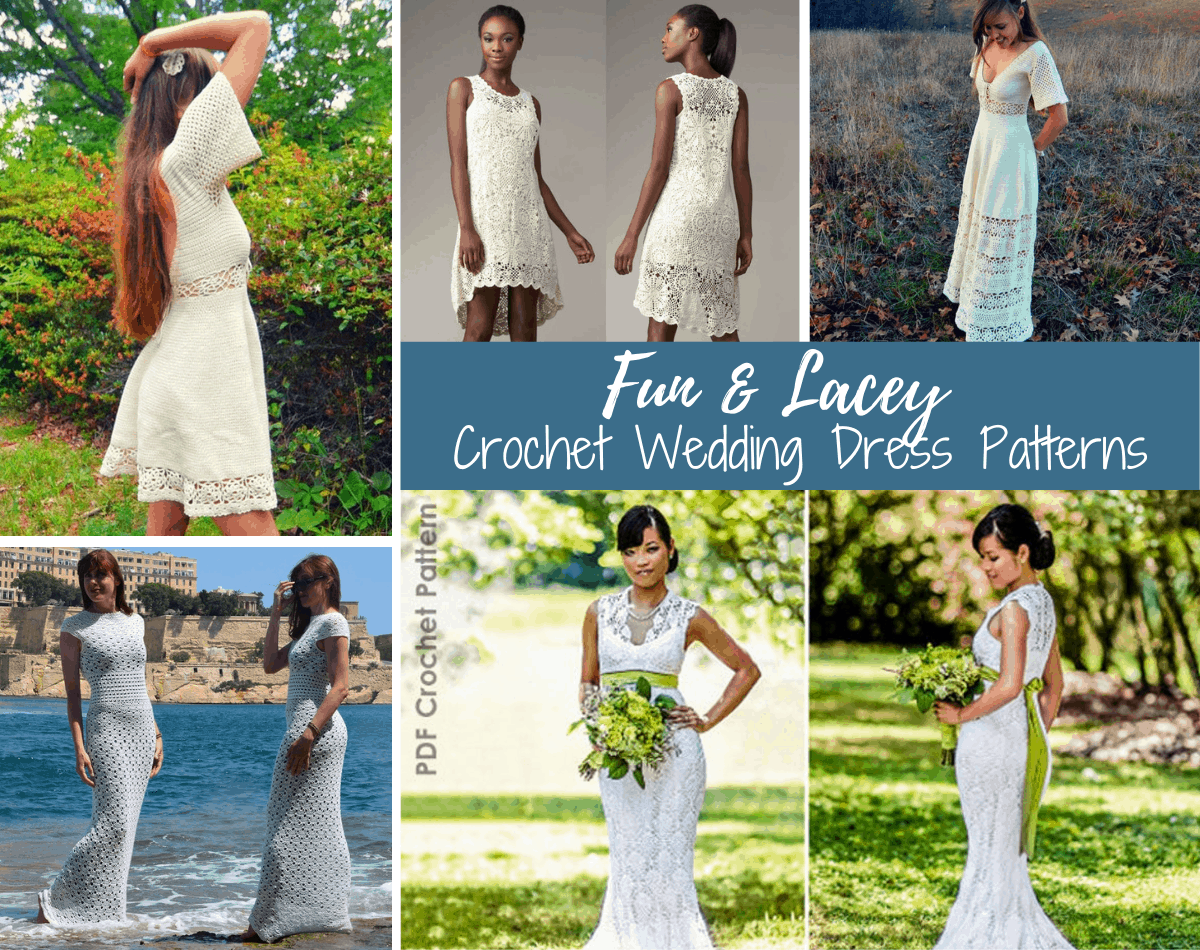 If you're a crocheter, perhaps a crochet wedding dress has you drooling.  You know the time that it takes to crochet and crocheting a wedding dress is a bit of a commitment. You might might be even wondering: Can you crochet a wedding dress?  And Do you think that a crochet wedding dress is a good idea?
It is true. Crocheting a wedding dress is not for the faint of heart.  It will require dedication and determination.  Most crochet dresses are crocheted with finer weight yarn which means many time consuming stitches.  But the finished product is completely worth it!  Your handmade crochet dress will have your wedding guests oohing and ahhing.
Here are some gorgeous crochet dress ideas perfect for a wedding (some are even wonderful evening gowns for other occasions).  Before diving in, there are a few things to keep in mind.  A free crochet pattern for a crochet dress is next to impossible to find.  A beautiful dress is usually quite intricate and most designers offer their designs as paid patterns.  Take a moment to carefully read the listing descriptions to understand all the pattern details.  Note the size(s) of the dress in the pattern along with the finished measurements and whether or not the dress can be made in a size that works for you.
Make sure that you know how to crochet the stitches used in the dress.  And know how or be willing to learn how to read a crochet pattern.  Crochet gauge is extremely important to getting the perfect fit, so be willing to spend time choosing a crochet hook that will give you the same gauge as the designer.  Be sure to check out my favorite hooks I recommend to everyone to get the perfect gauge.  Careful prep work is integral to a crochet wedding dress you will be proud to wear.
Resources and tutorials you may find helpful in following a crochet dress pattern: Crochet Abbreviations, US to UK Crochet Conversion Chart.  Find links to stitches on the "Tutorial" menu: Getting Started will show basic stitches used in many patterns and Crochet Stitch Dictionary shows our growing collection of crochet stitch tutorials.
Here are my favorite crochet wedding dress patterns for your big day: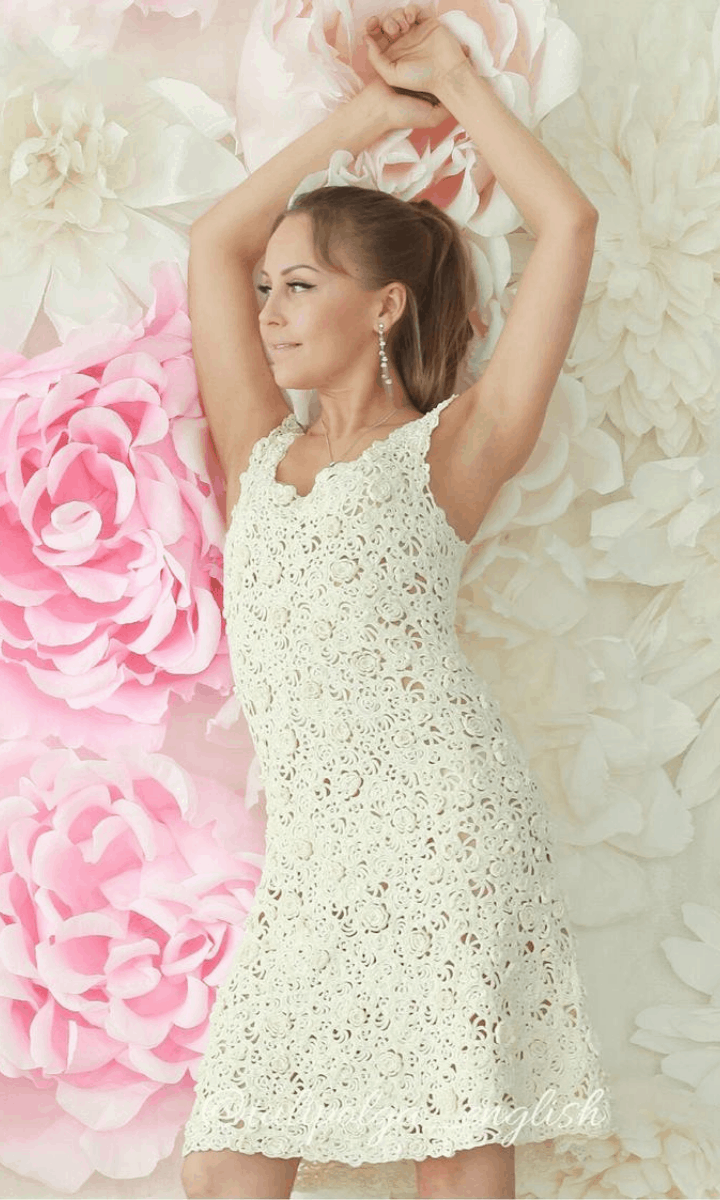 This dress from Tulipolga looks like a fun time! Equally perfect for an evening out or a modern wedding.  I love the the crochet roses and the detail at the neck, arm openings and hem.  Gorgeous!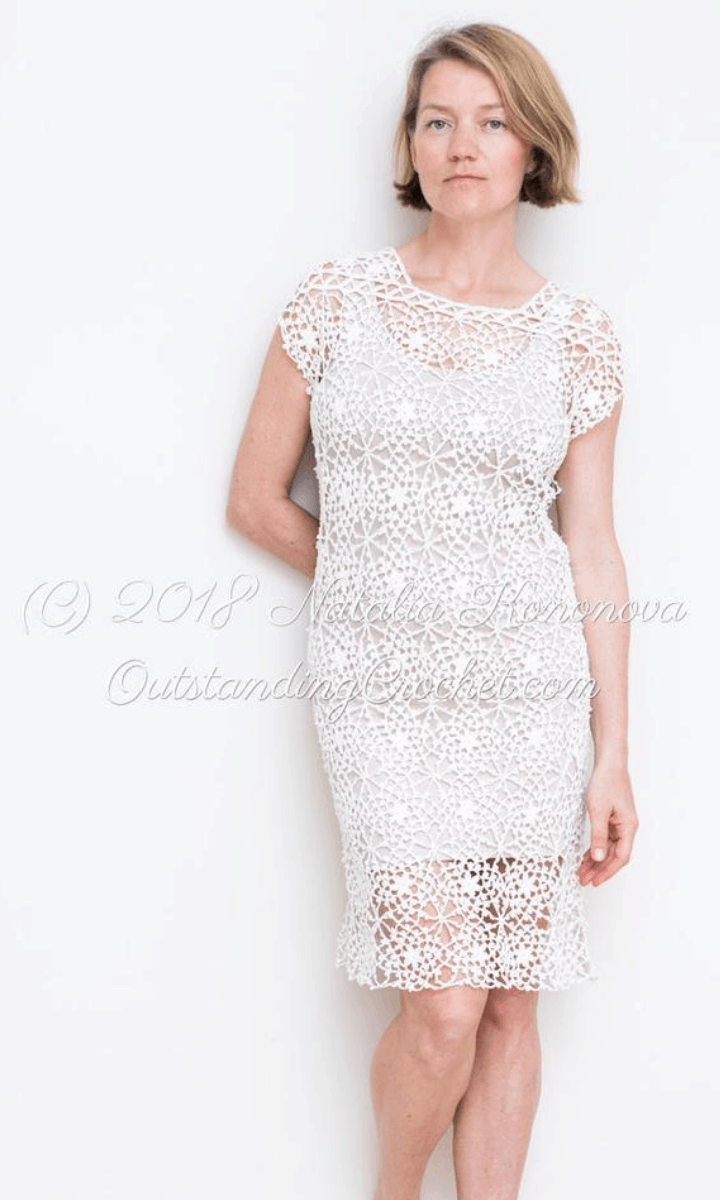 Outstanding Crochet's dress is such a classy and elegant look.   This crochet lace dress is perfect for a wedding and brunch or dinner date afterwards!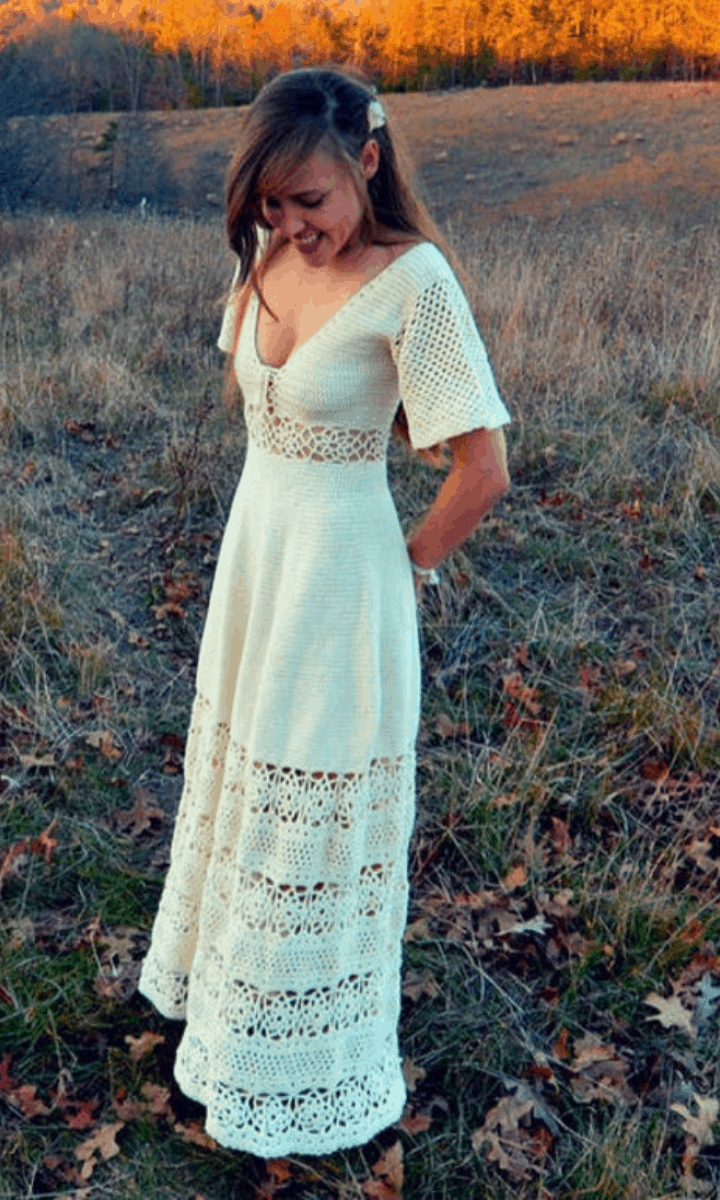 If you're looking for a boho vibe this dress from Mermaid Cat Designs has that flowy and flowery "boho" style!  The plunging neckline with the laced up bodice look is beautiful.  It's also a bit less lace than some of the others which could make this an easier (and faster) crochet dress to crochet.  This is a design that would work for many different body shapes and sizes (and maybe more forgiving with gauge).  A great reasons to consider this beauty.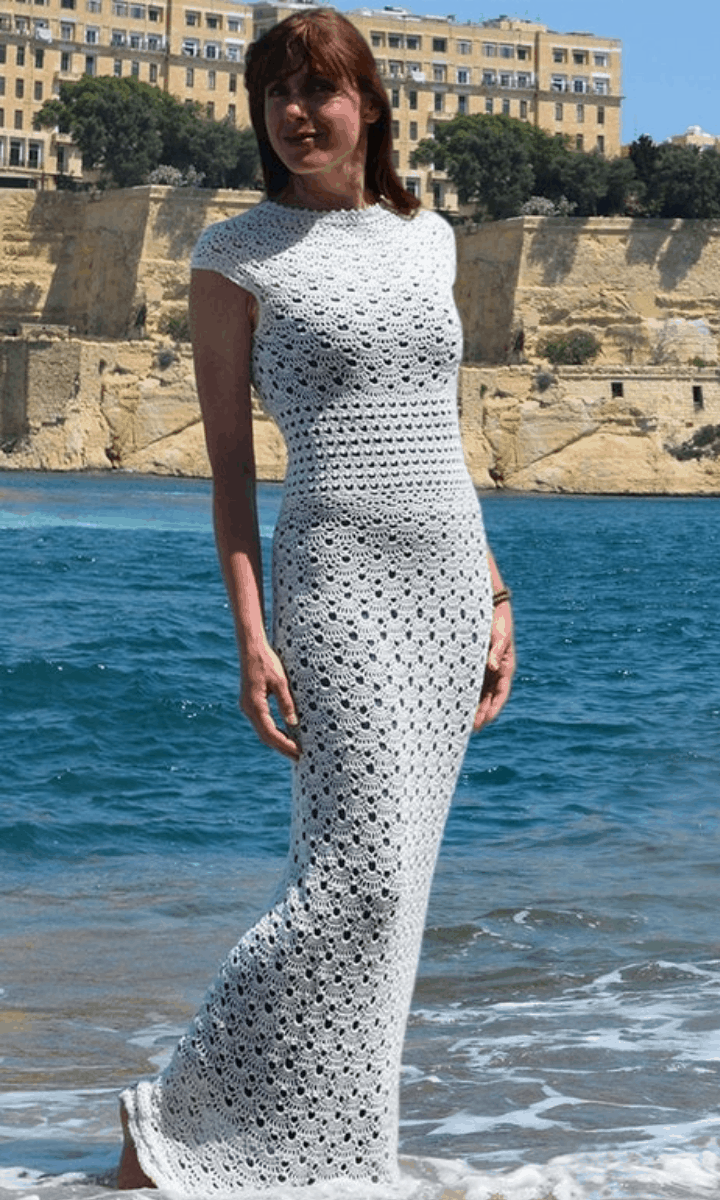 I love the texture pattern that Concept Creative Store used for this dress! It reminds me of sea shells! This also seems like a design that could be easily lengthened or shortened to suit the needs of the bride.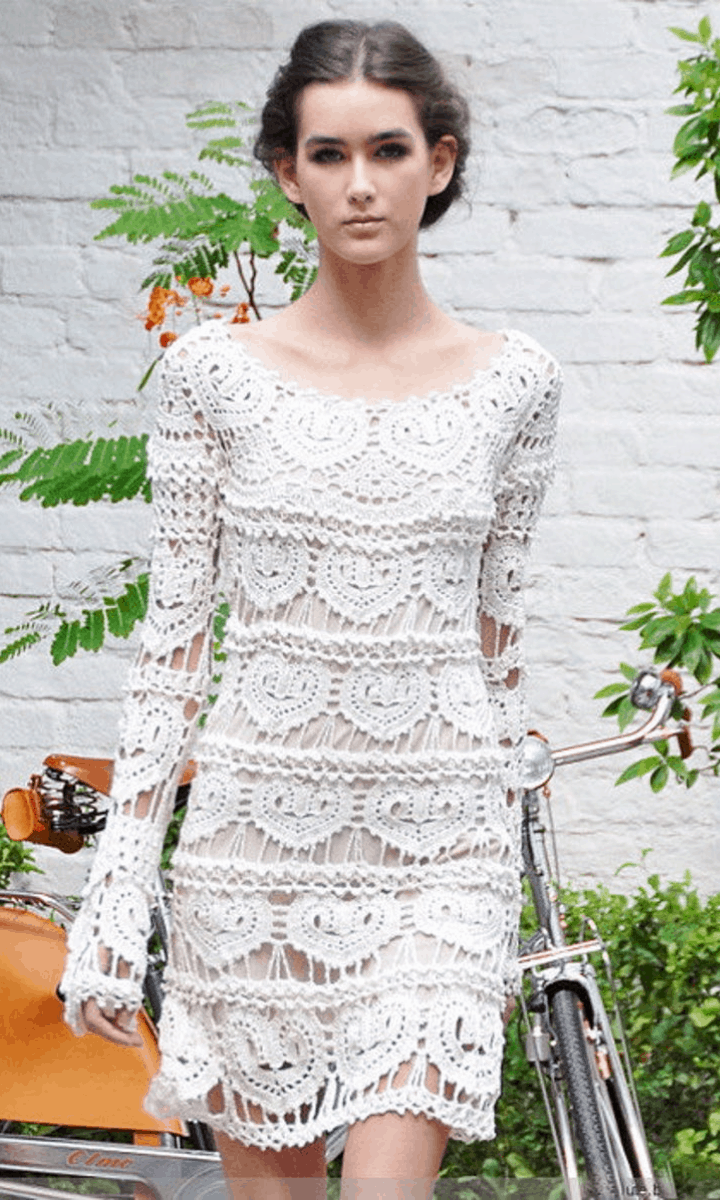 This fun, long-sleeved dress from Only Favorite Patterns is so cute with these lacey hearts.  This would make a great evening gown too.
Looking for More Fun Crochet Wedding Patterns?
If you love crocheting for a wedding, you might also like to check out all our free crochet patterns including these crochet beauties:

1. Two Peas in a Pod Get Married //   2. Crochet Wall Flower //   3. Crochet Border in this Wedding Afghan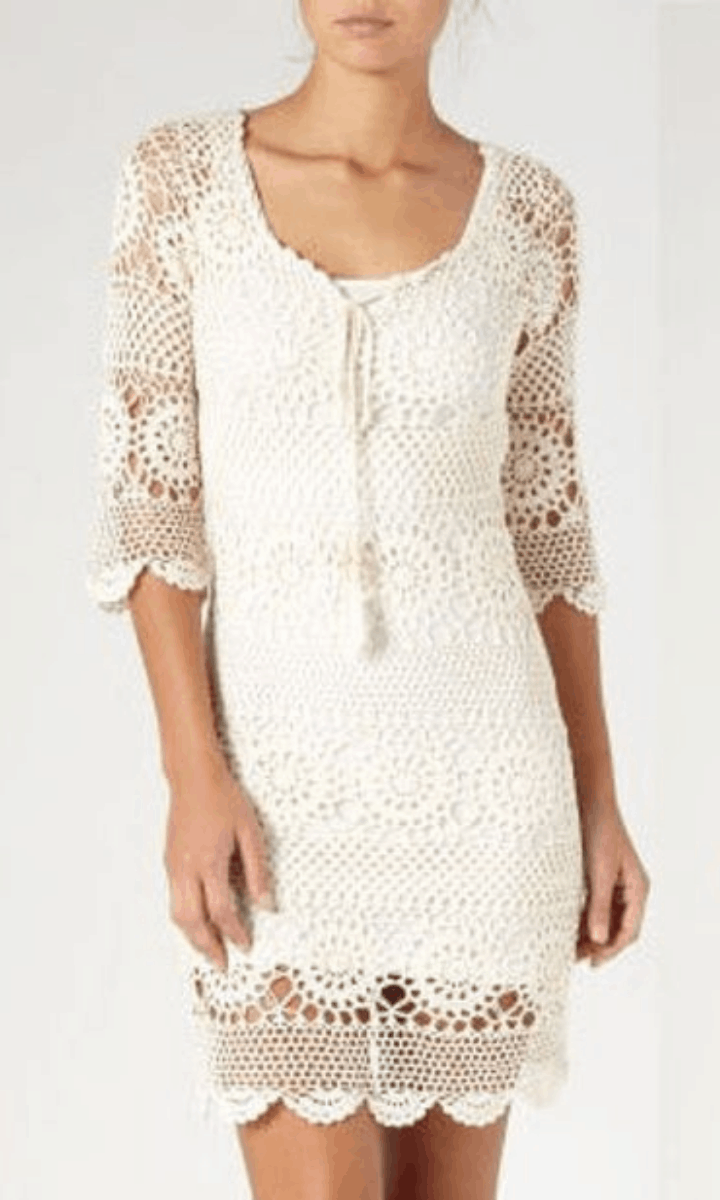 These circles on The Posh Crochet's dress look like sunbursts! What a way to shine on your special day! I like how the motifs are broken up with bands of easy to crochet stitches that make this handmade beauty a serious contender for a wedding.  This dress could even be made for the mother of the bride or even something a guest could wear at a formal wedding.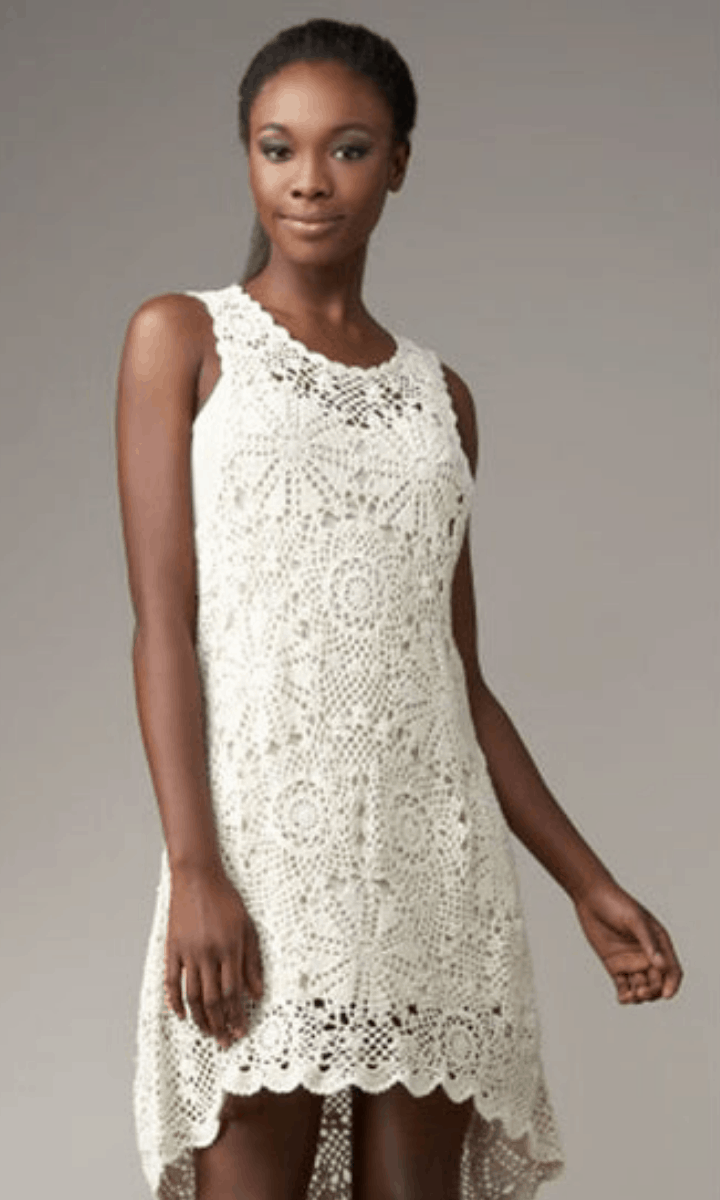 I love this high-low design on this stunning The Posh Crochet design.  Perfect for a wedding! dress! So modern and fun!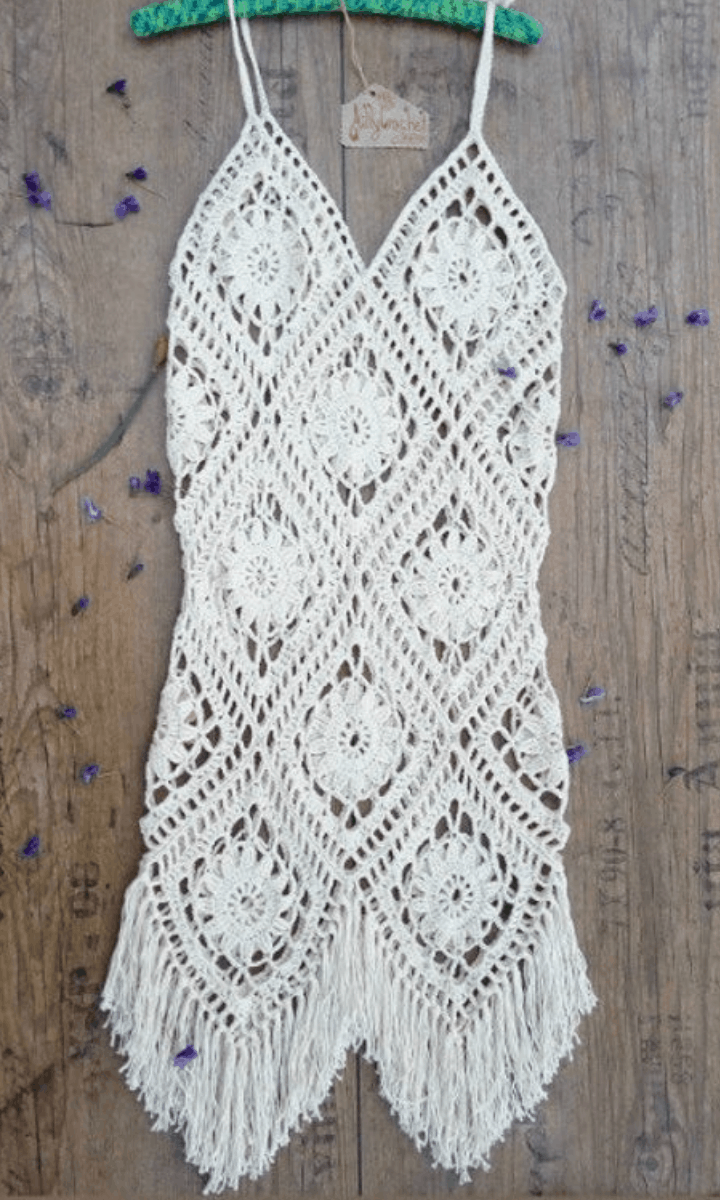 This pattern from Milly Crochet is such a cute flapper style dress with a bit of a boho feel with the fringed edging.  The flower squares would be fun to crochet and the finished dress is just darling.  It could also do double duty on date night on its own or over a pair of slim fitting pants.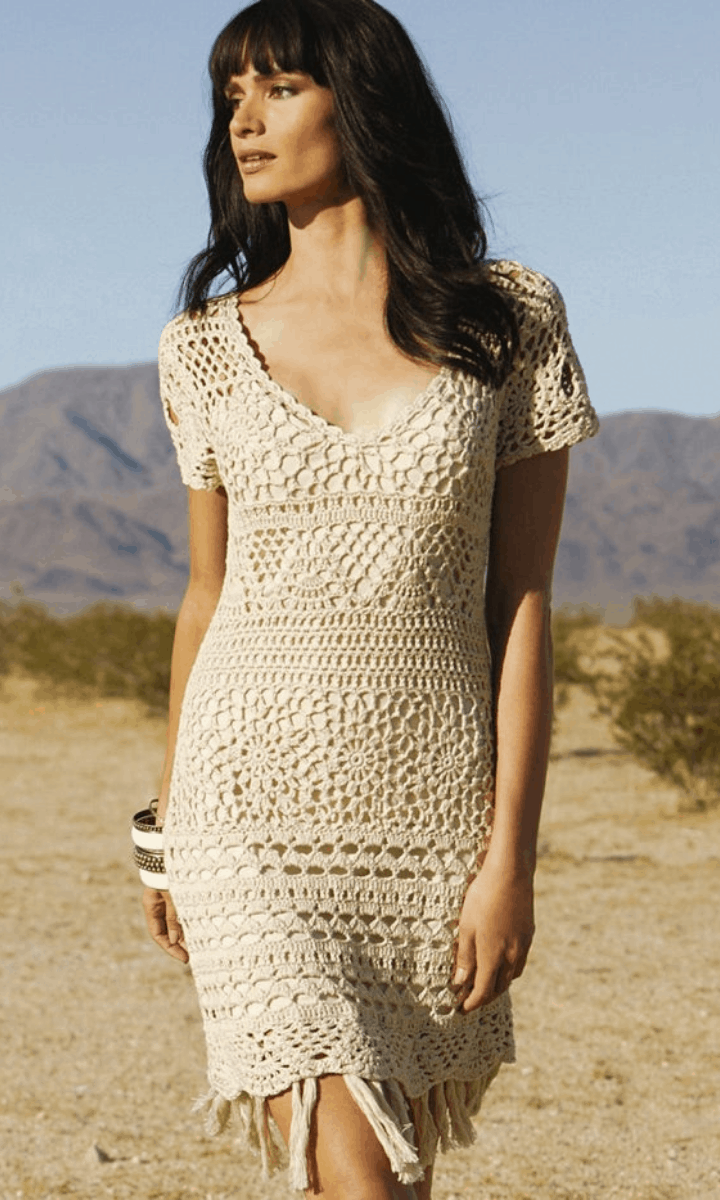 I like the touch of the tassels on Concept Creative Store's "boho chic" knee-length dress!  This is another dress that goes the distance from wedding to dinner date.  It also could be a fun dress to wear as a wedding guest too!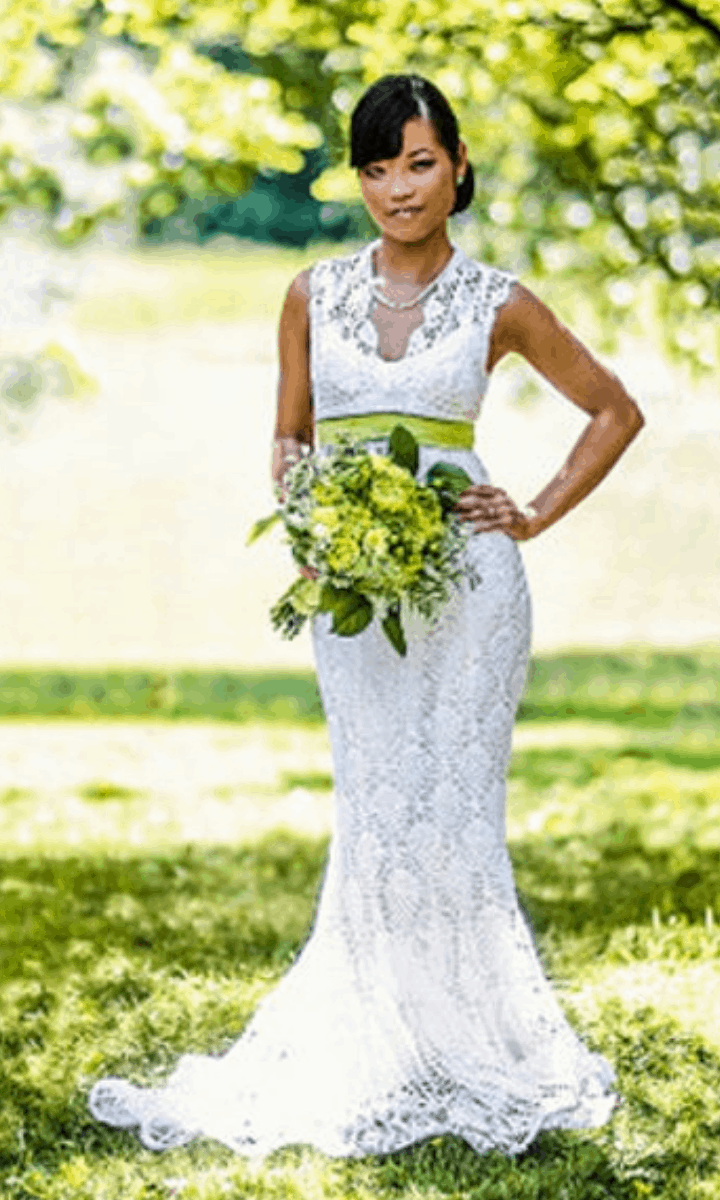 If you are looking for a more traditional wedding dress, this dress from Chi K Designs is so intricate! This design features a pineapple pattern and is really two patterns:  A dress pattern AND a pattern for the train!  I really like how the pattern can be transformed from elegant dinner dress to wedding dress!  Gorgeous!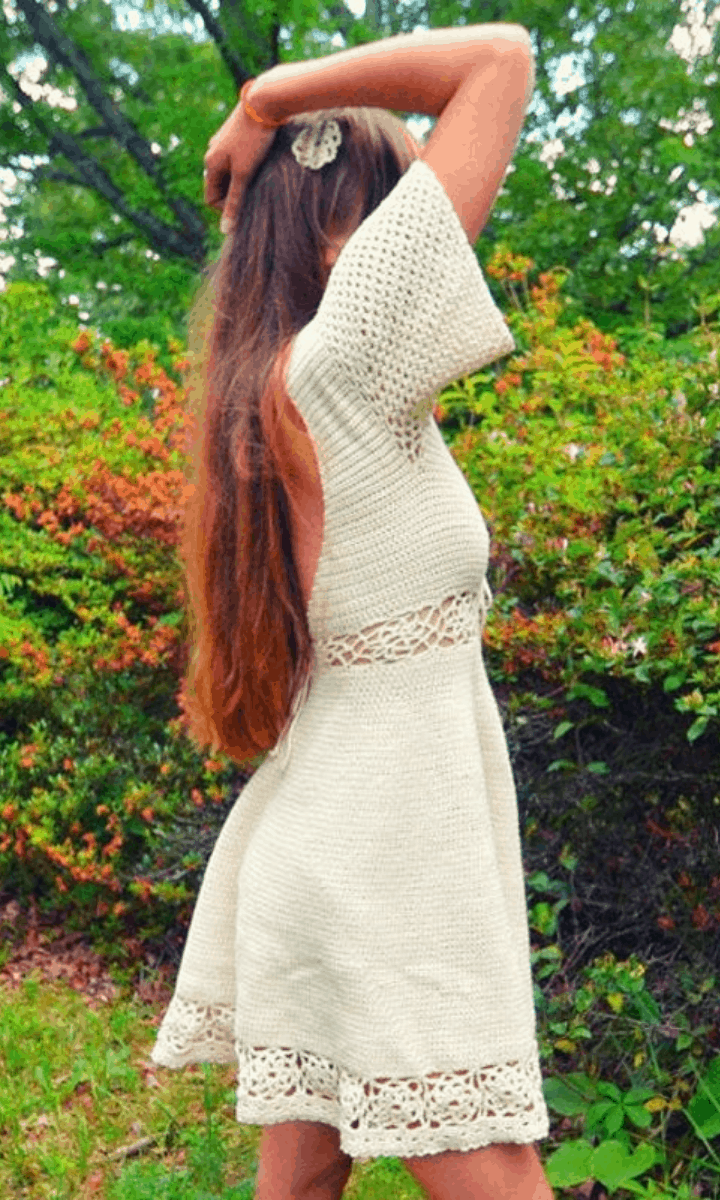 If you're looking for an easier to crochet dress, you might like the simplicity this cute crochet dress from Mermaid Cat Designs.  I like the peek-a-boo waistline and plunging back. Fashionable and fun!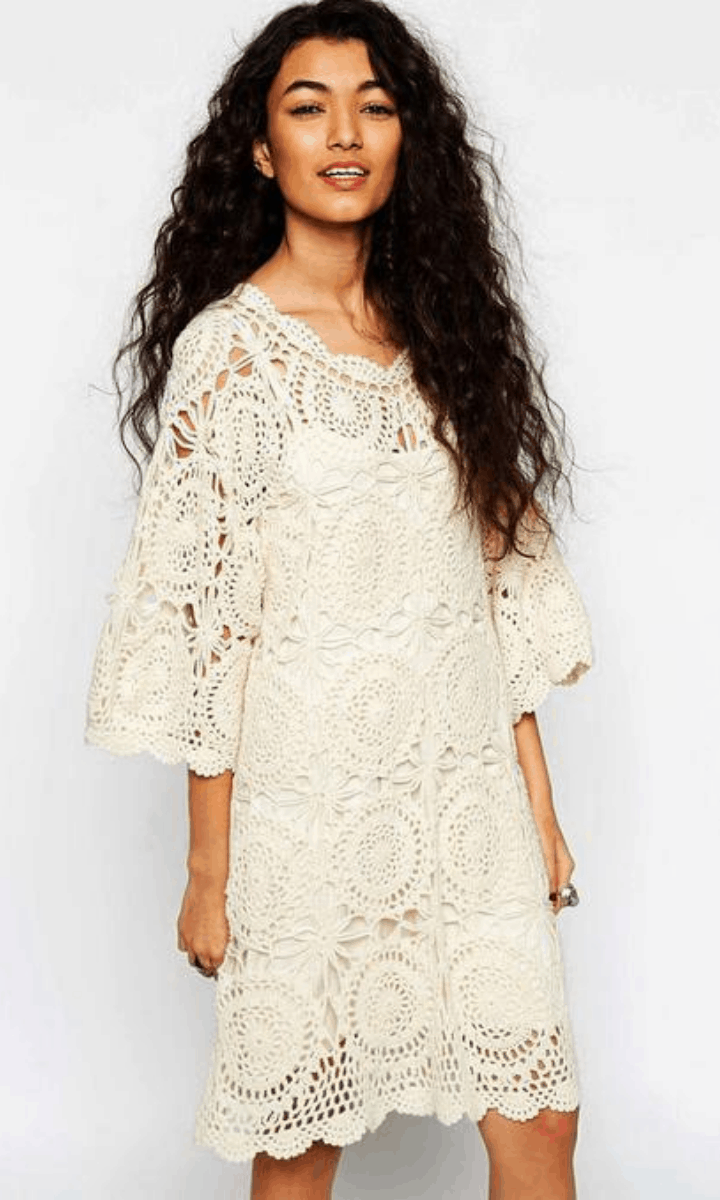 If you're looking for fashionable, fun and comfortable, this design by Favorite Patterns might be perfect for your wedding!  They also have some other fun dress, top, skirts and sweater patterns so be sure to check those out too when you are browsing.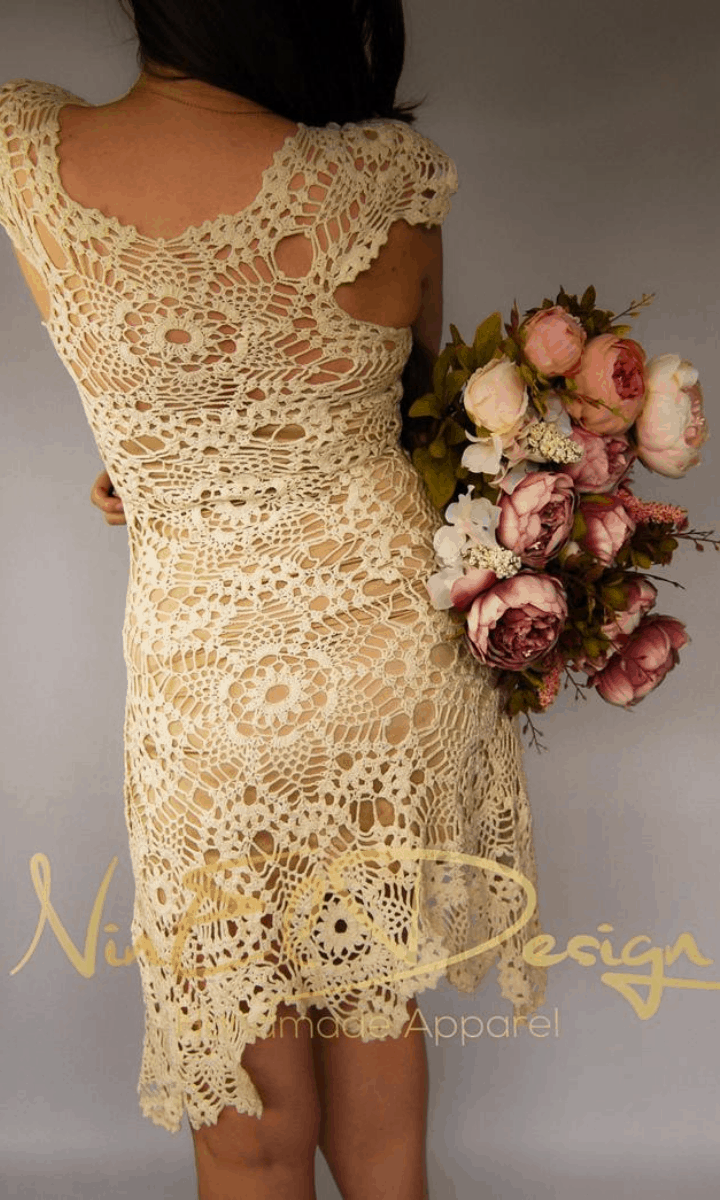 I love how Nin El Design incorporates flowery designs into this dress! So unique and what a statement for your wedding!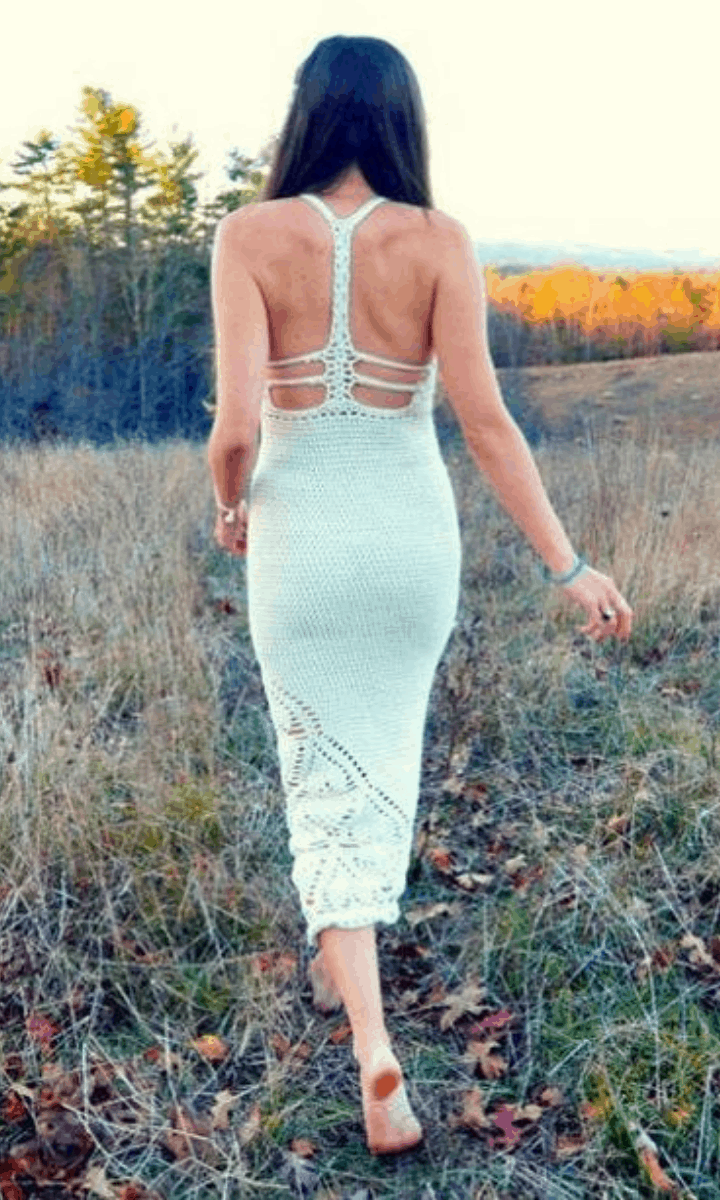 This back of Mermaid Cat Design's dress is gorgeous! The design elements are non traditional and stunning making this a perfect dress for a wedding.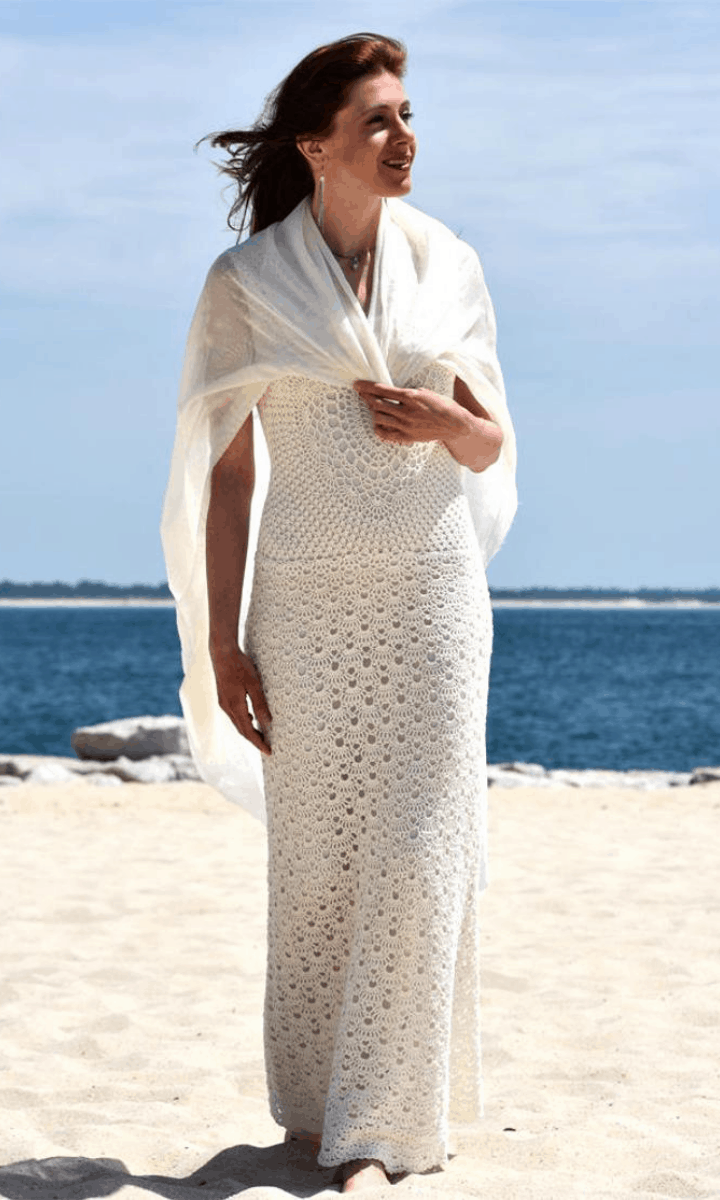 This dress from Concept Creative Store has such a stunning mandala design on the front!  It would be a fun dress to crochet and I also love that it could easily be lengthened or shortened to suit your taste.  A gorgeous dress for a wedding that could also be worn as an evening gown, or even as a dressy top if you stop crocheting a few rows into the skirt portion of the pattern.  Delightful!
I love seeing your finished projects! If you make a Crochet Wedding Dress,  I'd love to see yours on Instagram, be sure to tag me @crochet365knittoo.  If you are on Facebook, stop over to the Crochet 365 Knit Too Facebook page or pop over to the Crochet365KnitToo Club and share a photo!  I'd love to see your work!