Crochet Flower Pot
This post may contain referral/affiliate links. Please read my disclosure for more info.
If you are looking for a way to use up some yarn, upcycle something you already have on hand and decorate your house or yard with full on summer goodness, look no further.  My friends, meet the Crochet Flower Pot!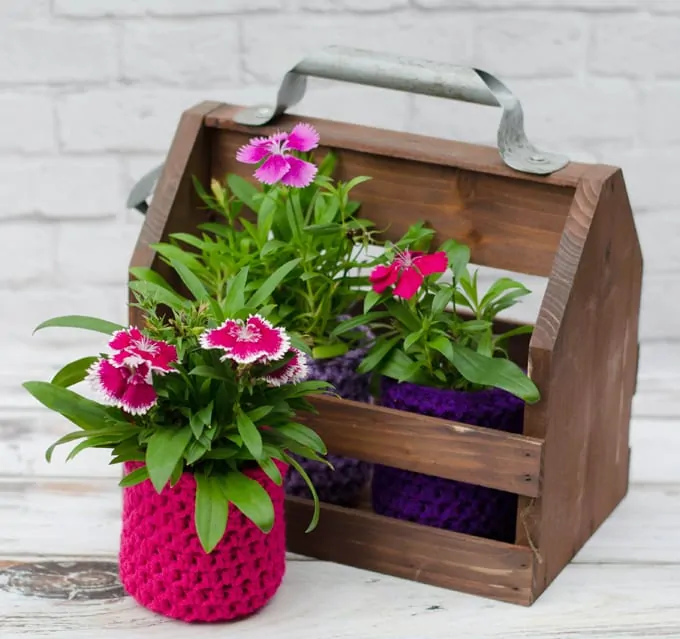 But before we talk about this cutie pie little crochet flower pot that you can make out of scrap yarn, let's talk a little about some other fun things in this photo shoot.  Isn't that crate just about the most adorable thing you've ever seen?
Imagine my normal life.  My husband.  The man is addicted to estate sales.  He comes home from his shopping excursions with a wide variety of "treasures" that he is usually quite pleased about.  Imagine a husband, pretty much overjoyed with his conquest.  Then imagine a not-so-overjoyed wife trying to find something positive to say (which is often 'well, THAT'S something…) while on the inside thinking O-M-G.  Sigh.
But once in awhile, in he walks with something amazing.  And the day he walked in with this sweet little crate, I knew exactly what was going in it!  And so I pulled out my crochet hook and yarn and the yogurt jars I'd been saving and had a good little time making these crochet flower pots!  And my husband?  The man was just so darn pleased that he brought home something I loved and, why YES, he'd LOVE to let me borrow it for a little bit for a photo shoot.  I love that man.  I really do.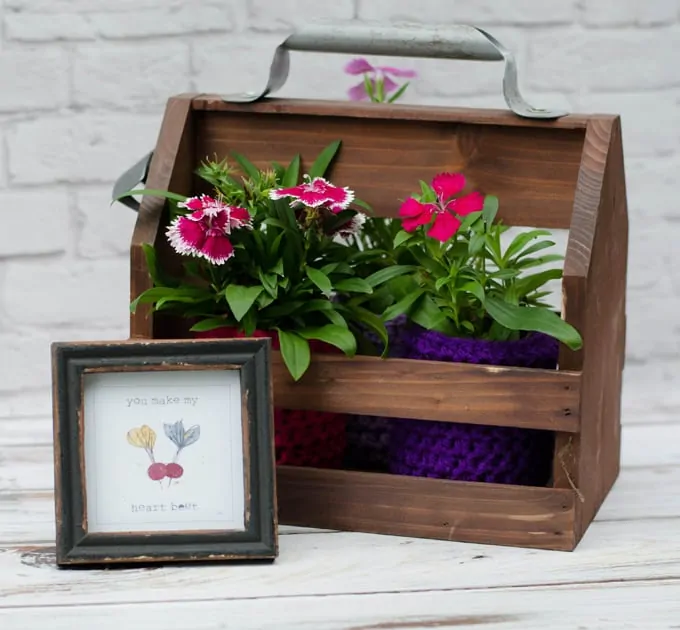 I gave him this little piece of artwork I picked up at our local gift shop.  Every small town deserves a store like Kean's.  And if you are ever in Mason, Michigan, you need to stop by and wander around there for a bit.  They have everything from an old fashioned candy counter, gorgeous quilt fabric, just the best greeting cards on the planet and everything in between.  I love our little small town and I thought this little piece of art might like to hang out with the Crochet Flower Pots for the photo shoot.
Now.. let's get to the crochet flower pots.  First up.. the container.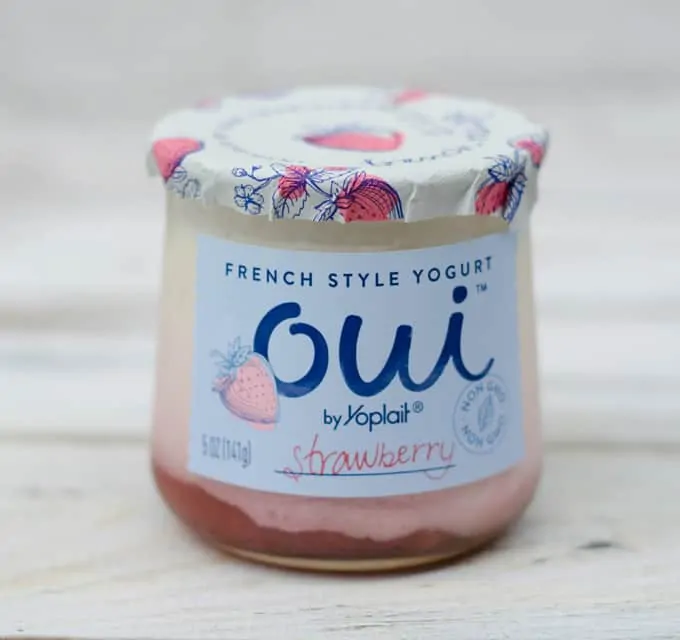 Meet my new love:  French Style Oui Yogurt by Yoplait.  I heard about this amazing yogurt from my friend Kim, who blogs over at CrochetKim.com.  I was inspired to buy some just because the jar was so darn cute.  The yogurt is pretty amazing too and tastes almost like ice cream or maybe the filling of a delicious cream pie.  It's now one of my favorite snacks.  (Thanks, Kim, for that.)
And then.  I couldn't throw my jar away and I knew I had to make something amazing with it.  And.. as it turns out.. the yogurt tastes so darn good that pretty soon I had quite a collection of jars!
After you eat up the deliciousness, wash the jar.  The labels on the front and back actually peel off easily without any soaking time.  BUT that adorable peel off label on top?  Yeah.  That leaves some glue that is pretty darn stubborn.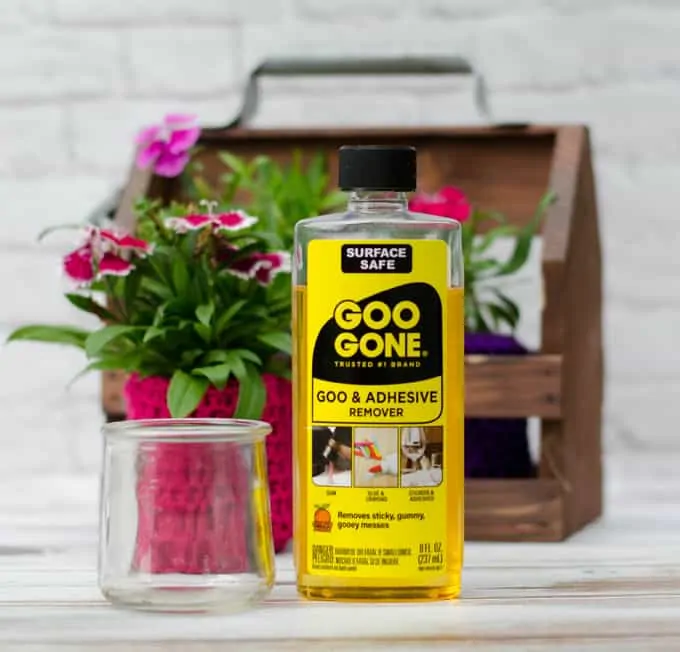 So I pulled out the Goo Gone!  I used a disposable bowl, put a little goo gone in–just enough to cover the bottom of the bowl   and placed the jar, rim-side down to soak for a bit.  I didn't time it.  Just checked it now and then and when the glue was soft, I scraped it off with a plastic scraper.  You could use a cloth for this instead. Easy peasy.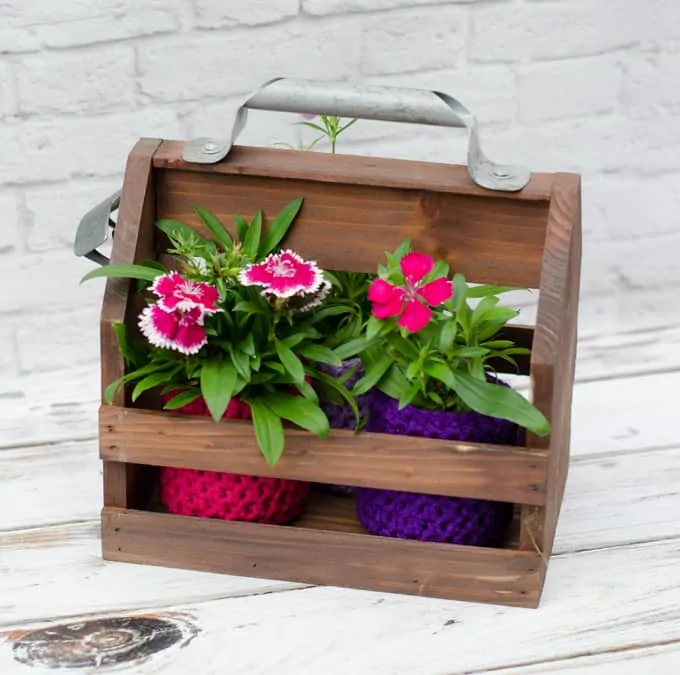 Purchase an ad-free printable version of this pattern
Crochet Flower Pot
Here is what you will need:
Resources and tutorials you may find helpful in following this pattern: Crochet Abbreviations, US to UK Crochet Conversion Chart.  Find links to stitches on the "Tutorial" menu: Getting Started will show basic stitches used in many patterns and Crochet Stitch Dictionary shows our growing collection of crochet stitch tutorials.
Size:
3-1/4" tall by 3" in diameter.
Note:  If you are using a different sized glass jar, you may need to add or decrease the number of stitches in row or adjust the numbers of rows worked to accommodate the height of your jar.  See notes in pattern.
With worsted weight yarn, make a magic ring
R1:  Ch 2 (does NOT count as a hdc here and throughout), 8 hdc into ring (8 sts). Sl st to 1stst.
R2:  ch 2, 2 hdc in ea st around, join with sl st to 1st hdc (16 st)
R3:  Ch 2, *hdc in next st, 2 hdc in next st, repeat from * around (24 st)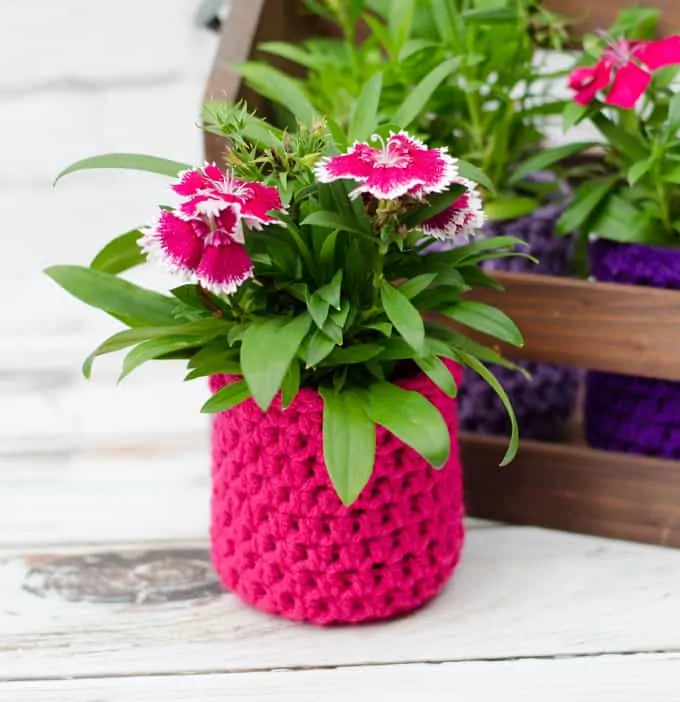 At the end of row 3, you should check to see that rows 1-3 cover the bottom of the jar. You may wish to go up or down a hook size if your crochet flower pot is not quite the right size.   If you are using a different sized jar, you may wish to increase or decrease stitches or add another row. 
R4-12:  ch 2, hdc around, join with sl st to 1st st (24 st)
Try the crochet flower pot on the glass jar. It should fit snugly and just come over the edge of the jar.  If necessary, add or a decrease a row here to make the height just right.
R13: Sl st around (24 st). Fasten off and weave in ends.  I like to use the seamless join to get a perfect edge.
Purchase an ad-free printable version of this pattern!
I love seeing your finished projects! If you enjoyed making one of my patterns I'd love to see yours on Instagram, be sure to tag me @crochet365knittoo.  If you are on Facebook, stop over to the Crochet 365 Knit Too Facebook page or pop over to the Crochet365KnitToo Club and share a photo!  I'd love to see your work!