Crochet Earrings for Everyday Wear
This post may contain referral/affiliate links. Please read my disclosure for more info.
Crochet Earrings! Where have these been all my life? Really.. what a perfect crochet project! Fast and fun and then you get to rock your next outfit!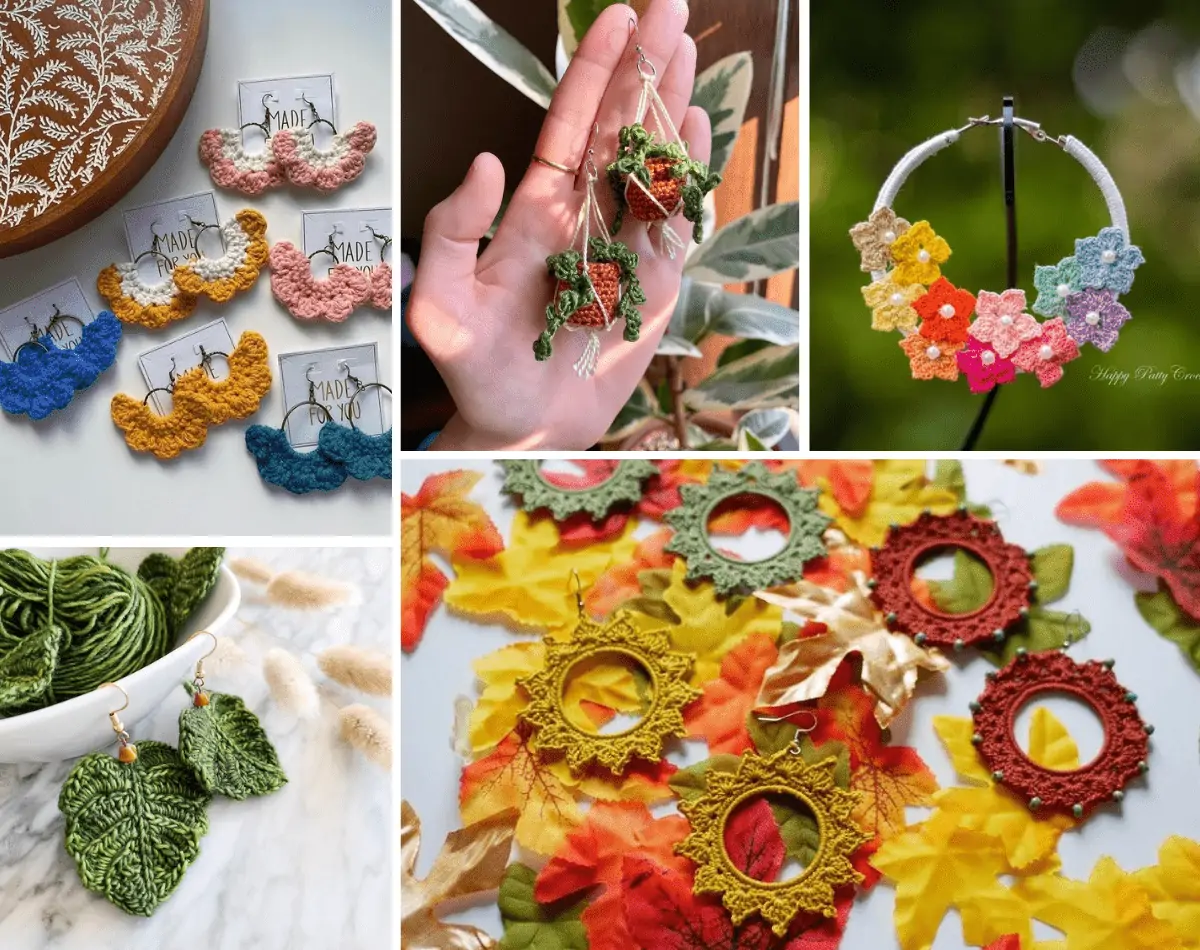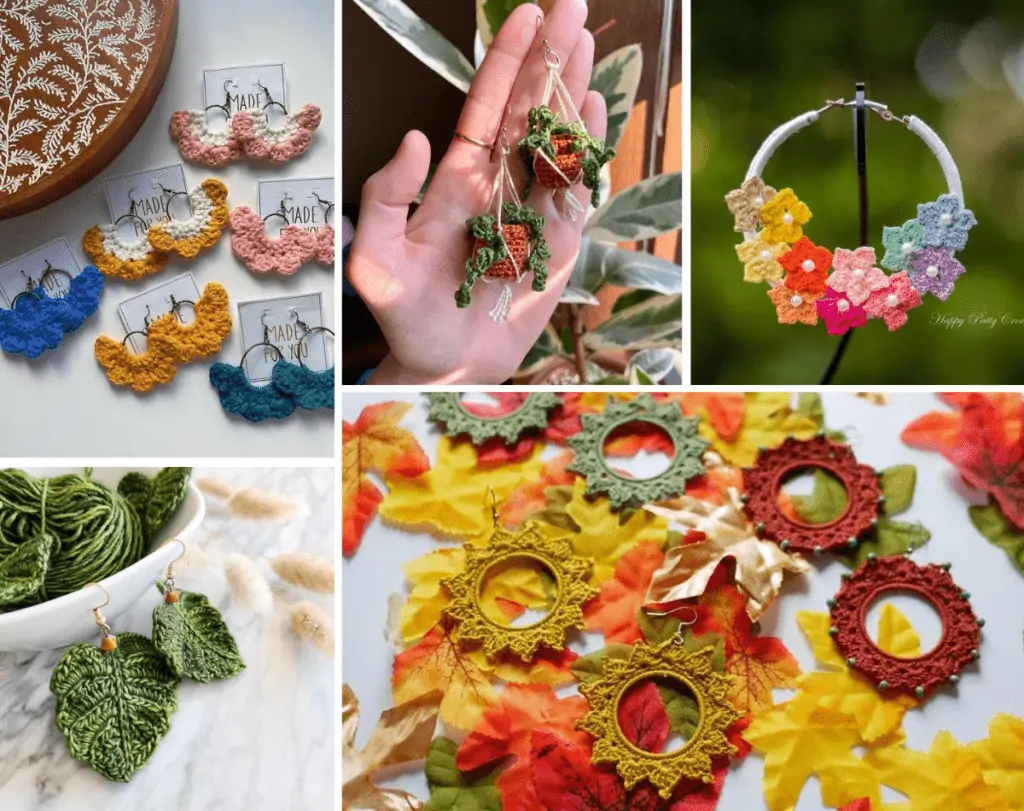 If you've never made crocheted earrings before, I hope you'll find the perfect pattern here to start. There's definitely a multitude of reasons to bring some crochet into your jewelry game. Take a look at this fun collection of crochet earring patterns!
In order to crochet these projects, you will need a variety of different materials, such as an earring hook pack, jewelry pliers, earring wire, embroidery/crochet thread or thin yarn, and possibly a yarn needle, depending on the pattern. Plus, you'll always need your handy dandy crochet hook! Make sure to check the actual pattern description before purchasing for a full list of materials.
Most of these patterns use a variety of basic crochet stitches, so make sure that you know how to work a single crochet stitch, double crochet stitch, and slip stitch (sl st). Since these great patterns won't take a long time to complete, your pair of earrings are just a few steps away!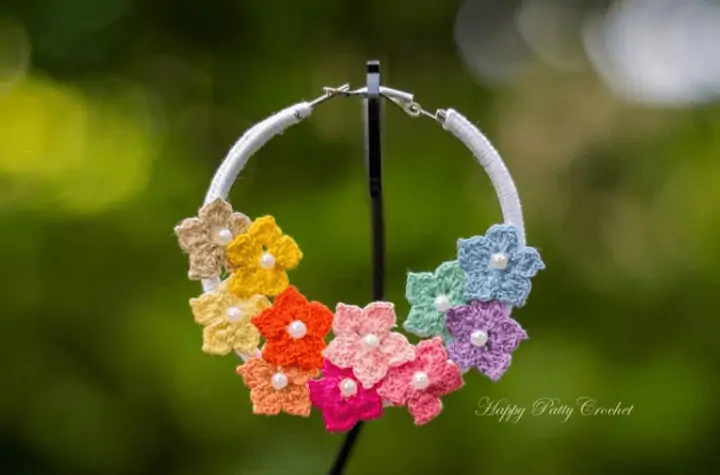 The Crochet Earrings Pattern Collection by Happy Patty Crochet has a variety of hoop earrings that are just so fun! These are very cute, flower-inspired patterns and they would be a lovely addition to any spring or summer wardrobe. I also really love the crochet earring flower pattern that has the flowers going into the blank space of the hoop earrings a bit, I just think it's a beautiful touch.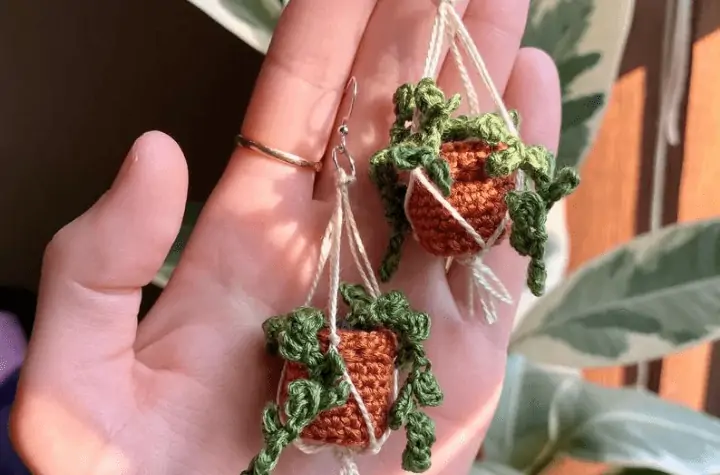 What are earring holes, if not a place to hang crochet plants? The Crochet Hanging Plant Earrings by Tangled In Yarn Shop are literal art. You could totally curate an outfit just for this pattern. Plus, since this is yarn, these hanging plants will not be pulling down on the earring hook hardly at all, which to me is an absolute win in my book.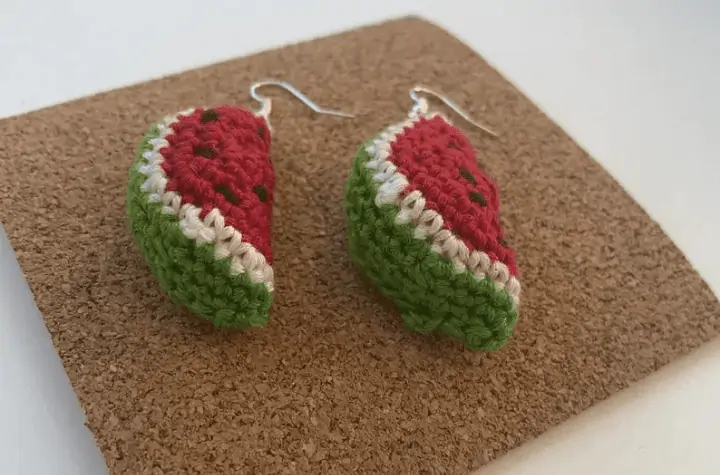 These Watermelon Slice Earrings by Millie Made LLC are simply too fun. Watermelon always reminds me of warm weather days and picnics, so I couldn't resist sharing these fun earrings.
These crochet earrings are also super quick to make, so if you are making a last-minute jewelry decision, you can absolutely make them before you head out for the day. If you're still a newbie and worried about crochet terminology, this pattern only requires you to know how to do a single crochet stitch and slip stitch, so that's a bonus.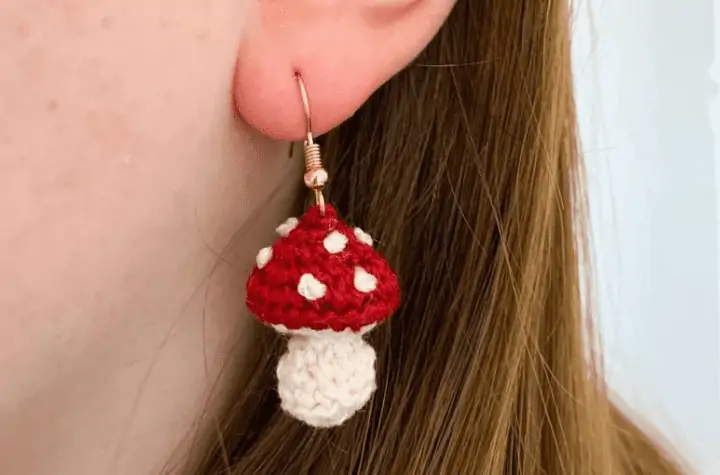 The Fairy Mushroom Crochet Earrings by Lake View Maker are just too darn cute. This pattern is a perfect gift for a friend who dreams of owning a cozy cottage in the woods. I am personally a fan of the red thread, but it may be because I am partial to toadstool mushrooms.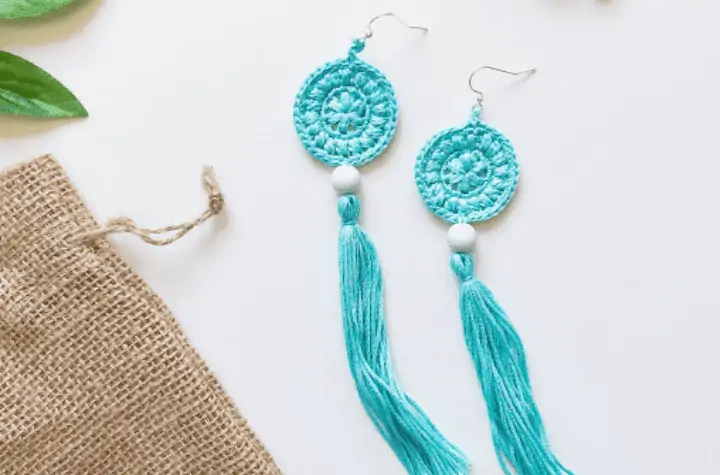 Who doesn't love a tassel? The Mint Spirit Earrings by Sweet Softies are so beautiful and would be such a fun statement piece. It'll also give you the perfect excuse to try out some embroidery floss if you've never tried crocheting with it before. Bonus, this is a free crochet pattern, so if you're hesitant about trying to make earrings for yourself, give this pattern a try!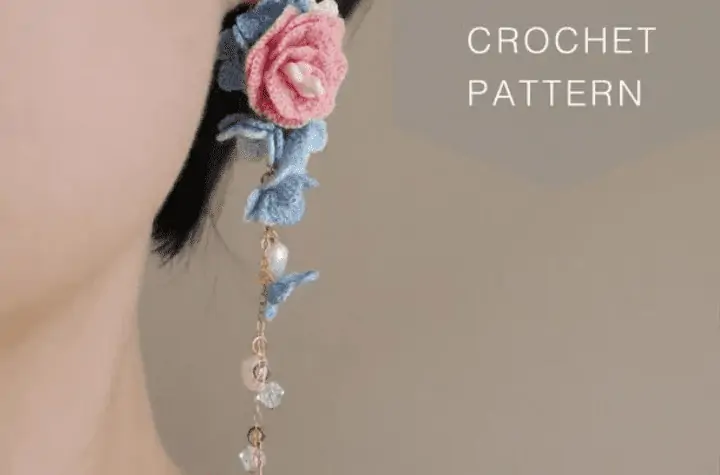 I really love the addition of the dangly jewelry to the Rose Embroidery Earrings by Hana Crochet Design. This is such a fun way to add different elements to the crochet design and really make it look incredibly elegant.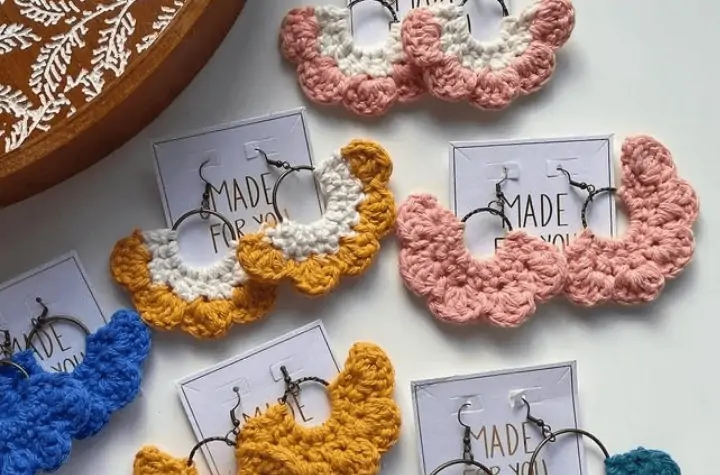 I absolutely love the little puffs of color of the Ainsley Crochet Earrings by Knot Common Threads. I also love the option of being able to change the yarn color because the dual colors are just so cute!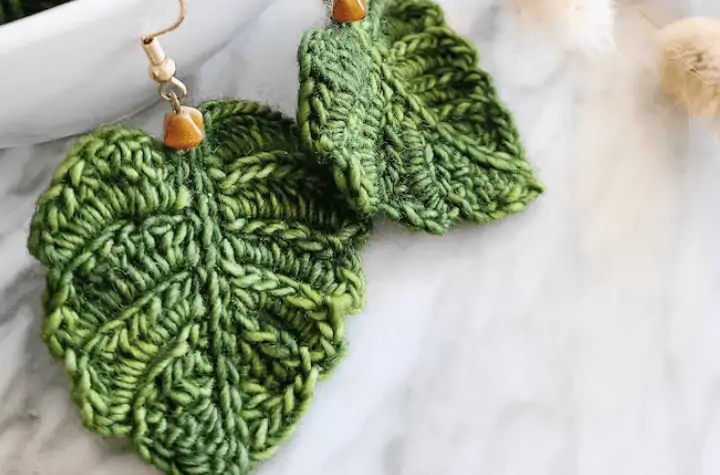 Everyone loves a beautiful Monstera, right? Well, when I saw these stunning Flirty Foliage Monstera Leaf earrings by 1 Dog Woof I absolutely had to include them! This pattern also includes different weight option ideas so that you could turn this pattern into anything your heart desires.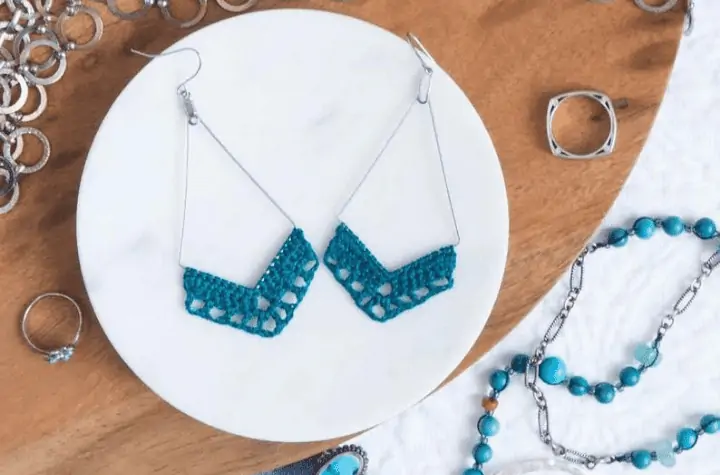 Sometimes, you need a bold earring and the Fletcher Crochet Earrings Pattern by SEK Handmade heard your call. These super cute handmade earrings are the perfect choice for daily wear or you can totally dress them up a bit, depending on the occasion. Keep in mind, you'll need earring wire for this pattern, so make sure you have some on hand before starting this project.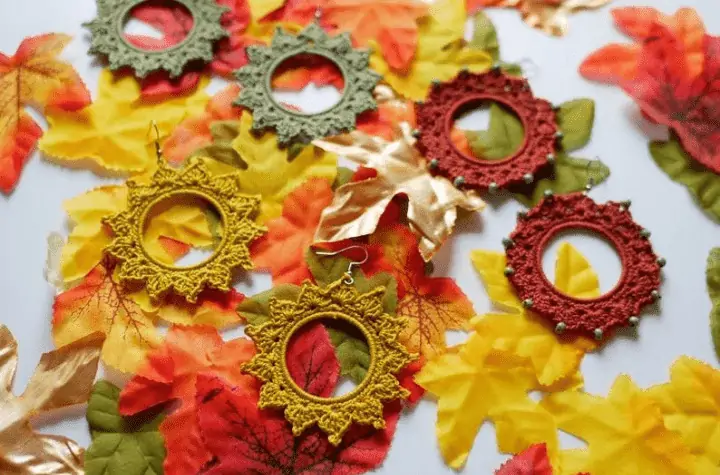 Absolutely love sunburst earrings. The hoop Autumn Sun Earrings by Chalias Craft are gorgeous and I love the inclusion of the bead option to really diversify this earring pattern.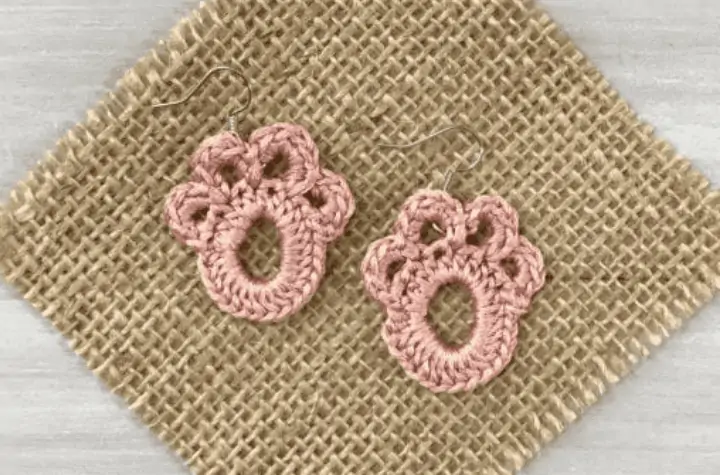 Want to show your love for your furry friend in your accessories? Simply Hooked by Janet's Crochet Paw Print Earrings have you covered. This is a super quick and fun pattern that won't take you very long to do. Plus, it includes instructions on stiffening your earrings in case that's something you haven't tried yet! Also, this is a free pattern, so there's really no reason not to make it, right?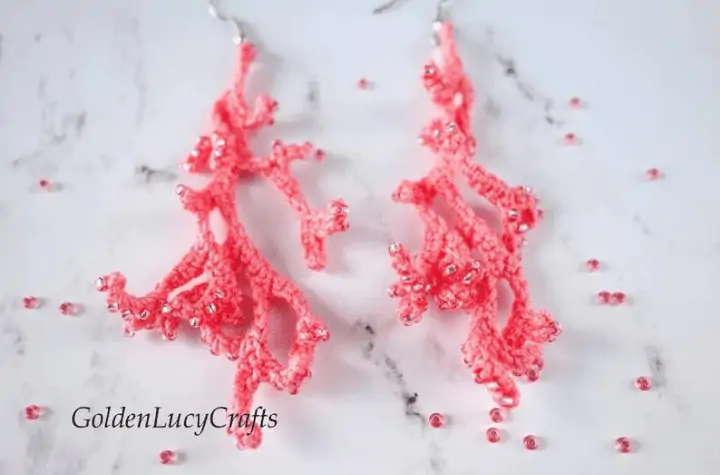 I love how lifelike the coral is in this earrings pattern by Golden Lucy Crafts. I think this yarn choice is also perfect for this pattern and I would love to see anyone that makes this pattern for themself.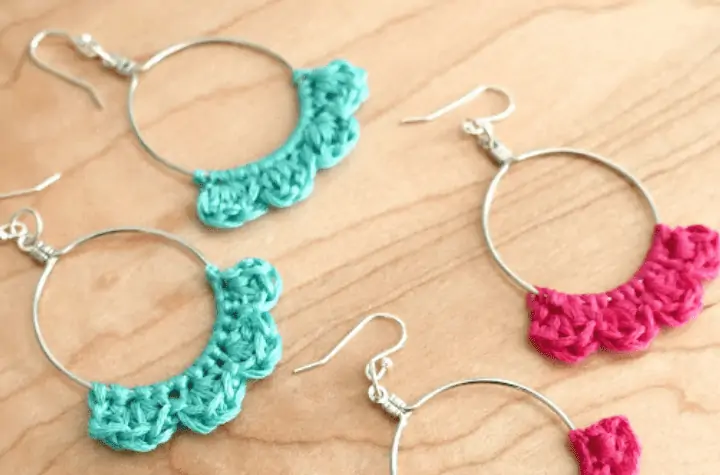 The Caribbean Wave Hoop Earrings by Fiber Flux Blog is so fun and I really love the circle earring wire choice. This free crochet earrings pattern also includes a video to help you along with the process of making these stunning earrings.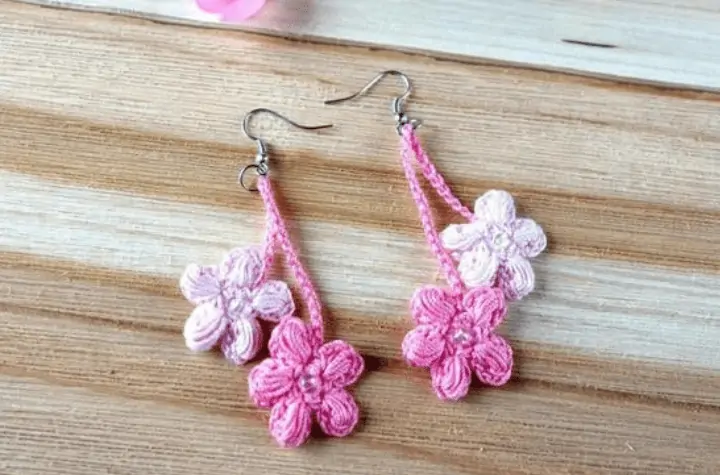 The Cherry Blossom Earrings by Golden Lucy Crafts is giving me all the summer vibes. I really love crochet flowers at it is, but something about the chaining to make these dangling earrings is really leveling it up for me.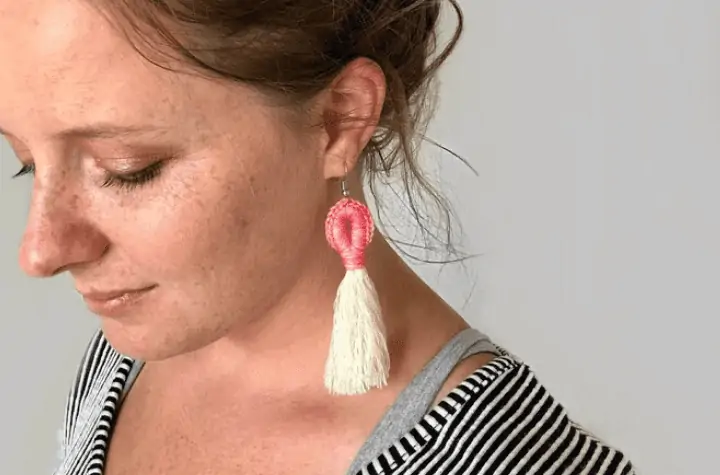 Sometimes, all you need is a fringe statement earrings moment. These earrings by A Crafty Concept are so fun and I really love the different colors on the listing which really helps me get some inspiration!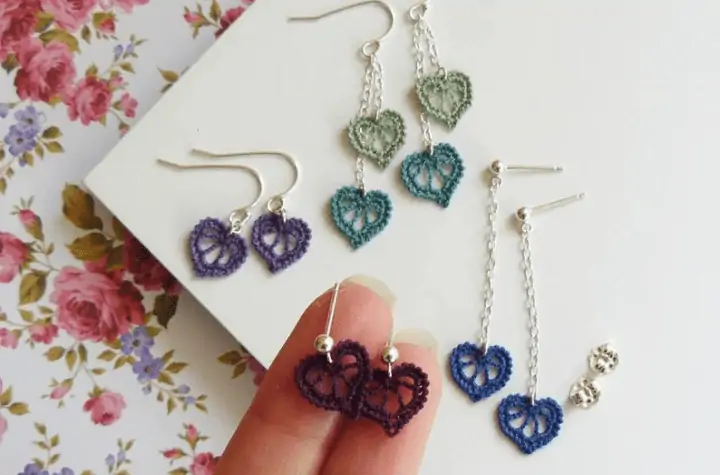 Have you ever wanted to try doing micro crochet? Well, these heart earrings by Steffi Glaves are the perfect opportunity! I also love that this pattern shows you different options on whether you want an earring hook or stud, dangly or not dangly.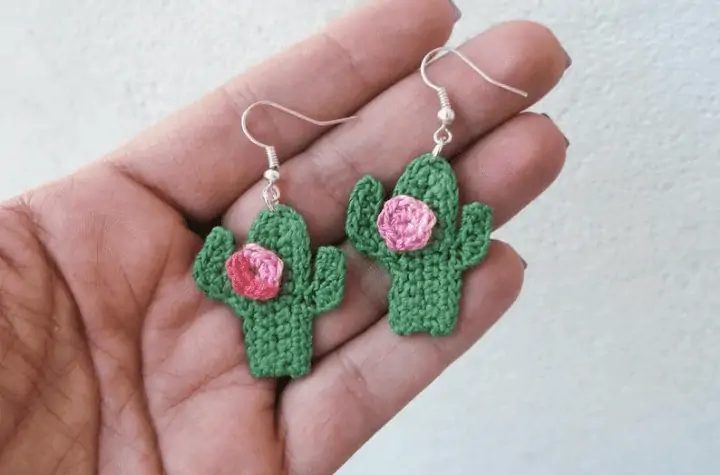 No vacation would be complete without these cute little cactus earrings from Crochet Knit Jewelry. The little flower on the cactus is such a fun touch to this pattern and I am simply wowed with it. I also love the different color options that don't stick purely to the normal green cactus.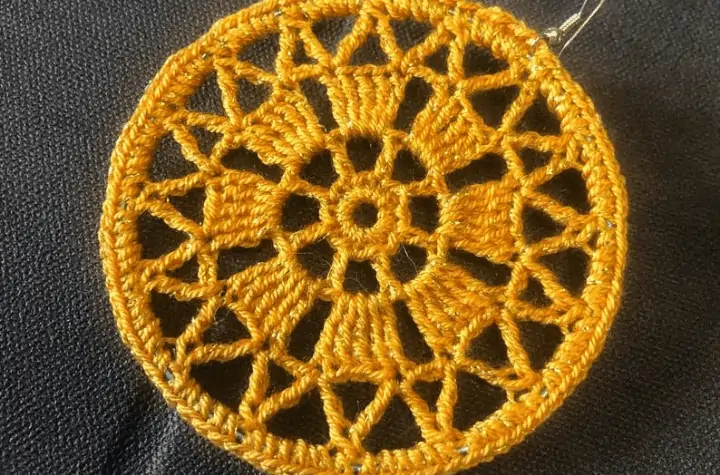 Everyone needs a pair of hoop earrings and these hoop earrings by Creative Accessorise take the cake. I also love that it gives the option of using an earring hook still if that is your preference. This is a crochet earring that you could still wear every day and it would always be a show stopper.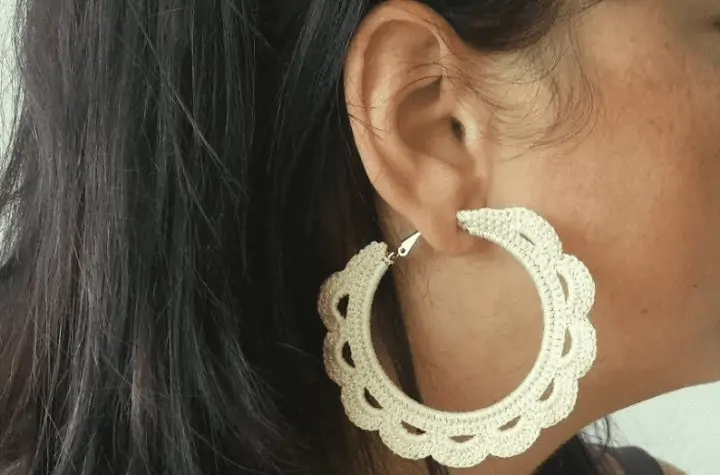 Whether you're wanting to go to an event or have crochet earrings that would look great at the office, the Festival Hoop Earrings Pattern by Crafting Happiness UK is a must for your jewelry drawer. I kind of love that this crochet earring pattern looks a bit like the sun, and I just think that is too cute.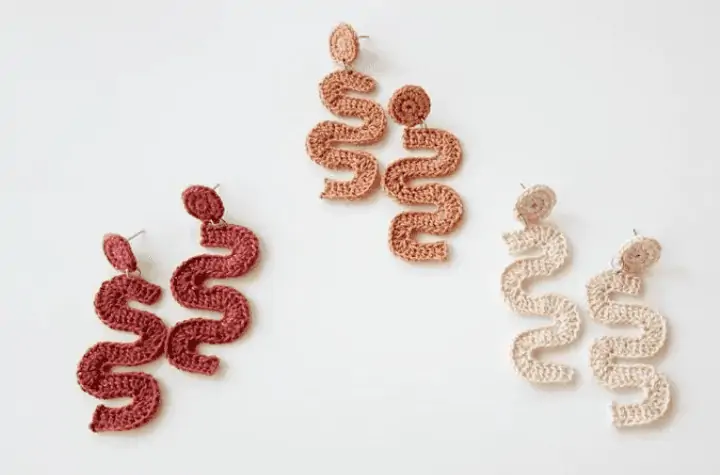 These squiggle earrings by Chalias Craft are a fun little way to add a bit of color to your outfit. I also love that these are studs because I feel like hook earrings tend to fall out and get lost, but maybe that's just me.
I love seeing your finished projects! If you enjoyed making one of my patterns I'd love to see yours on Instagram, be sure to tag me @crochet365knittoo. If you are on Facebook, stop over to the Crochet 365 Knit Too Facebook page or pop over to the Crochet365KnitToo Club and share a photo! I'd love to see your work.