Best Crochet Dolls
This post may contain referral/affiliate links. Please read my disclosure for more info.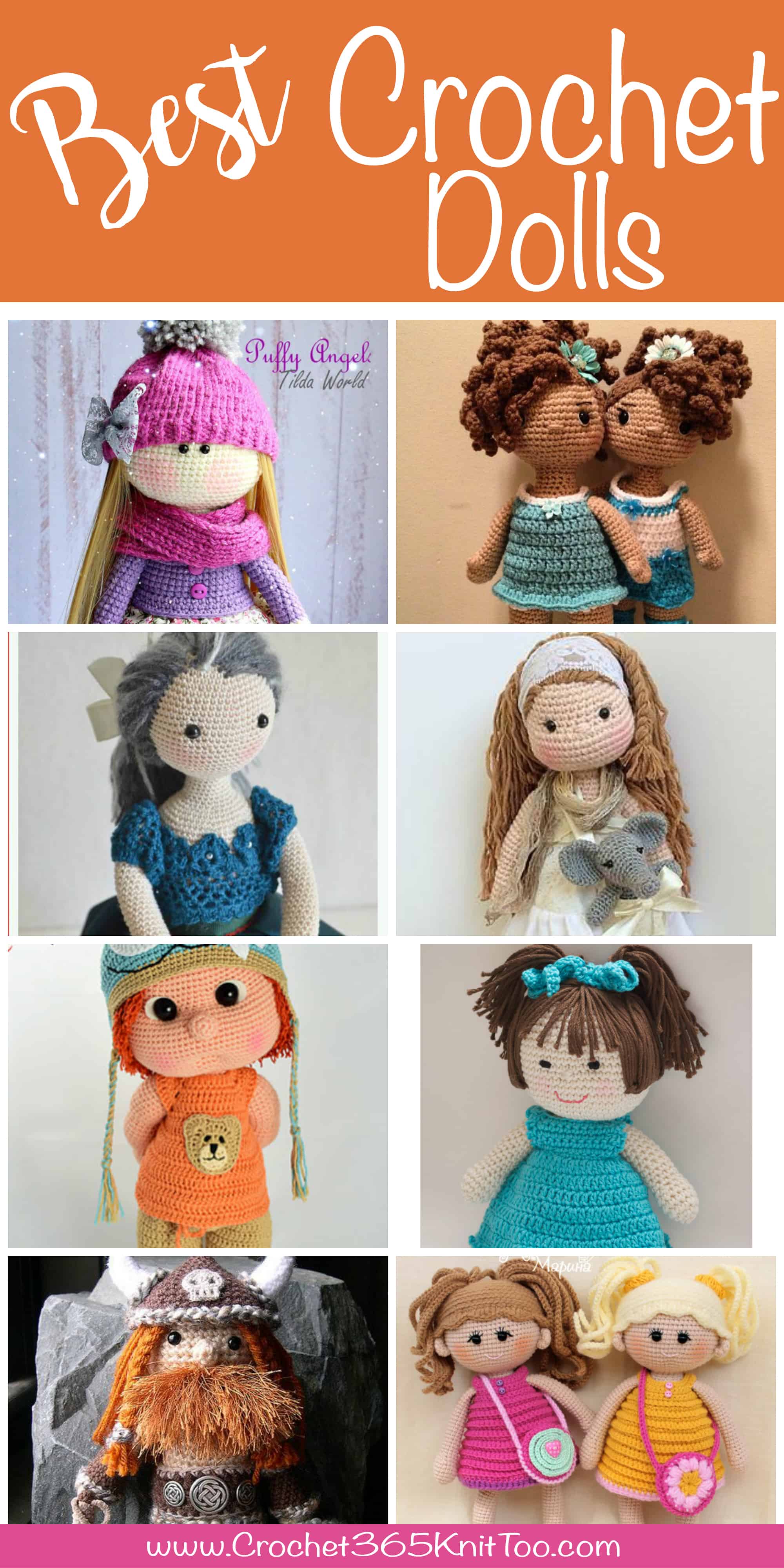 If you know me at all, you know that I love a good doll.  I can tell you every doll I owned as a child–and there weren't many..  Dressy Bessy which I wrote about here.  Lassie…and, yes… I did name a doll after a dog in a television show… a show I didn't even watch, I might add.  I still mourn the loss of that baby doll.  I gave her away in a foolish "I'm too old for dolls" pre-teen moment.  Sigh.  The foolish things you do when you want to be a grown up.  Then you become the grown up and sometimes, just for a moment, you wish you could go back in time and spend an afternoon in your childhood.
So you do the next best thing.  You go on Pinterest or what I like to call EYE CANDY for crocheters.  Especially for a doll lover like me.  My guilty pleasure on a weekend morning is to make a cup of coffee and get lost looking at crochet dolls.  I could drool for hours looking at them.  I love their hair, their expressions and I marvel at each little detail.  I wonder about who created them and the lucky soul that gets to play with them!  Here are a few of my favorites.
The Viking: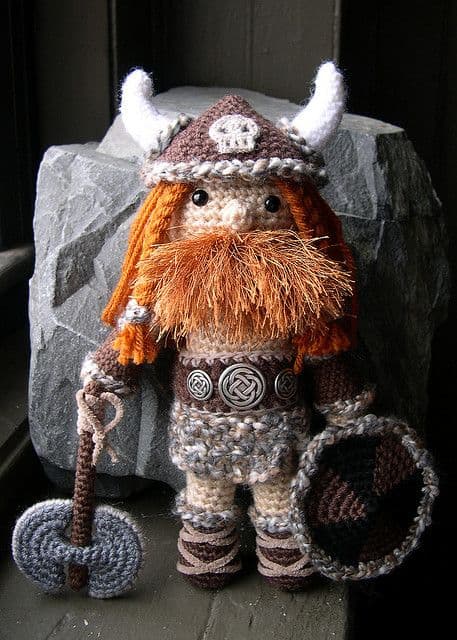 Found from:  Karabouts
I've been drooling over this guy for years.  For YEARS, you guys!  Oh my goodness.. that stare..that manly goodness!  I love this on so many levels, but I think it shows how a few details (like those buttons) can really add to a doll!  Crocheters have been asking for the pattern since 2009, but to date, one hasn't been shared.  Which makes me think…one of us should use this for inspiration and get designing ourselves!
Elegant Lady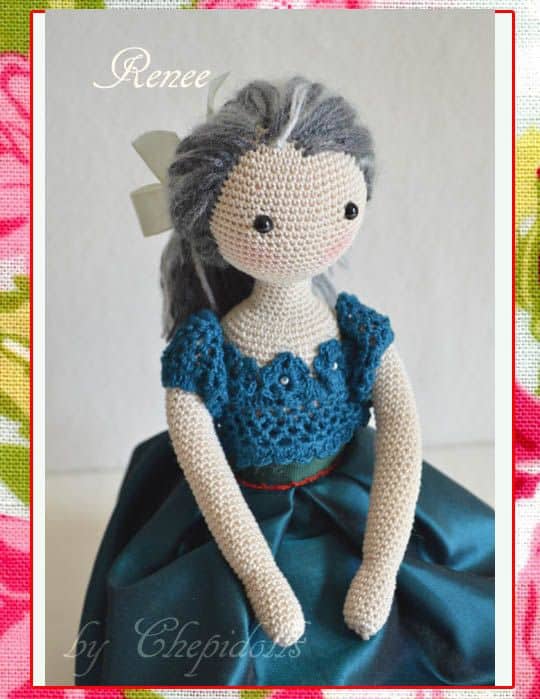 Found From:   Chepidolls
Here's a beauty for you!  This artist sells finished dolls and patterns.  Lucky for us crocheters, we can snag something lovely ready made or crochet something gorgeous ourselves!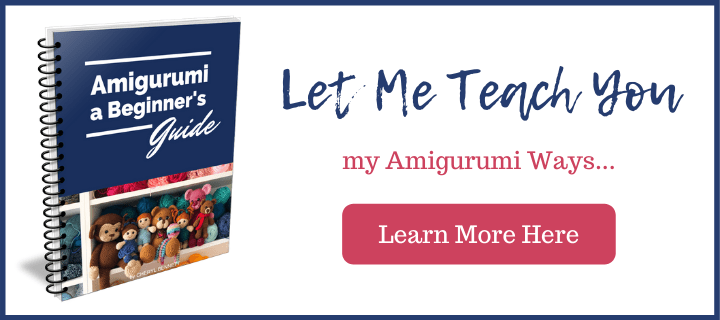 Sweetie Pie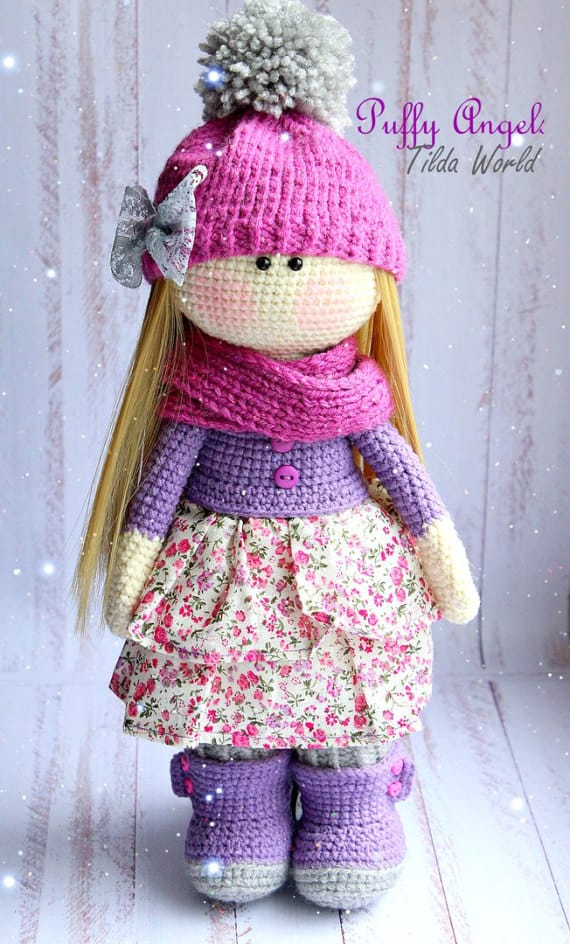 Found from:  Sweet Patterns Lab
What's not to love about a sweet little girl out for a stroll in the snow?!  I love the artist's use of mixed media on this one.  A ruffled fabric dress and hiding the seam under a row or two of crochet at the waist is a clever technique that really helps make the look of this doll.  You need to know how to crochet, knit and sew to make this one, but the pattern IS available!
A Boy To Crochet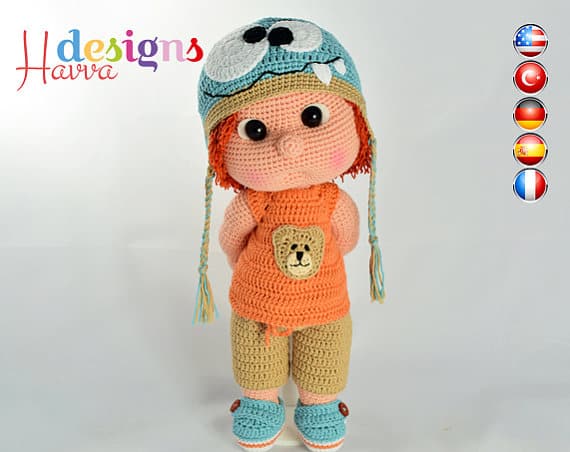 Found from:  Havva Designs
As a mom of a boy, I think it's a good thing to have crochet doll options for boys.  Granted, it might be stuffed into a riding toy and dragged through the mud, but still..nice to give a boy a doll option.  This designer is one of my favorites.  She has loads of patterns and they are all wonderful.  And they are available in multiple languages too!
Twice the Fun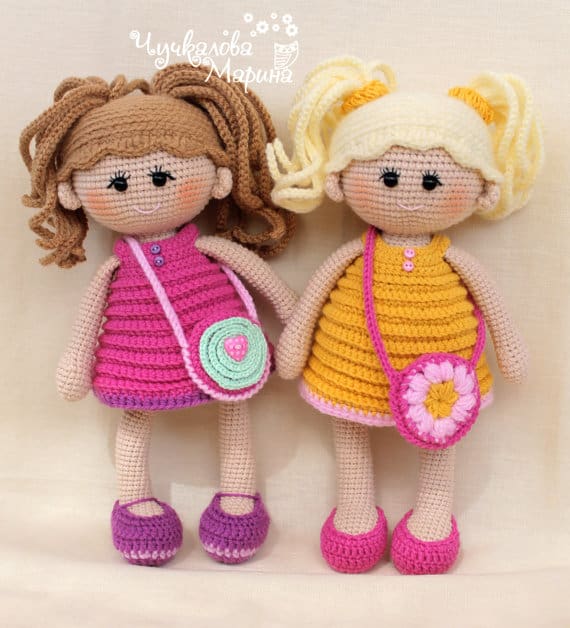 Found from:  Mycrowonders
Sassy, sweet and ready to play!  I love these two girls.  Their sweet smiles, eyelashes and ears are so cute.  The dress is adorable, and the bright, cheery colors would make them a cute gift for any young girl on your list.  And lucky for us..this is available as a crochet pattern!
Sweet Girl
Found from:  Crochet 365 Knit Too
Here's my sweet Marcy doll.  She's the first doll pattern I offered up for sale and is by far and away my biggest seller to date. Everyone loves her and so she had to make my best crochet dolls list.  I still love her hair and she likes to hang out with me now and then as I work.  She's a good girl like that.  I think you might enjoy crocheting her too.
Lovely Little Lady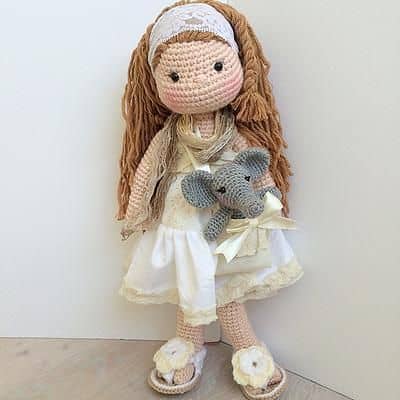 Found from Nathalie's Sweet Creations.
This little lady is just breathtaking.  I love the detail.. her sweet expression, her adorable dress and beautiful shoes..and that hair is to die for!  If you want one, you'll have to get it custom made.  But it might be a tough decision; you can spend hours lost in looking at the beauties she's created on her website.
Dolls That Matter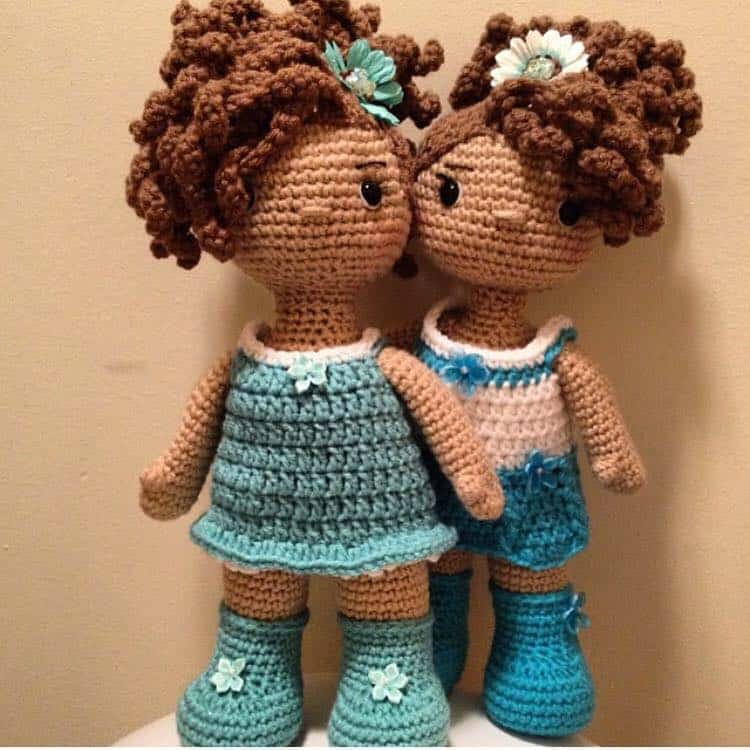 Found from:  Off D Hook
Not only do I love the beautiful dolls made by this artist, I love her message to young girls.  She specializes in dolls of color and in making dolls to match a special little girl (or not so little girl)!  A stroll through her Facebook photos and you find countless photos of dolls with any physical attribute.  There are no disabilities or limitations here..just adorable.. AMAZING dolls.  These dolls are guaranteed to make you smile…if not for all the beautiful details, for all the beautiful smiles of little girls with their matching "twin" doll.  And of course, you can commission the artist to make you your very own doll!
I hope you enjoyed this little diversion into crochet doll nirvana.  It is my current best crochet doll list.  But I am always on the lookout for something beautiful, so who knows…  I might find more to share with you down the road!
I love seeing your finished projects! If you enjoyed making one of my patterns I'd love to see yours on Instagram, be sure to tag me @crochet365knittoo.  If you are on Facebook, stop over to the Crochet 365 Knit Too Facebook page or pop over to the Crochet365KnitToo Club and share a photo!  I'd love to see your work!