Looking for the best gift ideas for crocheters?  I've got you covered! Whether you are shopping for yourself or for a loved one, there is something for everyone–in every budget.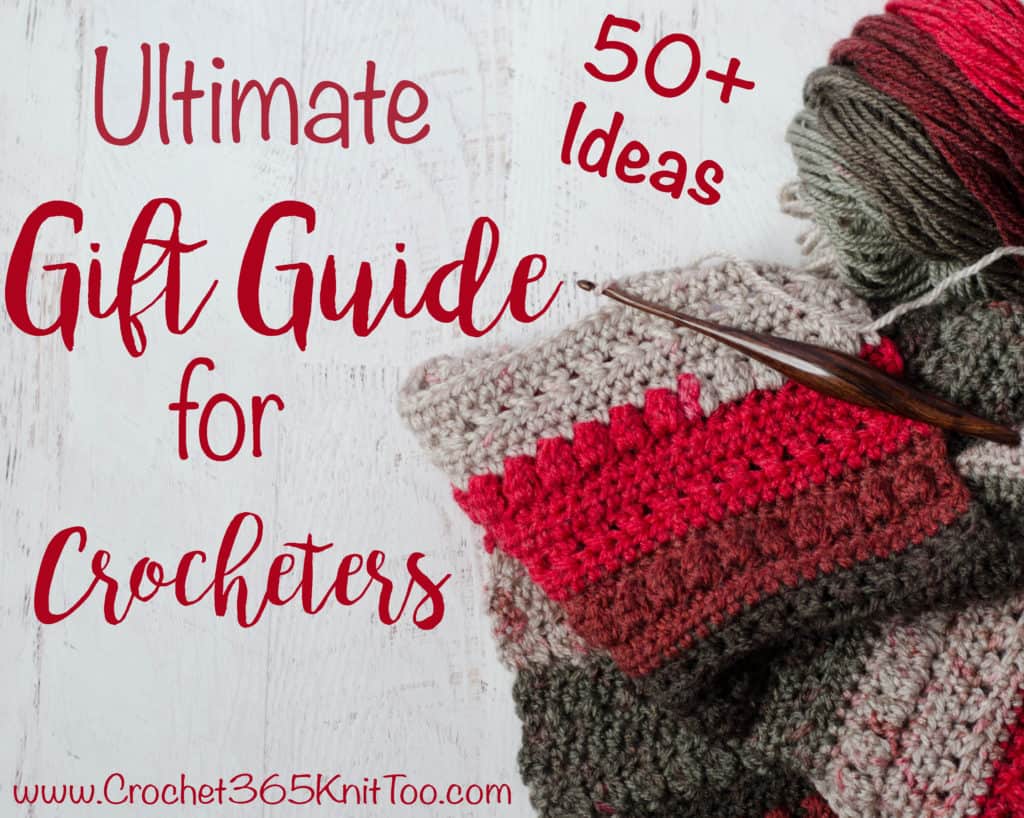 Gift giving can be tough!  If you are not a crocheter yourself, then trying to pick out the perfect gift for your loved one's favorite hobby can be difficult.  Luckily you've come to the right place!  I've curated my absolute favorite gift ideas for crocheters in one spot!
Everything is here whether you are looking for basic supplies for the new crocheter or something extra special to surprise the advanced crocheter.  You'll find something here to love.  And … be sure to check back often as I will be adding new favorites as I discover them!
Before we get started.. I highly recommend Amazon Prime.  I love, love, love the 2 day free shipping because sometimes I just can't wait to get the crochet goodness in my hot little hands!  A lot of times, I just can't find things locally–and Amazon seems to have everything!  And if I shop from home, I can use the time saved to…well..crochet, right?!  Pop over here to find out how to get a free 30 day trial of Amazon Prime!
Crochet Hooks I've Known and Loved
If you would have asked me a year ago what my favorite crochet hook was, I would have given you a look and said "Boye all the way, baby".  I mean REALLY.  It's crochet hook, right?
Well… as it turns out… there are A LOT of choices in crochet hooks…

Clover Armour Crochet Hooks – I recommend these hooks to everyone.  In fact, I love them so much that if this is all that you can afford to spend, BUY THESE.  (Gift giving. Done.) I've priced them out and Amazon always has the best price, but keep an eye on them because the price seems to go up and down like the stock market, for some reason.  I love them because they are so very comfortable and the yarn just slides right through the hook.  I feel like it makes me crochet faster and better. Note: Make sure it says "Cover Armour" before you buy.  There are a lot of knock-offs and I don't want you to get the wrong thing.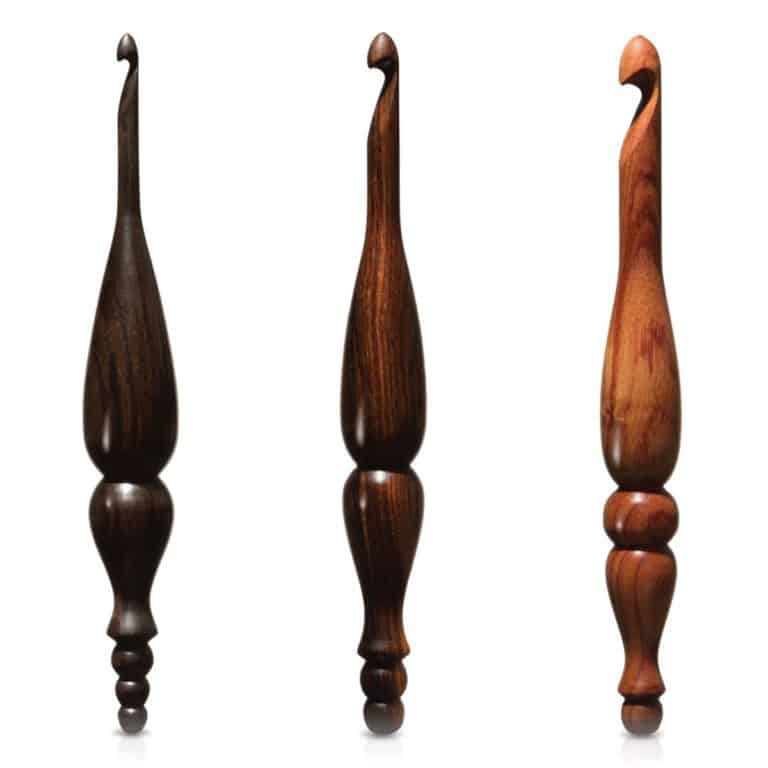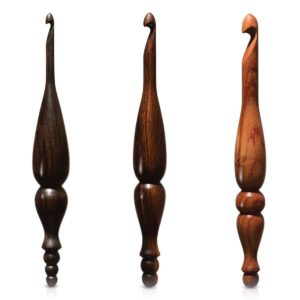 Furls Crochet Hooks, Alpha Series – I'm going to be honest with you.  I have a love-hate relationship with these hooks.  On the "pro" side, they are gorgeous and finely crafted.  You won't find a more beautiful crochet hook out there.  On the "con" side, they take some getting used to.  I found them very comfortable to hold, but it takes some practice to get the hook to glide across the yarn.  I also have their Streamline Wood hook, which is also lovely and I've heard marvelous things about their Odyssey hooks.  So while you're visiting their site, check those out too.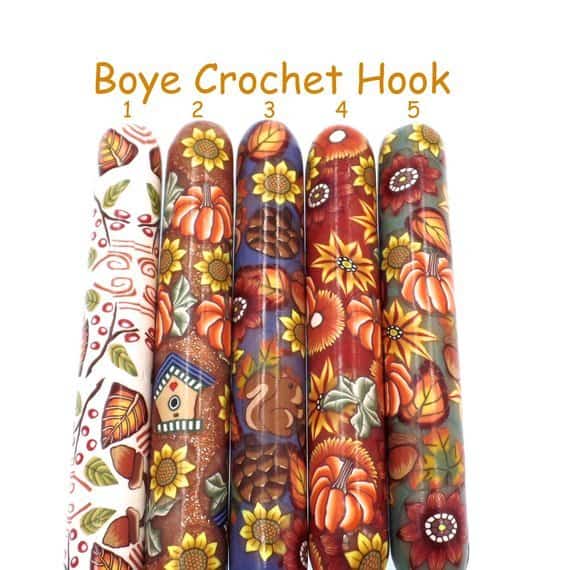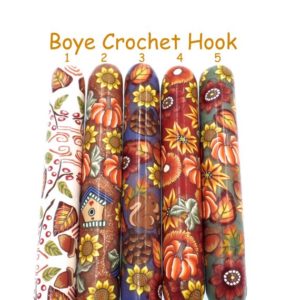 Polymer Clay Crochet Hooks – PolymerClayShed over on Etsy sells these amazing crochet hooks with a fun polymer clay handle.  You start with your choice of a Boye or Susan Bates Crochet hook.  Then you pick from one of several fun patterns and select the hook size you want.  These hooks are just so fun!  I picked up a couple to add to my collection.
Dark yarn in the evening got you down?  Check out these Crochet Light Up Hooks!  My sister loves her light up hook and these guys are on my wish list!
Yarn Storage for Crocheters
If you crochet, you have yarn.  Maybe a lot of yarn.  Or are you one of those super organized people that always uses all her yarn, finishes all her projects and never wastes a scrap?  Sometimes I wish that was me.  Other times, I just like to look at my yarn and it makes me feel happy all over.  Kind of like that warm, comfortable feeling you get when you do a big ole yawn and stretch like a cat.
We call this our stash and sometimes.  Well.  It can be a bit overwhelming.  And what you really need is an excellent storage system that works for you.
Please note:  I highly recommend if you're going to store your yarn out "in the open", that you sort it by color.  Read on to read why…


Cube Cubbie Sytem with Doors – This is my current set up and I'm in love.  Let me tell you why.  I sorted my yarn by color and put it in this cubby.  I love the doors because they keep the dust out. And this is super affordable.  In fact, the plastic is so lightweight, you'll wonder how it can even hold yarn.  But it does and it's amazing.  In Love.
IKEA Shelves – I've also tried shelves similar to these IKEA shelves.  I like that the shelves look more like a nice piece of furniture and are a bit more solid.  When I used mine for yarn, I organized my yarn by "type and brand" instead of by "color".  This seemed like a good idea, but in reality, I could never seem to find what I needed and all the mix-matched colors just looked sloppy.  Now that I organize by color, it looks so much better.  If a strand is dangling here and there and it's in the same color family-well..it just looks nicer.  These shelves stay on my "recommend" list because I think I'd still be loving them if I had sorted by color instead.
Wine Racks – A wine rack, it turns out, makes an adorable yarn display showpiece.  I say 'showpiece' because this isn't really for the budget conscious.  But, it is adorable if you want to make that splurge.
Or pick up some Wooden Crates and some zip-ties and make your own wooden shelf creation!
I've also organized yarn in totes like these.  If out of sight is your storage philosophy, then these are a great option.  They also stack and hold a large quantity of yarn.  The down side is that you have to go through the bin whenever you need yarn and you may have to move bins around if your yarn is in multiple bins.  This may lead to buying yarn YOU ALREADY OWN.  Ask me how I know this.
Some of my readers like this over the door shoe caddy or
This closet Sweater Storage Bag.
 I actually used this for yarn storage too at one point in my crochet life.  I loved that it was neat and tidy in my closet.  But somehow I managed to overstuff it and shelves bent, and yarn went venturing into other compartments.  But really.. a lot of people LOVE this storage option.  And I think if you are a neat and tidy sorta person who doesn't overstuff things, this would work really well.
Yarn
Yarn.  Yeah.  A crocheter needs yarn!  Honestly, though, I find it tough to pick out yarn for another person.  Here are my favorites:
So if you've been with me at all you know that Lion Brand Vanna's Choice is my favorite, go-to yarn.  You can get it in so many places and on Amazon too!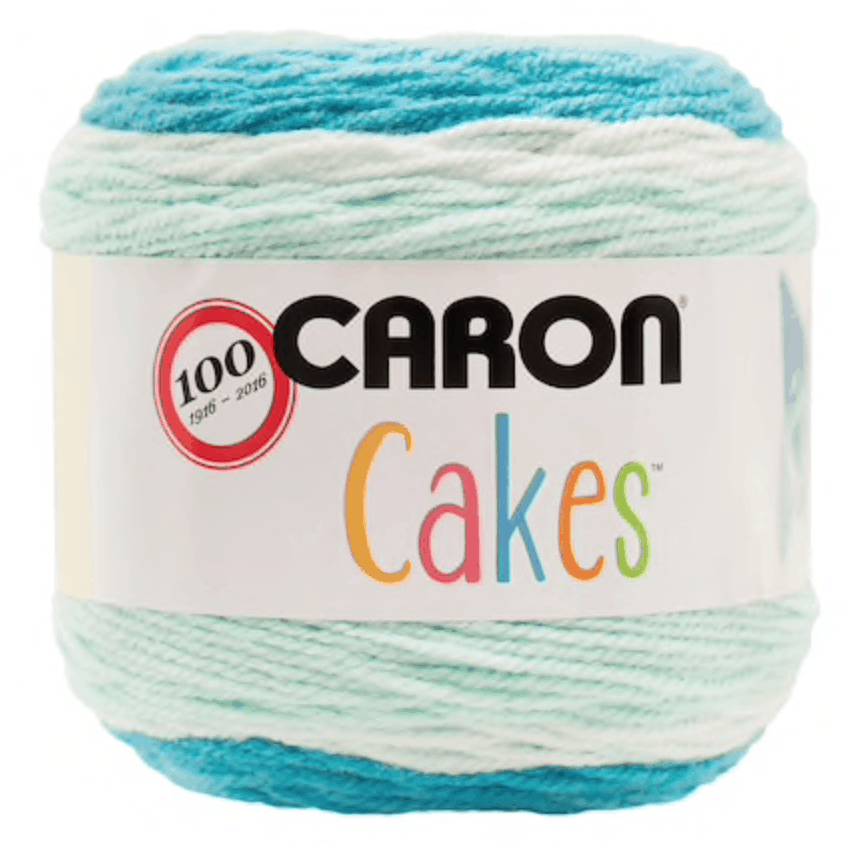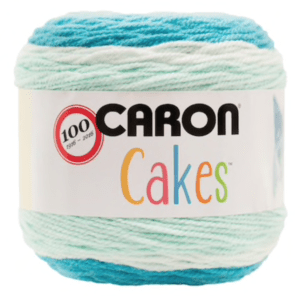 Caron Cake Yarn – You pretty much can't go wrong getting a crocheter a Caron Cake.  Just pick out a color way you like (or you think your crocheter will like) and the recipient can figure out what fun pattern they'd like to make!  Plenty of yarn for a hat, scarf or other small project.
Crochet Gadgets
No 'Gift Ideas for Crocheters' list would be complete without GADGETS!  Do you love gadgets as much as I do?

These Gingher Scissors are my favorite!  I have two pairs.  One is with my sewing machine and another is with my crochet!
These cute Stork Scissors on my Wish List!  Aren't they adorable?
 A crocheter needs a great Tape Measure and this one is perfect.  Plus cute.
Sometimes a crocheter needs to measure gauge to make sure the work is turning out the same size as the designer's work.  This Gauge Guide is what I use.  (But if you want something SUPER CUTE, check THIS out!)  If you're wondering how to check your gauge in crochet, read this post!
There are a few things that changed my crochet life and these Stitch Markers are one of them.  When grandma taught me to crochet, I always used a scrap piece of yarn–which is nice for convenience and cost.  But these stitch markers are just so nice.  They never slip out and they just do a great job!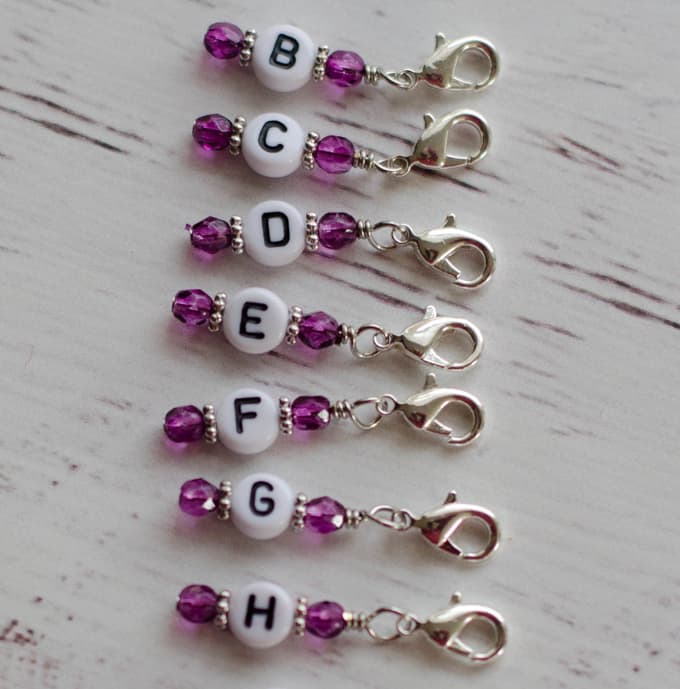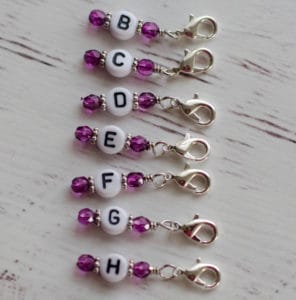 If you are constantly putting down your project and forgetting what hook you were using (raising my hand here), this how-to make a crochet hook marker tutorial might be just the thing!
If you're a crocheter, now and then you will need to sew pieces together and these yarn needles are perfect.  I also like these bent edge needles, especially for sewing amigurumi pieces together.

My nieces love using these finishing needles.  They are so easy to use and great for kids.  But I know many adults who love them too.

I'm pretty much in love with this crochet hook case so of course, it has to make my gift ideas for crocheters list. It comes in other colors too, in case the polka dots aren't your thing.  The case holds all my hooks (both my Boye hooks and my Clover Armour Crochet Hooks.  And well..that just makes me happy.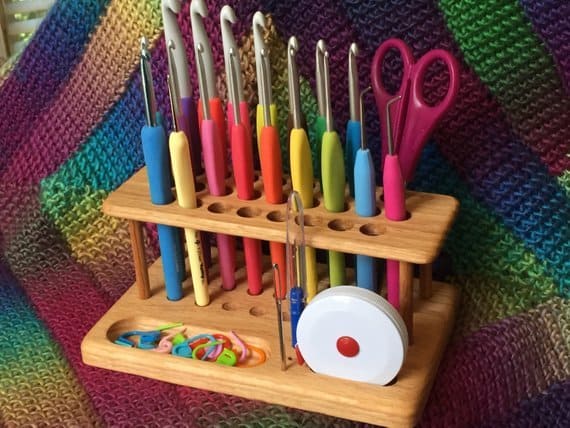 If you REALLY want to surprise the crocheter in your life with something special, check out this Deluxe Crochet Workstation by Chetnanigans. Sigh.  I'm in love.  All my stuff in one super handy spot.

These blocking mats are one of those nice to have things that you put off getting, but love once you finally purchase them.  I got them last year and just love them.  To learn how to use them, check out this post here.
I love these Pom Pom makers.  Perfect pom poms fast.  What's not to love about that?
Crochet Books I've Known And Loved
I'm a little bit of a crochet book hoarder.  But if I was forced to pick my favorite crochet book, this one would be it.  It covers all the basics and some advanced techniques too.

This one is a close second.  Just very well done.

Ever wonder how to crochet a perfect border? Then Around the Corner Crochet Border by Edie Eckman is for you.  Edie Eckman is amazing and you can't go wrong with any of her books.  I think I own them all.  You might like this one or this one.

Crochet is THE book for crocheting garments.  Love, love, love Shannon Mullet-Bowlsey.  Any of his books are amazing!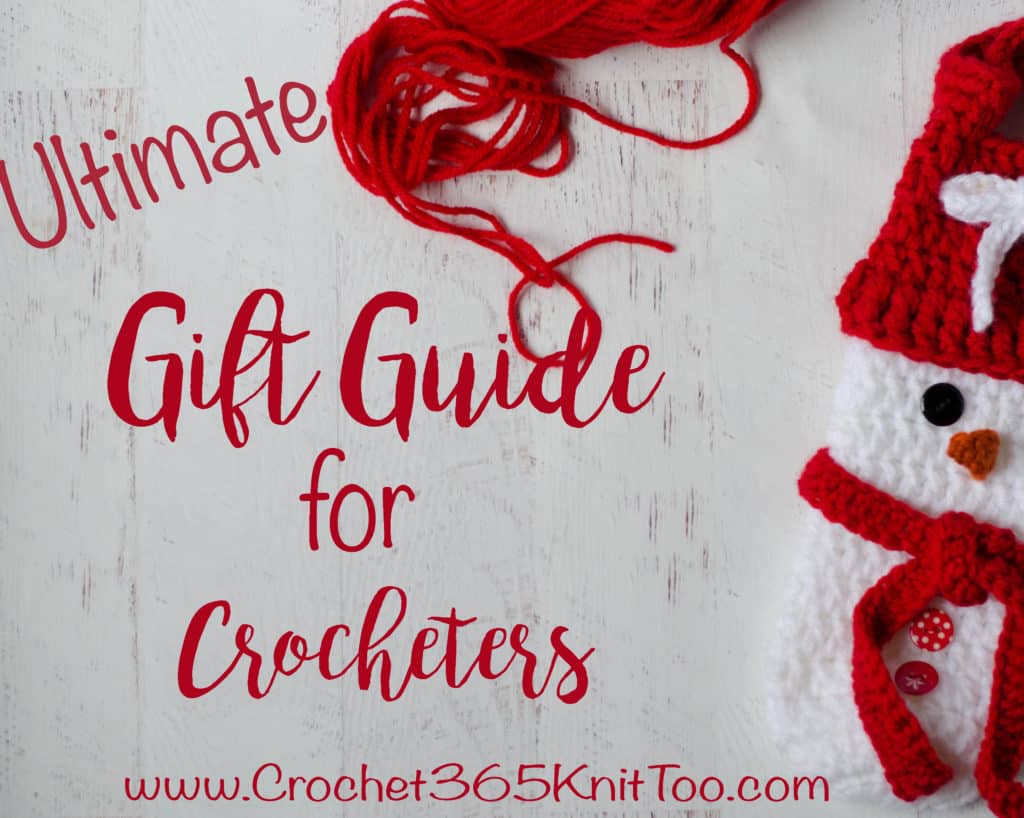 Your Crochet Life
Want to let the world know you crochet?  Check these out!

I designed an entire collection of Crochet Related T-shirts!  Check them all out here!

Coffee and crochet? Well.. they just go together in my book!  Check out this mug.  Or this one!

And of course you need something to carry your projects! Love this bag! And this one. Or how about this?! Aren't these gift ideas for crocheters great?!  So much fun!
Kits and Classes
Kits and classes deserve their own category in this gift ideas for crocheters list.  I'm telling ya.. if my husband surprised me with a crochet kit–with everything I needed to complete a project OR a subscription to crochet classes…I'd be in crochet heaven!
I absolutely love taking craft classes.  I subscribe to Craftsy (now called Bluprint) and I just love it! Whether I want to learn something completely new or need a refresher, the classes here are taught by the best in the business and I always learn something valuable.  In addition to crochet classes, Craftsy also offers classes in other areas such as knitting, sewing, quilting, cooking, photography and more (the list goes on and on).  It's such a great value and a way to tell someone you love them over and over again!

Lion Brand is one of my favorite brands and they have a great website to explore.  Check out their kits here or any of their yummy yarn here.  Be sure to click around and check back often because they are always running amazing sales that crocheters love.
I love Amigurumi crochet kits!  In fact 13 year old me would have had the best Christmas ever with one of these kits!  Oh who am I kidding …. 40+ me is enamored with them too!  See the complete list of Crochet Dolls and Animal Kits here!
Are you loving the 50 gift ideas for crocheters so far?!  Yes?!  Let's move on…
Crochet Jewelry
Get your bling on with these fun crochet and yarn related jewelry pieces!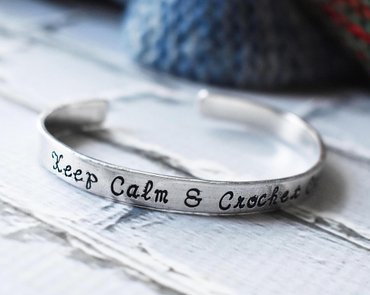 This Keep Calm and Crochet On bracelet is one of my favorites!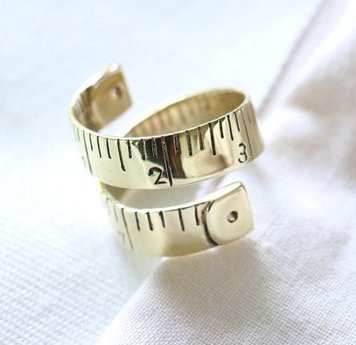 This tape measure ring is the cutest!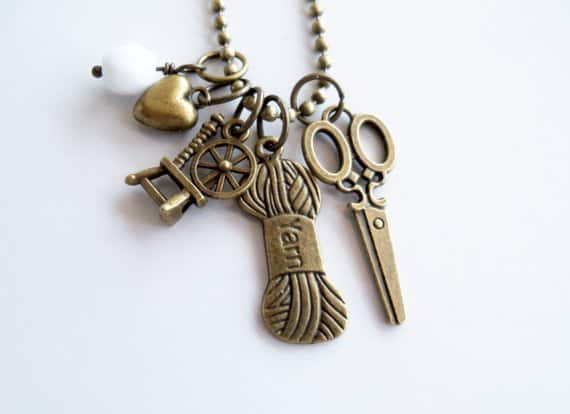 Or how about this necklace?  I might even like this one better!

Or how about something useful that you can also wear?  These stitch markers can be pinned on your lapel!
I love seeing your finished projects!  If you share any of your crochet projects from the blog on Instagram, be sure to tag me @crochet365knittoo.  If you are on Facebook, stop over to the Crochet 365 Knit Too Facebook page and share a photo!  I'd love to see your work!