It can be hard to make the right gift for someone who is going through a tough time. A crochet prayer shawl is a way to share love with someone else.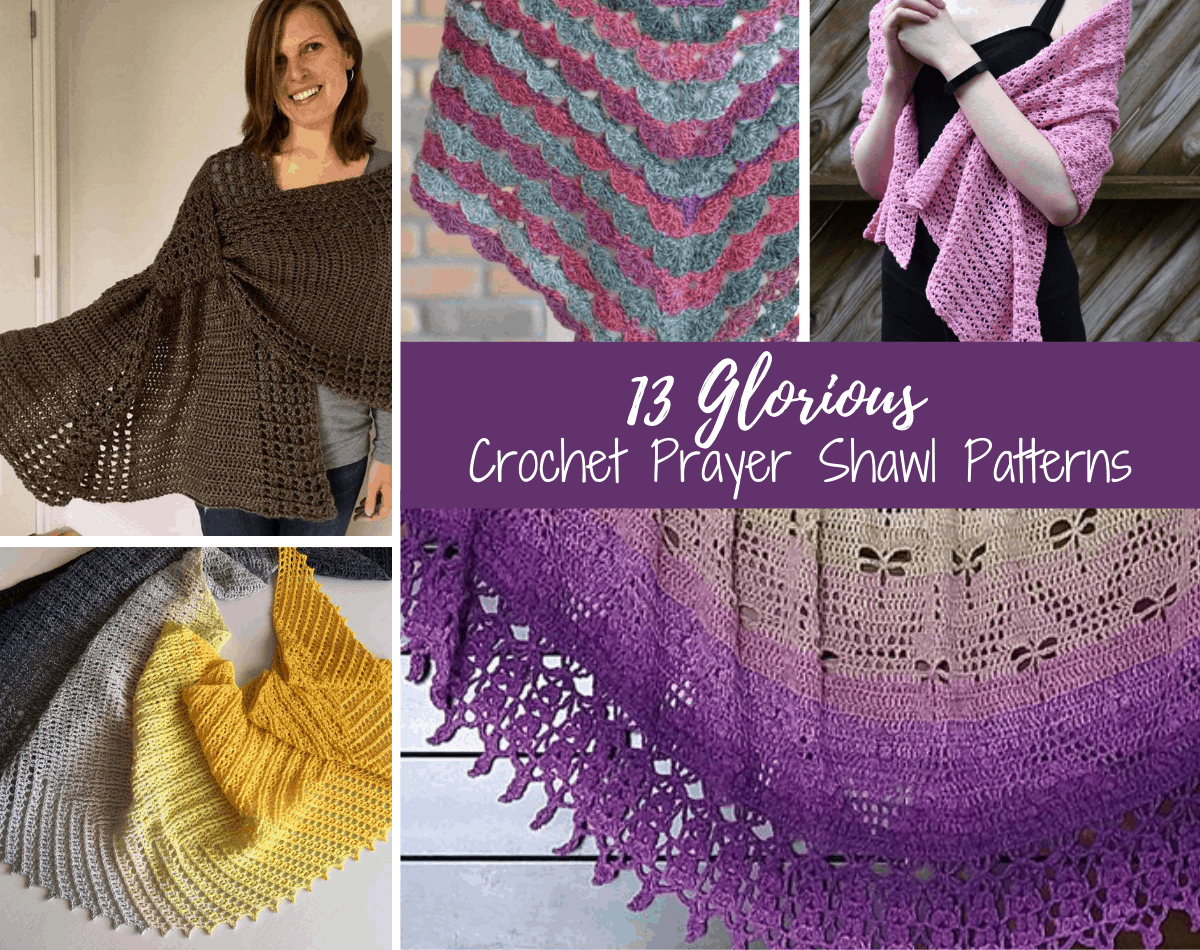 A prayer shawl gives comfort and expresses care for the recipient whether they are going through a troubling time or celebrating something special. It is a hug you can wear. The recipient feels the love of the gift of the shawl. A crochet prayer shawl can help ease feelings of helplessness.
Crochet prayer shawls are an excellent way to give someone that extra bit of warmth, comfort, and support during difficult times in their lives.  Sometimes, though, prayers shawls are made to celebrate happy times like a birth or a wedding.
It is more about the intention while you are crocheters.  Many crocheters will pray for the person while creating. And if you're not a religious person, you can repeat a meaningful phrase, song or mantra as you work, putting loving thoughts and feelings into every special stitch.
Sometimes prayer shawls are made for someone specific.  Other times they are a charity project, donated to a shawl ministry, for an unknown someone going through a rough time.
You really can use any crochet shawl pattern to make a prayer shawl.  You can find a free pattern for a comfort shawl, crochet pocket shawl or even a lap blanket or baby blanket and transform it into a prayer shawl.
Many find it works best when you can find a repetitive stitch pattern that enables you to get into the rhythm and meditative act of crocheting the shawl.
Here are some favorite crochet prayer shawl patterns to get your prayer shawl juices flowing: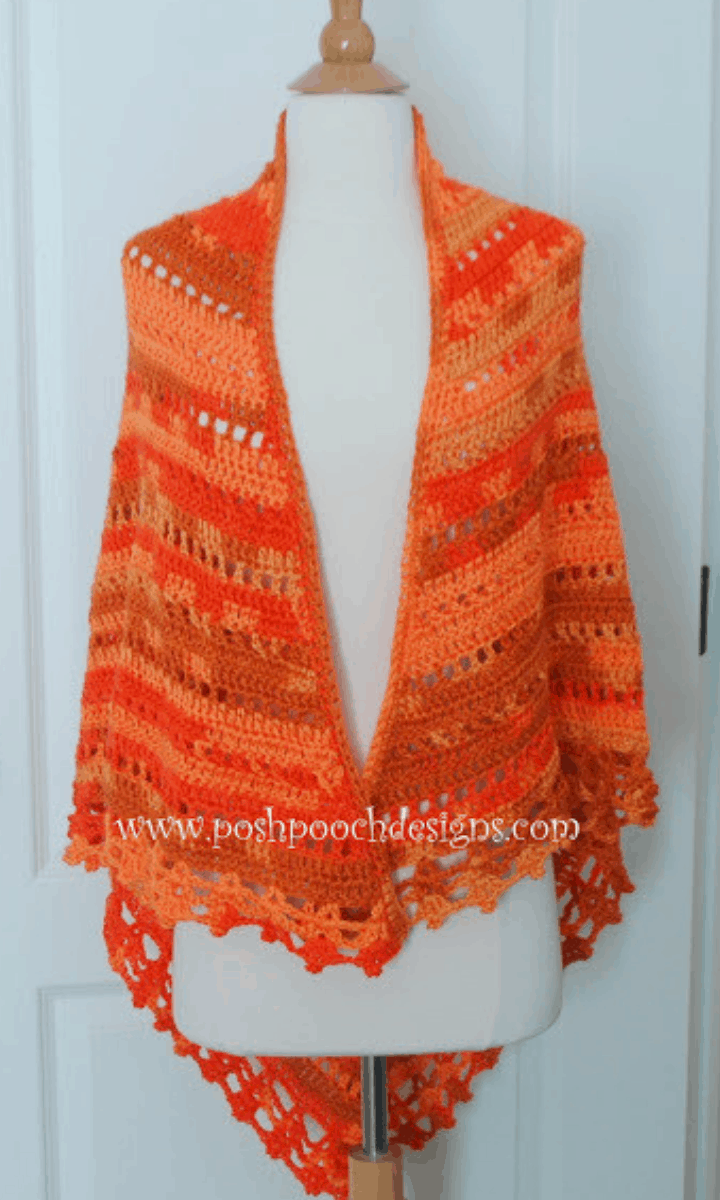 When you need a bright and cheerful prayer shawl, Posh Pooch Designs has got your back… literally!  I love that this combines that repetitive, soothing pattern with a really fun, beautiful border!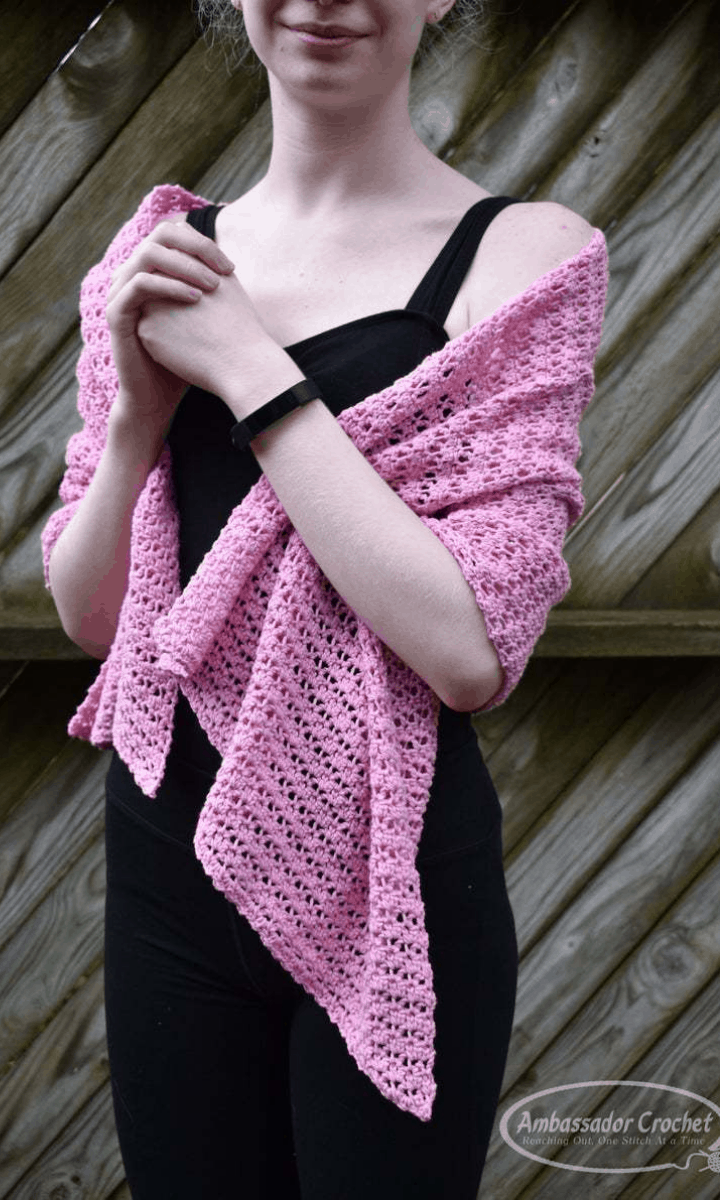 If you're looking for a repetitive, but beautiful prayer shawl pattern you are going to love this pattern from The Little Bee NZ! Easy to make, and pleasing on the eyes.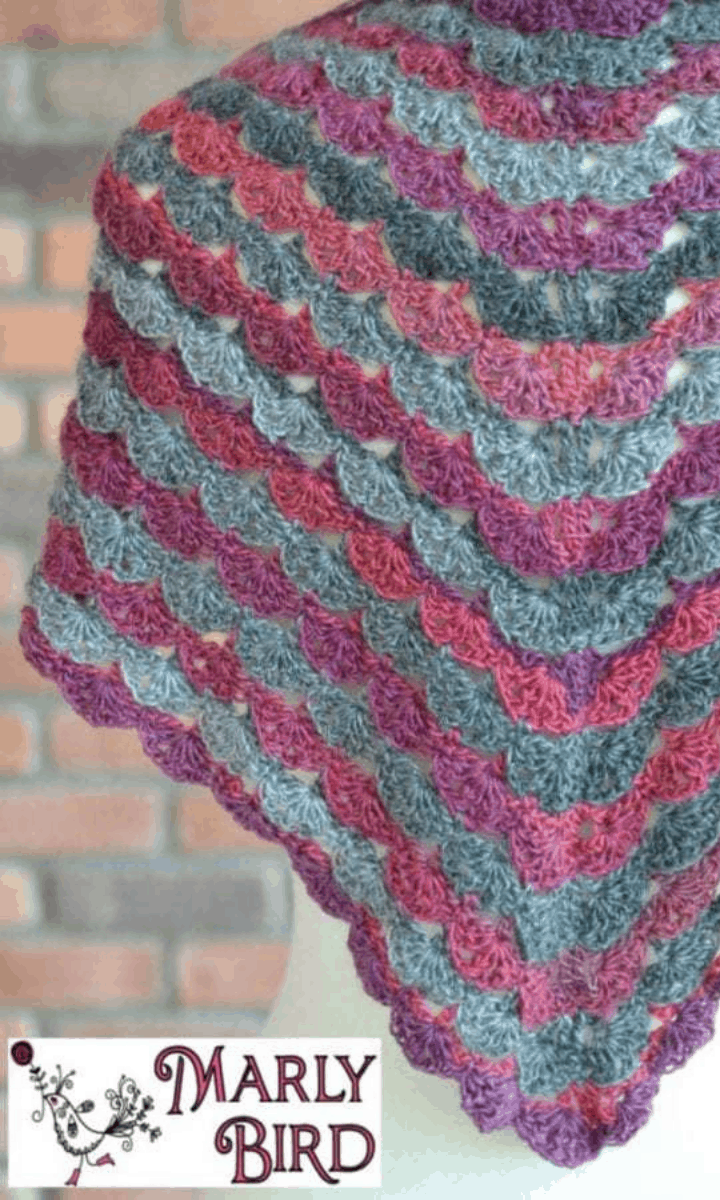 Marly Bird knows how to put together a easy but well designed shawl, and this one is no exception! Beautiful and fun, this one is a perfect prayer shawl pattern.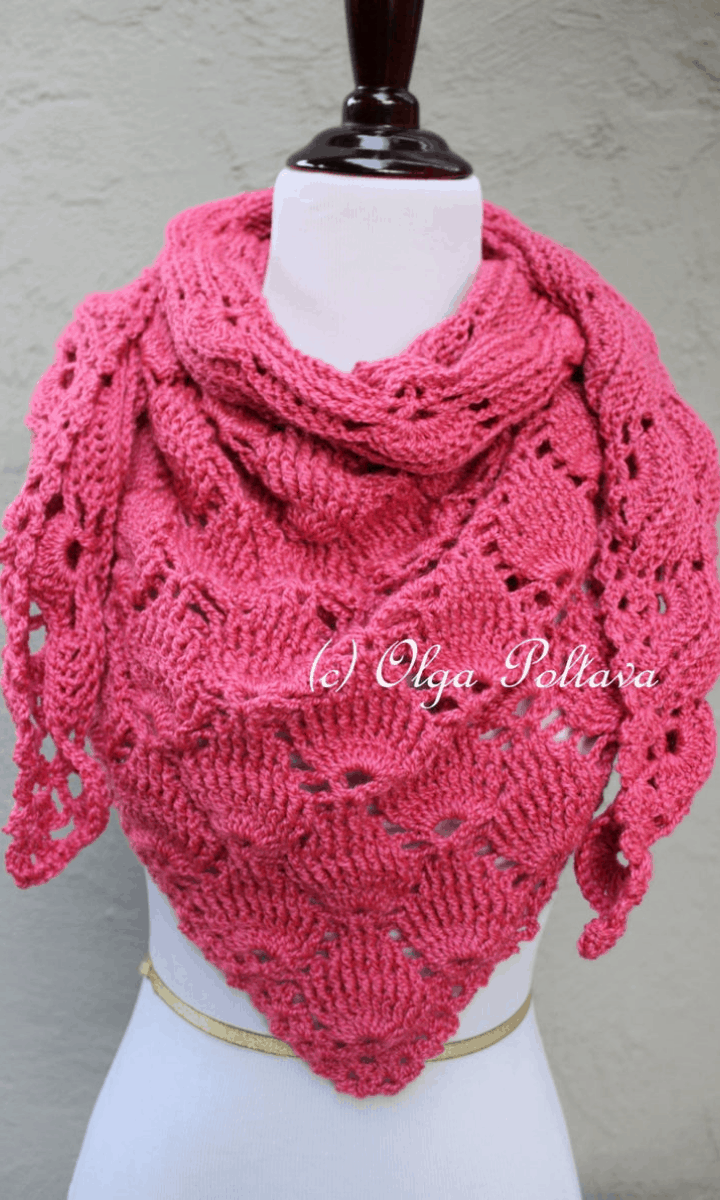 I love the shell-style of this shawl by Olgapoltava! It takes a bit more concentration and would be a great prayer shawl but I can't help but thing it is just the perfect size to wrap around yourself for your morning prayers!  (There's really no rule saying you can't crochet a prayer shawl for yourself!)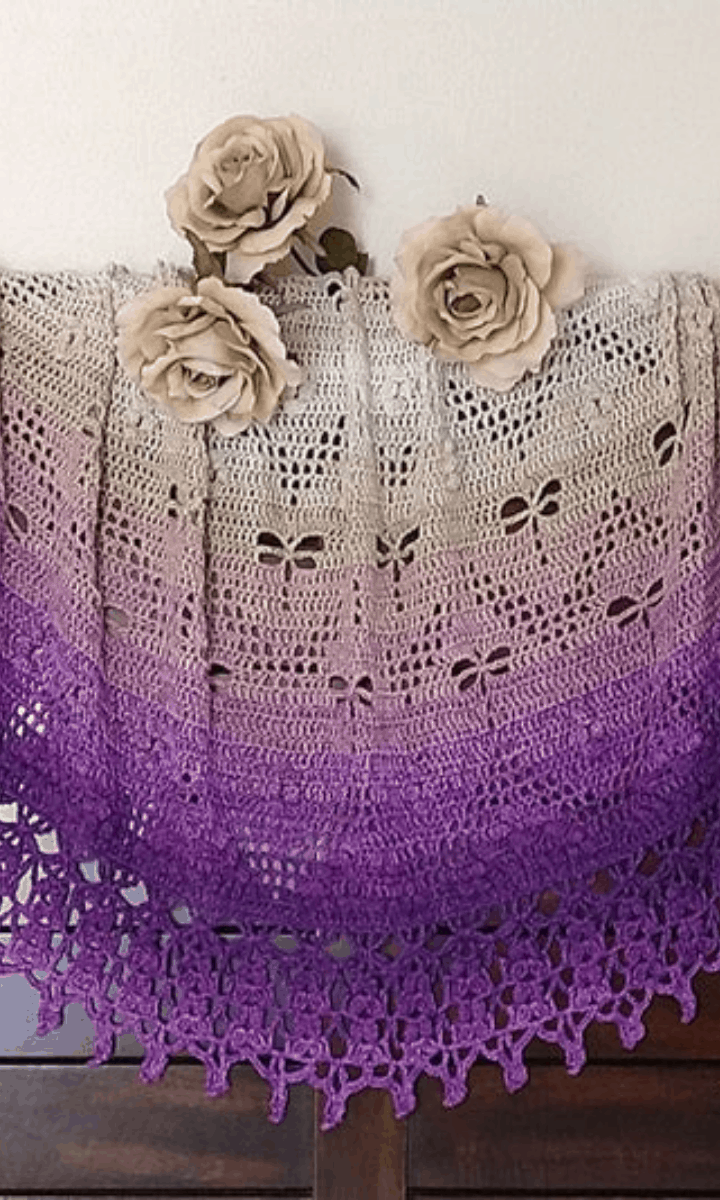 I love the combination of dragonfly and lace on this gorgeous crochet shawl by Auburn Craft.  I cannot get enough of it! Not too flashy, but just enough to show some fun personality to your next prayer shawl!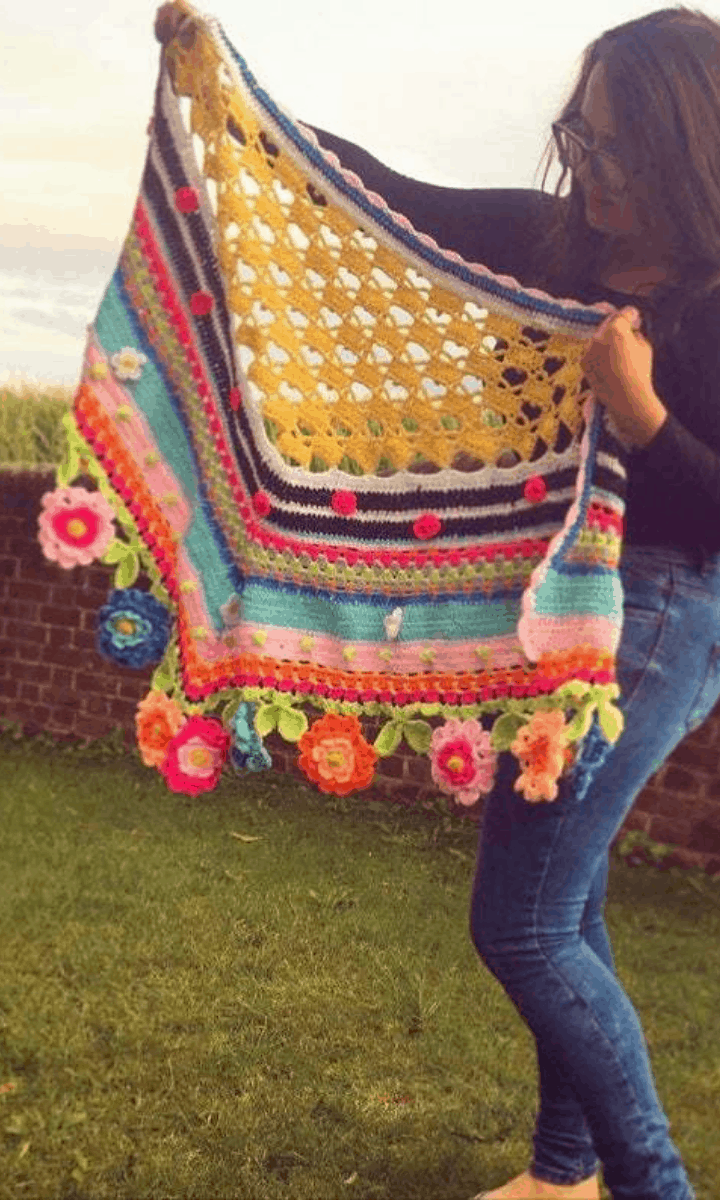 What better way to celebrate the beauty of creation than to crochet this flowery shawl by Spit Spot Crochet!  This is another that requires a bit more concentration, but wow.. what a show stopper!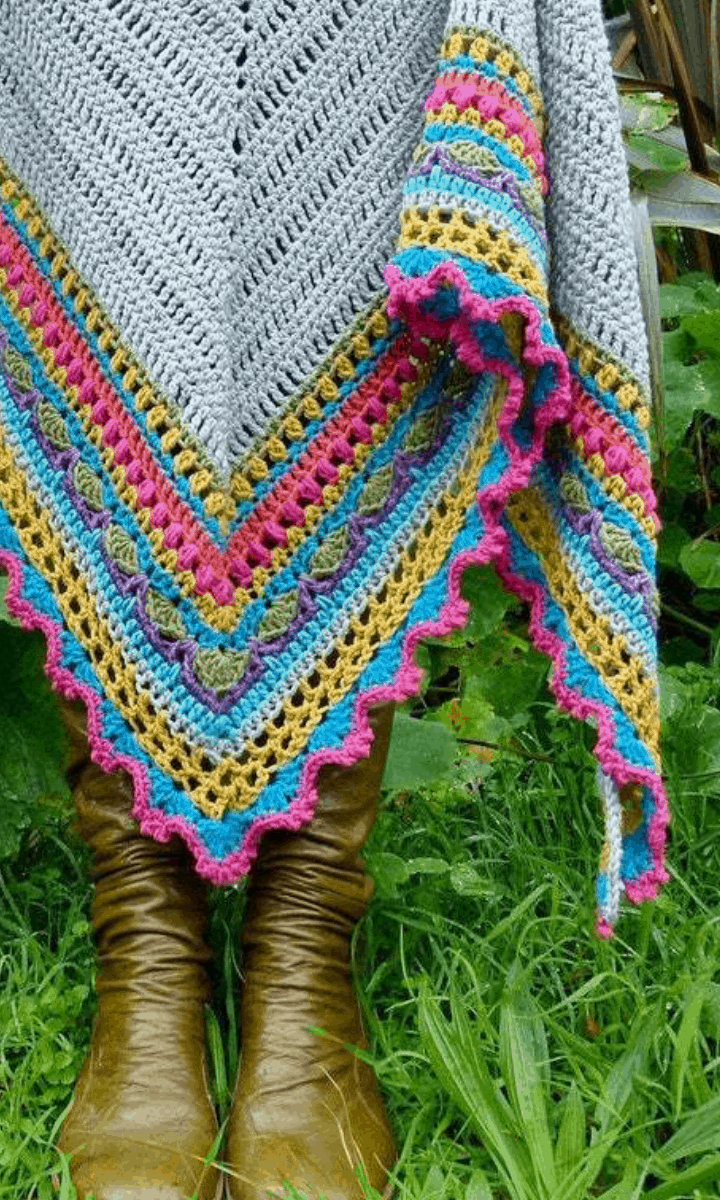 I love the perfect combination of simple with a flashy finish with that wide border in this shawl by The Little Bee NZ.  All the rows are slightly different which reminds me that each of us are going through different struggles, and how our prayers, thoughts and crochet unite us together.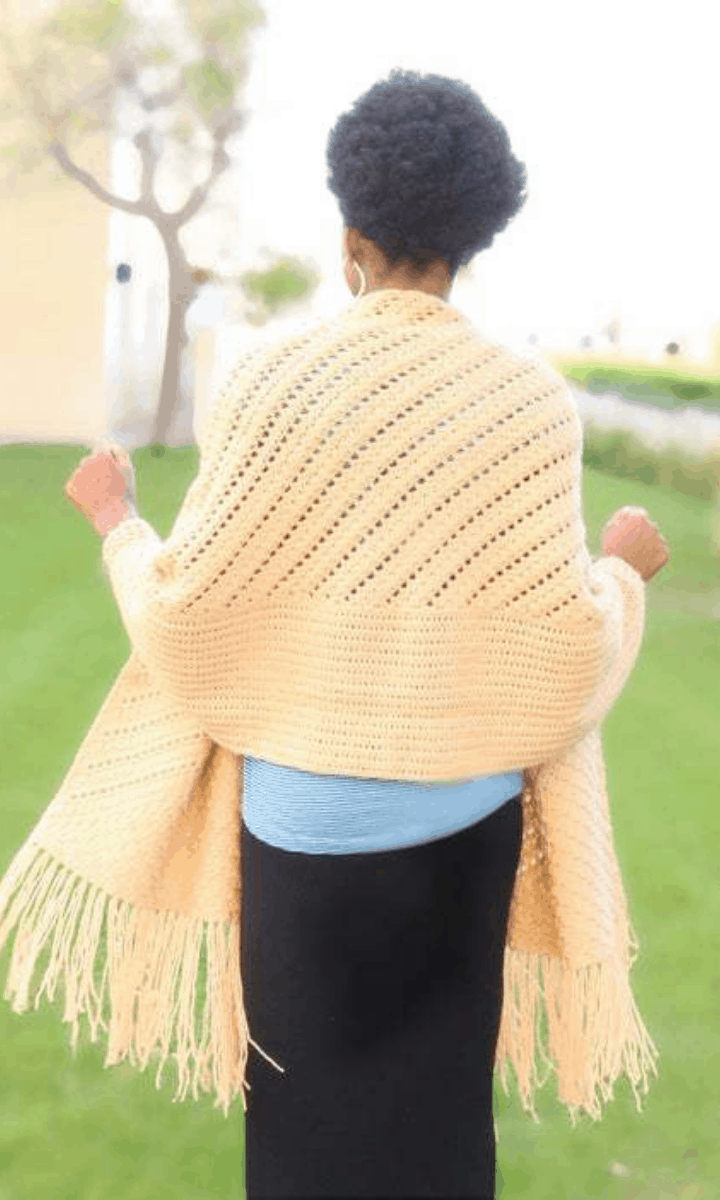 Who appreciates the simplicity of this shawl by Craft Her Blog? This would be so fun to crochet and that fringe is just the perfect finishing touch.  This would be a fun prayer shawl to make and to give.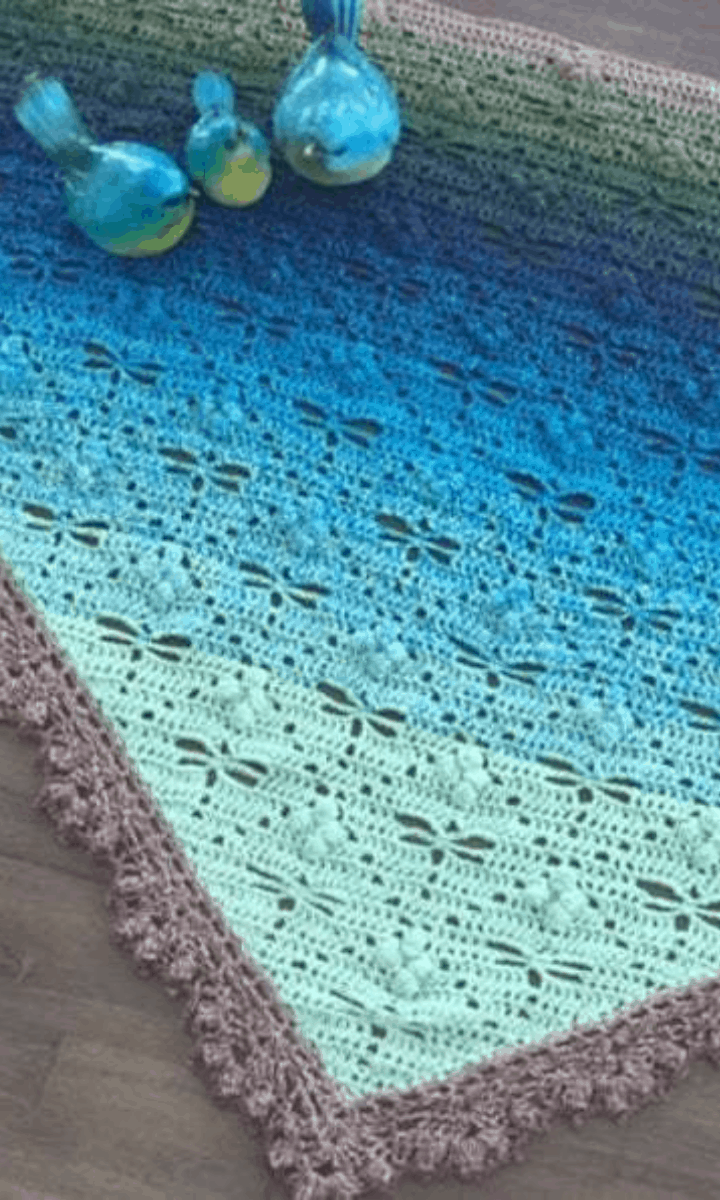 Another beautiful dragonfly shawl by Auburn Craft! I love the orientation of the stitches on this one and the border is breathtaking!  This is one prayer shawl I might have a hard time giving away!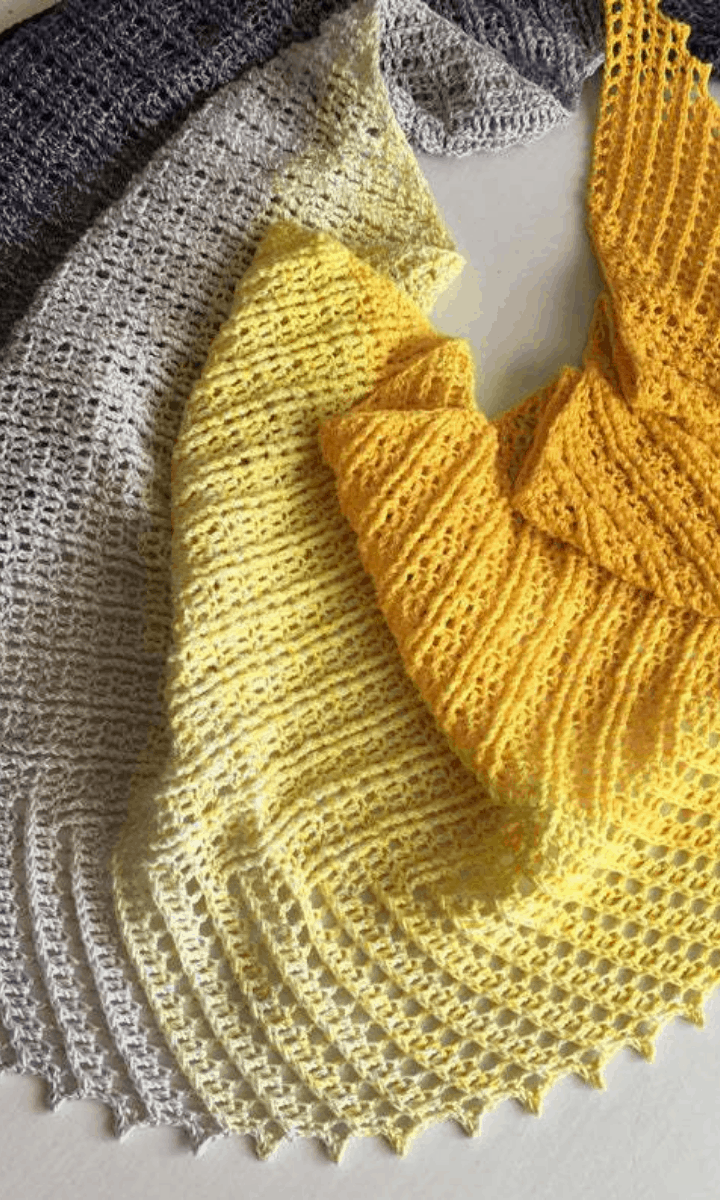 I feel like ombre yarn teaches a valuable lesson about embracing change, and Mijo Crochet Designs' prayer shawl demonstrates that perfectly!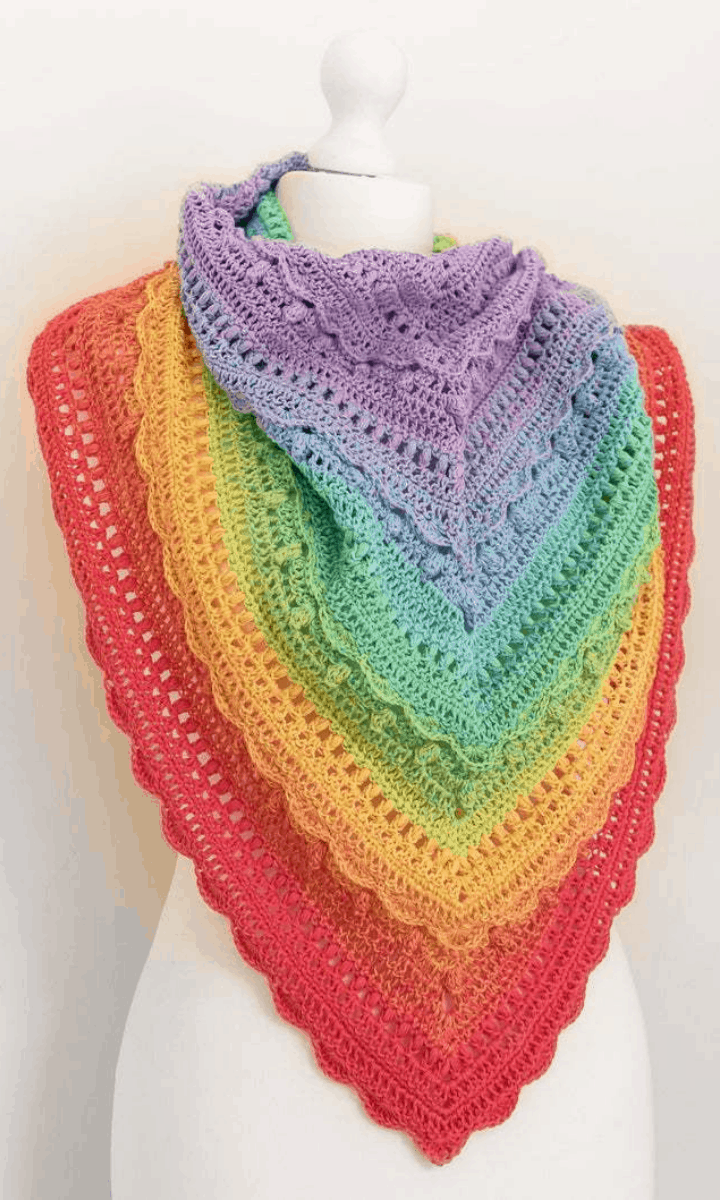 This prayer shawl by Wool n Hook reminds me of God's promise of the rainbow! So colorful and joyful!  It would also look lovely in a solid color too!  Gorgeous!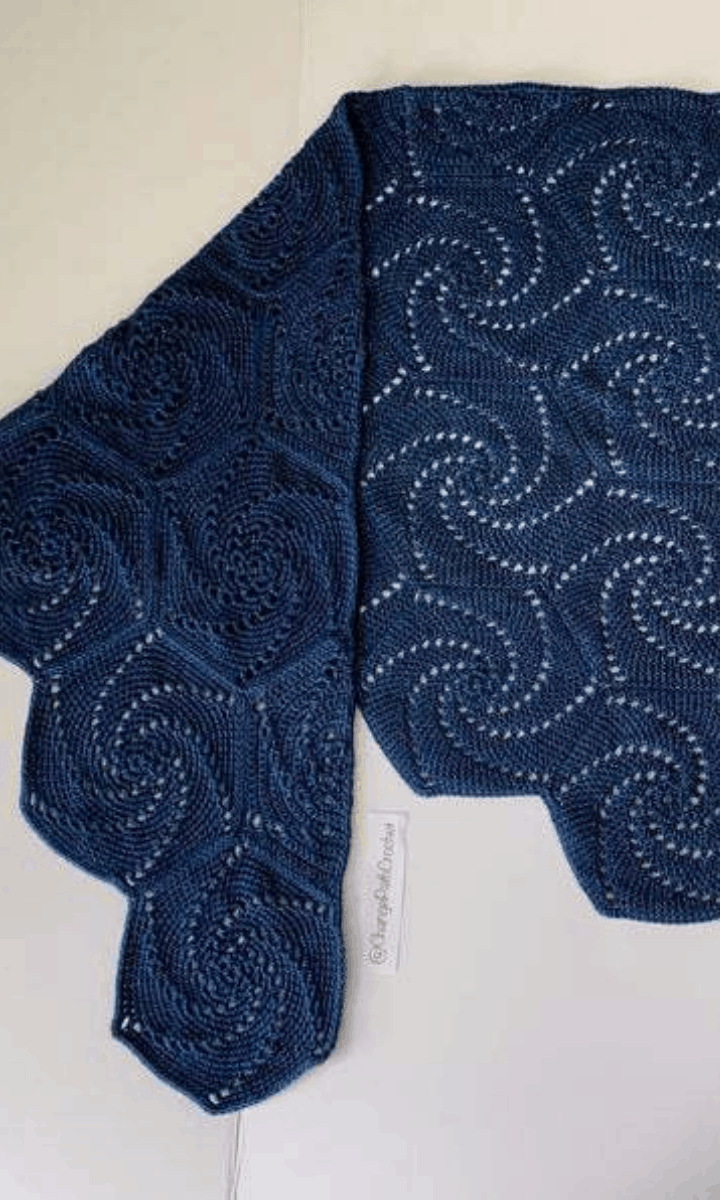 Sometimes, life throws a lot of change and "spirals" our way, and this lovely shawl by Change Path Crochet embraces those hardships in this prayer shawl wonderfully!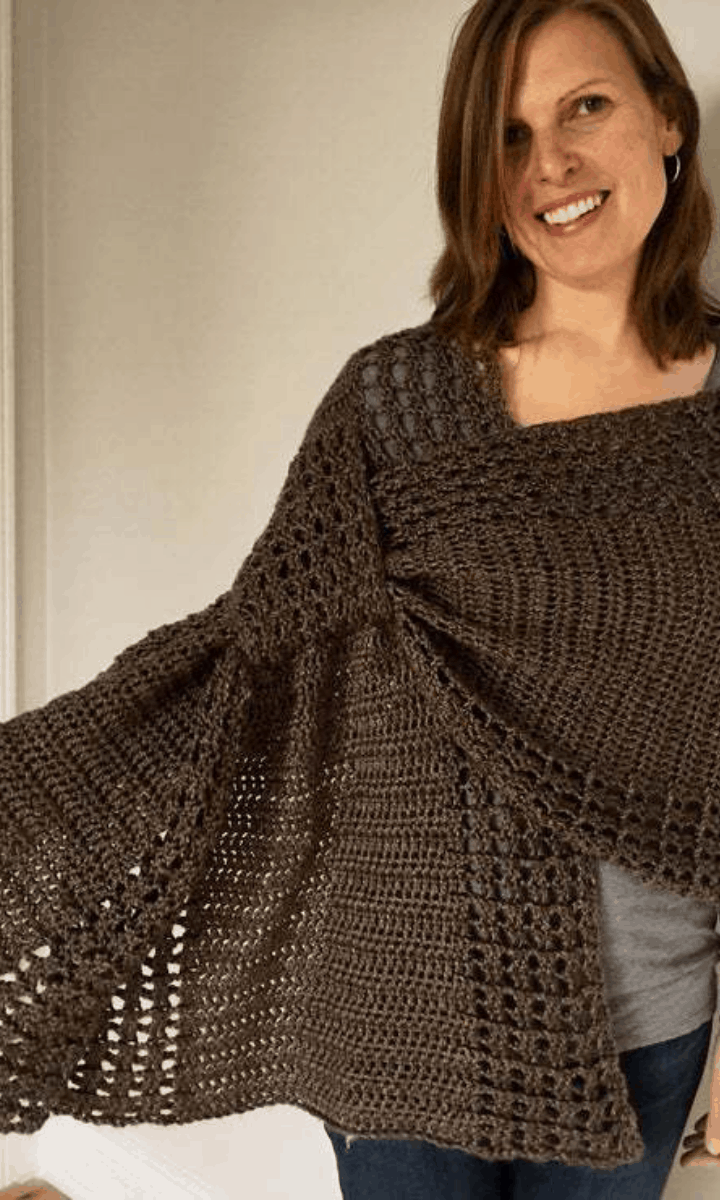 Last but not least, Knot Yourself Out brings us this simple prayer shawl that looks so cozy!  This would be a fun one to crochet!
Frequently Asked Prayer Shawl Questions
What is a Prayer Shawl?  A prayer shawl is a knit or crochet shawl that is made as a gift to someone else. Think of it as a crochet hug, where the crocheter prays and sends good thoughts into the stitches and the gifts it to someone else.  It often is given to someone going through tough times in life, but it also can be given in joyous occasions too.
How Do You Crochet A Prayer Shawl?  A prayer shawl is really about the intention of the project.  So any shawl pattern will do.  Most people find it easiest to crochet a simple, repetitive pattern so they can pray or think good thoughts while crocheting.  But you certainly can crochet a more complicated design if you wish.
Who Would Be A Recipient of a Prayer Shawl?  You can give a prayer shawl to anyone!  So you can make it for someone you know as a friendship shawl, praying and thinking good thoughts for a specific person or intention.  Or you can make it as a charity donation through a shawl ministry where you don't necessarily know the recipient personally.
What is a Prayer Shawl Used For?  The receiver of the prayer shawl can wear the shawl as an ordinary shawl, knowing that someone lovingly crocheted it while thinking of them and praying. It is meant to give comfort, both physically and emotionally to the wearer.
MORE PRAYER SHAWL IDEAS
If you love crochet prayer shawls, you might enjoy these crochet afghans.  Adjust the sizing for a prayer shawl or just crochet an afghan instead to give comfort to someone in need.

1. Crochet Flower Blanket //   2. Crochet Scrap Blanket //   3. Happily Ever Afghan
Crochet Prayer Shawl Final Thoughts
Do you love these beautiful prayer shawl patterns as much as I do?  I hope you enjoyed this journey through crochet prayer shawls and you found one or more crochet shawl patterns that caught your eye.  The making and giving of crochet prayer shawls is a beautiful practice and a way to spread a little more love around in our world with a simple crochet hook and a loving heart.
I love seeing your finished projects! If you enjoyed making a crochet prayer shawl, I'd love to see yours on Instagram.  If you are on Facebook, stop over to the Crochet 365 Knit Too Facebook page or pop over to the Crochet365KnitToo Club and share a photo!  I'd love to see your work!