Introducing…  Michael a crochet monkey pattern.  Do you love him as much as I do?  I don't know about you, but this photo makes me want to just reach right through that screen to pick him up and give him a little squishy hug!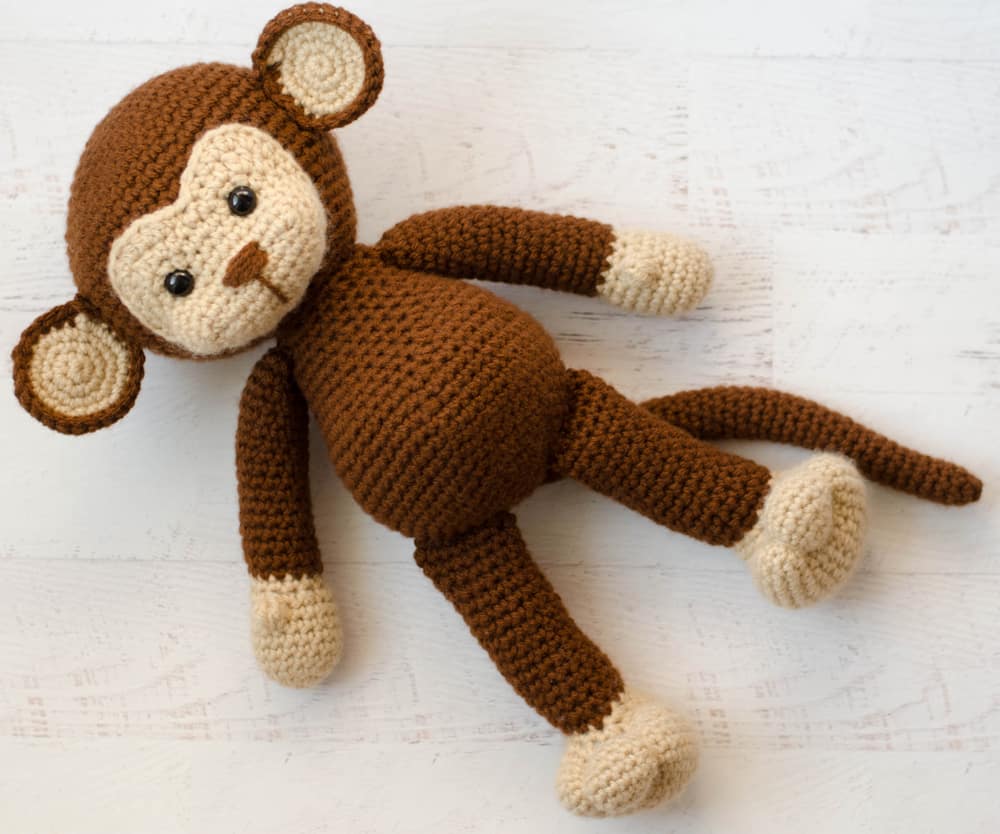 How about you?  Do you feel that way too?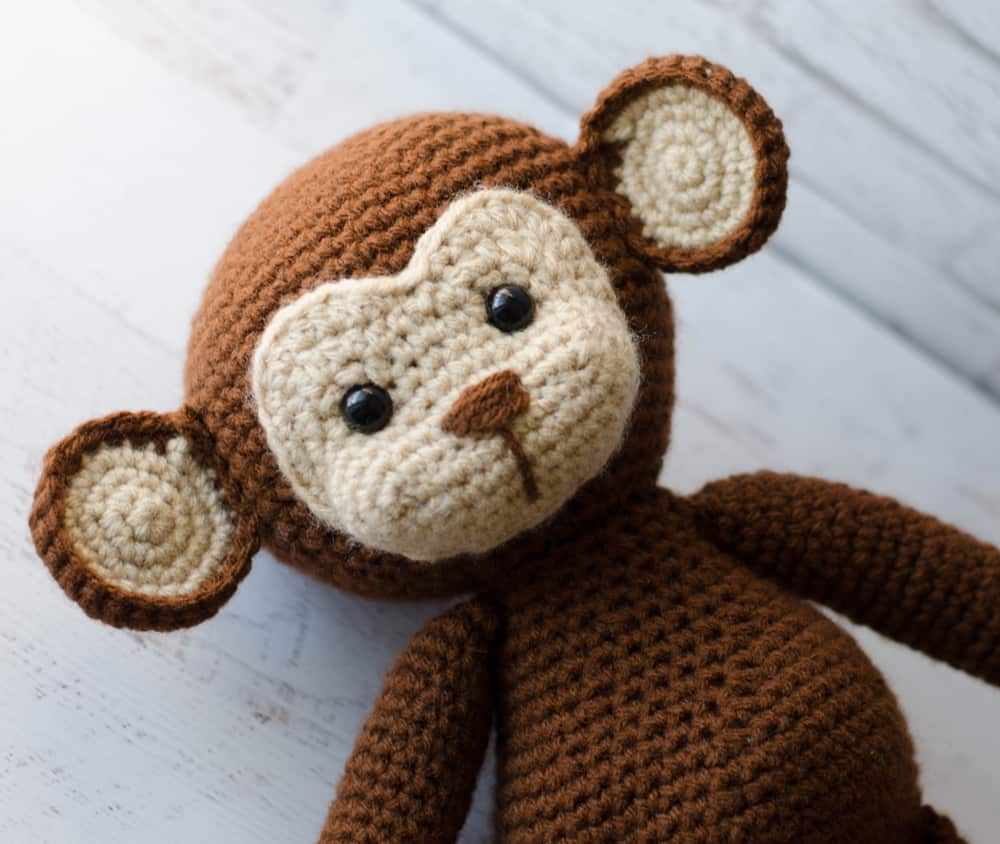 This face!  Designing a crochet monkey pattern has been on my bucket list for a long time.  What held me back was the snout and eye area.  I struggled to think of a way to get my vision into the finished design.  Finally I decided to just start crocheting and work to get the shape I wanted.  I would crochet a bit, rip out and redo, a little bit forward and a little bit back, until I got just the look I wanted.
And then, of course, I didn't write it down very well and I had to re-make it several times, going over and over my directions to make sure I had it just right.  There's a lot of ripping out when I'm designing.  But it's important to me to get it just right and then to get that information down correctly for you in a pattern!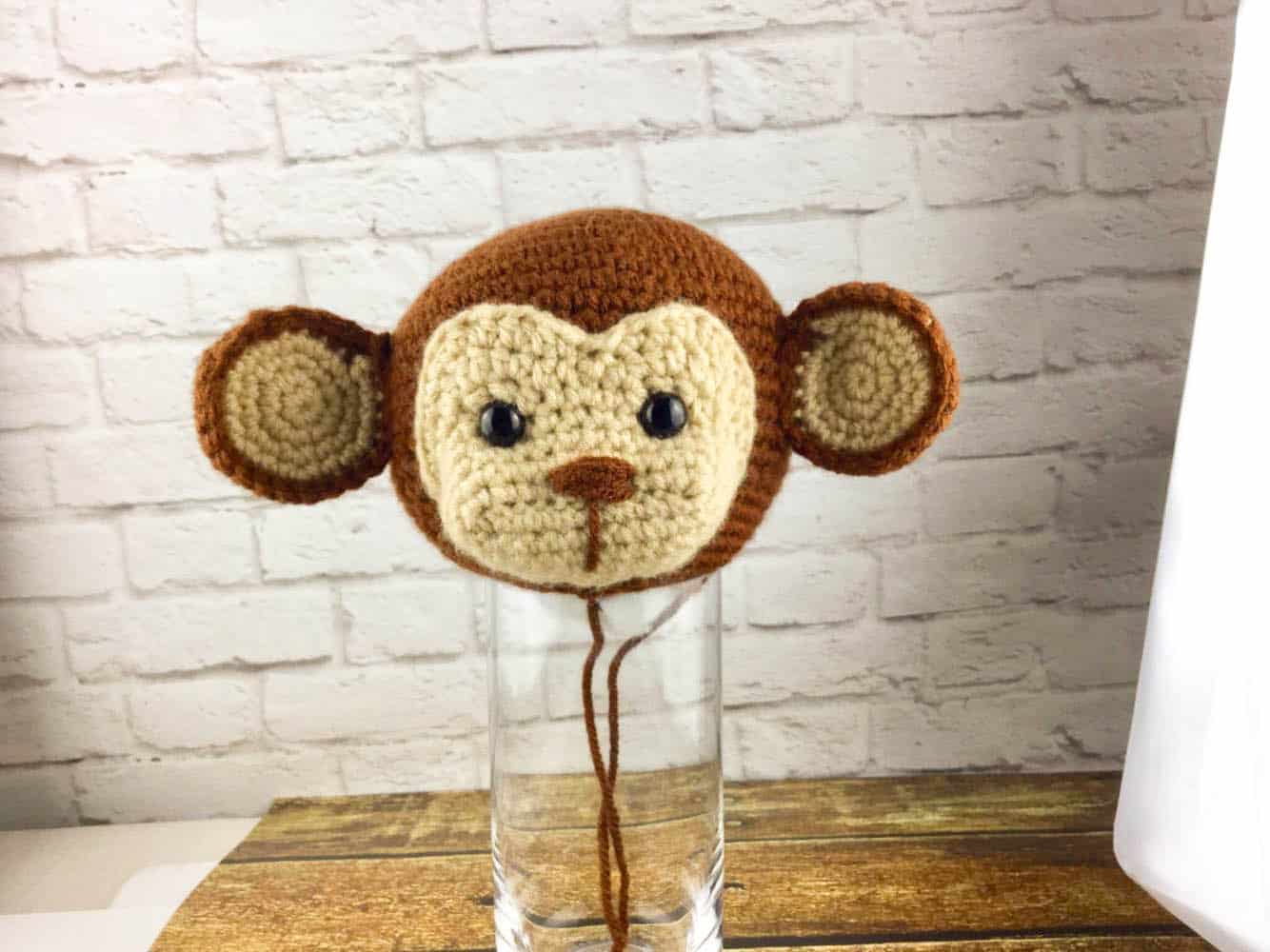 Here's a real inside look at my design process.  I always design my amigurumi heads first.   I like to get their facial features down and all the little touches just right.  Then once the head and face is done, I feel like I get a sense of how the body needs to be.  This guy wanted a little bit of a pudgy body because he's a cuddly fellow.
This photo also is a glimpse inside view into my photography process.  This is an artificial light set up I came up with recently. I really prefer using daylight for my photos–and all the other photos in this post were shot with daylight as my light source.  But Michigan winters are often gray and gloomy and it's hard to find just the right light sometimes.  So I bought these really great lights off of Amazon.  They are inexpensive and a pretty amazing value.  The lights are on tripods and adjust in a lot of positions.  Plus–and this might be my favorite part—it completely breaks down and stores into a small duffle.  If you sell your crochet–or even if you want to get better photos of your projects, these lights might work for you too.
I use vinyl backdrops (think miniature tablecloths) to simulate wood and brick when I take photos for my blog and shops.   I did a post about how to make a DIY backdrop for cheap that you might like to read.   The backdrop is holding the brick vinyl backdrop.  The drinking glass is actually sitting on some photo backdrops that look just like real wood.  You can see I've got a few piled up, with the dark wood plank backdrop on top.  If you want to see that backdrop in action, take a look at my Buffalo Plaid Cowl photos.  Fun, right?  There are 2 Etsy Shops where I purchase my vinyl backdrops:  Ink and Elm and Swanky Prints.  Those are some fun shops to check out if you want to up your photography game.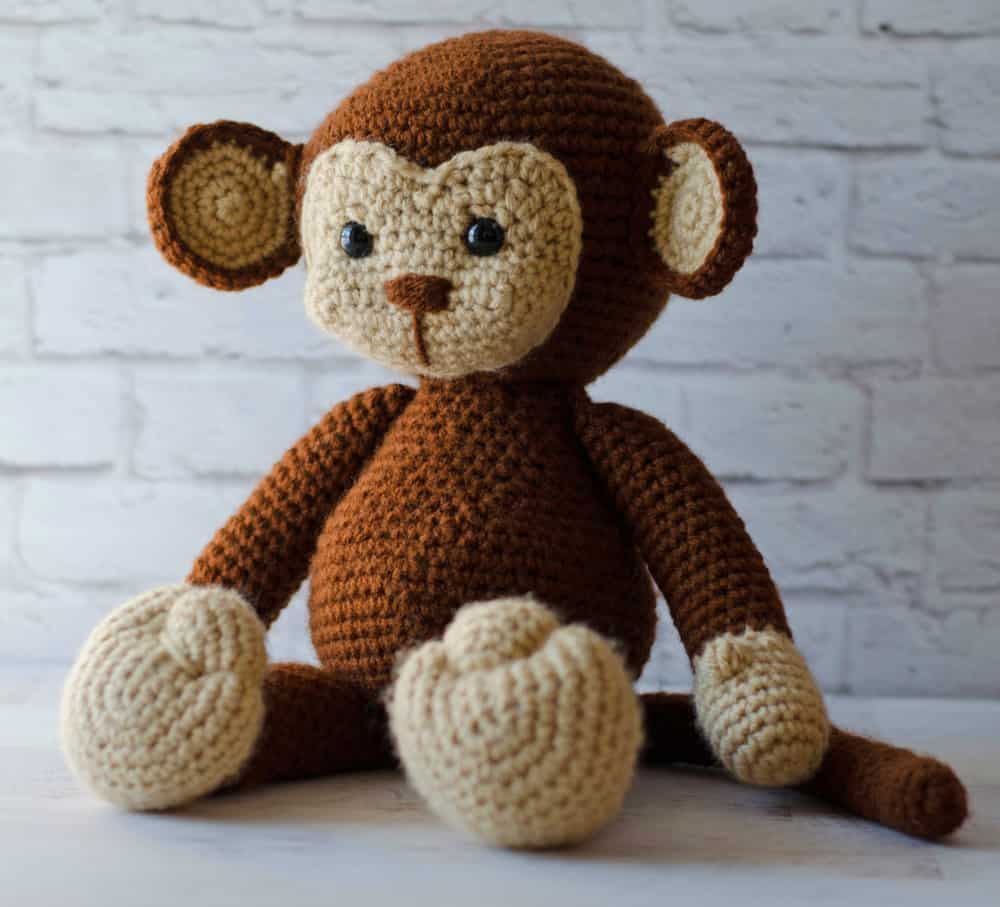 If you love Michael the Crochet Monkey Pattern as much as I do, be sure to pick up your copy in my Etsy or Ravelry shops.  Michael's dark brown body is made out of Bernat Super Value yarn in Walnut Color and his hands, feet and snout are made out of Bernat Super Value yarn in Dark Heather.  And if you haven't already done so, check out my favorite crochet hooks. I never thought I'd leave my old faithful Boye metal hooks, but…wow, what a game changer.  These are so much more comfortable and I think I even crochet faster too!
I love seeing your finished projects! If you enjoyed making one of my patterns I'd love to see yours on Instagram, be sure to tag me @crochet365knittoo.  If you are on Facebook, stop over to the Crochet 365 Knit Too Facebook page or pop over to the Crochet365KnitToo Club and share a photo!  I'd love to see your work!
SaveSave
SaveSave
SaveSave
SaveSave
SaveSave
SaveSave