Crochet Steering Wheel Cover Patterns
This post may contain referral/affiliate links. Please read my disclosure for more info.
The sun can really destroy our steering wheels, so whether you're trying to protect your steering wheel or your car tends to get a little hot, it may be time to make a crochet steering wheel cover! Plus, they just look super cute and it really helps make your car feel like yours.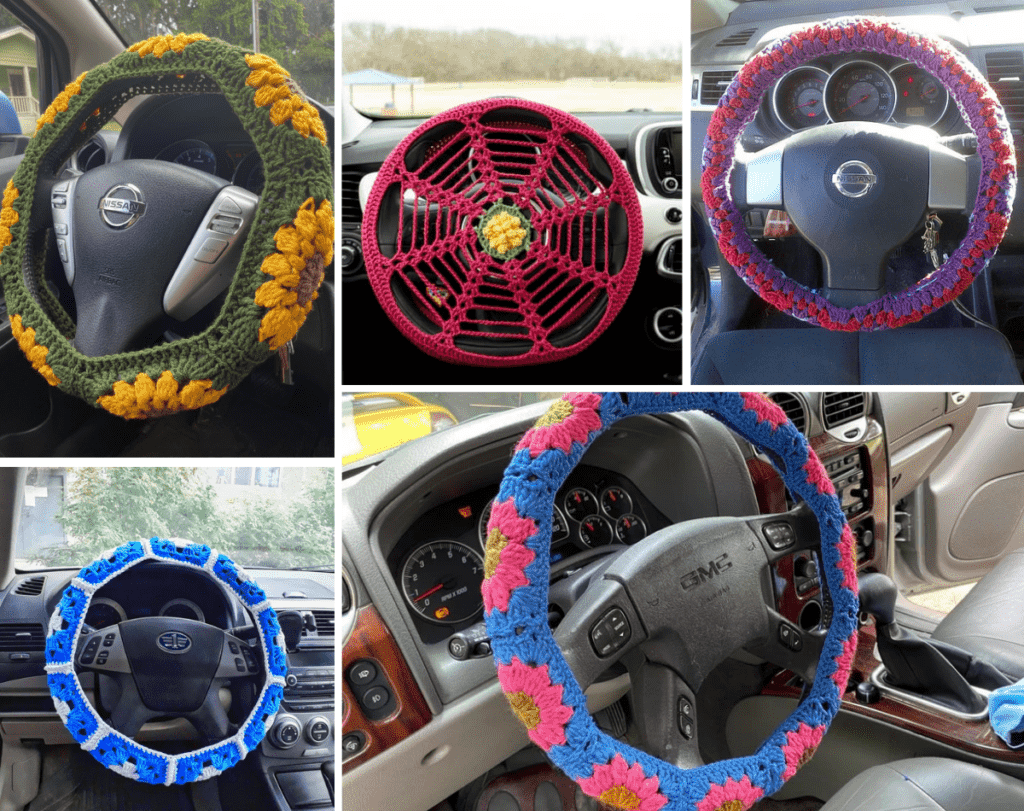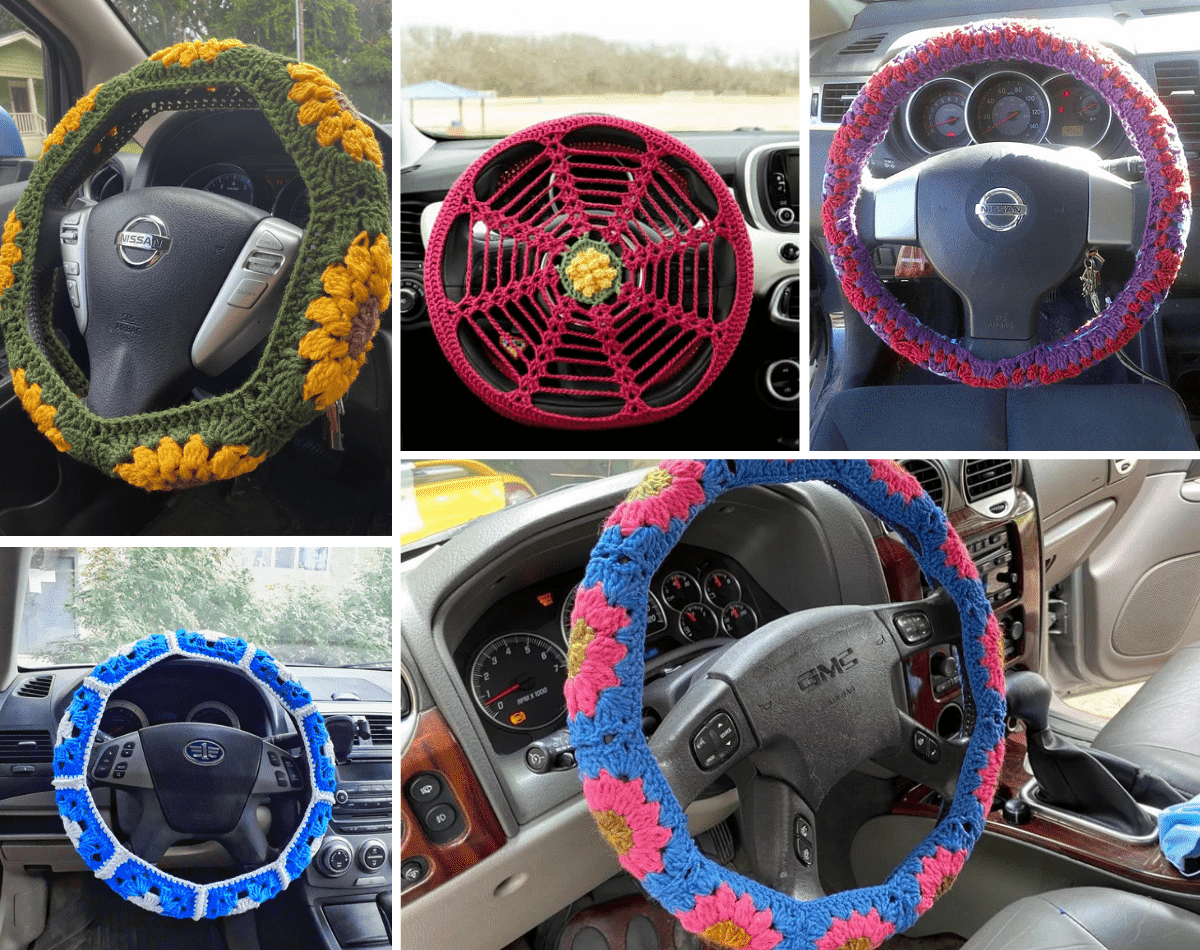 Do you ever grab your steering wheel and you're like "wow, I think there may actually be burn marks on my hands now"? Well, all that can be prevented with a beautiful crochet steering wheel cover pattern.
Most of these patterns use a variety of basic crochet stitches, so make sure that you know how to work a single crochet stitch, double crochet stitch, and slip stitch (sl st). Since these great patterns won't take a long time to complete, your cute car bling is just a few steps away!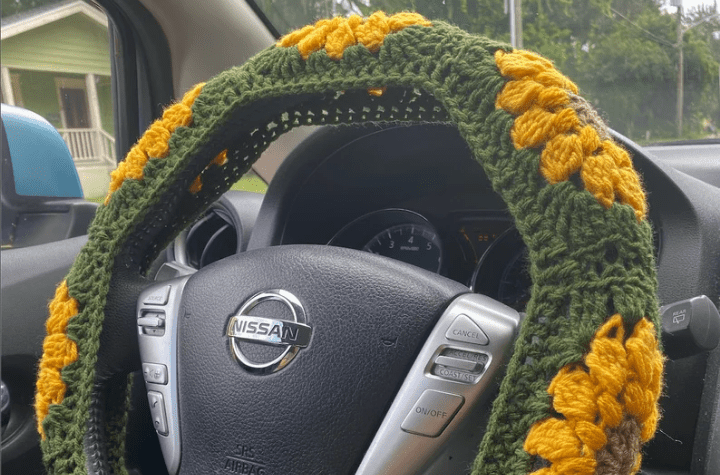 Well if it isn't my good old friend… sunflowers! This beauty of a pattern is the Sunflower/Evil Eye Steering Wheel Cover by Laurel Bee Crochet and I just love the way this looks. This pattern has been labeled as an advanced beginner pattern and it's written for steering wheels that are 14.5″ to 15.5″ in diameter, so if that's about the size of your steering wheel, it will be a perfect snug fit. If not, you may need to make some modifications to the pattern.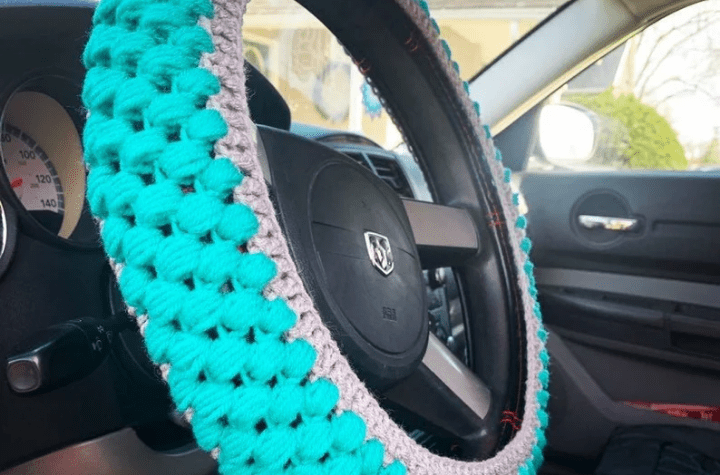 This pattern is the perfect classic and can be easily modified to fit the diameter of your steering wheel. This is why the Clara Steering Wheel Cover by Lady Eli Crochet is perfect for those who need to modify their pattern a bit to get a snug fit. Plus, this design will totally work for anyone, and you could match the yarn color to the color of the interior of your vehicle and camouflage it if you wanted!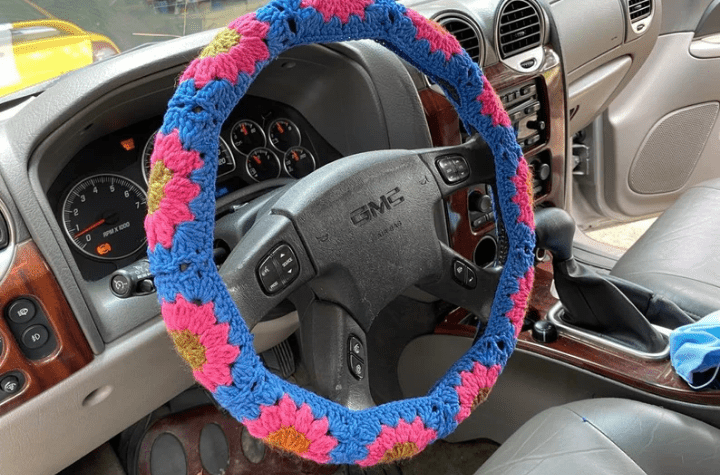 The Floral Steering Wheel Crochet Cover by Natalie Spot is great for adventurous beginning crocheters. I am also a big fan of the yarn color choices in this design, I just think it turned out so beautifully. This is a crochet pattern you will not want to miss out on.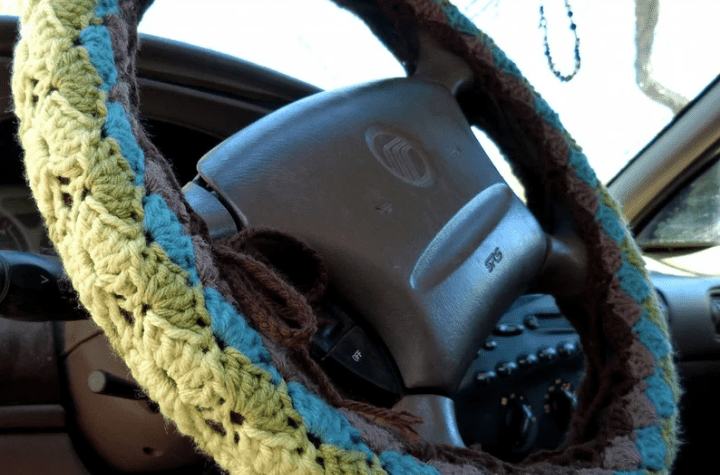 This pattern uses five different yarn colors as well as a tie feature for the perfect snug fit. The Steering Wheel Cozy Car Vehicle Accessories Cover by Sylver is a fun challenge for those who are a bit more experienced when it comes to crochet.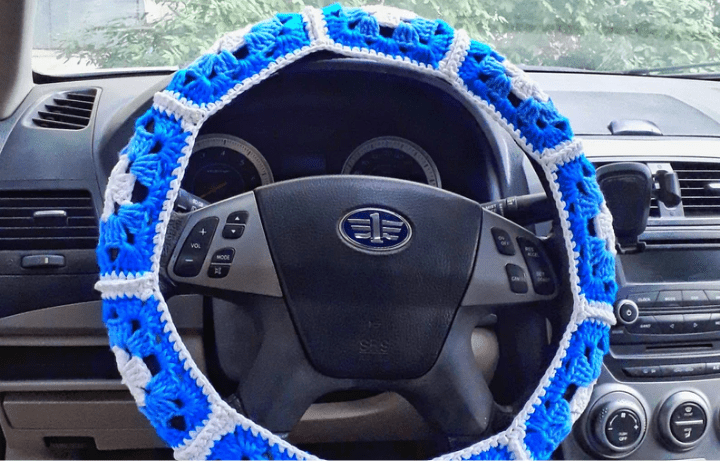 Who doesn't love blue flowers? They're simply a perfect combination. I absolutely had to share the Crochet Steering Wheel Cover by Svetla Art Crochet as soon as I saw it because I thought it was absolutely stunning. I really appreciate the use of different granny squares, but it may be difficult to adjust the sizing since it's not a repetitive pattern. So, if you're steering wheel is a little weird in diameter, be extra careful when picking out patterns!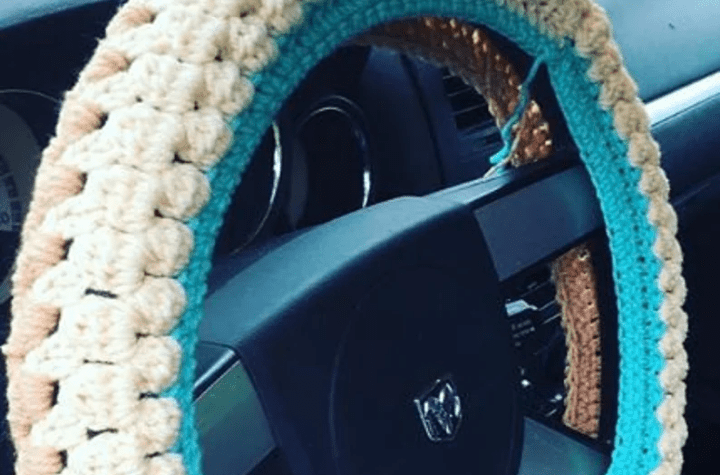 Maybe it's just me, but the Cotton Ball Steering Wheel by Lady Eli Crochet sort of reminds me of a spare tire. Somehow though, that makes it even more adorable.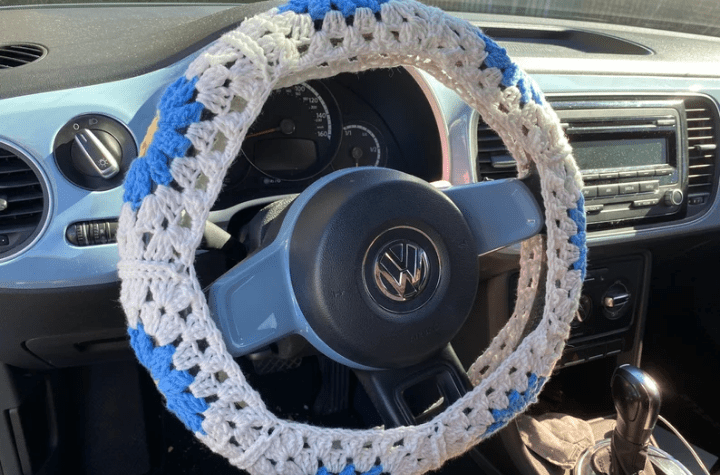 Maybe I've just seen too many VW buses but whenever I see a VW I think of flowers. That's why I feel like the Flower Power Steering Wheel Cover by Crochet Fabulous is so on brand. This also provides a pattern with right-handed and left-handed pictures, which is super helpful to all the left-handed crocheters out there!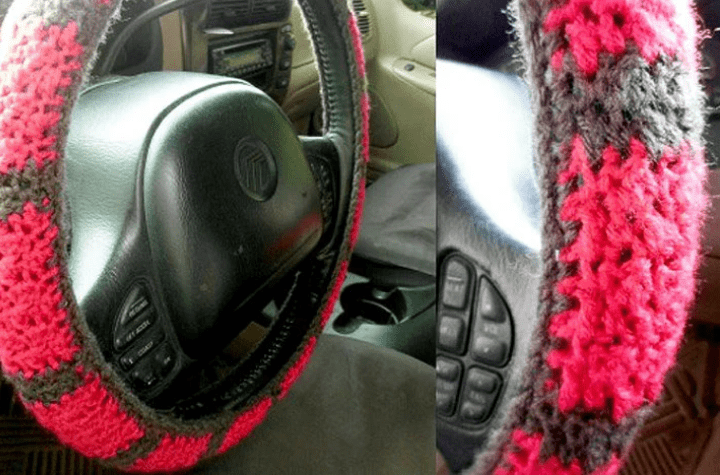 The Steering Wheel Cover by Stitch 11 Crochet is perfect for beginners, as you only really need to know how to do a chain, single crochet stitch, and double crochet stitch. So, if you're a beginner, you may want to try this one out.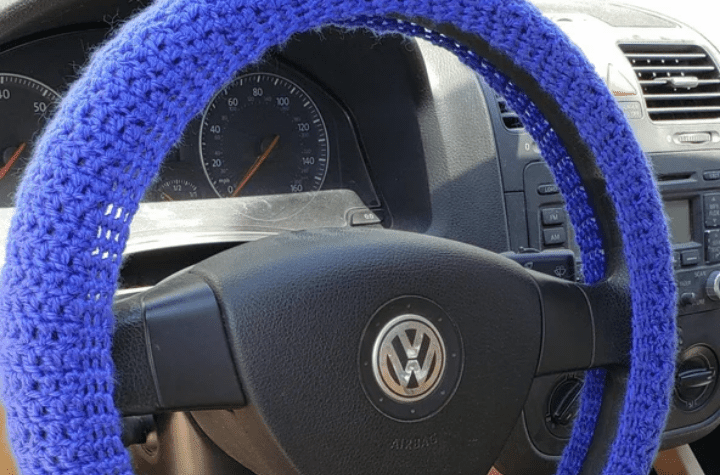 Sometimes, getting back to the basics is such a delight. I can't help but love the Crochet Steering Wheel Cover by Kara Jan Creations because it's really simplistic and is a really fun and easy project. This is also a free pattern, so if you're not sure if you would like having a crochet steering wheel cover, this may be a good option for you to try.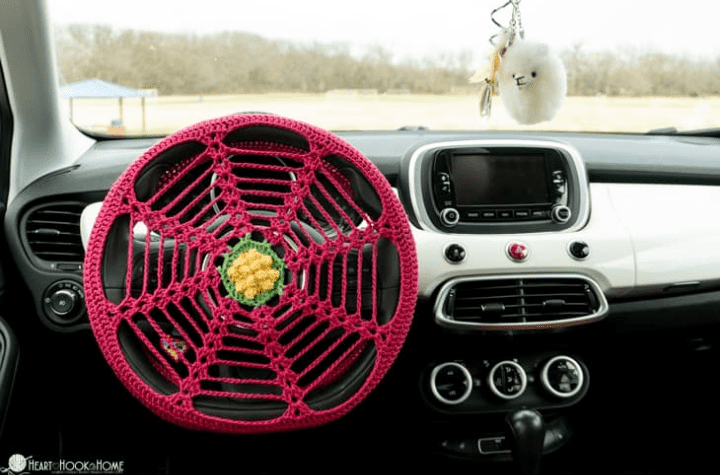 This pattern is an absolute eye-catcher. The Steering Wheel Cover by Heart Hook Home is a 100% free pattern that uses cotton yarn instead of acrylic. So, if you tend to favor cotton, then this is the pattern for you. Plus, You can also use a lot of your scrap yarn on this project, which is perfect!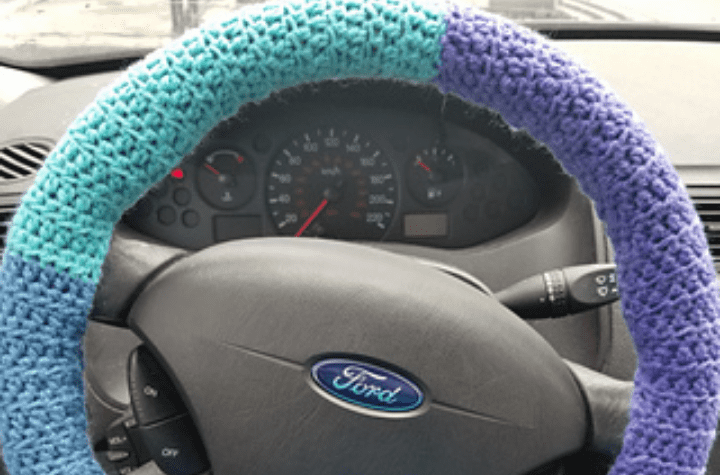 Sometimes, with an older car, your steering wheel starts to get… well, quite frankly, it starts to get a bit gross. It feels like every time you touch it, your wheel is coming off in flakes. This is how the Simple Steering Wheel Cover by Tawny Bee came to be.
She too noticed that their car was getting up in age and wanted to cover and protect their steering wheel with this super cute pattern. So, there is a free pattern over on YouTube. If you like video tutorials, you'll love this option.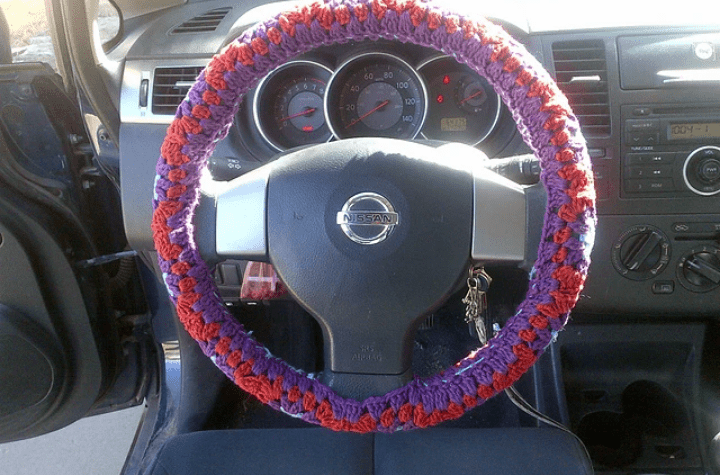 The tiny little flowers on the crochet steering wheel cover pattern by Nicole Hancock are just super cute. This pattern uses cotton yarn but you can use whatever you like best. This is also a free crochet pattern, which is definitely an added bonus.
Are you convinced to make your own crochet steering wheel cover yet? Just imagine how nice a change it will be to your hands instead on a hot summer day! With designs this cute, your hands will be perfectly comfortable any time of year.
I love seeing your finished projects! If you enjoyed making one of my patterns I'd love to see yours on Instagram, be sure to tag me @crochet365knittoo. If you are on Facebook, stop over to the Crochet 365 Knit Too Facebook page or pop over to the Crochet365KnitToo Club and share a photo! I'd love to see your work.