Bernie Sanders Crochet Doll
This post may contain referral/affiliate links. Please read my disclosure for more info.
If the unexpected makes you smile, you might just love the image of Senator Bernie Sanders sporting knit mittens during the solemn inauguration ceremony.  He's struck a chord with a lot of people and crocheters are jumping on the Bernie bandwagon with inspired mittens, hats and even an adorable Bernie Sanders Crochet Doll or two.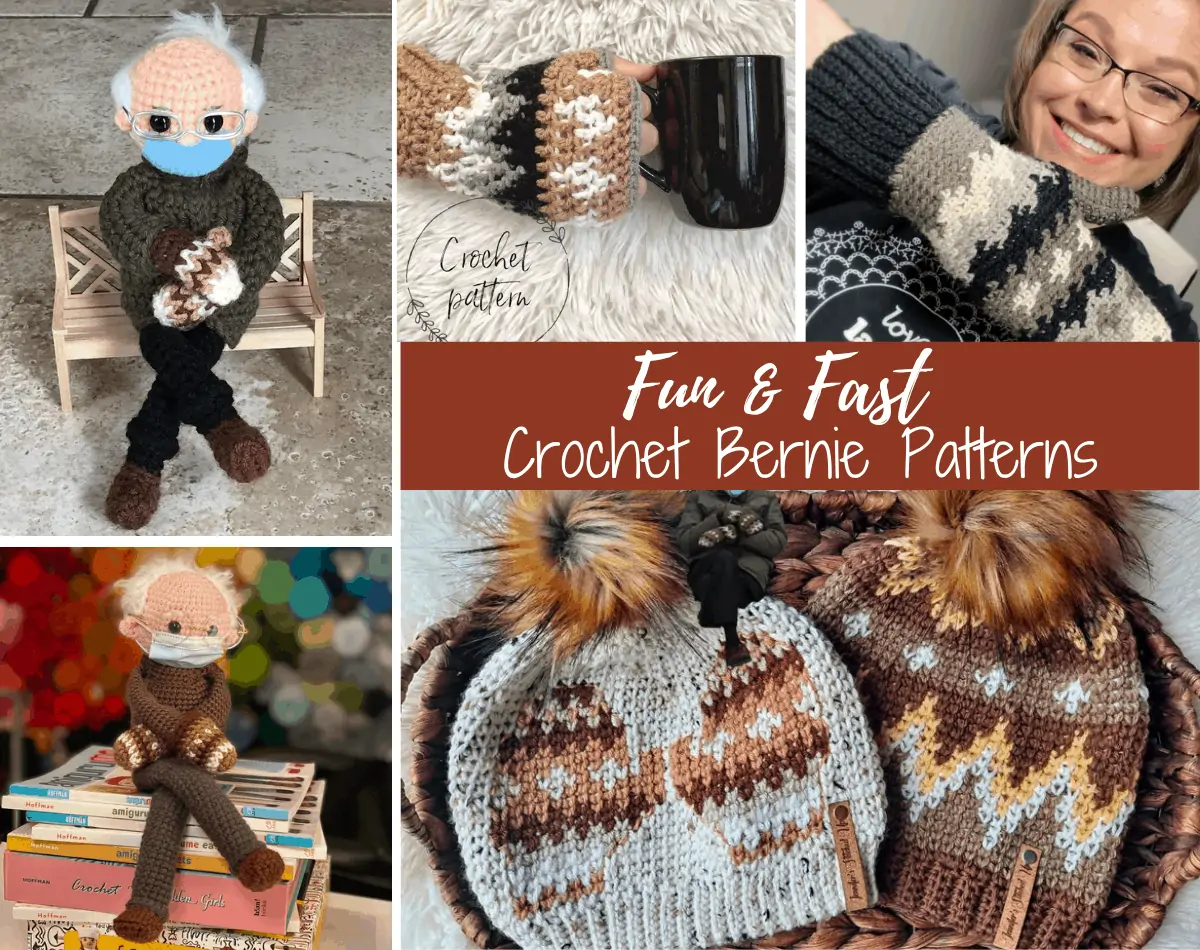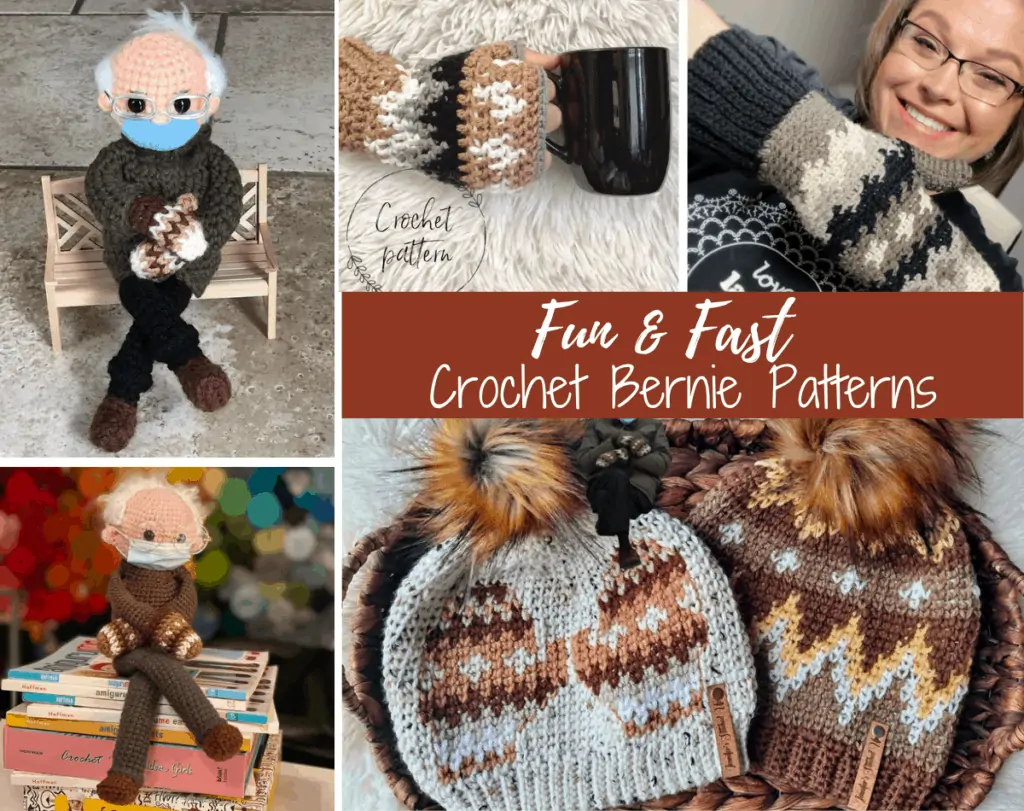 For many, the sight of the practical in the midst of our unusual times warms the heart.  I mean.. let's be real.  It's winter.  It's cold.  What we all really should be doing is wearing things that are nice and cozy when we need to be outside in the cold weather.  Big warm mittens maybe shouldn't be noteworthy.  But when you're Bernie Sanders just out there living life on your own terms.. then.. yes.. yes it is!
I personally love seeing knit and crochet get some positive media coverage.  Its like a bright spot in an otherwise crazy world.  For others, though, it sparks negative feelings because they disagree with the Senator's politics.  Crocheters are also concerned.. wondering.. "is it OK to crochet a likeness of a public figure"?  Is it a huge gray area?  Or maybe you just want to crochet the cute thing that's going to warm your heart.  I'm going to try to cover all the issues here.
Bernie Sanders Crochet Doll
Let's start with this adorable Bernie Sanders Crochet Doll pattern by Tobey Time Crochet. This is the first Bernie crochet doll pattern to hit the market and it's definitely cute.  And if you're looking for a bench prop, like in the photo, try a dollhouse size (1:12 scale) chair or bench sold at a craft store like Hobby Lobby.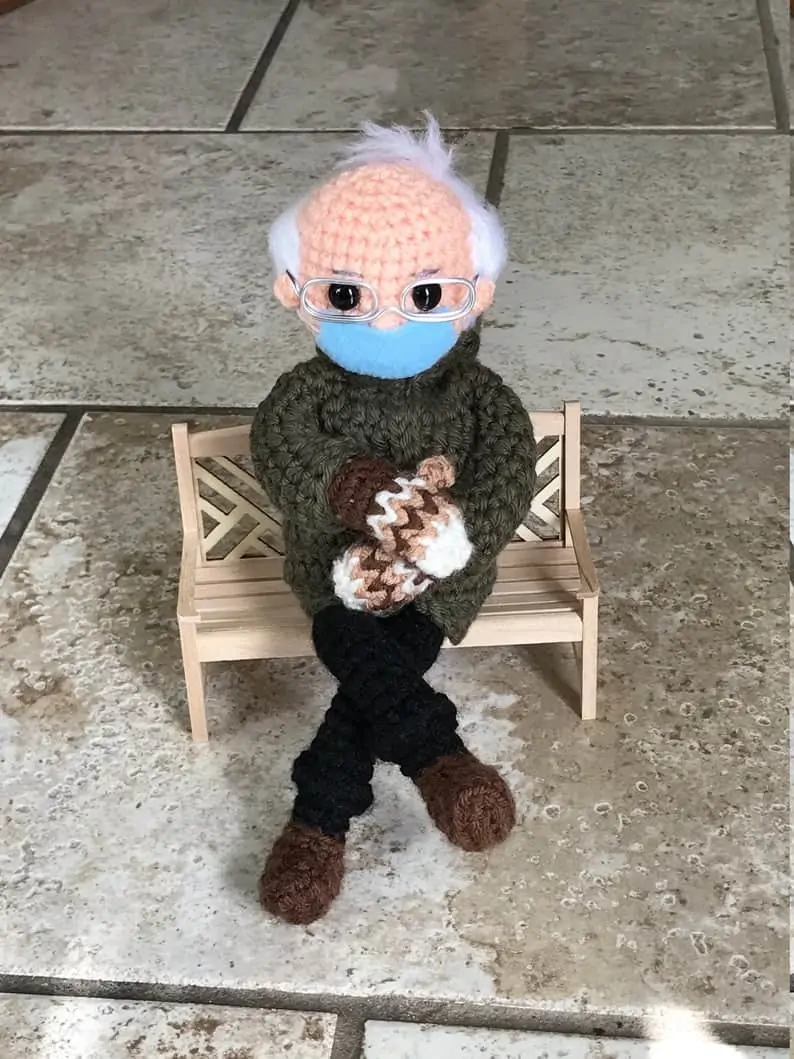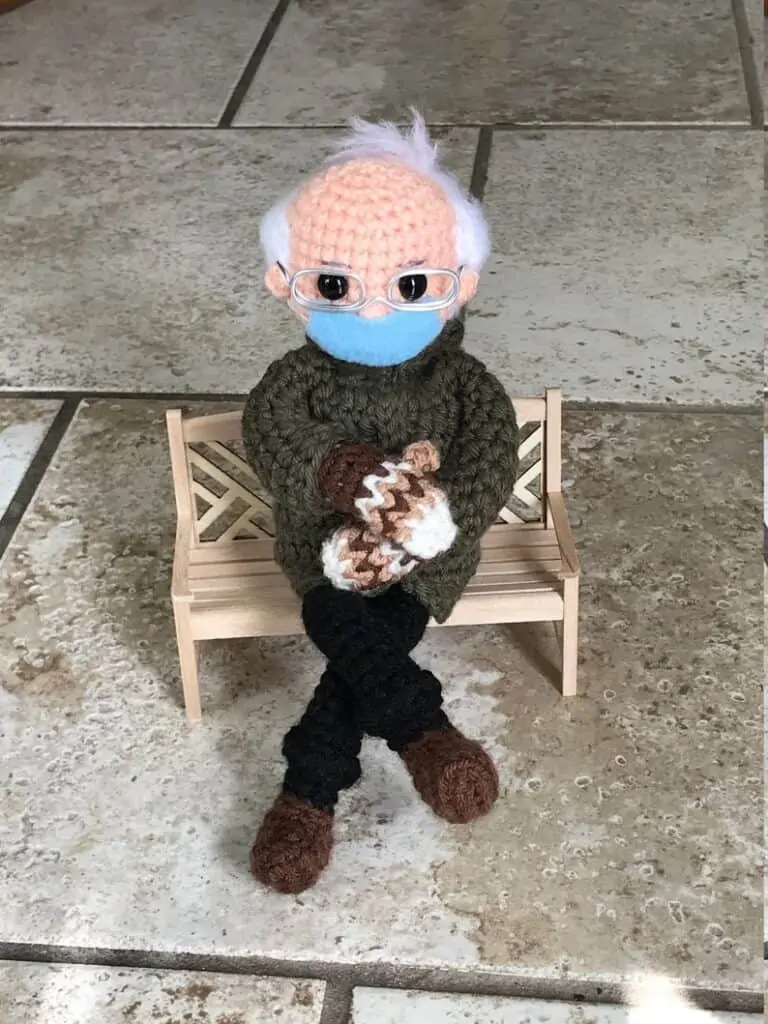 I'm also a fan of Allison Hoffman's Bernie doll for sale over on Etsy.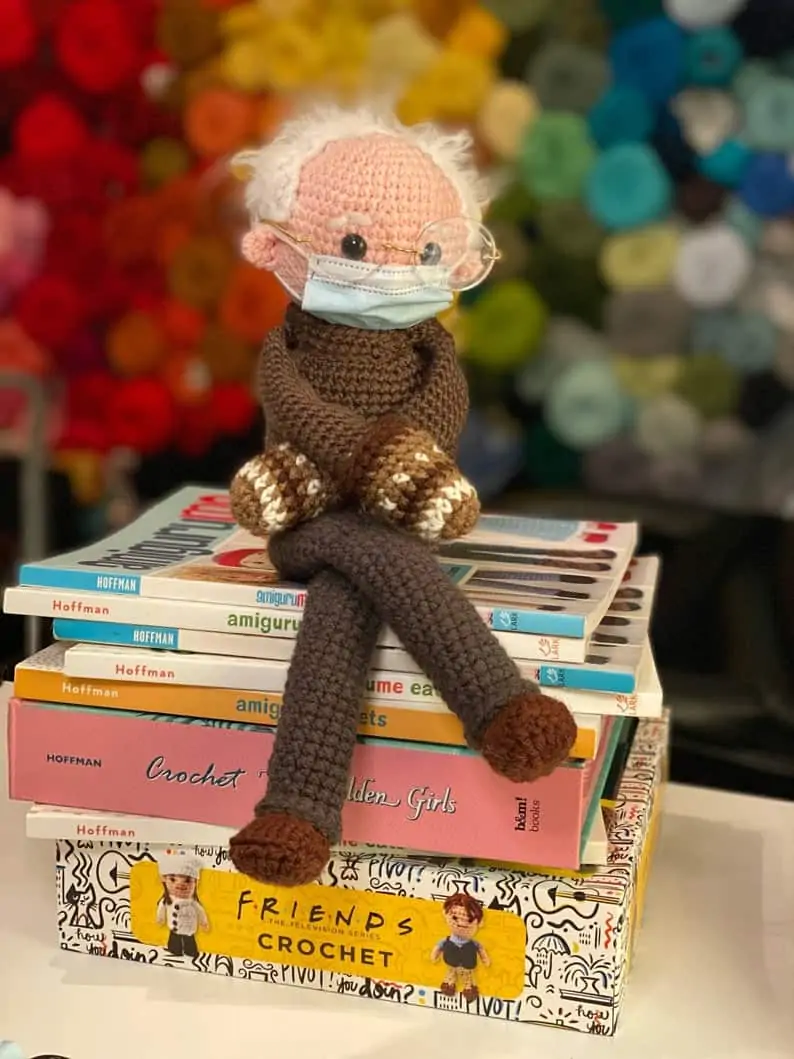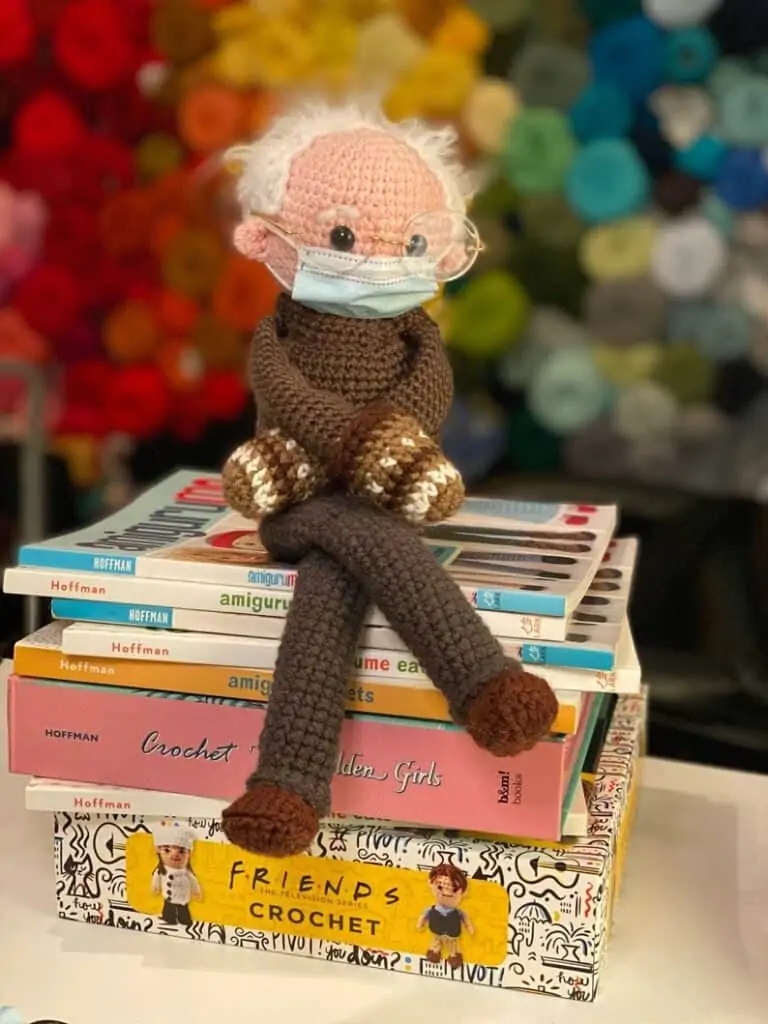 And oh my goodness.. get a look at this close up of those teeny tiny Bernie Mittens on Allison's Bernie Sanders Crochet Doll.  They have THUMBS!  My word!  Sooo cute!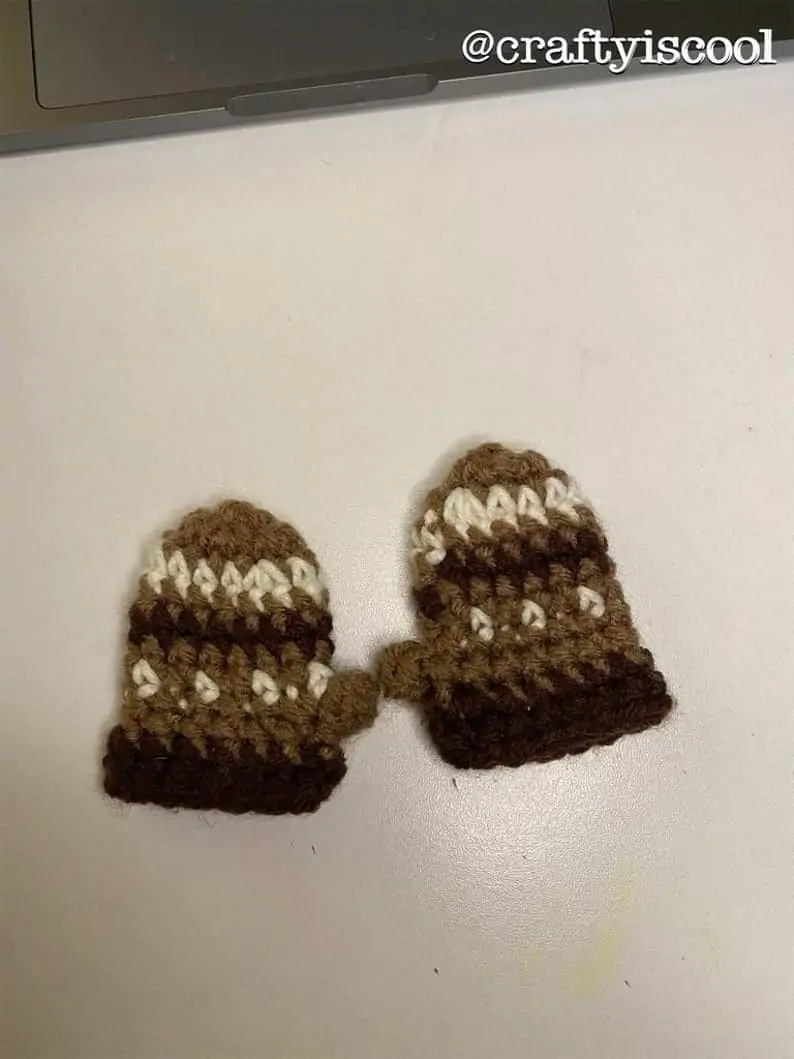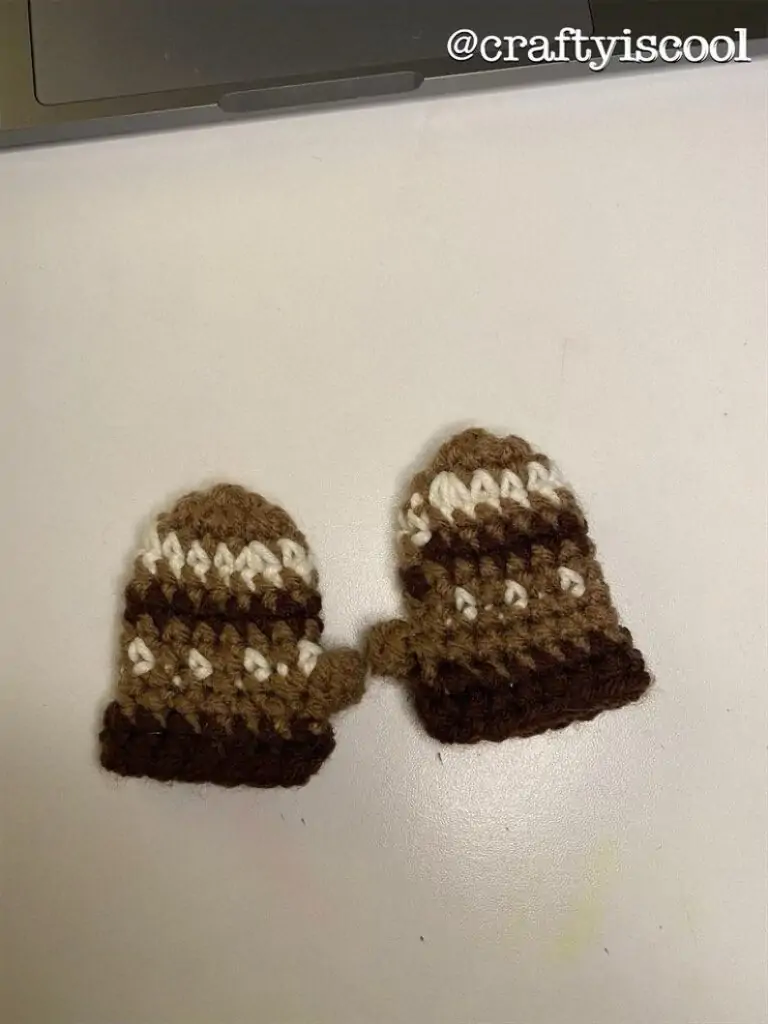 Allison Hoffman designs a lot of fan art crochet designs.  She's even met some seriously famous people and gifted her makes to a whole slew of celebrities. If you're a fan or you want to get into this type of crochet fan art, check out Allison's AmiguruME book which you can find here on Amazon.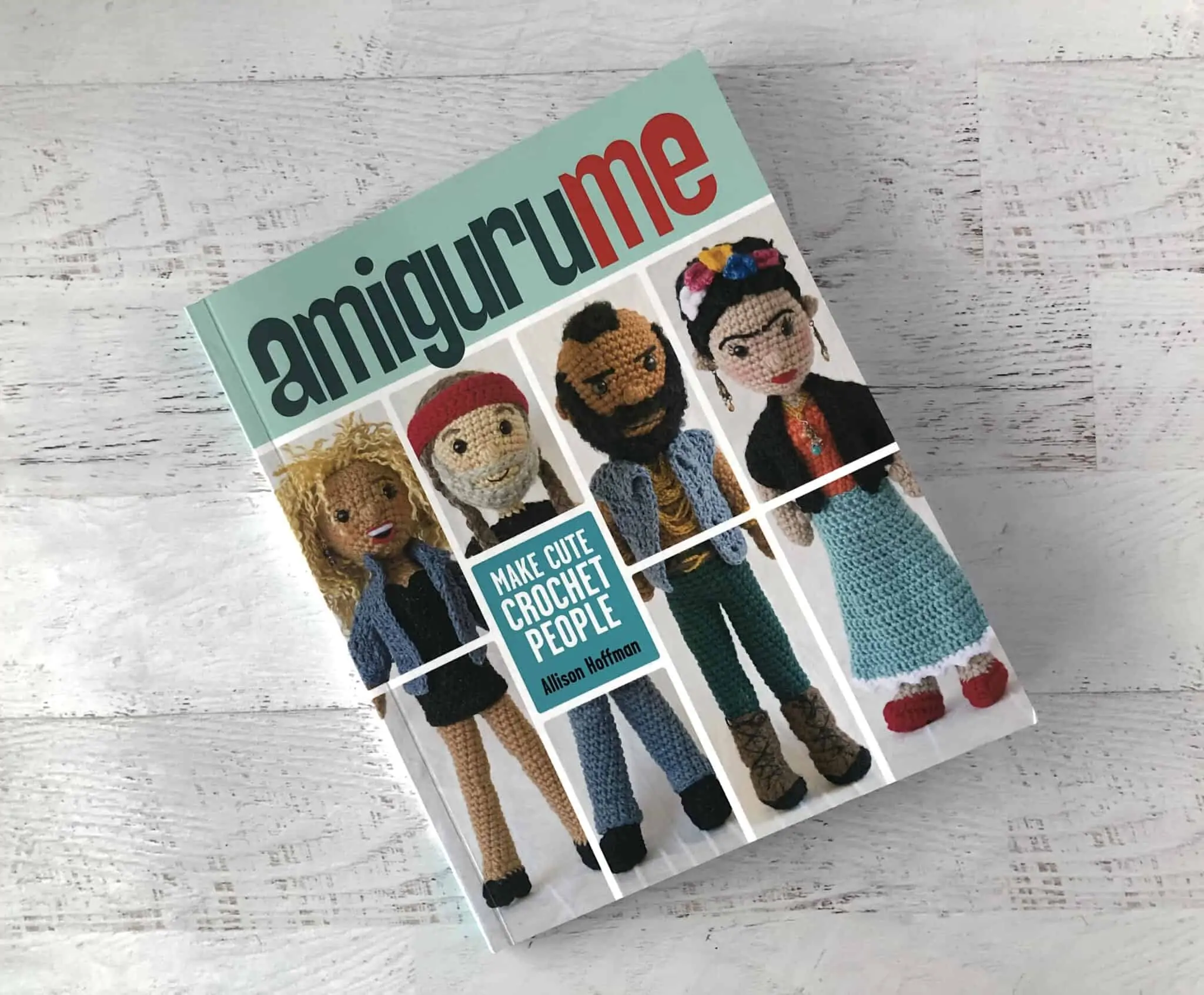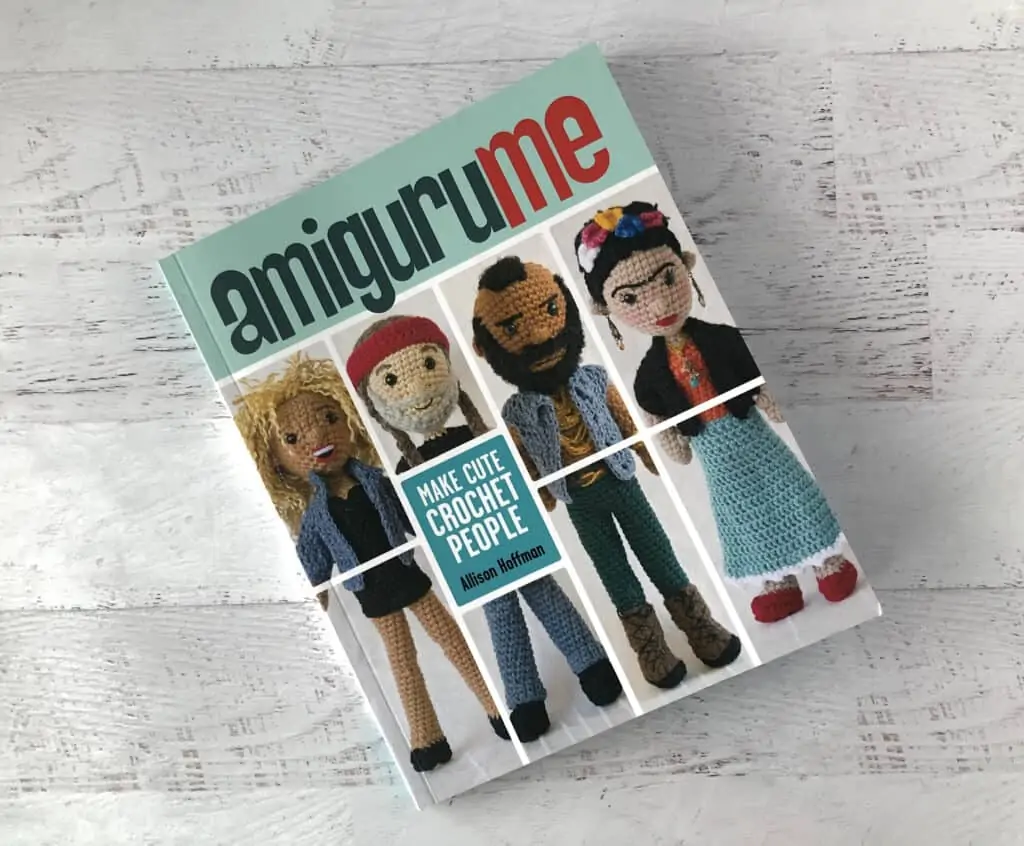 What I like about the AmiguruME book is that it's kind of like a choose your own adventure of the crochet variety. You basically pick and choose a head, body, legs and outfit and crochet something completely custom.  Its kind of fun to crochet a doll that looks just like your Uncle Tom, your child or a celebrity you admire.  Even if a celebrity fan doll is not your crochet vibe, you might enjoy some of the unique hair techniques and face shapes Allison goes over in the book. Check out the AmiguruME book here.
If you're looking for some quick tips and tricks for your Bernie Sanders Crochet Doll, you might like my tip sheet:
Or if you're ready to dive right in and learn everything I know about Amigurumi Making, you might like my ebook which you can read about here:
Crochet Bernie's Mittens
Oh my goodness are these mittens EVER popular!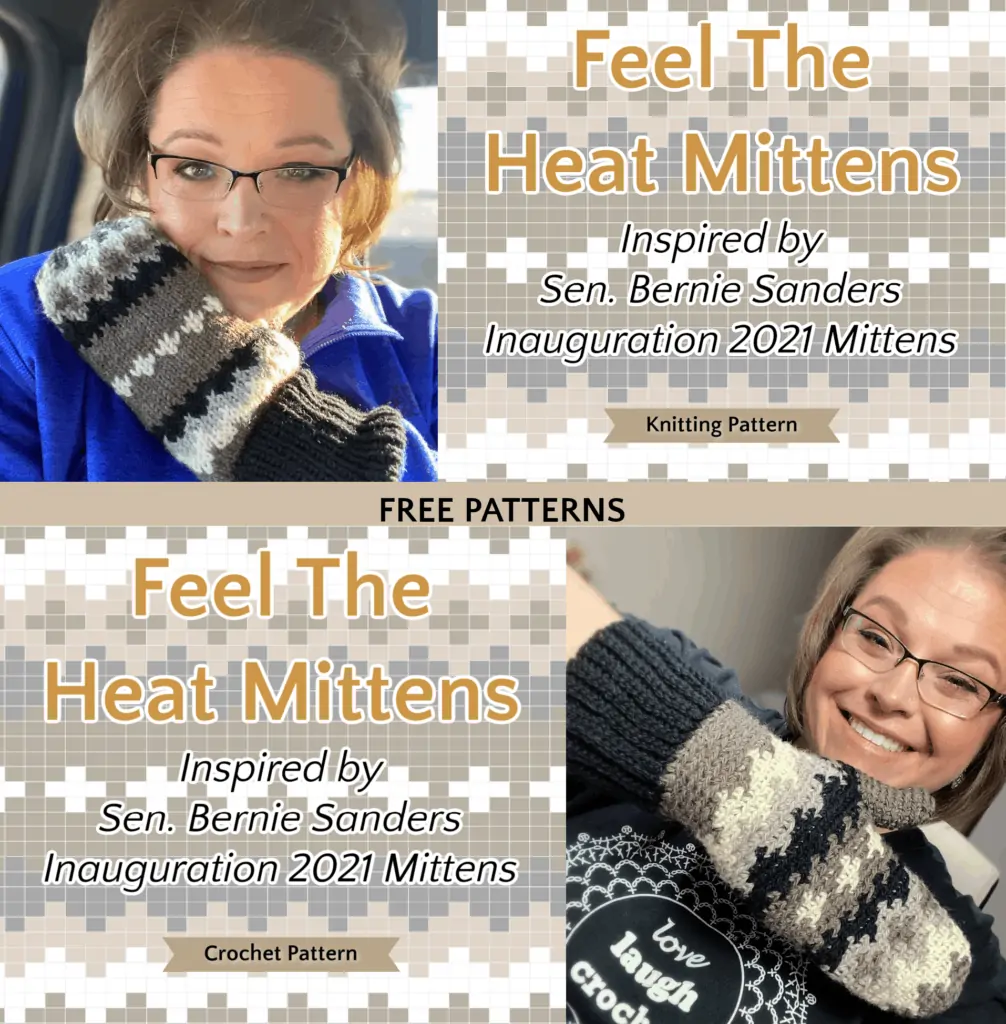 If I had to pick a favorite, I think I'd go for Marly Bird's 'Feel The Heat" mitten patterns.  First .. they are free.. and really, who doesn't loved that?!  She has a knit version and a crochet version.  And I love that she's got the same vibe going on as Bernie's Mittens BUT they are different enough to be their own unique thing.  I'm envisioning these in all kinds of amazing colors beyond the warm browns, gold and cream version sported by the senator.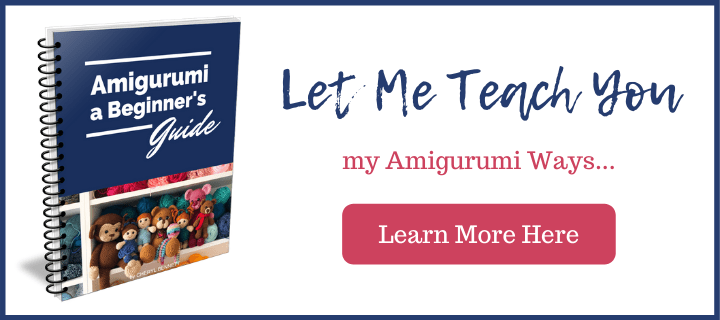 This crochet pattern by Amber Craft Store uses colors a bit more similar to Bernie's mittens.  It comes in 3 sizes and the designer offers quite a bit of pattern support.  It is rated as an intermediate crochet pattern, so be mindful of that.  If you're a beginner it might not be a good first project.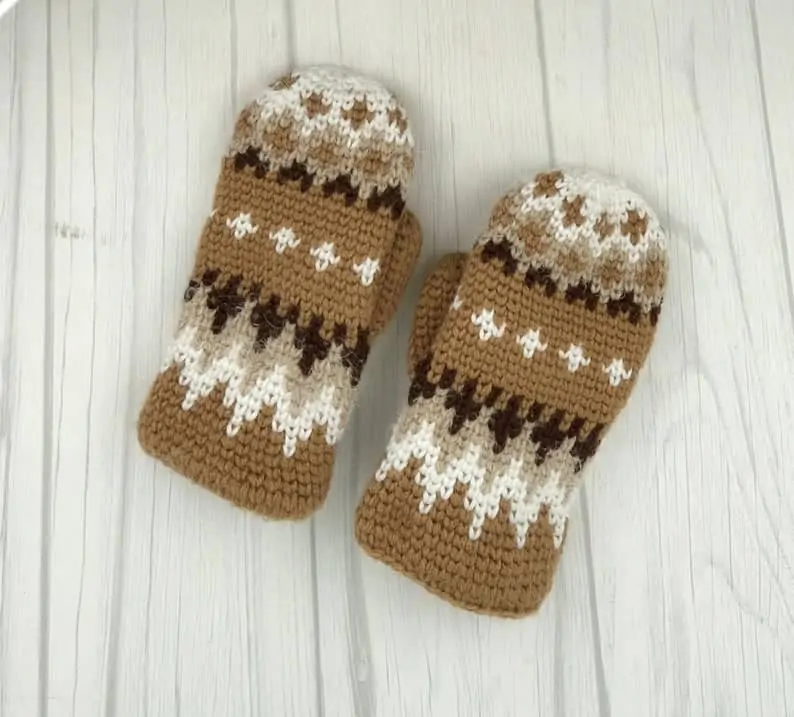 If you're looking for a fingerless glove kinda Crochet Bernie Mitten, check out this quick make by Aleana Lae: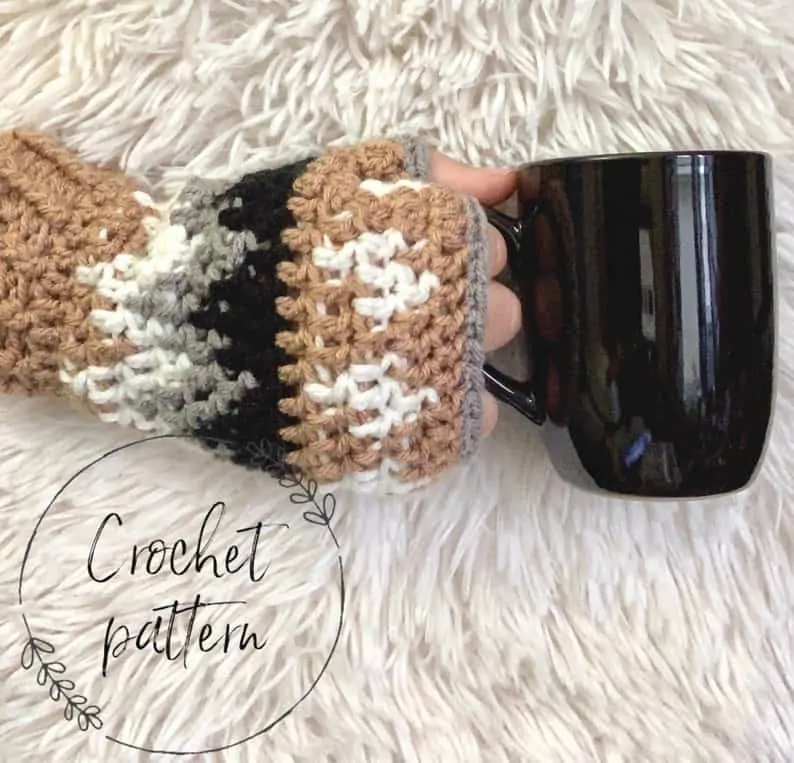 I have a little soft spot for fellow Michiganders and so this Bernie inspired pair of crochet mittens by Traverse Bay Crochet really stood out from the crowd: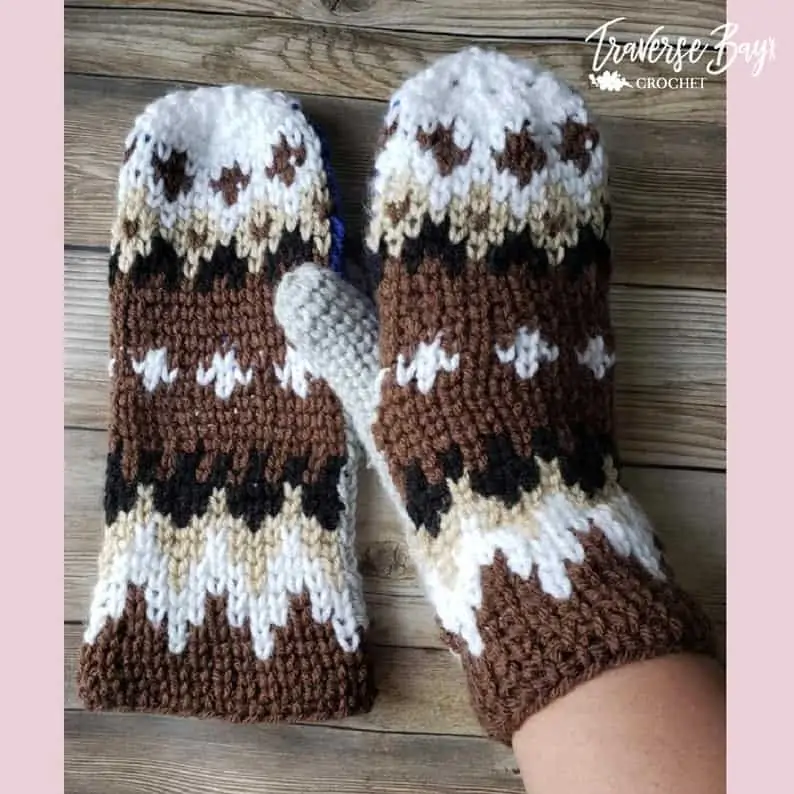 The Traverse Bay Crochet mittens are crocheted with the waistcoat stitch which gives a look more similar to knitting.  It can be a little tricky though, so I'd save this one for the more advanced crocheter.  If you like her style, she also has a link in the Bernie's Mitten Pattern to a coordinating hat.
And SPEAKING of hats… would you get a look of these two beauties?!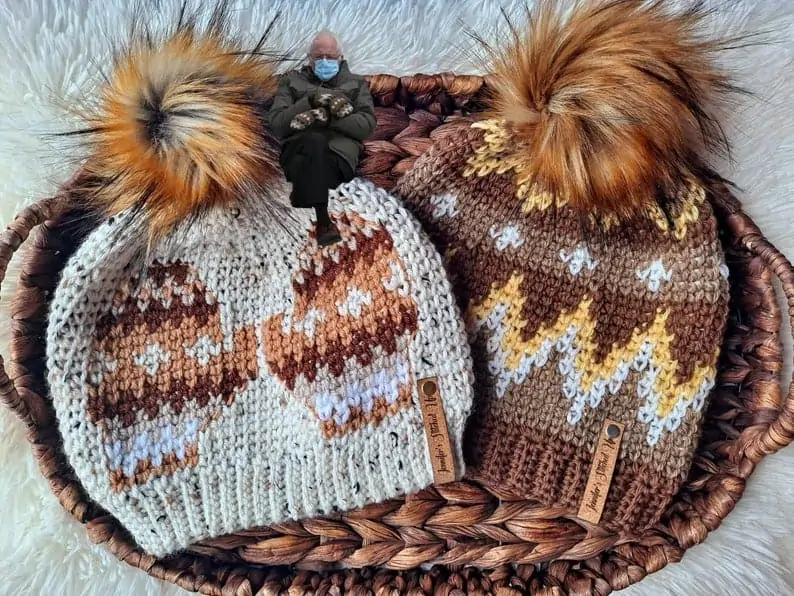 This hat pattern by Jennifer's Stitched Up includes multiple charts.  It also uses the waistcoat stitch.  I love that this has the vibe of the moment but is distinctly different.  It suits crocheters who just want a fun and different hat to make and wear and also those who want to make a statement.
Maybe you're not really ready to make a Bernie Sanders Crochet Doll or sport some Bernie's Mittens.  But boot cuffs speak to your cozy little feet!  If so, check out this fast and fun Bernie inspired crochet boot cuff pattern by Off The Hook By AJ: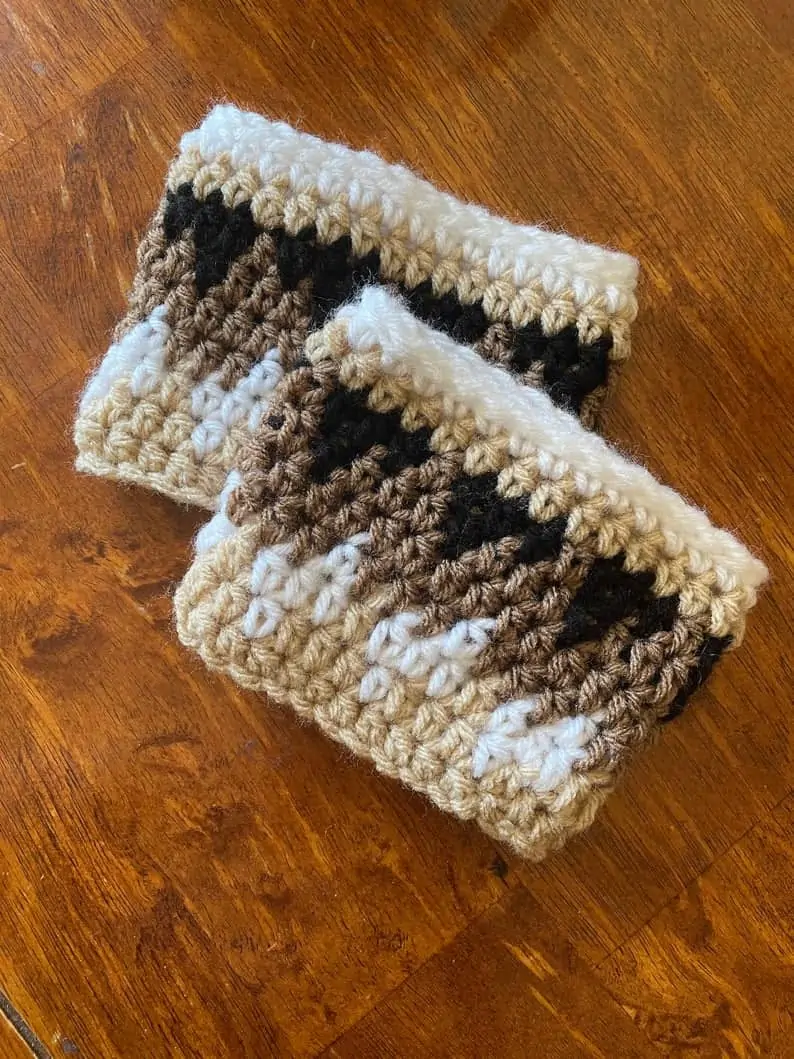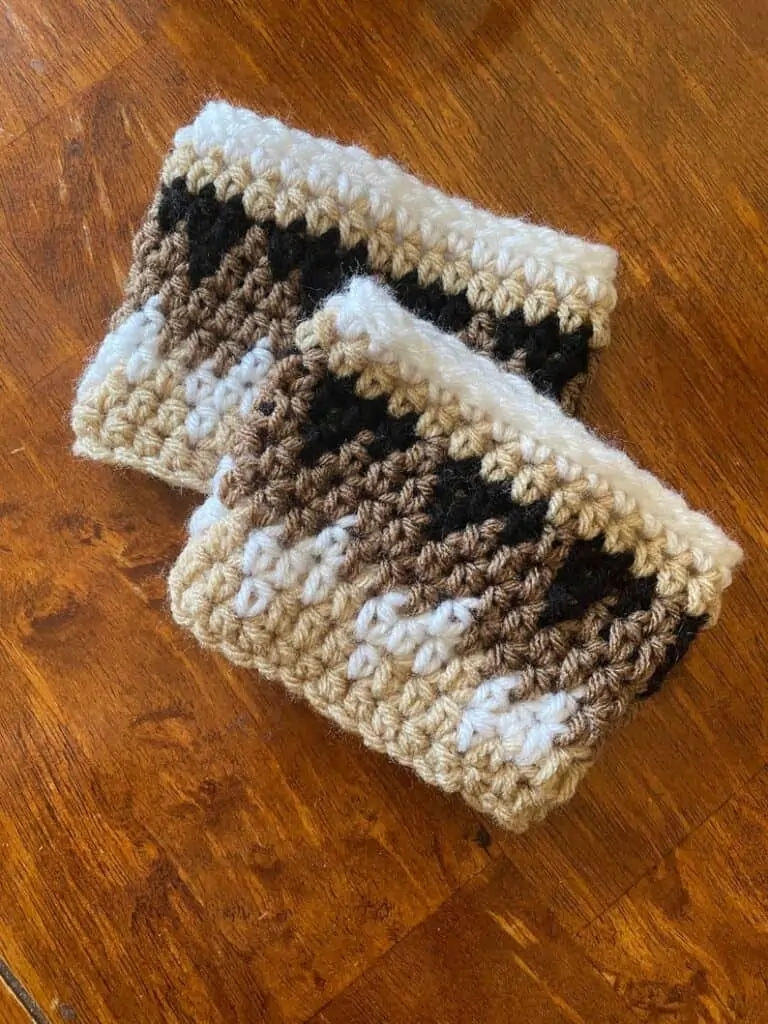 What Are SMITTENS?
If you've read up a bit on the now famous Bernie's Mittens, you already know that Bernie's mittens are not really hand knit mittens at all!  They are mittens sewn from a sweater!  If you want to read up on the school teacher from Vermont who sewed Bernie's mittens, check out this great article.
But maybe you have an old warm wool sweater that you'd love to repurpose.  Well dust off your sewing machine friend, and check out this Sweater Mitten Pattern from Fox and Pine Stitches. I might be obsessed with this one (note to self.. BUY pattern when done writing this post.)  You can check it out right here.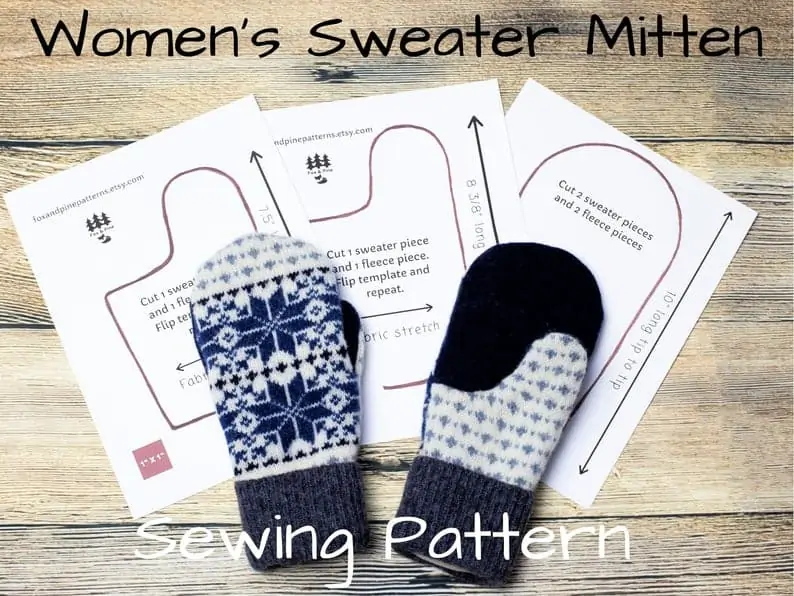 But WAIT.. Is it Legal?
And here we come to the Debbie Downer part of designing, making and selling things that are based on celebrities or famous characters.  Can you legally DO this?
First off… I am not a lawyer.  I have read a bit on the subject and spoken to designers and those with law backgrounds.  But if you have any questions about anything you want to put out in the world, you should 100% consult your own attorney for advice.
So I'm sharing my thoughts and information I've gleaned, but I'm not telling you what TO do or NOT to do.  You need to do your own research and make your own decisions.
Let's start with why you don't want to be on the wrong side of the law with this:  If you infringe on someone's copyright or trademark, they can send you a Cease and Desist order.  This is an unpleasant (for you) legal document that informs you that you are done selling your probably hugely popular thing.  AND the copyright or trademark holder can go after you for your profits and probably more. To fight this, you may need a lawyer.
If you sell on Etsy, know that they are particularly strict on this…. and yes… we all know that this or that person who seems to keep selling this or that big trademarked item and somehow gets away with it.  Etsy has a finite number of times you can get an infringement claim made against you.  Then they boot you out. Permanently.
When Etsy closes down a shop for ANY kind of violation of their Terms of Service, they aren't real receptive to any defense you might want to talk to them about.  They ALSO will shut down ANY shop who has been on the same IP address as the offending shop.  At first glance, this seems ok-ish.  Until you think about the repercussions.
Say your delinquent cousin Suzi comes over, logs into her Etsy shop on your computer and then later in life she does something dumb–like take people's money and not deliver their goods.  Etsy shuts HER shop down.  But then they also shut YOUR shop down because you used the same IP address.  And.. you guessed it.. they don't really give you a chance to defend yourself.
What's Definitely OK?
Seeing Bernie's mittens and making a hat, mittens, boot cuffs or any other such thing using the same colors and a similar vibe seems to be just fine.
Can I Crochet a Public Figure?
Here we get into a sort of gray area.  On one hand, a person owns the rights to their own image.  You can Google away and find plenty of instances where a celebrity sued and won against someone using the celebrity's image for profit.  The other side of the argument claims that "Fan Art" is allowable.  In fact, you can find plenty of instances where a celebrity has actually embraced the crocheted cuteness in their own image.
My Takeaway?
If you want to design and sell something based on a celebrity, popular person or movie character, tread lightly.  Talk to your lawyer.  That is really your best bet before proceeding.  If your amazing thing goes viral and you make enough to buy a house (because YES this can and DOES happen) are you really going to be willing to pay it all back and more in legal fees should you be wrong in your selling decision?
The bottom line is.. if you need to put the name of your inspirational character into your listing or description to SELL your thing, you are probably benefiting from it.  And the thing is?   You are likely amazing all on your own.  So go design your completely amazing thing and put THAT into the world instead!
In the meantime, maybe we can just enjoy the fact that an older guy went to a somewhat formal event in big, cozy mittens.  And the world photoshopped him into all sorts of other situations.  And for moment maybe we laughed.  And didn't feel so divided.  And that was the best feeling of all.
I love seeing your finished projects!  I'd love to see your Crochet 365 Knit Too makes on Instagram, be sure to tag me @crochet365knittoo.  If you are on Facebook, stop over to the Crochet 365 Knit Too Facebook page or pop over to the Crochet365KnitToo Club and share a photo!  I'd love to see your work!