Sigh.. Soup on a cold day is my guilty pleasure and this soup mug cozy just makes me happy!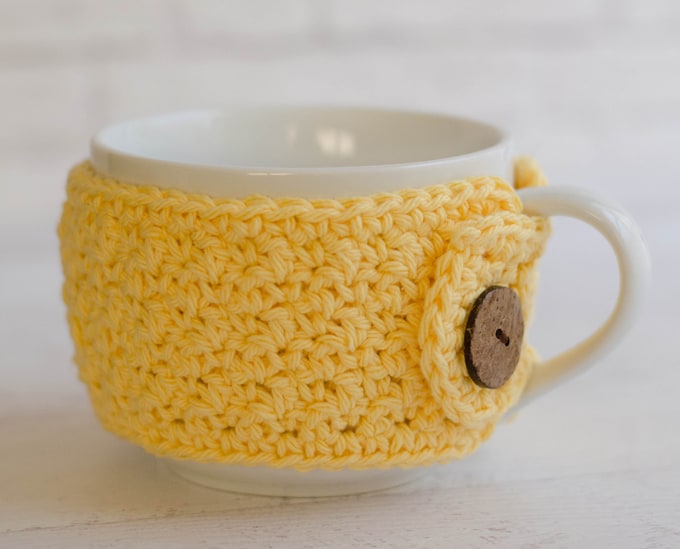 I'm of the belief that every person has that one food that they make best.  My mom makes cookies to perfection.  Me?  I'm a soup girl.  I love how soup comes together.  It always surprises me a little bit.
Soup is not glamourous. It's not showy.  It just is.  Just a little bit of this and a little bit of that.  Things not quite pretty enough for something else.  Some spices and flavorings.  A good long simmer on a cold, winter afternoon.  And then… it hits you.
There is just something about the smell of soup cooking low and slow on the stove while my family is busy with the day.  It makes me want to cuddle up under a blanket in my favorite chair.  To fill up a soup mug with this delicious soup mug cozy and take a very long, deep breath.  And suddenly all is right with the world.  And it is good.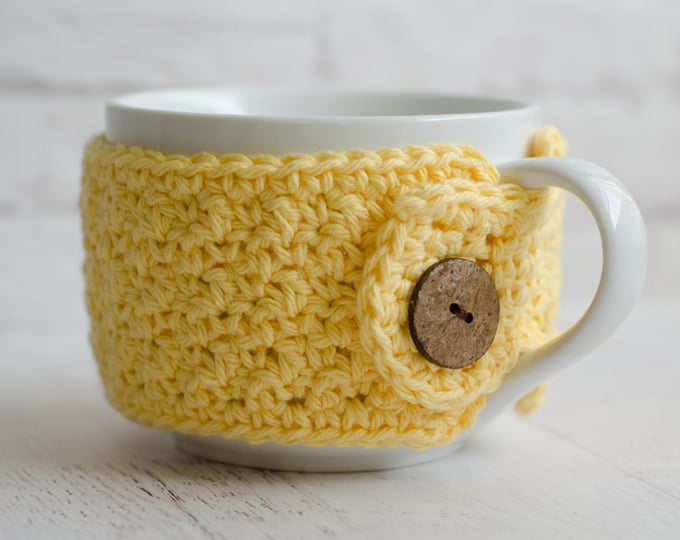 Lemon Peel Soup Mug Cozy Pattern
Here is what you will need:
Finished size:  About 16″ long by 2-3/4″ tall.  Fits circumference 13-14″ soup mug.
Resources and tutorials you may find helpful in following this pattern: Crochet Abbreviations, US to UK Crochet Conversion Chart.  Find links to stitches on the "Tutorial" menu: Getting Started will show basic stitches used in many patterns and Crochet Stitch Dictionary shows our growing collection of crochet stitch tutorials.
With yellow, chain 43
R1.  sc in 2nd ch from hook, dc in next, *sc in next ch, dc in next ch.  Repeat from * around (42 st)
R2-6: ch 1, turn, sc in same stitch, dc in next st, *sc in next st, dc in next.  Repeat from * around.  (42 st)
Now rotate work so you are working on the short edge to make the buttonhole flap, continue with row 7
R7:  Sl st in the first 2 st, ch 1, sc in the same st, sc in the next 4 st.  (5 st) Leave remaining unworked.
R8-10:  ch 1, turn.  Sc across (5 st)
R11:  ch 1, turn.  Sc in first 2 st, ch 1, skip 1 stitches, sc in last 2 stitches.
R12:  ch 1, turn.  Sc in first 2 st, 3 sc in chain space, sc in last 2 st (6 st)
R13:  ch 1, turn.  Sc in ea st.  Do not fasten off.  Rotate work to work edging.
Edging:  continue to work sc around edge of cozy.  In corner stitches work 2 st for a rounded edge or 3 st for a more squared off edge.  Slip stitch to first stitch in row 14 and finish off.
Weave in edges.  Position on mug to determine best placement for button.  Sew on button.
Make some soup, ladle it into your soup mug and enjoy!
I love seeing your finished projects! If you enjoyed making the Lemon Peel Soup Mug Cozy I'd love to see yours on Instagram, be sure to tag me @crochet365knittoo.  If you are on Facebook, stop over to the Crochet 365 Knit Too Facebook page or pop over to the Crochet365KnitToo Club and share a photo!  I'd love to see your work!