Houndstooth Mug Cozy Pattern
This post may contain referral/affiliate links. Please read my disclosure for more info.
This Houndstooth Mug Cozy reminds me of my sister.  You know the one.  The one that always has the crazy fun ideas that get you into loads of trouble when you are young?  But everyone loves her because she IS that much fun?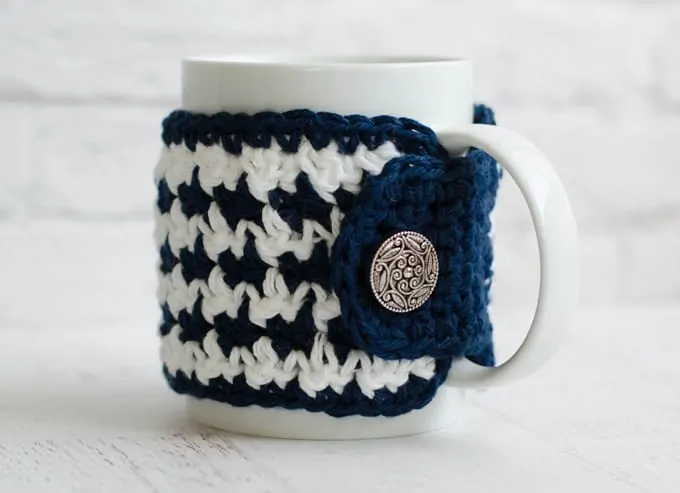 And when her ideas go awry, she just shrugs the whole thing off, moves on and you're left wondering why little ole conservative you can't pull off the same thing?  Yep, I have a sister like that. And it turns out that those same crazy ideas that made childhood so much fun turn out to be the exact same skills it takes to succeed in the "real" world.  (Young moms, take note.  There's a positive side to the crazy.)
So what does all this have to do with this adorable houndstooth mug cozy?  Well somewhere in between curling her hair into the 1980's Princess Diana hairdo and transitioning my now brother-in-law out of his signature bright yellow Yoplait t-shirts into something more presentable, my sister became obsessed with houndstooth.
She also had a thing for navy and white.  Houndstooth is classy, elegant and classic.  It says, 'I don't care how awful your day is… I got this.'  And so, when you're feeling like a hot mess, just grab this coffee cup cozy, pour yourself a cup of deliciousness and wrap your hands around that mug of warm goodness.  Take a deep breath…and let it out.  You've got it together, my friend.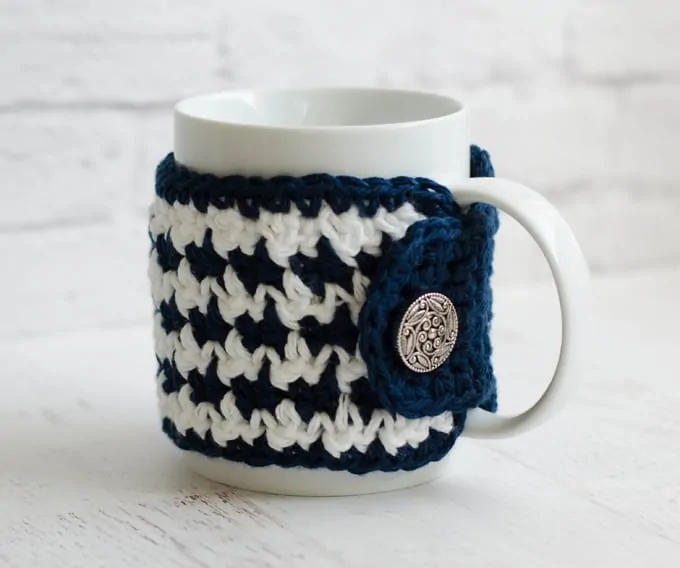 Houndstooth Mug Cozy Pattern
Here is what you will need:
Finished size:  About 12″ long by 3″ tall.  Fits standard 10-11″ circumference mug.
Resources and tutorials you may find helpful in following this pattern: Crochet Abbreviations, US to UK Crochet Conversion Chart.  Find links to stitches on the "Tutorial" menu: Getting Started will show basic stitches used in many patterns and Crochet Stitch Dictionary shows our growing collection of crochet stitch tutorials.
With White, chain 31
R1.  sc in 2nd ch from hook, dc in next, *sc in next ch, dc in next ch.  Repeat from * around, changing to blue in last stitch.  Fasten off white. (30 st)
R2: With blue, turn, ch 1 and sc in same stitch, dc in next st, *sc in next st, dc in next.  Repeat from * around, changing to white in last stitch.  (30 st)
R3-7:  Continue row 2 for a total of 7 rows, changing color every row and changing to blue in the very last stitch.  Note that the double crochets sit on top of the single crochets of the row before and vice versa.
Now working with the blue yarn,  rotate work so you are working on the short edge to make the buttonhole flap, continue with row 8
R8:  Sl st in the first 3 st, ch 1, sc in the same st, sc in the next 5 st.  Leave remaining unworked.
R9-11:  ch 1, turn.  Sc across (6 st)
R12:  ch 1, turn.  Sc in first 2 st, ch 2, skip 2 stitches, sc in last 2 stitches.
R13:  ch 1, turn.  Sc in first 2 st, 2 sc in chin space, sc in last 2 st (6 st)
R14:  ch 1, turn.  Sc in ea st.  Do not fasten off.  Rotate work to work edging.
Edging:  continue to work sc around edge of cozy.  In corner stitches work 2 st for a rounded edge or 3 st for a more squared off edge.  Slip stitch to first stitch in row 14 and finish off.
Weave in edges.  Position on mug to determine best placement for button.  Sew on button.
I love seeing your finished projects! If you enjoyed making the Houndstooth Mug Pattern I'd love to see yours on Instagram, be sure to tag me @crochet365knittoo.  If you are on Facebook, stop over to the Crochet 365 Knit Too Facebook page or pop over to the Crochet365KnitToo Club and share a photo!  I'd love to see your work!